If you are visiting Jamaica on a Royal Caribbean cruise, then you will likely dock in Falmouth. Located on the northern coast of the island, the historic Falmouth cruise port opened in 2011. Falmouth is located in close proximity to both Montego Bay and Ocho Rios, requiring only a 30 minute or 45 minute drive respectively. Montego Bay and Ocho Rios are also popular cruise port destinations for many other cruise lines. If you are visiting any of these ports on your next cruise, you will want to take a look at our comprehensive guide on the Best Things to Do in Jamaica on a Cruise.

Best Things to Do in Jamaica on a Cruise in 2020
Visit Mystic Mountain
Mystic Mountain, located in Ocho Rios, offers many thrilling adventures in the heart of the Jamaican rainforest. Hop onboard the signature bobsled attraction to reenact a scene from Cool Runnings. Soar down the mountainside in your very own bobsled just like the famous Olympic team. Mystic Mountain also offers a canopy zipline tour where you can glide through the rainforest while admiring the aerial vistas. If you want to soar above the treetops without the thrill of the ziplines, Mystic Mountain also offers an aerial Sky Explorer tram providing similar panoramic views of the rainforest and nearby Dunn's River Falls.

Experience the Falls
Dunn's River Falls is often voted the best shore excursion in Ocho Rios. It provides an exhilarating climb up a series of waterfalls ascending over 600 feet. As a group, you are led up the falls with an experienced guide in a human chain. With natural stone steps and some additional man-made accommodations for safety, you will feel the rush of the cool water as you make your way to the top. You will stop a few times along the way to pose under the waterfalls and dip into the natural pools. Some physical strength is required to make the climb to the top, and water sneakers are recommended as the rocks can get a bit slippery.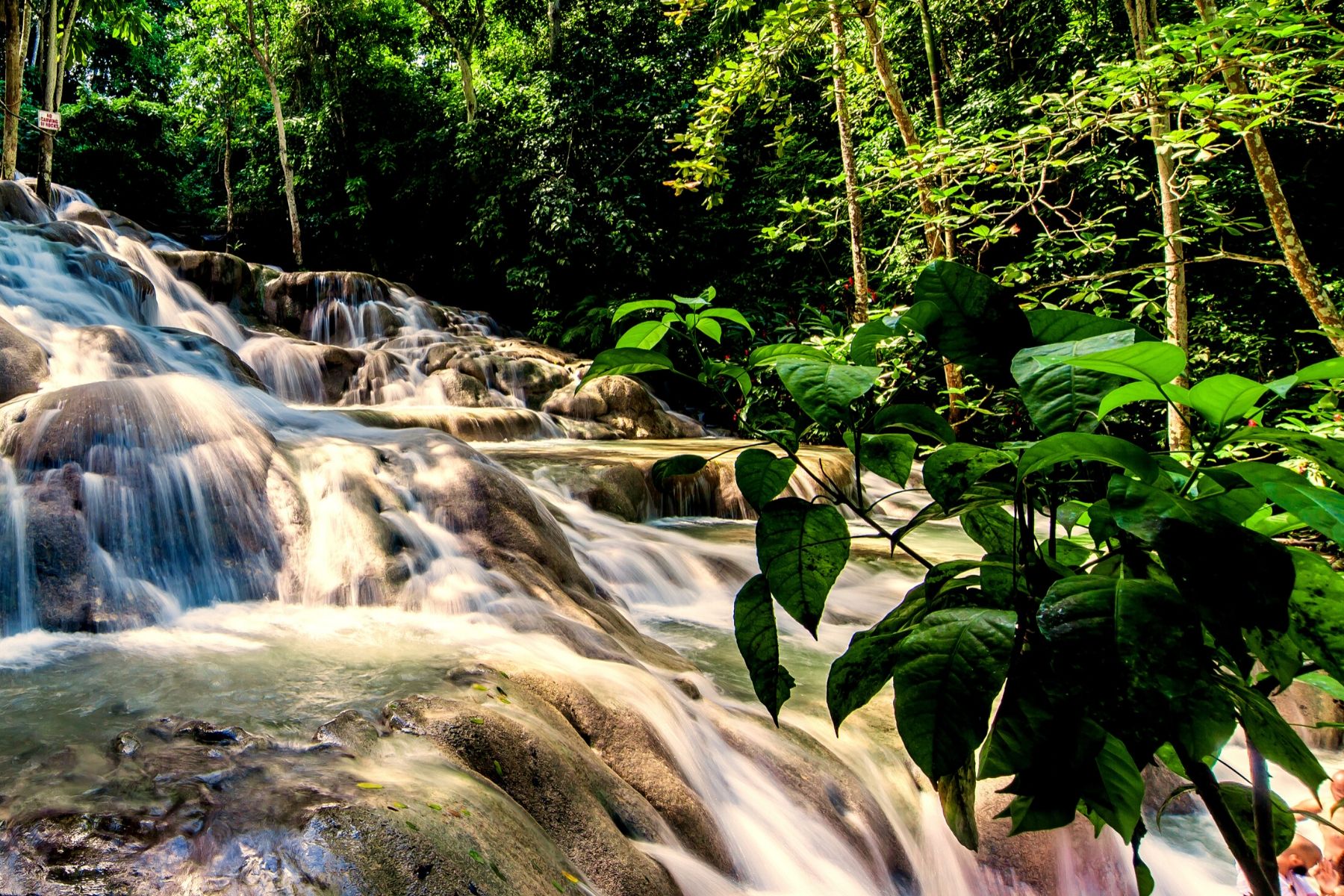 Related Post: Dunn's River Falls and Mystic Mountain Excursion Review
Blue Hole and Secret Falls, located in the hills of Ocho Rios, provide a similar experience but not as commercialized. Though less climbing, it still offers an action packed day. With its signature "blue hole" for swimming, diving, cliff jumping, and a tarzan swing, your time spent at Blue Hole can be as adventurous as you'd like. There is also a 20 foot cascading waterfall and secluded caves to explore. This attraction can also be combined with other activities on the White River including river tubing/rafting.
Take a Bob Marley Tour
For a true Bob Marley experience, take the 1.5 hour scenic drive from Ocho Rios to the mountain village Nine Miles, the birthplace of Bob Marley. Here, you can tour the very home in which the "King of Reggae" lived as a child and see his final resting place. You will also hear stories of his life from your Rastafarian guide. You'll even have a chance to stand on Mt. Zion Rock. The word on the street is that you should have an open mind if booking this tour!
You can also choose to visit the Bob Marley Museum in Kingston, which is closer to a 2 hour drive from Ocho Rios. The Museum is located in the reggae legend's former home, and it is filled with mementos from the musician's life. The tour offers a 75 minute guided walk through the grounds including the Main House, Exhibition Hall, Theater, Gift Shop, and One Love Café. If you are a Bob Marley fan, it just might be worth the trek.
Taste the Local Flavor
No trip to Jamaica would be complete without tasting the local flavor. You would be missing out if you didn't experience the Jamaican jerk chicken. With a spicy rub not intended for the delicate palette, your smoky jerk chicken will pair nicely with a Red Stripe beer. Scotchies, a casual eatery with locations in Ocho Rios, Montego Bay, and Kingston, is often rated as one of the best restaurants in Jamaica.
Another popular local snack are the patties. Juici Patties and Tastee Patties both claim to serve the best flaky meat filled pastries, so you be the judge! Ackee and Salt Fish is another Jamaican favorite. If none of these dishes pique your interest, you can still experience some local flavor by trying a cup of Blue Mountain coffee or some Appleton Estate Rum.

Explore the Green Grotto Caves
The Green Grotto Caves located in Ocho Rios are now one of Jamaica's most popular natural attractions but have served multiple purposes over the years, including a hideout for slaves and a storeroom for rum barrels during WWII. Exploring the unique limestone formations, stalagtites, and stalagmites of the Green Grotto Caves is certainly a fun way to spend your day in Jamaica. This approximately 1 hour guided tour will take you through the underground passageways to the innermost cavern and grotto where you can admire the translucent waters.
Go Rafting on the Martha Brae
Located near the Falmouth cruise port is a unique rafting adventure. This 60 minute authentic Jamaican experience is perfect for families of all ages. Sit back and enjoy the ride on this 30 foot bamboo raft as you float down a 3 mile stretch of the Martha Brae River. You will take in the beautiful sights and learn about the legend of Martha Brae along the way. You can even take a quick dip in the water if you choose. The rafts are pretty stable, so this excursion is perfect even for those who can't swim.

Related Post: Martha Brae Rafting Excursion Review
Tour the Rose Hall Plantation
The greatest of Jamaican Great Houses is Rose Hall in Montego Bay, situated on a 6,600 acre plantation. A visit to this plantation certainly makes our list for the "White Witch of Rose Hall" legend alone. It is said that the mistress of the plantation, Annee, "did away" with countless husbands and lovers with her black magic and witchcraft. Many claim to see her ghost still roaming the property. In fact, the home was even featured on the television show Ghost Hunters International. Guided tours are available of the home during the day or night if you dare.
Also, situated on the plantation is the White Witch and Cinnamon Hill golf courses for those who want to tee off while on vacation. The Hilton all-inclusive resort also offers day passes for full use of amenities.
Take a City Tour
If you are a history buff then you will love a historic self-guided walking tour of Falmouth. Experience the history, culture, and architecture of Falmouth while visiting notable sites along the path including the Falmouth Courthouse, Baptist Manse, the Moulton Barrett House, Water Square, the William Knibb Memorial Baptist Church, St. Peter's Anglican Church, and more. Falmouth history and food tours are also available, as well as trolley tours for those who are not up to walking in the Caribbean heat.

With a Best of Ocho Rios Tour, you can get a glimpse of what the city has to offer in a short amount of time. You will visit sites like the Prospect Plantation to take a tractor drawn jitney and experience a working plantation. At Dolphin Cove, there are various dolphin, shark, and stingray shows and experiences. Additionally, you will drive through Fern Gully known for its biodiversity, Shaw Park Lookout and Gardens for amazing photo-ops, and more.
Visit Good Hope Estate
The Good Hope Estate located in Falmouth also warrants a visit while in Jamaica. This estate once belonged to John Tharpe. It was a former sugar plantation but is still one of the most elegant structures in town. These estate grounds offer panoramic vistas of the Queen of Spain Valley, the Cockpit Mountains, and the Martha Brae River. Today, the estate is still a working citrus farm and a nature adventure park offering historical, cultural, and adventurous tours.
You can tour the Great House, enjoy the 2,000+ acres of nature, or partake in an Appleton rum tasting experience. Additionally, you can test your thrill for adventure with dune buggies, ATVs, ziplines, and river tubing. Or, simply relax by the Great House pool.
Spend the Day at One of the Many Beaches
Jamaica, like most Caribbean islands, offers many beach options. Of course, everyone has their own beach standards. So, be sure to do some research when choosing your beach day. Also, if you have a favorite beach in Jamaica that is not listed, let us know in the Comments section!
Burwood Beach and Red Stripe Beach are the closest options from the Falmouth cruise port. Burwood Beach is one of two public beaches in the area that has recently been updated. Red Stripe Beach is a private beach which has shuttle service offered by the cruise lines and amenities available for rental. Margaritaville in Falmouth is another great option. Located close to the pier, you can enjoy free WiFi, the pool with a swim up bar, food, and a huge drink menu. If you are looking for an all-inclusive experience, many recommend getting a day pass to the Royalton White Sands Resort.

If you are looking for an all-inclusive option in Ocho Rios, try the highly rated Jewel Runaway Bay all-inclusive day pass. This resort is only 20 minutes away from the Ocho Rios cruise port and has a new waterpark.
If you want to venture to Montego Bay, Doctor's Cave, located on the "Hip Strip", is one of the most visited beaches in Jamaica.
If you want to visit the longest and possibly biggest hot spot in Jamaica, you will need to head to Seven Mile Beach in Negril, which is actually quite a hike from Falmouth and even further from Ocho Rios.
Comments
Have you done any of the activities listed in our best things to do in Jamaica? What are your favorite things to do while visiting this Caribbean island? Drop us an anchor below to share your excursion reviews.