A popular departure point for Carnival Cruise Line and Princess Cruises in California is Long Beach. This coastal city is nestled between much larger, well known locations in Southern California. Still, Long Beach, CA holds its own as a destination worth visiting before or after a cruise. If you have an upcoming cruise departing from this destination, we highly suggest a pre-cruise or post-cruise stay. To help you find the ideal accommodation, we have our list of the Best Hotels Near the Long Beach Cruise Port.
The Best Hotels Near Long Beach Cruise Port
Hyatt Centric The Pike Long Beach
With a great location for shopping, dining, and sightseeing, this hotel was our pick when we cruised from Long Beach this past January.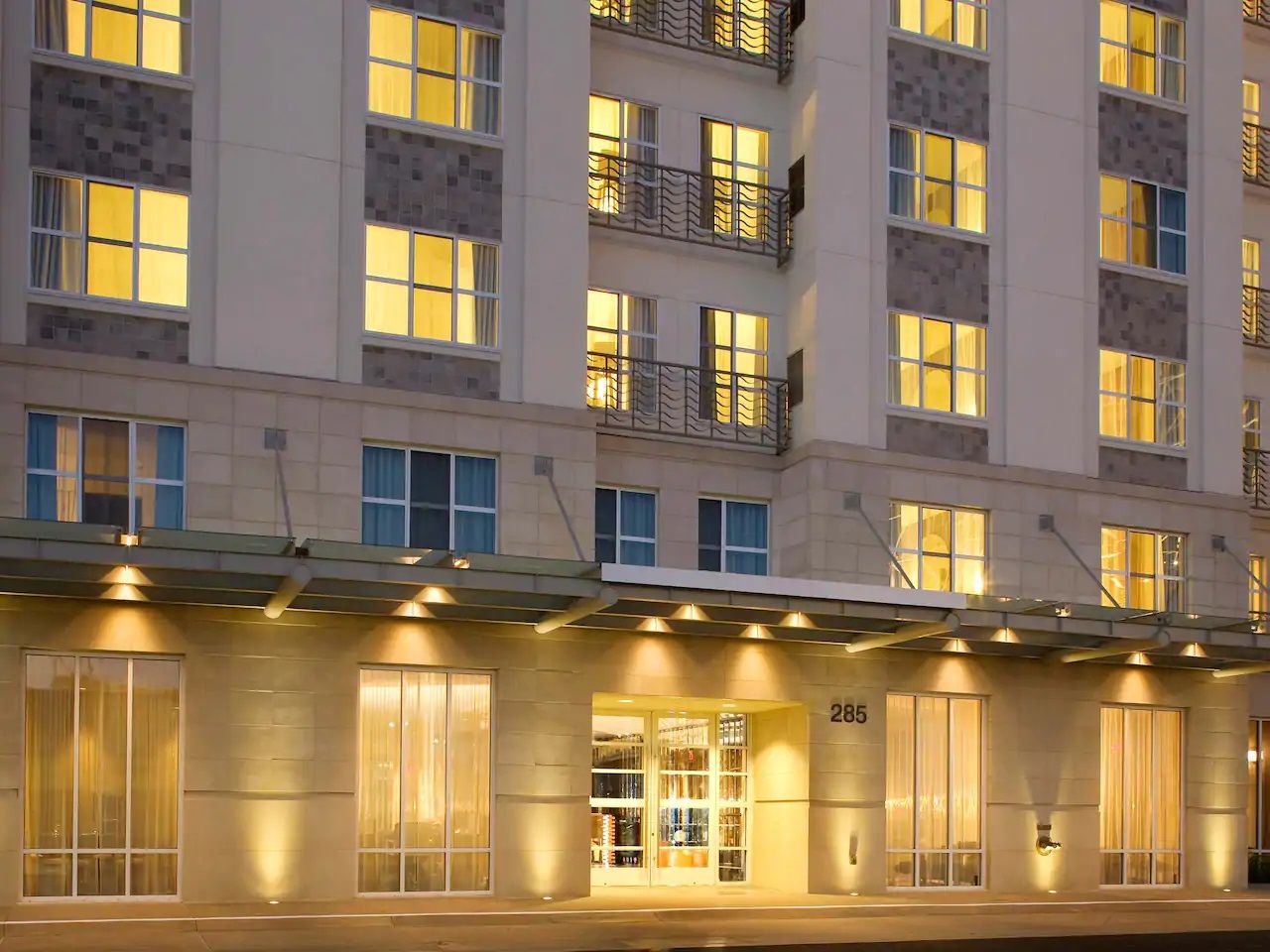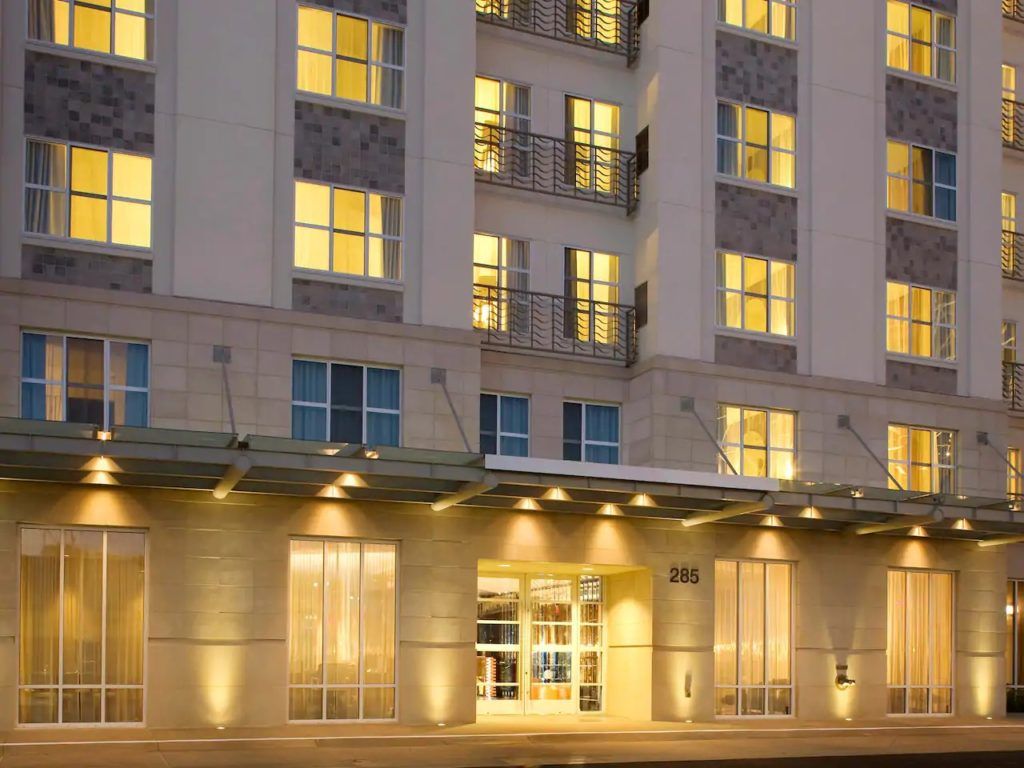 Nestled in the midst of the outdoor Pike Outlets shopping area and a block away from a Starbucks, we tested out this hotel before our Carnival Panorama Mexican Riviera Cruise.
The Hyatt Centric The Pike Long Beach was undergoing renovations during our stay. It appeared that our room was not yet updated. Still, the spacious King Bed room provided plenty of the typical amenities. Among the in-room offerings were a Keurig coffeemaker, a spacious work area, and a 32″ HD flat-screen TV.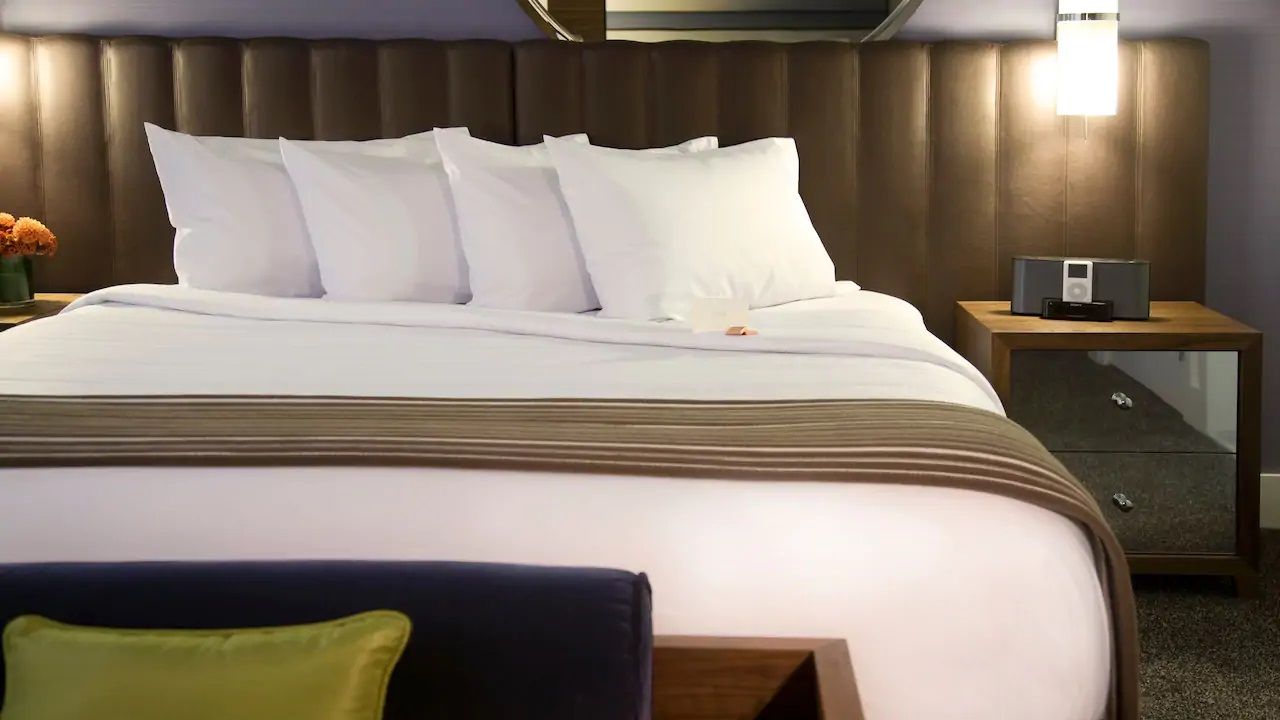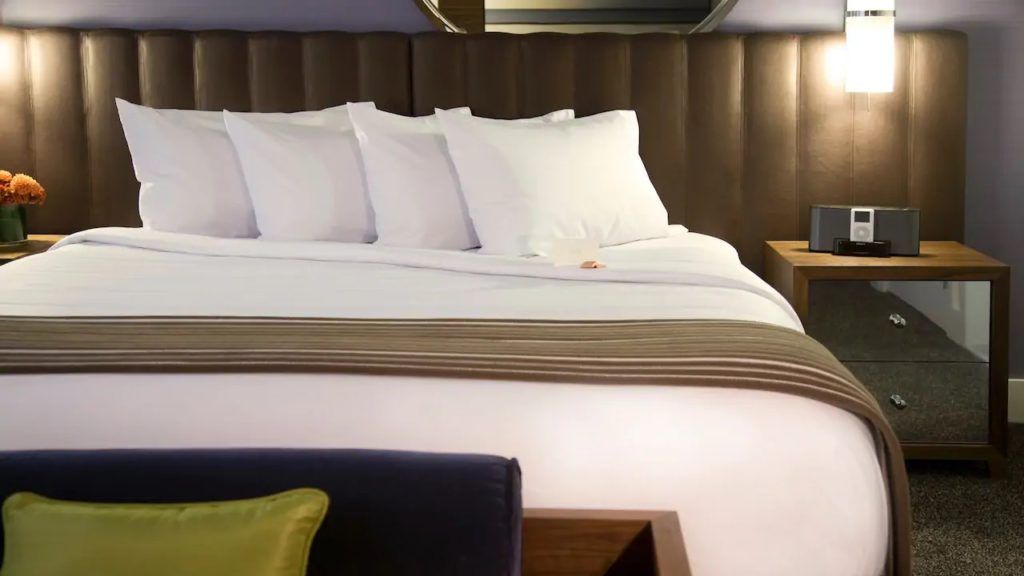 The 300+ square foot lodging was also home to an over-sized bathroom, complete with a walk-in marble shower with a waterfall shower head.
This 150 room hotel also includes a 24 hour fitness center, a rooftop pool area (which was closed during our visit), and a business center. Also, it is located across the street from the popular Aquarium of the Pacific.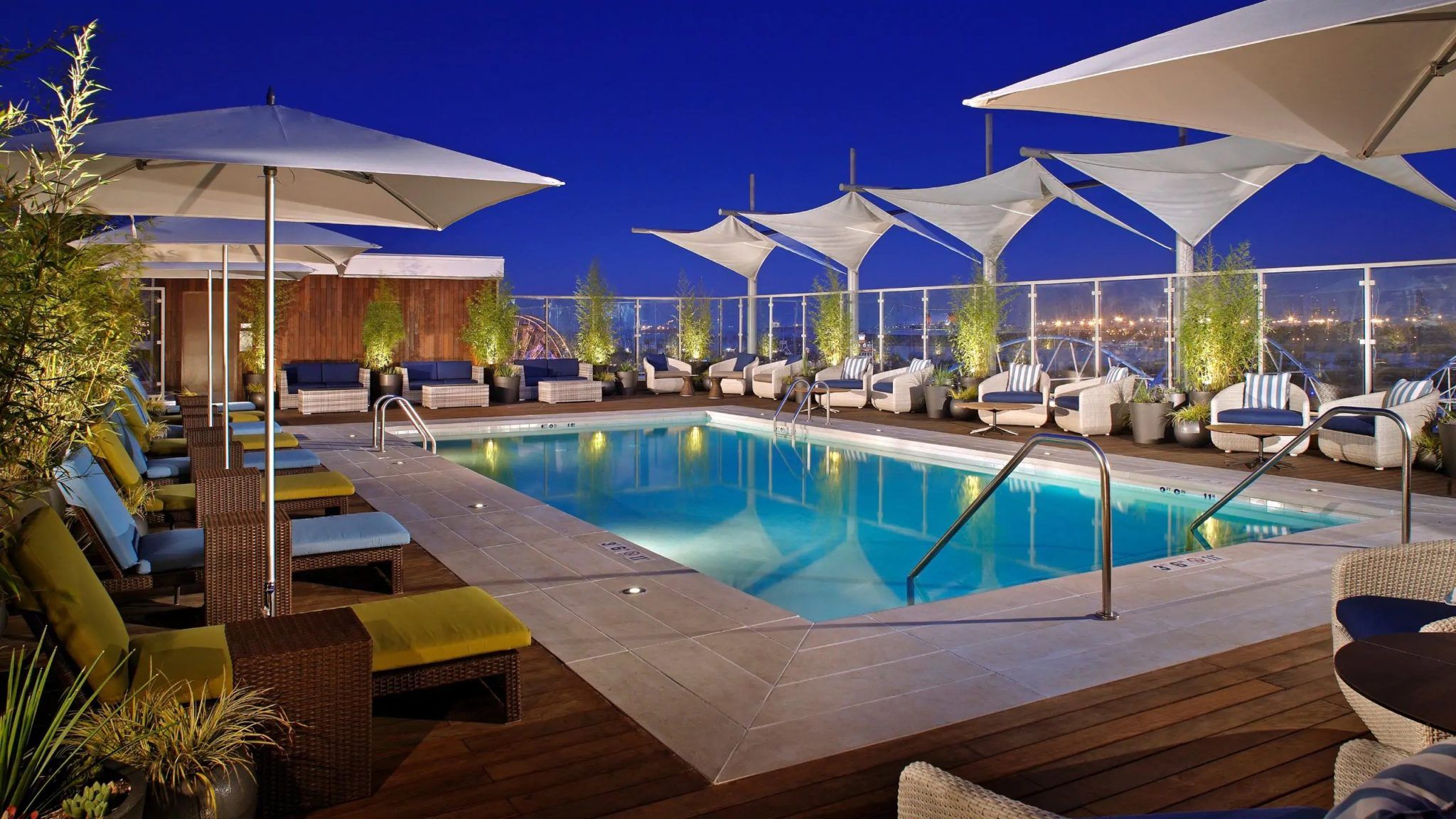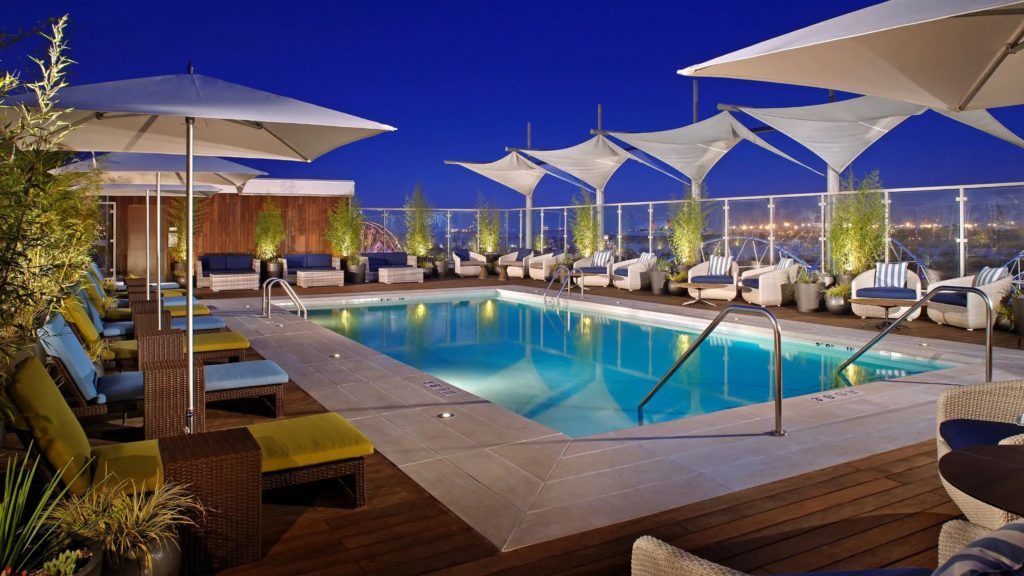 The hotel is just under two miles away from the cruise terminal.
Hotel Maya
Another cruiser favorite, Hotel Maya is located within walking distance of the cruise terminal. This resort offers a variety of amenities to help you rejuvenate whether it is before or after your voyage.
A retreat might be a better label for this lodging with its wood tones and natural elements scattered throughout the property.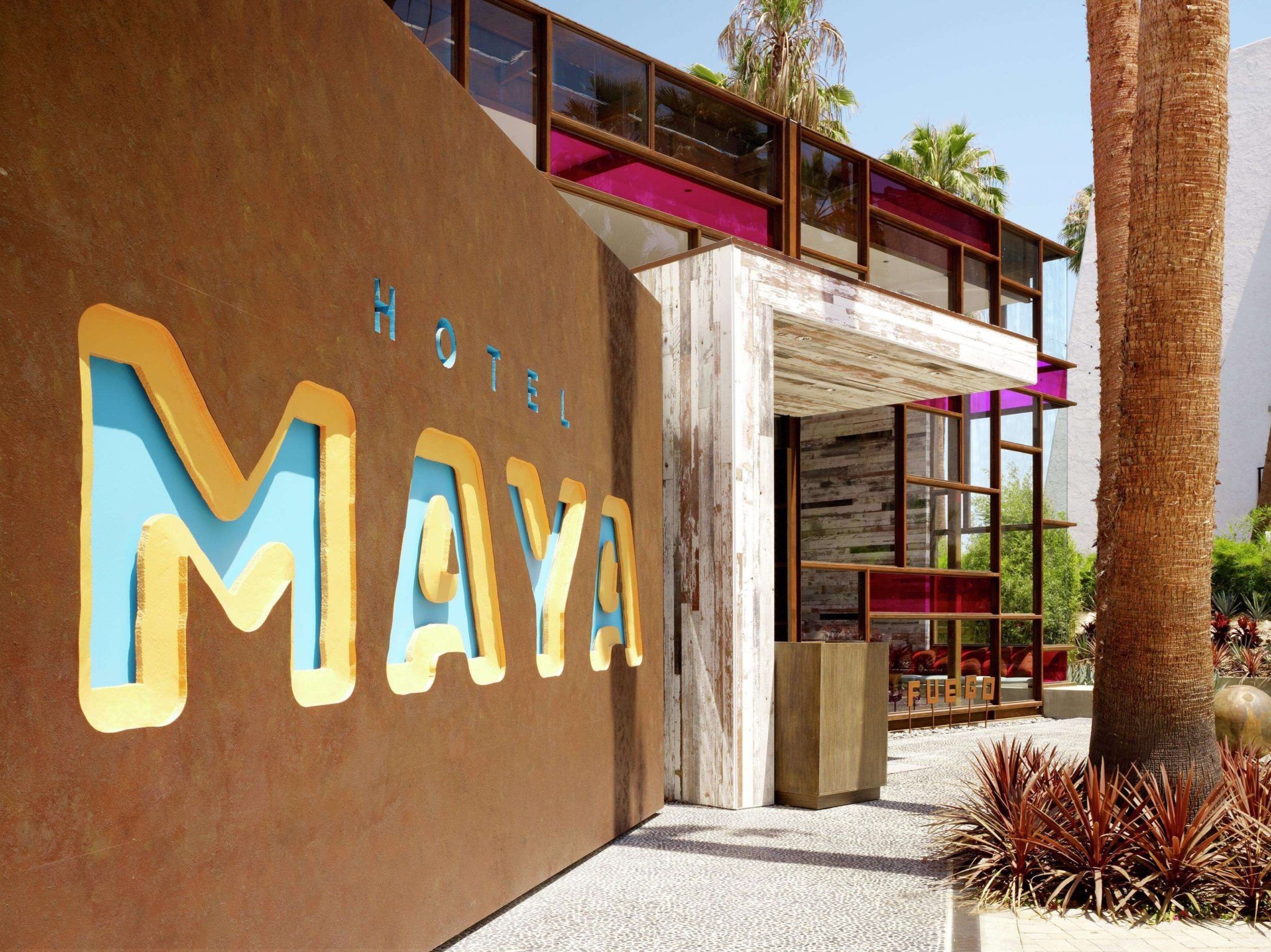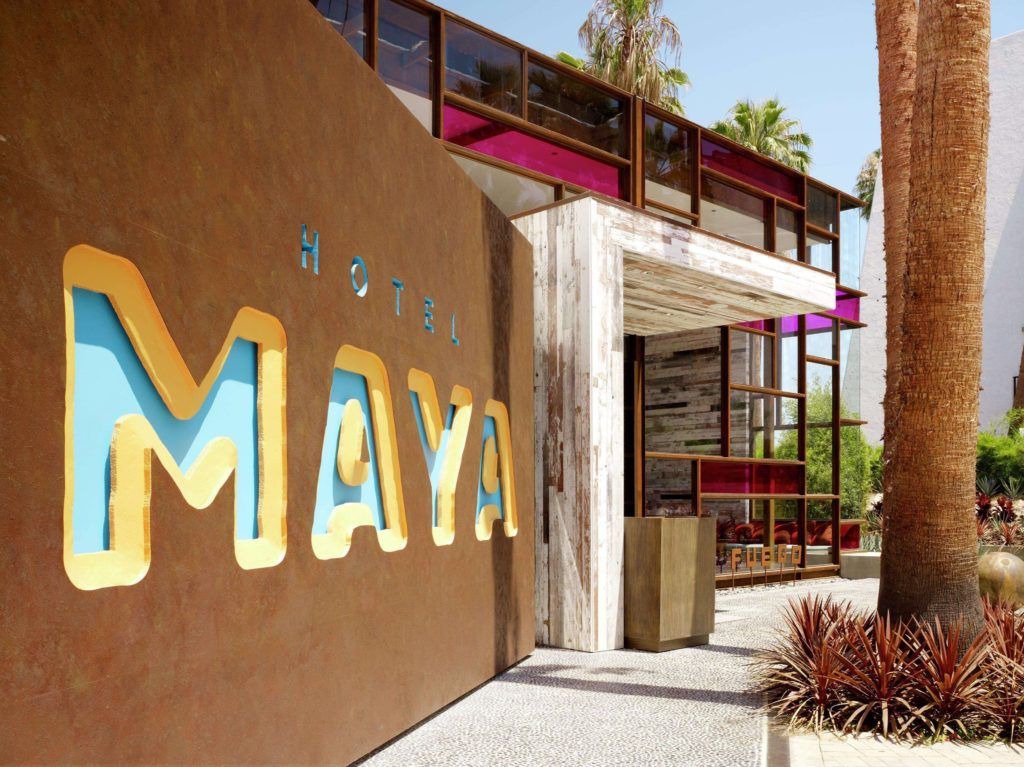 Inside your 470 square foot king bedroom, you will be treated to a great night's sleep on your luxury cotton sheets. The decor will make you feel like you are staying with a friend, not at some big brand hotel.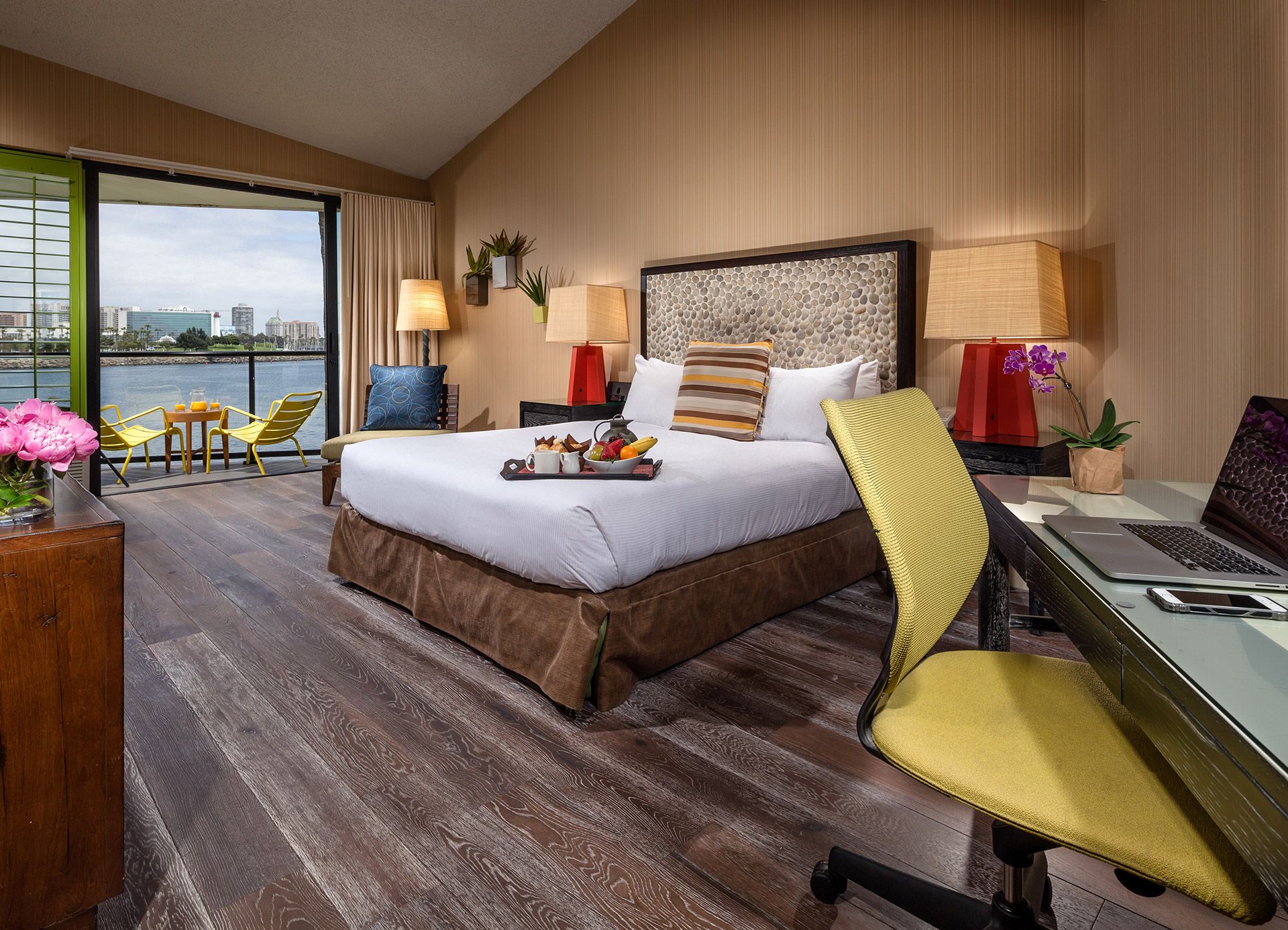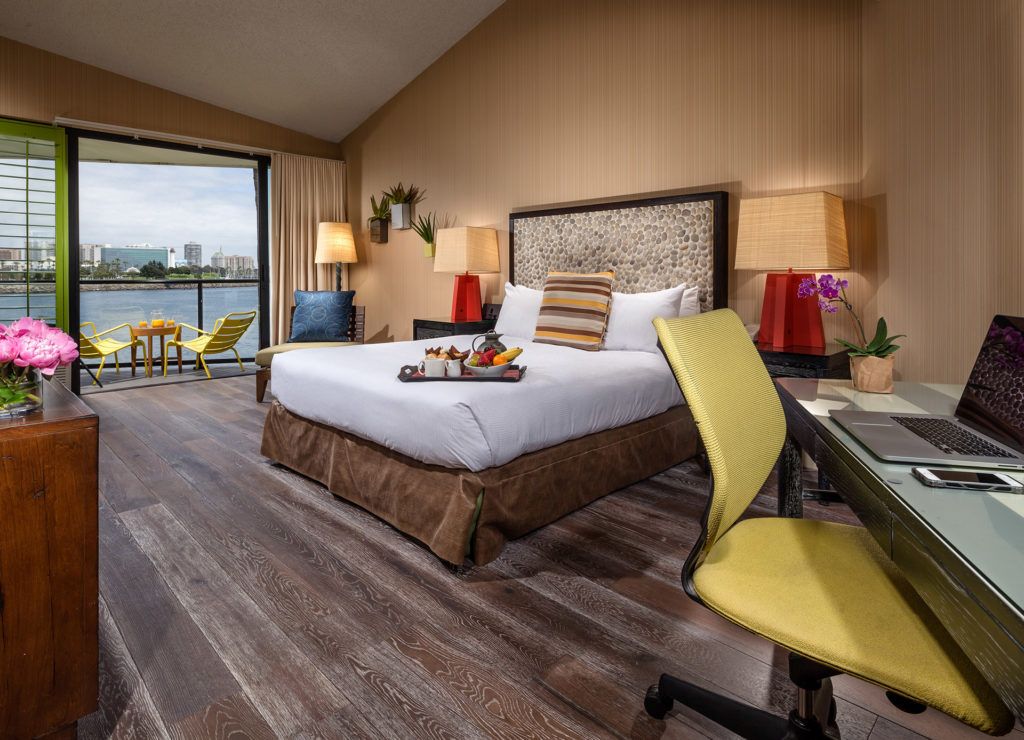 All rooms come equipped with the expected amenities, including a flat screen HD television, coffee maker, and a work station with an ergonomic desk chair. There are also artistic pops of color that add to the ambiance. There is no need to unpack your toiletries as all rooms feature Crabtree and Evelyn bath products.
You can enjoy a cabana at the ocean front pool, or tip your toes in the beach adjacent to the hotel. You can also check the hotel's schedule for classes such as sunrise yoga or beach workouts to help you get energized for your trip.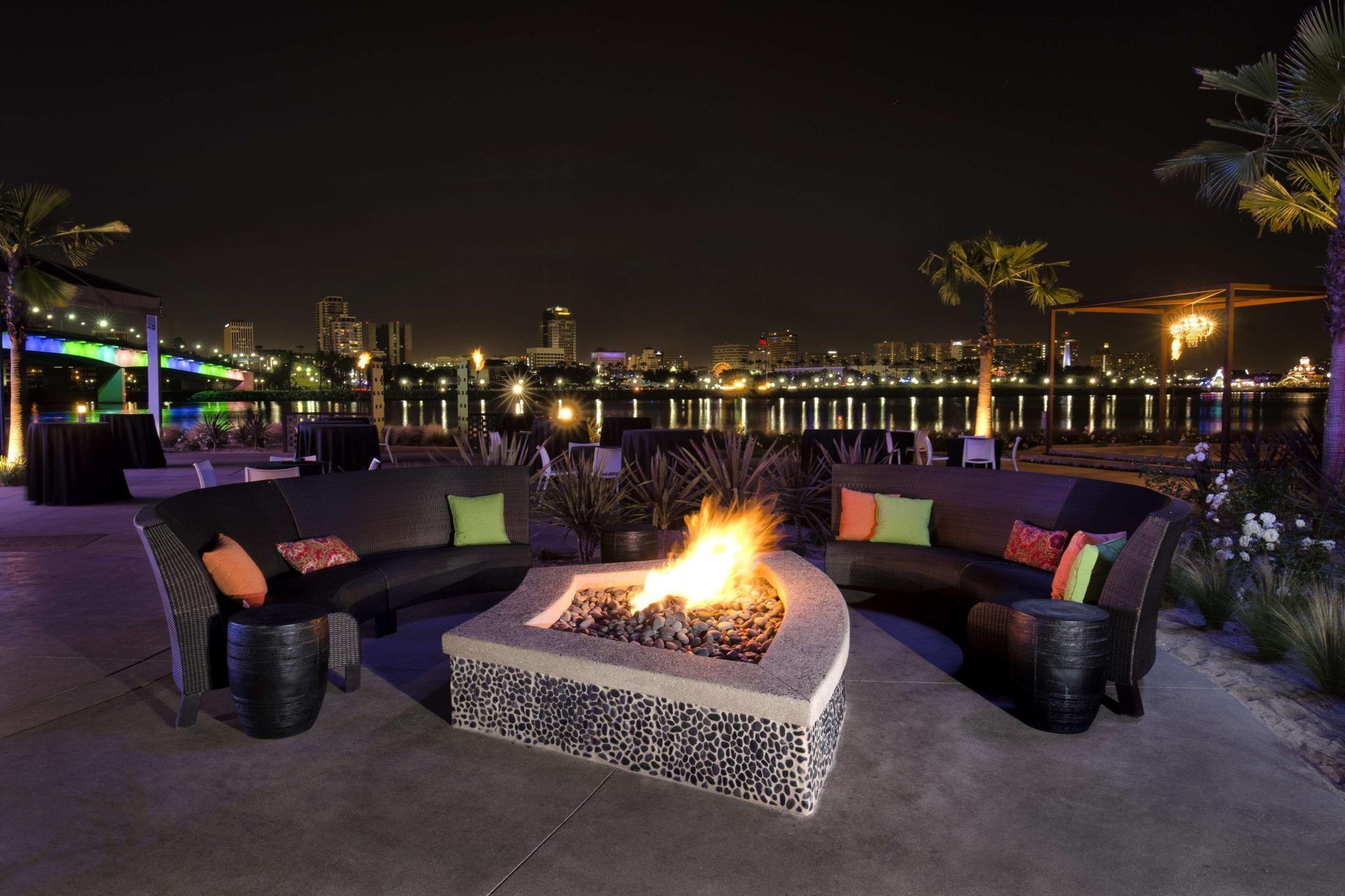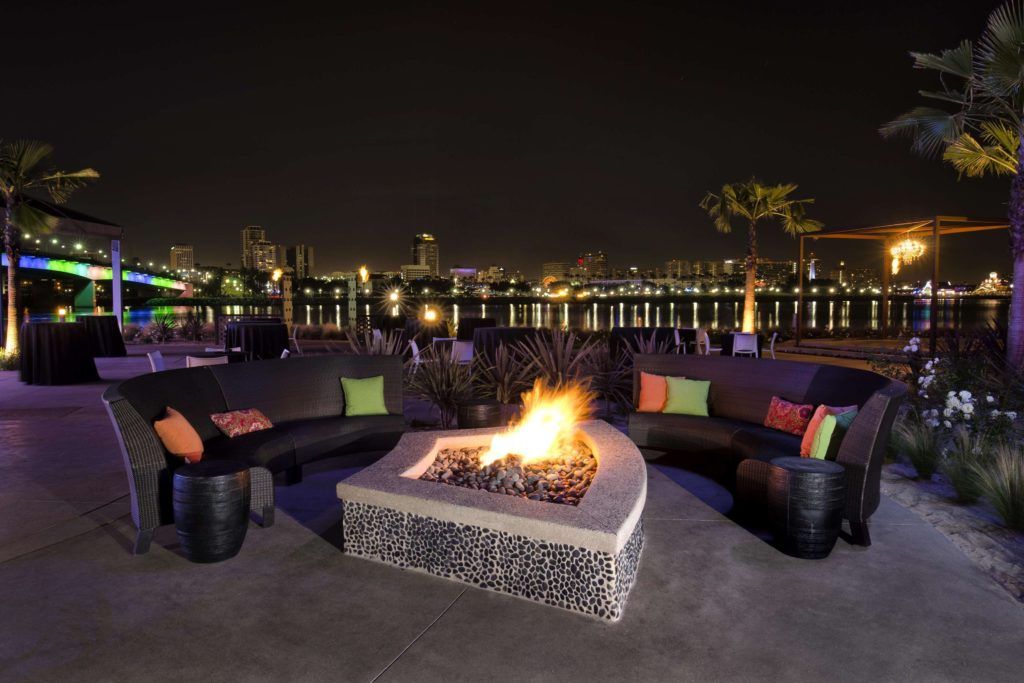 At night, you can enjoy a cocktail from Fuego, the onsite bar and restaurant, alongside one of the fire pits that are adjacent to the beach!
The Renaissance Long Beach Hotel
Located downtown, but still accessible to major shoreline attractions and the cruise terminal, the Renaissance Long Beach Hotel offers traditional hotel accommodations with a little California flare. It is within walking distance to the Convention Center, for those looking to mix business with some cruise fun.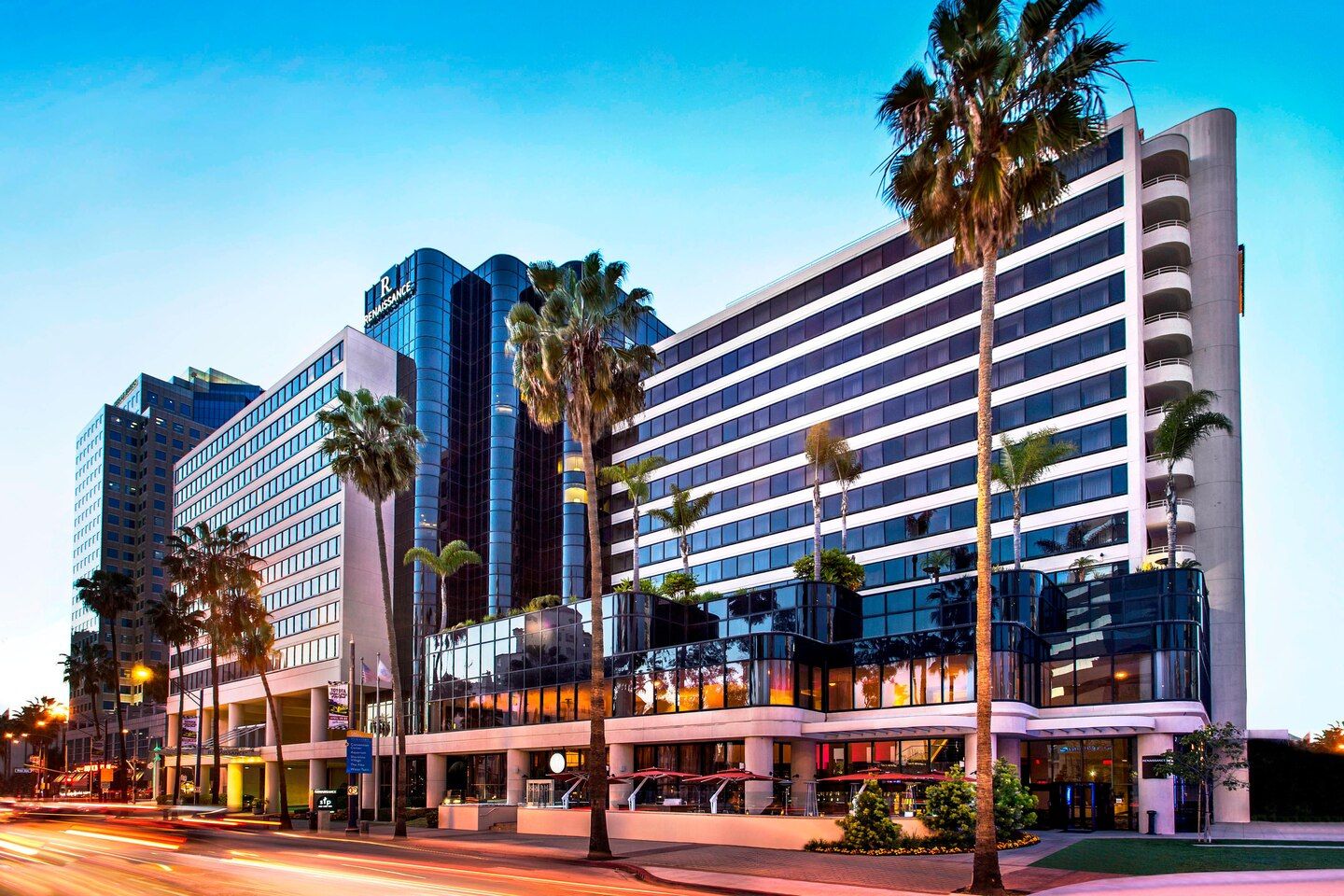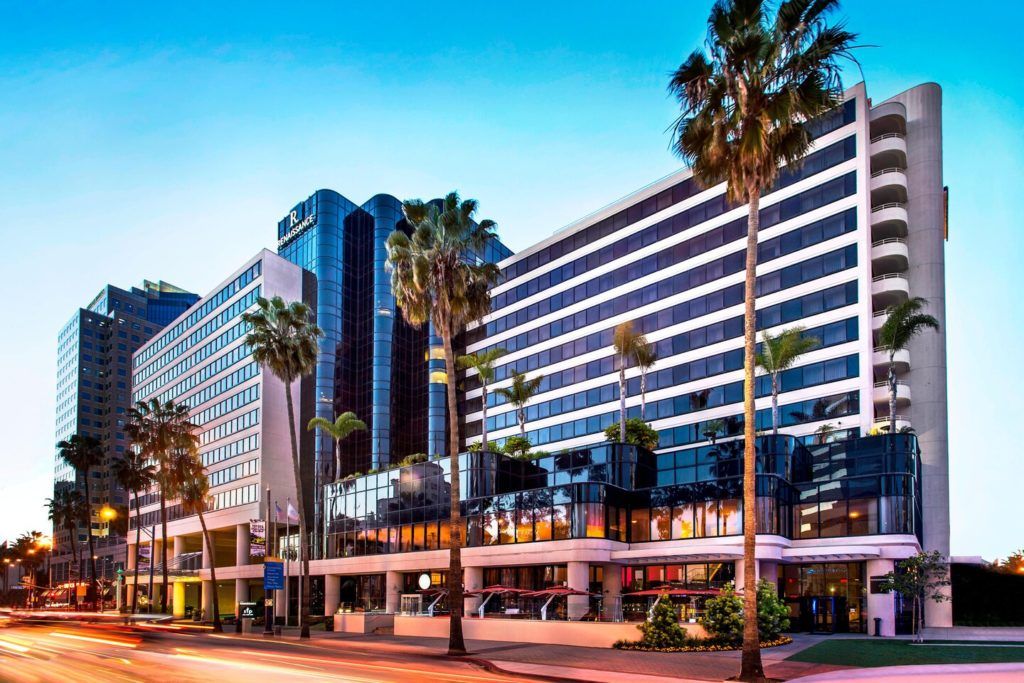 Frequent travelers will feel right at home at this popular brand of hotels that offers standard amenities. Among the inclusions are a rooftop pool, a full service fitness center, and the hotel's "Navigator" who can help you make the most of your time in the city.
The hotel's lobby bar and restaurant, Sip Bar & Lounge, is the place for a relaxing happy hour drink before heading out or a nightcap before retiring for the evening. Or, travelers can head up to the 111 Lounge on the third floor featuring outdoor loungers and fire pits to enjoy a spectacular sunset.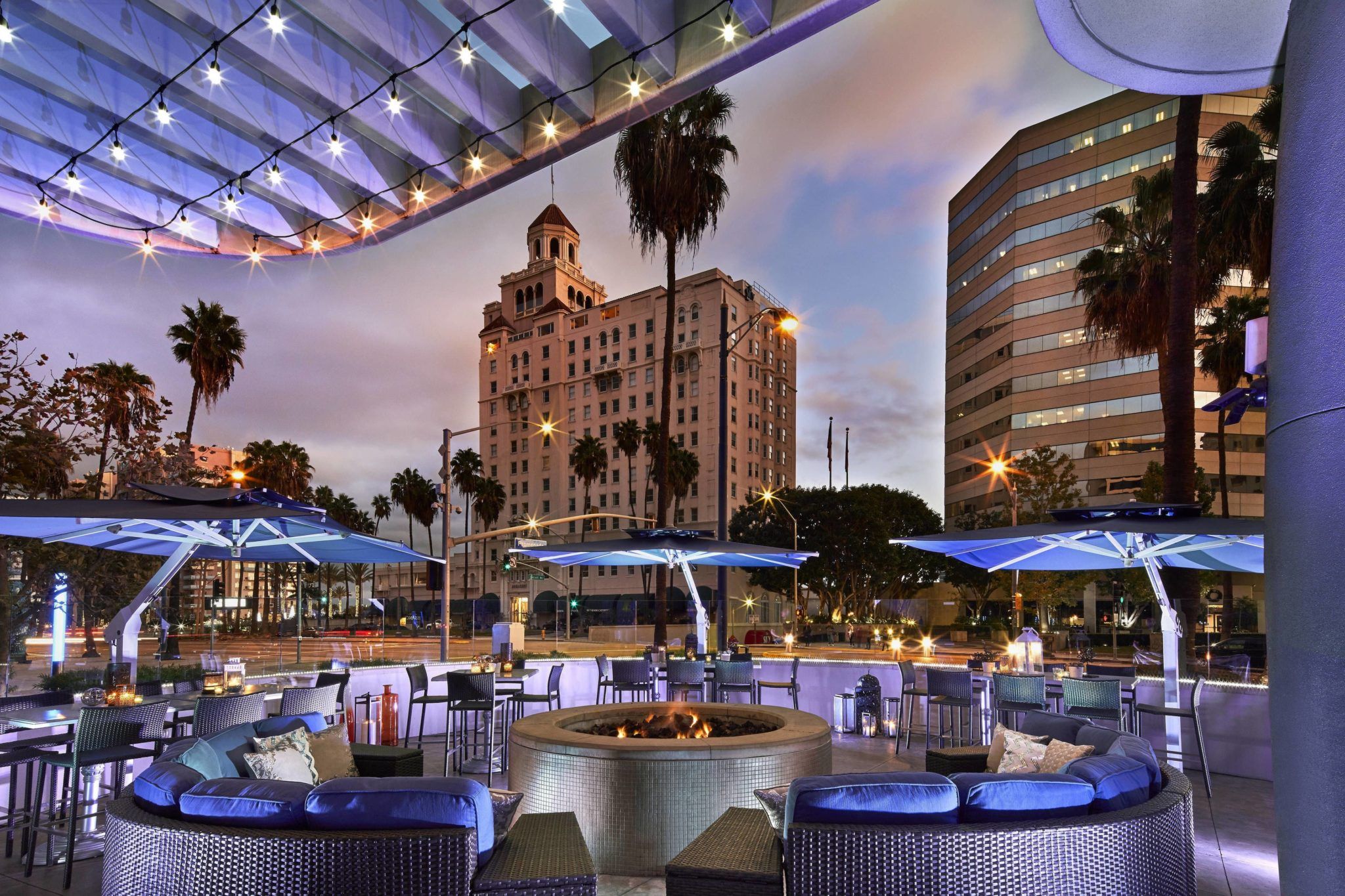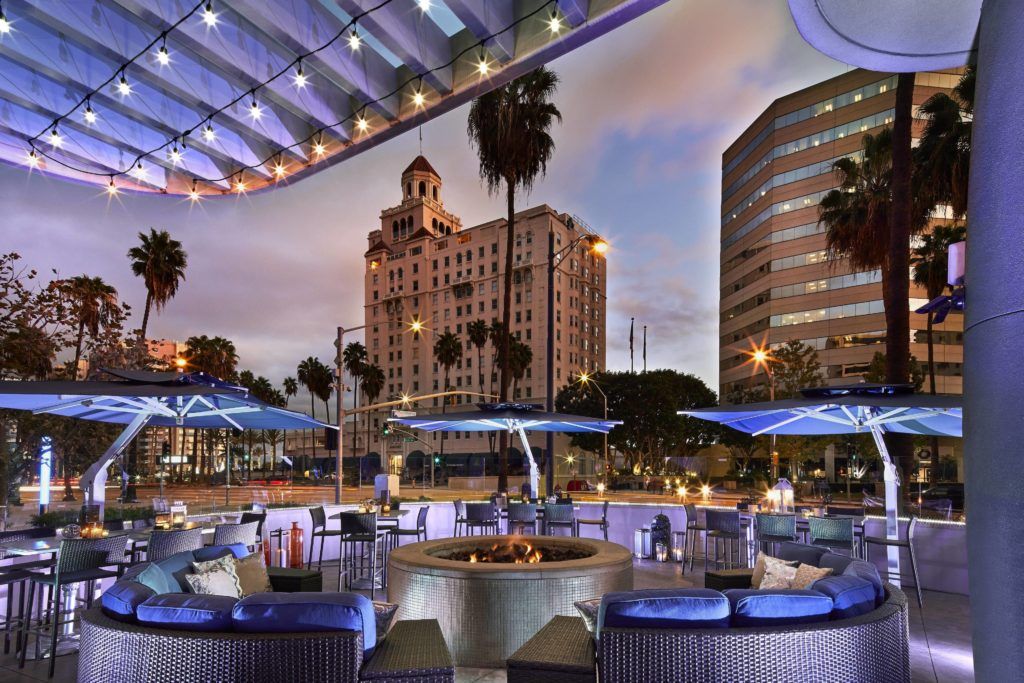 Your 276 square foot king room also boasts all of the comforts you would expect to find in a moderate hotel. All beds are outfitted with a plush pillowtop mattress, premium linens, and an ultra-soft duvet. The compact work station includes an ergonomic chair and enough room to check some email or update social media.
All rooms also include a flat screen television, a mini-fridge, and a small chair and reading nook. Unfortunately, WiFi access is a daily up-charge.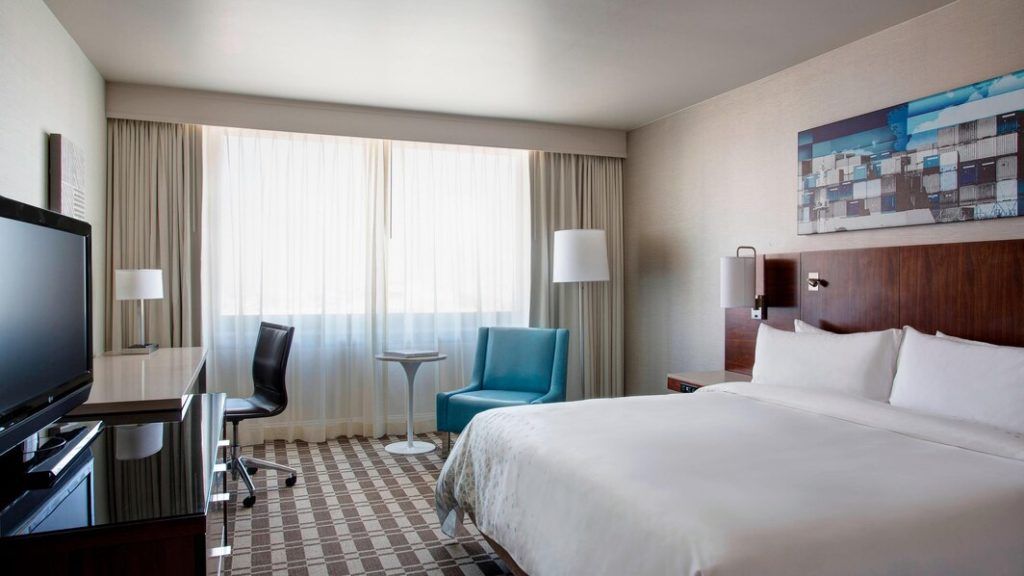 The upgraded bathrooms feature a spacious marble vanity, modern fixtures, and a convenient shower and bathtub combination stocked with Aveda bath products. The hotel is located approximately 7 minutes away from the cruise terminal.
Hyatt Regency Long Beach
If you love the beach and coastline, then the Hyatt Regency Long Beach should be on your list for a pre-cruise or post cruise stay. All 528 rooms in this hotel offer views of the water or the harbor.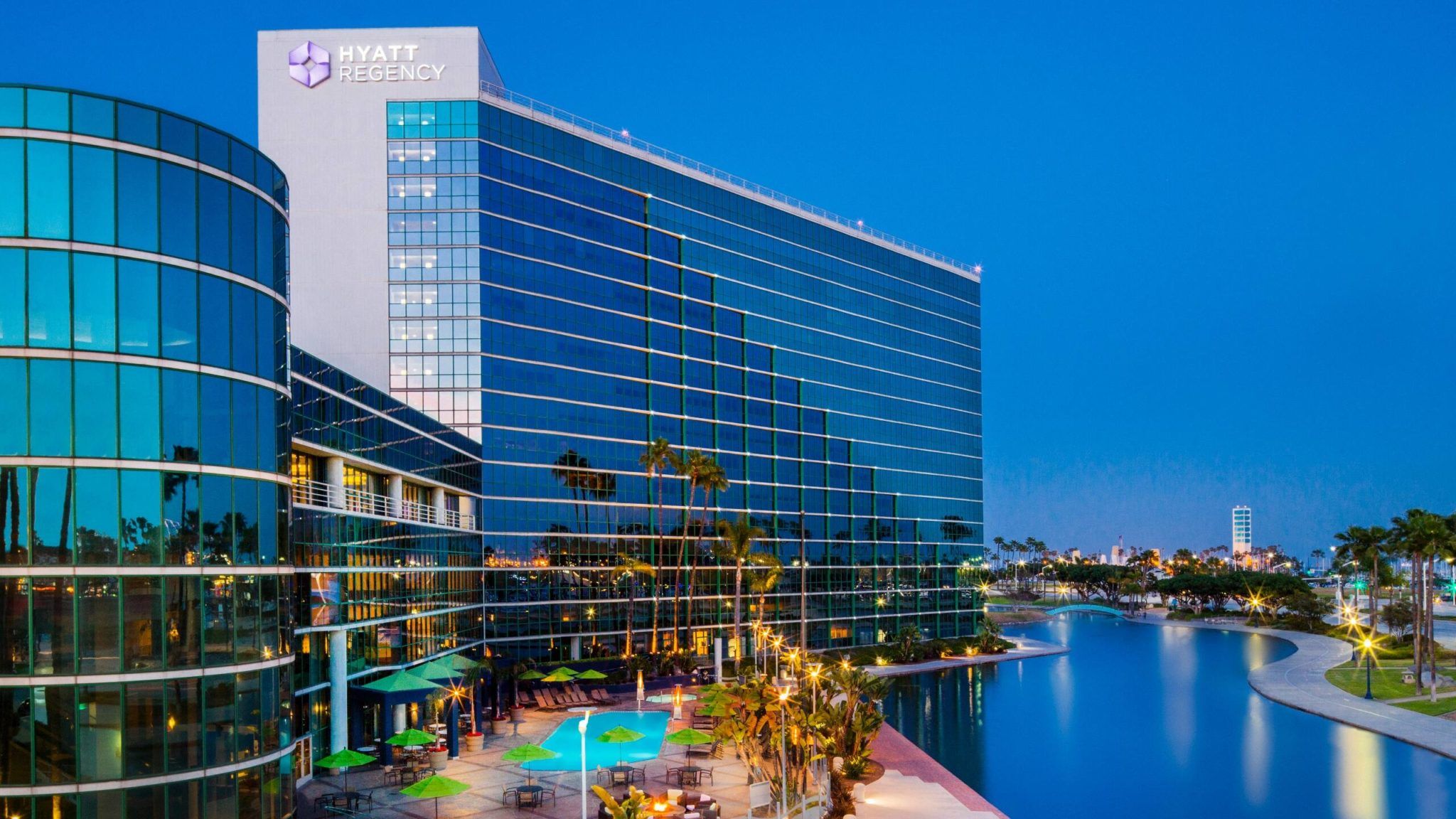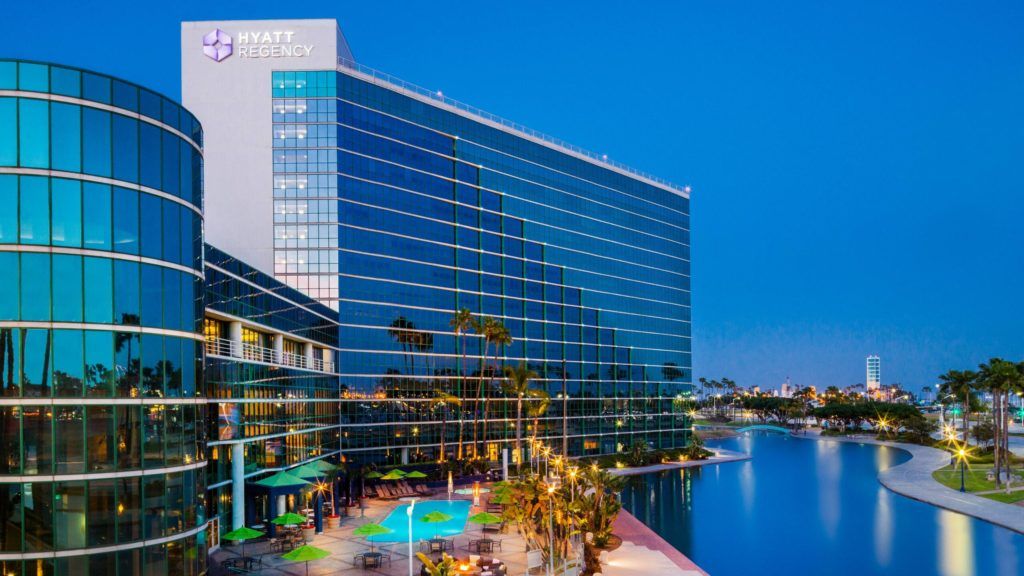 A walk from the beach, or nearby attractions, this hotel is the perfect locale for those looking to enjoy the sand, surf, and sun. Not to mention, dining and shopping are in close proximity at the Shoreside Village.
Of course, you can find great amenities at this hotel to help you unwind in style and sophistication. The Cove Coffee Bar and Lounge can brew your morning pick-me-up or an evening snack and libation. While, the Tide restaurant entices you with a full menu, with both patio and indoor dining options.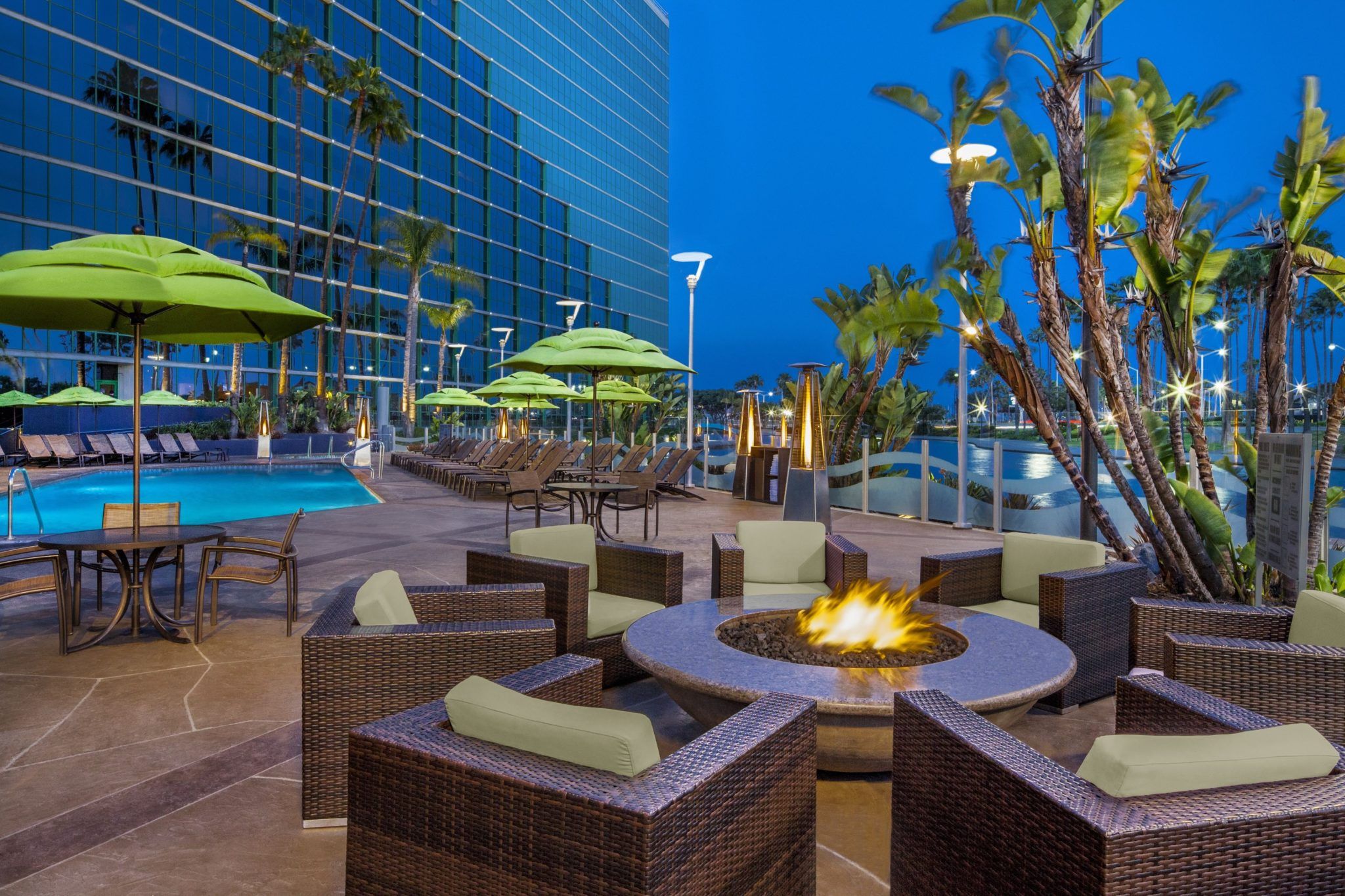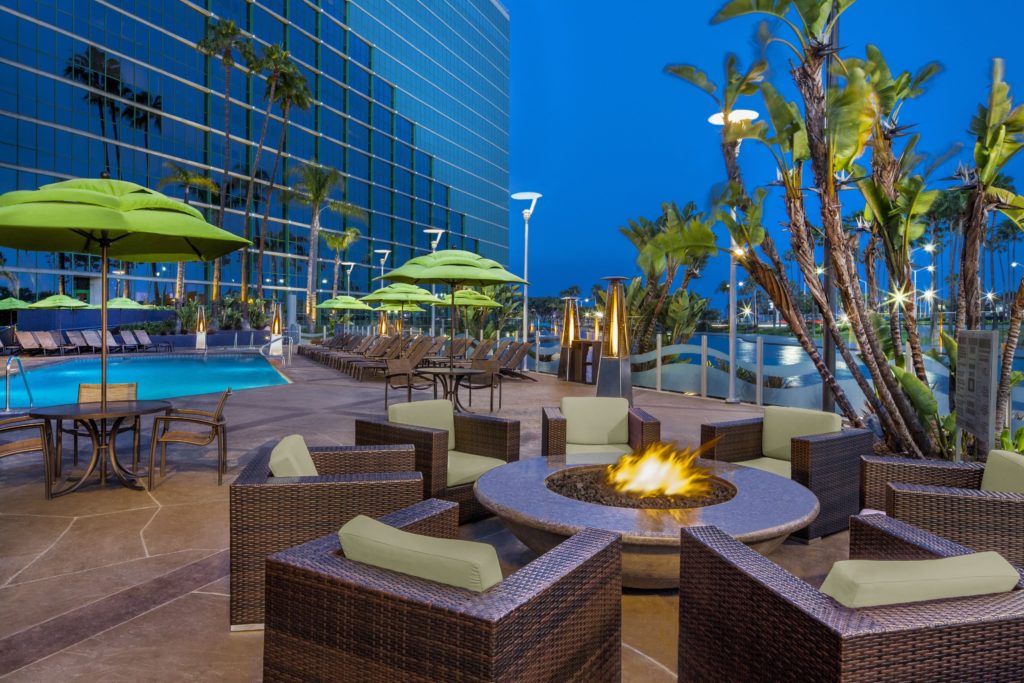 The hotel's pool is located adjacent to the lobby and offers a quiet retreat for those who prefer to avoid the beach. The hotel also offers a 24 hour fitness center and up-charge services like childcare.
The 289 square foot King room comes equipped with all of your standard hotel features. The chic, ultra-modern décor resembles a loft-style apartment with a coastal design.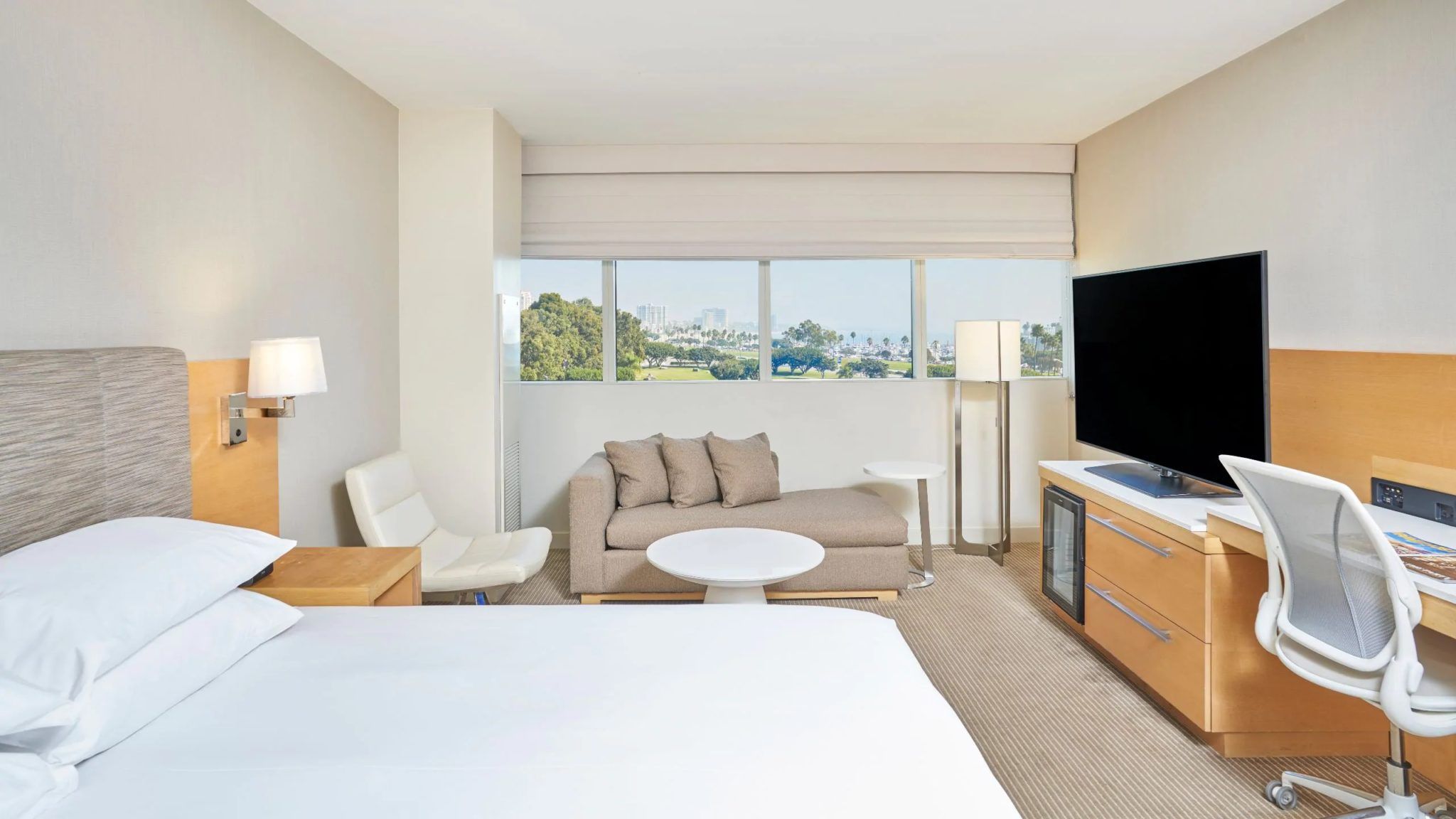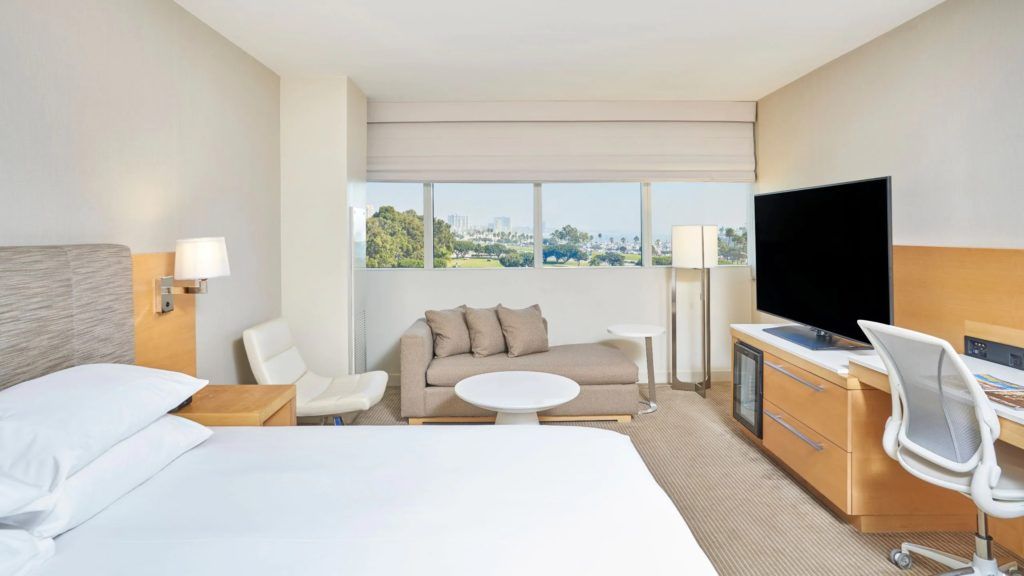 The king room's over sized ergonomic work area has a Hyatt Plug Panel to ensure you are always connected. Now, you have plenty of room to charge your devices or get some last minute work completed before starting your vacation. Unlike some moderate resorts, WiFi is included at no extra charge.
Other inclusions are an iHome stereo, a coffee maker, and a large screen HD television that will make you feel right at home.
The Cove Hotel
For those looking for something special, the boutique Cove Hotel offers plenty of charm and amenities. The hotel mixes indoor and outdoor elements that are the hallmark to the Golden State. While the hotel is a bit further away than some of our other suggestions for the best hotels near the Long Beach cruise terminal, it is still only about a 10 minute ride away.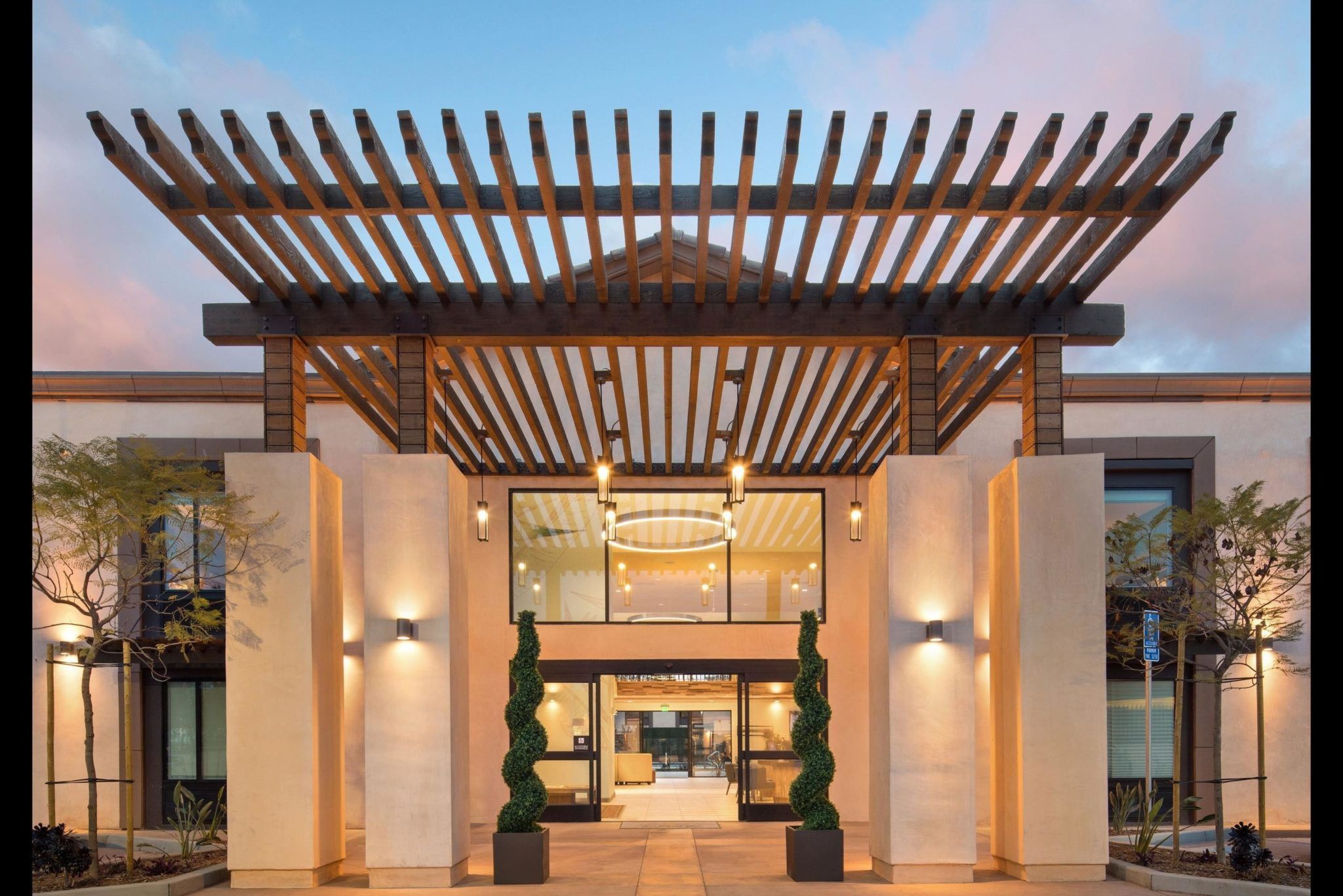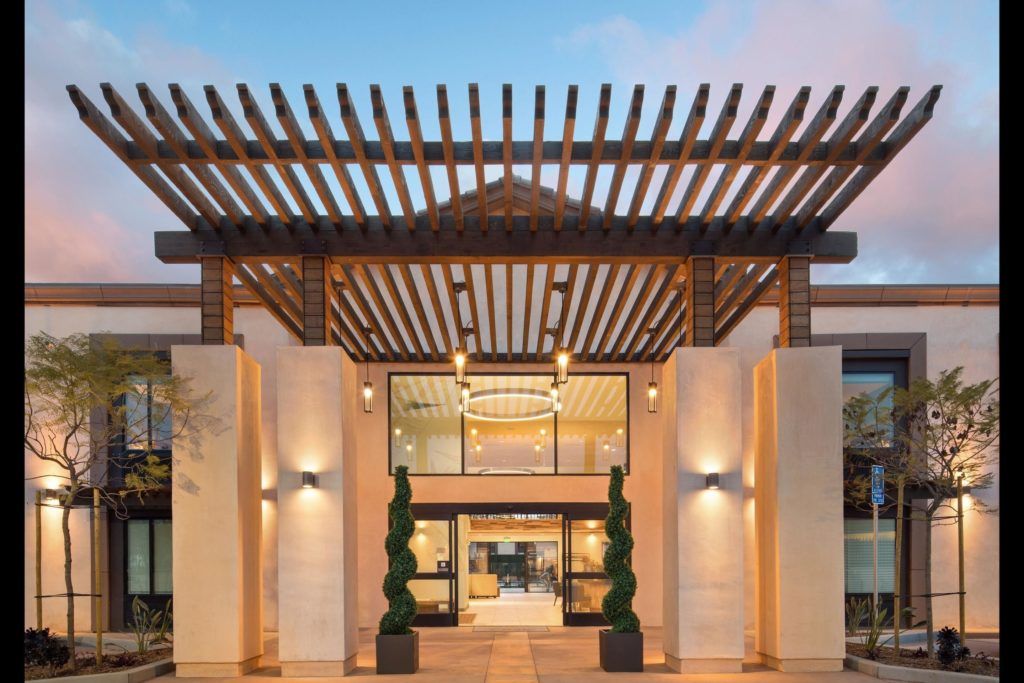 This resort features everything you need for a relaxing stay. The pampering starts with a complimentary glass of champagne upon check-in. Then, it continues with the centrally located sundeck with a heated swimming pool, cabanas, and fire pits in the evening.
WiFi is complimentary throughout the entire property, and the hotel's specialty coffee bar has just what you need to get your day started. Likewise, the Wave Cafe and Bar offers cocktails and small plates in the evening.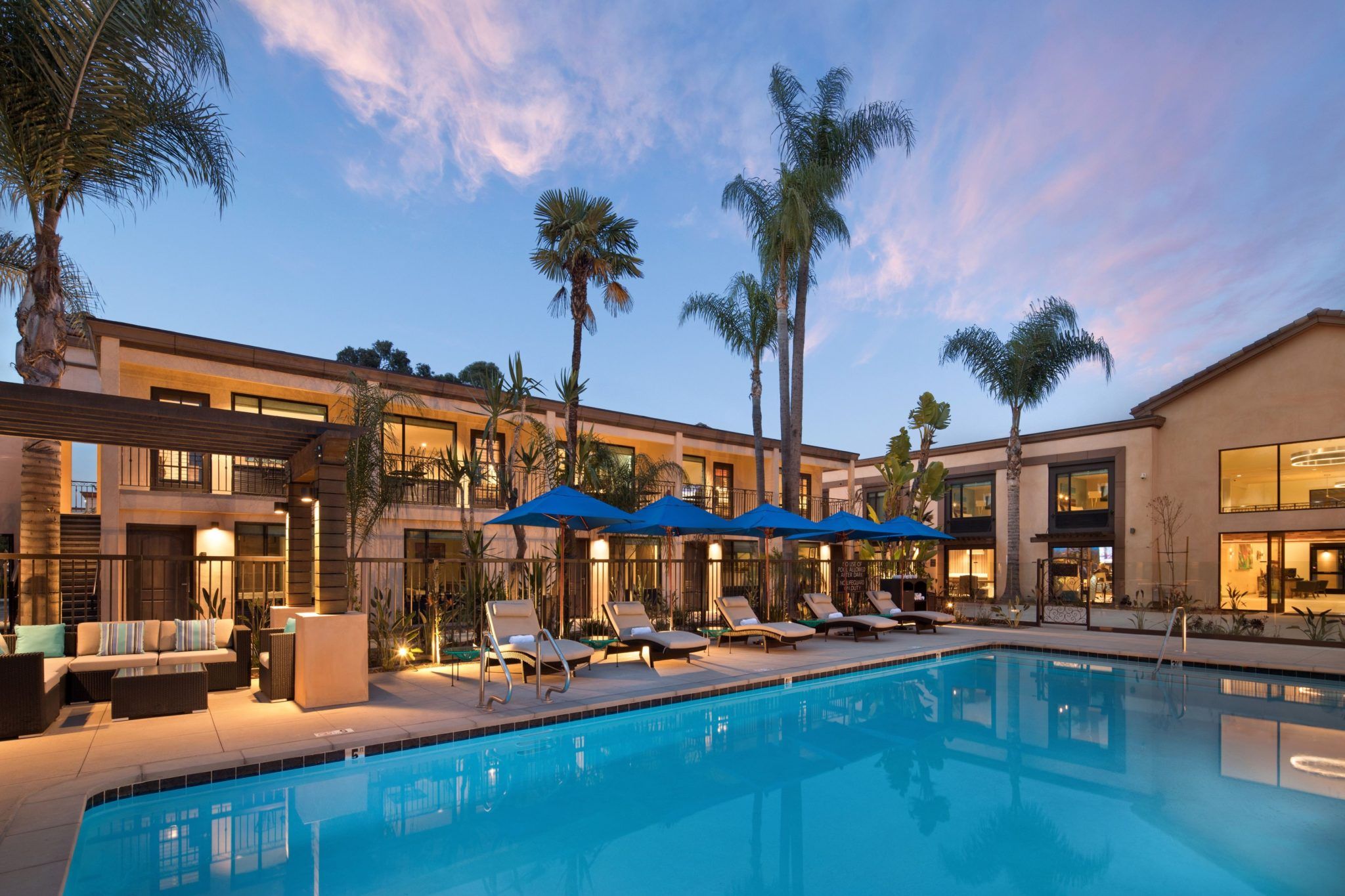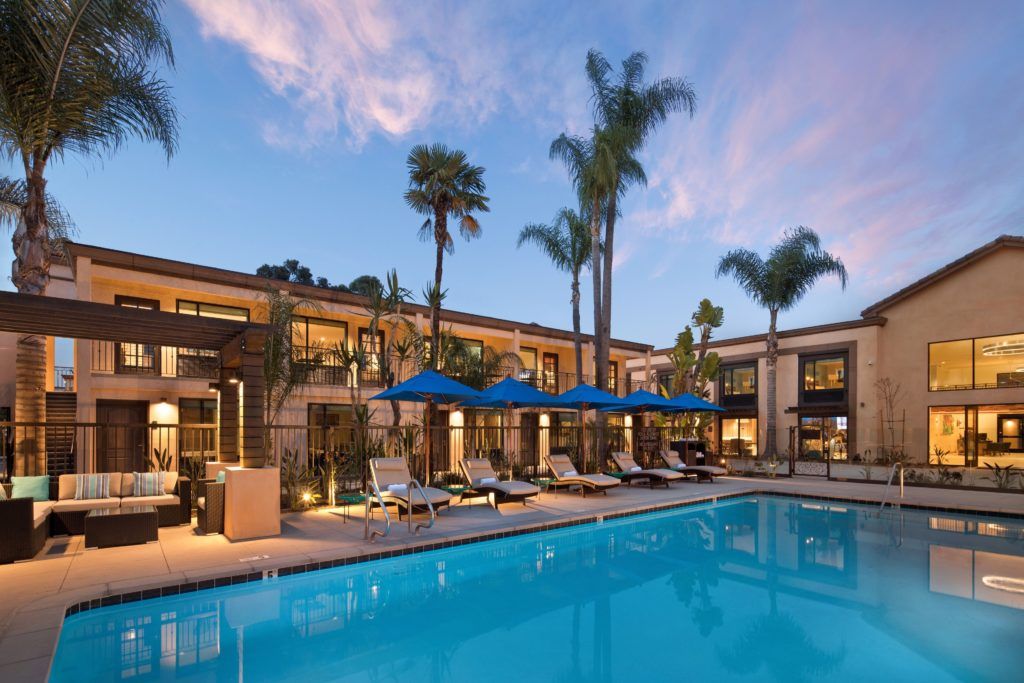 Instate cruisers can take advantage of the low rate parking ($10 a night) or the Park and Cruise promotion, which includes 7 days of parking and free transportation from the hotel to the cruise terminal.
You might feel a bit spoiled in your 400 square foot Deluxe King room, which is among the largest in California. All rooms feature 50" Smart HDTVs, premium Serta Perfect Sleeper Platinum beds, Keurig coffee machines, a microwave, a mini-fridge, and laptop-sized safes.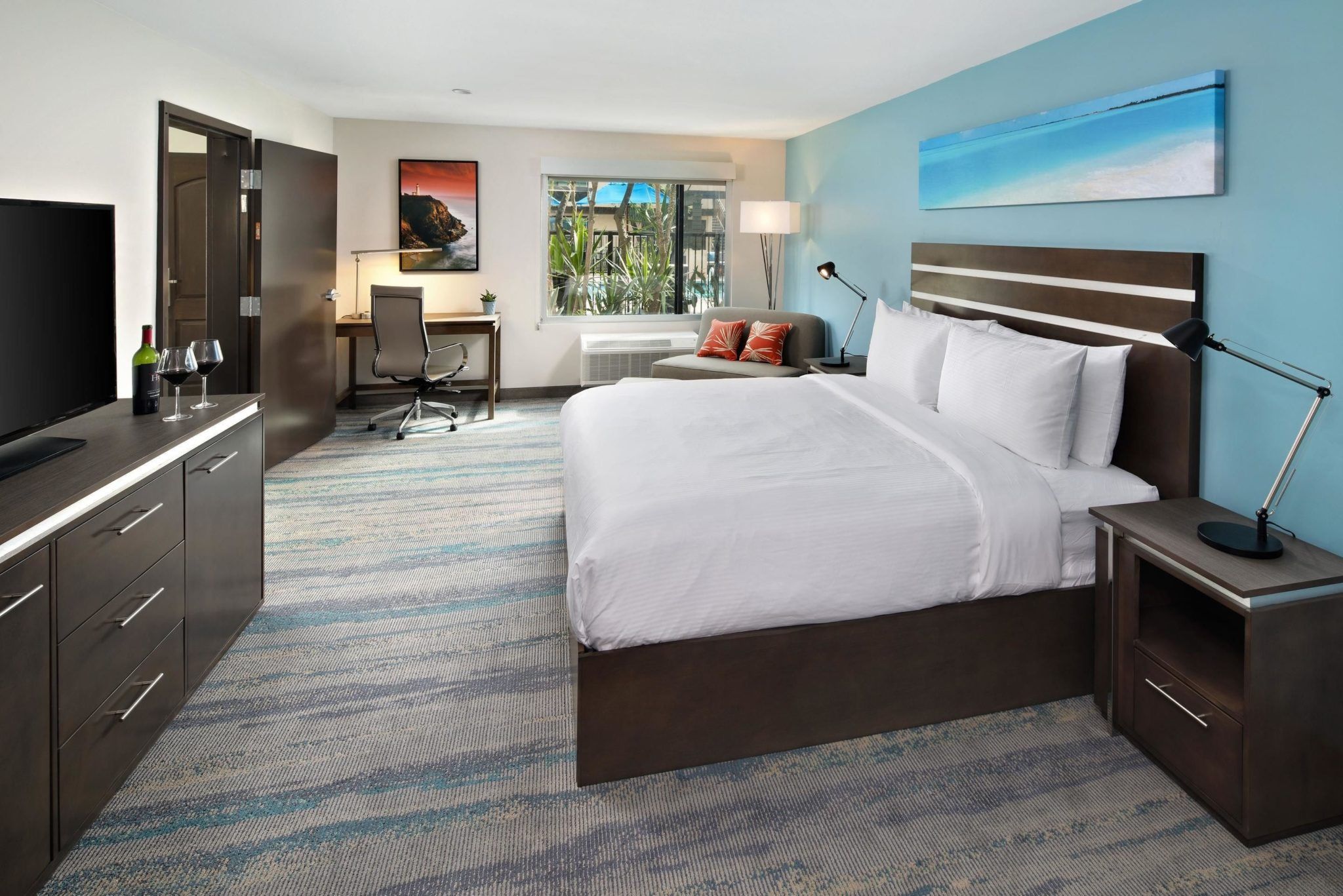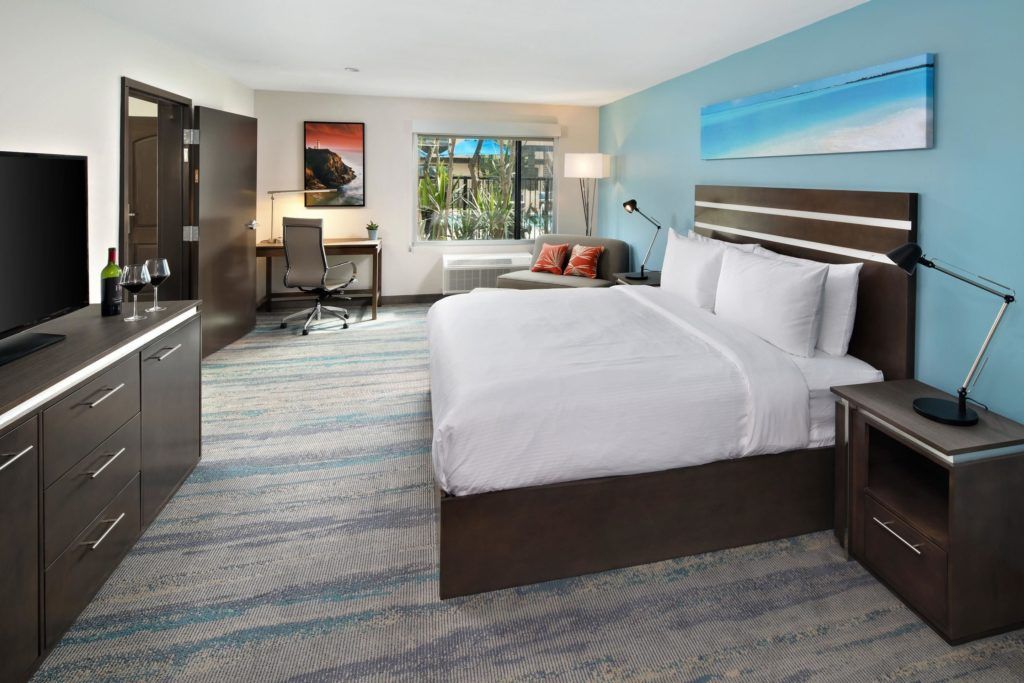 Techies will appreciate the Cubie Blue alarm clocks which enable you to listen to your music from your smartphone. Similar to forward thinking cruise ships, rooms also include additional bedside electrical outlets and USB ports.
You can even start your embarkation day off right with the rainfall water showers and premium bath products by Molton Brown in the modern and clean bathrooms at this boutique resort.
Hotel Current
This chic hotel straddles the line between value resort and a moderate hotel. With modern finishes and pops of color, the Current Hotel has an art district vibe. Although, this popular resort is securely located between many of Long Beach's popular shoreline attractions, as well as the city's downtown amusements.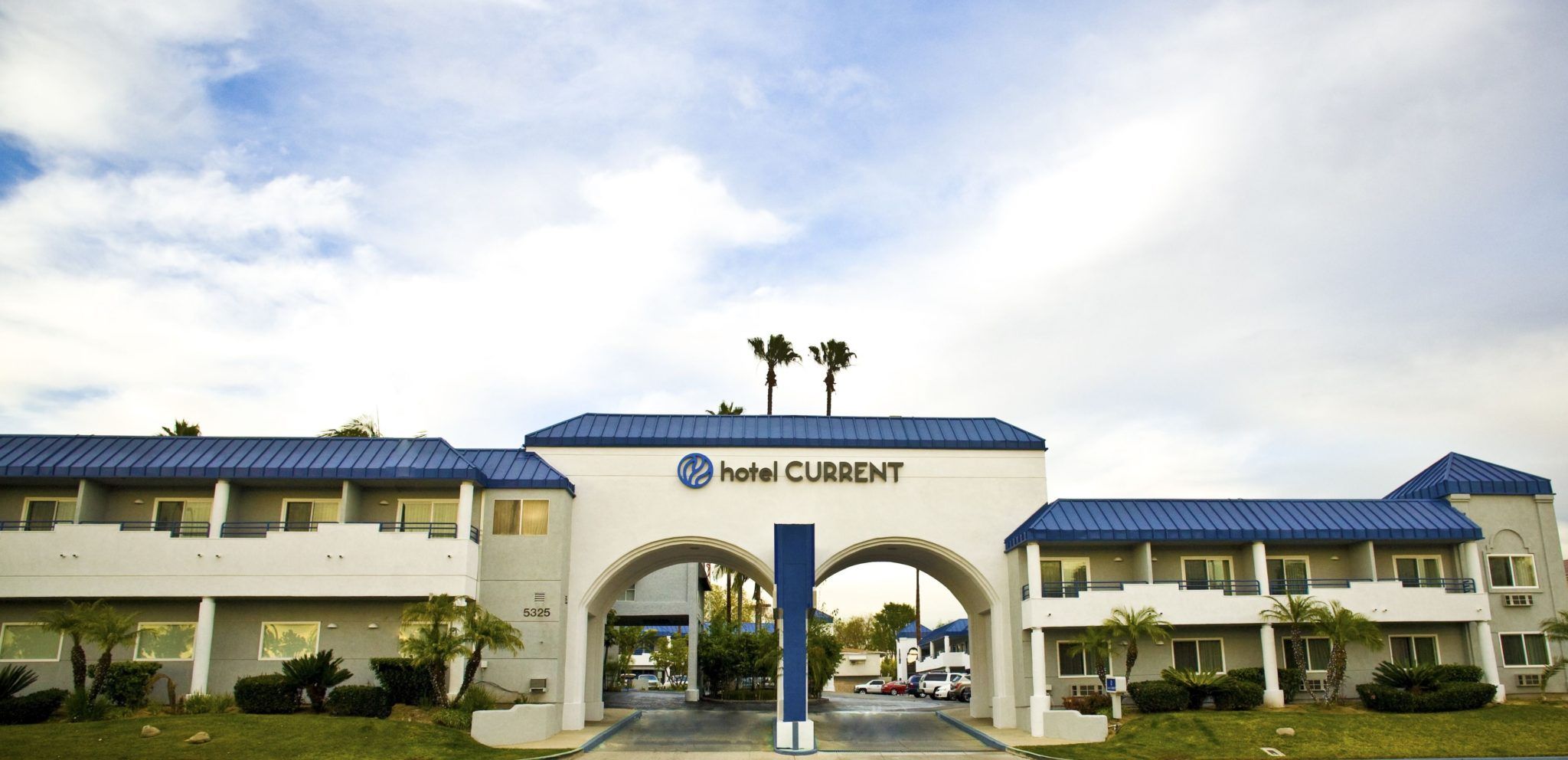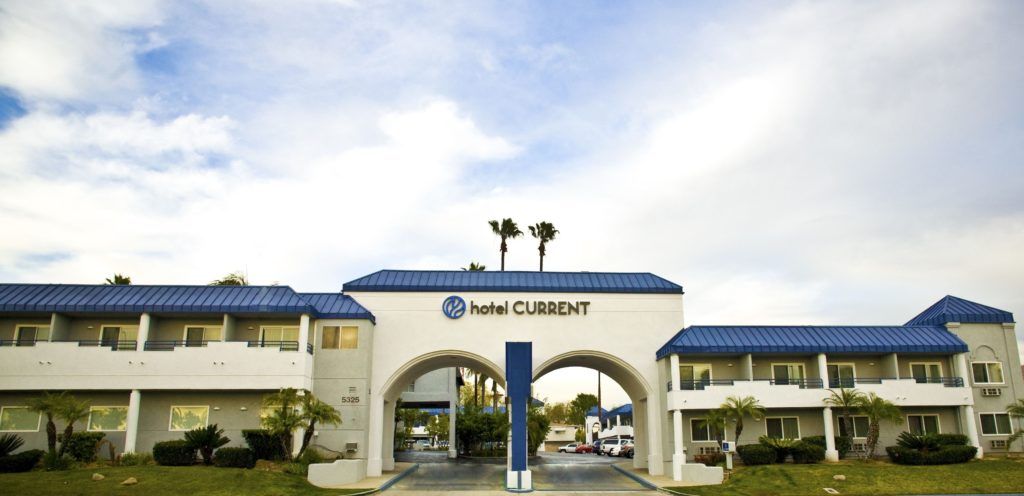 Located slightly over 15 minutes from the cruise terminal, it might be a bit further away than other hotels, but it does offer shuttle access to and from the airport. The hotel also offers a Cruise and Snooze package, which includes a round trip shuttle to and from the cruise terminal and up to 14 days of parking.
All rooms also include added benefits like free WiFi and a continental breakfast. There are no hidden resort fees either or additional costs to use the year-round pool and cabana area.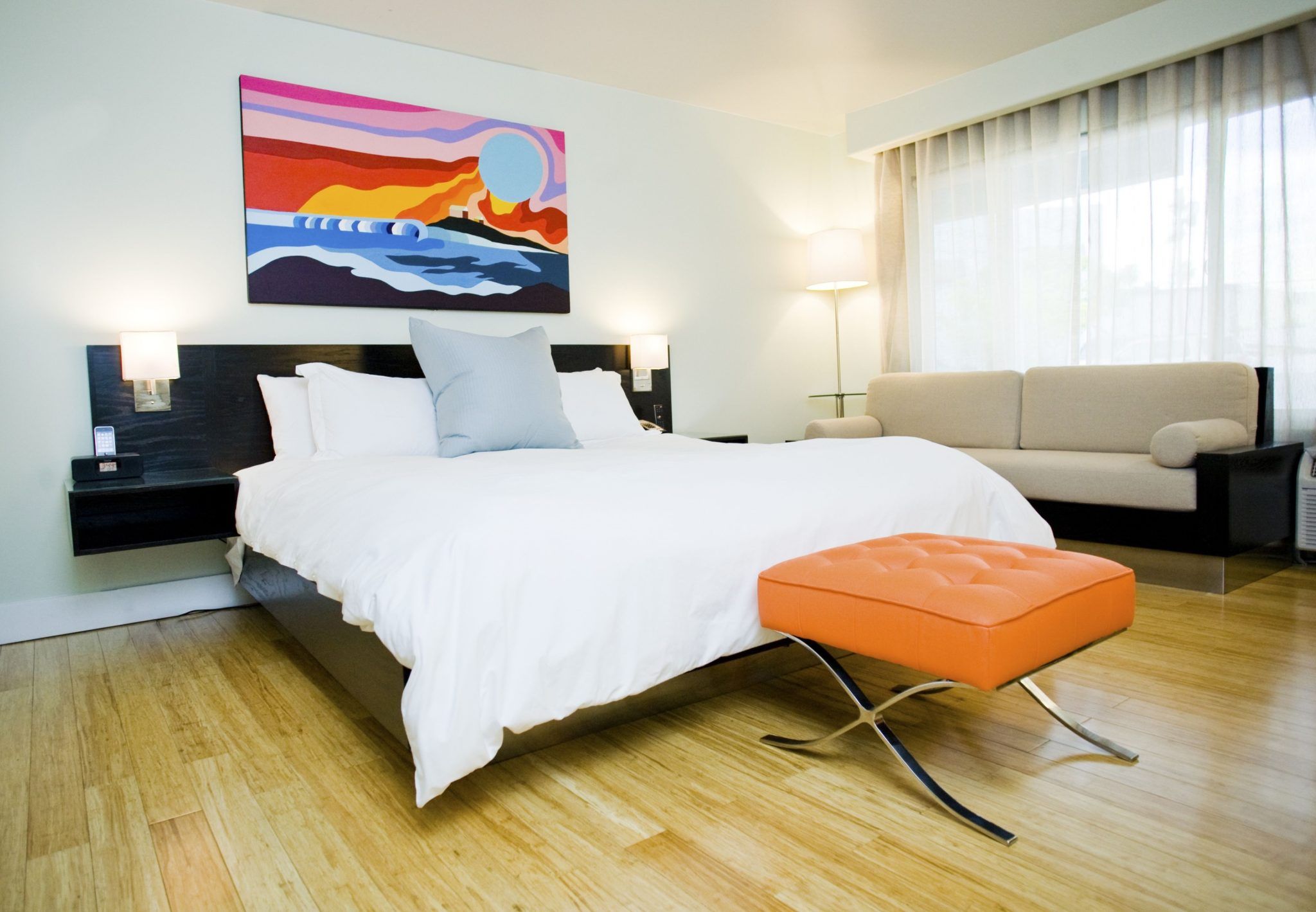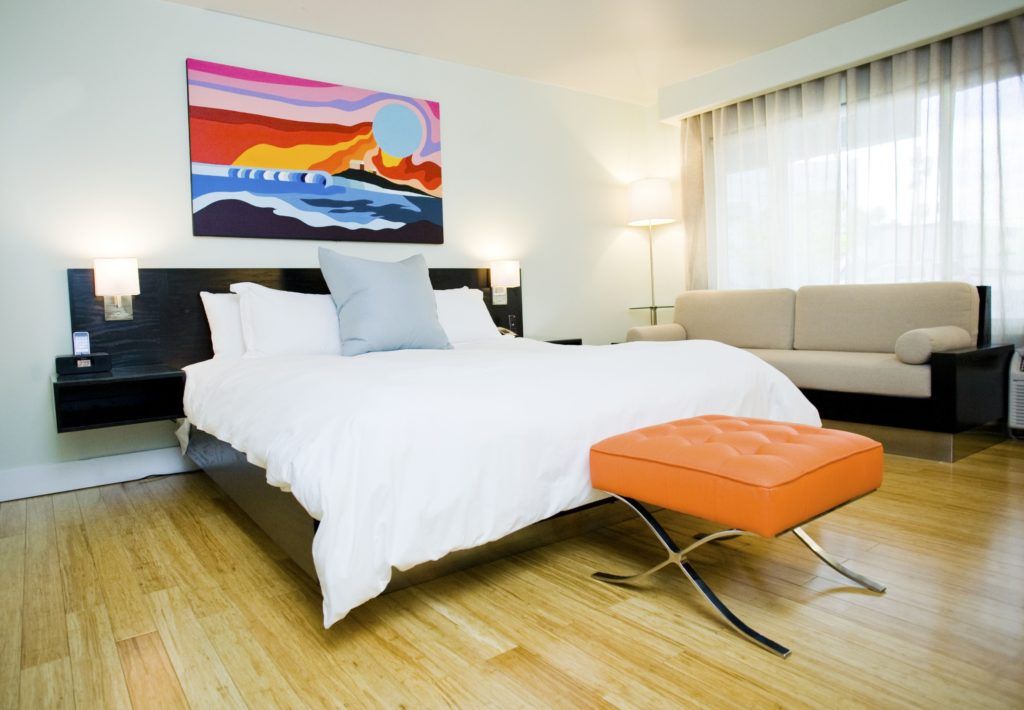 The 300 square foot Lifestyle King room is a sleek, yet functional room with urban touches and decor. Bamboo flooring and luxury linens provide a warm and inviting feeling. The rooms come fully equipped with a work station and large HD television, along with other furnishings including a mini-fridge.
Complete with a stylish bathroom and shower, these rooms provide all the comforts of home utilizing an eco-friendly design.
The Queen Mary
For those cruise lovers who want to experience some old-time cruise charm, there is no better accommodation than the Queen Mary. Docked alongside the Carnival terminal in Long Beach, you are within walking distance to your cruise ship.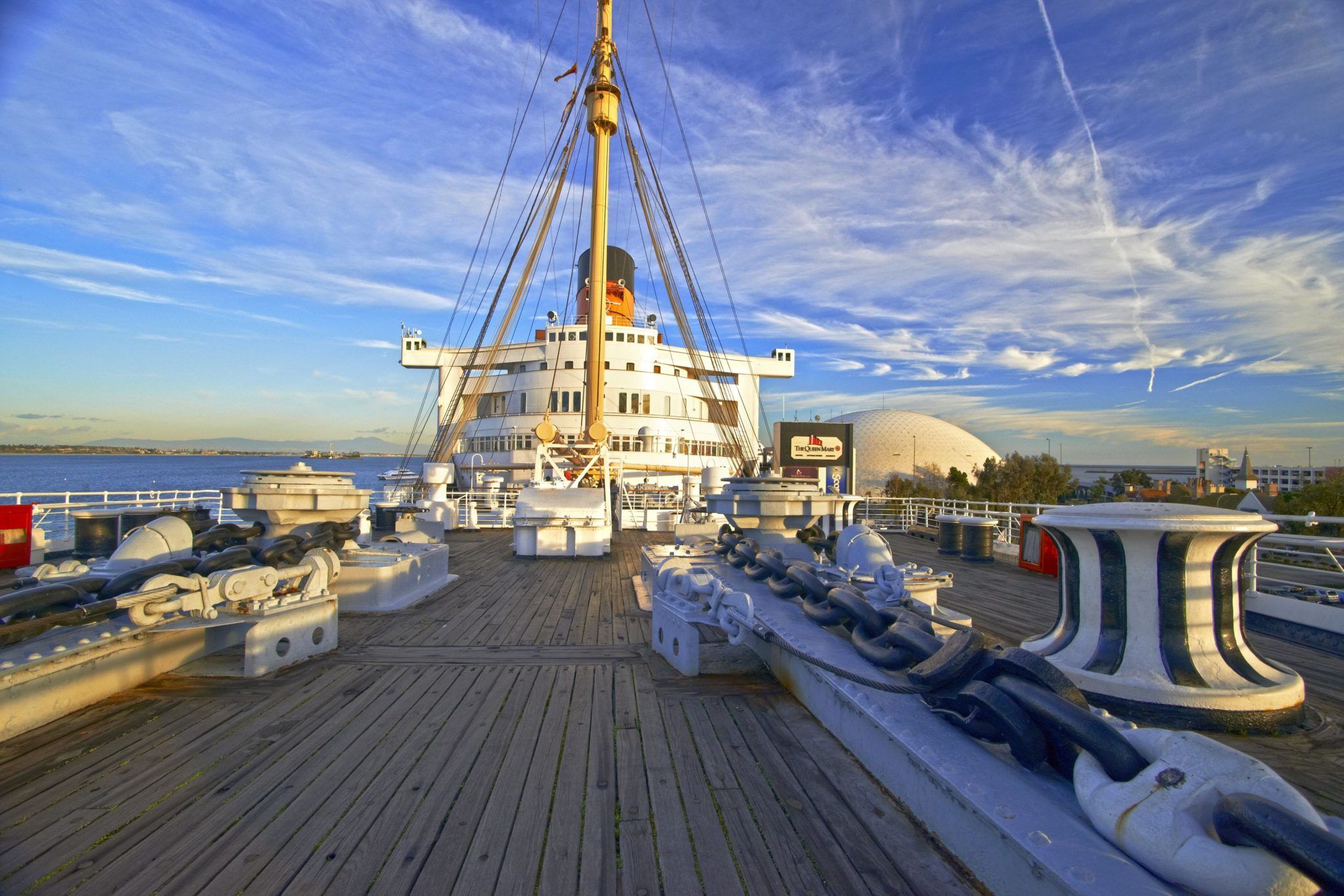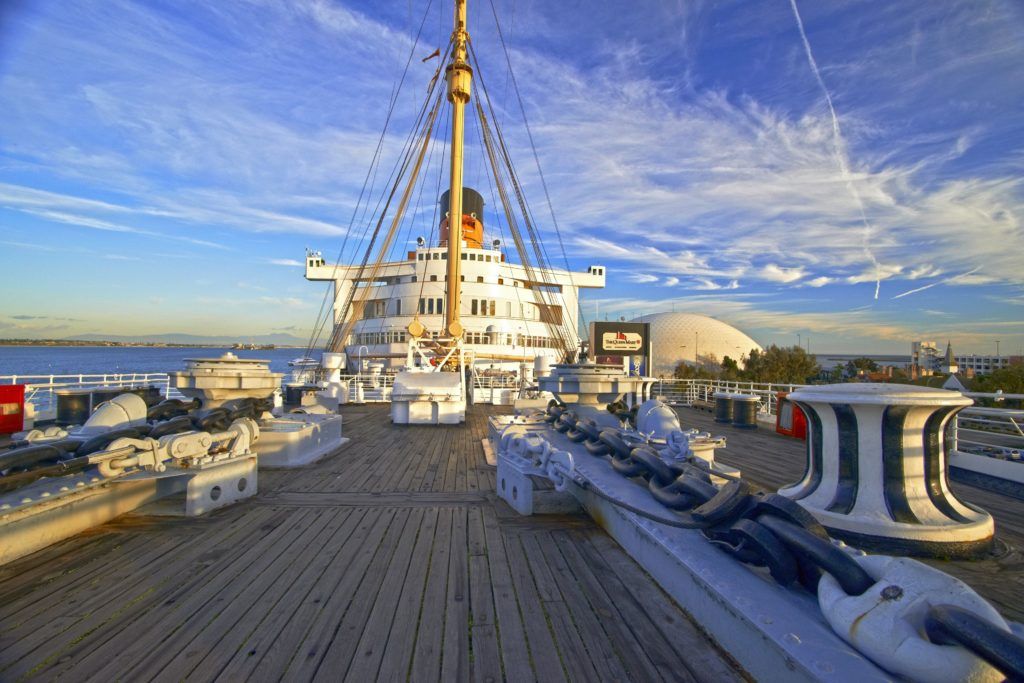 The Queen Mary is a living piece of history. This historic vessel is a docked museum. The ship does maintain much of its original character and ambiance. Boarding the Queen Mary will transport cruisers back to the 1940's and 1950's. It still features much of the original artwork, woodwork, and many of the amenities from that time period. So, do keep that in mind when booking a room.
You will be staying in a cruise ship cabin that dates back 70+ years. The charm and elegance of the art deco era will be on full display, though it will lack some of your modern conveniences.
For history buffs or cruise aficionados, a night on the Queen Mary might just top your list of best hotels near the Long Beach cruise port. You might even get to experience some of the "ghost stories" for yourself.
One free tour is included with a hotel reservation, but we recommend you explore more of the vessel. You can do so on your own or purchase additional tours.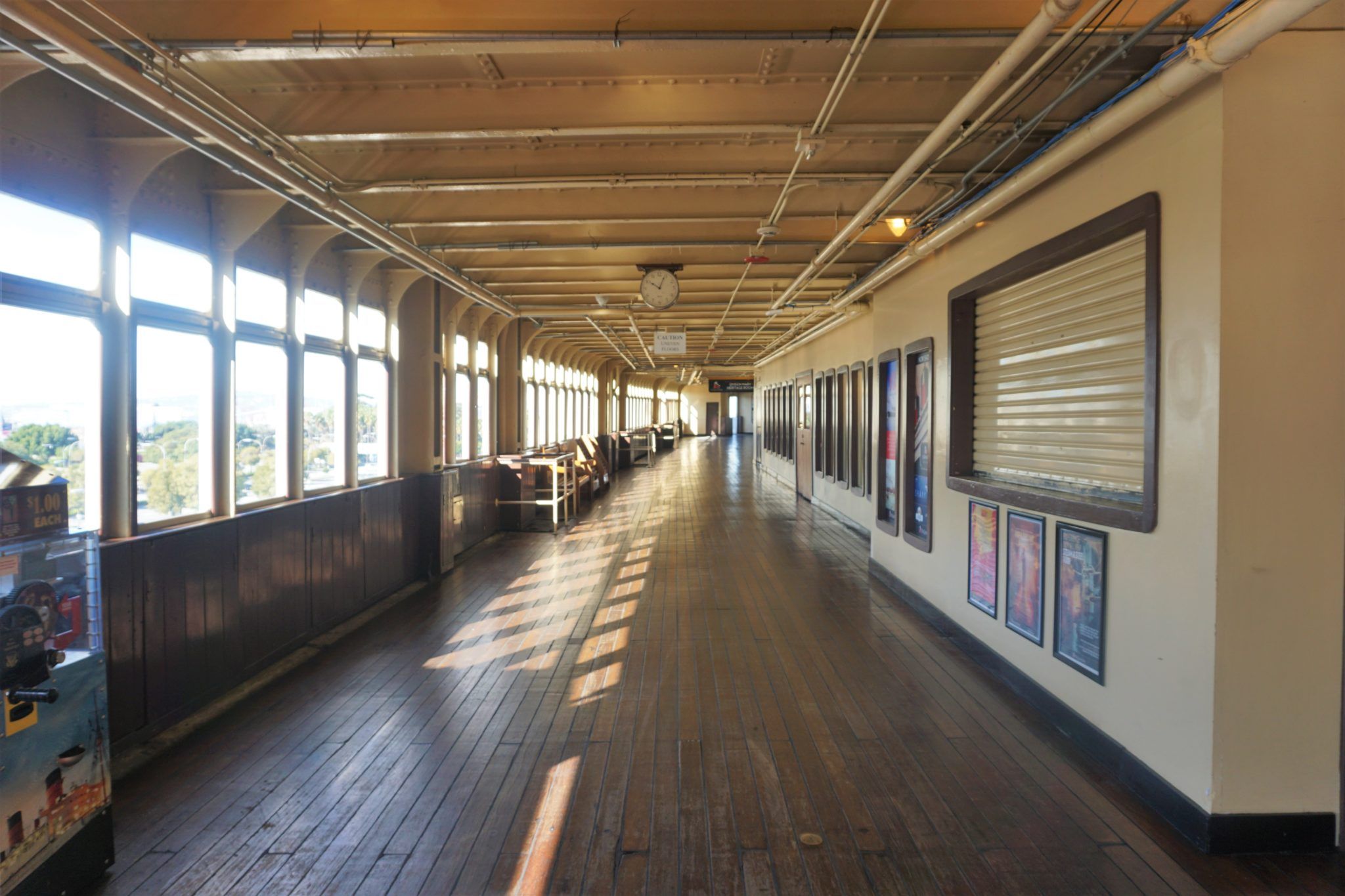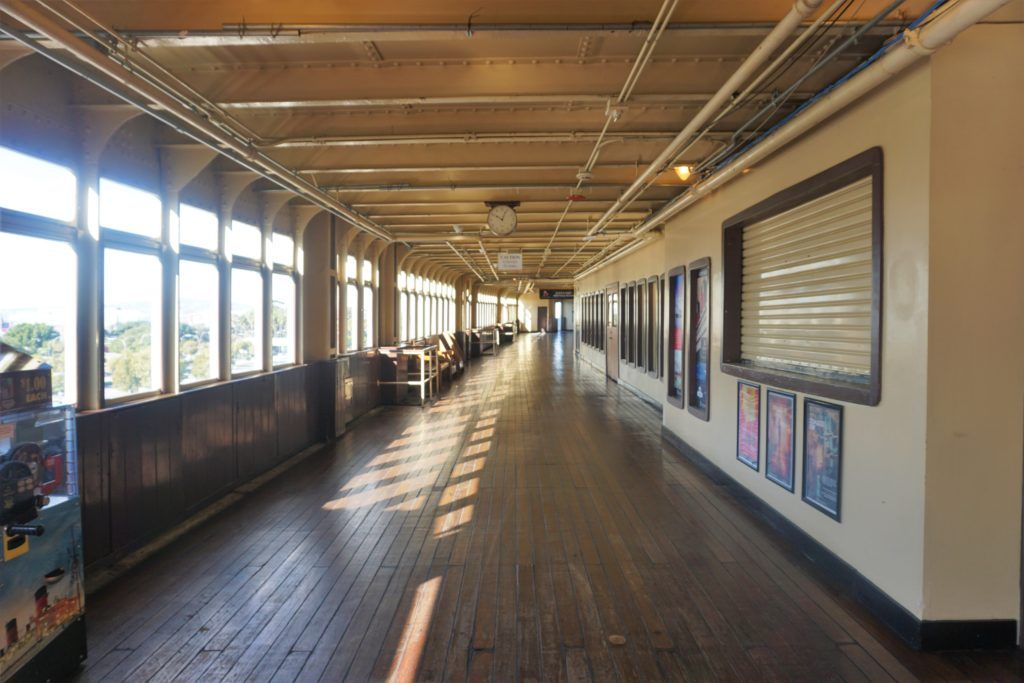 If you'd prefer not to spend the night, you can still tour the ship like we did. During our visit, we purchased two tours and then spent some additional time exploring on our own. Each tour has a unique theme and visits various areas of the ship while telling the history, hauntings, and functionality of the vessel.
The Queen Mary's Deluxe Stateroom with a king bed is advertised as the ideal accommodations for the "first class" traveler. Coming in around 200 square feet, it will feel just as cramped as your typical modern day cruise ship cabin.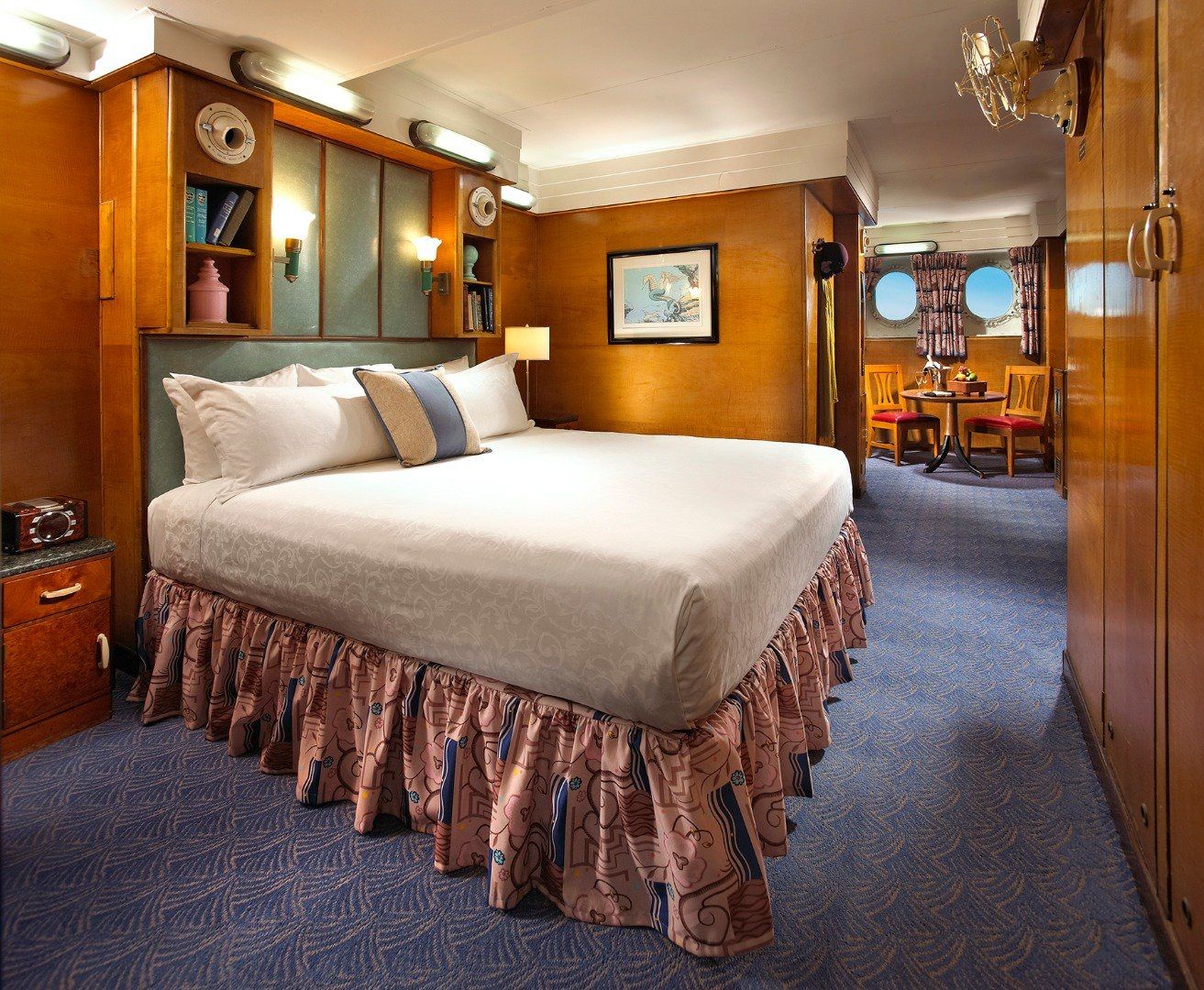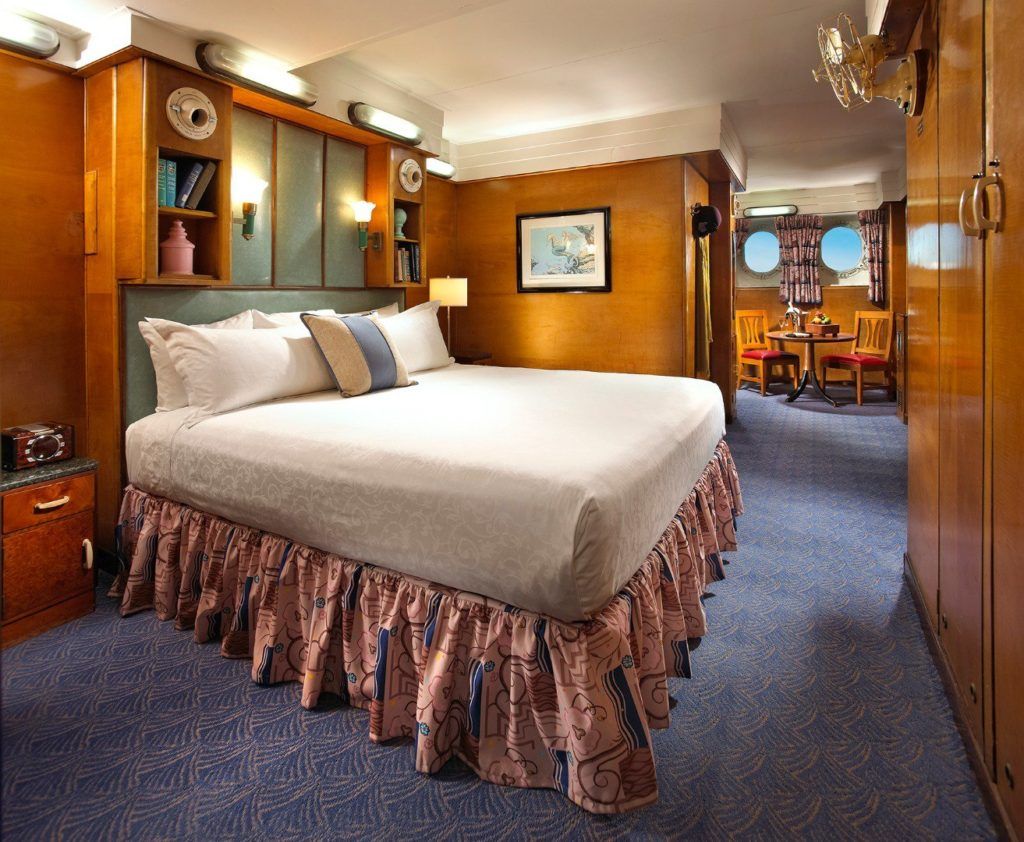 These rooms do come equipped with a few modern conveniences, including HD televisions, irons and ironing boards (normally no-nos on cruise ships), and WiFi connectivity.
The hotel is also home to a spa and fitness center, a business center, and several dining venues, including a popular Sunday Brunch.
Comments
Did your favorite lodgings make our list? Do you have any additional hotels to add to our list of best places to stay near the Long Beach cruise port? Drop us an anchor below to share your suggestions for hotels near this West Coast cruise hub.
Note: All images are courtesy of the hotel corporations.