When it comes to enjoying a drink, the newly amplified Freedom of the Seas offers cruisers several different bars and lounges. With so many choices, you might want to complete your own "drink around the ship" sampling at least one beverage from every venue onboard Freedom of the Seas. This is a great way to make good use of that Royal Caribbean Deluxe Beverage Package. Not sure where to start? Our Freedom of the Seas Bar Guide includes all of the details, photos, and bar menus to help you make the difficult decisions.
Amplified Freedom of the Seas Bar Guide
Olive and Twist – Deck 14
Located at the very top of the ship is the Viking Crown Lounge, home to the Olive and Twist bar. Offering stunning aerial views of the pool deck, this venue is home to onboard activities like karaoke. The venue also doubles as a nightclub in the late evenings with the ship's resident DJ. Located nearby is also the Suite Lounge and Diamond Lounge. This bar offers the standard Royal Caribbean drink menu.
Standard Menu (note, this is a large file)
Lime & Coconut Bar – Decks 11 &12
The new Lime & Coconut Bar on amplified Royal Caribbean ships might just be the best pool bar out there. This bar debuted on the amplified Navigator of the Seas, and has become a Royal Caribbean staple. This 3-story venue offers vibrant colors, trendy seating, two bars, and a 3rd story lounge for relaxing day or night. With a new and improved pool bar menu, the Lime & Coconut offers some unique drinks on its specialty menu including the signature Lime & Coconut. Of course, you can still order classic favorites like a pina colada or mudslide too.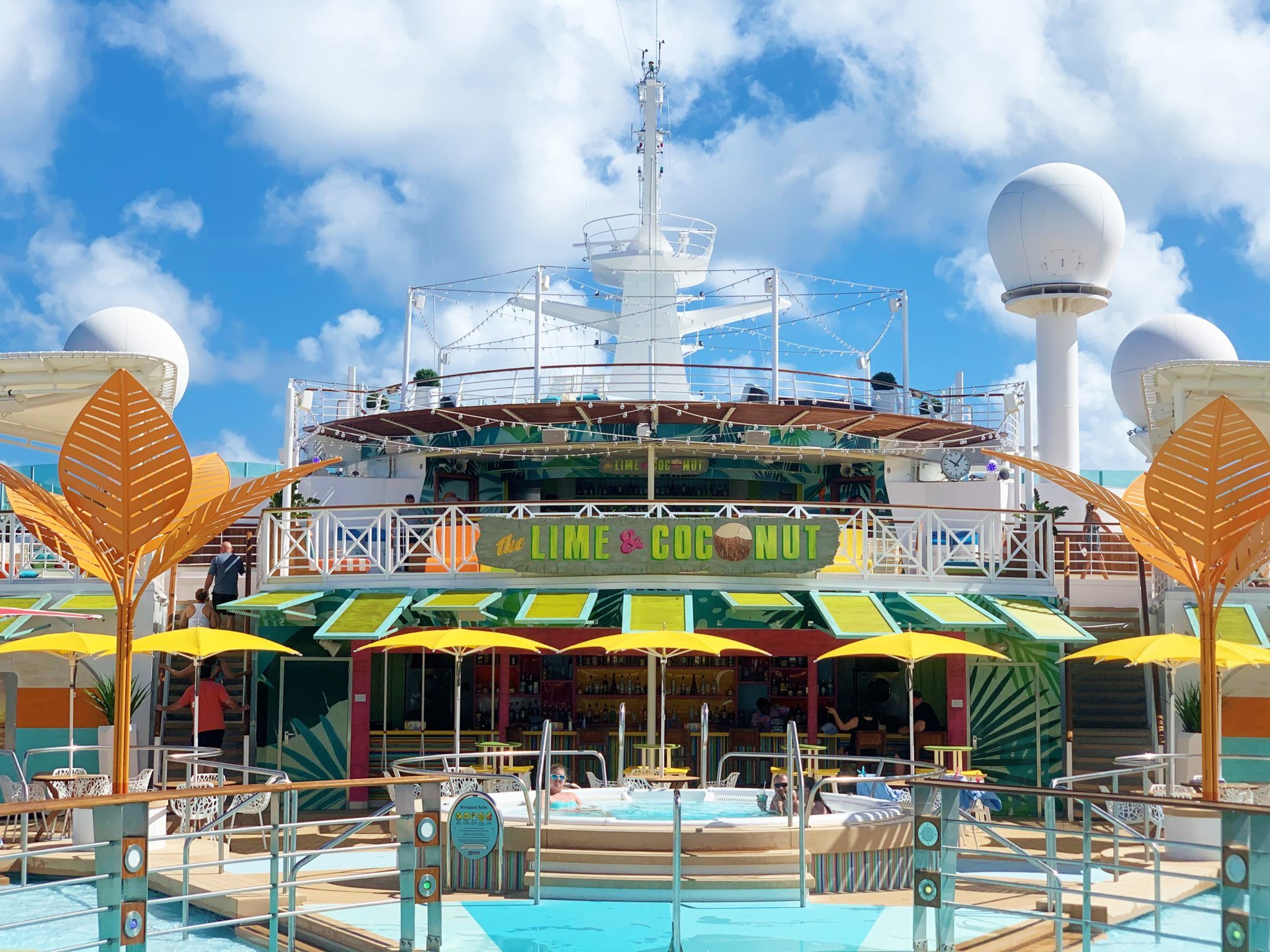 Solarium Bar – Deck 11
This adults-only area in the front of the ship includes a pool, two whirlpools, and a bar for those grown-up beverages. Here, you can relax sans children and still get to enjoy your favorite frozen drink. With some comfy new loungers, this little oasis separates you from the rest of the often busy pool deck and kids' Splashaway Bay. This bar serves the standard menu.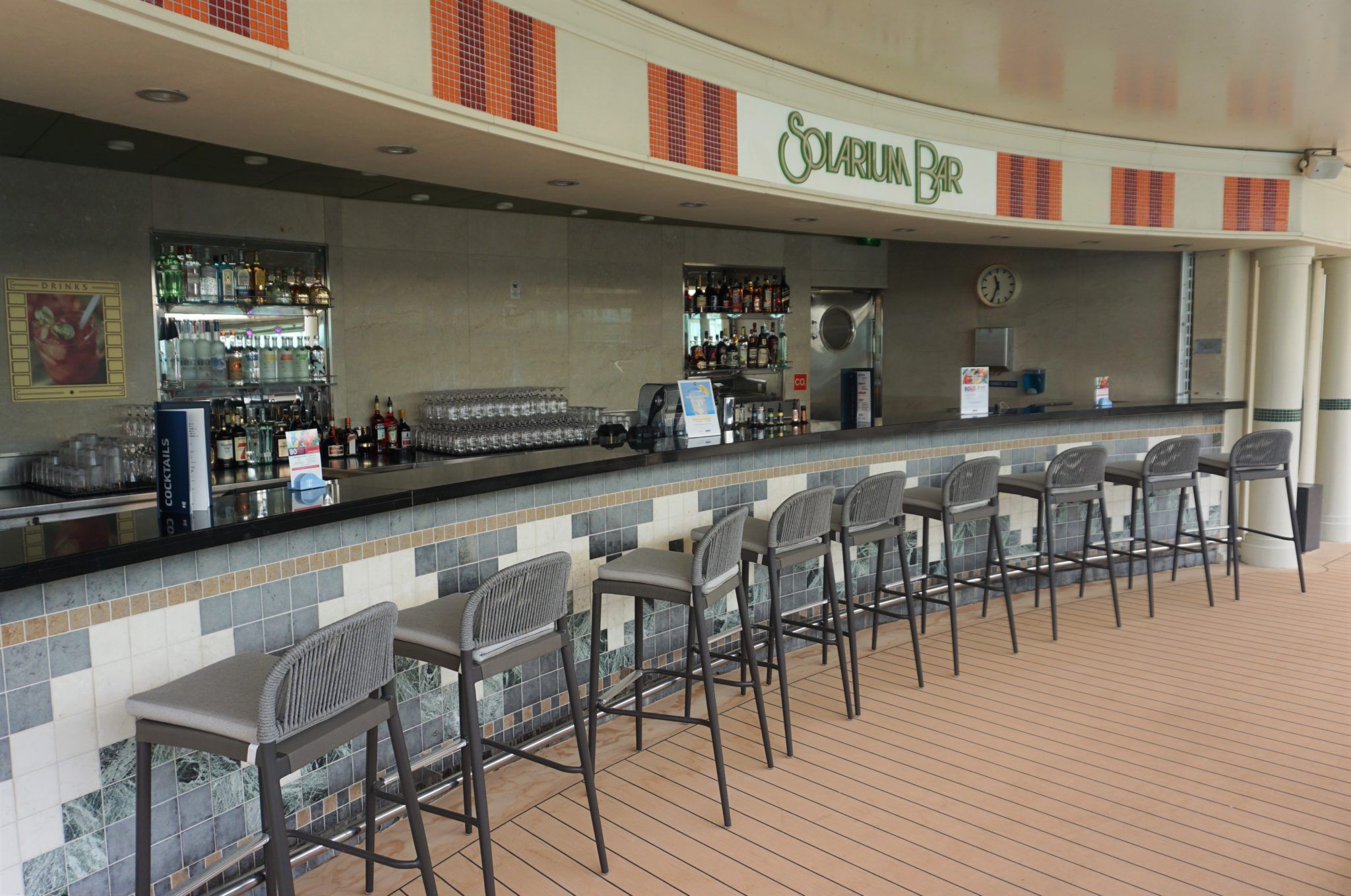 El Loco Fresh Bar – Deck 11
This quick service Mexican restaurant located poolside now features a full service bar on the amplified Freedom of the Seas. Now, you can order your favorite tequila drinks to go along with your tacos and burritos. While the signature margarita menu is small, you can still order most classic mixed drinks and cocktails.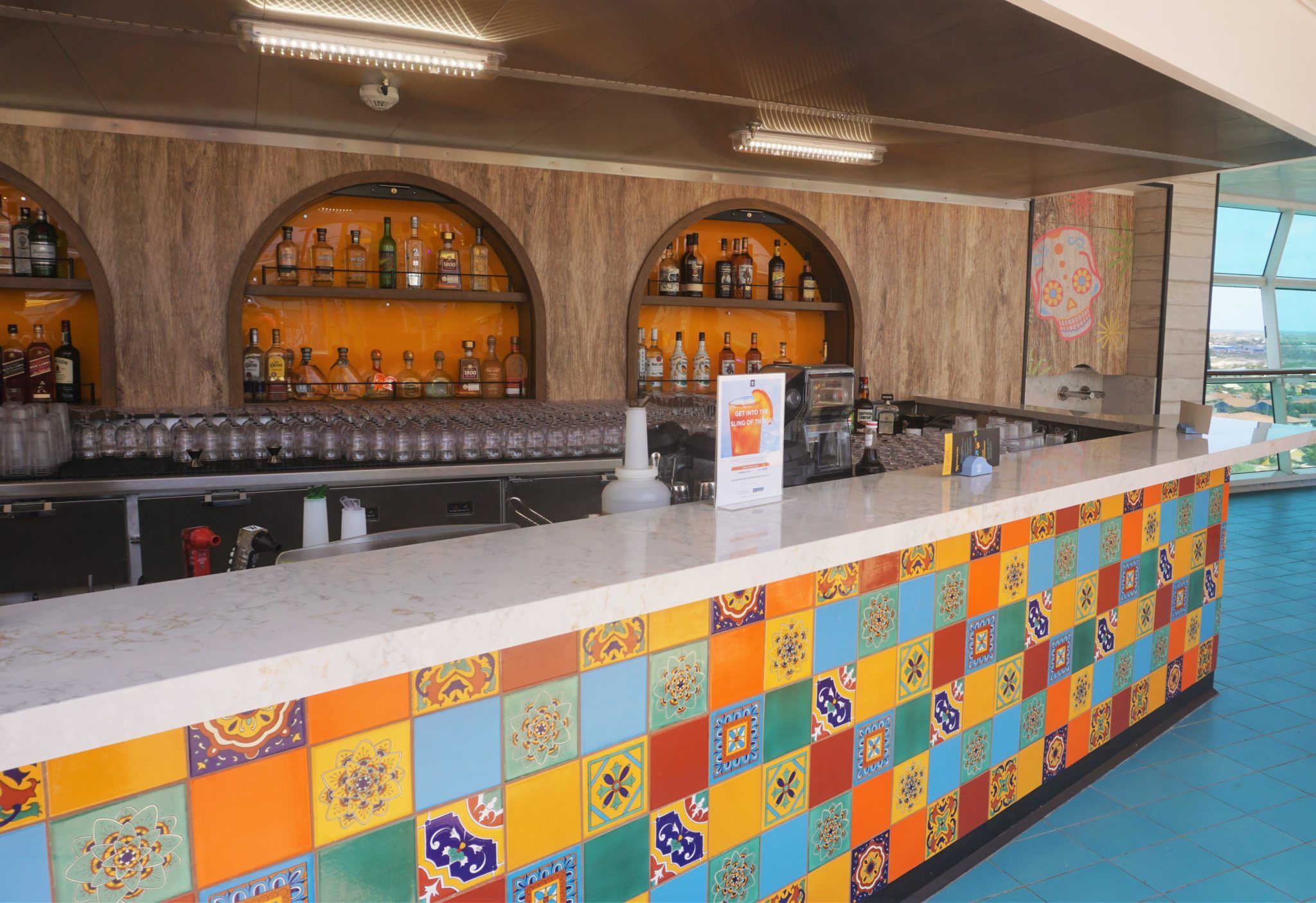 Plaza Bar – Deck 11
If you are dining at either Giovanni's Italian Kitchen or Chops Grille specialty restaurants, you can grab a pre-dinner drink at the Plaza Bar. This bar also serves as the main watering hole for those dining in the Windjammer Cafe. This venue offers a wide variety of liquors, beers, and wines, and is a nicely updated area that feels more sophisticated than a typical cruise ship buffet bar.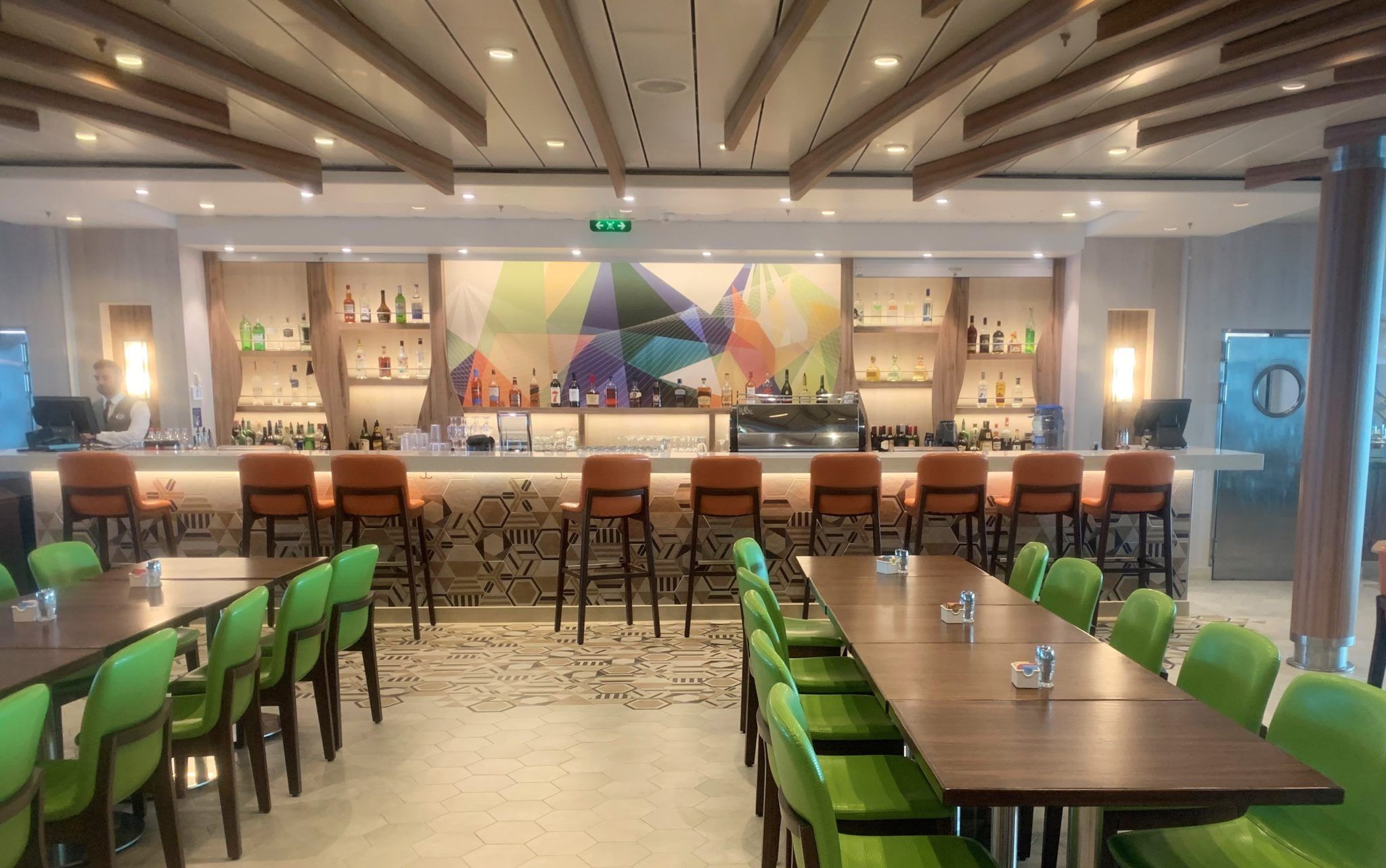 Star Lounge – Deck 5
Home to various game shows, trivia, and other cruise activities, this venue comes equipped with a full bar. So, grab a seat for a game of trivia or have a few laughs as you watch fellow cruisers compete in various events with your favorite drink in hand. That always makes the shows even funnier.


Bull & Bear Pub – Deck 5
If you are a beer drinker then this English-style pub will be your favorite stop. With a menu featuring an extensive beer list with lagers, stouts, and ales, there is sure to be a brew for you. If you prefer a classic drink, there are plenty of proper cocktails like an Old Fashioned or Gin Fizz on the menu as well. This pub features acoustic style music most evenings so you can sing along with popular songs in the heart of all the action on the Royal Promenade.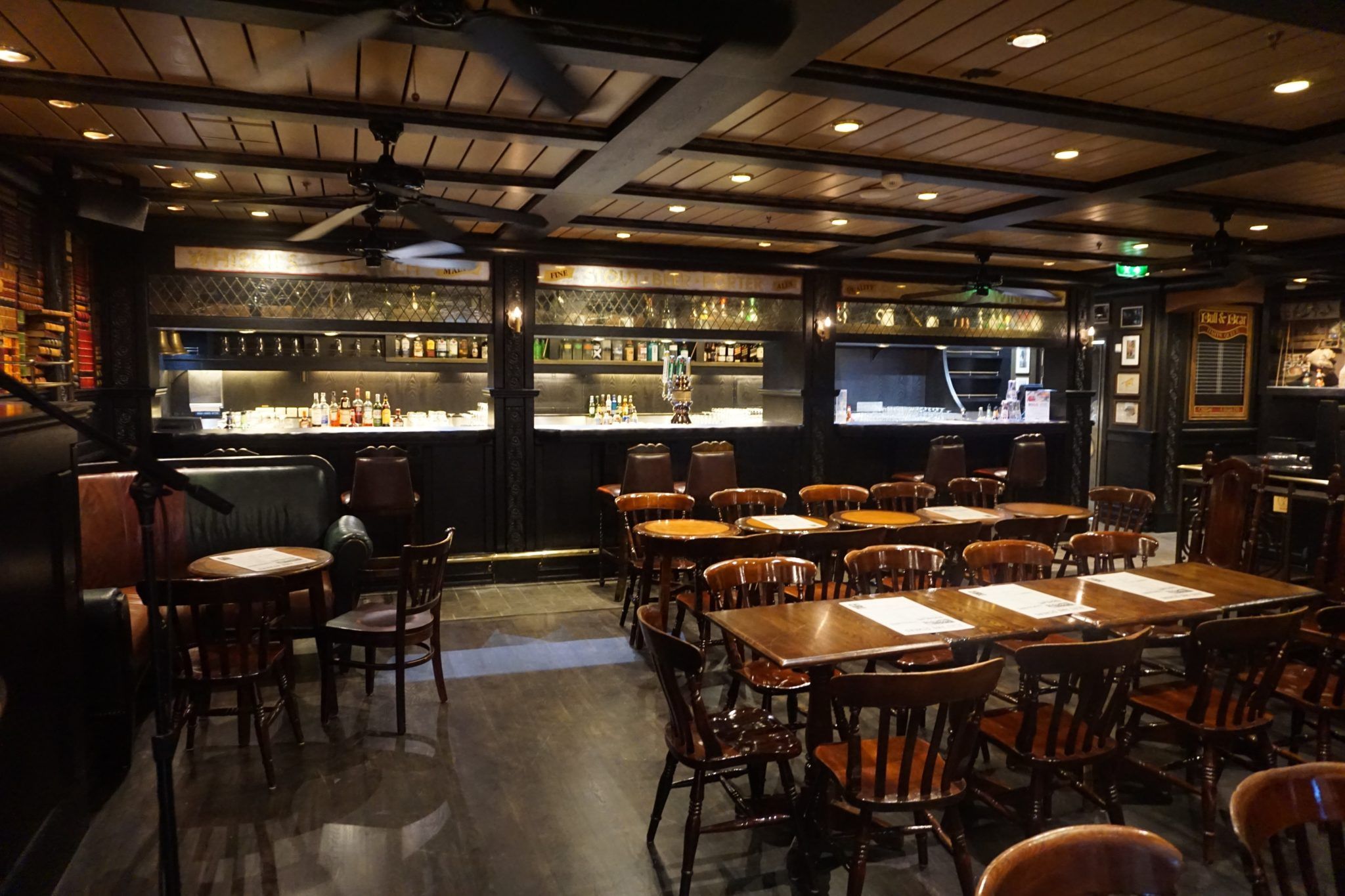 Vintages – Deck 5
Vintages is Royal Caribbean's classic wine bar which is also located on the Royal Promenade on the newly amplified Freedom of the Seas. This venue features an extensive wine list for all the wine aficionados out there. From red, white, or rose, grab your glass of vino and relax in this cozy venue or join in on the action occurring in the Promenade. Be sure to check the pricing on your favorite brands, as some glasses are over the drink package allotment.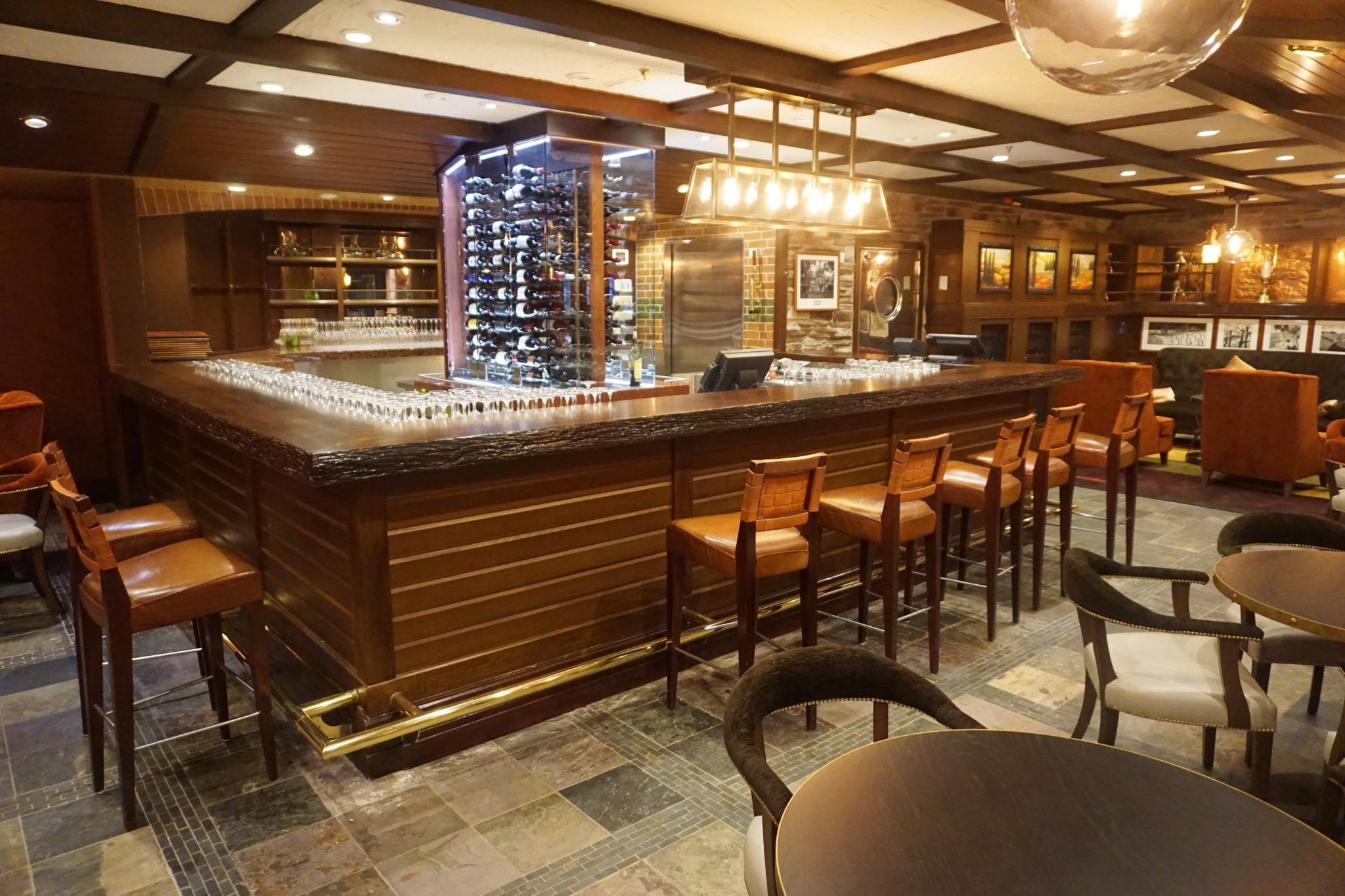 Cafe Promenade – Deck 5
Open 24 hours a day, the Cafe Promenade offers food items such as morning pastries, small sandwiches, and cookies throughout the day. This java house also features an espresso menu with lattes, mochas, and more. Or, you can top off your coffee or espresso drink with a liquor or cordial if you choose. All of this is covered in the Royal Caribbean Deluxe Beverage Package, so don't worry about the tab.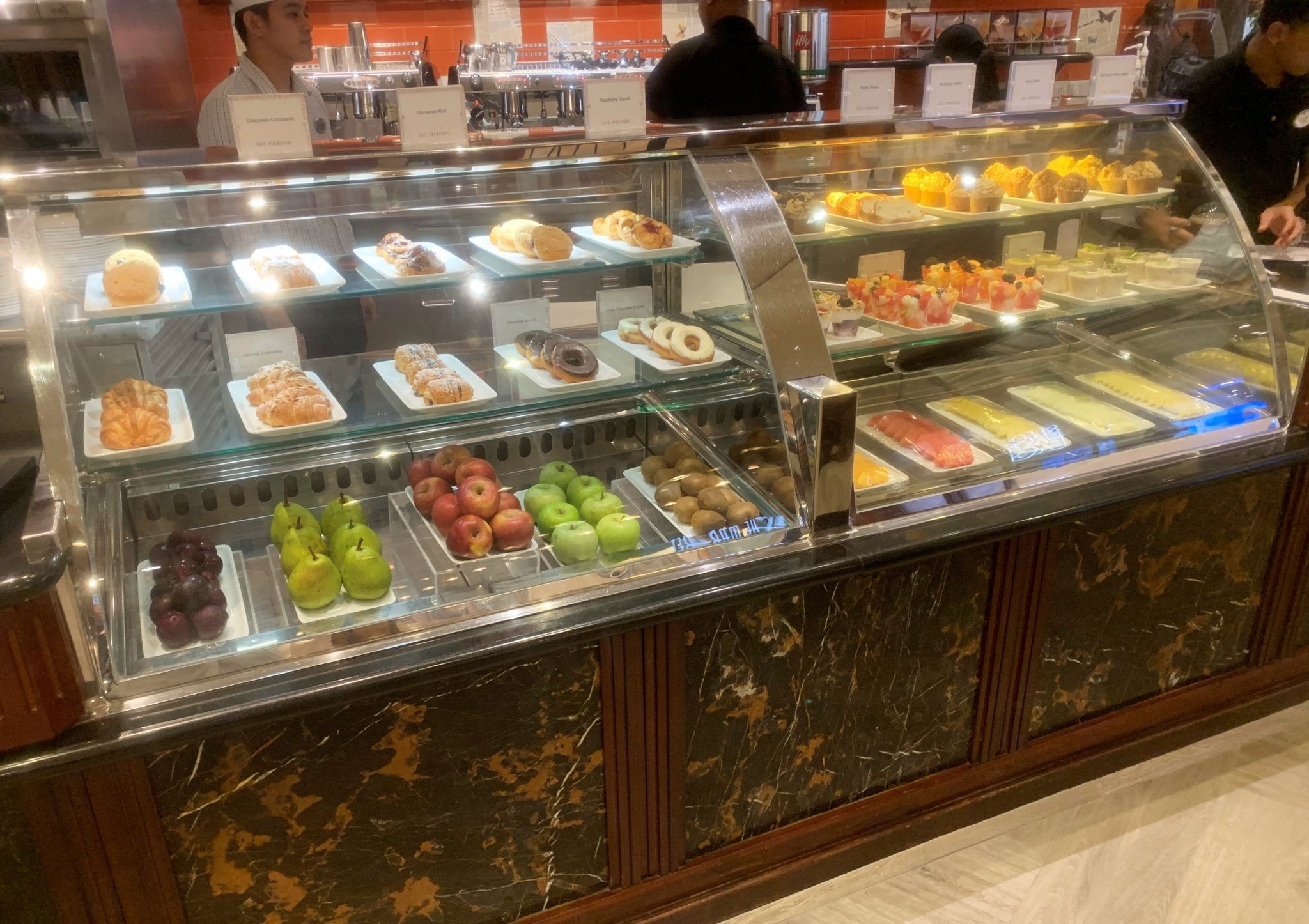 Hot Coffees | Iced Coffees | Spirited Coffees
R Bar – Deck 5
Found on some of the older ships in the fleet, Freedom of the Seas has maintained its R Bar. Tucked somewhat out of the way of the hustle and bustle of the Royal Promenade, this bar on Deck 5 is a bit more relaxed and is often less crowded. The R Bar offers a small specialty drink menu of its own and is located near one of the main dining rooms. So, it is another great spot to grab a pre-dinner cocktail.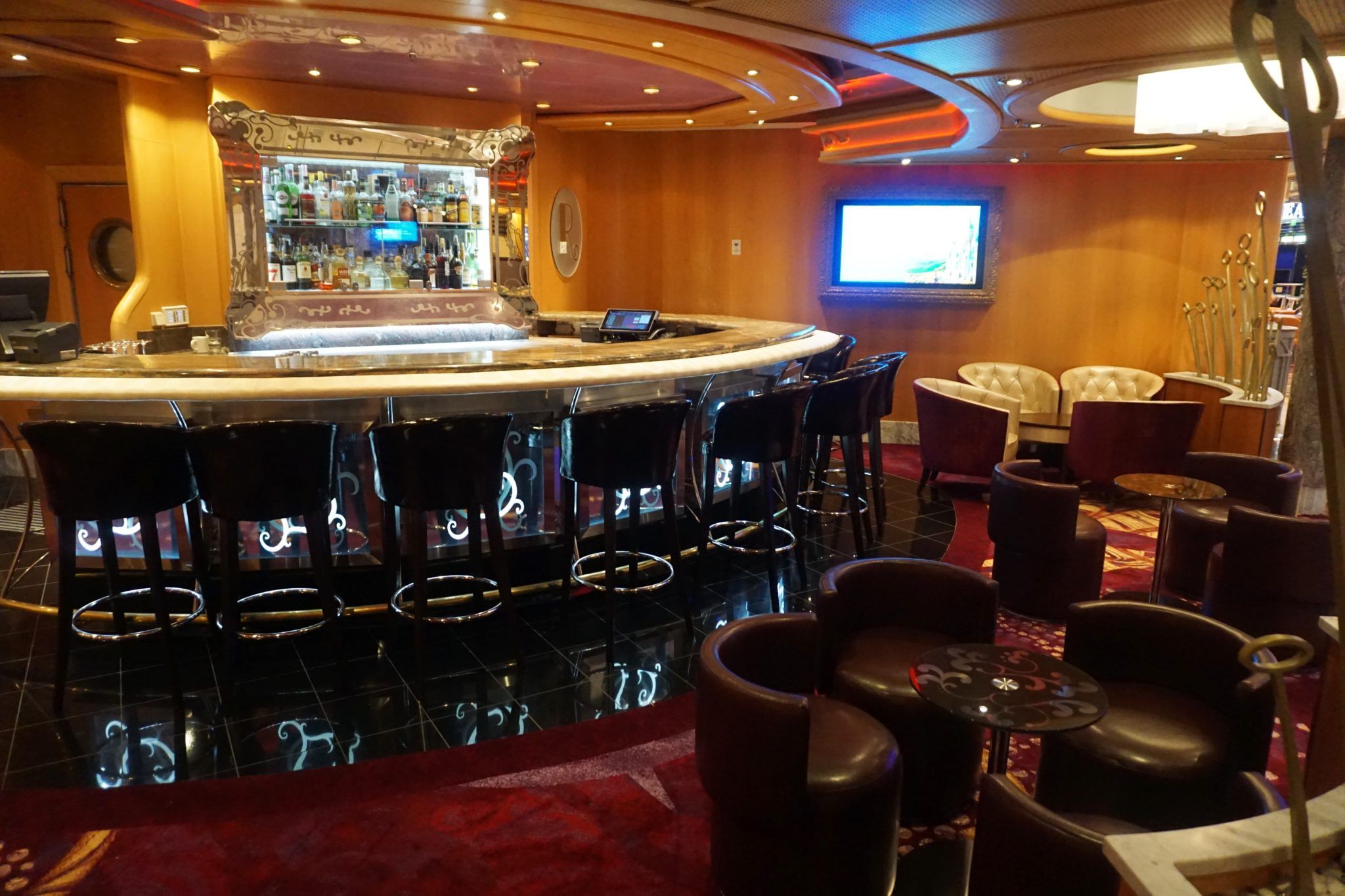 Royal Theater – Deck 4
The ship's main theater hosts nightly entertainment ranging from production shows to headliner singers, comedians, and entertainers. Of course, you will want to enjoy a refreshing drink during the performance. Several bar staff make the rounds to take your order or you can go up to the bar yourself. Again, the theater offers the Standard Bar Menu.
Schooner Bar – Deck 4
Royal Caribbean's signature piano bar is a favorite on any ship. The Schooner Bar boasts a specialty drink menu with martinis including our personal favorites, the Sidecar and Lavender Daiquiri. Located right in front of the theater, cruisers tend to congregate here pre-show or post-show. With a great mixture of craft cocktails and live music, you will want to check out this bar during your cruise on Freedom of the Seas.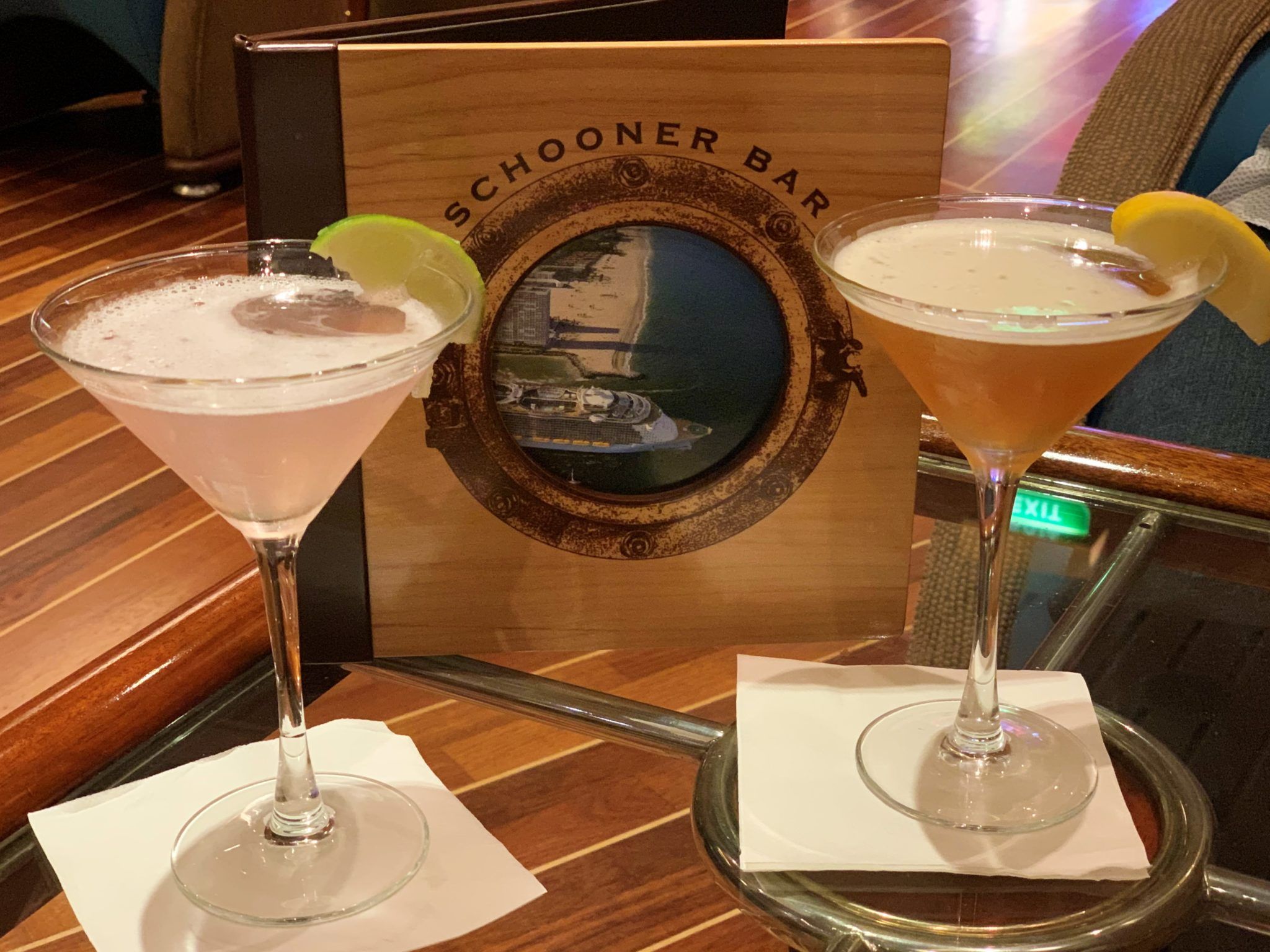 Signature Cocktails | Mixed Drinks | Wine List
Casino Bar – Deck 4
If you need a beverage to go along with your slot play, then the Casino Bar is your stop. Offering drinks from the cruise ship's standard menu, the bar is open whenever the casino is open. This is one of the late night spots on the ship, so don't be surprised to see some of the night owls grabbing one last drink at this centrally located venue.
Playmakers Sports Bar & Arcade – Deck 4
Playmakers Sports Bar and Arcade is a sports fan's dream come true. Large flat screen televisions line this pub broadcasting games from around the world. When it comes to food and drinks, Playmakers features an a la carte food menu including fan favorites like chicken wings and the signature Playmakers burger. The bar also features an extensive beer menu along with some cocktails, so you will always have a drink ready to cheer on your home team.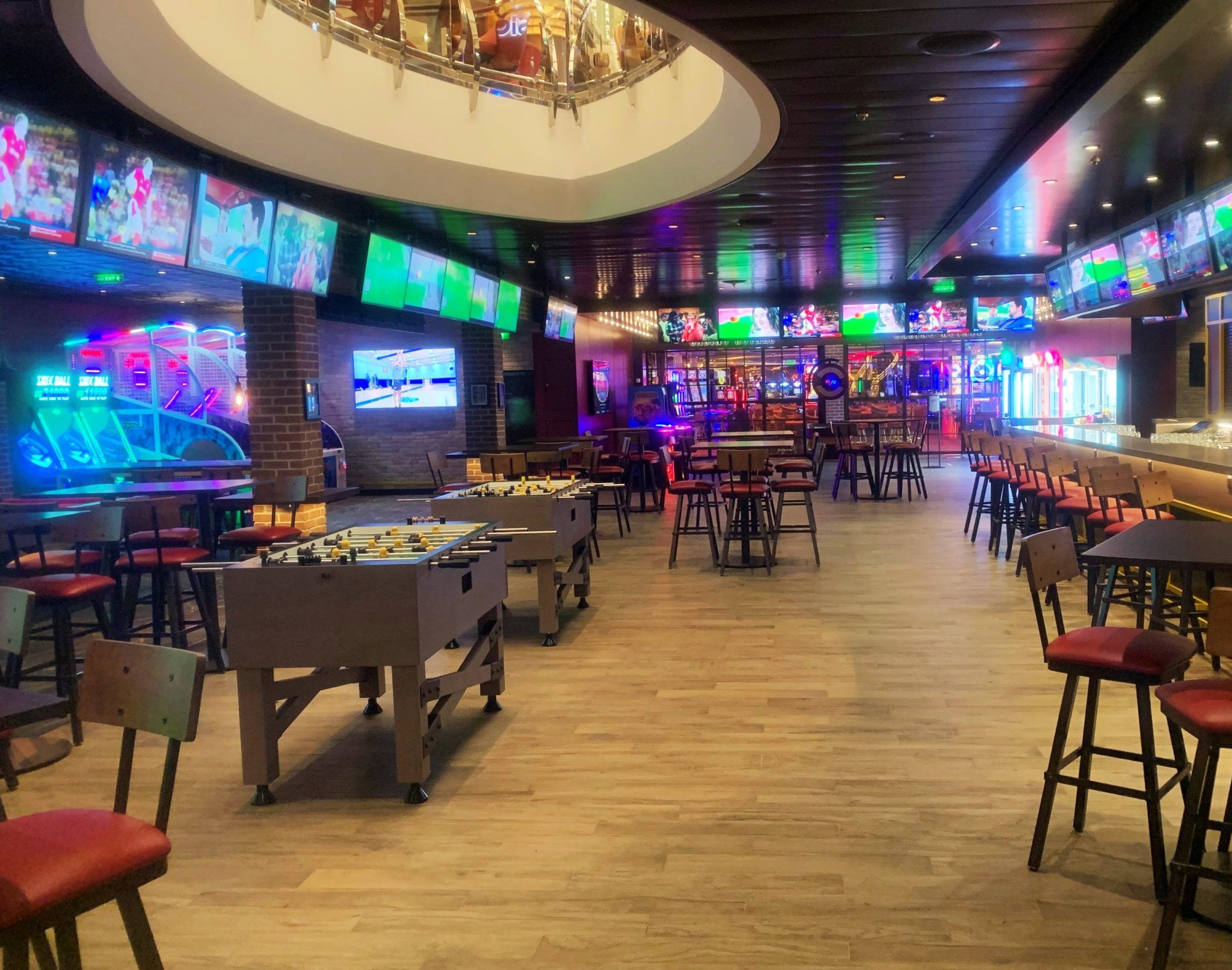 Boleros – Deck 4
If you are looking to spice up your evening, this Latin-inspired lounge might be just the place for you. This venue boasts a signature cocktail menu featuring various margaritas, caipirinhas, and more. Located near one of the main dining rooms, this is the perfect place to enjoy a pre-dinner or post-dinner cocktail while listening to some live Latin music. Or perhaps, you'd prefer to salsa dance the night away.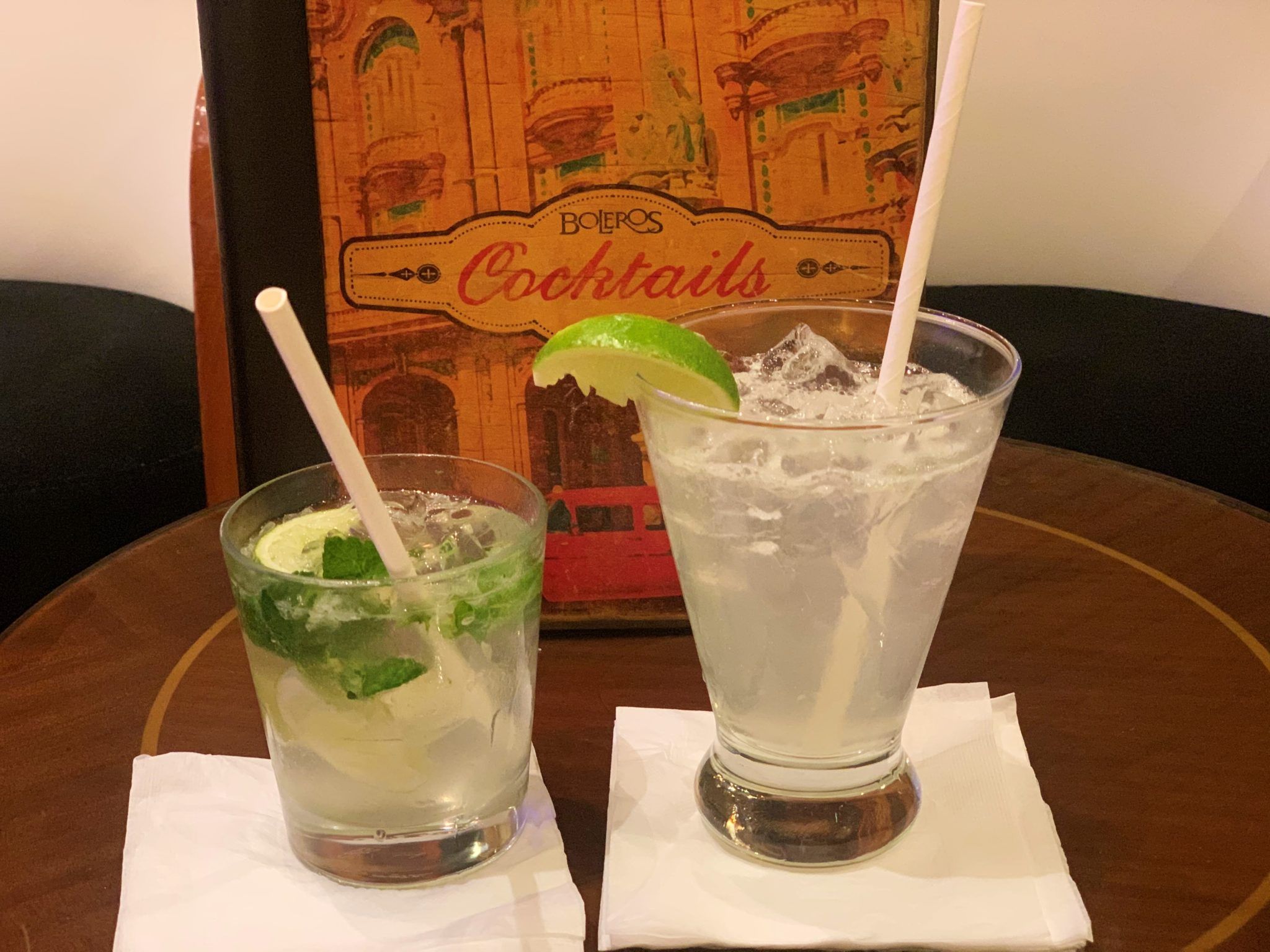 Studio B – Deck 3
Home to a signature ice skating show on select evenings, you can enjoy your drink of choice in this venue while watching the performance. Studio B also hosts the popular Crazy Quest game show and the RED Party. A temporary bar is available during events, as well as servers making their way around the venue to take your drink order. Be sure to place your order before showtime.
After reviewing this Freedom of the Seas bar guide, the question becomes will you complete your own drink around the ship? If so, where will you begin?


Comments
Do you have a cruise booked on the newly amplified Freedom of the Seas yet? Which is your favorite menu from this Freedom of the Seas Bar Guide? Drop us an anchor below to share your picks for best drinks and bars on a Royal Caribbean cruise ship.