Our first cruise onboard Celebrity Solstice was back in 2014 for a 7-night Alaskan cruise. This time around, it was an easy decision to board the ship again to explore the Pacific islands on a 10-night Hawaiian cruise. Having sailed with the cruise line a few times now, we had reasonable expectations for the ship. Fresh from our latest trip, we share our Celebrity Solstice Ship Scorecard Review.


Celebrity Solstice Ship Scorecard Review
Embarkation/Disembarkation
Met Expectations
For the most part, getting on and off a ship of this size was well organized. Embarkation in Honolulu was smooth and efficient. The entire process took no more than 20 minutes. We arrived around 11:40 am and were onboard the ship by noon. Tendering at the islands was what we have come to expect from the process. Some rough seas did make it slow at times, but the crew kept the process moving along as best as they could under the conditions.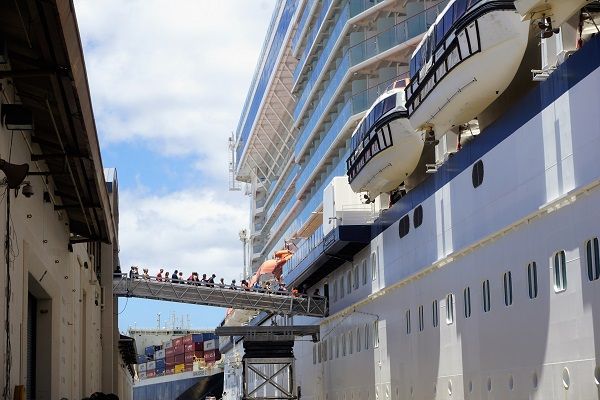 Disembarkation, on the other hand, was a bit disappointing. The entire process was delayed over a half-hour. When we finally made it off the ship, we were greeted with hordes of other cruisers. There were a total of three ships unloading thousands of passengers onto the Port of Vancouver all at the same time!
Pool Deck
Met Expectations
Celebrity Solstice houses three pools, which is generous for a ship of its size. During our days in Hawaii, there was adequate availability of loungers and room to take a dip in one of the two outdoor pools. Once the weather turned a bit cooler, the indoor Solarium was packed everyday. Unless you woke up very early in the morning, there was not a seat to be found.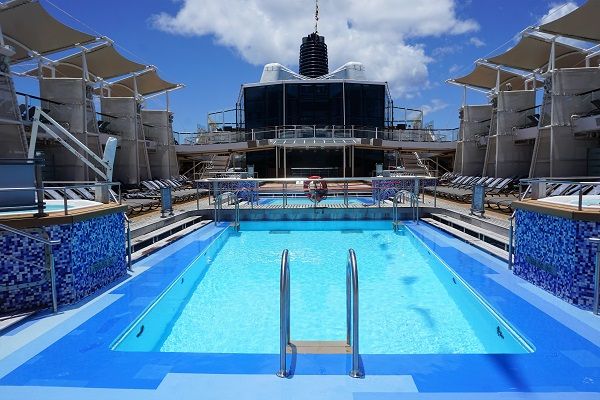 Some cruisers did brave the cold to use the outdoor hot tubs, but we decided to stay inside. If you plan on cruising Celebrity Solstice in Australia or Alaska, then the pool deck should accommodate your need for sun, weather permitting.
Sports Deck
N/A
Service
Met Expectations
In our opinion, one thing that has always set Celebrity Cruises apart from other cruise lines is service. When cruising on any of the line's ships, we expect a greater attention to detail and more personal service than some of the larger, more contemporary cruise lines. However, service was a bit mixed during this recent trip. Some staff did provide the service we expected, whereas others seemed a bit indifferent or tired.
Our stateroom attendant, Jose, was not the most talkative staff member, but he was a cleaning ninja. He always timed his daily cleanings perfectly no matter what time we started the day. The hard working staff at Café al Bacio and the Martini Bar also shined as they provided some of the friendliest and most attentive service on the ship.
We also really enjoyed the chemistry between the cruise director Lewis and Captain Tasos as well. They are by far the best that we have had in a long time.
Our waitstaff at dinner did not live up to our expectations though. While nice, it seemed like they could never time the meals properly in our section and often forgot items (like my coffee with dessert). Dinner was close to two hours every night, regardless of what we ordered or how many people were there that evening.
Daily Activities
Met Expectations
Given the structure of the cruise, five port days in a row followed by five sea days, the Cruise Director Lewis and Activities Manager Kate did a good job offering a variety of activities. There were several matinees in the theater featuring some of the very talented ship performers. We particularly enjoyed the performances by Lighthouse String Duo and Gilly and the Girl.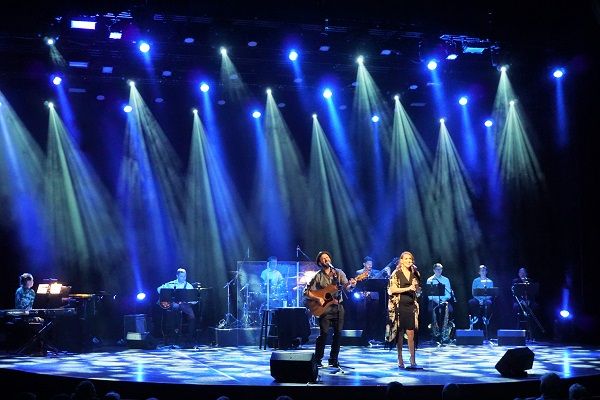 Other Celebrity Life Activities included your typical trivia with various sessions each sea day, Bingo, officers vs. guests games, cooking demonstrations, and more. The cruise also offered for-fee classes and seminars like food and wine pairings, tastings, and Hot Glass classes.
Additional presentations included the Beyond the Podium talks featuring the very popular naturalist Brent Nixon, among others. Despite the number of sea days and weather that did not want to cooperate, there was never a lack of things to do on Celebrity Solstice.
Main Dining Room
Did Not Meet Expectations
On this 10-night cruise, we ate in the main dining room on 8 occasions. One surprising let down was the food quality in the dining room. We both felt that the food did not live up to Celebrity's typical standards.
It could have been that this was a buffer cruise, transitioning regions, so the ship was using different suppliers. Still, having experienced this same menu multiple times now, we were disappointed by many of our starter and entree selections. There were actually no standout dining choices this cruise for us, and some of our neighboring tablemates agreed.
Hopefully, this was just a fluke as we typically love the main dining room on Celebrity ships.


Specialty Dining
Met Expectations
On the other hand, our two dining experiences at the specialty restaurants were certainly up to the cruise line's standards. On night 2, we dined at the Italian-inspired Tuscan Grille. Our experience was very similar to our first visit to this restaurant on Celebrity Eclipse last year. Our starters were well prepared, and our entrees, including the Princess' Chicken Parmigiana, were excellent.
On night 4, we dined at the Asian Silk Harvest. Tasting a variety of small and large plates, we were fans of the Tempura Shrimp, Pad Thai Noodles, the Orange Chicken, and most of the other items that we sampled during our dinner. While not many ships in the fleet currently have this restaurant, we would recommend dining here when cruising on Celebrity Solstice.
Related Posts: Tuscan Grille Review on Celebrity Eclipse
Casual Eats
Met Expectations
When it comes to casual, daytime dining options, you are a bit limited on the Solstice-class. Of course, we knew this prior to our trip.
The Oceanview Café on Deck 14 offered a pretty standard breakfast buffet, along with a custom egg station, which did not change much during the cruise. The lunch buffet did not vary as much as expected, which was a bit of a disappointment. Aside from the last day of the cruise which included a carving station with turkey, lamb, pork, and duck as well as a chocolate fountain, the selection and quality was average at best.
Another casual, healthier option is the Aqua Spa Café. Located on Deck 12 in the Solarium, this venue is open for breakfast and lunch with light fare. This version appeared to be exactly the same as our experience on Celebrity Eclipse, but we never actually sampled the food.
Again, the highlight of casual fare for us was Café al Bacio, which we visited multiple times a day for our coffees and a few sweet treats. The quality and selection here was always on point.
Nighttime Activities
Met Expectations
In the evenings, the cruise director and activities staff hosted a variety of events. There were game shows like Yes or No and Family Feud that featured fellow passengers. We highly recommend attending (or even participating) as these short "shows" were fun to watch.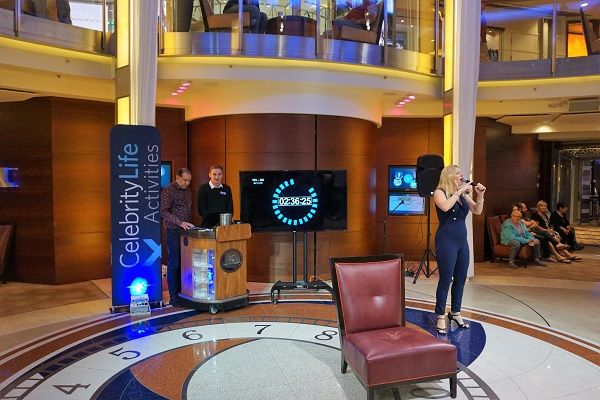 Along with the main theater entertainment (see below), there was also a variety of live music that occurred throughout the ship as well as two DJs. You could also attend an improv comedy show in Celebrity Central or watch a movie under the stars.
There were also some parties that took place on Celebrity Solstice in the Grand Foyer including two Silent Discos, the line's Groove Interactive Party, and of course a Hawaiian night party. While most events ended by 11:30 pm, the night club in Quasar was usually open late.
Main Theater Entertainment
Met Expectations
Except for night 1, there were two shows each evening in the main theater occurring at 7 pm and 9 pm. This predictable routine is easy to remember and reservations are not required. The Main Theater entertainment included a selection of production shows, with our favorite being Broken Strings.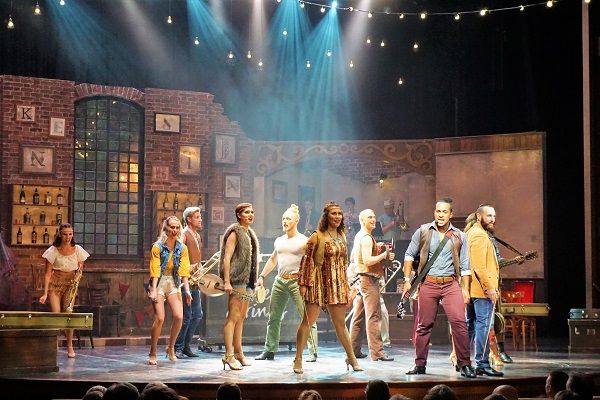 Additional headliner acts included a piano prodigy, a comedian, and several guest vocalists which were pretty typical of cruise ship entertainment.
During our overnight in Maui, a local group called Drums of Polynesia performed to showcase music and dance from the region. It was a talented group of adults and children alike dressed in Polynesian attire. The show was entertaining and felt authentic. We wish Celebrity would have had a few more of these type acts during the trip.
The popular Liars Club show also occurred one evening in the main theater. This interactive and hilarious game show is not to be missed.The banter between the cruise director and the Captain made it even funnier to watch.
Bars and Lounges
Met Expectations
One of our favorite bars on Celebrity Cruises is the Martini Bar. This version on Celebrity Solstice did not disappoint, with well made drinks, skillful bartenders, and an equally engaged patronage during the trip. This is the liveliest place on the ship and offers some of the best craft cocktails.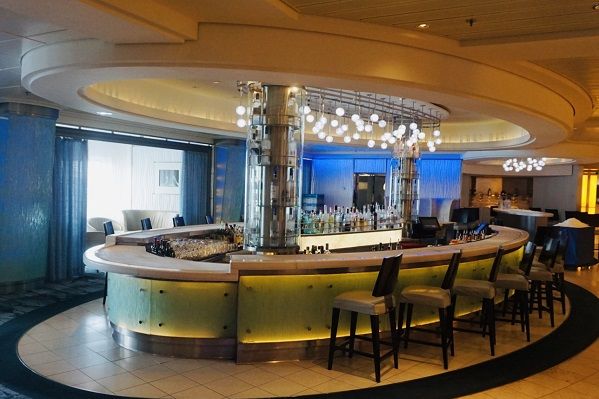 Many of the other bars on Celebrity Solstice also offer signature drinks so they are worth a visit too. The handcrafted drinks at the World Class Bar were smooth and well-balanced, and the Sky Lounge's signature menu offered some great alternatives to sip during one of the themed events held here.
Other options include the Sunset Bar at the back of Deck 15, Cellar Masters Wine Bar, the relaxing Ensemble Lounge, and the Passport Bar. All of these venues offer distinct drinks and a unique atmosphere.
Stateroom
Did Not Meet Expectations
Celebrity Solstice is scheduled for a major update as part of the line's Revolution project. We hope that the staterooms get some attention, as our balcony cabin, 7192, showed considerable signs of wear and tear.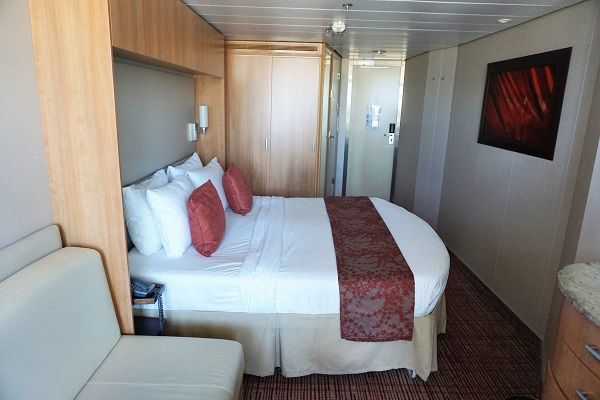 Furniture and decor were dated and tired. The bathroom had visible rust spots and the outdoor patio furniture on our balcony looked like it should have been replaced a few years ago.
In comparison to other balcony staterooms, this room felt a bit more cramped than our cabin on Celebrity Eclipse. Though, the bathroom and balcony were roomier when compared to other contemporary cruise lines. With some creative unpacking, there was just enough storage for our 10 days worth of clothes and gear.
Crowd Control
Exceeded Expectations
Perhaps it was the length of the sailing or the itinerary, but the ship did not feel like it was sailing at full capacity. This meant that there were virtually no lines or wait times at any of the venues. Getting to the show 20 minutes early gave you plenty of choices for seats. Even during peak buffet times, tables became available quite quickly. Lines at the bars and coffee shop were usually very short or non-existent. The tendering process was also handled efficiently to minimize crowds. The only place that we could feel the crowd was in the Solarium during the chilly sea days.
Overall Celebrity Solstice Ship Scorecard Review
Met Expectations
While five years have past since we last sailed on Celebrity Solstice, the ship still maintains many of its signature features that make it stand out among the fleet. With well-themed bar and lounges, plentiful onboard activities and nightlife, and a variety of main theater productions, there are certainly many ways to keep yourself entertained whether at sea or at port. For a ship of her age, the public areas were well maintained, and the ship looked clean.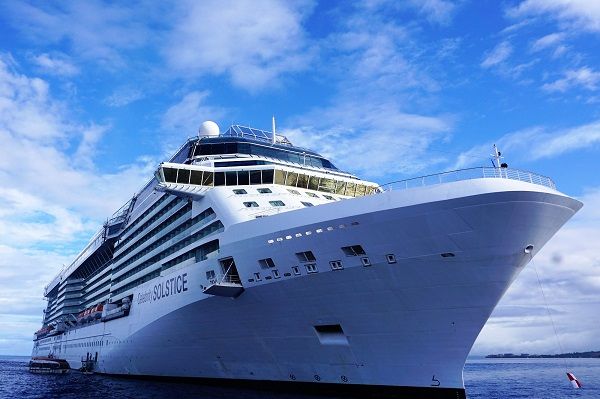 Dining is usually one area where Celebrity Cruises shines. Unfortunately, our dining experience on Celebrity Solstice was not up to par with our previous experiences on other ships in the fleet. Our cabin was another area that needed some TLC. We are sure that the cabins, along with some of the other public areas, will be transformed as part of the ship's 2021 revitalization.
Celebrity Solstice regularly sails in Alaska and Australia, and we would definitely recommend the ship for either region as the ship is the perfect backdrop to those ports of call. The ship offers comfort and amenities that compliment the long days ashore without being flashy or distracting. The ship's Persian Garden and the Lawn Club offer the ultimate retreat for relaxation. While some areas of our trip did not live up to our expectations, we would not hesitate to sail on a Solstice-class ship again.
Comments
Have you sailed on Celebrity Solstice recently? Do you agree with our review of this vessel? Drop us an anchor below to share your ship review.