If you are looking for Norwegian Epic restaurant menus, then you have come to the right place. These menus are from a recent 2018 cruise. We have links to each menu, which are loaded as JPG photo files. Feel free to browse or download them to help with your cruise planning. We just ask that if you do share these photos that you credit Eat Sleep Cruise as the source.
Norwegian Epic Restaurant Menus and Guide
Complimentary Restaurants
Main Dining Room Menus
There are two main dining rooms on Norwegian Epic: Taste and the Manhattan Room. The Manhattan Room is open only for dinner each night, whereas Taste is open for breakfast and lunch on sea days in addition to the nightly dinner. Each night, there is a different menu at these restaurants; however, both restaurants serve the same menu. The menu features the same classic entrees in addition to featured entrees. We did not eat dinner at either of these restaurants, but we managed to gather the menus for our 4-day Bahamas cruise. Reservations are accepted at these complimentary dining venues.
Breakfast Menu | Lunch Menu | Dinner Day 1 | Dinner Day 2 | Dinner Day 3 | Dinner Day 4
 Manhattan Room on Norwegian Epic
Shanghai Restaurant and Noodle Bar
This complimentary restaurant is located on Deck 6, near the Casino, and is open for dinner every night starting at 5:30pm. This Asian style restaurant features items like spring rolls, dumplings, and Asian wok-inspired dishes and noodles. It offers sit down service in the restaurant or a more reduced menu at the noodle bar. We dined here once and really enjoyed the casual atmosphere and tasty food. The Noodle Bar is first come first serve, but you can make reservations for the restaurant. Reservations for Shanghai can be made only once onboard the ship.
O'Sheehan's Neighborhood Bar & Grill
This casual and complimentary restaurant is open 24 hours a day. With a breakfast menu that features customized omelets, and a lunch and dinner menu featuring pub style food, this restaurant is great for a quick bite to eat and drink. It does get busy, especially when there is entertainment in the Atrium. No reservations are accepted at this restaurant. O'Sheehan's also serves a limited "late night" menu for those night owls.
Breakfast Menu | Lunch and Dinner Menu | Late Night Menu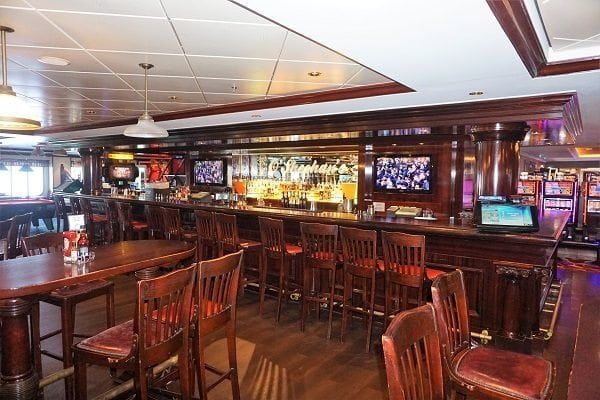 Garden Cafe and Great Outdoors
The Garden Cafe is your typical cruise ship buffet open for breakfast, lunch, and dinner. Featuring made to order omelets for breakfast and a carving station along with daily specials for lunch and dinner, this casual dining spot offers traditional favorites as well as cuisine from around the world. If you'd prefer to dine outside, there is the Great Outdoors offering mostly grill items you will also find indoors. The Great Outdoors also has a crepe station in the evenings.
Breakfast | Lunch | Dinner 1 | Dinner 2
The Epic Lounge
Guests staying in the Haven have access to a private, complimentary restaurant known as the Epic Lounge. The restaurant serves breakfast, lunch, and dinner. The menu remains the same for the duration of the cruise. Seating at the Epic Lounge is first come, first serve. We dined here on a few occasions as guests of the hotel director and found the food and service to be among the best on the ship.
Breakfast | Lunch | Dinner | Dessert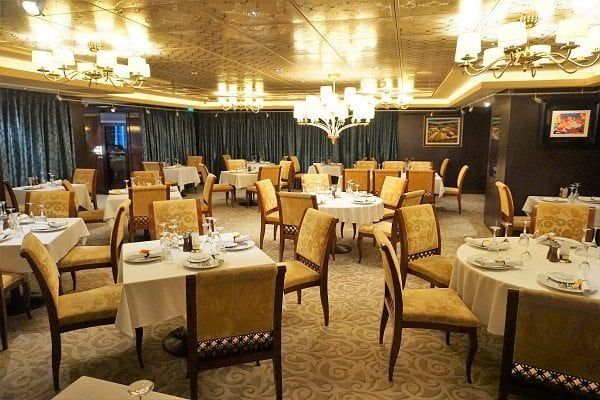 Spice H2O Grill
Located in the adult's only Spice H2O, the Grill features snacks like hot dogs, hamburgers, chicken wings, and french fries most days from around 11:30 am to 2:30 pm. This is very convenient for guests lounging in the Spice H2O area, however selection is somewhat limited. If you are looking for more variety, you will need to head over to the Garden Cafe.
Specialty Dining on Norwegian Epic
Each of the specialty restaurants on Norwegian Epic has its own unique menu. Most of the specialty restaurants on Norwegian Epic are a la carte pricing with a few exceptions. If you do plan on dining at a few of these specialty restaurants during your cruise, we recommend purchasing a specialty dining package.
Spiegel Tent
This dinner theater show features the show Cirque Dreams Epicurean. There is a flat fee for dinner and the show, which offers two types of seating options: floor ($47.16 per person) or standard ($35.39 per person). The dinner menu is a set 3 course meal with an appetizer, entree, and dessert trio. While the food is nothing to write home about, we do recommend seeing the show.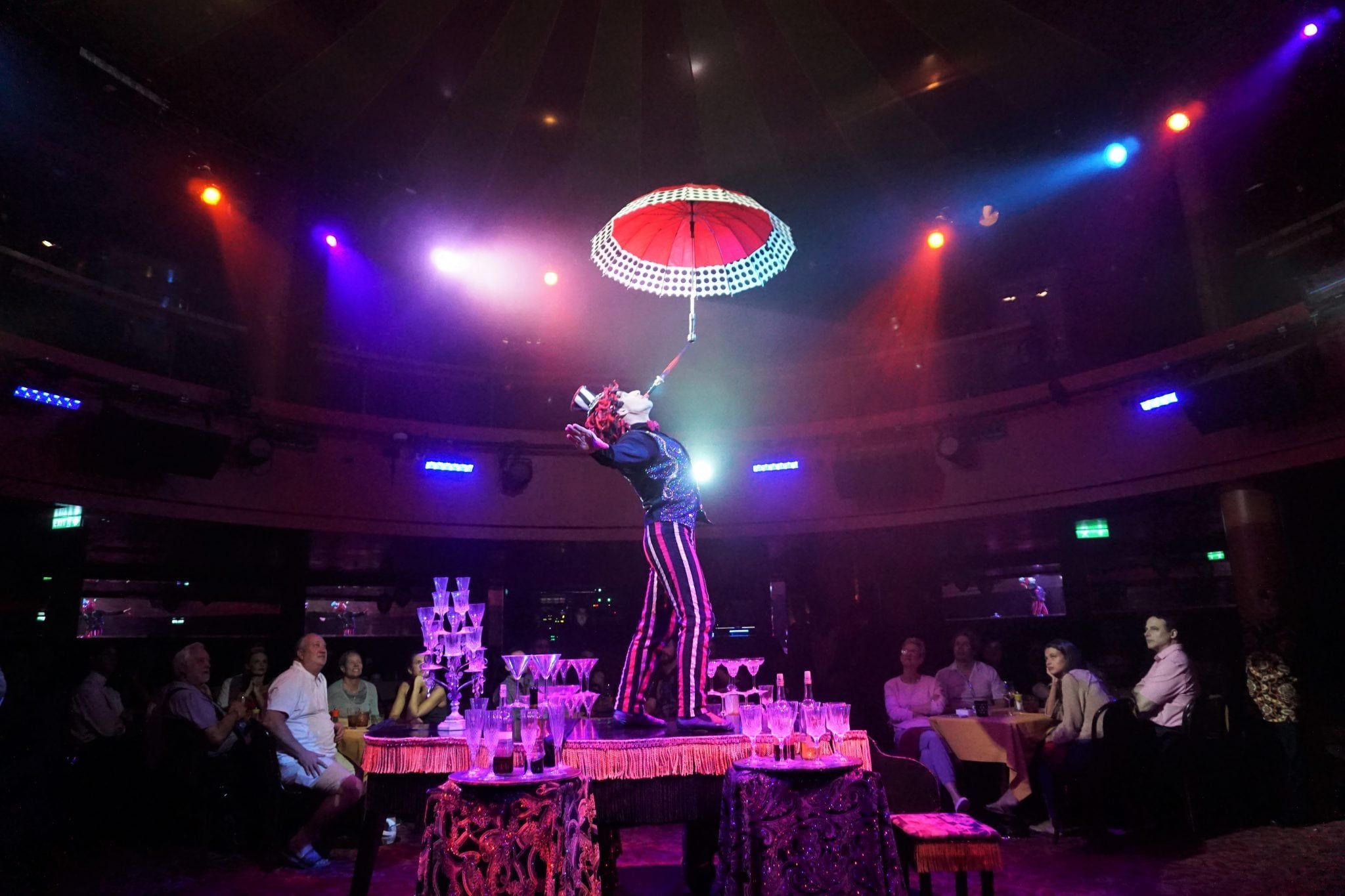 Wasabi Sushi Bar
If you are into sushi, then this bar top venue is your spot. Positioned near Teppanyaki, this venue is open for dinner every night and on some sea days for lunch. If you want to use your specialty dining plan here, there will be an up-charge of $7, or you can opt to pay a la carte pricing. We are not fans of sushi, so we can not report back on the experience.
Cagney's Steakhouse
This signature steakhouse on most Norwegian Cruise Line ships is open for dinner every night of the cruise. Reservations fill up quickly at this popular venue, so we highly recommend making reservations before you board. Believe us, it is worth the extra planning to dive into these juicy cuts of meat. Cagney's is a la carte pricing for all items ordered.

Moderno
This Brazilian style churrascaria offers a tapas and salad bar in addition to endless amounts of 11 different carved offerings. You can dine on some of the most succulent beef, pork, and even chicken on the ship. For a flat fee of $29.44 (including 20% gratuity), per person, you can eat until your belly is content.
La Cucina
Norwegian Cruise Line's signature Italian restaurant, La Cucina, offers traditional Italian-American style starters, pastas, entrees, and desserts. We have always been satisfied with our choices when dining at this venue. La Cucina is open nightly for dinner and is a la carte pricing.
Teppanyaki
This Japanese-style hibachi restaurant is another one of our favorites. For one flat fee of $35.34 (including 20% gratuity), you get to dine on several courses and experience one entertaining cooking show. Everyone gets the same appetizer, soup, and salad, then you can choose your own entree from tempting selections that include steak, calamari, chicken, shrimp, and more, all served with fried rice and grilled vegetables. Be prepared for some unexpected surprises.

Le Bistro
This French-inspired venue offers an upscale restaurant atmosphere. You can dine on authentic French cuisine any evening of your cruise for a la carte pricing. It is one of only two restaurants that has a dress code, requiring men to wear pants and a collared shirt. Again, tables do book up quickly, so we recommend making reservations ahead of time.
Sweet Selections
If you are looking for something sweet, you can grab a petite treat from the Atrium Cafe. There are a la carte costs associated with these desserts. The Atrium Cafe also serves up lattes and other espresso-based coffee drinks. Unfortunately, these drinks are not covered in the Ultimate Beverage Package. If you are like us, you can rack up quite a coffee tab!
Room Service
NCL still offers a complimentary continental breakfast that is served daily. Cruisers need to place the room service cards outside of their room by 4am. If you want something more substantial delivered to your room, you will need to fork over additional funds. All day dining offers a menu of small bites, sandwiches, and other apps for a cover charge of $7.95. Drinks can also be purchased from room service at a la carte pricing (not included in the beverage package).
Continental Breakfast | Room Service 1 | Room Service 2
Comments
Have you sailed on Norwegian Epic or another NCL ship? What is your favorite place to dine on Norwegian Epic? Drop us an anchor below to share your go to dining spot when cruising.