On our recent Norwegian Escape cruise, we were lucky enough to get a personal tour of the Thermal Suite but did not get to experience any of the amenities firsthand. Blog readers, and fellow cruisers, Steven and Patricia sailed on Norwegian Escape the week before us and purchased a week pass to the Thermal Suite. They were kind enough to give us an in depth review and share their personal experiences of the Thermal Suite on Norwegian Escape. If you are sailing on this ship and considering the spa options, be sure to check out this week's guest post.
Review: Thermal Suite on Norwegian Escape
On our recent Norwegian Escape cruise, my wife Patricia and I decided to do something a bit different and invest in a little pampering. We had read positive things about the Thermal Suite on Norwegian Escape and shortly after boarding decided to take a tour of the facilities. We stepped through the door into the thermal suite and were immediately 'sold'! It is a beautiful facility and a true haven from the hustle and bustle of other areas on this ultra-modern cruise ship.
Why did I use the word 'invest'? Well, the Thermal Suite on Norwegian Escape is not cheap, and we did get a little 'sticker shock' upon learning the cost for the 7 day unlimited pass was $219 per person. We wondered if we would use the facility enough to justify a little over $31 per day… by the end of the cruise, the answer was a definitive YES.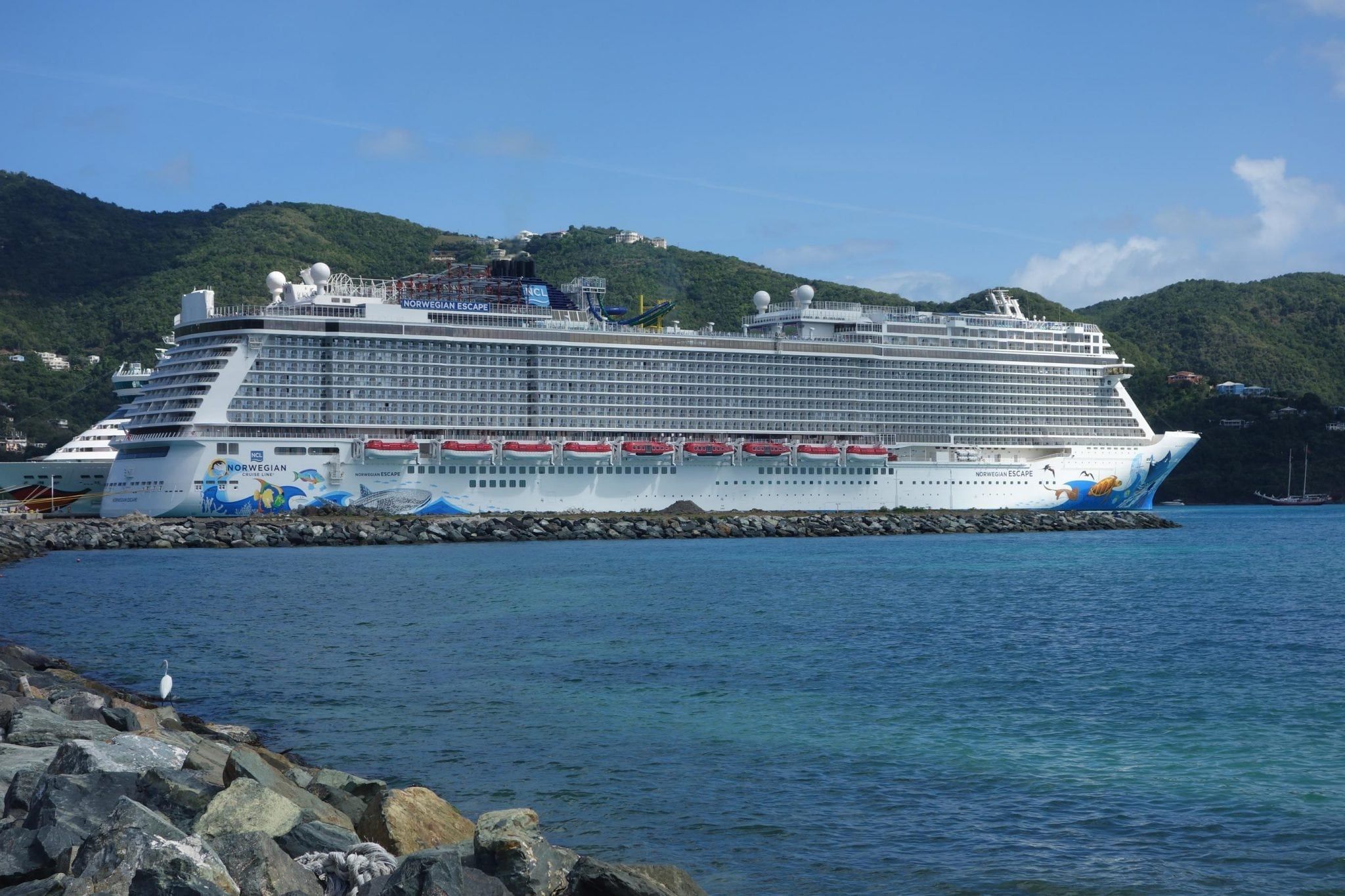 The Norwegian Escape is a large and very busy cruise ship. At full capacity, she carries well over 5,000 passengers. We consider ourselves sociable cruisers as we love to meet people, chat about different places, and share experiences, but every now and then, some quiet time is needed! The Thermal Suite on Norwegian Escape is guaranteed to be a quiet, relaxing spot to start your day, maybe have a midday nap, watch the sunset through the panoramic windows, or perhaps have some post dinner chill-out time.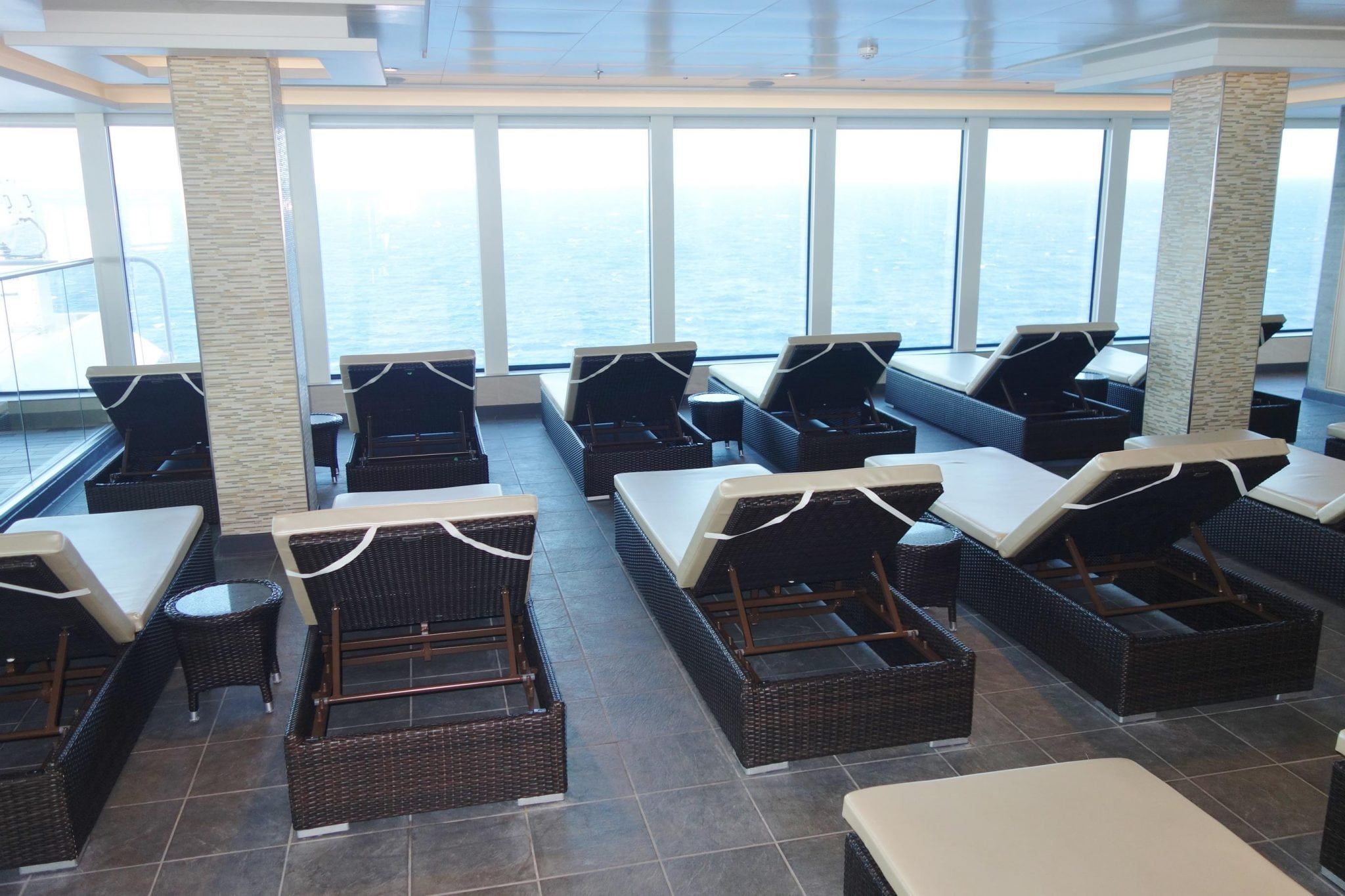 Norwegian issues a limited number of week passes, and on port days, you can also score one of a very limited number of day passes for the Thermal Suite on Norwegian Escape. The day passes are a bit of a secret! They can be purchased from the Mandara Spa on the morning of almost any port day for $54. We highly recommend that you purchase a pass for at least one day to enjoy this beautiful facility; it is a great value for a relaxing day.
Each time you want to visit the Thermal Suite on Norwegian Escape, you simply hand your cruise card to one of the very helpful spa employees, and they give you a special card to access the suite. We found that the staff were very friendly and made an effort to remember our names and ask how our day was going. We are on a cruise ship, how could it be bad?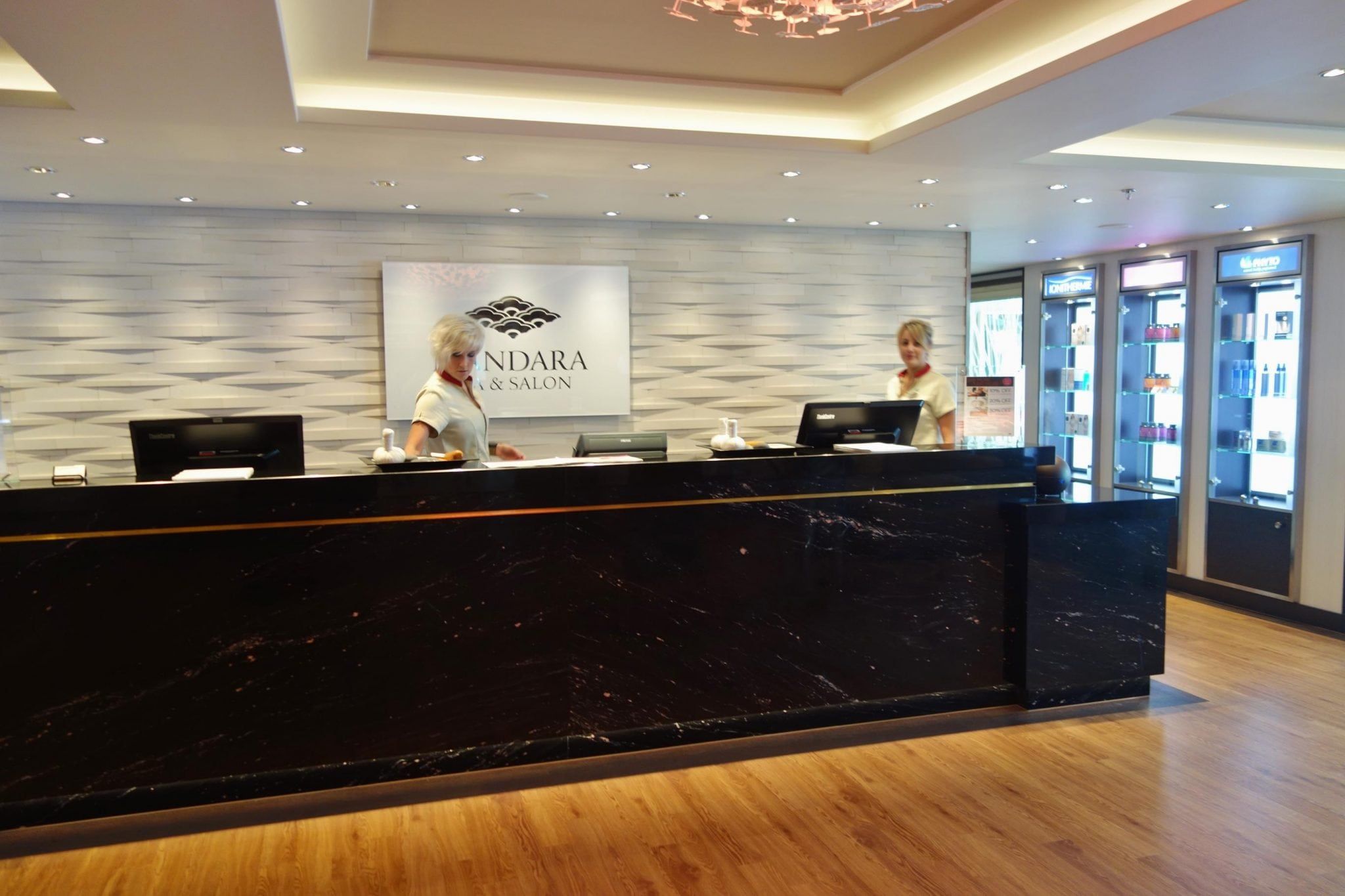 We think it is important to mention that at no point during the cruise did anyone in the spa try to upsell us on any other spa offerings or products. This was something that we were a bit worried about at first because onboard spas are notorious for the upsell, and we did not want to be bombarded with offers every time we entered the suite. Kudos to a great spa team!
Upon entering the spa, you are met with a warm rush of scented air. The air is slightly humid but not hot or damp. As you pass into the thermal suite, there is a service station with fresh towels, infused fruit water, hot water, and various teas to enjoy. The changing rooms also have complimentary fluffy robes for your use while in the thermal suite.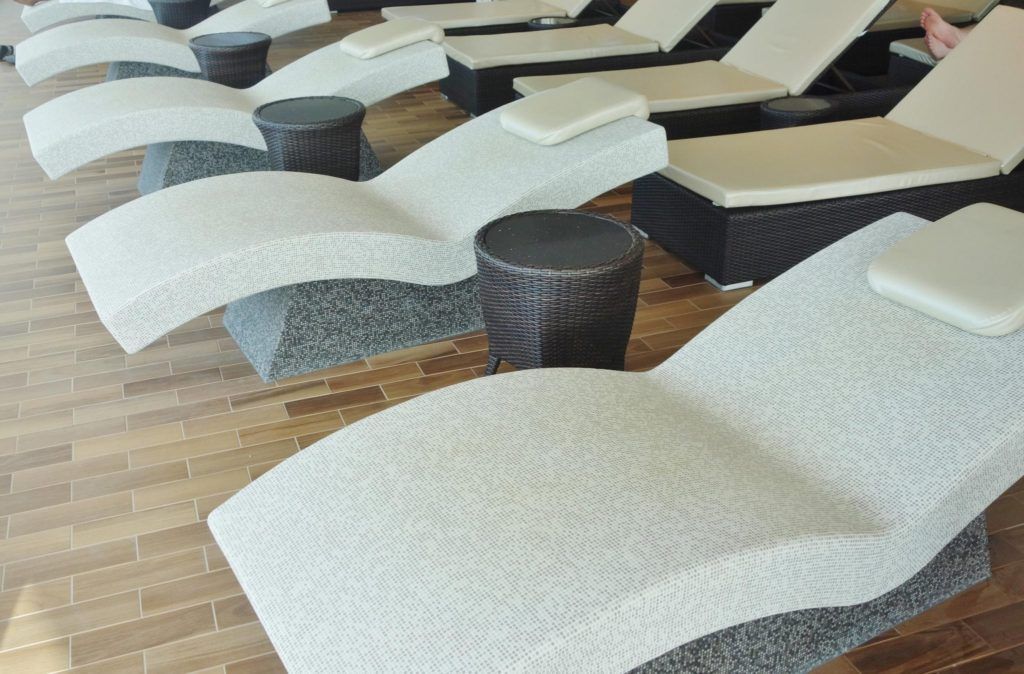 The attendant is constantly replacing used towels and making sure that no-one is unfairly 'holding' a chair or lounger. There was not a single time during our cruise that we could not immediately find a heated stone lounger or chair next to a window. In our experience, the thermal suite was never crowded.

The Thermal Suite on Norwegian Escape has a mix of dozens of high quality padded loungers and 33 heated stone/tiled loungers that are shaped to confirm to your spine. They are heavenly! We found that we spent maybe 30 minutes on a heated lounger and then switched over to a normal lounger to nap, read, listen to music, or just stare at the never ending seascape through the enormous wrap around windows. The thermal suite is high and forward so your view is similar to that of the Captain on the bridge!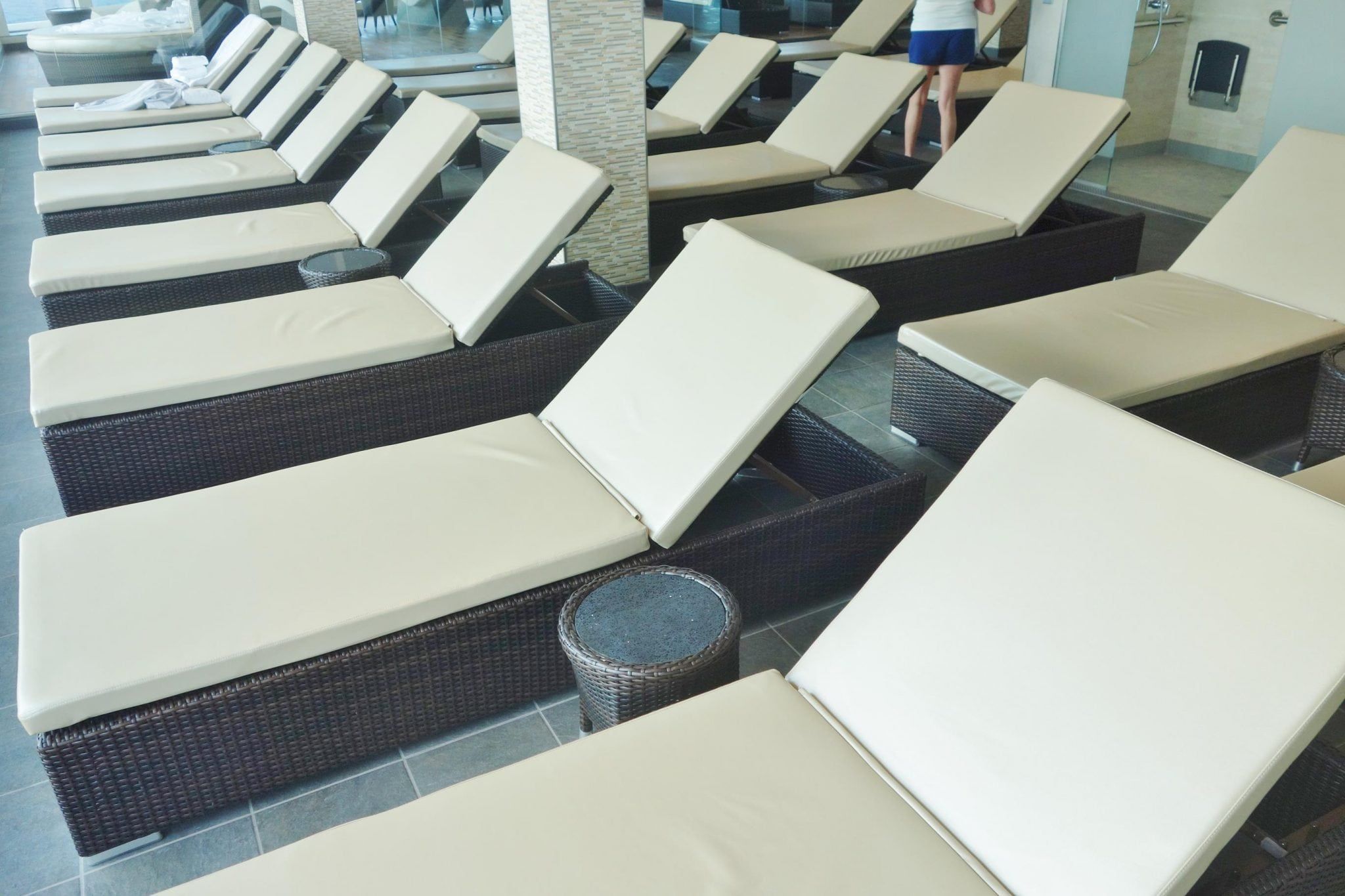 The Thermal Suite on Norwegian Escape offers a variety of spa rooms and a very large thermal pool. The thermal pool is quite the experience, think of a hybrid between a swimming pool and giant hot tub! The depth varies between 3 and 5 feet with places where you can sit around the edges and soak in the warm water. The pool has high pressure jets all around, each individually controlled so you can choose calm water or a high pressure water-jet experience! The pool is warm; on a couple of days, we felt it was almost too warm (borderline hot).
A corner section of the thermal pool is best described as a wave/whirlpool, or a hot tub on steroids! Just fantastic for a few minutes (if you like being bashed around by intense jets of bubbly water!). In the middle of the thermal pool, there is a waterfall like device which sends a high-flow stream of water over your head and body. If you think that the thermal pool is sounding like a mini-waterpark for adults, you would not be far from the truth!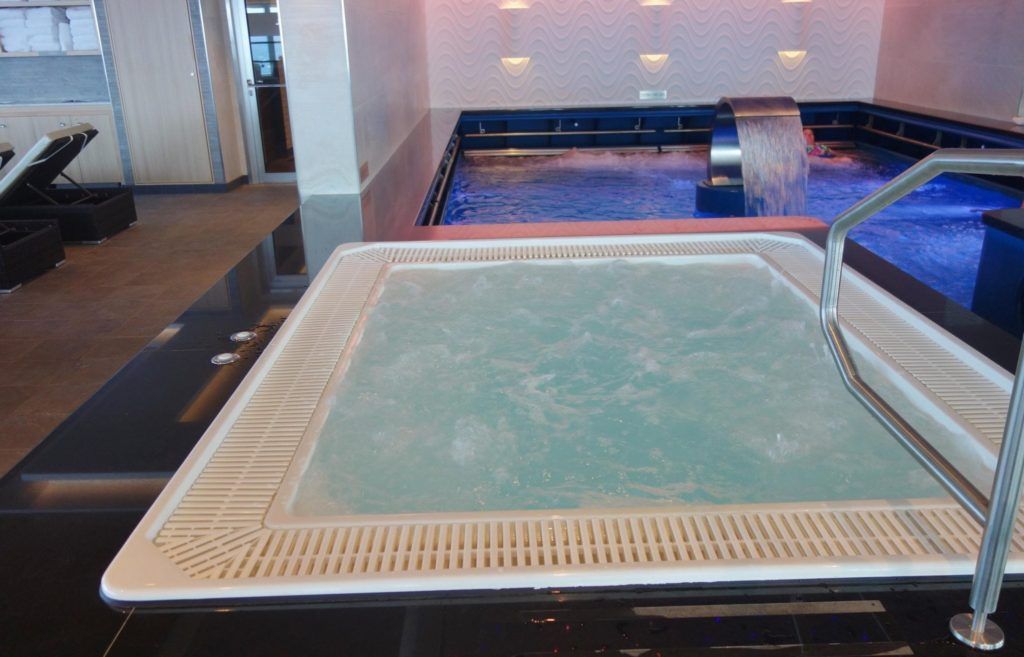 At most we saw maybe 10 people in the thermal pool, often just 2-3 at a time. Each jet, waterfall, wave pool area, etc. is individually controlled and timed like a typical hot tub (around 10-15 min cycles). Next to the thermal pool is a regular hot tub for those of you who might be a little less adventurous.
Next to the thermal pool is the tropical shower, not much to report here. It is basically a shower with a lot of water spray heads. Then comes the salt room, which to be honest, we never really understood.  It is a brightly colored room with an odd device in the middle which is supposed to release therapeutic salts. These salts are said to improve respiratory conditions such as asthma. If this is your thing, you may love it, but we found it a little boring.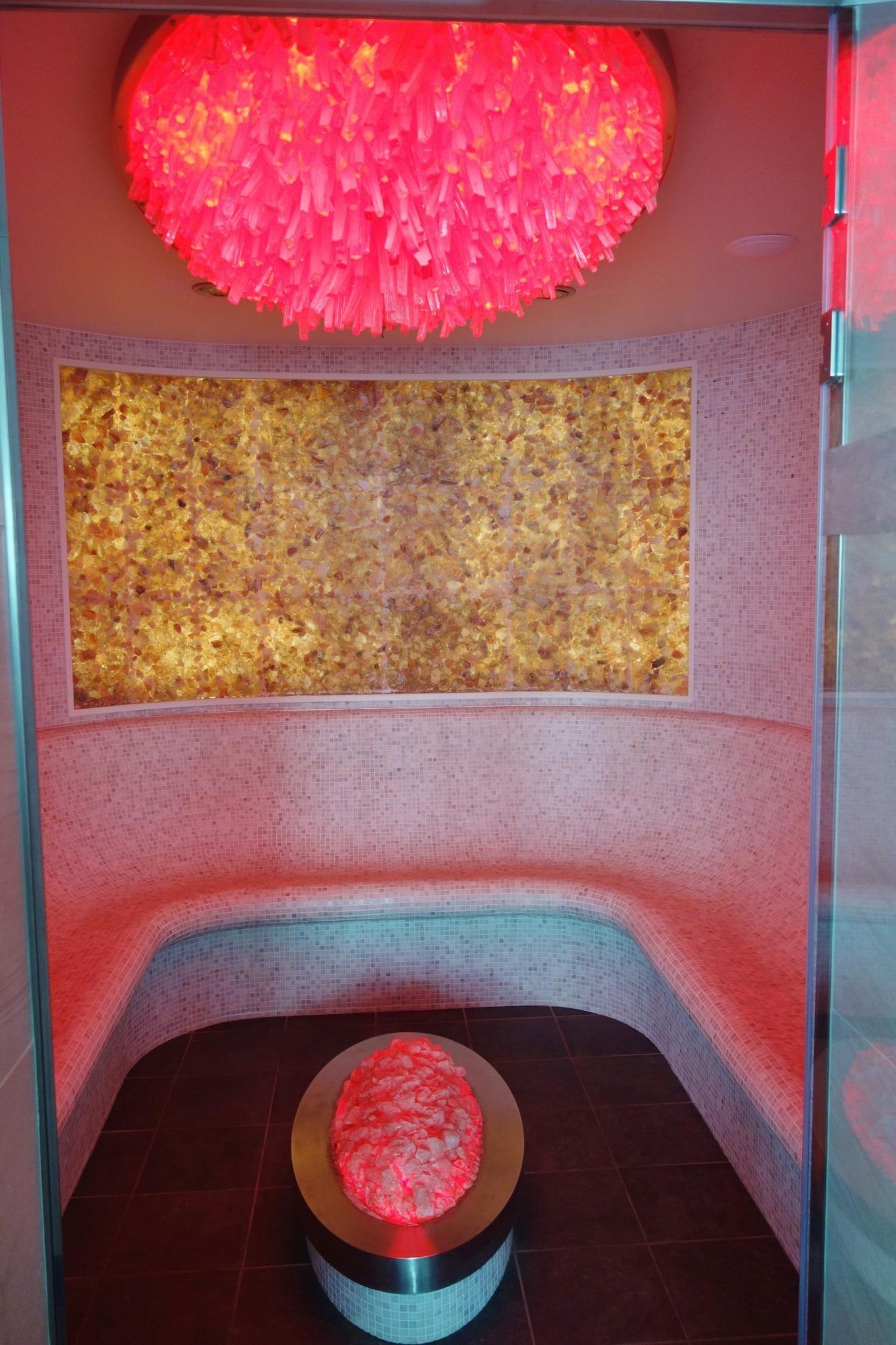 The Thermal Suite on Norwegian Escape also offers a traditional sauna, with the best view of any sauna in history, and a sanarium, which is similar to the sauna but with a little more humidity. I preferred the sauna while Patricia preferred the sanarium. It is nice to have so many choices.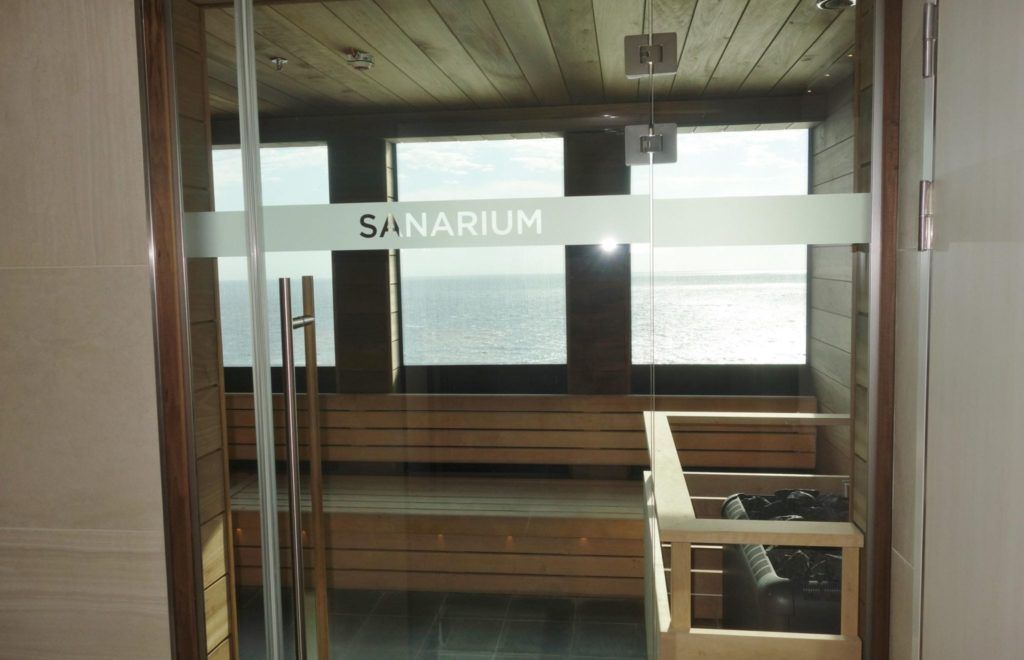 Another option is the steam room, one of my favorite locations. It did seem a little funky in its operation though- a lot of steam or no steam at all, with excess water on the floor. The staff explained that the room does frequent self-cleaning cycles but failed to convince me that the unit was not malfunctioning every now and then!
Now onto the piece-de-resistance of the Thermal Suite…. drum roll please… the "Snow Room"! Yes, a Snow Room on a cruise ship! I thought this would be a gimmick, but it turned out to be very cool (or should I say very cold). To move straight from a hot sauna or the steam room into the icy snow room is quite the experience! Now I understand why many Scandinavians love the hot/cold contrasts! And yes, in case you are wondering, it does actually snow lightly in the room. This alternating of hot and cold therapy is said to improve circulation and immune health.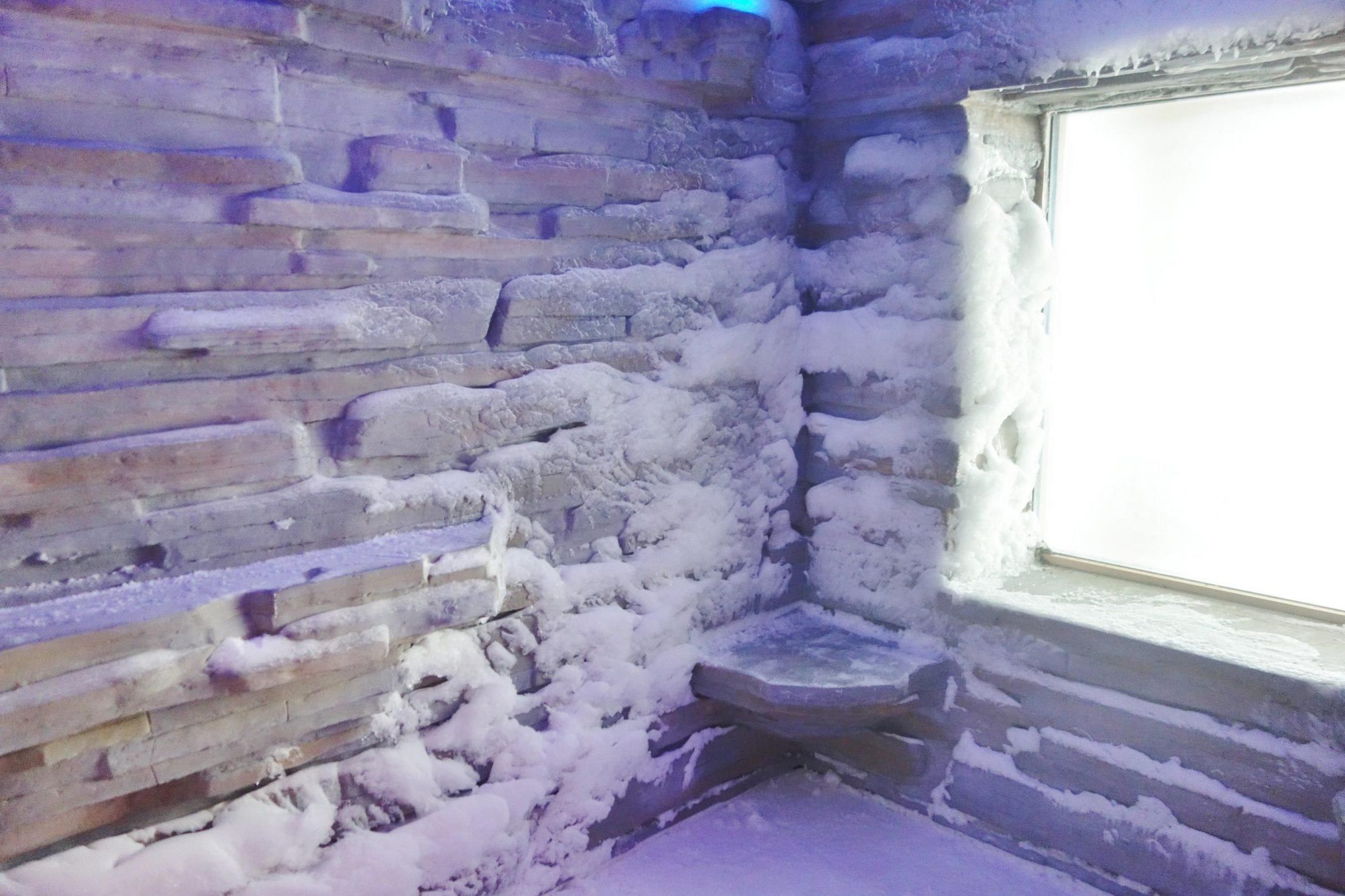 In all other areas of the thermal suite, we found fellow cruisers to be very quiet and keeping to themselves, but that all changed in the snow room.  Everyone seemed to be laughing, chatting, and making snow jokes about coming from Canada or the Midwest just to stand in a snow room on a cruise ship in the Caribbean!
All in all, we LOVED the Thermal Suite on Norwegian Escape and consider it to be an excellent value for the money. If you choose to sail on Escape and want a place to chill and relax, then we highly recommend the weekly pass. If you just want to experience a day in the Thermal Suite, then pick your port day and wander up to see the friendly staff in the spa at about 8am to score a day pass at a reasonable price.
Note: Prices are accurate as of this post date. Be sure to check NCL's website for the most up to date pricing.
Comments
Have you sailed on a Norwegian ship featuring the Thermal Suite? Do you think this upgraded spa experience is worth the price tag? What are your favorite features? Drop us an anchor below to tell us about your experiences using the Thermal Suite on Norwegian Escape.
[author] [author_image timthumb='on']https://eatsleepcruise.com/wp-content/uploads/2016/03/Steve-and-Patrica-Gauld.jpg.optimal.jpg[/author_image] [author_info] Steve & Patricia cruise as much as time and money will allow. Home for us is Michigan, and we try to escape the long winter months with a cruise (or 2). We have cruised the UK and Ireland and will be tackling Alaska this summer. We don't have a particular favorite cruise line and have sailed many of the major lines, each one has its own pros and sometime the odd con as well. Have questions for Steve & Patricia? They can be reached at sgauld@gmail.com. [/author_info] [/author]