If you are looking for Norwegian Escape Menus, then you have come to the right place. These brand new menus are from a recent cruise onboard the Norwegian Escape. We have loaded these Norwegian Escape Menus as photos. It is much easier to read the menus if you download them. We just ask if you do share these photos that you credit EatSleepCruise.com as the source.
Of course, if you have any questions just email us and we would be happy to help.
Click here for all the bar and lounge Norwegian Escape Menus
Norwegian Escape Menus for Main Dining Room (MDR)
There are three main dining rooms on Norwegian Escape – Savor, Taste, and the Manhattan Room. During the course of the week, all three restaurants offer virtually the same breakfast and lunch menus daily, with occasional "specials".
Norwegian Escape Menus – Breakfast in the MDR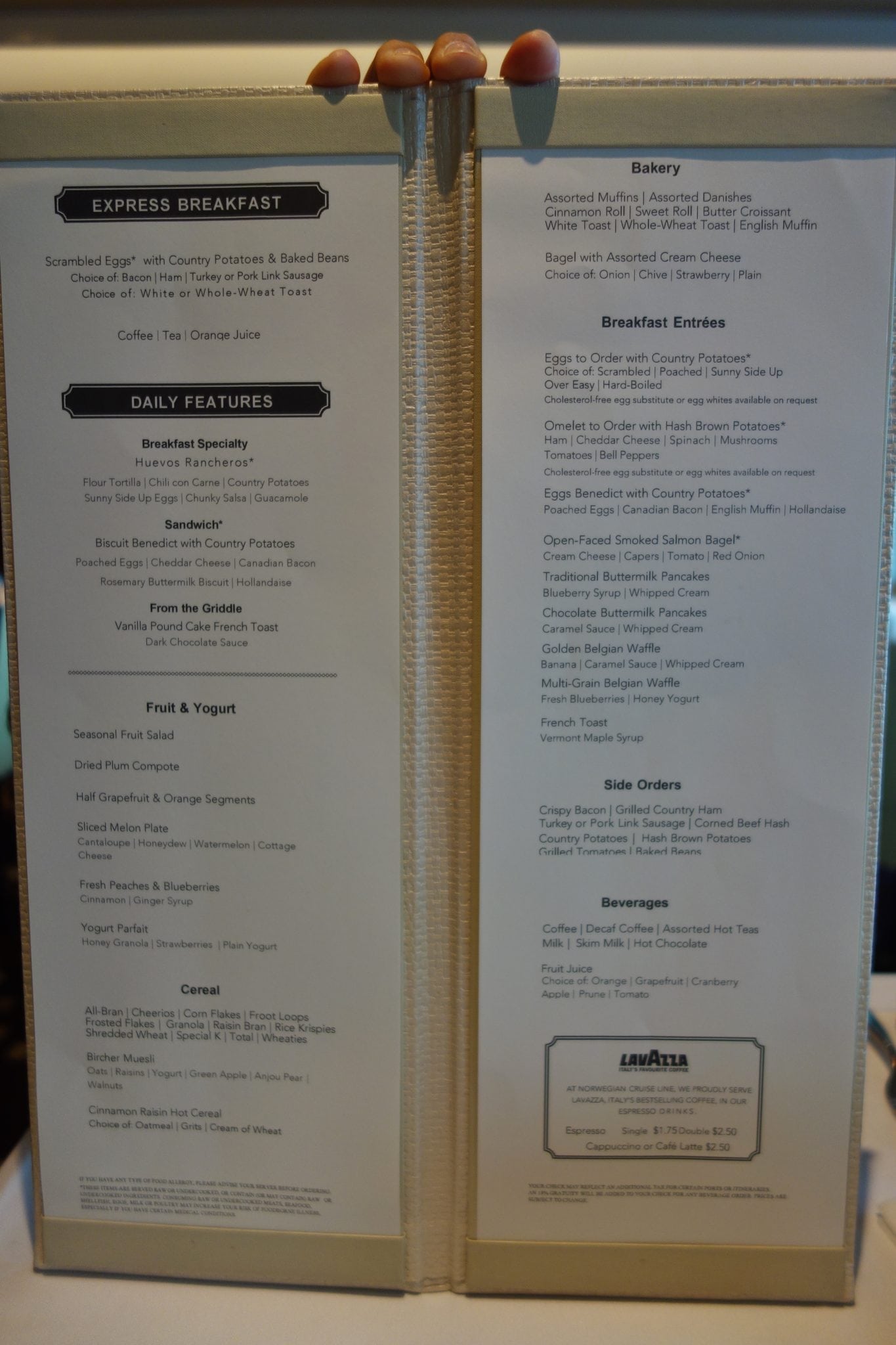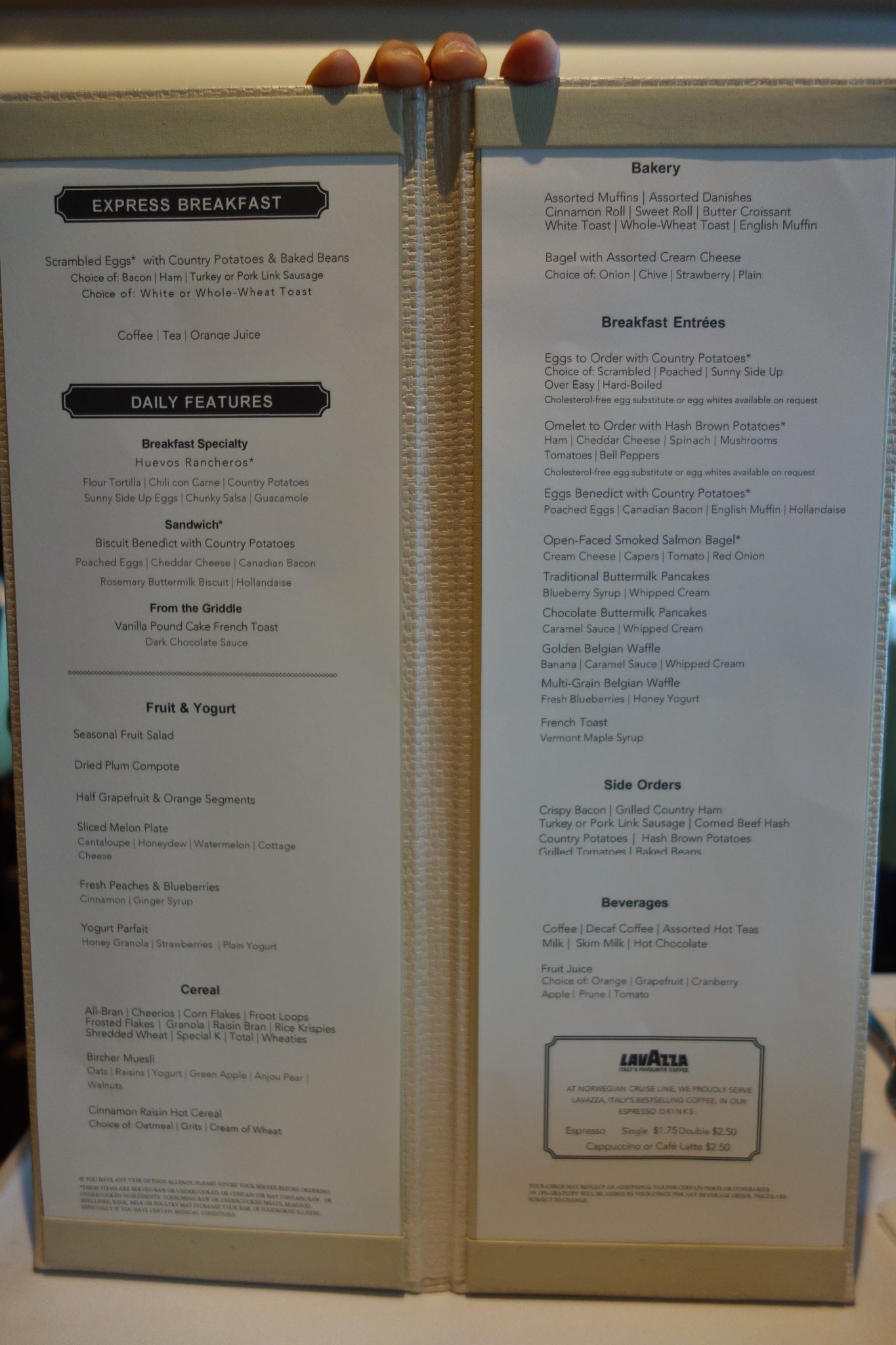 Norwegian Escape Menus – Lunch in the MDR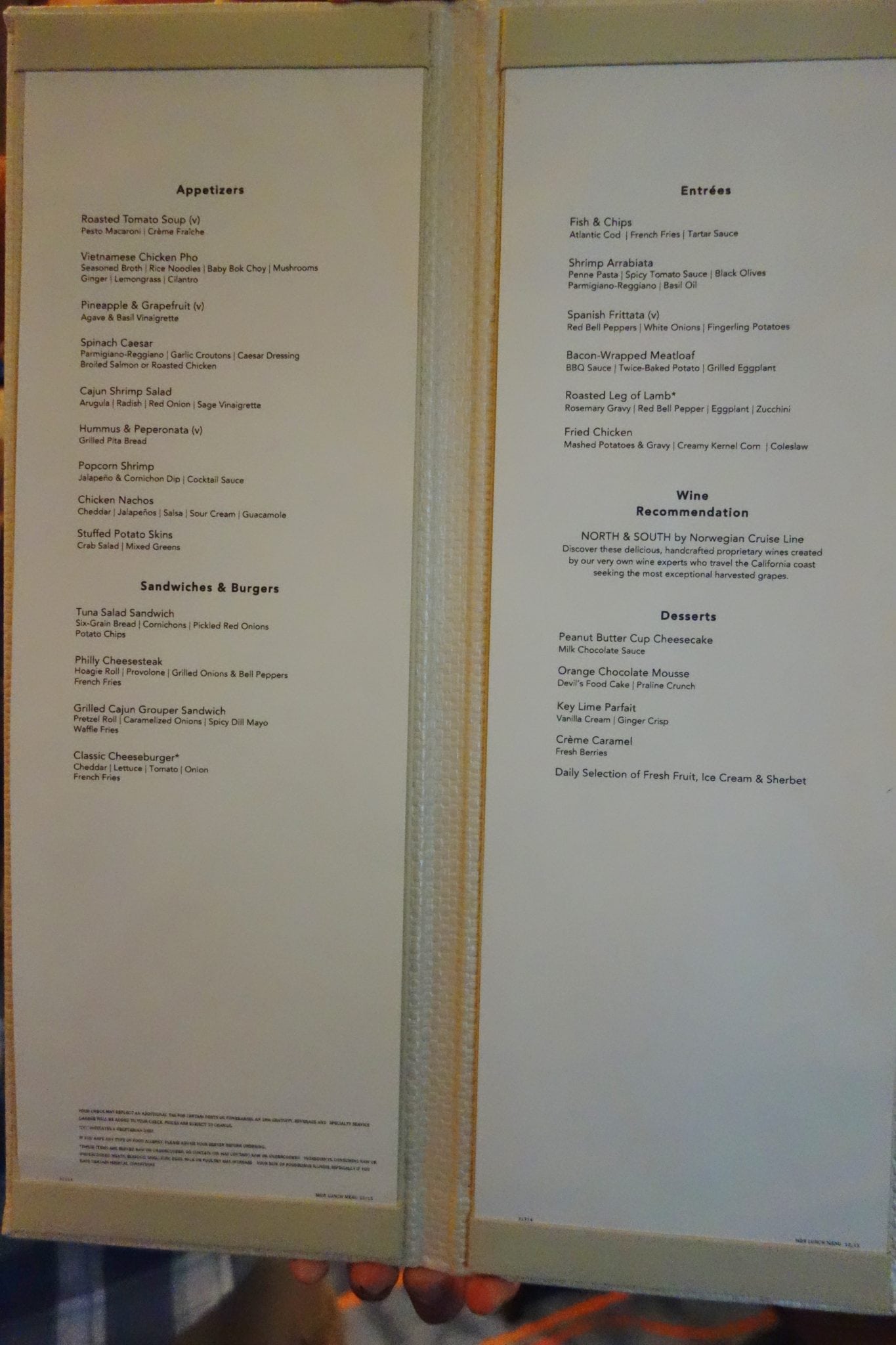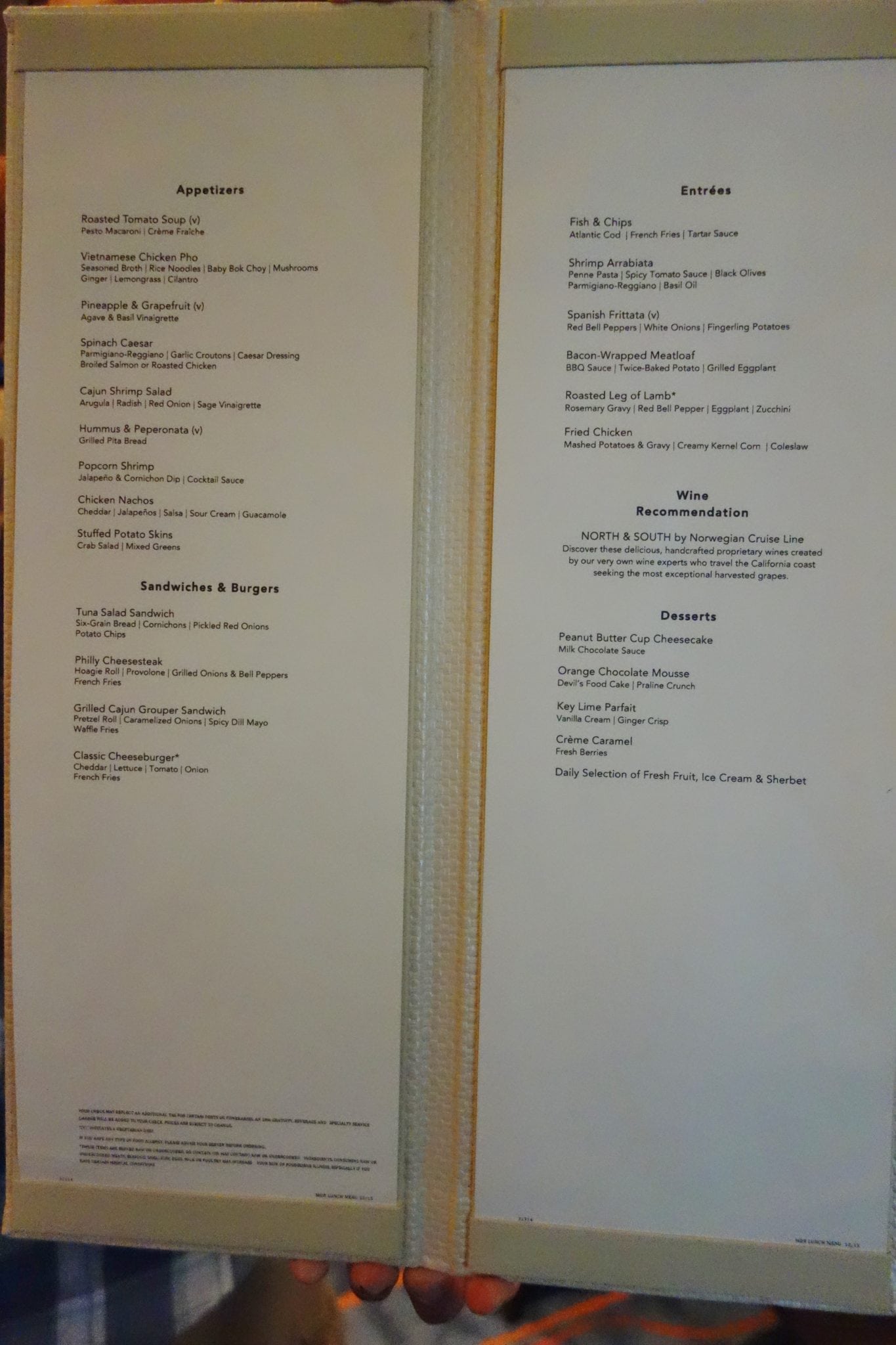 Norwegian Escape Menus – Dinner in the MDR
The dinner menus at the three main dining rooms onboard Norwegian Escape rotate each night of the cruise, but all three venues offer the same menu. Each night they feature the same Classic Favorites in addition to different specials. The menus below are presented in the order they were served during our seven night Eastern Caribbean cruise. Note: the sequencing of the menus may change on different itineraries.
MDR Dinner Night 1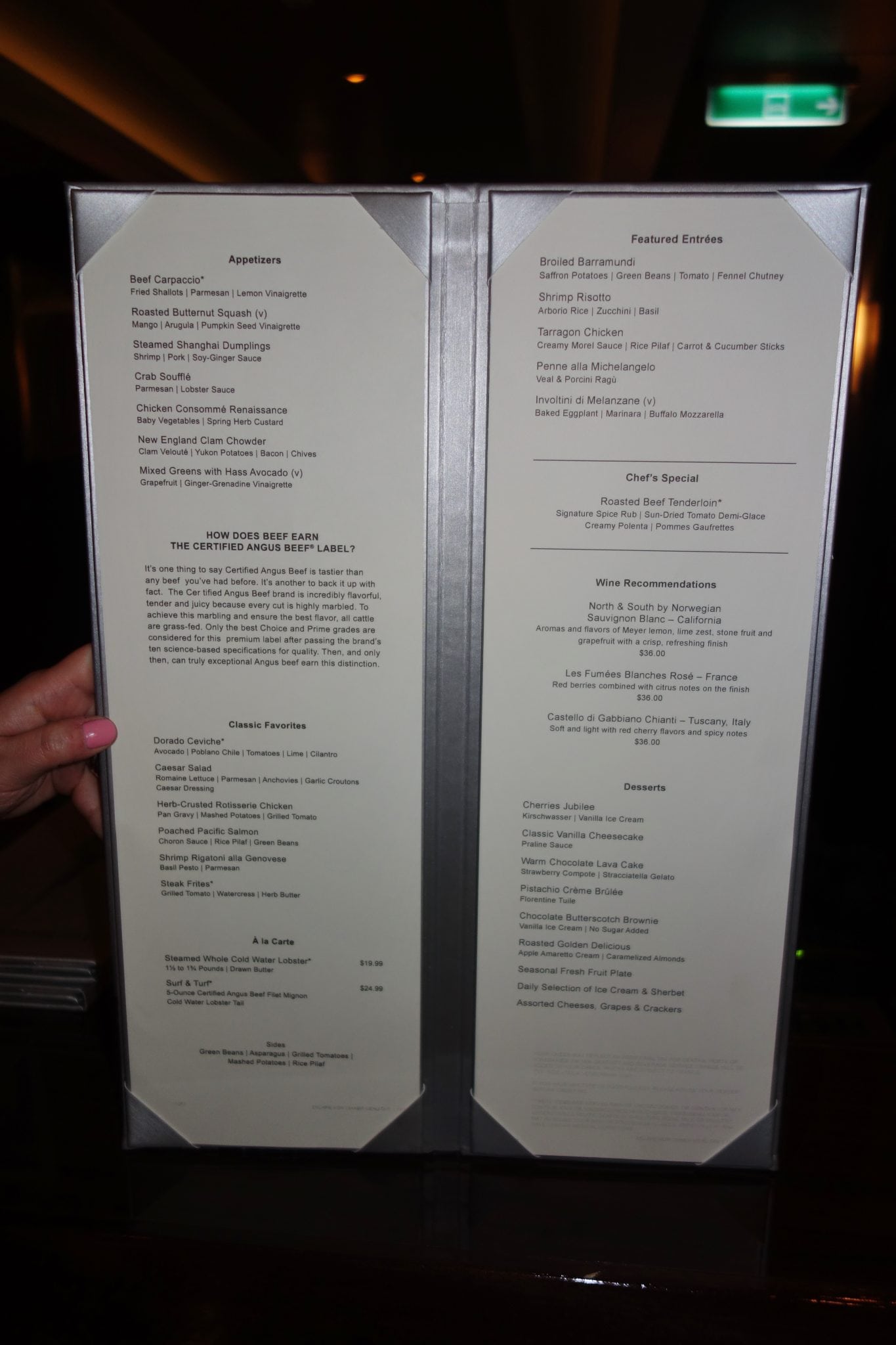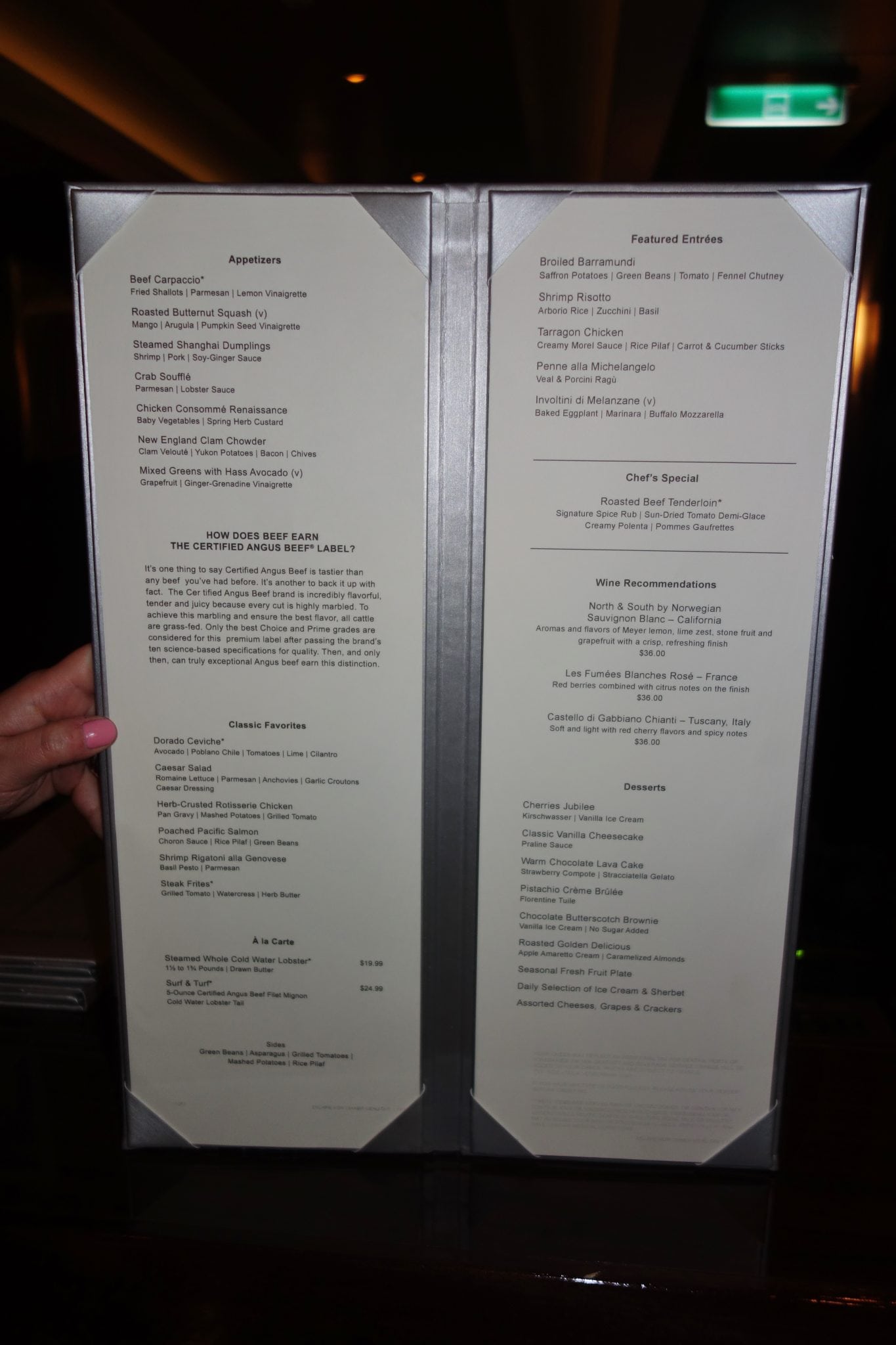 MDR Dinner Night 2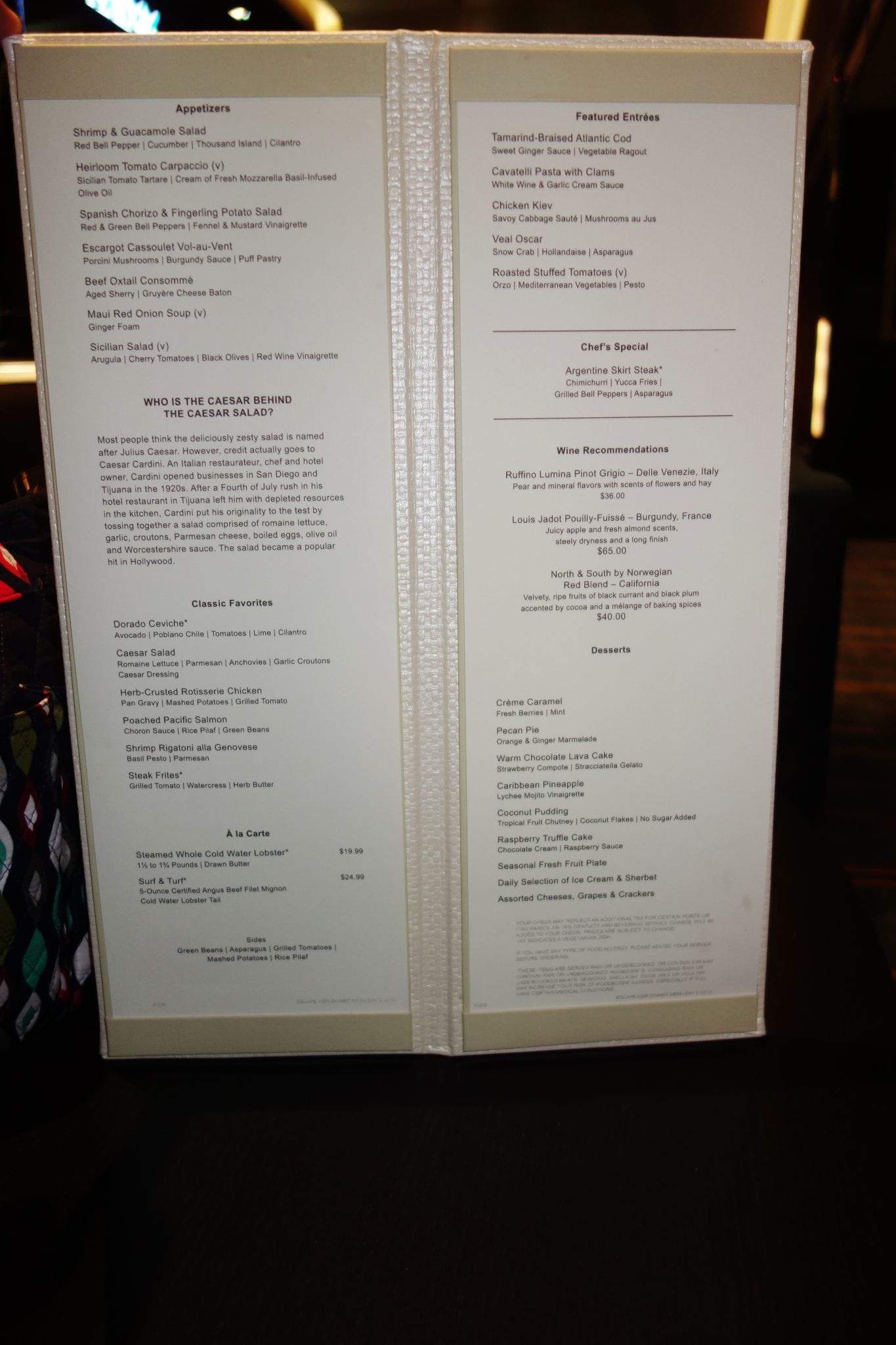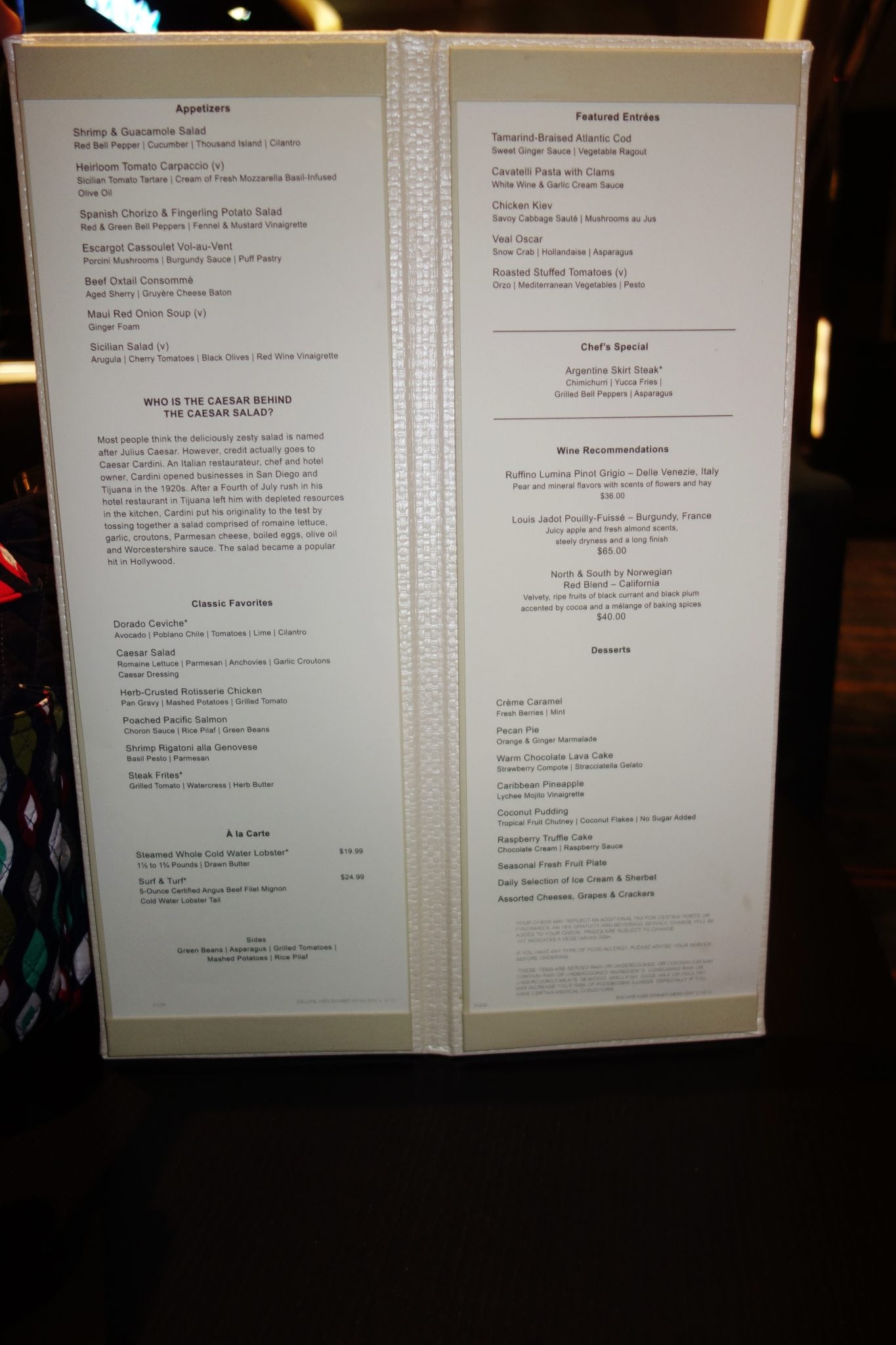 MDR Dinner Night 3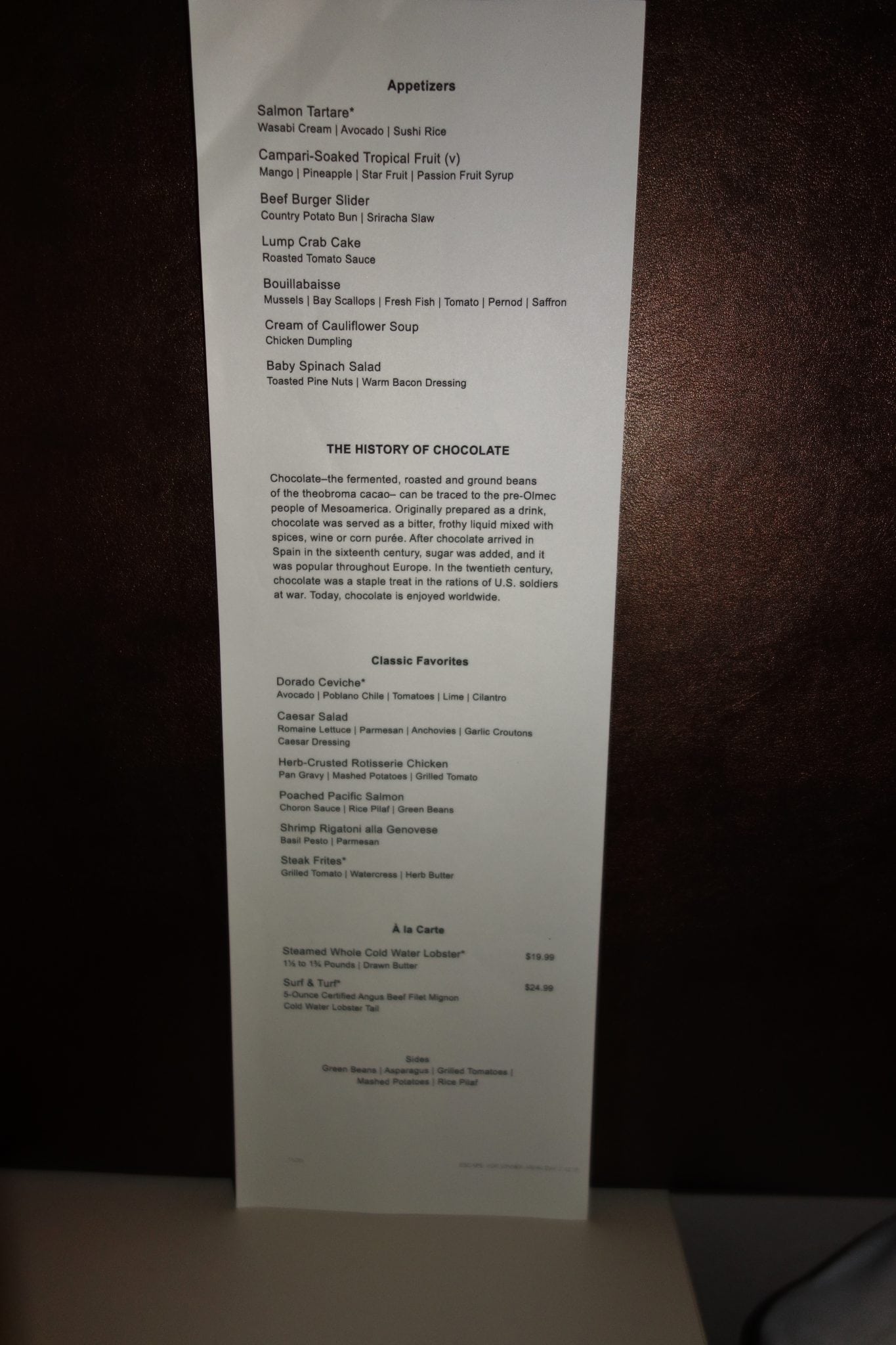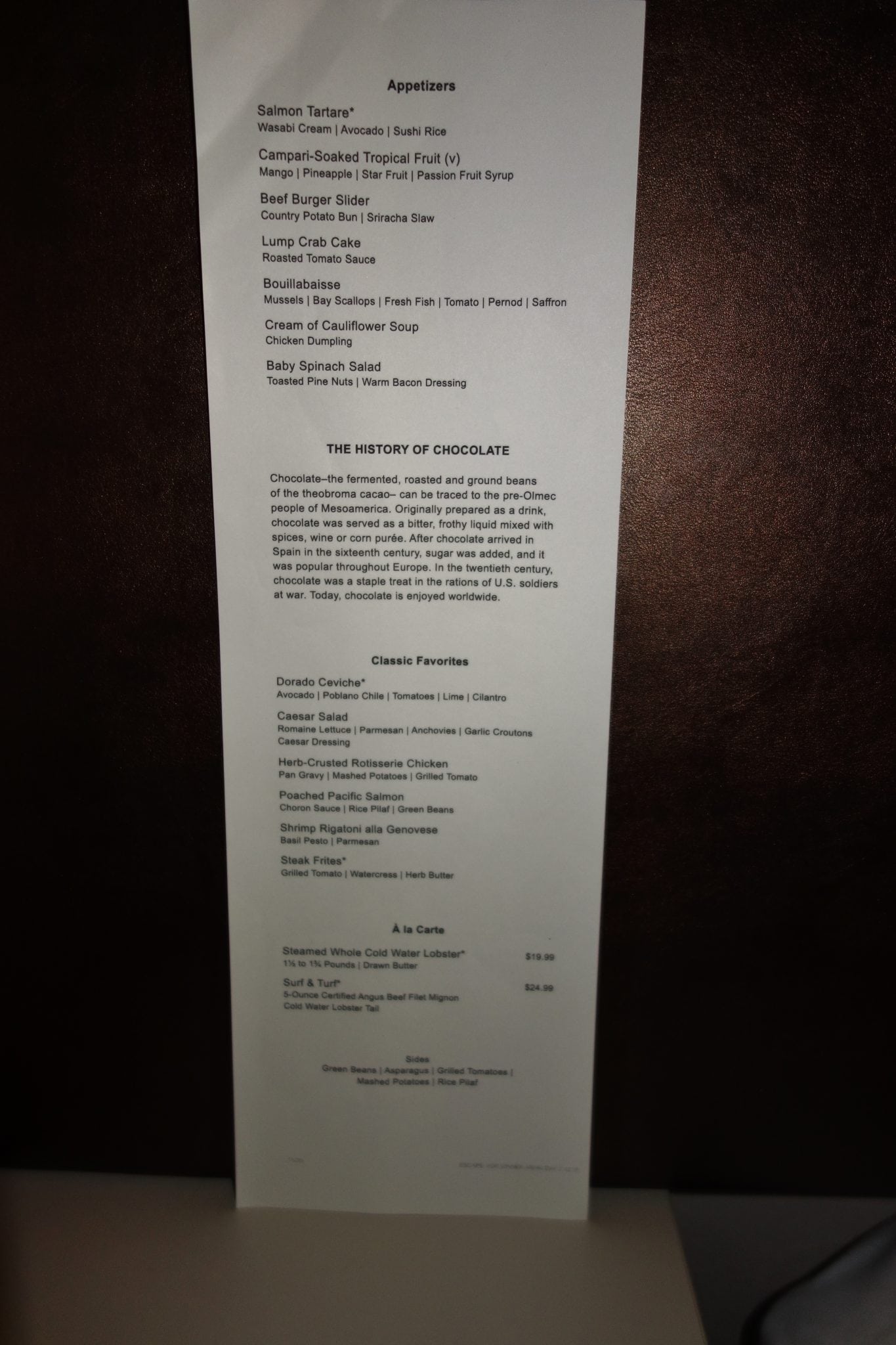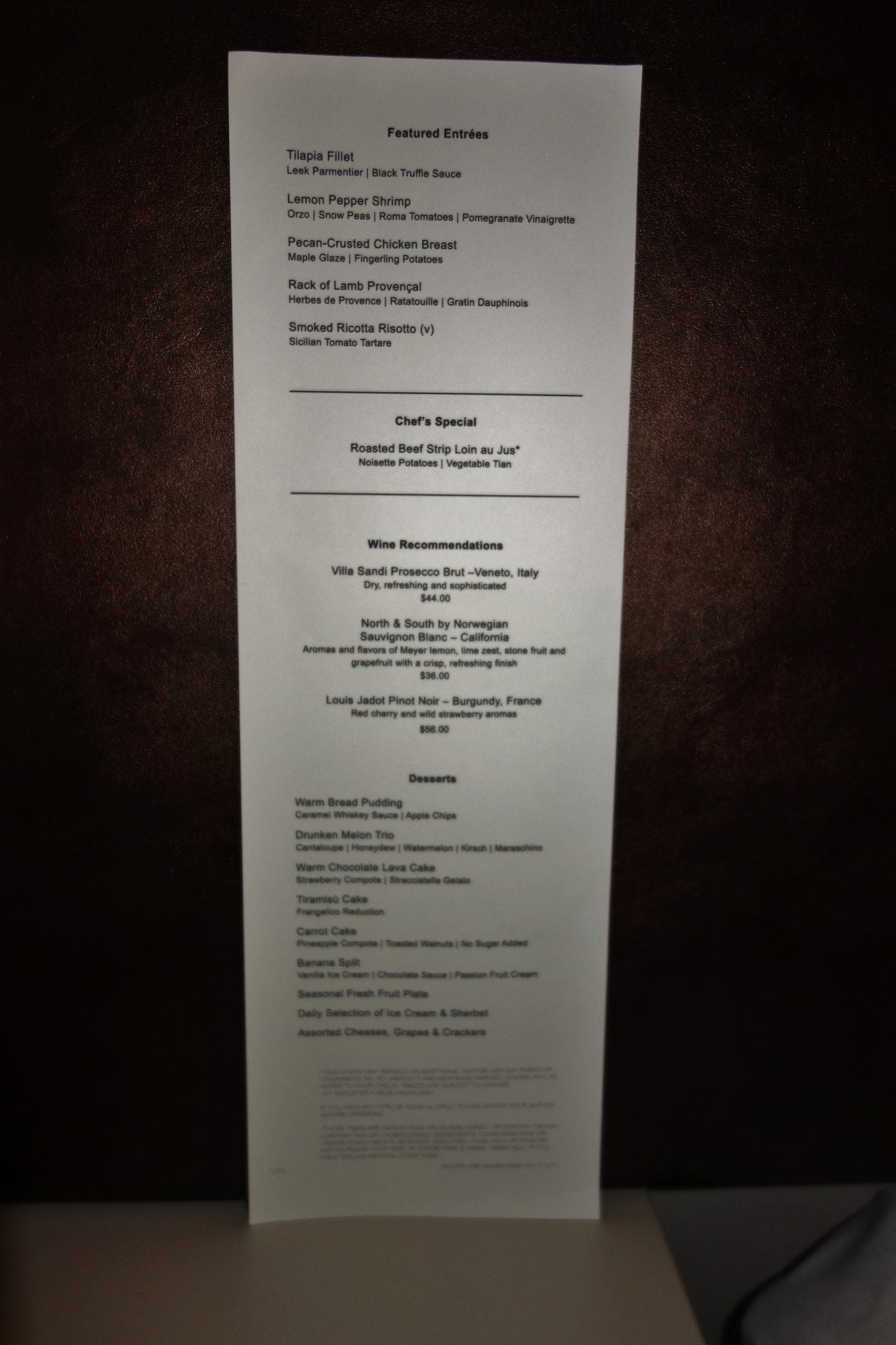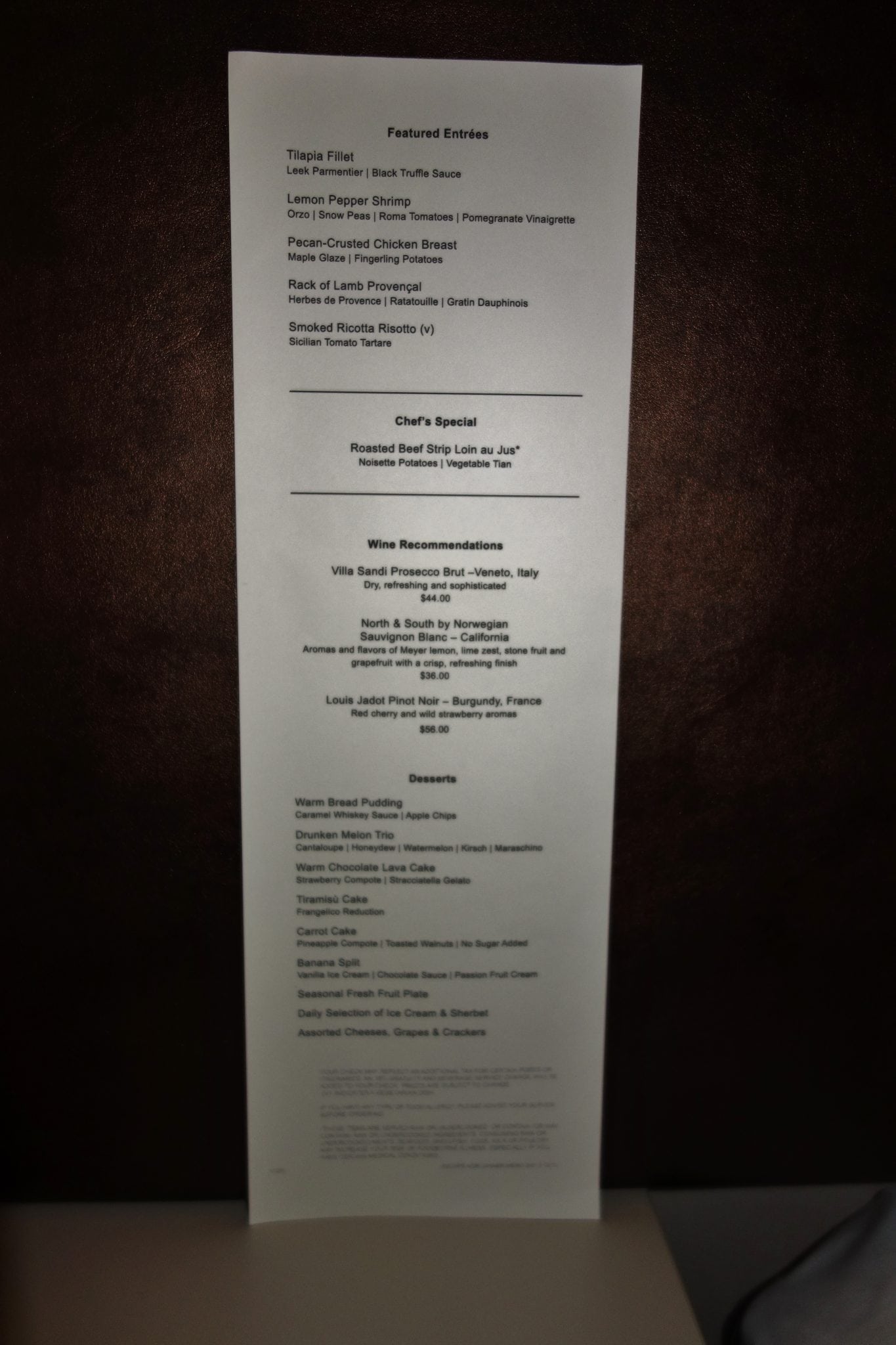 MDR Dinner Night 4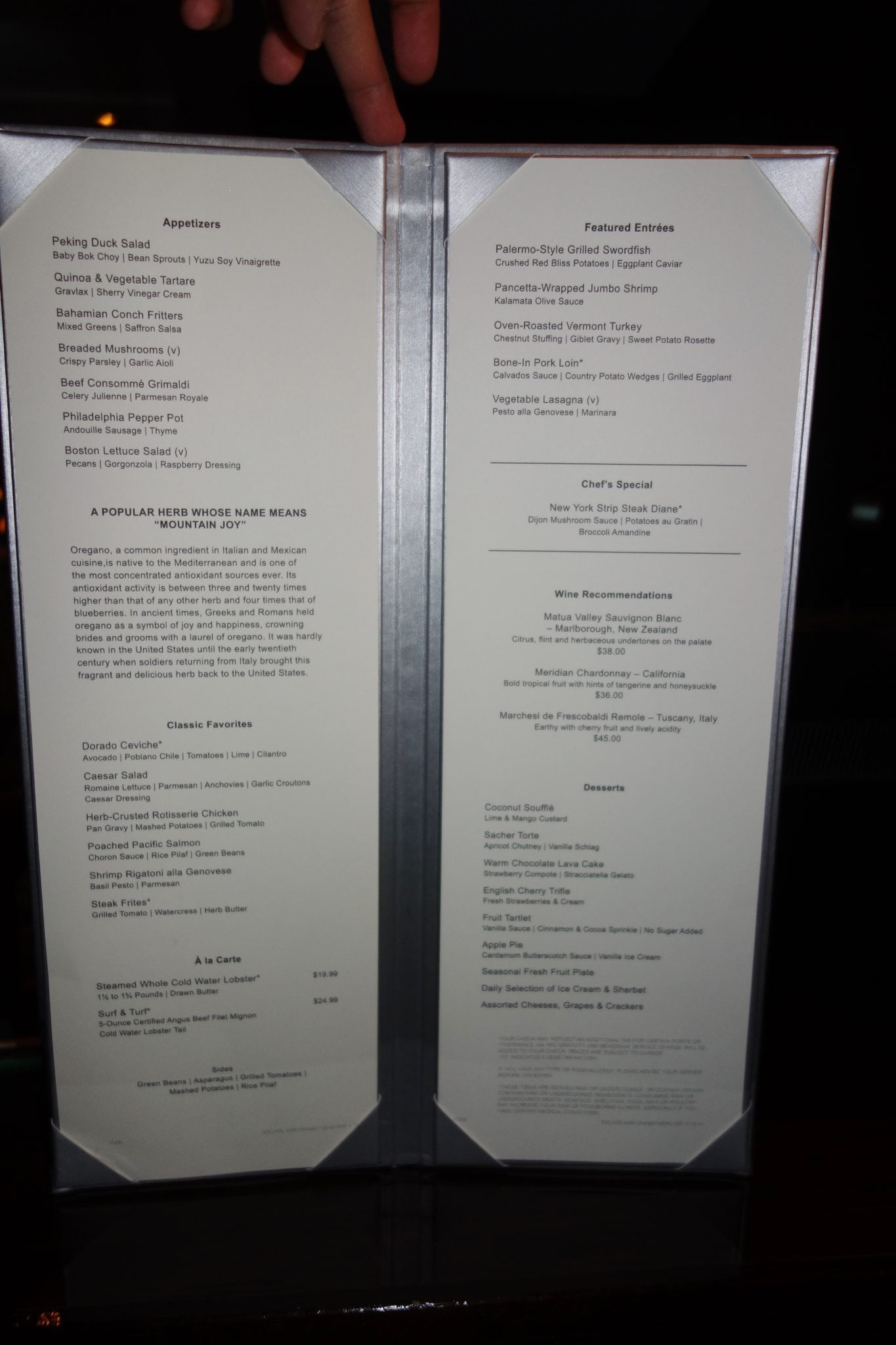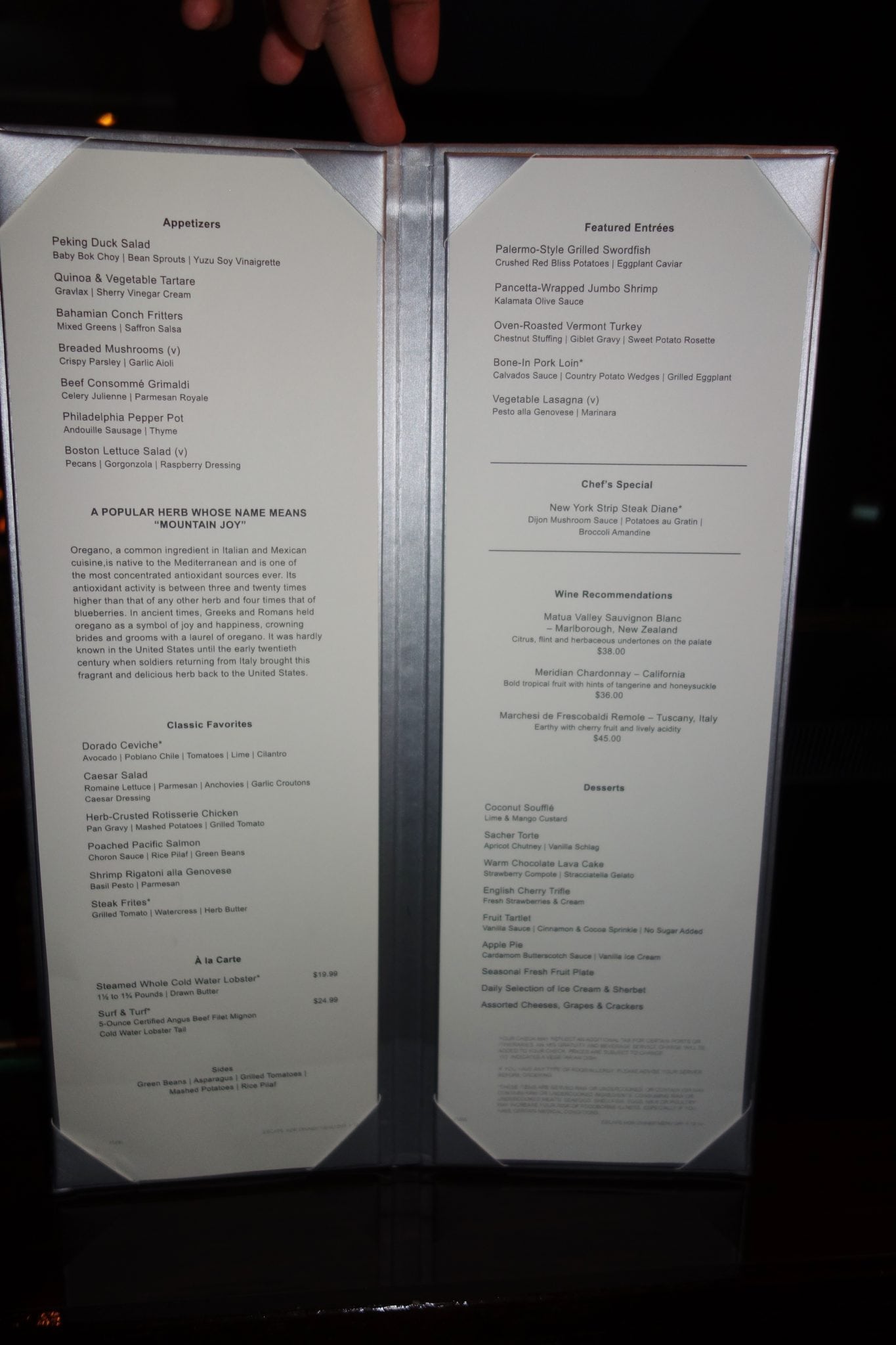 MDR Dinner Night 5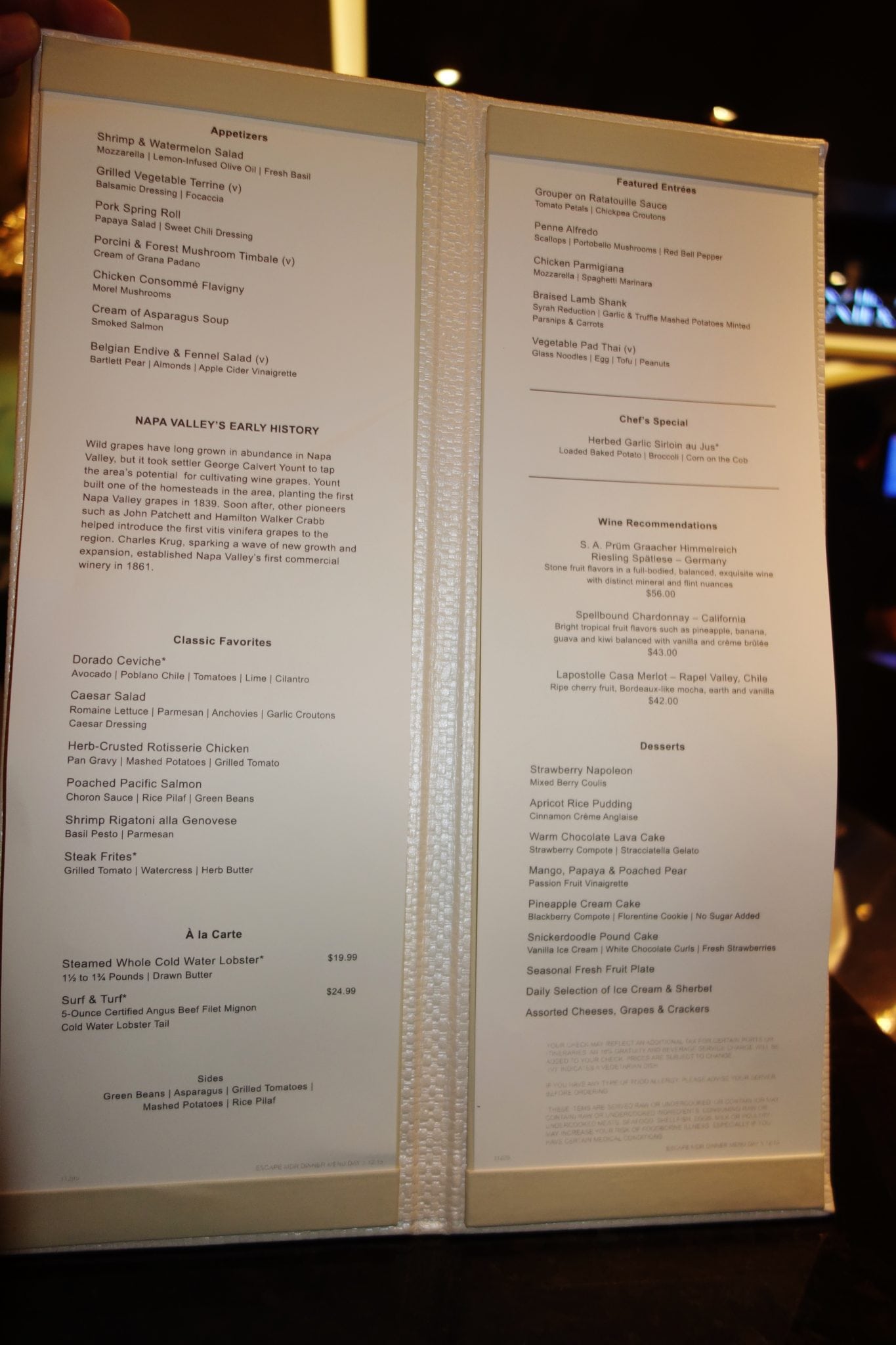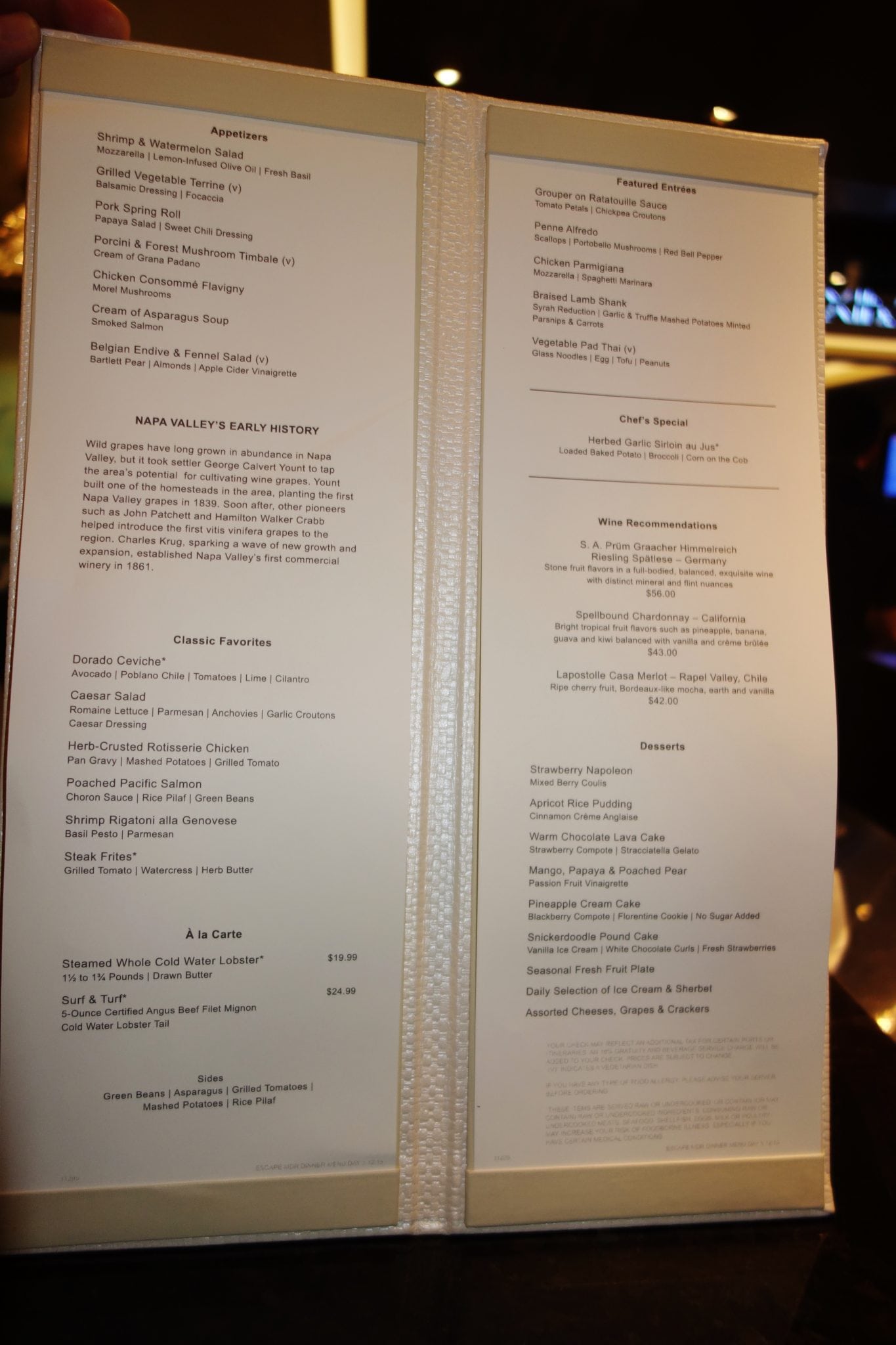 MDR Dinner Night 6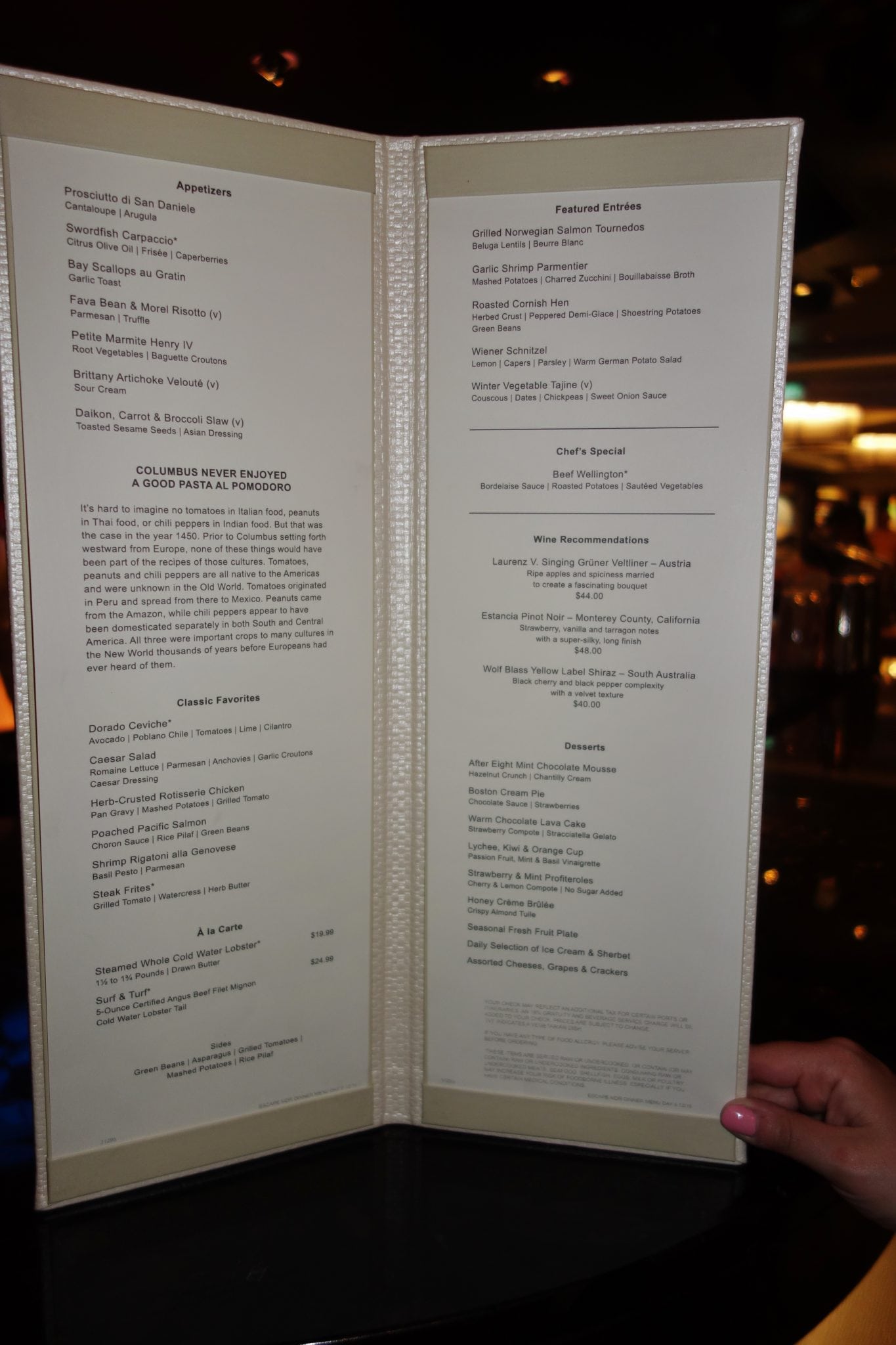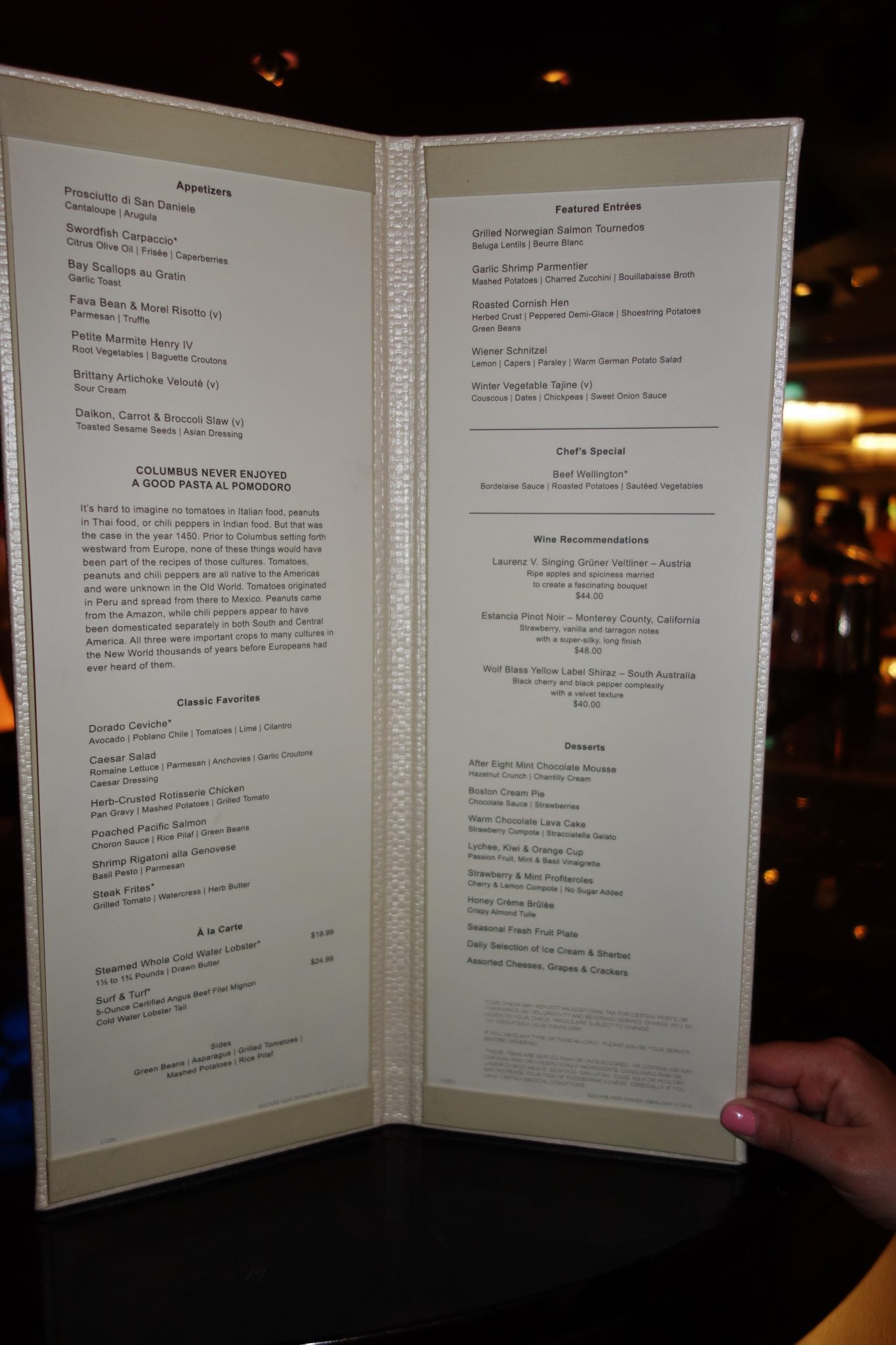 MDR Dinner Night 7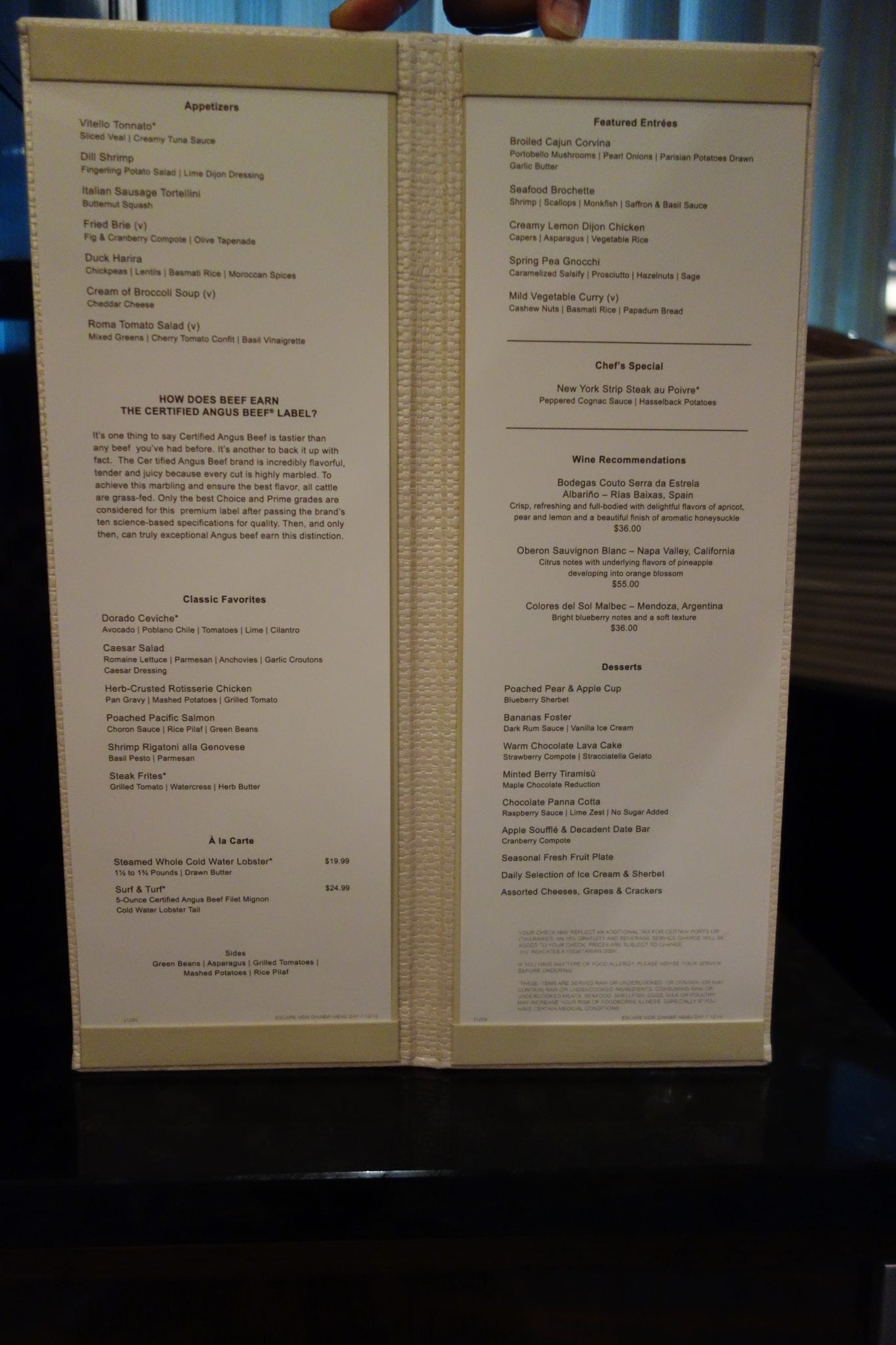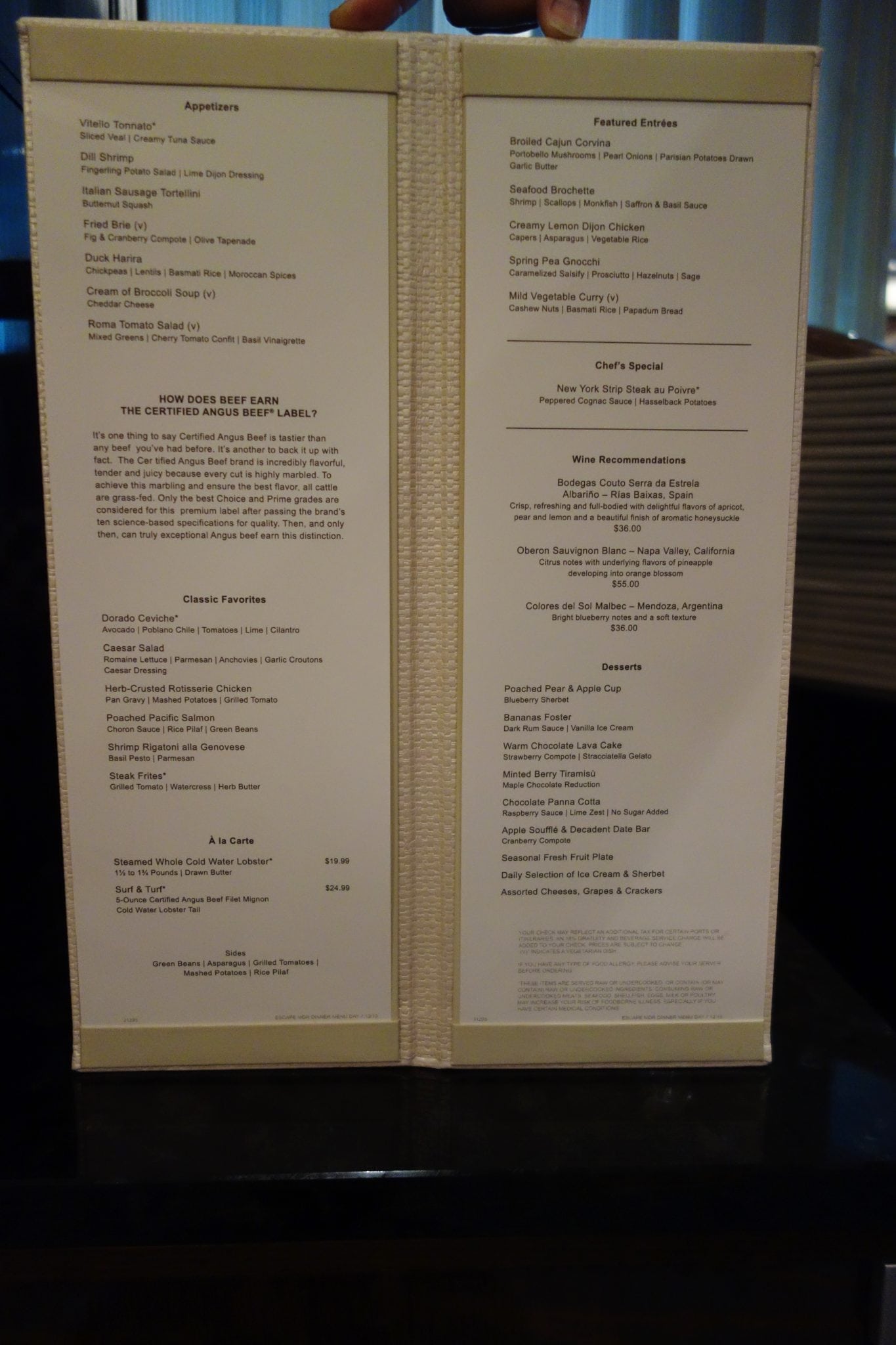 O'Sheehan's Pub Menus
The 24 hour O'Sheehan's pub offers a breakfast menu (served from 5am to 11am), lunch/dinner menu (11am to 11pm), and a late night snacks menu that goes from 11pm til the early morning.
Breakfast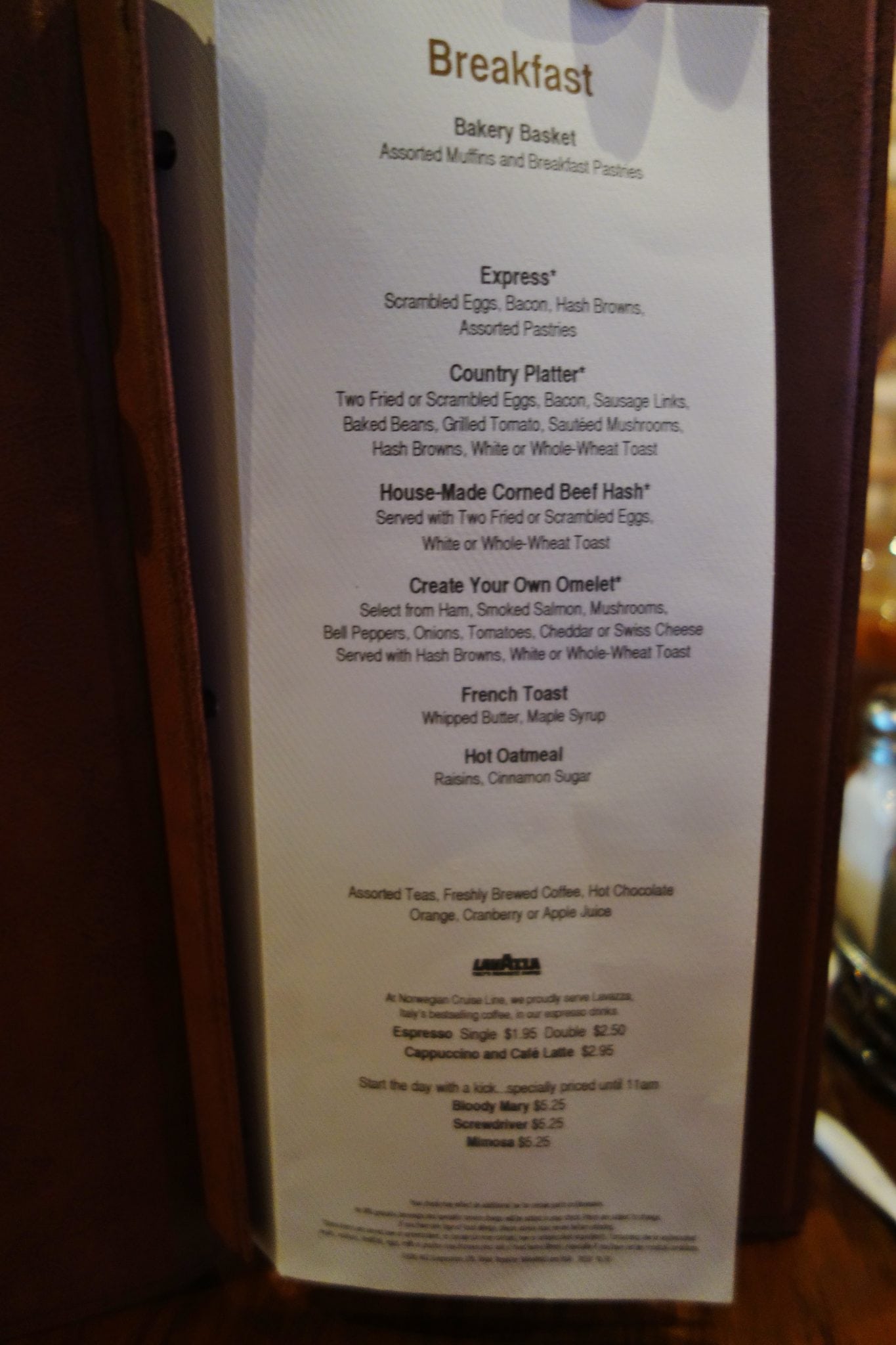 Lunch/Dinner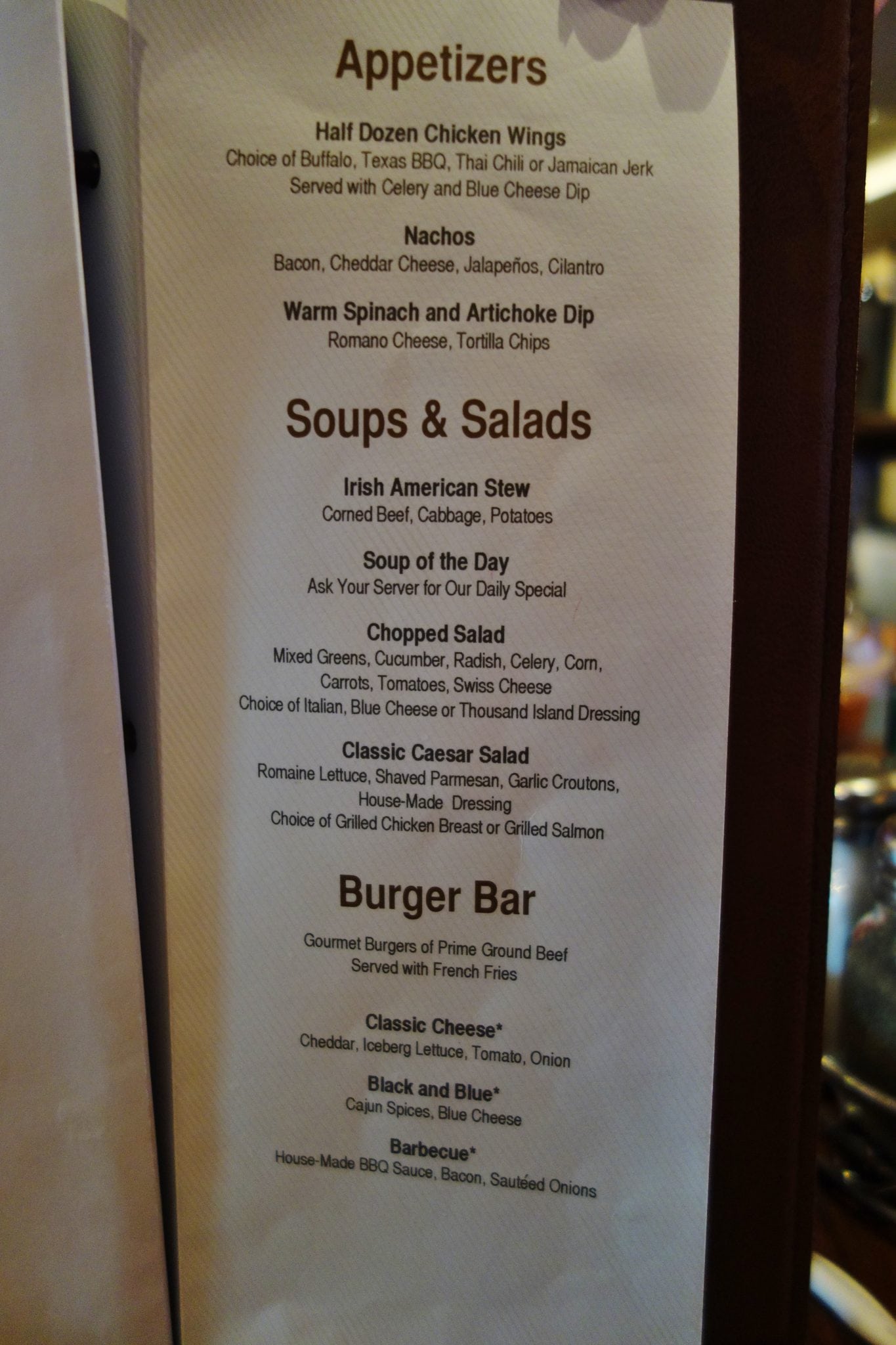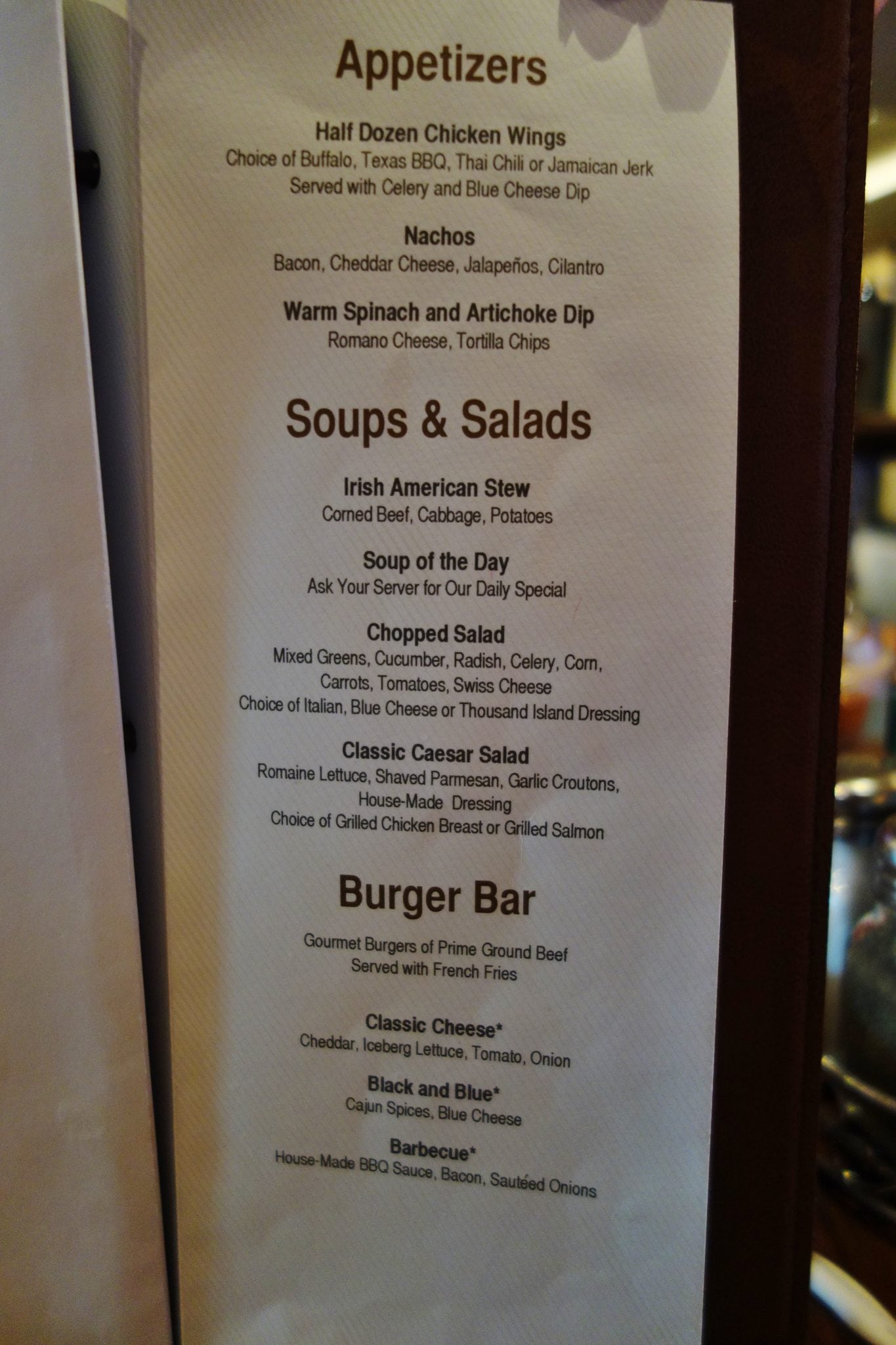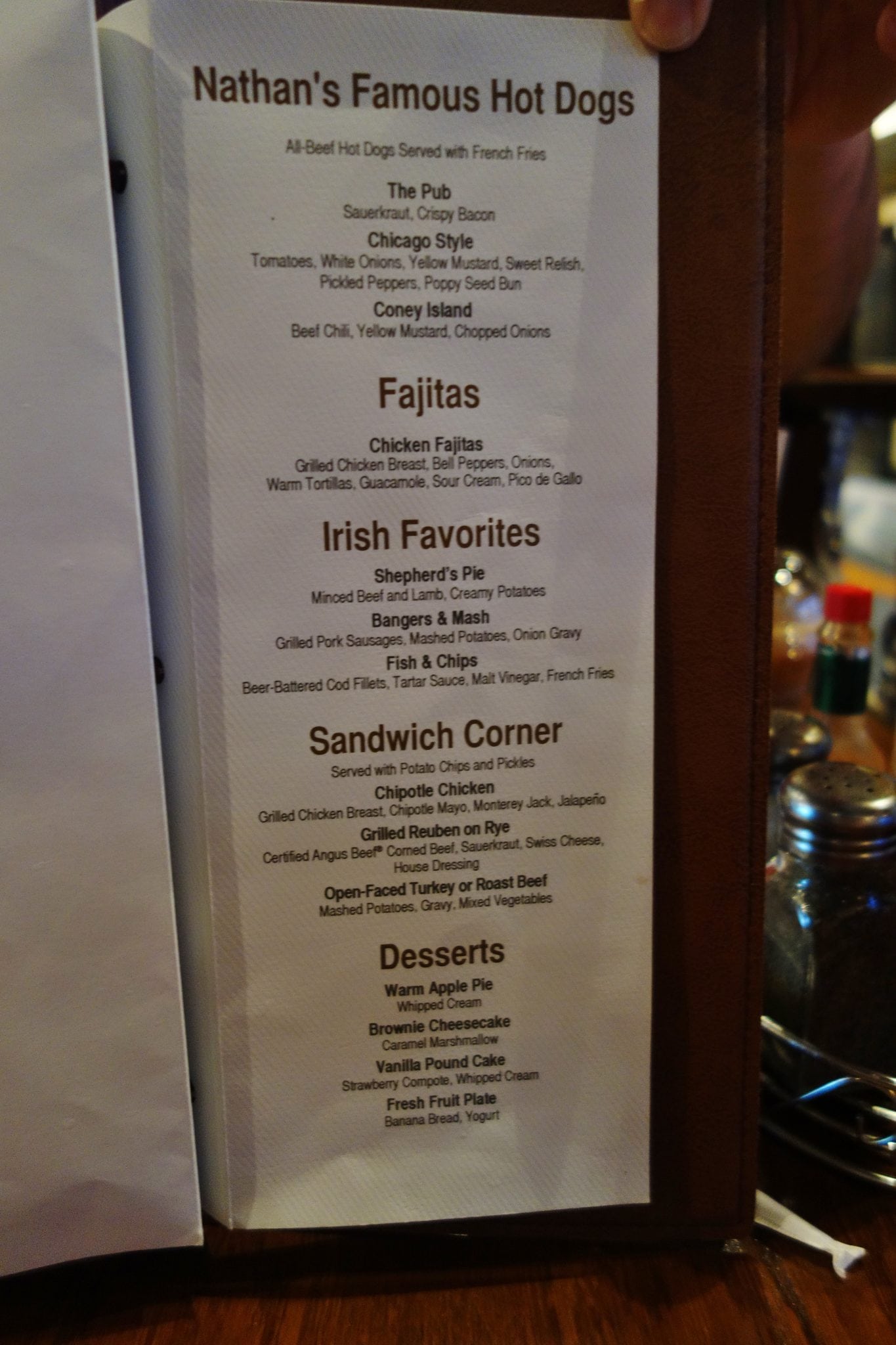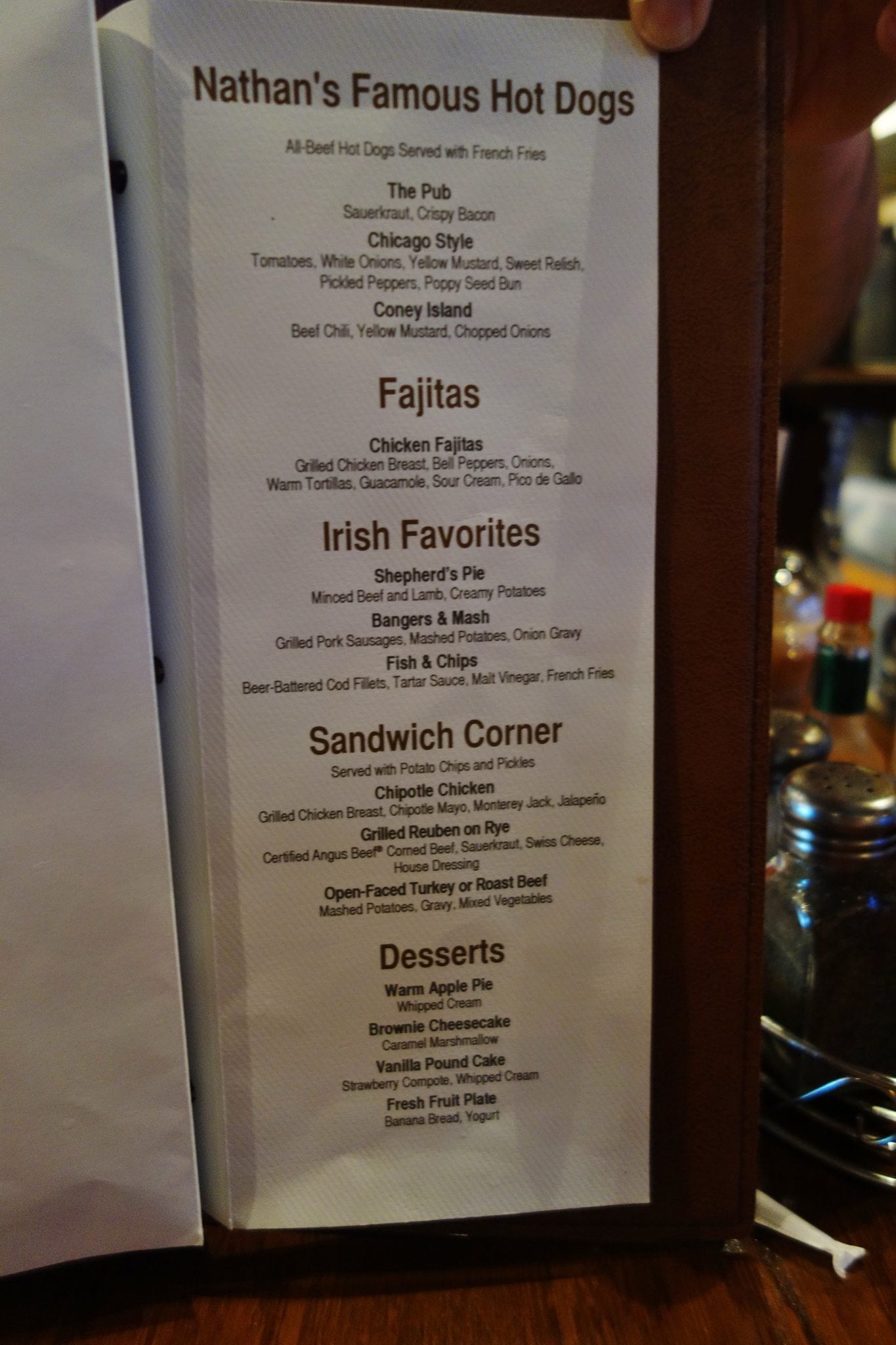 Late Night Snacks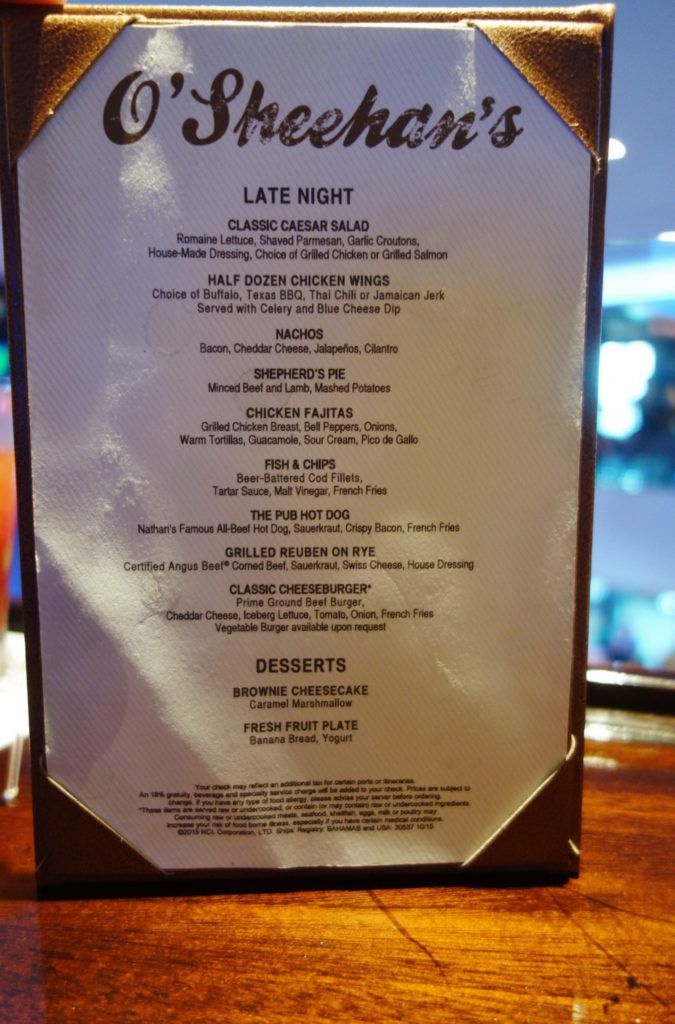 Specialty Dining Norwegian Escape Menus
Each of the specialty restaurants on Norwegian Escape has its own unique menu. These new menus are being rolled out fleet wide across Norwegian Cruise Line. Most of the specialty restaurants on Norwegian Escape are a la carte pricing with the exception of Moderno Churrascaria and Teppanyaki which have flat fee cover charges. If you do plan on dining at a few of these specialty restaurants during your cruise, we recommend purchasing a specialty dining package. The Supper Club on Norwegian Escape offers dinner and a show for a flat fee cover charge of $29.99.
Bayamo Restaurant Menu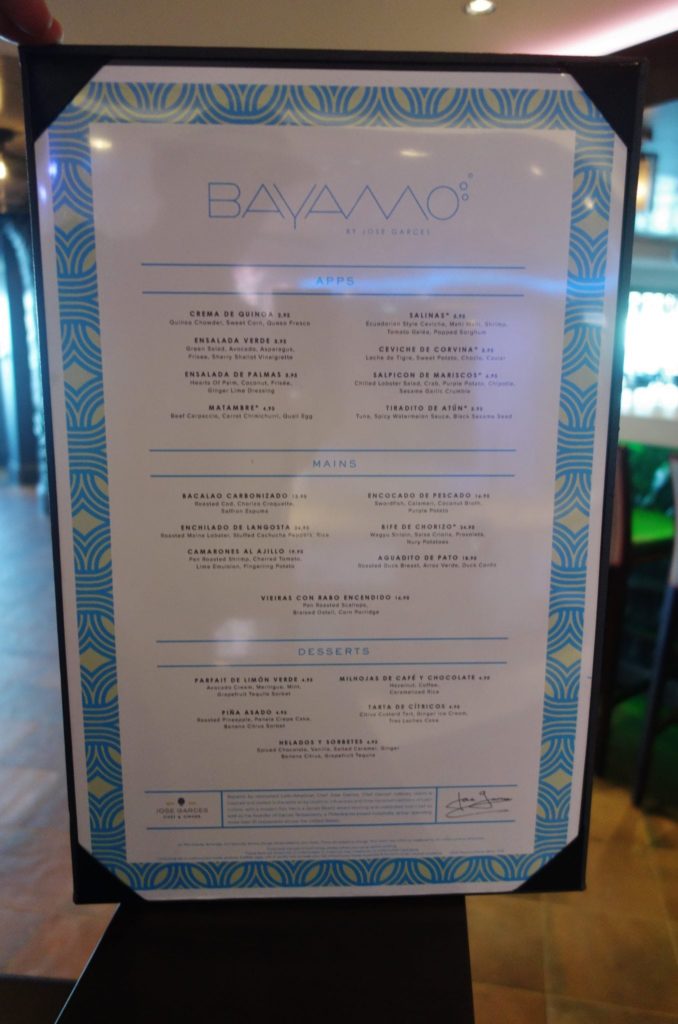 Cagney's Steakhouse Restaurant Menu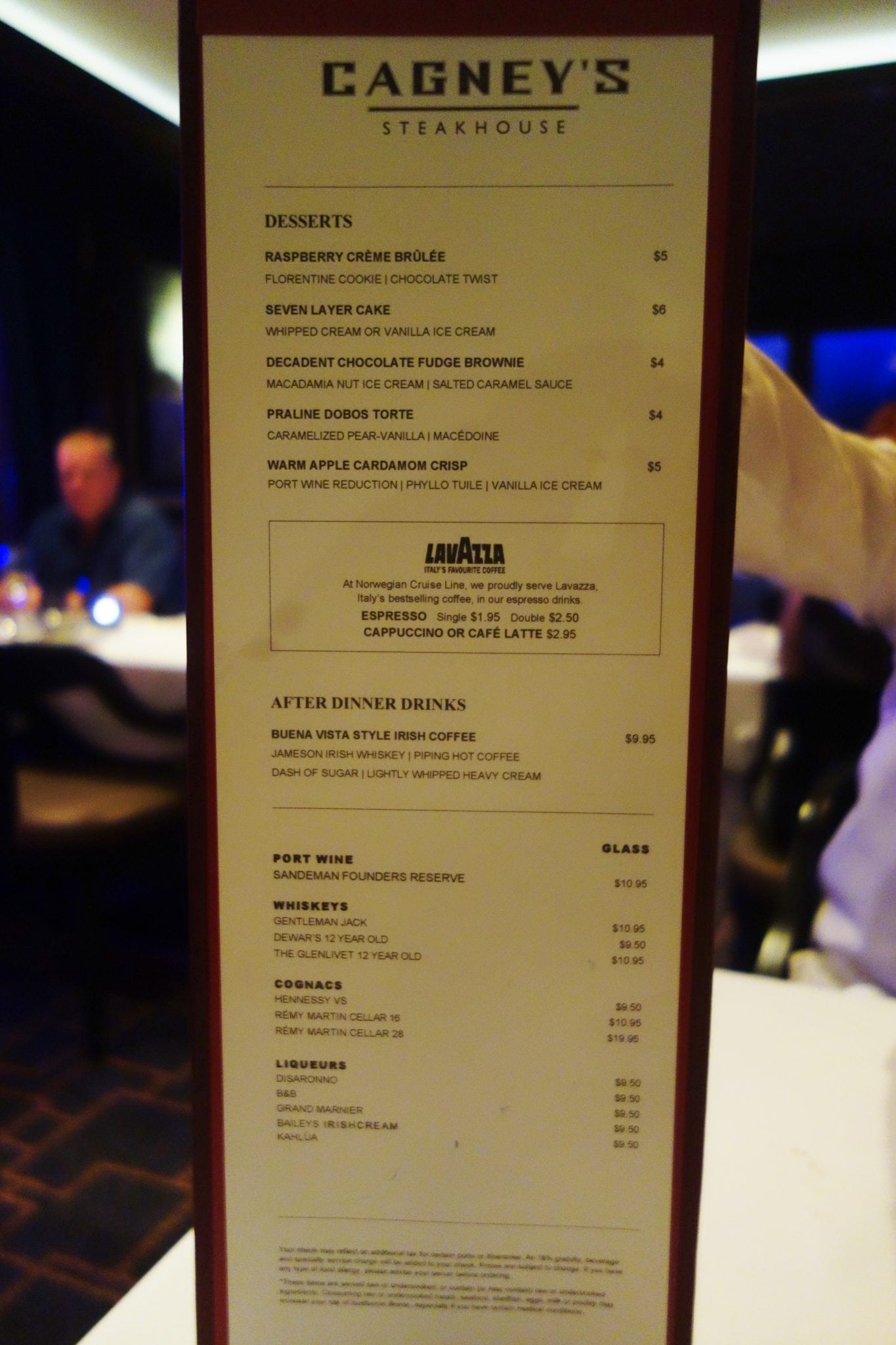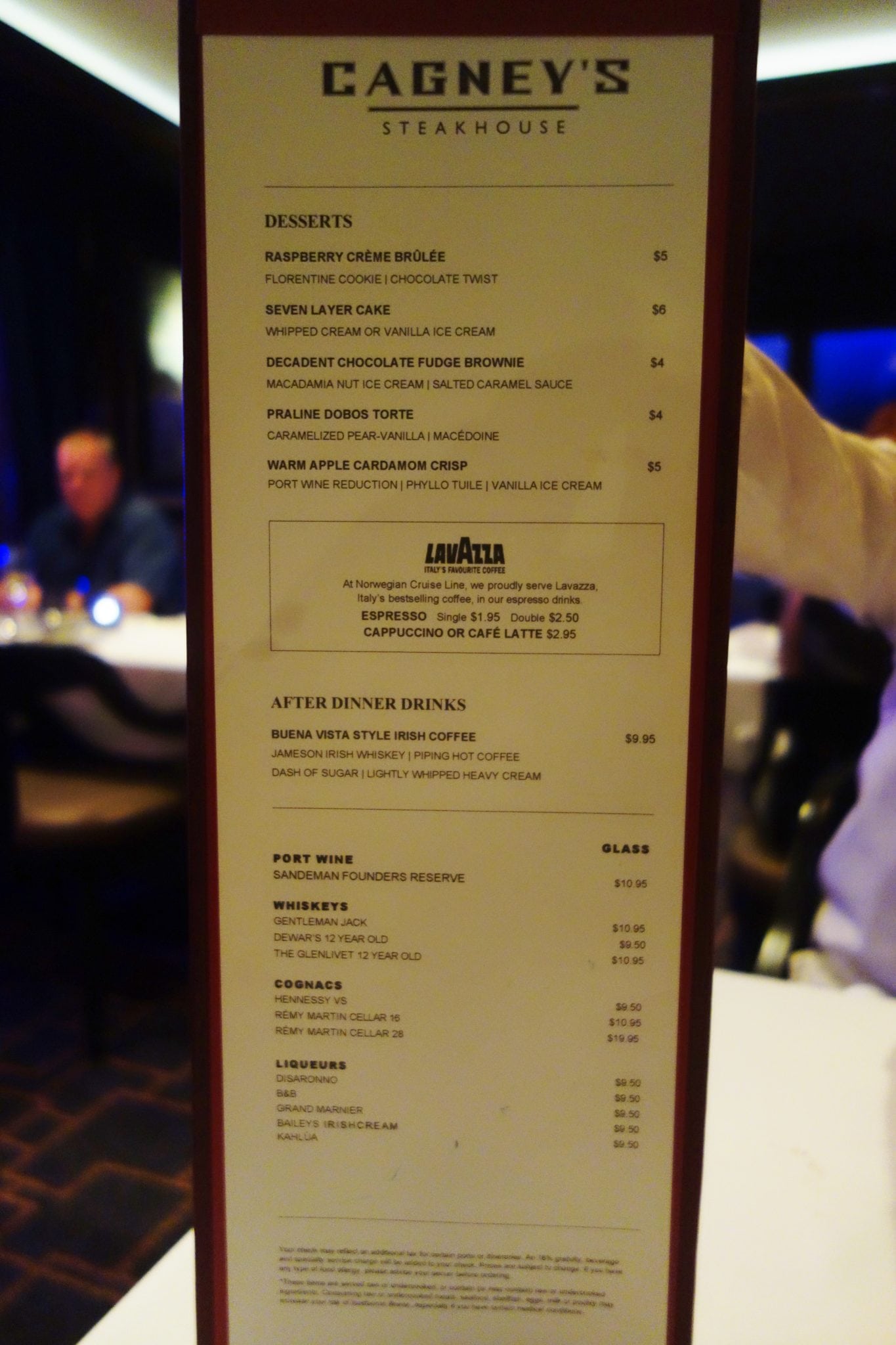 Food Republic Restaurant Menu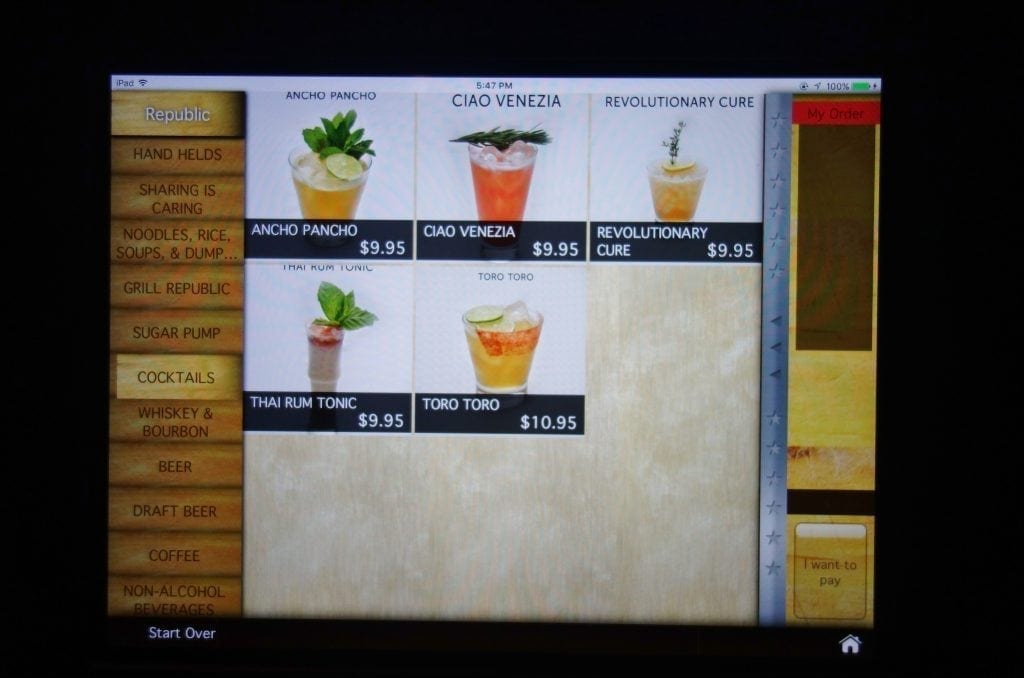 The Haven Restaurant Menu
Note: This restaurant is located in the Haven and is only available for guests staying there.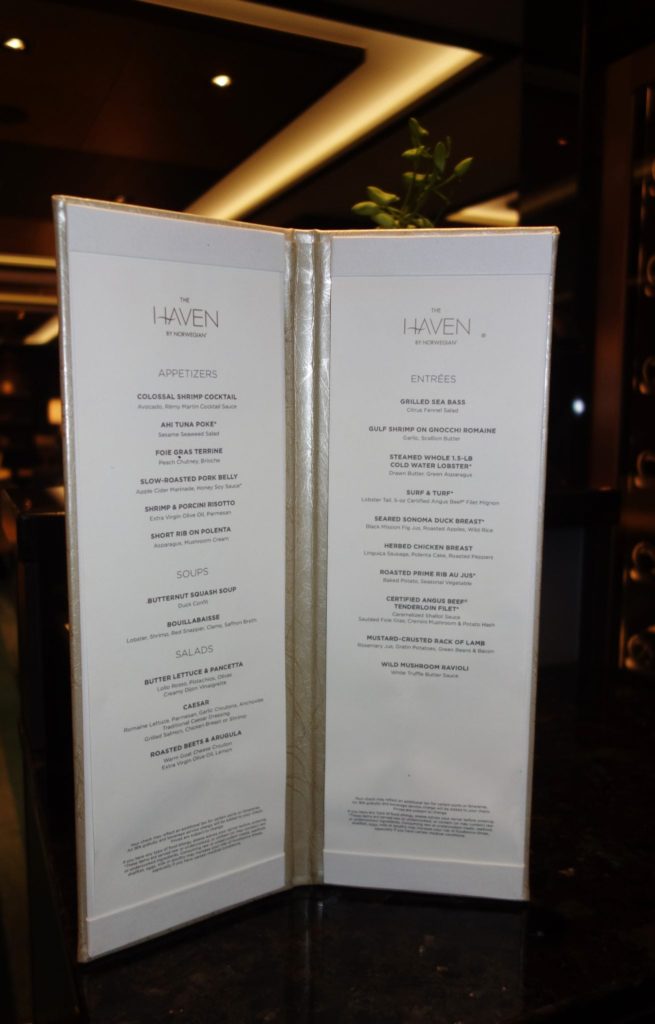 La Cucina Restaurant Menu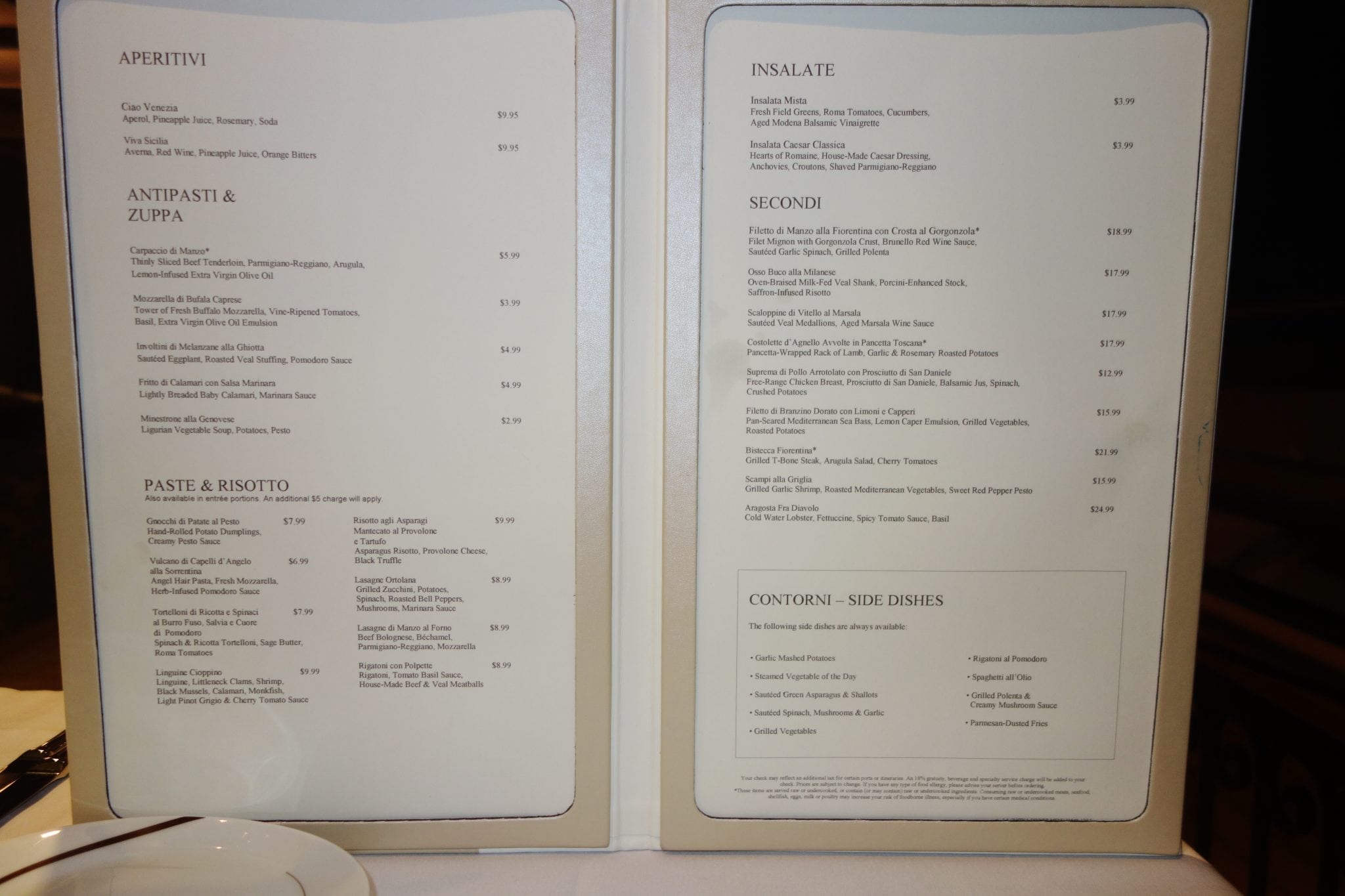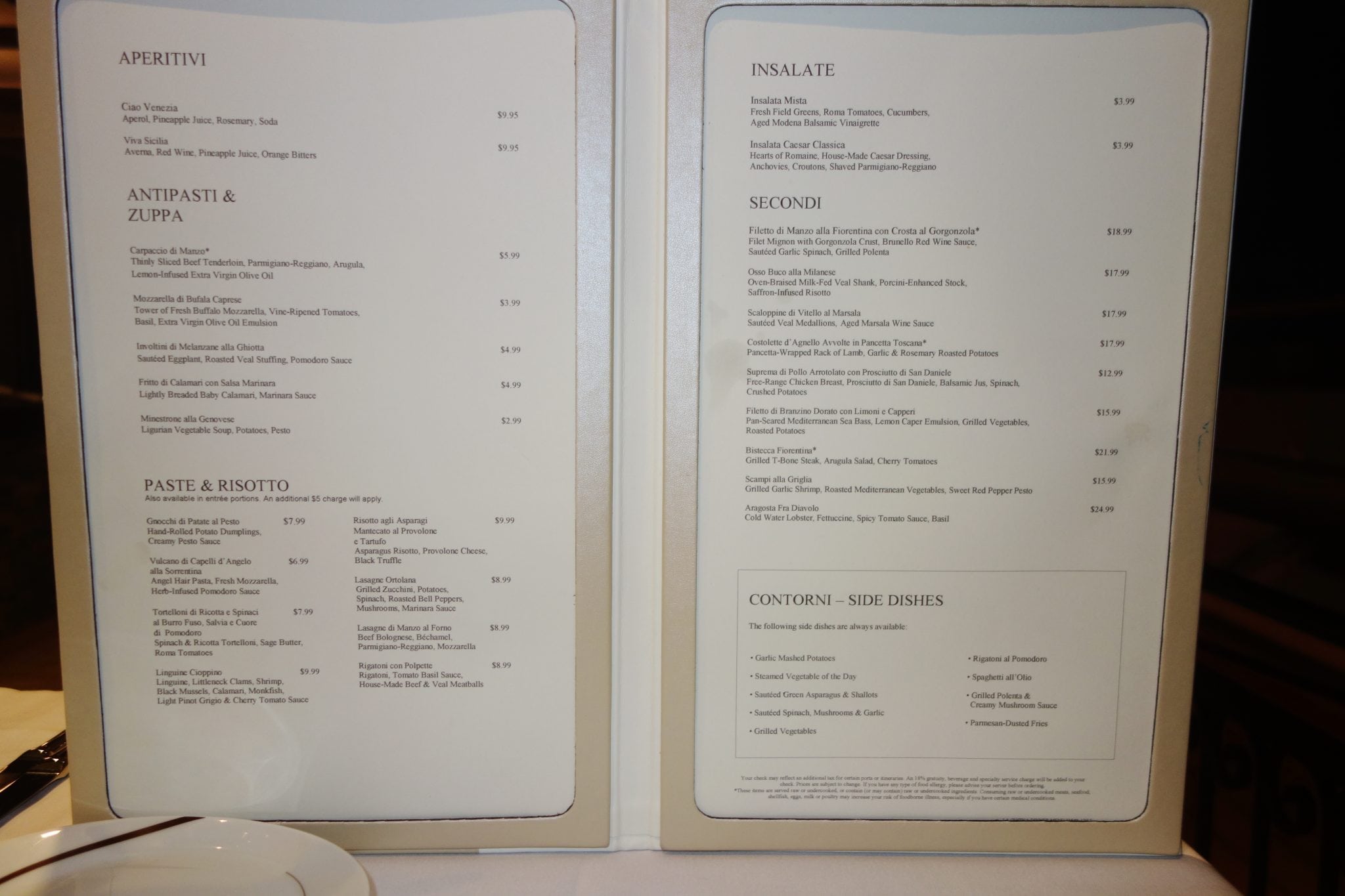 Le Bistro Restaurant Menu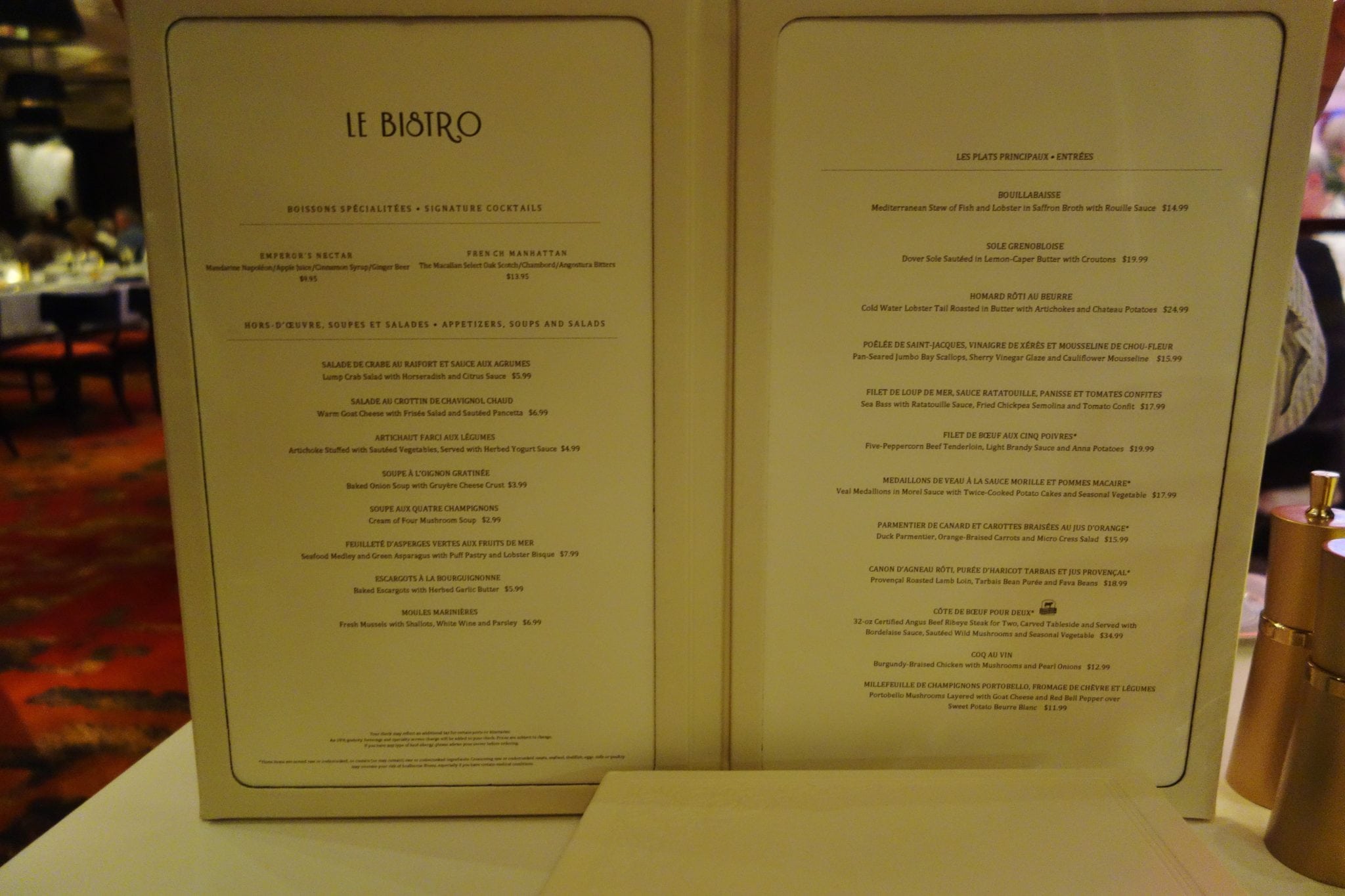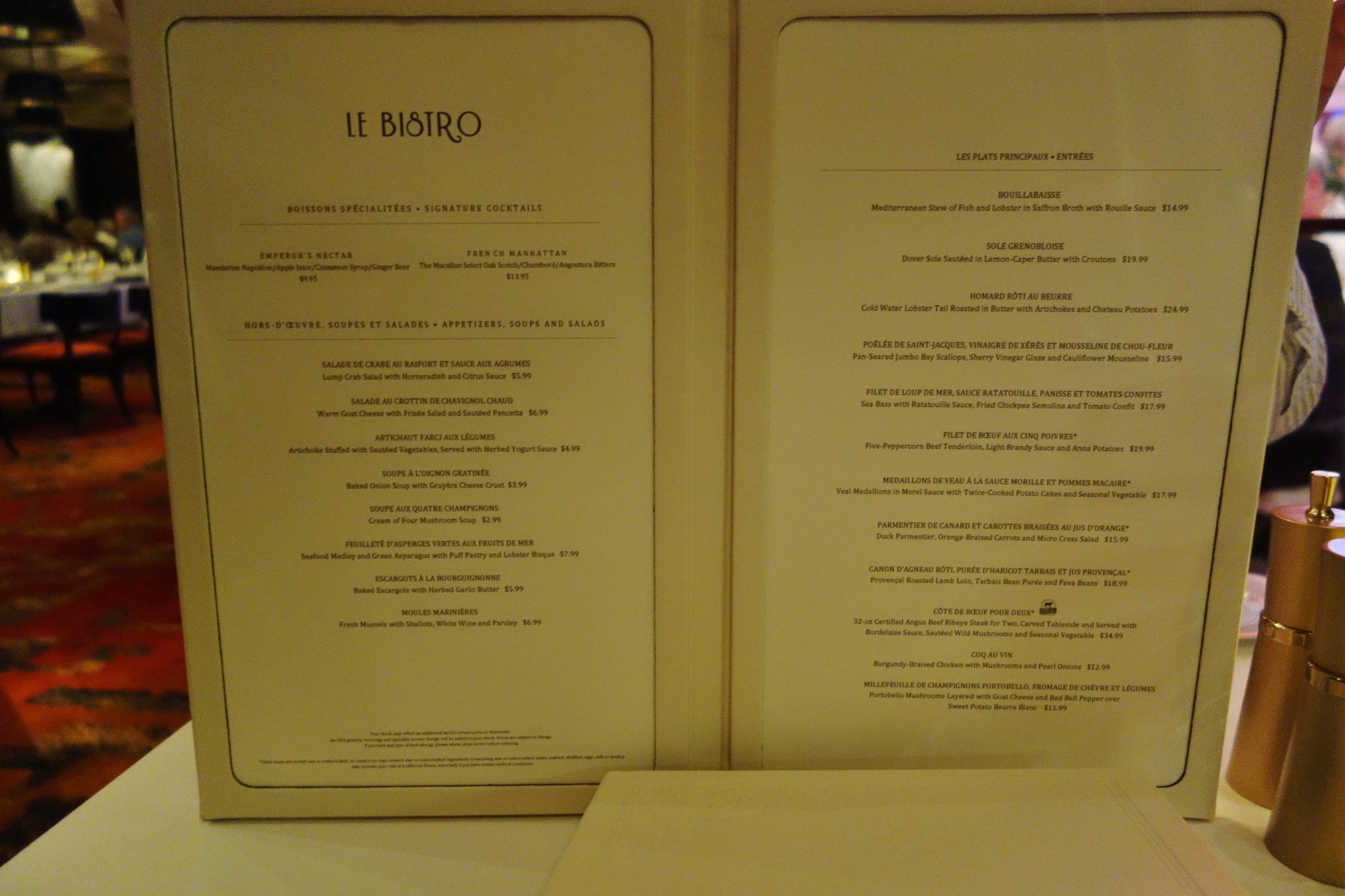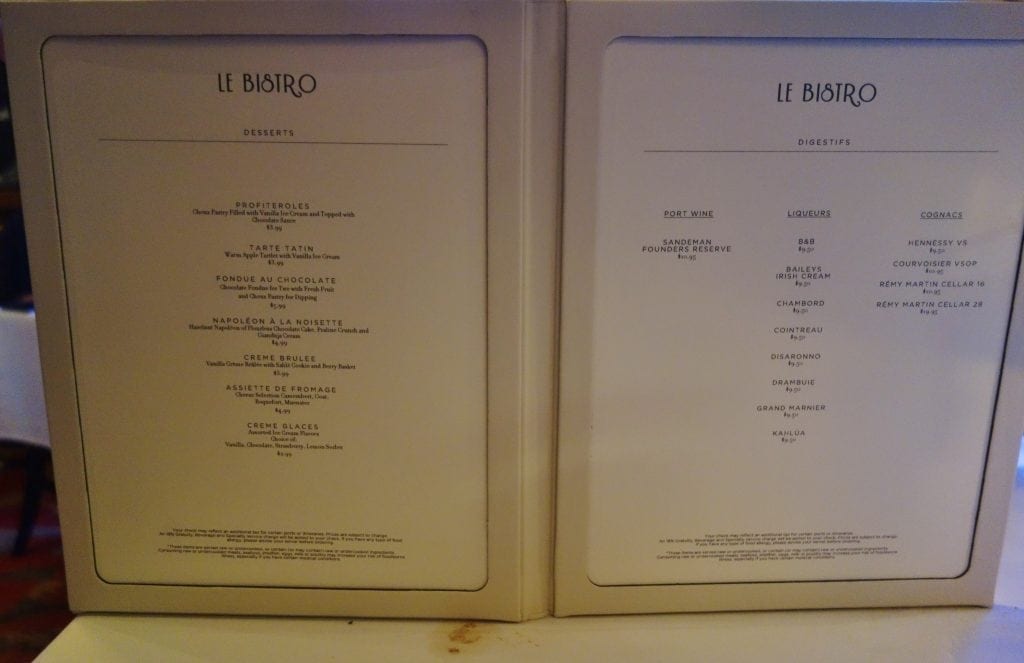 Margaritaville at Sea Restaurant Menu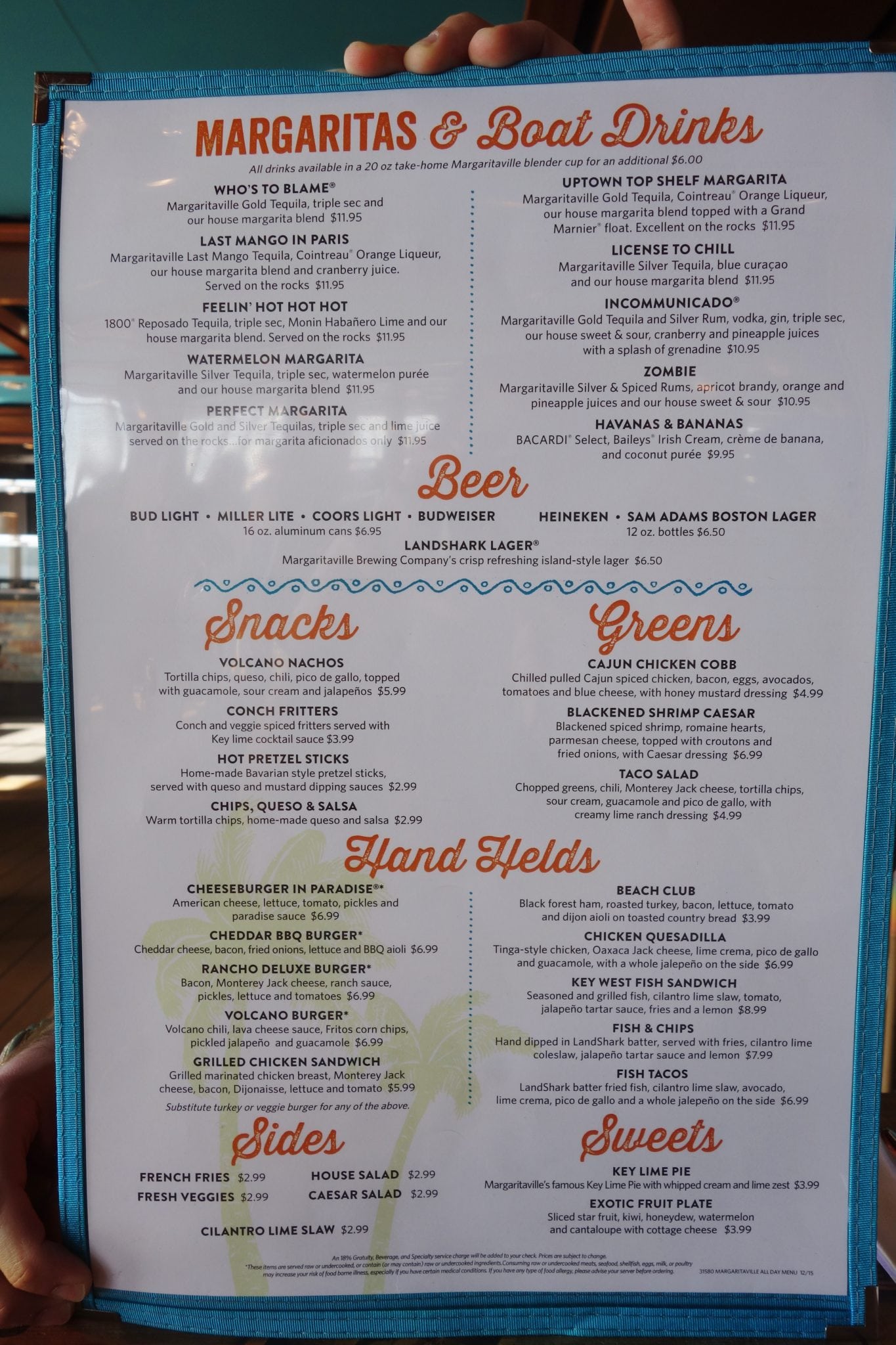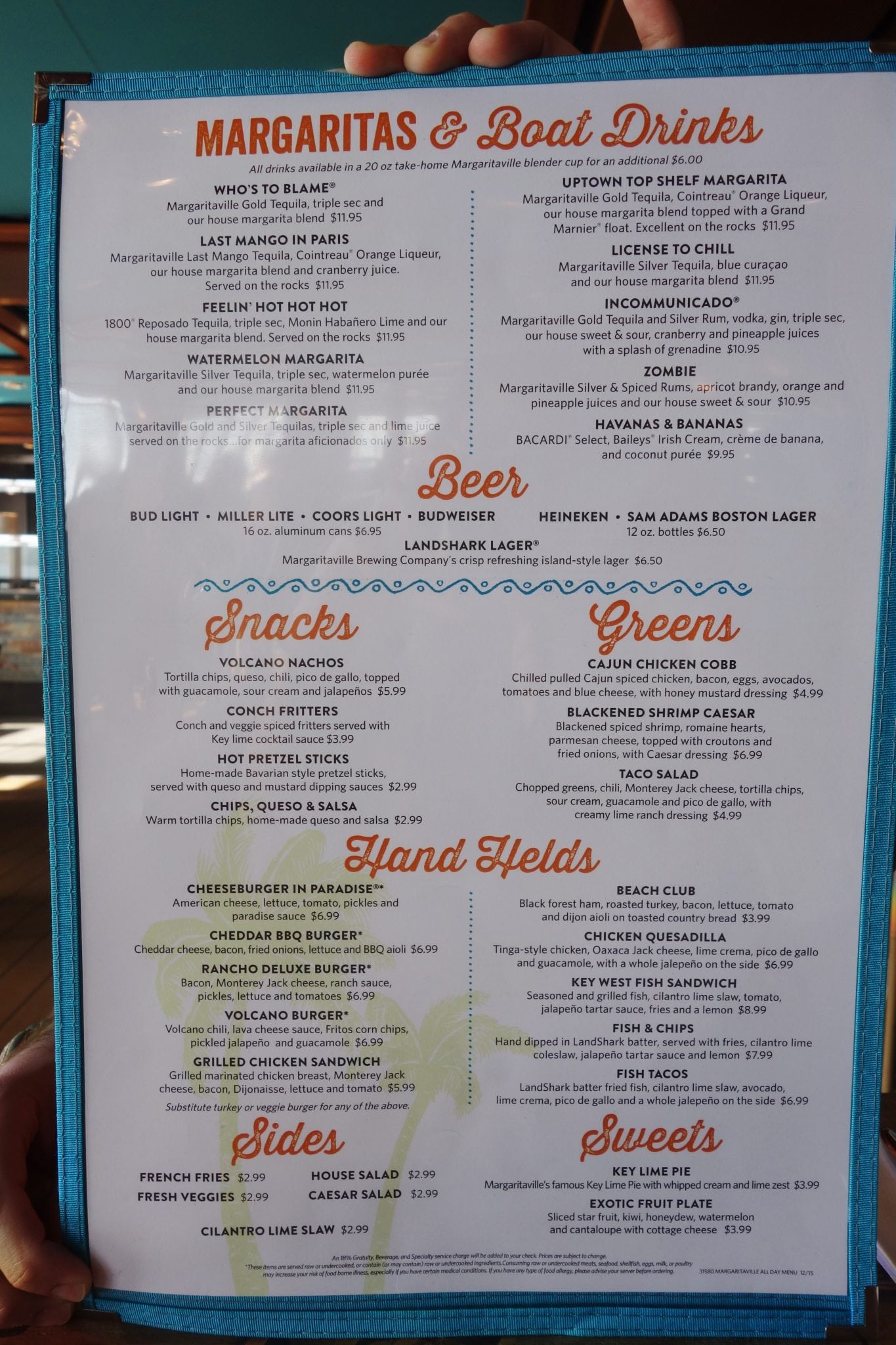 Moderno Churrascaria Restaurant Menu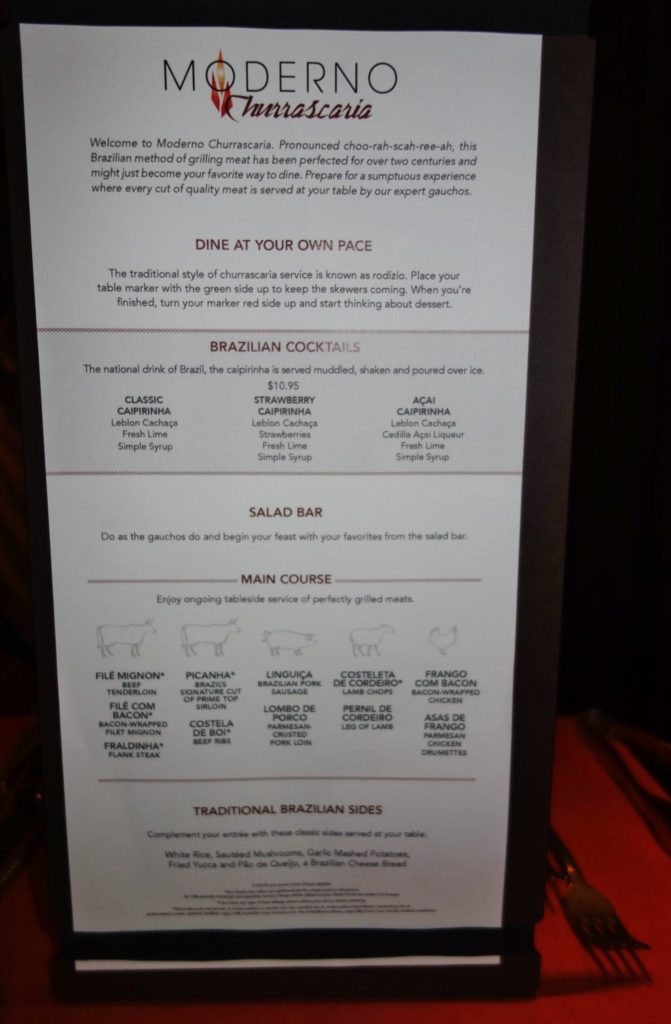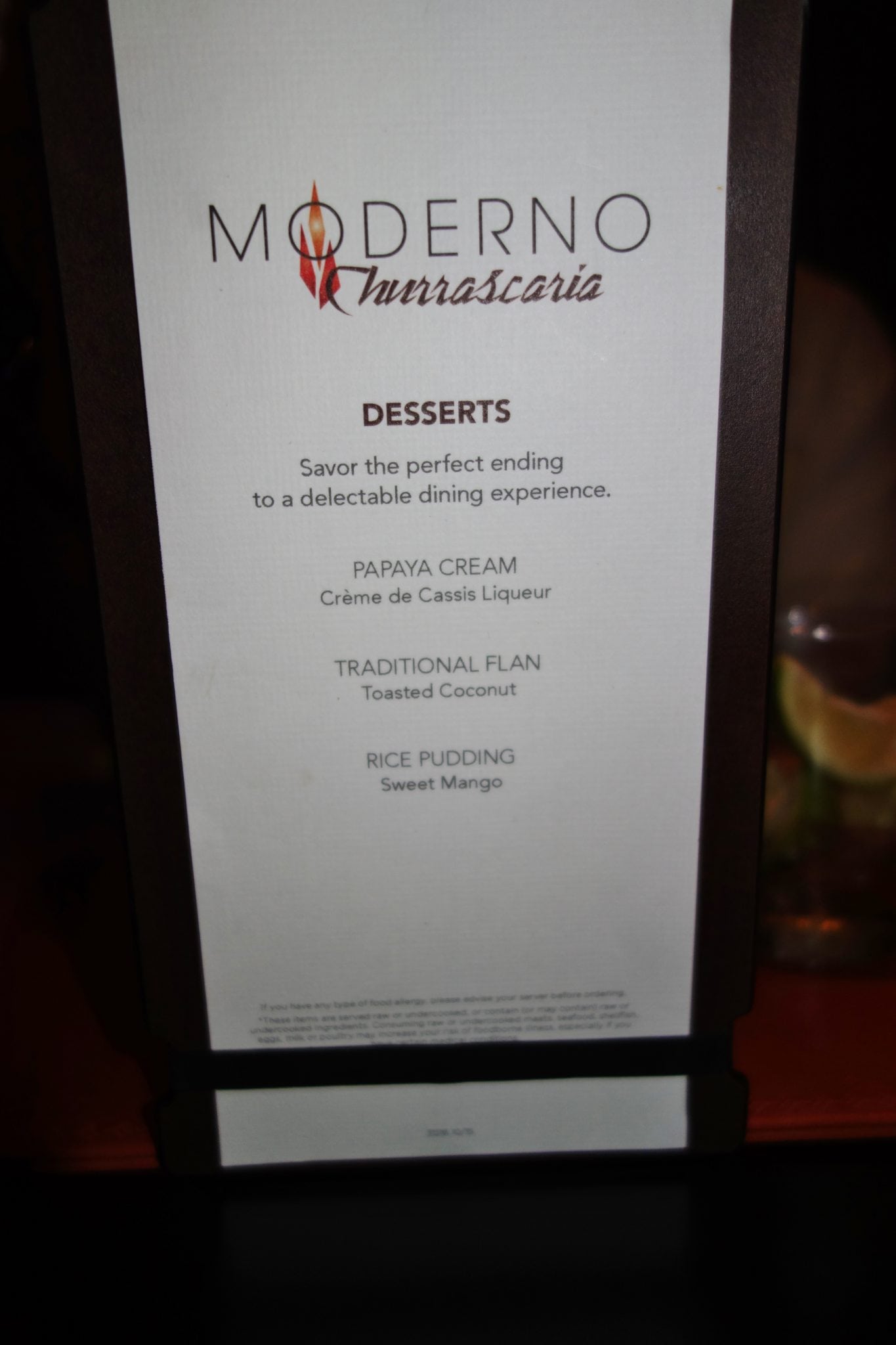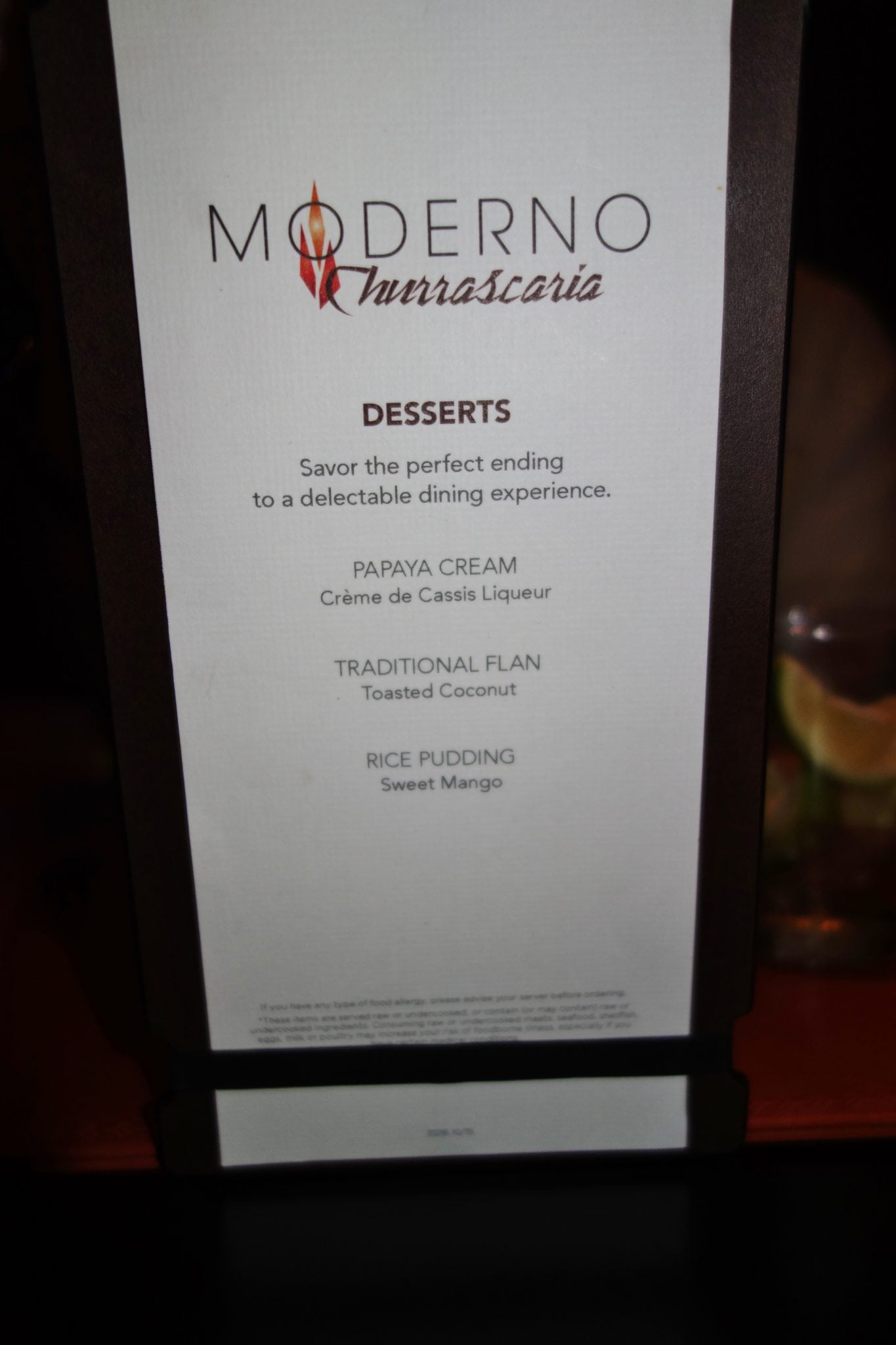 Pincho Tapas Restaurant Menu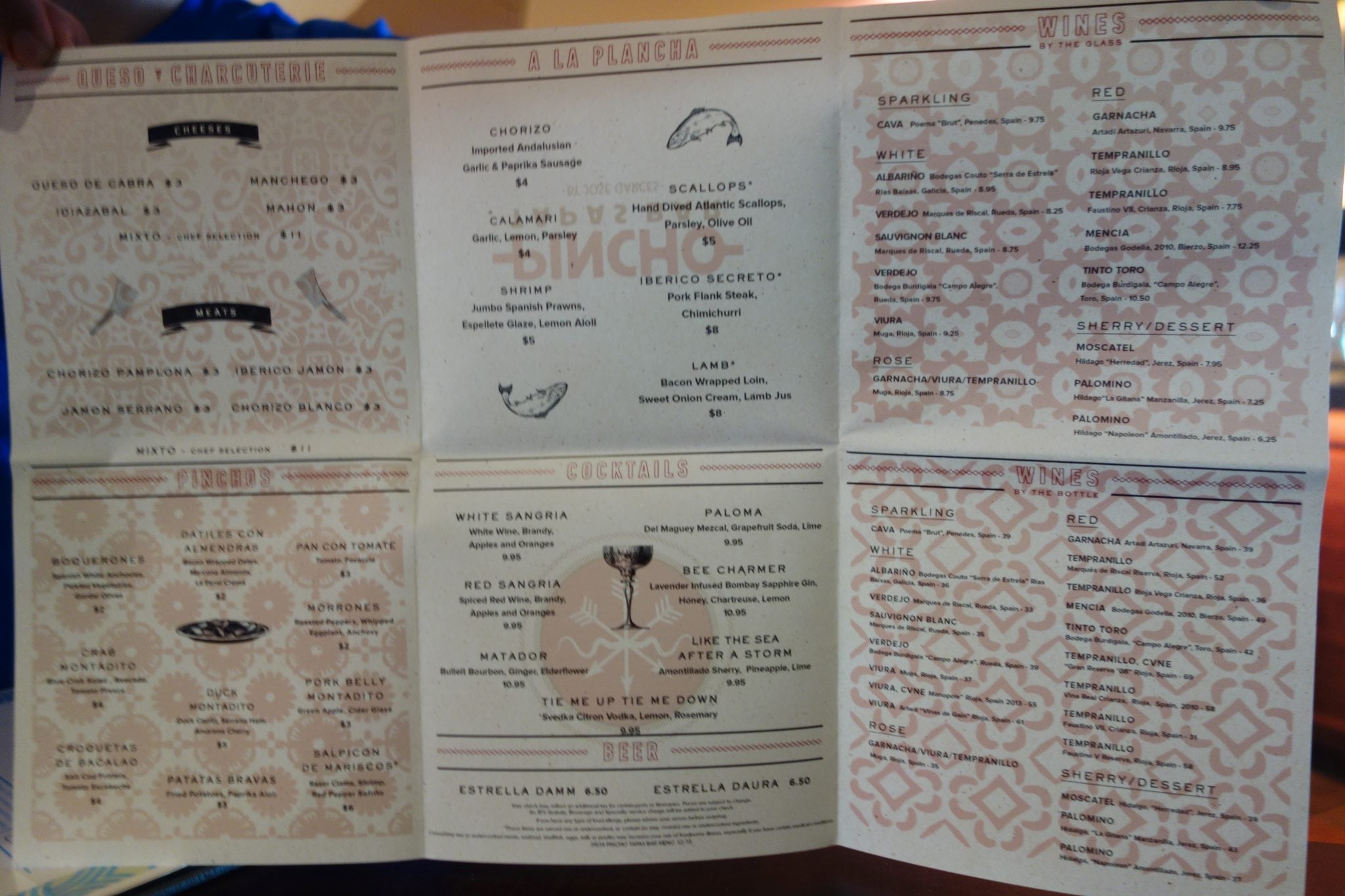 Supper Club – For the Record Presents the Brat Pack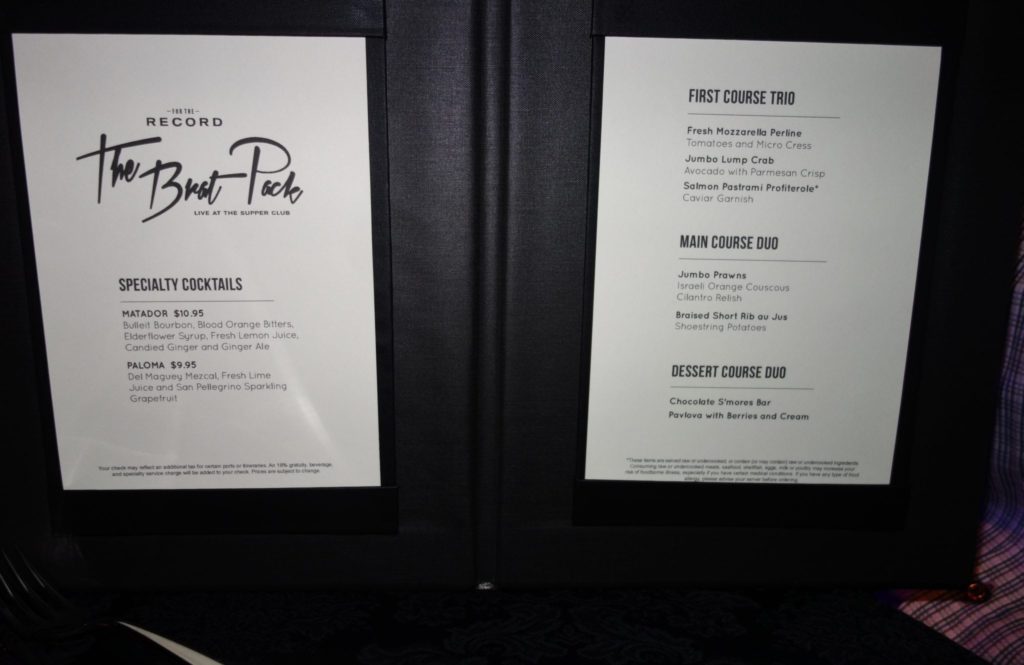 Teppanyaki  Restaurant Menu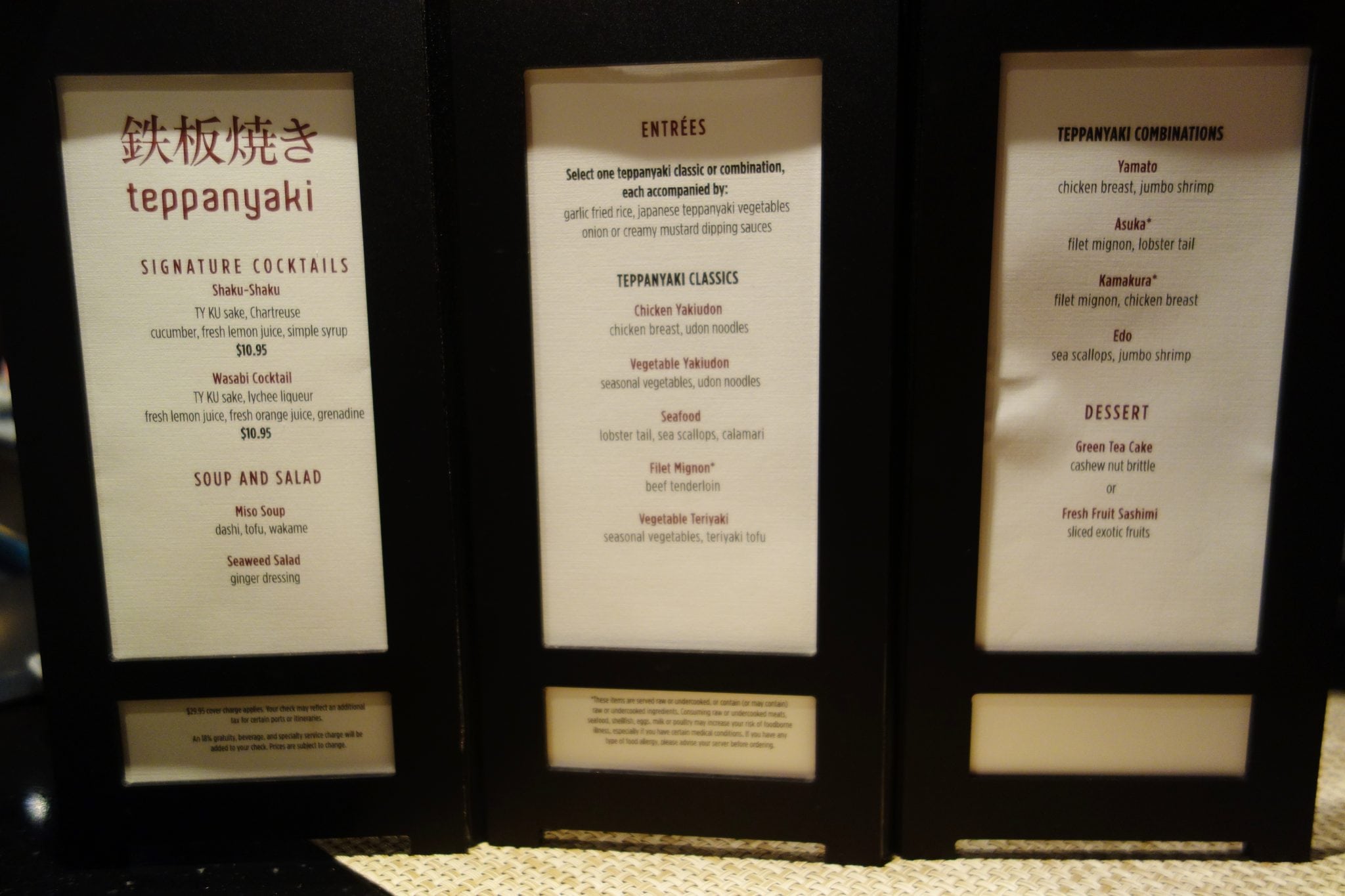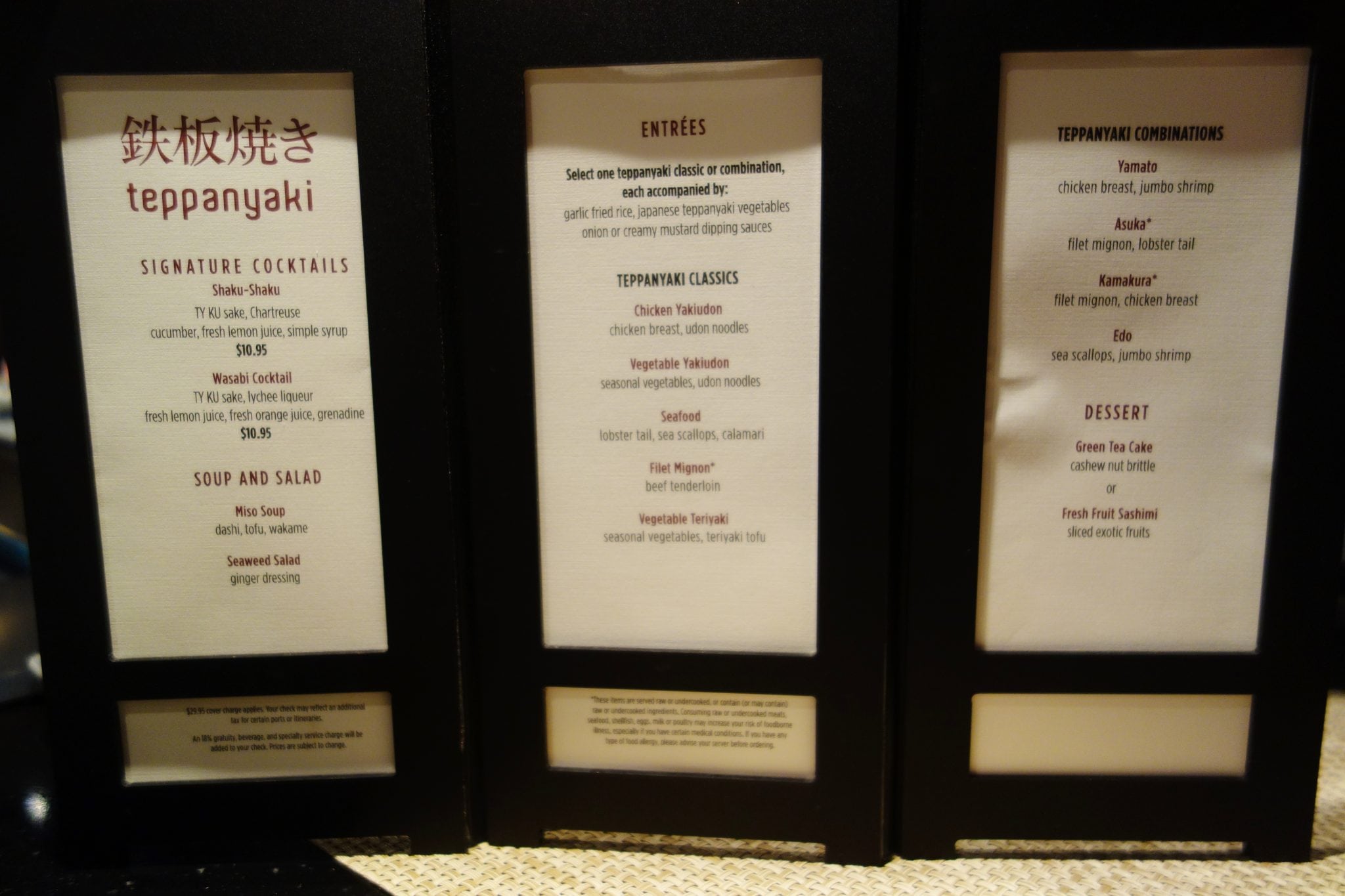 Norwegian Escape Menus – Specialty Coffee
The Atrium Cafe and several restaurants offer specialty coffees like lattes and cappuccinos. These drinks are extra, even if you have the Ultimate Beverage Package. If you are like us, you will need your coffee fix at least a few times during the cruise, so budget wisely.
Norwegian Escape Menus – Room Service
If you do not feel like leaving your room, there is always the extensive Norwegian Escape menu for room service. You will need to pay a cover charge for room service ($7.95, plus gratuity). Below is all of the food and alcoholic beverages (priced a la carte) from the in cabin room service menu.
Interested in seeing more menus? Then click below where we have the Norwegian Escape menus for all the bars and lounges on the ship.
Click here for all the bar and lounge Norwegian Escape Menus
Comments
Have you sailed on Norwegian Escape? What is your favorite restaurant? Drop us an anchor below to let us know your thoughts on the dining onboard this brand new ship. If you have any questions about these Norwegian Escape menus let us know below.