After months of planning our Norwegian Escape cruise, the seven days spent in the sunny Eastern Caribbean have already come and gone. Exploring the ship for an entire week, we got to know this 160K gross ton ship rather well. If you have plans to sail on Norwegian Escape soon, be one of the most informed cruisers on the ship with our Top 25 Norwegian Escape Secrets.

Top 25 Norwegian Escape Secrets
Pre-sailing Reservations – Before you even step foot on the ship, one of the most important Norwegian Escape Secrets is to pre-book at least some of your entertainment and dining using your My NCL account. Ninety days prior to sailing, this online portal is available to book dinner at 9 of the venues, as well as the two complimentary Broadway shows. If you wait until you are onboard, you may miss out on your preferred times as the shows sell out quickly during the first few days of the cruise.
Specialty Dining Packages – Most specialty dining venues on this ship are a la carte, meaning you pay per item ordered, unless you use one of our Norwegian Escape Secrets and purchase a specialty dining plan. With this plan, you can order virtually as much as you want (some restrictions do apply for entrees at Cagney's and Le Bistro) for a flat fee. For us, we booked a six night plan and found it to be a great value. Of note, this dining package is not valid at The Food Republic, and there is an additional upcharge for Bayamo and Pincho Tapas Bar.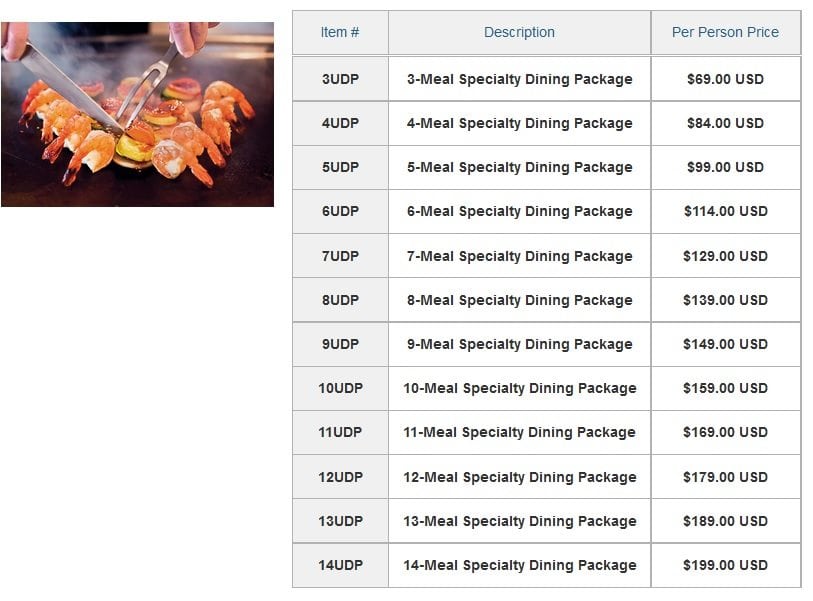 The Ultimate Drink Package – Admittedly, of the Norwegian Escape Secrets, this one may not be for all cruisers. But, if you plan on consuming alcohol during your vacation, you should consider a drink package. When looking to book your vacation, try to take advantage of one of Norwegian Cruise Line's promotions that provides a free drink package. Then, you will not have to worry about the bar bill at the end of your cruise. Your only question will be, "Which margarita should I try next?". Of note, unlike some other cruise lines, Norwegian's ultimate drink package does not include bottled water or specialty coffees.
All Drinks under $15 are Covered in the Ultimate Drink Package
Norwegian iConcierge – Save time, and a tree, and use the Norwegian iConcierge app for your smartphone. This app gives you access to the daily planner listing all of the activities, show times, and dining information at no additional cost. You can also review your account activity and make reservations- which can also be done on the television in your stateroom. We found this to be very useful as it was often difficult to find extra copies of the print version of the Freestyle Daily.
Spice H2O Parties – At night, the Spice H2O pool area becomes a night club complete with strobe lights and a DJ. With our Norwegian Escape Secrets, you will be prepared for the themed parties hosted in Spice H2O during your cruise. Dance parties include the 80's night featuring plenty of music from the decade of big hair and stretch pants and the Glow Party. So, be sure to pack a white or neon outfit and a few glow sticks to rock out at this party under the black lights.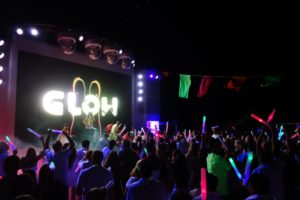 Selfie Stations – Make your friends at home jealous with an onboard selfie. There are selfie kiosks found on deck eight (in front of 5 o'clock Somewhere Bar) and deck seven (near O'Sheehan's Pub). For free, you can take your photo live from Norwegian Escape and post it to social media or email it to yourself.
One of Our Norwegian Escape Selfies
Atrium Entertainment – Besides Broadway shows and live music, the Norwegian Escape offers additional game shows, trivia, demonstrations, and classes. Many of these entertainment options occur in the atrium on deck 6. If one of these shows or classes peaks your interest, get to the Atrium early as seats fill up quickly. If you don't plan on participating, a good Norwegian Escape Secret is to get "balcony seats" on deck 7 at O'Sheehan's bar section.


O'Sheehan's To Go – With food available 24/7 at O'Sheehan's Pub, it is the spot for both an early morning breakfast (starting at 5:30am) and the late night munchies with snacks from 11pm to 5am. If you do not feel like a sit down meal, one of our best Norwegian Escape Secrets is to get your food to go. On a few mornings, I went downstairs to order a "bakery basket" so we could dine in our room while getting ready for the day. We saw plenty of people throughout the cruise getting all types of food, at all hours of the day, to go.
These wings are a must at O'Sheehan's
Getting a Lounge Chair – As much as we hate to admit it, getting a prime deck chair on sea days on Norwegian Escape does take some work. If you are an early bird, you will witness people claiming deck chairs before the sun comes up! If you do not want to be a chair hog or wake up at the crack of dawn, there are still opportunities for you to enjoy a day in the sun. We were able to get lounge chairs before 9:30am in Spice H20 (adults only) and even a bit later on Deck 19 forward. There are bars and hot tubs in both locations; although, you will have to walk a little distance if you want to use a pool.
Lounge Chairs on the Sun Deck
Mornings on the Waterfront – Space is limited on the deck 17 jogging track. So, if you are looking to just take a morning stroll, one of our Norwegian Escape Secrets is to walk the loop around the Waterfront on deck 8. An early morning walk around this larger and mostly wide open space is the perfect way to start your day. As an added bonus, coffee and tea stations are set up with some breakfast pastries so you can enjoy the view, and a light breakfast, after doing your workout.

Snacks on the Pool Deck – There are food options everywhere on this ship, sometimes in the most unexpected places. On Deck 16, adjacent to the Waves pool bar and the Marketplace, you can often find some snacks on sea days. Why waste your time walking all the way to the Garden Café if all you want is a little bite to eat.
Garden Café Seating- When you get off the elevator on deck 16 aft, you are surrounded by the Garden Café. Head towards the back and you should be able to find a seat pretty easily, usually even a booth. Don't worry, all of the food stations serve primarily the same foods, so you will not be missing anything by sitting in the back, except the crowds.
Signature Cocktails – Not all bars are created equal. While many of the bars and lounges on Norwegian Escape serve the same drink menu, a few venues have signature cocktails. Among the bars with their own menus are Tobacco Road, 5 O'Clock Somewhere, Sugarcane Mojito Bar, and the Chill Bar at Margaritaville. You can still get drinks from the standard menu at these locations, but why not try out some of the signature drinks- many of them were quite tasty.
Signature Margaritas
T-Shirt Sale on the Last Sea Day – There are sales all cruise long for those who want to buy jewelry, liquor, and other duty free items. Personally, we do not go on cruises to shop, but I always look forward to the $10 t-shirt sale. This happens on the last sea day, which was day 6 for us. The sale occurs at the Marketplace, an outdoor area on deck 16 mid-ship. Get there right when it starts (usually 10am) and know that the shirts are organized by size not style.
Chill Bar – If you want to experience the Margaritaville at Sea but not pay for food, then this might be your favorite of our Norwegian Escape Secrets- grab a stool at the Chill Bar located inside Margaritaville. Here, you can order drinks without purchasing any food, and you don't even have to wait to be seated- just walk in! The signature margaritas and boat drinks served in Margaritaville can be purchased at the bar and are included in the Ultimate Beverage Package (minus the souvenir cup).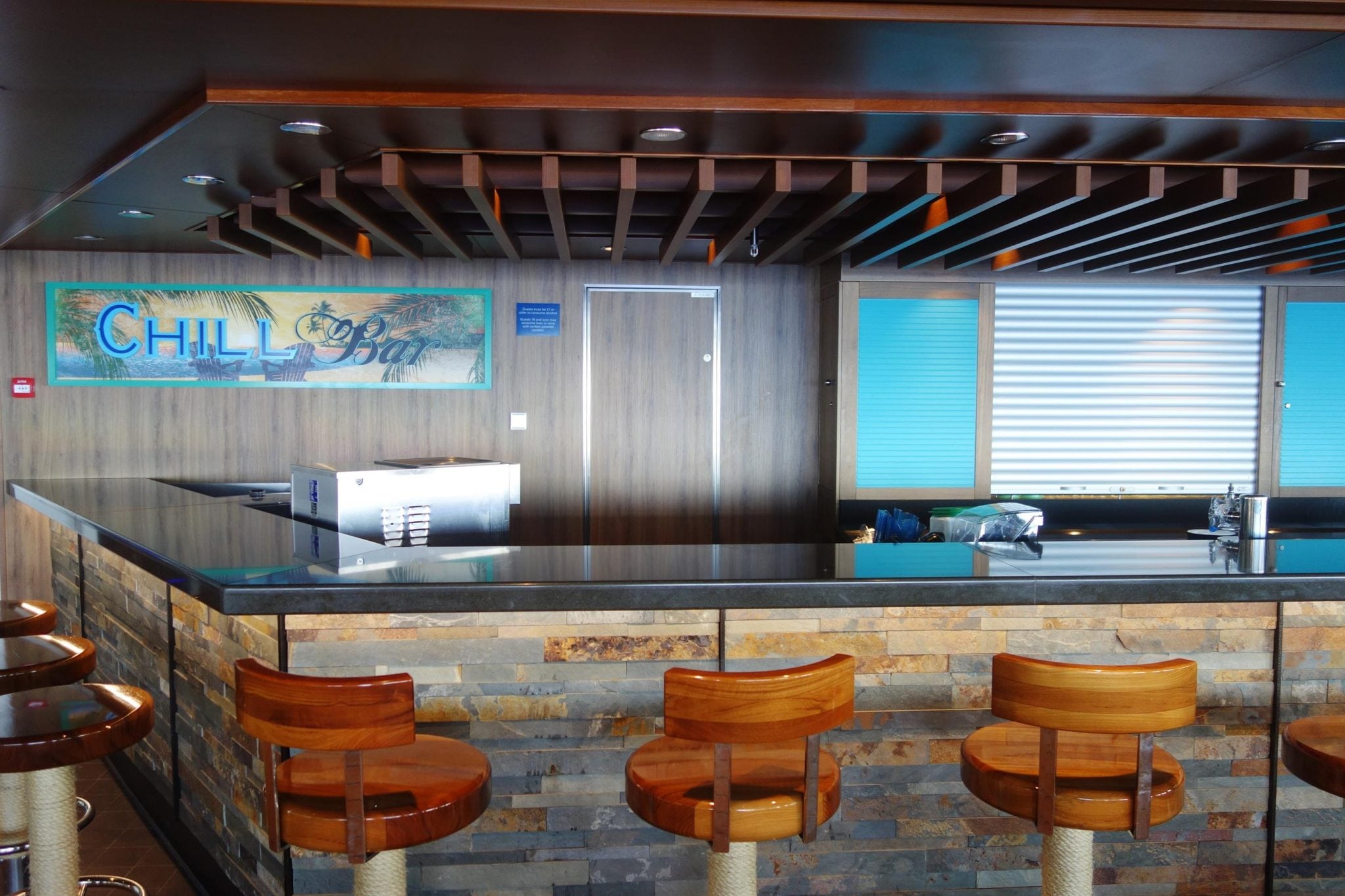 Vibe Beach Passes – On Deck 18 forward is the Vibe Beach Club. This exclusive area of the ship is open to all adults who purchase a pass, which costs $100 per person for the week (at the time of our sailing) and can be reserved once onboard the ship. But, if you just want to check out the area, you can inquire at Guest Services about a day pass. We were told that a day pass could be purchased for $25, allowing you access to this private area complete with a lounge chair, an umbrella, and a private bar for the day.
Inside the Vibe Beach Club
Thermal Spa Day Passes – Similarly, you can also get a day pass at the Thermal Spa on select sea days if you do not want to purchase the week long pass. These day passes are available for $54 (at the time of our sailing). If you do get a pass, you should experience the snow cave, a room kept at 14 degrees with actual snow, which is said to promote circulation and improve the immune system.
The Snow Cave in the Thermal Spa on Norwegian Escape
Restaurant Reservations Anywhere – Don't wait in that long line at the most popular restaurant to make reservations. If you prefer speaking with an NCL staff member to make reservations (as opposed to using the smartphone app or television), a maître d at any restaurant can review your account and reserve a table for any restaurant if space is available. We made a time change to one of our pre-arranged dining reservations with the hostess at O'Sheehan's one afternoon.

Dress Up Or Not Night – Norwegians like to freestyle, but even those laid back cruisers have one night to get fancy if they choose. During our cruise, Day 2, the first full sea day, was Norwegian's Dress Up or Not Night, which meant some ties, sport coats, cocktail dresses, and photo stations. There were seven photo studios spread out on decks 8 and 6 which opened at 5:30pm. Another one of our Norwegian Escape Secrets for those who do like to take pictures is that casual portrait studios were also available most other nights with few lines.
Making Comedy Show Reservations – For Norwegian Escape, you can pre-book the two main theater shows- After Midnight and For the Record: The Brat Pack- 90 days prior to departure. However, there are also two different comedians, and their shows can only be reserved once you are onboard. The Headliners Comedy Club is a small venue, and shows sell out quickly, so we suggest booking the shows on embarkation day. If you don't get reservations, you will have to wait in the standby line the day of the show. Note, the 11pm shows are adult only.
Don't Be Left Out of the Comedy Show
Rope Course Restrictions – If you want to experience the rope course, be prepared. There is a weight restriction of 300lbs, you are only allowed to use a wearable camera (nothing in your pockets), you need to have a shirt with sleeves, and you must wear closed toe/closed heel shoes if you want to experience this attraction. Be mindful that the entire course may not be open on windy sea days, so another one of our Norwegian Escape Secrets is to try the rope course on a port day. Normally, the rope course opens a little before sail away.

Maneuvering the Aqua Park – Sometimes you do need to read the fine print. For those wanting to experience the Aqua Racer tube ride, make sure you line up in the proper place to grab a tube before heading up to the top of the slide- you can actually enter on the port side to wait for a tube. For this ride, GoPro cameras are allowed, so you can capture the entire ride down. For the Aqua Loop racing slides, no jewelry of any kind is permitted- this includes wedding rings and watches. These regulations are strictly enforced; you will be turned away if you are wearing any of these prohibited items so be sure to remove them before heading up the stairs to wait in line.

Fish Swim Forward – Don't get lost when walking back to your stateroom with this Norwegian Escape Secret- the fish on the hallway carpets always swim forward. Of course, they won't remember your stateroom number, or if you are on the starboard or port side of the ship, but at least it's an easy trick to figure out if you are heading forward or aft once you exit the elevators.
All the Main Dining Room Menus are the Same– The ship has three main dining rooms which serve complimentary breakfast, lunch, and dinner- Savor, Taste, and the Manhattan Room (The Manhattan Room is only open for dinner). All three of the dining rooms serve the same exact menus. The breakfast and lunch menus are the same throughout the duration of your cruise, and the dinner menu changes nightly. We recommend dining in the Manhattan Room for the décor and atmosphere, as well as the live music.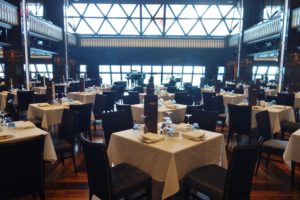 Take Advantage of the First Few Sea Days – It is not your imagination, the ship does get busier as the cruise progresses. Regardless of the itinerary, lines and waits will be longer towards the end of the cruise for signature attractions. So, another one of our Norwegian Escape Secrets is to use the first full sea days to do things like the rope course and waterslides, eat at Margaritaville, or play mini-golf. Whatever it is you want to do, and this might include just relaxing in a deck chair, do it early on in the cruise.
We Need More Norwegian Escape Secrets!
If you have sailed on this ship, we would love to hear some of your Norwegian Escape Secrets. Drop us an anchor below to let us know some of your insider tips after sailing on this impressive new ship.