Our recent Southern Caribbean cruise on Freedom of the Seas had a full day stop in Bonaire. We took an island tour during our first visit to the island back in 2015. This time, we decided to take advantage of the island's famed coral reefs and national marine park by booking a snorkel excursion with the popular local tour provider Woodwind Bonaire. We are back and share our Woodwind Bonaire Snorkeling Shore Excursion review.
Woodwind Bonaire Snorkeling Excursion Review
Approx 2.5 months before our trip, we contacted Woodwind Bonaire to inquire about booking an excursion. Unfortunately, you are not able to book the tour directly on the company's website. Within a day, we were notified that there was availability during our stop for both the morning 3-hour tour and the afternoon 4-hour tour. We decided on the shorter, earlier departure.
After replying to the initial email, we received our email confirmation with the easy directions to find the tour company located at a nearby hotel. Our tour's departure time was scheduled for 8:30 am.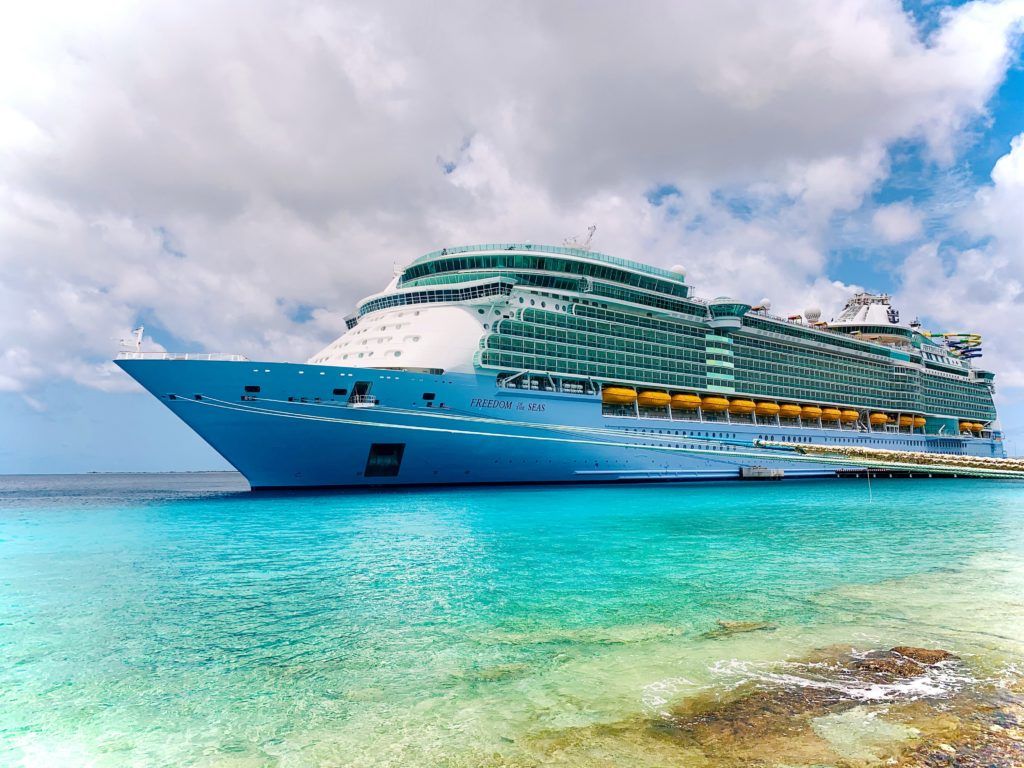 Freedom of the Seas docked in Bonaire right around 8 am, so we made sure that we were off the ship as soon as we were cleared. With our confirmation email and directions in hand, it took us just about five minutes to locate the "Casino" sign and the tour operator. He asked for our names to confirm we were on the list then gave us further walking instructions. Oddly, we had to walk the entire length of the Divi Flamingo beach resort property to get to the Woodwind Bonaire "office".
While there was a sign indicating the shore excursion company, there was no attendant to greet us here. Waiting about 10 minutes, the same individual that checked us in returned with the last of our group members. It was approximately 8:45 am when one of the crew members from the pier called us down for the tour. So, we were about to embark on a full morning exploring the depths of Boniare.
A Beautiful Morning Sail to Klein Bonaire
After removing our shoes and storing our gear in the cabin, our tour group nestled at the front of the vessel for our catamaran sail to Klein Bonaire.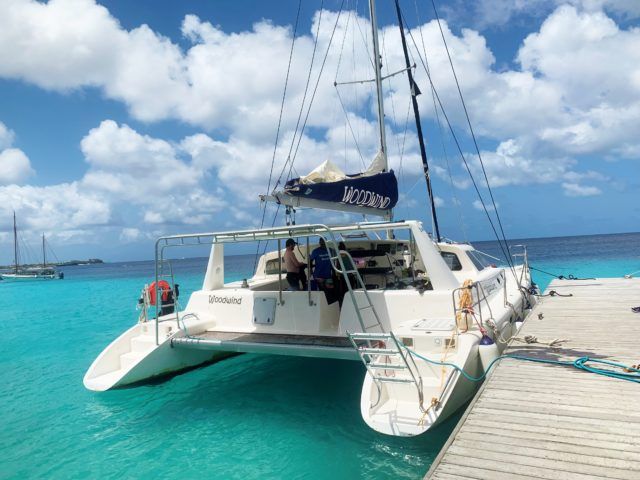 During the approximately hour cruise, the crew gave us some basic instructions as well as all the necessary equipment. These guidelines included the strict rules about how to engage with the marine life. All of the surrounding area is protected as part of the National Marine Park. So, there is absolutely no touching of any of the coral, plants, or animals.
This cruise ship shore excursion package with Woodwind Bonaire includes an open bar and food. While normally I would be more than happy to partake, it was barely 9 am at this point! Plus, I had to be ready for some physical activity.
The staff consisted of two tour guides and our captain. While professional and friendly, they were also very serious about our safety and being respectful of the marine park.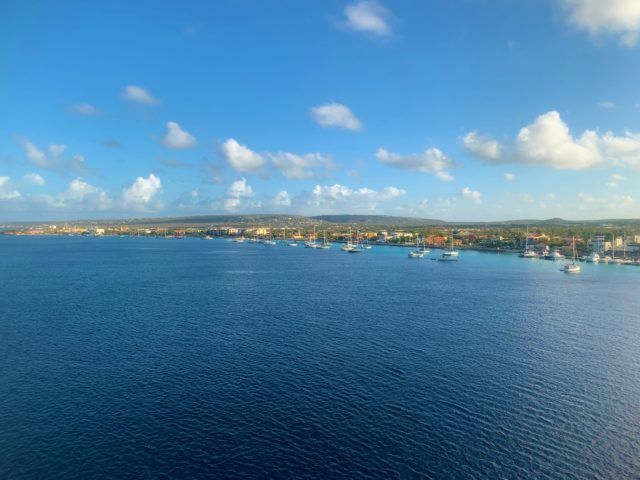 While many individuals brought their own snorkel equipment, the tour was fully equipped with well-maintained masks, snorkels, fins, and rashguards for everyone. In fact, the quality of the equipment surprised me. They even had prescriptions masks for those who needed them. While I forgot my snorkel mask on the ship, the staff actually discouraged other guests from using the full face mask anyway, so I was perfectly content using the equipment onboard the catamaran.
Time to Go Snorkeling with Woodwind Bonaire
Guests were divided into two snorkeling teams. I was assigned to the second group.
One benefit of this excursion is that it is a "drift snorkel". This means that the vessel leaves you at one point, and you follow the current down to meet back up with the boat at the end of the tour. Don't worry, if you need a break or to return to the catamaran for any reason, the guide can call the captain to come pick you up.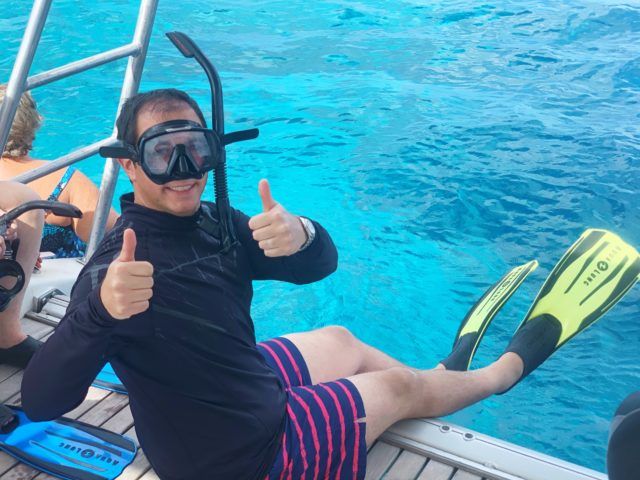 Although, the swimming portion was not very strenuous. The tour caters to all ability levels. I like to think that I am a relatively strong swimmer, so I did not take a life jacket or a "noodle". There were a few first timers who were a bit apprehensive, but the tour guides did an excellent job of making sure those individuals were comfortable and kept up with the group.
The total time in the water was about 60 minutes. During our leisurely float, the guide pointed out some different types of coral, plants, and fish within our view. A few large turtles came by to say hello at one point which was pretty amazing.
Having about 10 snorkelers in each group, we were able to spread out as we all headed in the same direction. There was certainly plenty of area to explore; although, our guide did not want us venturing too far off the coast as there was a pretty steep drop off.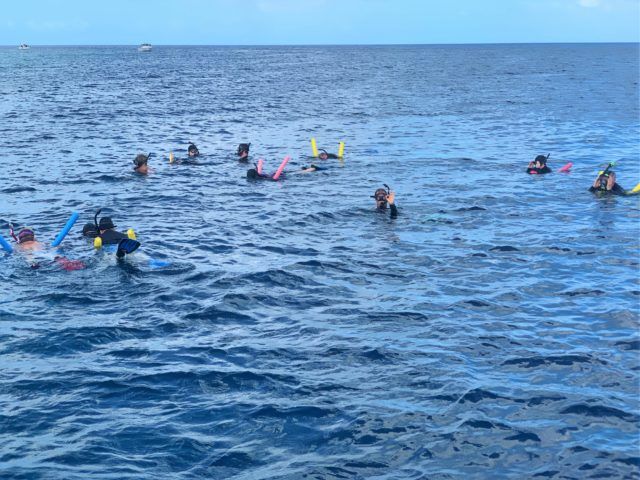 I have not been snorkeling in a few years now, as the Princess can't swim! So, I might be biased, but this was certainly one of the more enjoyable snorkeling tours that I have done on a cruise. The reef was colorful, and there was an abundance of wildlife to admire from a safe distance. Our time in the water went by at a nice pace. It felt like just enough time before fatigue started to set in for some.
By now, you are probably asking yourself, where was the Princess? Well, she stayed back on the vessel with the captain, soaking up the sun and surfing social media.
Back Onboard for the Return Trip
Given we were the second group to leave the ship, we were also the last to return. After returning our gear and drying off a bit, it was time for some rum punch!
We even forgot that the shore excursion price included lunch until the crew began serving what appeared to be Asian lo mein and vegetables. Neither of us were in the mood for lunch at 11 am, although the food did smell quite appetizing and the other guests confirmed.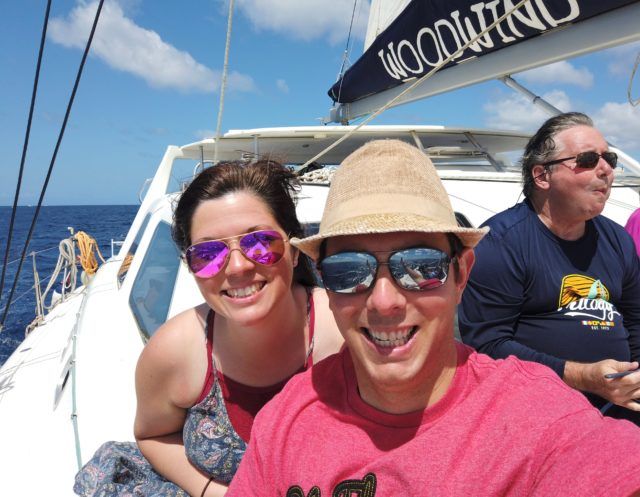 On the ride back, we soaked up the sun and struck up conversations with a few of our nearby ship mates. Several individuals were returning guests, which is always a good sign.
About half-way back to the dock, a staff member came by indicating that it was time to pay up. That's right, we hadn't even paid for the trip yet! Of course, I came prepared with cash, but they do take debit cards as well.
Recap of Woodwind Bonaire Snorkeling Excursion
Almost on cue, we arrived back at the dock by 11:45 am, exactly three hours from when we departed from the same point. As the staff cleaned up and prepared for the next group of eager snorkelers, it was time for us to disembark. Overall, it was a beautiful morning snorkeling with Woodwind Bonaire.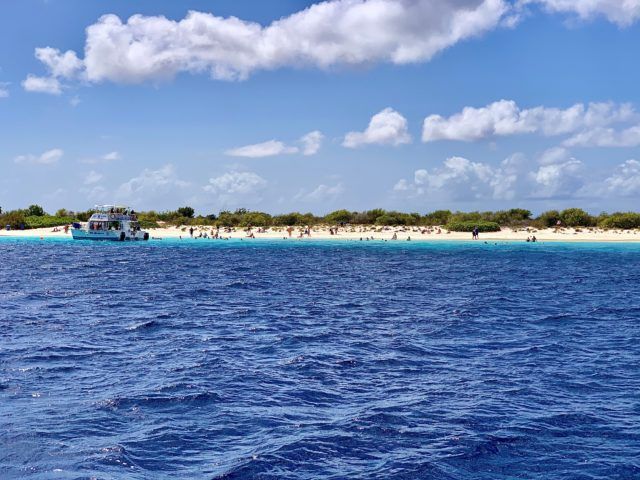 We highly recommend the tour company, no matter your swimming ability or snorkeling experience. At $55 a person, it is an amazing value given everything that is included. If you want even more time to explore the coral reefs, you can book the 4-hour tour for an additional $10 a person. This longer tour visits two separate snorkel locations.
When we return to Boniare, we would certainly consider another snorkeling excursion with this eco-friendly, local tour provider.
Comments
Have you visited Bonaire on a cruise? Do you have a Woodwind Bonaire snorkeling excursion review to share? Drop us an anchor below to let us know how you like to spend your day in this Southern Caribbean port of call.