When many envision the ultimate tropical vacation, places like Tahiti or Bora Bora might come to mind. If the turquoise waters, vibrant coral reefs, and over-water bungalows are calling your name, you might want to splurge on a trip to French Polynesia. In this post, we explain why you should choose Windstar Cruises to Tahiti.
Why You Should Choose Windstar Cruises to Tahiti
A Cruise is the Best Way to Visit Tahiti
If you are considering a vacation to Tahiti and the neighboring Society Islands, a cruise is the best way to visit. Not that we are biased at all, but a cruise is really the easiest (and probably cheapest) way to explore this region of the South Pacific.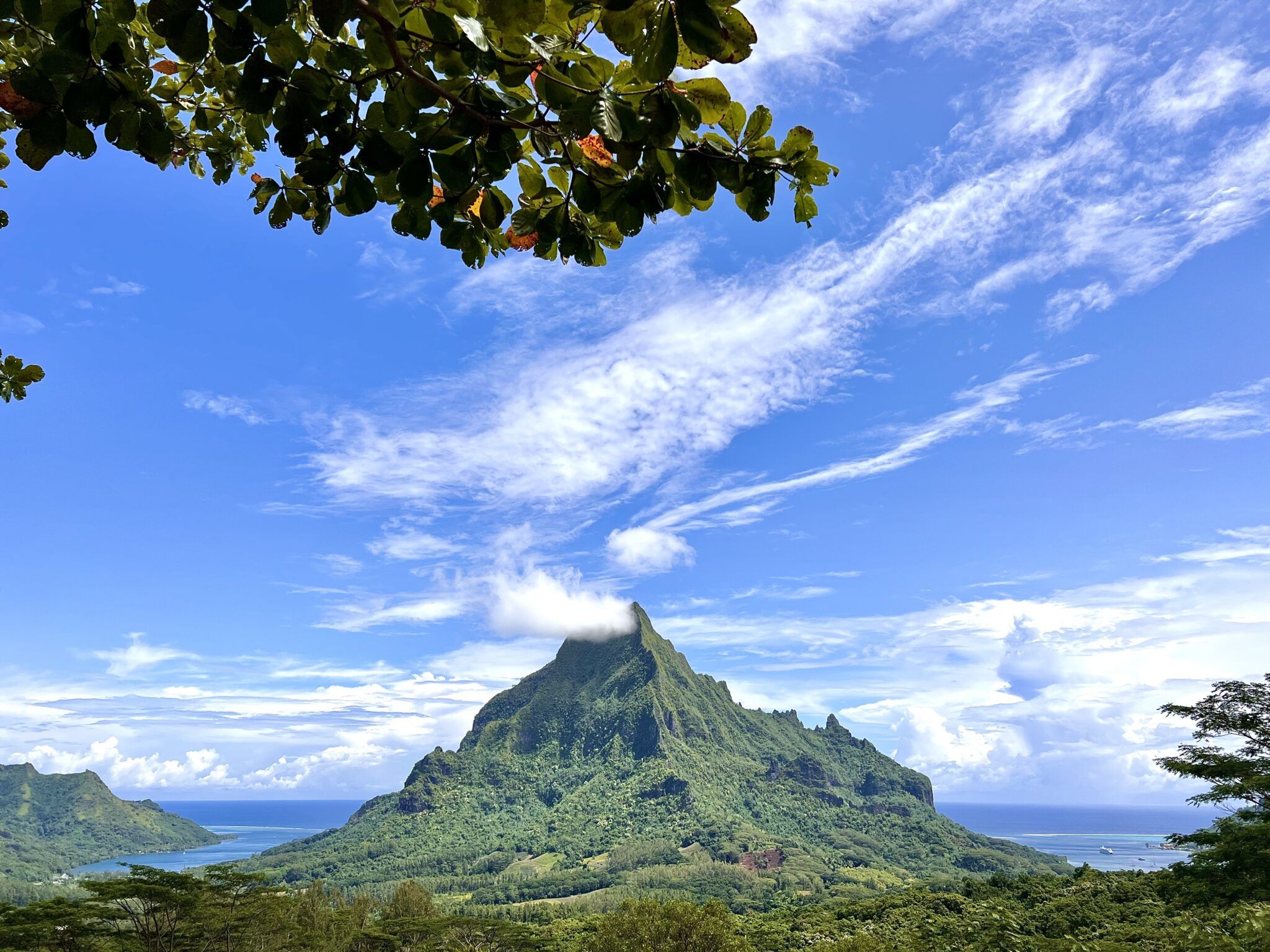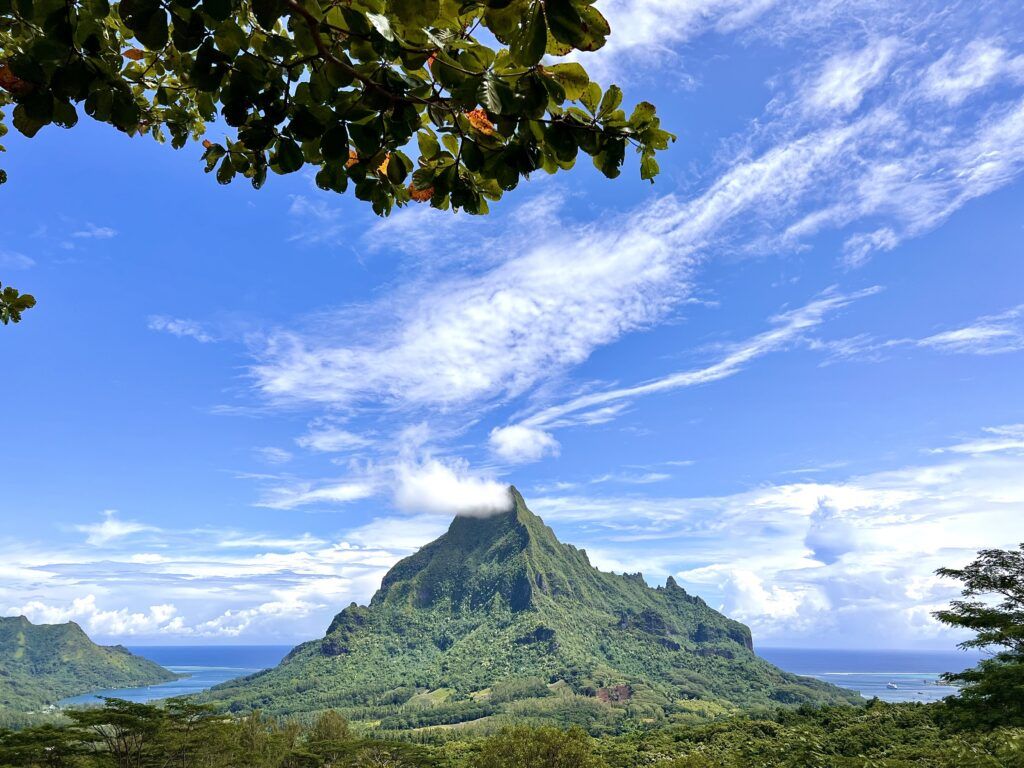 Tahiti is the largest and most populated of the French Polynesian islands. It is also the only one of the Society Islands with an international airport. If you plan to visit, you will arrive by air at the Faa'a International Airport in Tahiti. From here, you will need to arrange a ferry, charter boat, or plane to neighboring islands like Bora Bora or Moorea.
Or, you could simply hop on a cruise ship and not have to worry about any of the other details!
BOOK NOW: Windstar Cruises to Tahiti!
Windstar's All-Inclusive Pricing
Another advantage of choosing Windstar Cruises for your trip to Tahiti is the all-inclusive pricing.
One of the reasons that we love cruising is that so much is included in the cruise fare. For one set price, you can visit multiple destinations while enjoying most of the onboard amenities.
You will enjoy luxurious accommodations, all onboard meals, and most of the onboard activities and entertainment. With Windstar Cruises, there are no up-charges for use of the thermal suite, specialty restaurants, room service, bottled water, or even specialty coffee.
Better yet, Windstar Cruises has recently introduced a new All-Inclusive pricing option to help elevate the brand even further. This new pricing includes three of the most popular add-ons, a drink package, unlimited WiFi, and gratuities, all wrapped into one low price.
Windstar Cruises even offers packages that include air and hotel.
So, when booking a trip with Windstar Cruises to Tahiti, you will know most of your vacation costs up-front. This way, you can budget accordingly.
Windstar Cruises to Tahiti Gives You Choice
While many cruise lines offer stops in Tahiti and neighboring islands of French Polynesia, Windstar Cruises is one of only two cruise lines that offer year-round cruises in the region.
More contemporary cruise lines may visit the Society Islands on repositioning cruises or as part of longer voyages departing from spots like Australia, California, or Hawaii.
However, if you choose Windstar Cruises to Tahiti, you can enjoy 7-day roundtrip sailings from Papeete any time of the year. So, you can cruise to Tahiti at a time that fits your schedule without exhausting all your vacation days in one trip. If you are looking for an itinerary that is a bit longer, Windstar Cruises offers that too. The line has select cruises visiting the region that are up to 25 days in length.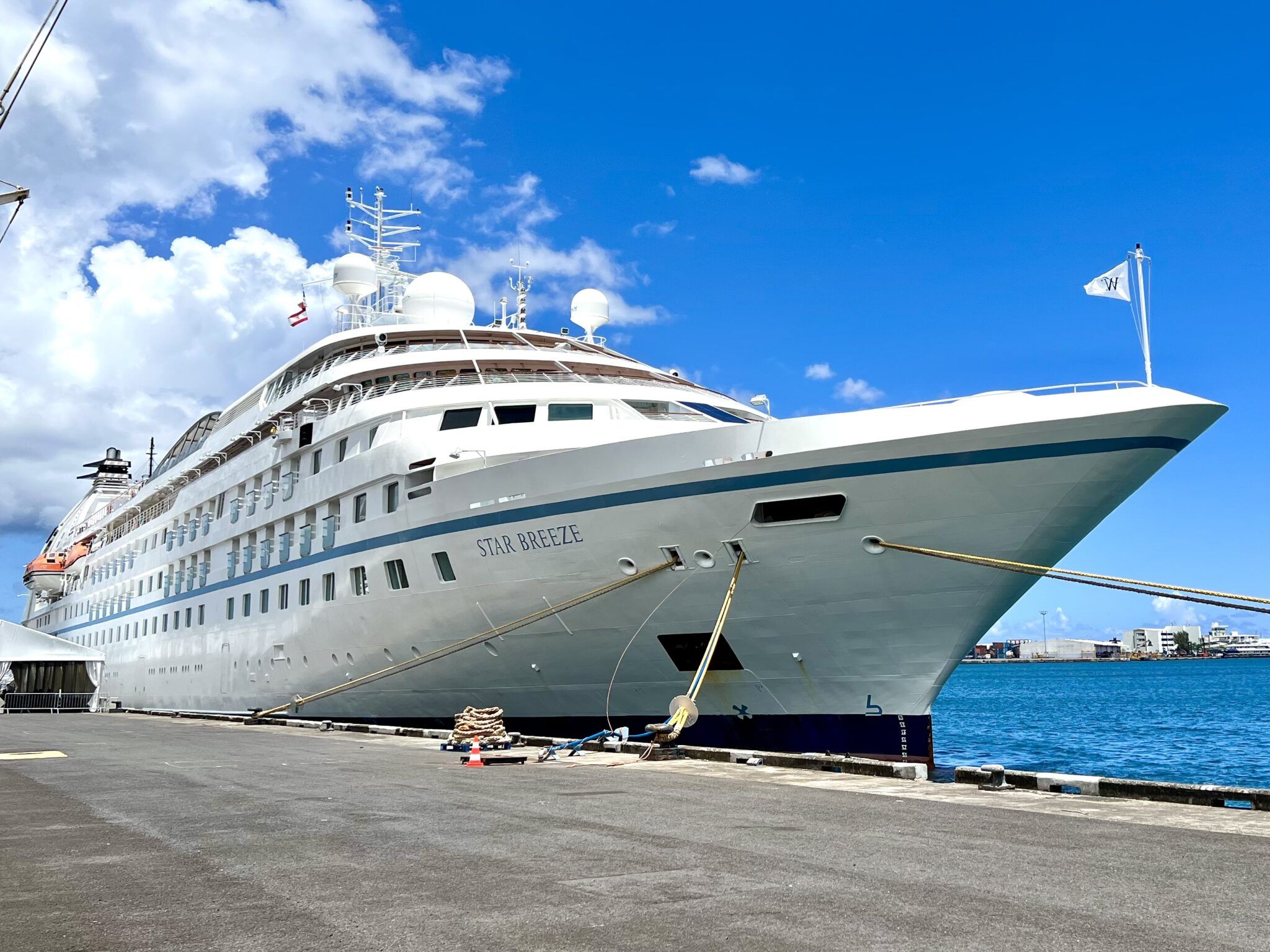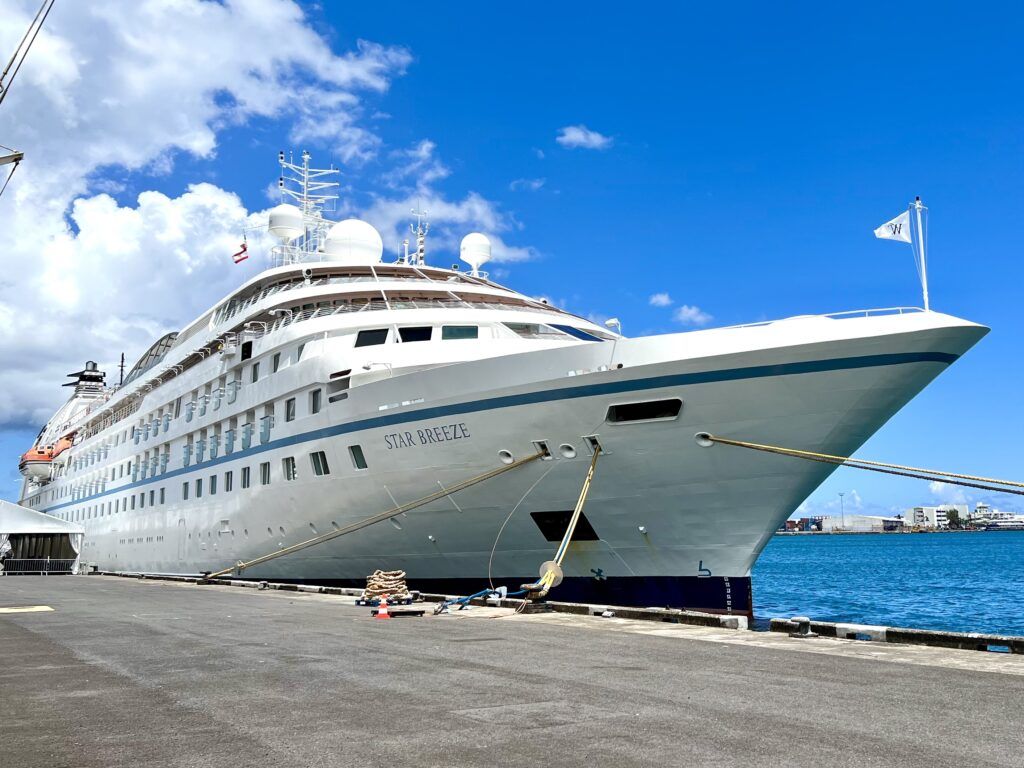 In 2022, Windstar Cruises is even giving you choice when it comes to the ship. While the Wind Spirit sailing yacht typically cruises in Tahiti, the Star Breeze, one of the newly transformed Star Plus Class yachts, is also cruising the region for a limited time. We couldn't pass up the opportunity to check out this "new" ship!
Windstar's Signature Watersports Platform
All six ships in Windstar Cruises' fleet offer cruisers the unique opportunity to get closer to the water with its signature watersports platform.
This additional "deck" opens up at the back of the ship and offers a variety of water-based activities. Use of all the sports equipment is complimentary. This includes kayaks, snorkeling equipment, a water trampoline, wake boards, and even a zodiac boat.
That's right, you can literally dive right into the tropical waters of French Polynesia from your cruise ship. Let us see you do that on a mega-ship!
Related Post: Windstar Cruises Wind Surf Cruise Review
Intimate Experiences
When sailing with Windstar Cruises to Tahiti, you can enjoy more intimate experiences. Smaller ships mean fewer passengers and more personalized service.
The staff will know your name, your drink order, and always provide service with a smile (if you can imagine the smile underneath the mask).
Smaller vessels also mean that Windstar's fleet can visit smaller islands that larger ships can't. While contemporary cruise lines may visit a couple of the more popular Society Islands, Windstar provides the complete French Polynesian experience.
With a port intensive itinerary, you will visit a new island just about every day. A typical 7-day Tahiti cruise visits the islands of Moorea, Raiatea, Tahaa, Bora Bora, and Huahine, with overnight stays in Raiatea and Bora Bora.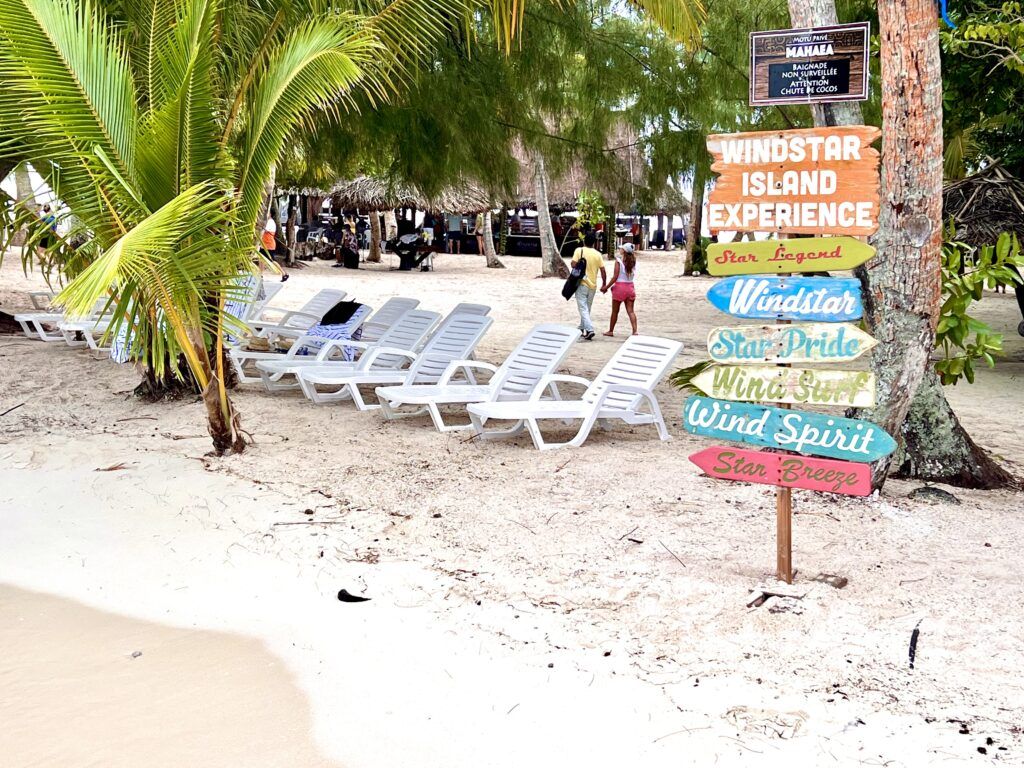 When you sail Windstar Cruises to Tahiti, you will also get to enjoy the line's signature experiences. From a celebratory deck BBQ with some of the best food of the cruise, to a beach day on a private motu, to a Destination Discovery event with food, drinks, and Tahitian fire dancers, you can't ask for a more authentic vacation to Tahiti.
A trip with Windstar Cruises to Tahiti is certainly 180 degrees from ordinary!
Disclaimer: We were guests of Windstar Cruises on the Dreams of Tahiti sailing, but, as always, all opinions are our own.
Comments
Have you considered booking a trip with Windstar Cruises to Tahiti? Have you visited French Polynesia on a cruise? Drop us an anchor below to share your experiences.