SCROLL DOWN FOR OUR LATEST CRUISE TIPS VIDEO FOR ADVENTURE OF THE SEAS!
If you have plans to cruise on Royal Caribbean's Adventure of the Seas, we have just put together this complete guide to everything you need to know before cruising on Adventure of the Seas from the Bahamas this summer. As more information becomes available, we will continue to update this post.
Everything You Need to Know Before Cruising on Adventure of the Seas in Summer 2021
Adventure of the Seas Will Cruise from the Bahamas This Summer
Given the current restrictions on cruising from the United States, cruise lines have decided to resume sailings from other North American homeports. These include the Bahamas, Bermuda, and the Caribbean. All nationalities are able to book these cruises.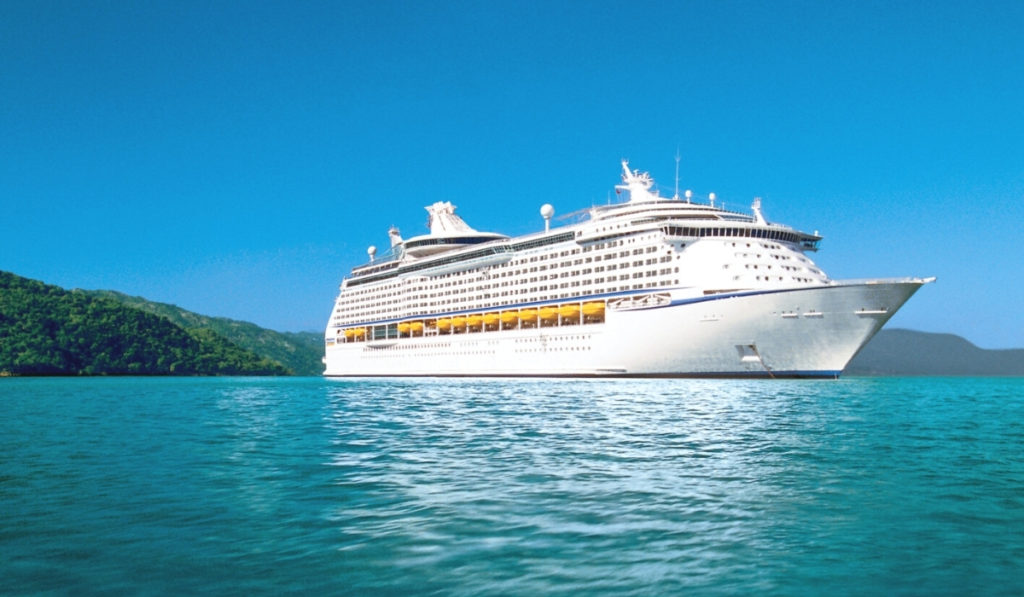 Royal Caribbean's Adventure of the Seas will sail from its new homeport of Nassau, Bahamas this summer, beginning June 12th.
Adventure of the Seas' 7-day itinerary will include two back-to-back days on Perfect Day at CocoCay as well as visits to Grand Bahama Island and Cozumel, Mexico.
There's So Much to Do on Perfect Day at CocoCay
Perfect Day at CocoCay is Royal Caribbean's recently updated private island in the Bahamas. While some of the attractions do cost extra money, there are still plenty of things to do on the island that are complimentary. The best news is that the Royal Caribbean Deluxe drink package also works on CocoCay.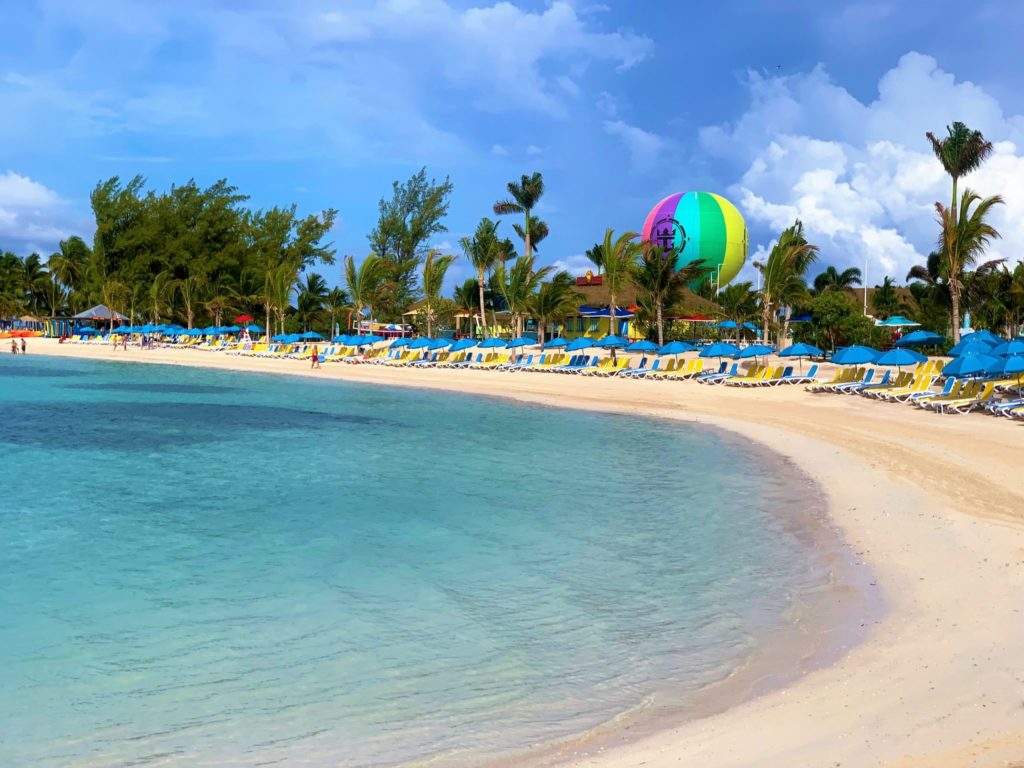 During the two days at Royal Caribbean's private island, you can enjoy the Thrill Waterpark featuring the tallest slide in North America. You can also partake in a zipline adventure or soar above the island in the Up, Up, & Away helium balloon.
Related Post: Everything Included on Perfect Day at CocoCay
You can also enjoying the sprawling beaches or perhaps upgrade your experience by booking the exclusive Coco Beach Club.
There Is a Vaccine Requirement
Summer 2021 cruises on Adventure of the Seas will sail with a fully vaccinated crew. They will also only be available to vaccinated adult guests and children under the age of 18 with a negative test result within 72 hours of embarkation. This means that guests must have completed the full cycle of required doses and have received the final dose at least 14 days before sailing.
At this time, these vaccine requirements are ship/destination specific and are not mandated fleetwide on Royal Caribbean.
Related Post: Which Cruise Lines Require a Vaccine
You Must Have a Passport
U.S. citizens can typically cruise to destinations like the Bahamas, Bermuda, and the Caribbean without a passport provided it is a closed loop cruise (a cruise that begins and ends in the same U.S. port).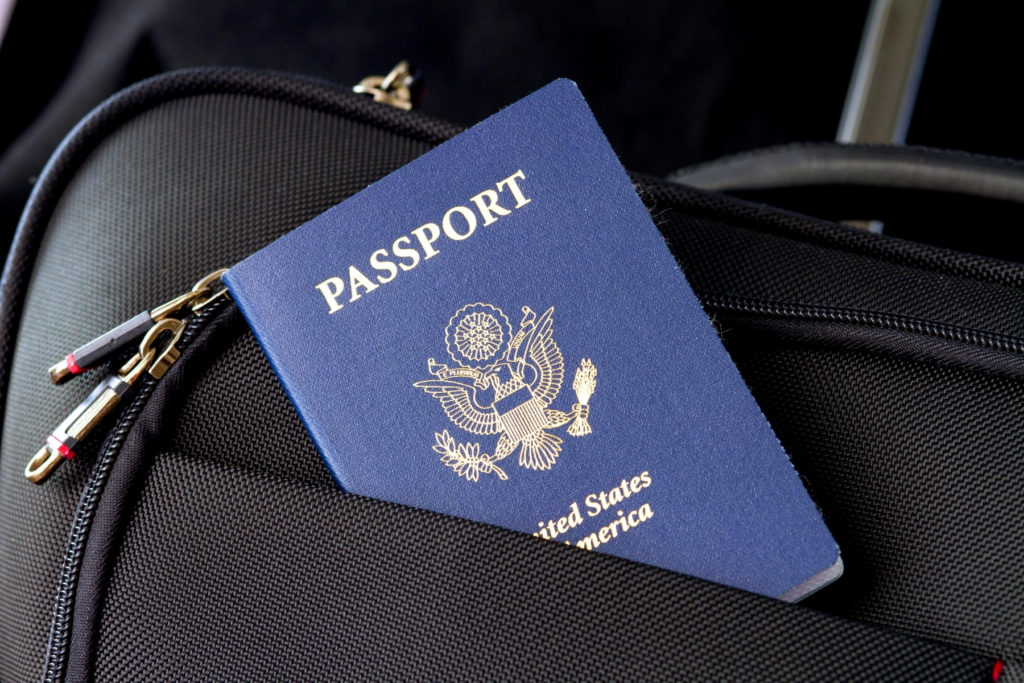 However, given that these Summer 2021 cruises on Adventure of the Seas are embarking outside the United States, a passport will be required. You will need to present a passport to enter the Bahamas, as well as to return home to the United States.
Further, your passport should have an expiration date that is at least 6 months after you sailing's return date.
You Will Need a COVID Test
UPDATE: As of May 1st, vaccinated individuals will no longer need a COVID test to travel to the Bahamas.
The Bahamas is currently requiring negative pre-travel tests to enter the country. The United States also currently requires a test to re-enter from an international flight.
Of course, these requirements could change for vaccinated individuals in the coming months. So, if you are planning one of these summer 2021 cruises, you will need to stay up to date on the latest travel requirements.
You should also expect to have a rapid antigen COVID test taken at embarkation by the cruise line. Further, Royal Caribbean has indicated that it will offer free COVID testing for Americans to fly home prior to disembarking its ships (if still required).
You Will Need to Comply with Bahamas Travel Requirements
Each international embarkation port has its own travel requirements that cruisers will need to meet in order to enter the country. These requirements will be in addition to the requirements of the cruise line.
For the Bahamas, everyone traveling to the country must receive a negative PCR test result before arrival (this requirement ends as of May 1st). Travelers will also need to apply for a Travel Health Visa which includes mandatory COVID-19 health insurance.
The cost of the visa is dependent on your length of stay.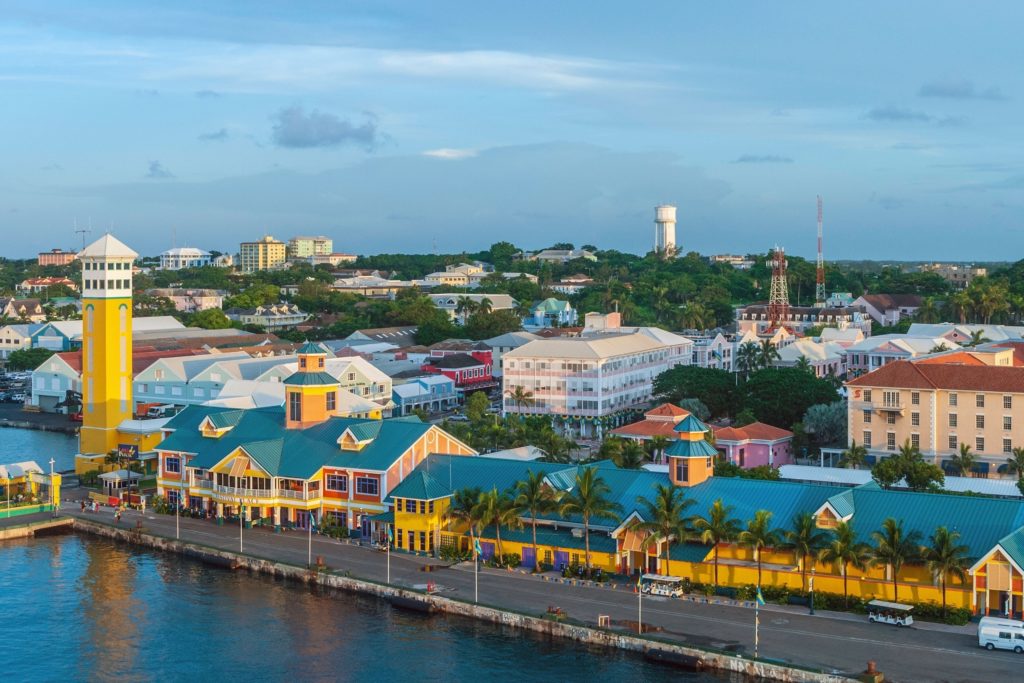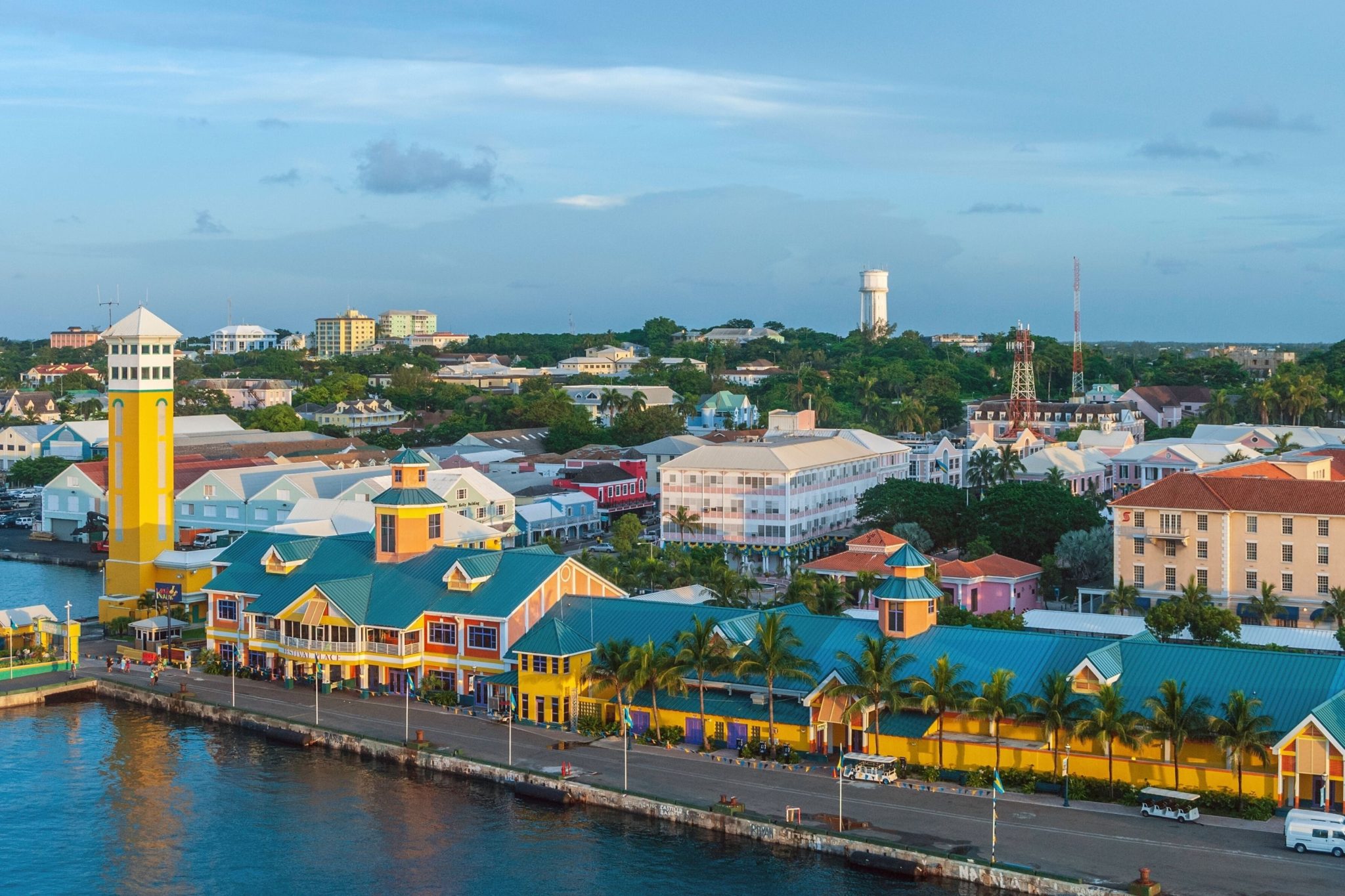 The most current policies for Bahamas cruises are available at the Bahamas website.
Royal Caribbean has indicated that they will communicate with guests in the 30 days before their sail date to ensure they know the latest travel requirements.
You Will Need to Abide By All Health and Safety Measures
In alignment with its Healthy Sail Panel's recommendations, Royal Caribbean will institute a number of health and safety protocols on its ships. Of course, all guests are expected to abide by these new protocols.
While not explicitly stated for Adventure of the Seas summer 2021 cruises yet, guests can assume these measures will include social distancing and face mask requirements.
If we look to ships currently sailing, face coverings will be required at most times while on the cruise. The exceptions will be when seated at socially distanced venues and actively eating or drinking. Masks will not be required in situations where they could get wet, like swimming pools and waterslides. Of course, you won't have to wear a mask in your stateroom either.
Related Post: Guide to Royal Caribbean Ship Classes
The one instance that is still somewhat in question is whether you will need to wear a mask when seated at a socially distanced lounger on the pool deck. If we look to Norwegian Cruise Line's Sail SAFE measures, this line will require masks outdoors only when social distancing is not possible.
The Cruise Line App Will Be Even More Important
Before sailing on Adventure of the Seas, you should definitely download the cruise line app to your smartphone. This app will allow for a safer and smoother cruise experience.
Added features include notifications, online check-in, the new online Guest Safety Briefing required of all guests, and the Guest Health, Safety, and Conduct Policy. The app also provides ship maps, guest to guest chat, the ability to make reservations, a digital copy of the Cruise Compass, and more.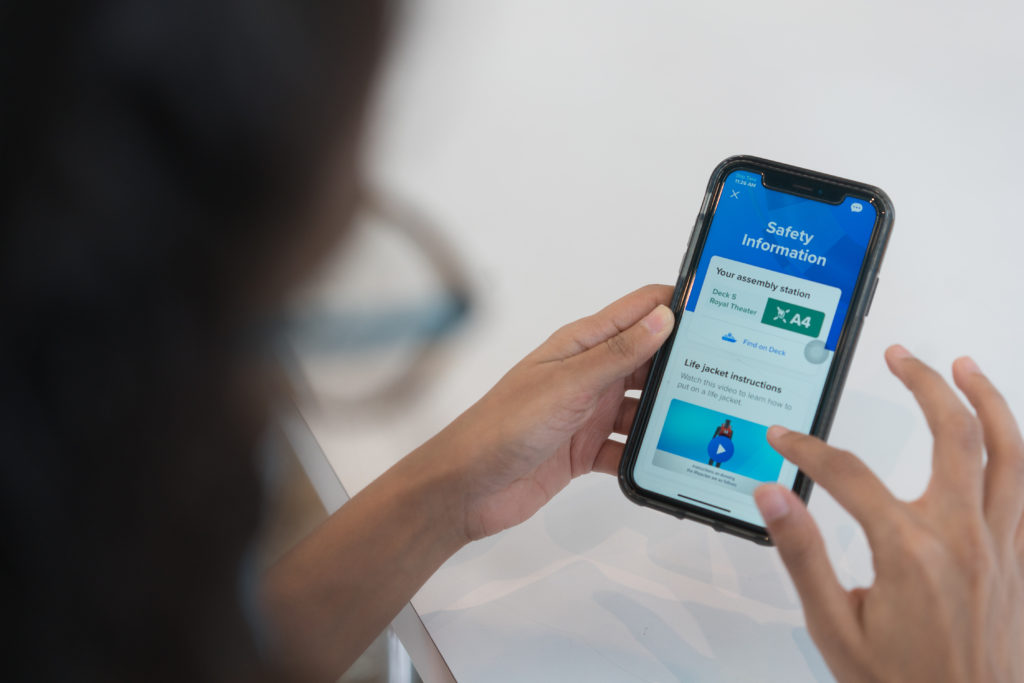 Further, guests will need to complete the Royal Caribbean Health Questionnaire, available ONLY in the app 24 hours before sailing.
Review Your Cabin Options
When researching staterooms on Adventure of the Seas, you should know that cabins are grouped into different categories based on square footage and amenities.
It is also important to note that even within each cruise cabin category, there are often subcategories. These are usually based on the location of the cabin.
For instance, the most expensive rooms in a given category tend to be midship. Also, rooms on higher decks or near public venues will cost more.
Regardless of category, the cheapest option will usually be a "guaranteed" cabin. This means that you will receive a room within that given category but don't actually get to pick your exact room. The cruise line will assign you a cabin a few weeks before your cruise.
If you don't care too much about location, this is a great way to save some money.
On Adventure of the Seas, you will find your typical Inside, Oceanview, Balcony, and Suite categories. A unique interior cabin option is the Promenade View, which has a window that overlooks the Royal Promenade. There is also a Spacious Panoramic Oceanview, which is located forward on the ship. This stateroom offers a window much larger that the typical porthole sized windows.
Related Post: Beginner's Guide to Cruise Planning
When it comes to Suites, your options are Junior Suites, Oceanview Panoramic Suites (no balcony), 1 and 2 bedroom Grand Suites, and the Owner's Suite.
Know Your Dining Options
One of our favorite parts of a cruise is the dining. We are traditionalists that enjoy the set dining time (early seating for us) as we enjoy having the same table and same waitstaff for the entire cruise.
On Adventure of the Seas, the early dining time is 5:30 pm and the late is 8 pm.
The line does also offer the flexible My Time Dining. Either way, you should know which type of dining you prefer as you will need to choose at the time of booking your cabin.
My Time Dining can be booked pre-cruise or once onboard between 7-9 pm.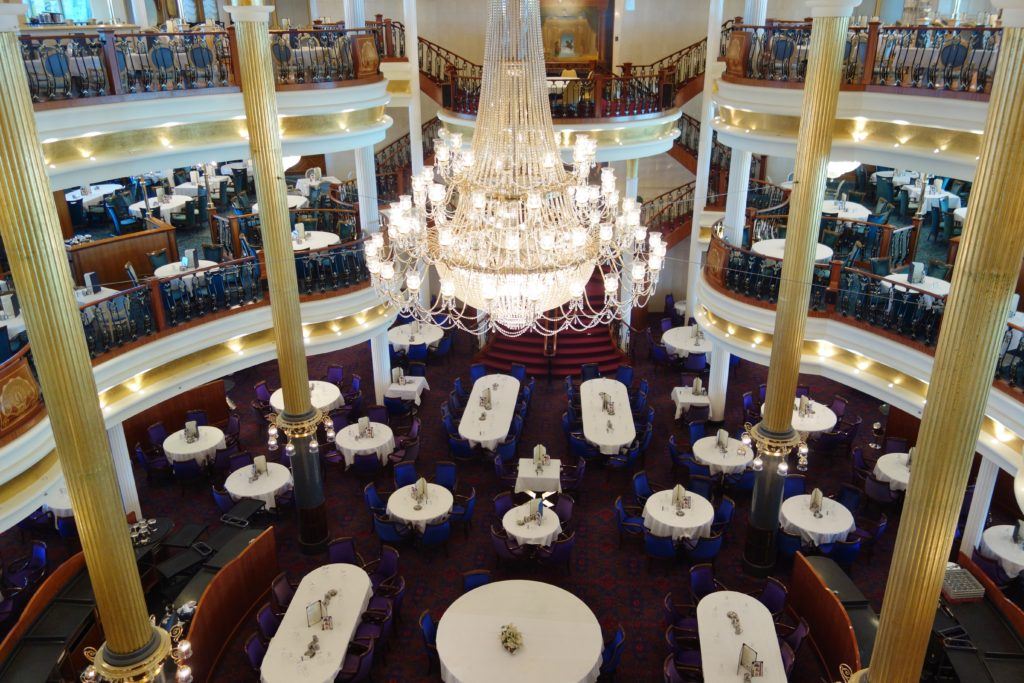 Adventure of the Seas is also home to some signature specialty restaurants including the classic Chops Grille, Izumi Sushi, and Giovanni's Table. These restaurants book up quickly, so you should try to make any specialty restaurant reservations before you board the ship as well.
Pre-Purchase the Deluxe Beverage Package
In your pre-cruise planner, you will regularly see deals on many upgrades and packages. Usually, you can score discounts on shore excursions, internet, and dining. It is up to you whether you want to purchase any of these up-charges.
However, if you believe you will consume at least 6 alcoholic beverages a day, then you should definitely pre-book the Deluxe Beverage Package.
Once onboard the ship, the price for the package will cost you more money.
Book Shore Excursions Early
Based on recommendations from the Healthy Sail Panel and the success of other cruise brands sailing in other parts of the world, cruisers on Adventure of the Seas are currently only allowed off the ship at ports of call on approved shore excursions.
These cruise line sponsored excursions will ensure guests are protected when going ashore. The cruise line will ensure that transfers are properly sanitized and that there is adequate space.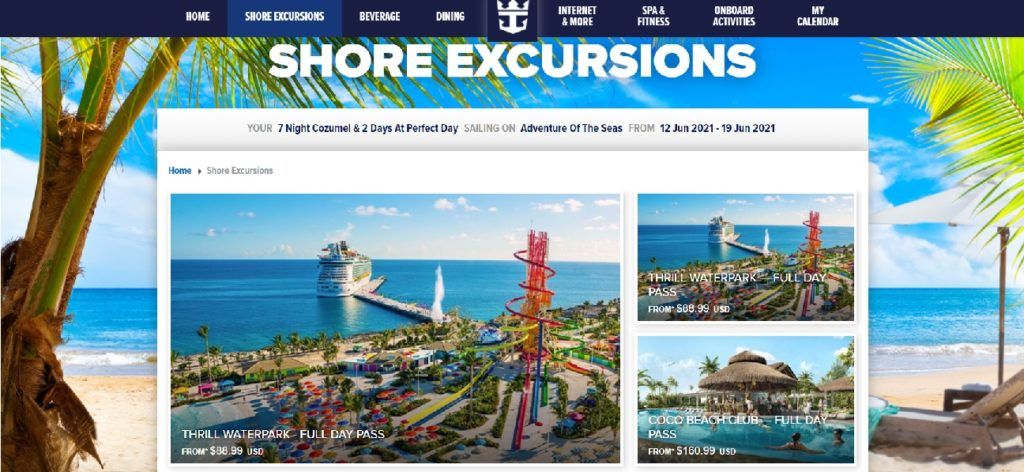 Further, tour guides and drivers will also undergo health screenings and wear appropriate PPE.
Thus, it is important to book these shore excursions early. Once they sell out, you will have no other options for touring your ports of call! Do know that as of right now, shore excursion options are a bit limited.
Of note, you will need to stick with the shore excursion group at all times. Cruisers on other ships already sailing have been denied re-boarding for failure to comply with these rules!
Plan a Pre-Cruise Hotel Stay
We always recommend starting your vacation a day early as bad weather, flight delays, or other travel disruptions could start your trip off on the wrong foot. This is especially true when flying internationally now with all the added precautions in place.
While Adventure of the Seas will not depart from the Bahamas until 9 pm, we still recommend a pre-cruise stay in Nassau. If you are searching for the perfect pre-cruise hotel for Adventure of the Seas, here are our top picks.
The New Normal Packing Tips
Packing is both an art and a science. If you need some guidance, we have put together a complete Packing Guide for the Caribbean. We also have a list of essentials that should be included in your cruise carry-on.
Remember, you won't see your luggage for several hours. If you are bringing bottles of wine onboard the ship, they should also be packed in your carry-on luggage.
For cruising in 2021, it is more important than ever to make sure you have sufficient supplies of meds and other necessities just in case. We also recommend packing your own hand sanitizer, several face masks, and disinfectant wipes/spray.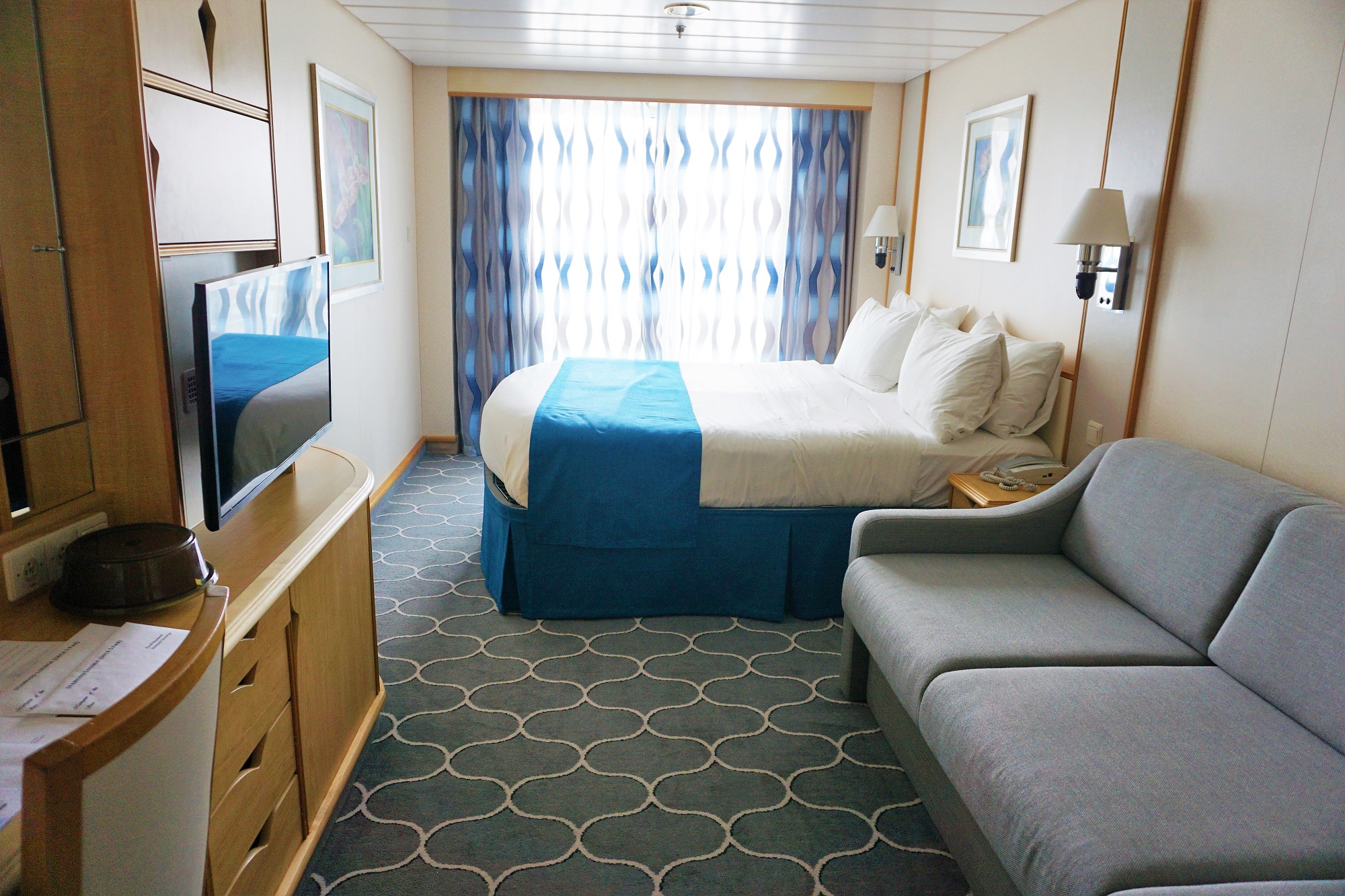 Even though there will be stringent cleaning measures in place, we will still sanitize high traffic touch points in our cabin and disinfect items such as our phones frequently during the trip. We followed similar routines during our visits to Disney World during the pandemic.
Related Post: Items That Are Prohibited on a Cruise
Complete Cruise Check-In Early
One of our strategies on embarkation day has always been to arrive to the port early. In previous times, cruisers who arrived early would be among the first to board the ship and get their vacation started.
Sadly, this will not be an option when cruising right now. Royal Caribbean will require individuals to check-in online prior to the cruise for a smooth and contactless embarkation process. Further, cruisers will receive an assigned boarding time to facilitate a staggered embarkation in order to reduce crowds in the terminals.
Once you make your final payment, make sure to do the online check-in as early as possible. This will give you the best chance at receiving an early embarkation time slot.
Currently, it is unclear when cruisers can complete this check-in process for these summer cruises. We are on the first sailing (50 days away as of this recent post update) and check-in is still not available. It is speculated that check-in will be at 30 days when Royal Caribbean has committed to updating guests on final travel requirements.
Also, don't forget to print out your luggage tags.
Muster Drill Will Be Digital
Once cruising resumes, Royal Caribbean will introduce a brand new approach to muster drills. Muster drills are an important part of ensuring guests' safety, but the traditional format certainly does not promote social distancing.
So, Royal Caribbean will debut its Guest Safety Briefing on Adventure of the Seas. This patented system streamlines the traditional muster process, making the key elements of the safety drill available right on your mobile device or stateroom TV. This safety briefing will include what to expect, where to go in case of an emergency, and how to properly use a life jacket.
After reviewing this safety information on your own, guests will complete the drill by visiting their assigned assembly station on the ship. Here, a crew member will verify that all steps have been completed in a non-group format.
Skip the Windjammer for Lunch
Historically speaking, the Windjammer can be chaotic on embarkation day. We suggest skipping it all together and opting for other casual (or specialty) options instead. Additional venues that are open on embarkation day include Cafe Promenade, Johnny Rocket's, and Chops Grille.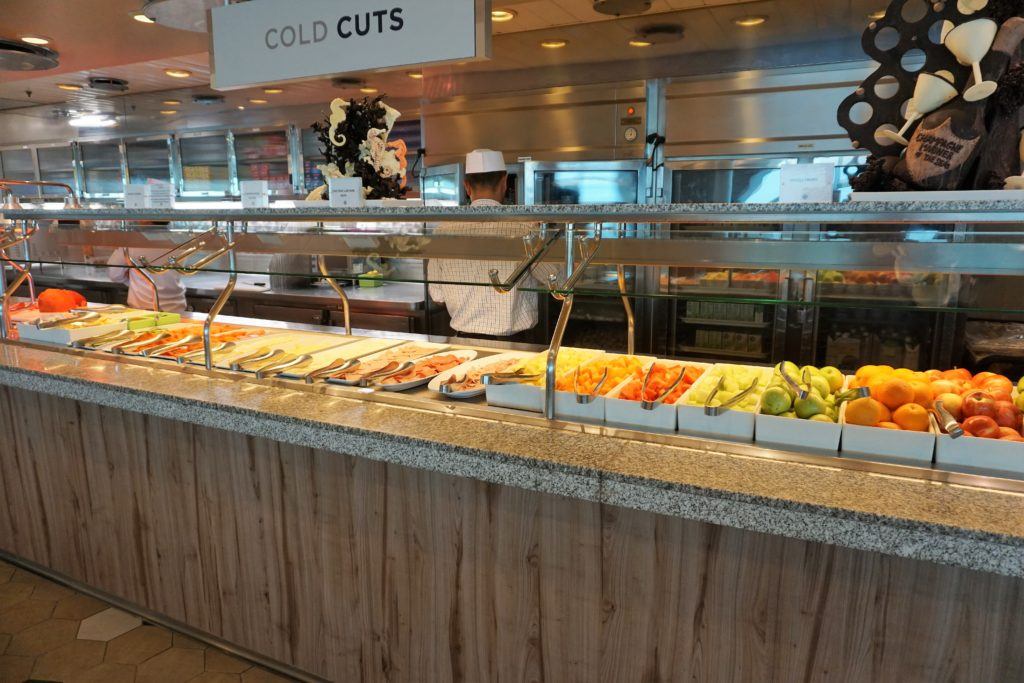 Cafe Promenade is open with freshly made pizzas (since there is no Sorrento's) and pre-made sandwiches. The up-charge casual venue, Johnny Rockets, is also open for lunch on embarkation day. Lastly, you can opt for lunch at Chops Grille. The advertised pre-cruise price for our sailing is $22.99.
Related Post: Cruise Budget 101
Ride the Perfect Storm on Embarkation Day or a Port Day
Among some of the newer features on Adventures of the Seas are the duo of waterslides, the Perfect Storm. In our experience, the lines are the shortest for these rides on embarkation day or on a port day.
The lines also tend to be shorter earlier in the day. This is even true on sea days if that is the only time you can ride the slides.
The same logic applies to other attractions on Adventure of the Seas like the Flowrider surf simulator, the mini-golf, and ice skating in Studio B. Try to utilize these activities during off-peak times to avoid the crowds.
You Can Access the Helipad
You can grab some of the most epic photos from the ship's Helipad, especially during sail away or while docked at a port of call. Cruisers can access this area via the outdoor walkways on Deck 5. Head all the way forward and utilize the stairs to find yourself at this secluded outdoor area.
Once there, grab some Instagram-worthy shots from this unique perspective.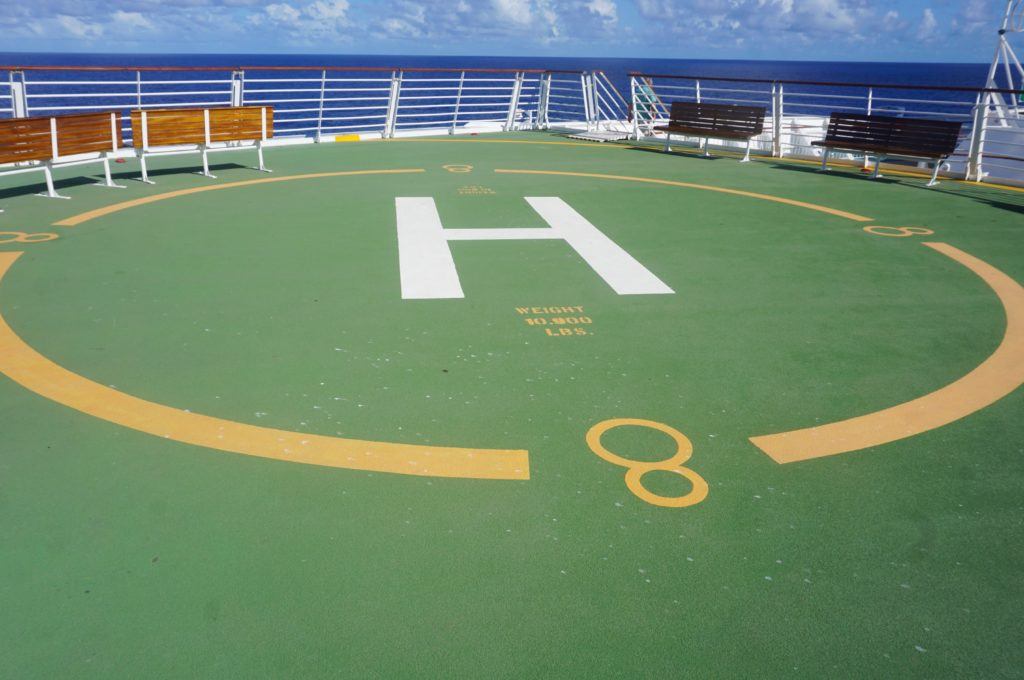 Registers the Kids for Adventure Ocean
If you are cruising with the family, you will want to head to Adventure Ocean to register your kids on embarkation day. Adventure Ocean is Royal Caribbean's youth drop-off program for children aged 3-17 years old.
Adventure Ocean allows your kids to engage in educational and fun activities during the cruise that are age appropriate.
Related Post: Everything Included on Royal Caribbean
With groups consisting of ages 3-5 years, 6-8 years, and 9-11 years, your little ones will be supervised by trained staff as they participate in various edutainment offerings. There are also activities for teens 12-14 years and 15-17 years old. From sports tournaments, to scavenger hunts, and video games, they will never want to leave.
Make Use of the Cruise Compass
The Cruise Compass is a daily activity booklet that is left in your room each evening (or on your smartphone app). It is your source for all the information you need while sailing on Adventure of the Seas. It provides hours of operation for all the restaurants and bars as well as a list of all the daily activities.
From dance classes, demonstrations, and trivia during the day to game shows, live music, and signature shows in the evenings, your Cruise Compass will provide all of the times that these events are occurring.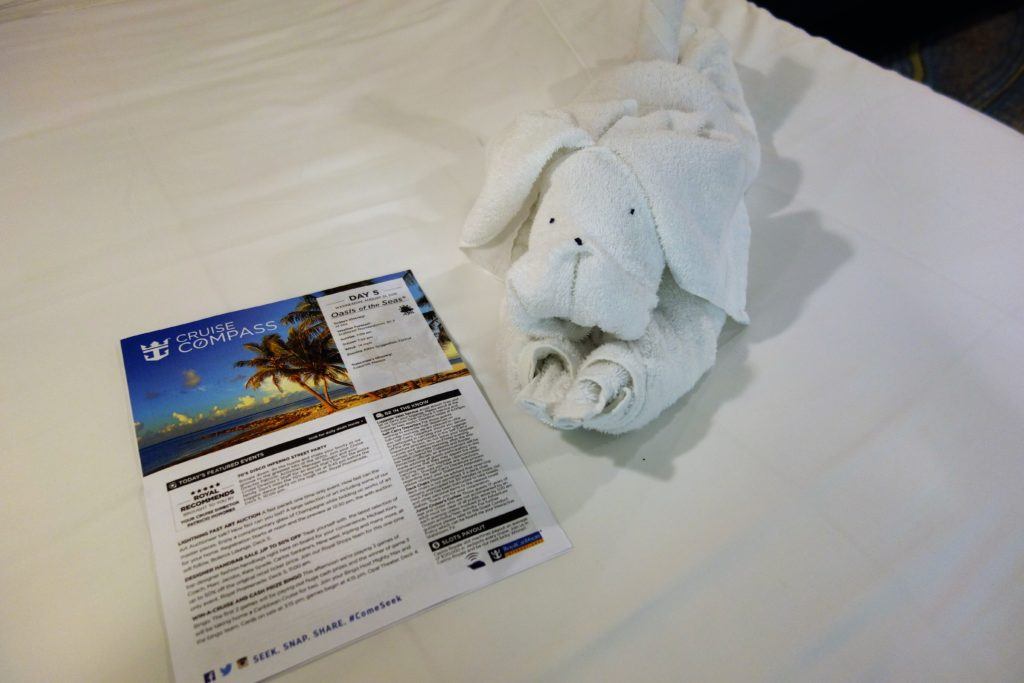 This magazine also provides other helpful info like which port you will be visiting next, the all aboard times, and the weather forecast.
Gratuities Will Be Extra
While your cruise fare does cover quite a bit, there will be an additional daily service charge for each guest. These per person, per day charges will be added to your onboard cruise account (or you can opt to pre-pay them online prior to the cruise).
The service charge on Royal Caribbean ships is $14.50 per person, per day for guests in Junior Suites and below. Or, $17.50 per person, per day is charged to guests in Grand Suites and above. This fee is applied to each guest's SeaPass account on a daily basis.
These charges go towards the hardworking staff on the ship including your stateroom attendant, wait staff, bar servers, and various other crew.
In addition, an 18% gratuity is automatically added to all beverages, mini bar items, and spa & salon purchases. This is on top of the cruise gratuity charges.
Some Loyalty Benefits May Be on Pause
Royal Caribbean's loyalty program for repeat customers is the Crown and Anchor Society. This tiered program offers cruisers more and more perks as they work their way up the ranks.
To facilitate social distancing, some of these perks may be temporarily modified or suspended. These perks include priority boarding, the private departure lounge, top tier events, and behind the scenes tours.
Additionally, Diamond members and above normally have access to the Diamond Lounge where they receive nightly free drinks. On these Adventure of the Seas summer sailings, the Diamond Lounge will be open but only at reduced capacity. Thus, drink vouchers will be on your SeaPass card instead.
Cruisers can use these vouchers any time during the day on any drinks that are within the typical drink package allotment.
Comments
Do you have anything to add to our list of what you need to know before cruising on Adventure of the Seas? Do you have plans to cruise on Adventure of the Seas this summer? Drop us an anchor below to share your helpful hints when cruising on Royal Caribbean ships.