Odyssey of the Seas is Royal Caribbean's newest cruise ship. This Quantum Ultra Class vessel will set sail on its inaugural cruise next month from Fort Lauderdale, FL. While Royal Caribbean has announced several details about Odyssey of the Seas already, we just learned about some great new additions to the ship. Among the highlights is a new virtual reality attraction coming to Odyssey of the Seas.
Virtual Reality Attraction Coming to Odyssey of the Seas
Virtual Adventure Zone
Odyssey of the Seas will debut a new virtual reality experience. This interactive, digital attraction is unlike anything currently on a Royal Caribbean cruise ship.
The Virtual Adventure Zone is described as a "fully immersive 4D virtual reality experience at sea". According to Royal Caribbean's website, this experience will be an upcharge. Currently, pricing is not available.
Note, players need to be at least 13 years old to participate in this cruise activity.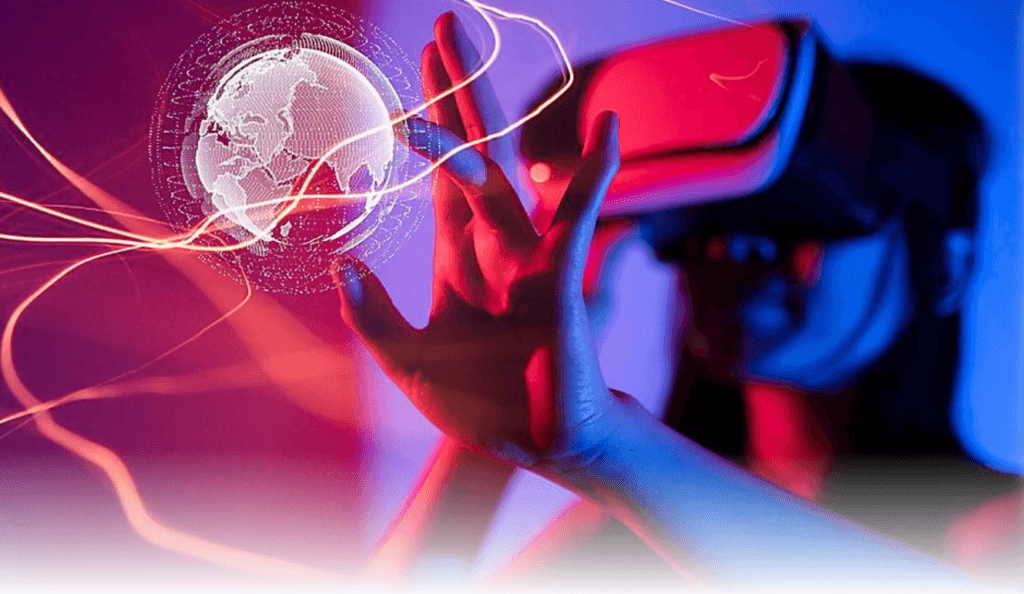 Royal Caribbean indicates that the Virtual Adventure Zone will be a 30-minute experience. The attraction will transport cruisers to undreamed-of dimensions. Unlike other digital games, players will have the ability to freely roam the universe. Players will be able to explore and "physically interact" with the environment.
Players will be wearing virtual reality headsets during the experience. According to the description, players will need to work together to "unlock the secrets of this dimension, defeat evil hordes, and complete your mission".
This description seems as though this new attraction will be a virtual reality quest or puzzle game.
Royal Caribbean partners with Puzzle Break to offer similar escape rooms on other ships in its fleet. These interactive experiences require players to team up to solve puzzles to "escape" a locked room.
We participated in Escape the Rubicon on Harmony of the Seas which was a lot of fun. So, we can't wait to experience this new virtual reality game on Odyssey of the Seas.
EXCLUSIVE SAVINGS: Summer 2021 Royal Caribbean Cruise Deals
Additional Attractions on Odyssey of the Seas
There will be plenty of other amazing attractions on Odyssey of the Seas as well.
This new ship will have the largest SeaPlex in the fleet. This indoor arena is home to complimentary bumper cars. Likewise, the SeaPlex will host a glow-in-the-dark laser tag. Again, this is a complimentary cruise activity.
The SeaPlex will also have an interactive arcade.
New on Odyssey of the Seas, this venue will also be home to Playmakers Sports Bar and Arcade. This pub found on some newly amplified ships in the fleet offers a la carte dining, as well as plenty of HD televisions.
This makes Playmakers the perfect place to watch a game, or the action occurring below in the SeaPlex.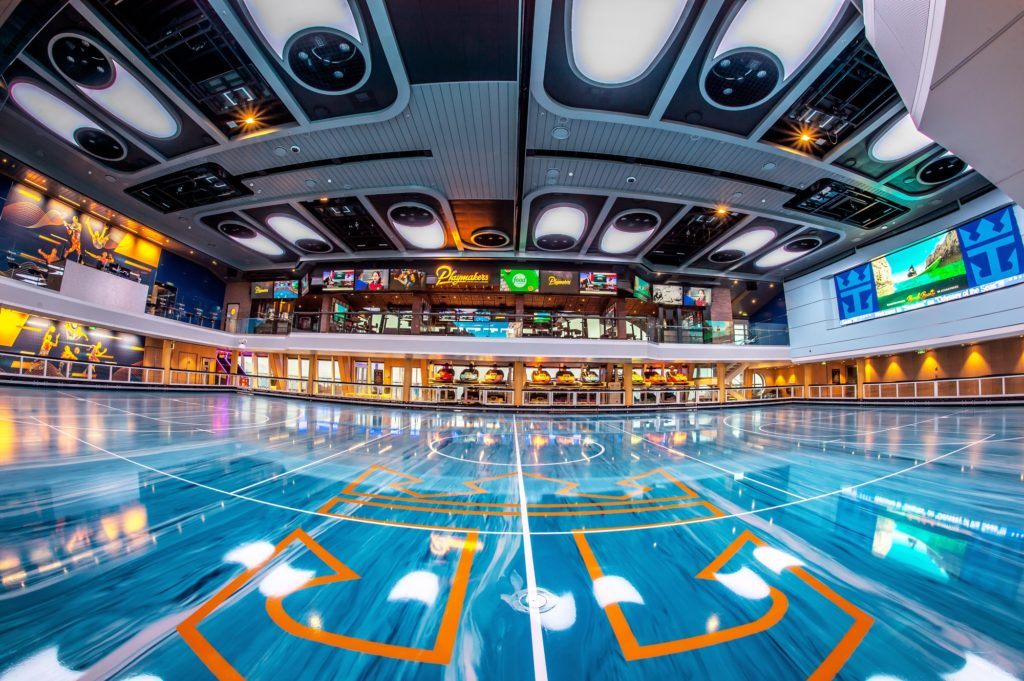 Odyssey of the Seas will also have a SkyPad. This trampoline activity lets cruisers reach new heights as they jump up and down on this one of a kind trampoline experience at sea. In addition, cruisers over 13 years of age can play an interactive virtual reality game while on the SkyPad.
Odyssey of the Seas' SkyPad will debut a new game, Croak's Adventure. The cruise line claims this will be the most interactive SkyPad game to date!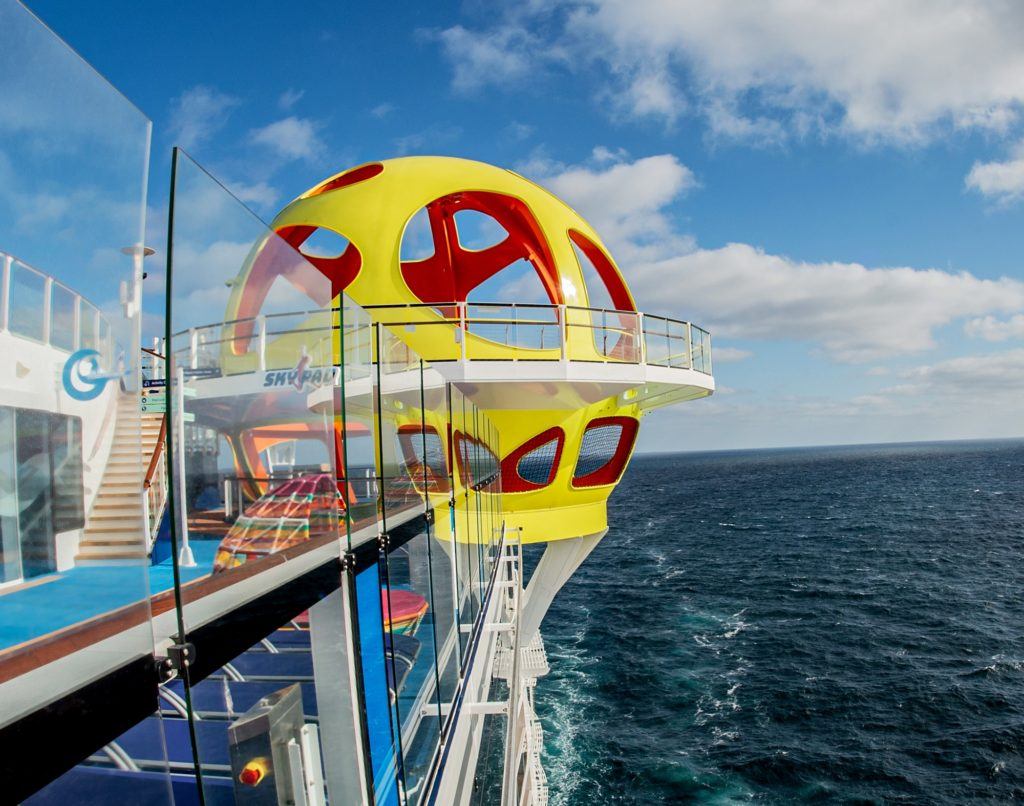 Of course, Odyssey of the Seas will be home to other thrilling attractions also found on Quantum Class ships. These include the Ripcord by iFly. This skydiving simulator takes cruisers on a 60-second hair-raising flight that you can only find on this class of cruise ship.
There is also the North Star. This aerial gondola rises up to 300 feet above sea level for unparalleled views of the ocean. Or, you can take a ride in the North Star while docked at a port of call for equally amazing vistas.
BOOKING: Book NOW to Take Advantage of Odyssey of the Seas Cruise Specials
Not to mention, Odyssey of the Seas will have a brand new Caribbean-style pool deck. Complete with casitas and comfy poolside deck furniture. It will also feature the newly popular Lime and Coconut Bar. We love this setup on the amplified ships and can't wait to experience it on Odyssey of the Seas in July.
Comments
What do you think of the virtual reality attraction coming to Odyssey of the Seas? Would you spend extra money to play this game? Drop us an anchor below with your thoughts on this brand new ship!
Stay up to date with the latest cruise news and travel updates!