One of the things the Princess and I enjoy most about cruising is the entertainment. On Quantum of the Seas, there are a few different venues that provide a variety of entertainment. Our personal favorite was Two70.  This unique space combines robotic technology, 12k HD projection screens, classic cocktails, casual eats, and talented singers and dancers to offer a space that is as diverse and innovative as this brand new ship itself.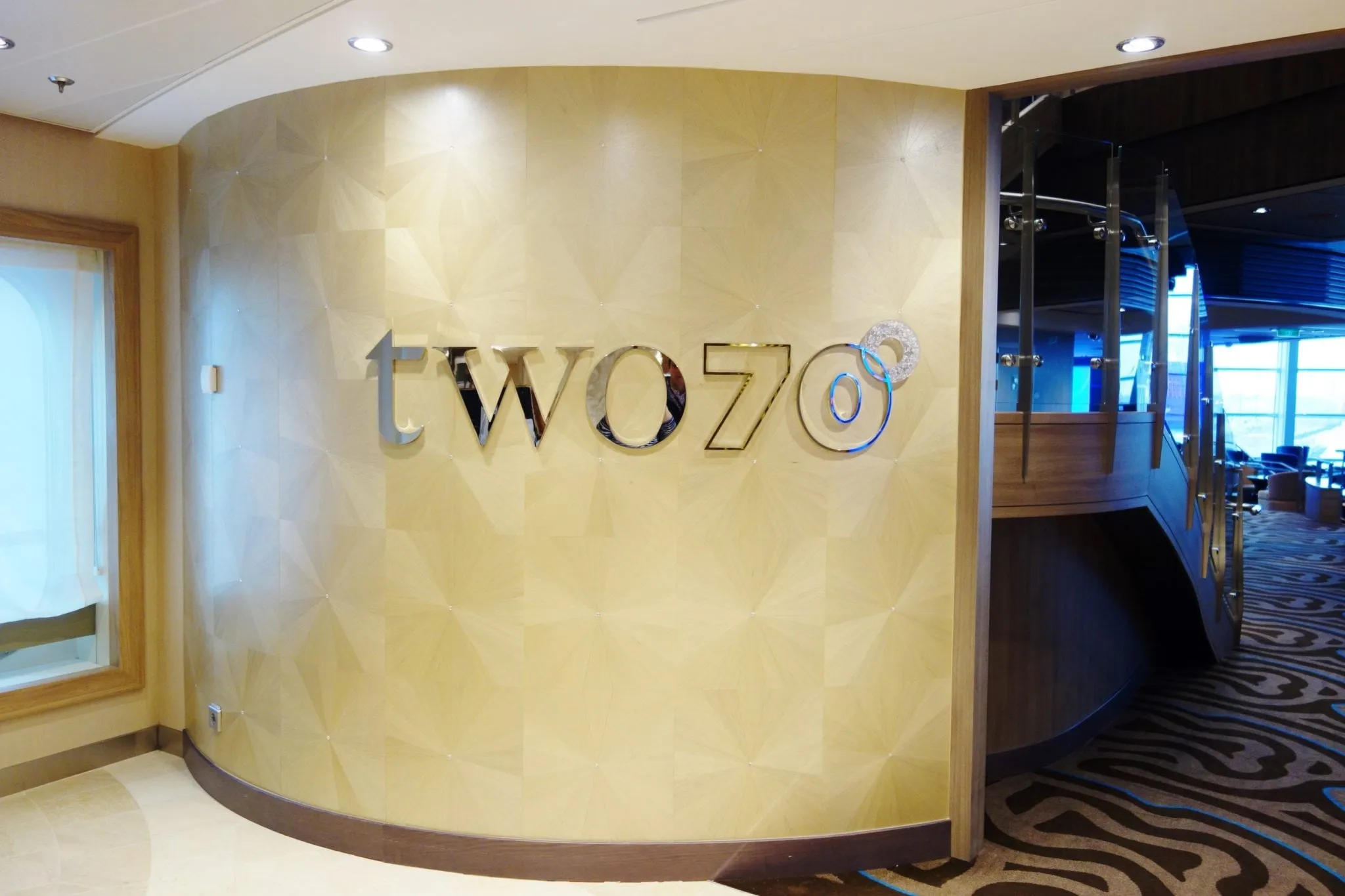 Two70: Your Living Room at Sea
Located on decks 5 and 6, aft, Two70 has a seating capacity of over 500 people. The venue gets its name from the 270 degree view that you get from the back of the ship. The large, two story windows allow for great light and ocean viewing. Given that this ship was designed for travel year round in all types of weather, this space gives you the openness of the Boardwalk area found on Oasis class ships with complete protection from the elements.
During the day, this space is your living room at sea. The seating is not like typical theater chairs; rather, there are couches, love seats, comfy over-sized chairs, and even a swing (which is more art than it is furniture). The design and decor continue the modern theming found throughout the ship.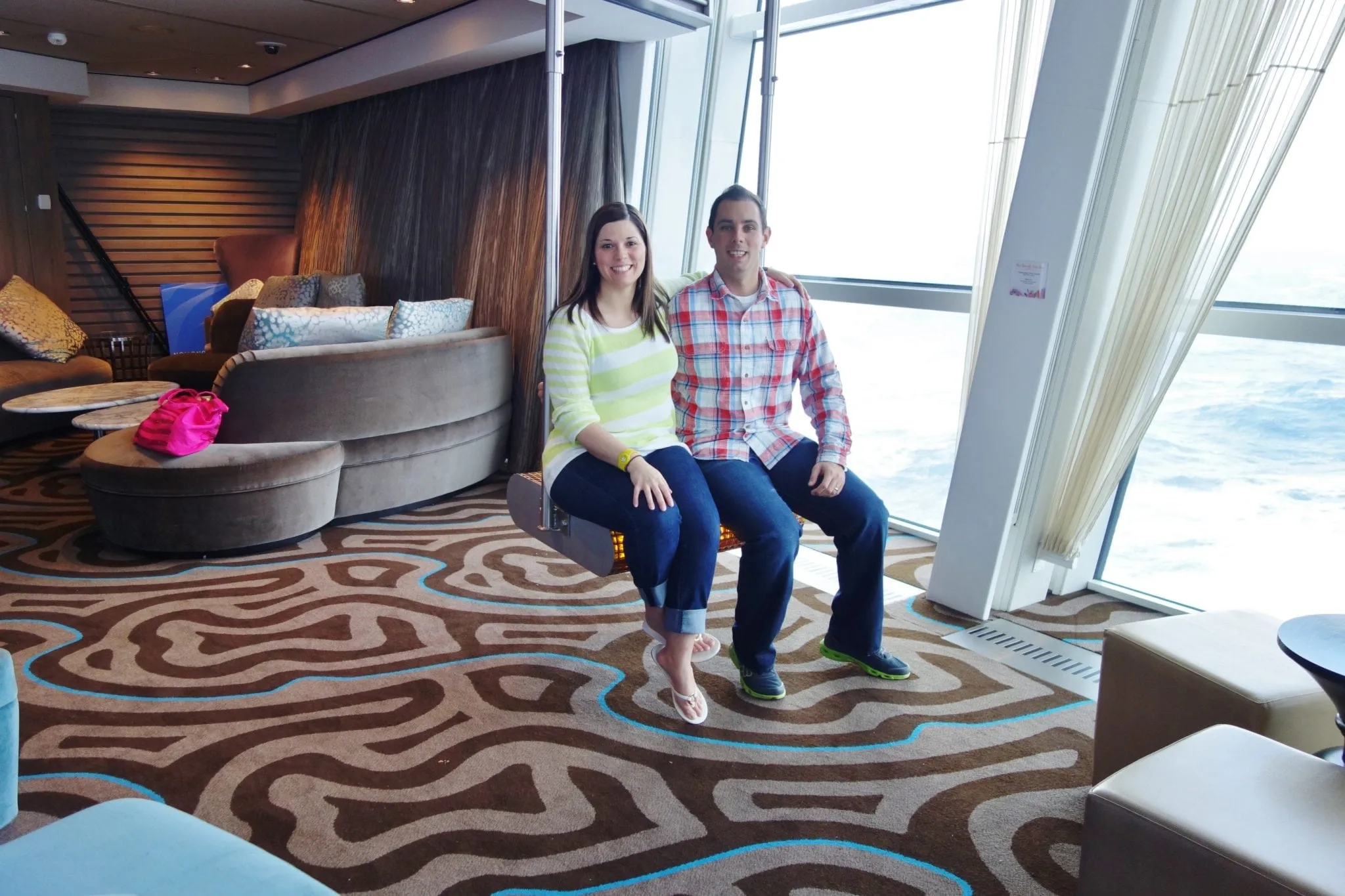 Even though the room is setup for the theatrical show StarWater, including stages that move up and down, during the day, you do feel like you are just relaxing at home with a fantastic view of the ocean.  The balcony section of this room consists of a more traditional theater setup.
When the sun is still up, you can find other travelers taking in some leisure time in Two70 reading or relaxing. The Library of the ship is located here as is the Workshop, a closed off space designated for scrapbooking and other arts and crafts.
One of the main centers for activity, Two70 was often quite busy, with certain events like Captain's Corner and character meet and greets held here.
Of course the room is a great place for some relaxation, but at a price tag of over 34 million dollars (USD), there is a lot more here than the comfy furniture and ocean views. One of the big ticket items driving up the costs of this room are the six roboscreens that regularly display roboshows. Yes, you read that correctly, Two70 is home to robotic storytellers.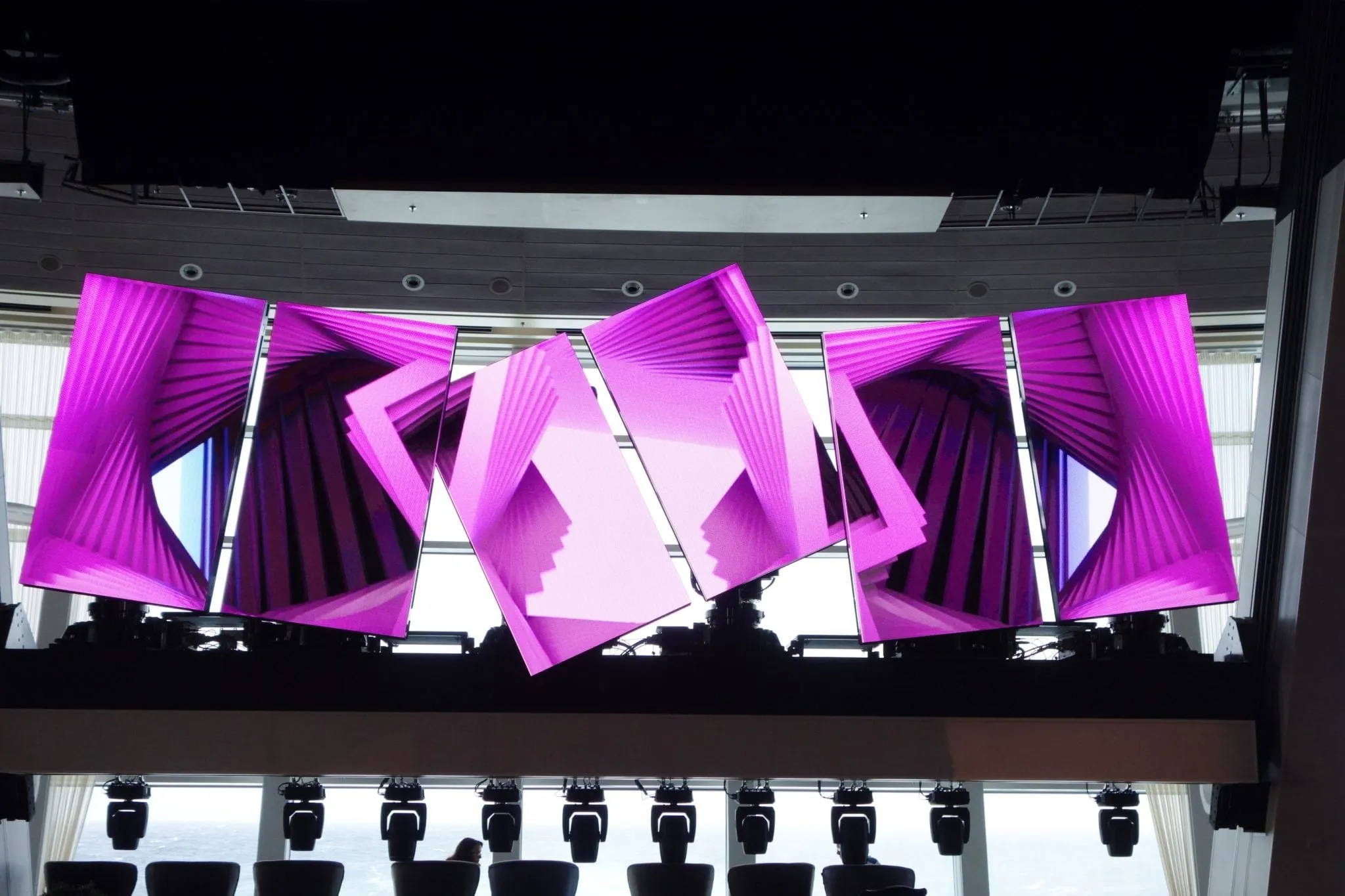 These six, giant robotic screens are used for the main show StarWater,  but also have their own mini-features. Employing technology used to build luxury vehicles, these roboscreens work in coordination with one another to create some very unique and interactive shows.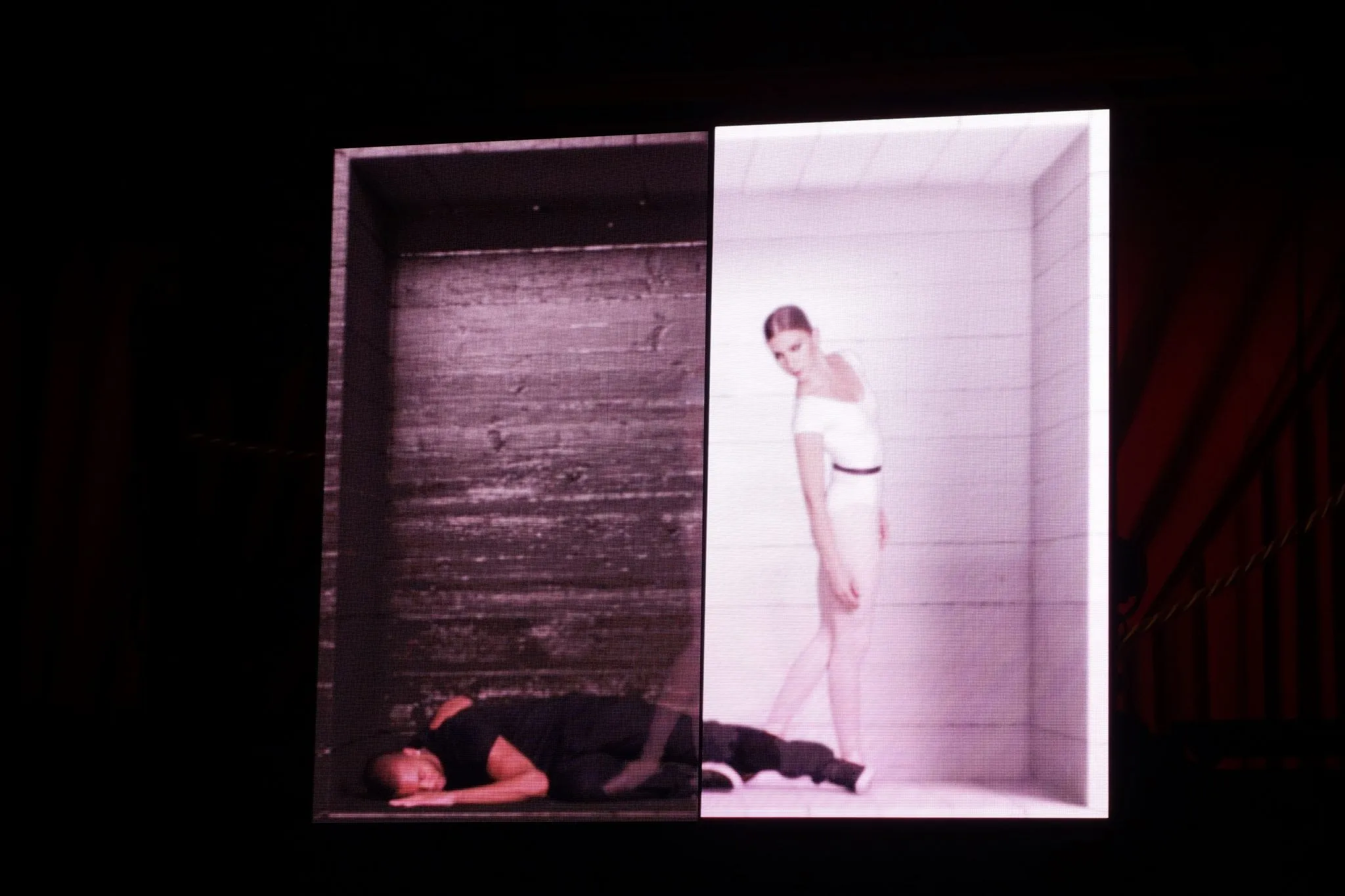 During our cruise, we were able to catch 3 different roboshows. These shows usually started playing at 12:30pm and would run every hour until 4:30pm on sea days. Most of the time, two different shows would play each hour.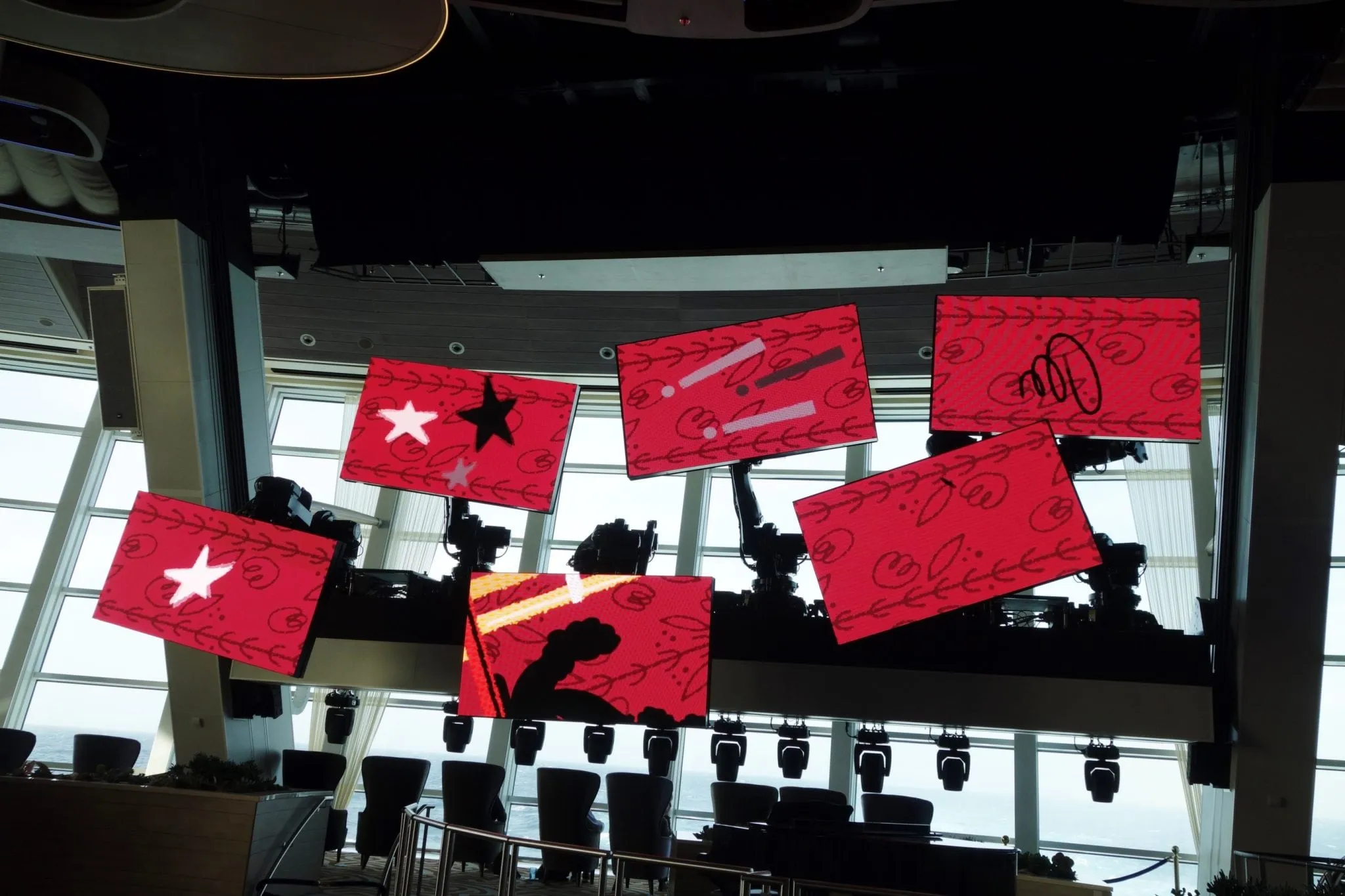 Of the three shows we watched, our favorite was called "Dance in a Box".  Given the movement of the seas and the dynamic nature of the roboscreens,  our video does not do the show full justice, but have a look. These shows are something you have to truly experience for yourself, so be sure to visit Two70 during the daytime to catch some of these roboshows during your Quantum of the Seas cruise.
The other shows we experienced during our cruise were Abstract Perspectives and Hello, Merci, Ciao. If there were other roboshows, we unfortunately did not catch them. Not that we did not try, as we would regularly stop in Two70 to grab a drink, grab a bite to eat, or just relax and watch the ocean.
Cafe at Two70: Casual Eats on Quantum of the Seas
If you get hungry while relaxing at Two70, not to worry! There is the Cafe at Two70, which is open mornings for casual breakfast and then through the afternoon into the early even serving up salads, sandwiches, paninis, and small pastries. If you have ever sailed on an Oasis class ship or another ship with the Park Cafe, then the Cafe at Two70 is essentially the same.
Although in our opinion, there was something about this Cafe that made the food seem a bit fresher and slightly better than the counterpart we frequented on Allure of the Seas. The space also seemed a bit larger and less congested.
Yes, they have the famous carved roast-beef sandwiches!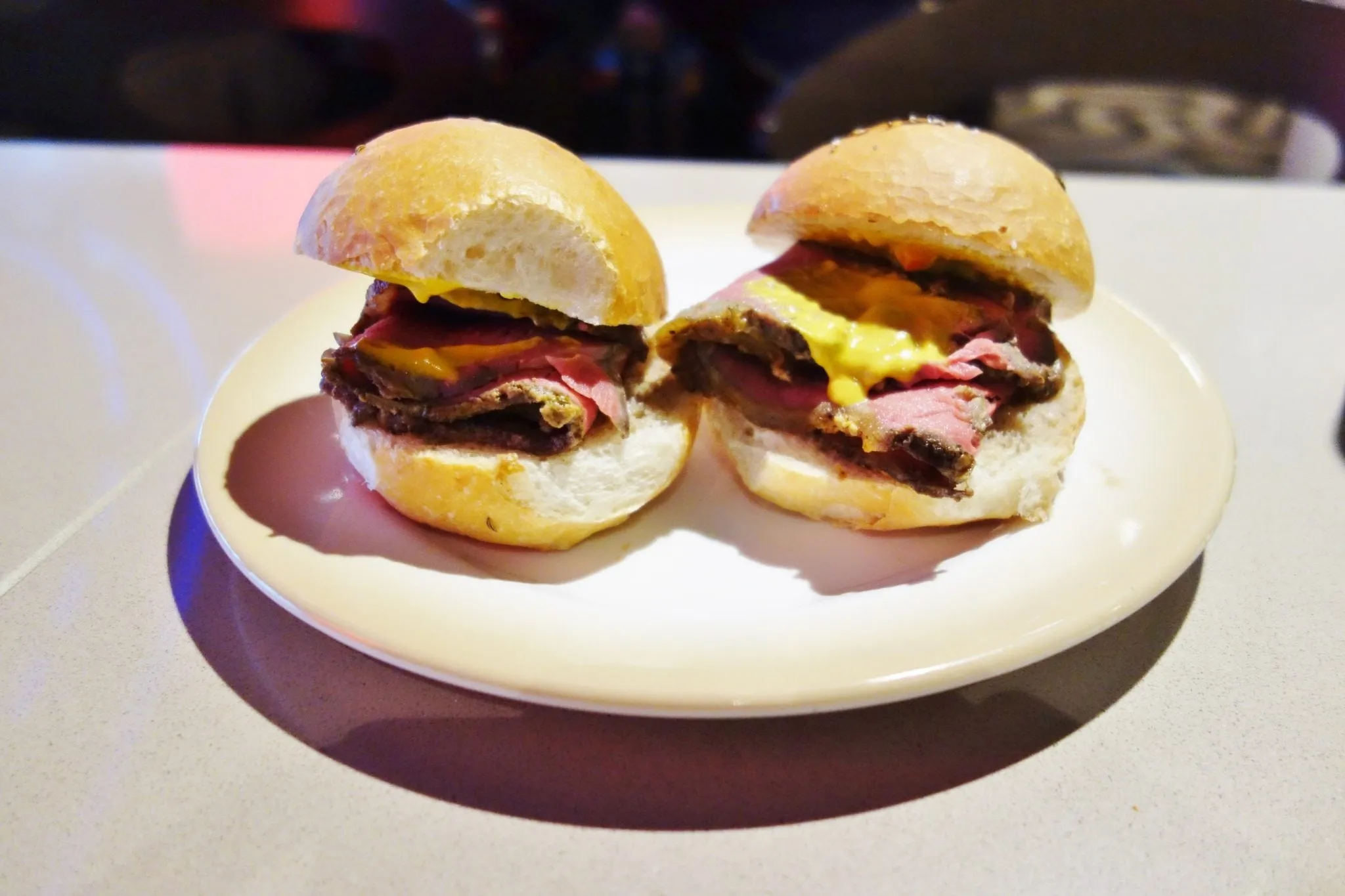 When the Lights Go Down at Two70
While it is relatively calm and tranquil during the day, at night, Two70 becomes an epicenter of high energy. One of the other impressive elements of this venue is the Vistarama. These animated visual displays play regularly throughout the evening as well as during shows. Using 18 12K projector screens, the Vistarama gives this room a very dramatic and varied atmosphere.
These shows are perfect for a big celebration, complete with a dynamic fireworks display!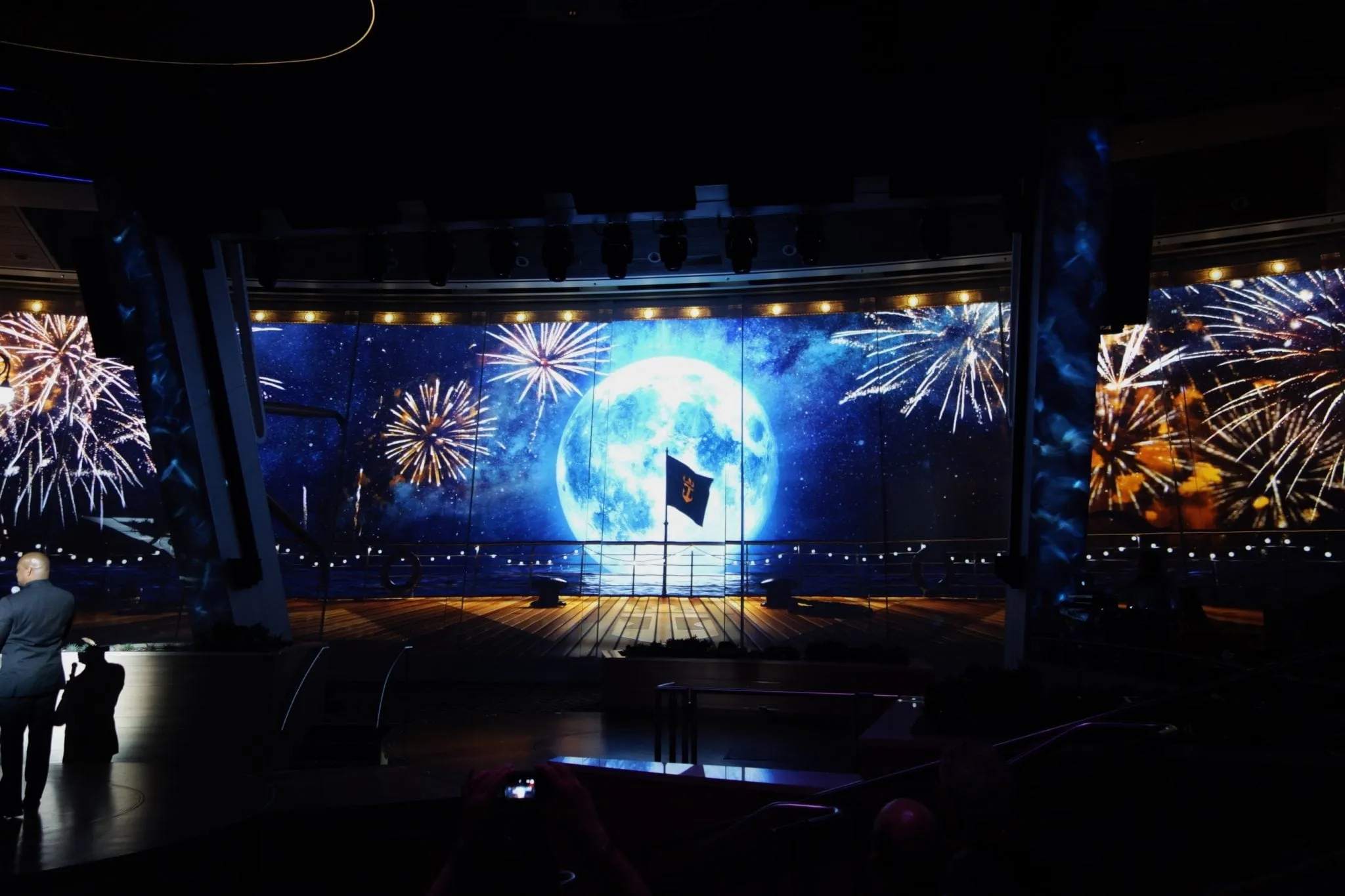 Or, maybe you'd prefer to travel under the sea.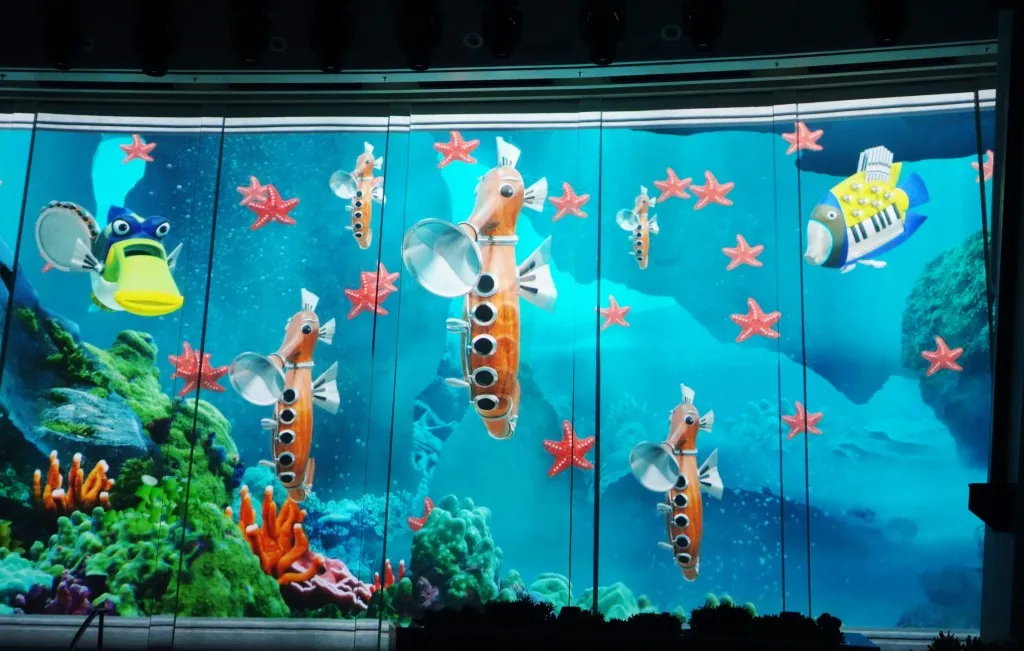 Or, perhaps you want to travel to outer space. Well, there is a Vistarama for that too! Actually, there were so many different backdrops used during the various nighttime activities it was tough to keep up.
As you can see, the roboscreens and the Vistarama are entertainment all by themselves! But, lucky for you, they are just the tip of the entertainment iceberg.
The signature show, StarWater, plays regularly throughout the cruise. This mix of music, dance, Vistarama, and the roboscreens will certainly be a highlight of your cruise. For me, this was my favorite show; it rivals anything you would see in Las Vegas or on Broadway.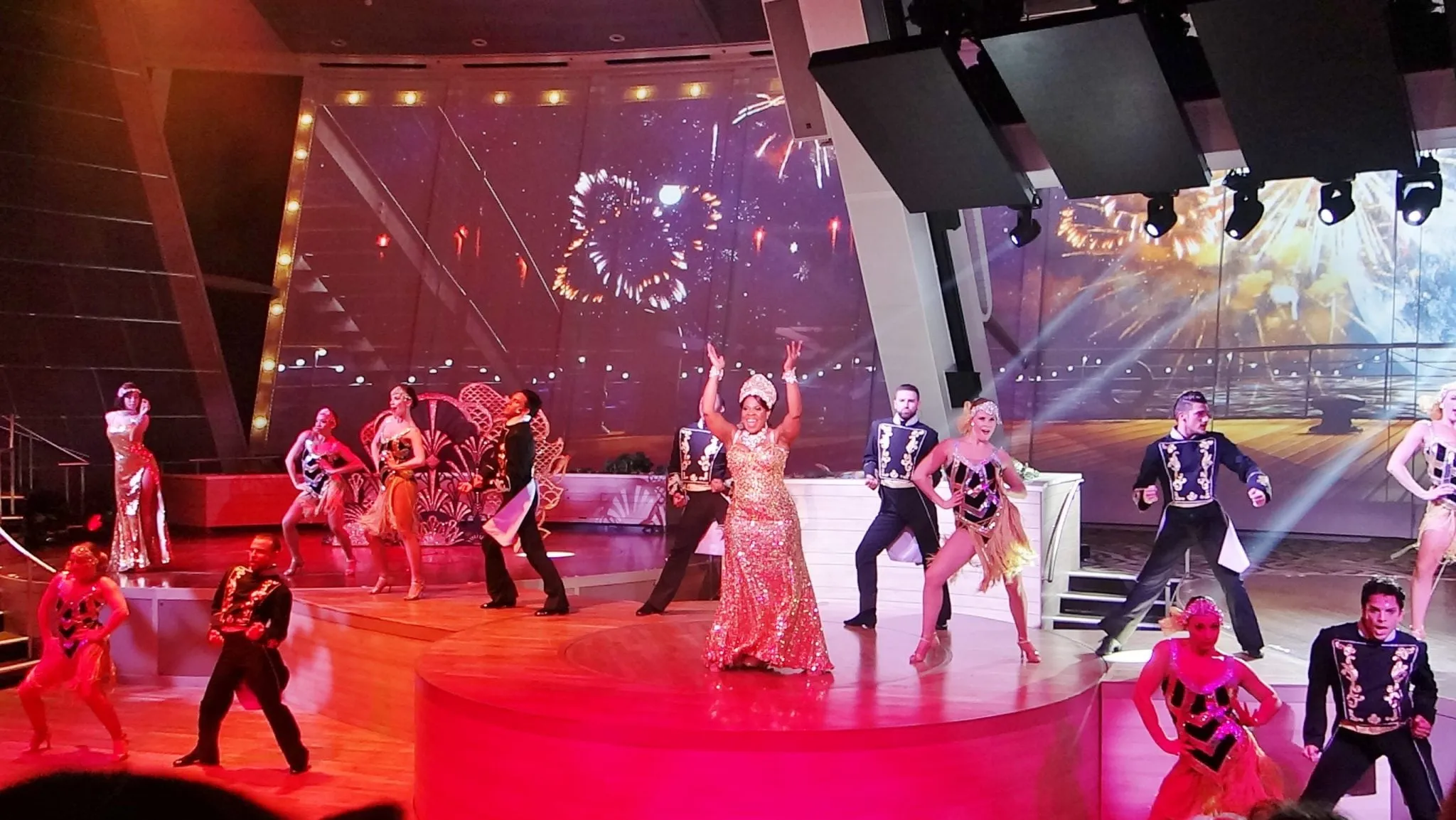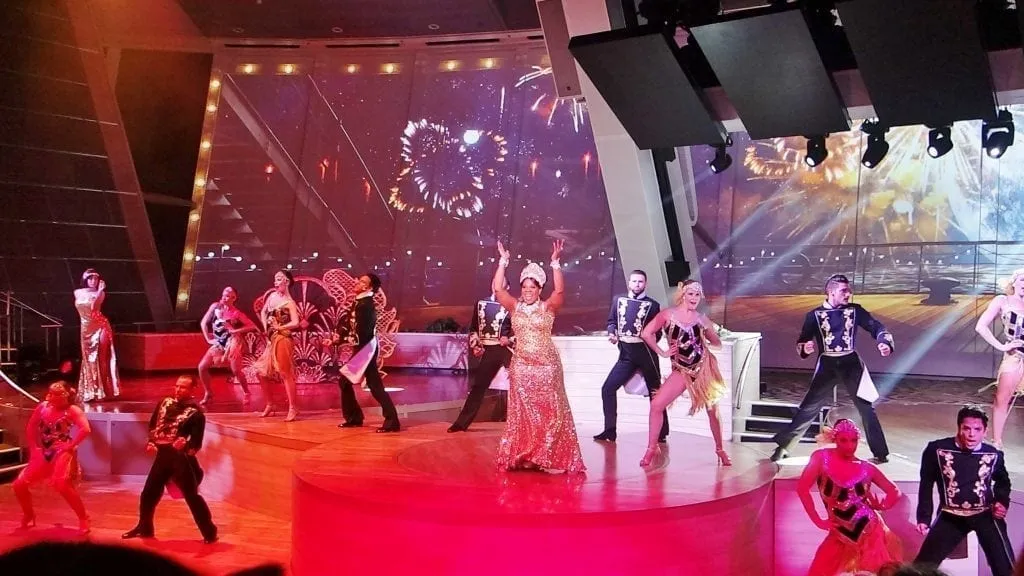 The design of Two70 allows the show to be very dynamic and immersive. The performers rise on stages from out of the floor, fall from the ceiling, and make their way through the audience, letting you get up close and personal with these talented entertainers. With a mix of modern music and a 1920's flare, StarWater tells a love story with plenty of drama and excitement.
After StarWater, Two70 becomes a night club, complete with plenty of dance music and good times, if you can handle it!
Comments
Have you sailed on Quantum of the Seas and enjoyed Two70? What was your favorite activity in this multi-purpose space. Drop us an anchor below and let us know about the entertainment spaces on your favorite cruise ships. It's Lights, Camera, Action!