It has been close to six months since we last traveled. Our Southern Caribbean cruise on Freedom of the Seas back in March was our last trip before the world changed. Of course, we were itching for a vacation badly. So, we made the last minute decision to take a trip to Disney World. Now, we are back and here to share all of our experiences traveling during the pandemic.
What it is Like Traveling During the Pandemic
We had been debating for a while whether we were going to travel this summer. Early in the season, we investigated some trips to resorts and other attractions that were within driving distance. A combination of inconsistent regulations, closures, and limited amenities quickly ended those plans. We then also cancelled a trip to Universal Studios back in June due to the uptick of cases in Florida at the time.
Now, we were determined to do something to culminate the end of the summer, as well as celebrate our anniversary. In normal times, even a short weekend cruise would have been the perfect getaway. Of course, these are not ordinary times.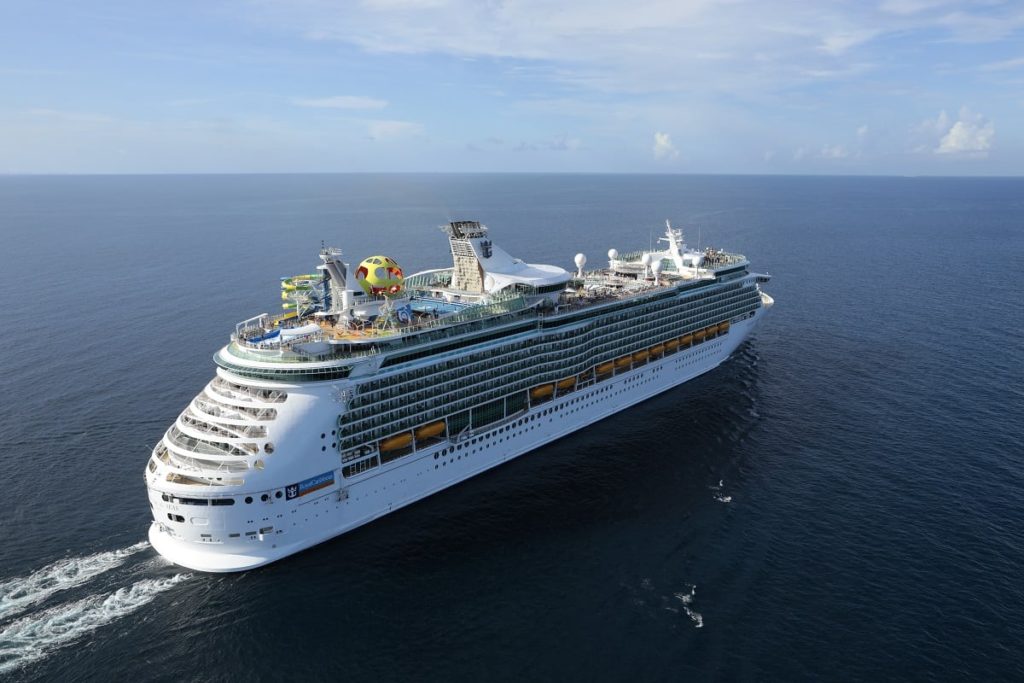 After researching and tracking trends, reading reviews, and following social media, we made the decision to end the summer with a trip to Florida. While it wasn't a cruise, we did set our sights on the most magical place on earth. That's right, we took a trip to Walt Disney World.
Full disclosure, we are both big kids at heart and love amusement parks. Yes, we do love to cruise, and this is a cruise blog, but we have also been to Disney World and other popular parks several times too. So, it was not too far of a stretch for us to make this decision.
Flying During COVID-19
Knowing that Disney World has several health and safety measures in place due to COVID-19, we were not too concerned about exposure in the parks.
Although, we were still a bit apprehensive about flying.
With the decline of travel, there were even more limited flight options from our small local airport. Still, we were able to secure a direct flight, first thing in the morning. As far as discounts, there really wasn't much difference in our flight fares.
Arriving at the airport about 2 hours before our flight, it was a ghost town. In fact, the ticket counter wasn't even open yet for us to check our bags, despite the airline having a few early morning flights.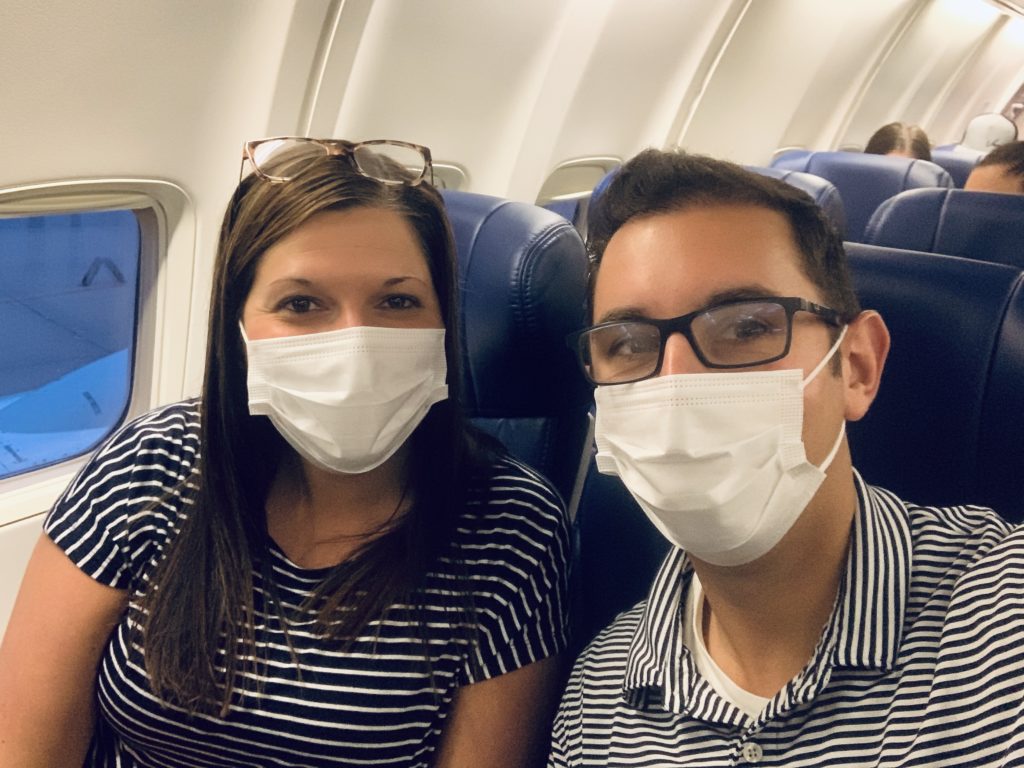 As we waited for the counter to open, travelers began to informally social distance themselves. Of course, we were all wearing our masks too as it is a state requirement. There were plenty of signage and announcements in the airport as well to remind people to keep face coverings on at all times.
When the ticket counter opened, the process for checking luggage and getting boarding passes was the same.
The security process was also the same, just much quicker and easier. Boarding was slightly modified into groups of 10 people at a time, and all middle seats were left open. This was true at both our departure point and when coming home from Orlando International Airport. The reduced crowds were really evident at MCO!
Being on a Plane Again
Our flight down to Florida was about half full with 61 passengers; whereas, our flight home had only 12 passengers. Wow!
Both flights were early in the morning, and while the airline claims that the planes are sanitized for 6 hours overnight, we did use disinfectant wipes to clean around our area. This will likely end up being a ritual of ours moving forward for some time.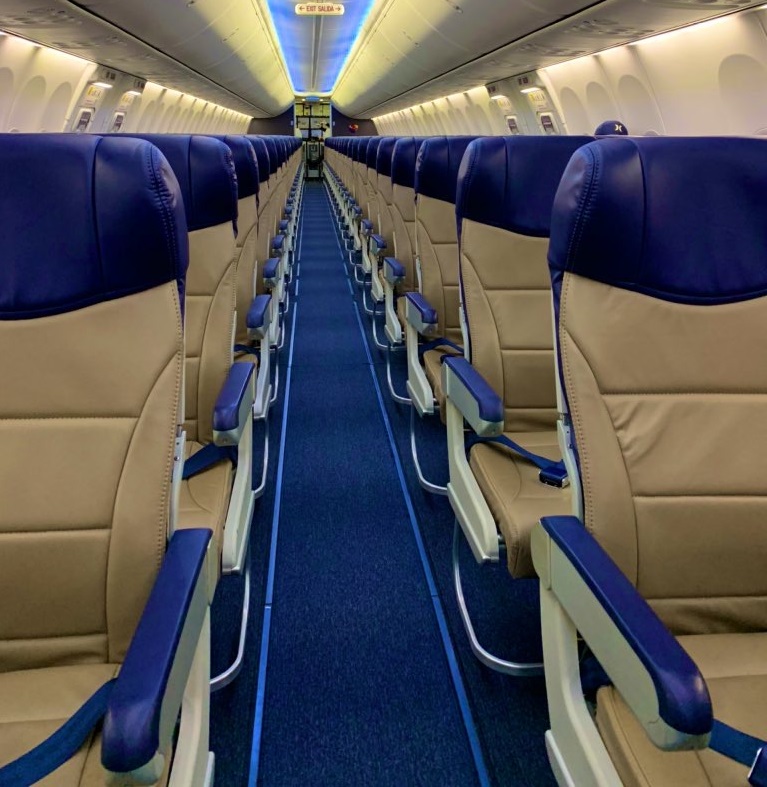 In addition, we made the decision to use medical grade surgical masks, instead of cloth masks while on the plane. Again, we suspect that we will likely continue this practice when flying in the foreseeable future.
Also, we made sure to turn on the air ventilation and took along a light sweatshirt in case we got cold.
In terms of face shields, we only saw one person on each of our flights that did have both a face covering and a shield.
Making a Few Small Changes
From our vantage point on the plane, it appeared that the other travelers were following the rules.
We did pass on the drinks and snacks, so we did not have to remove our masks at all. Normally, we are doing work on our laptops and drinking coffee, but we opted to forgo these typical practices and just take a nap instead given that the flight was only 2.5 hours.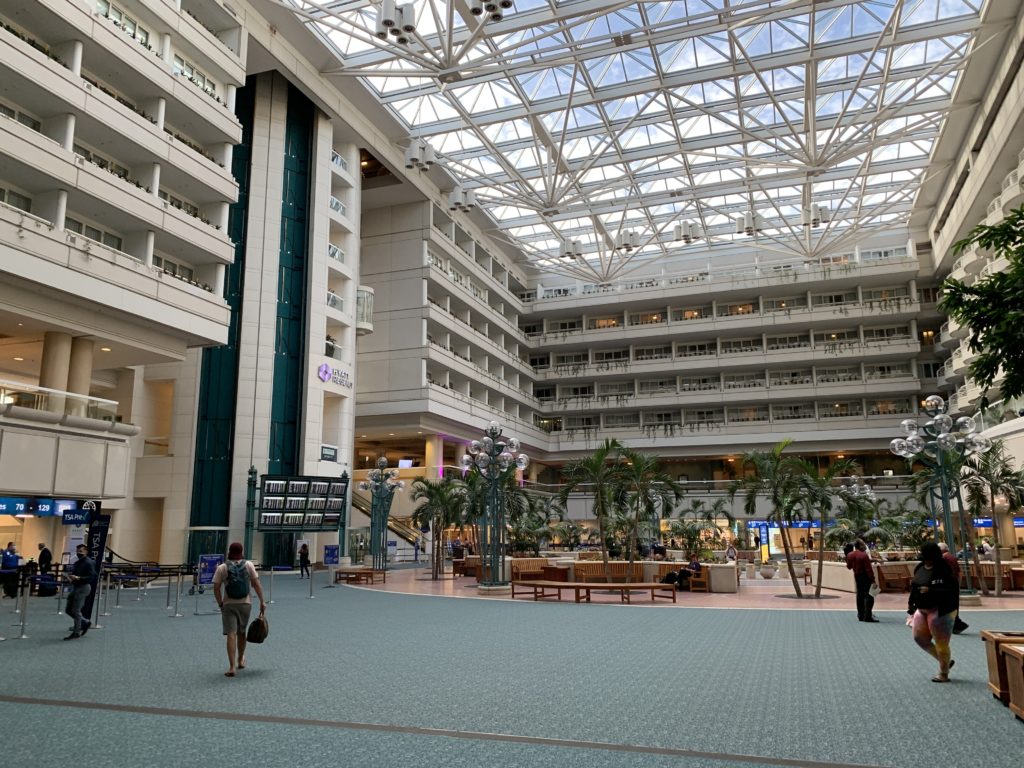 So, while we did slightly alter our behavior during flying, I wouldn't say that our routine was drastically changed. Was it different, yes, but it was not foreign or disruptive.
Taking these small precautions made us feel a bit more safe during the trip.
Our Experiences at the Resort During COVID-19
For our first experience traveling during the pandemic, we stayed on Disney property at one of its Deluxe Villas. Ahead of our stay, we were notified of several enhanced cleaning procedures and processes.
The resort had contactless check-in, all done through the Disney app, which meant we were able to go straight to our room when we arrived with no need to stop by the lobby desk.
Even before arriving at the hotel, we opted to have limited cleaning services, which we selected on the app as well. This service basically meant that the staff emptied the trash and replaced towels only during the duration of the trip.
Disney did a great job of structuring physical distancing at the resort, on transportation, and in the parks. From assigning us to certain seats on the buses to staggering occupied rooms in the resort, we felt comfortable and safe.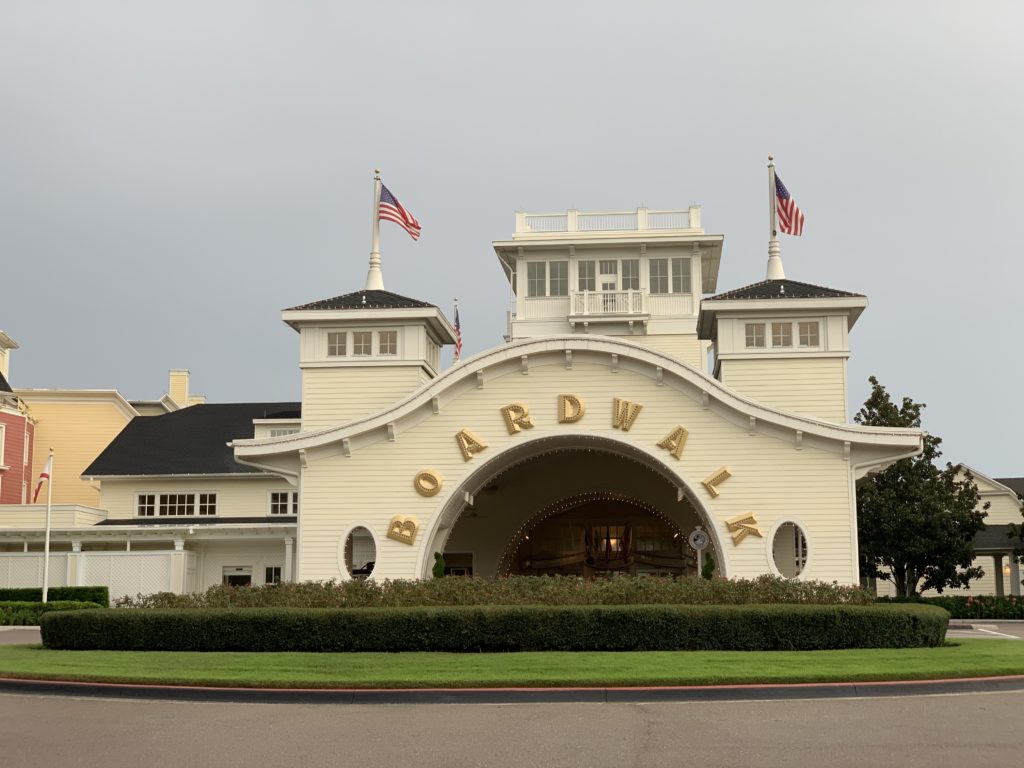 Still, when we arrived at the hotel, we used disinfectant wipes to thoroughly clean high touch points in our room. These included door knobs, handles, counter tops, table tops, and light switches.
We also regularly cleaned our items when returning from a day at the parks. This included wiping down our bags, magic bands, and phones. Before the trip, we scored some Lysol disinfected spray. So, we also sprayed down our shoes each night.
Being in the Disney Parks Each Day
Despite the state of Florida's regulations, all guests and staff on Disney property must wear face coverings at all times, unless actively eating or drinking while stationary. Most Disney cast members also wear face shields along with masks at the theme parks.
We are happy to report that there was great compliance with this requirement from the guests during our visit. Occasionally, we would see guests try to remove their masks for selfies, but most times, cast members were quick to remind individuals of the rules. Further, guests were not allowed to remove masks for professional photo stops or on the rides either.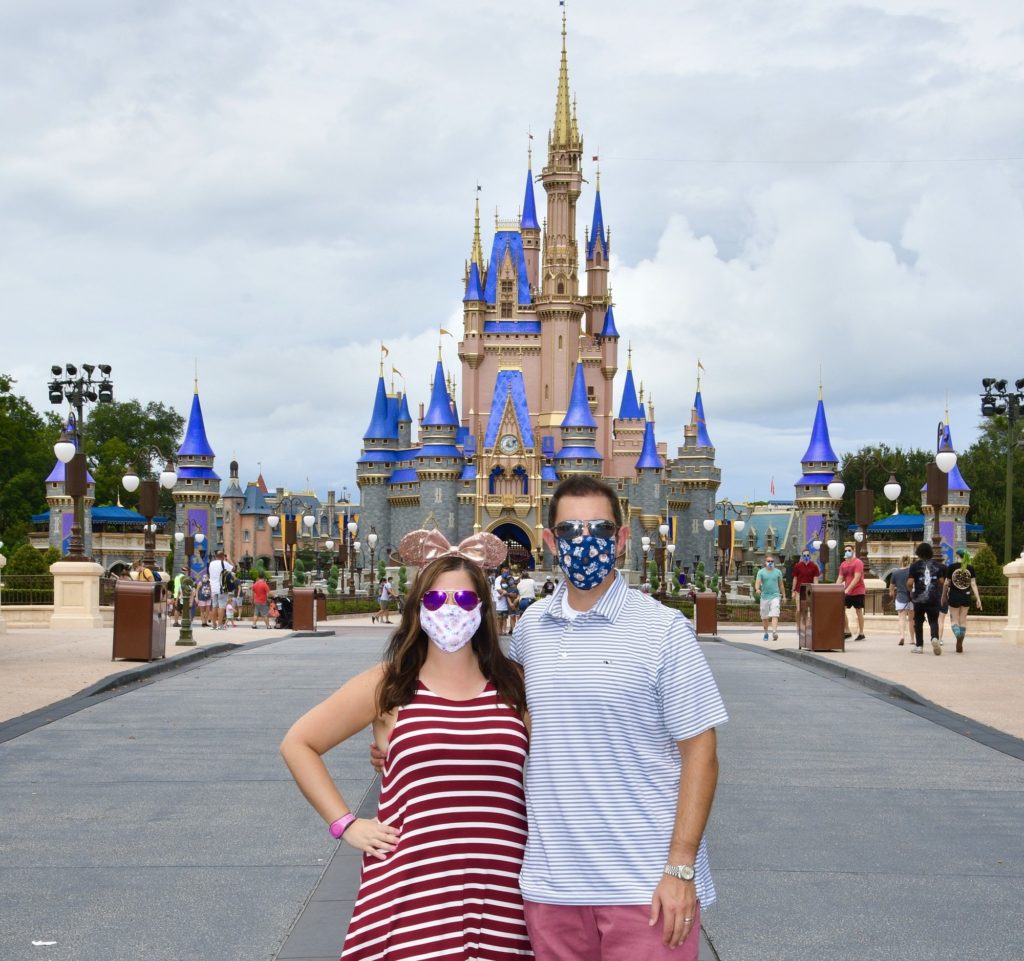 Coming from a state that has had a face covering requirement since April, we didn't mind. It was actually less bothersome for us to wear the masks all day than we thought, even in the 90 degree weather!
To be safe, we did pack extra masks each day when going into the parks. We also had enough masks to allow for a new one each day as they do get rather sweaty!
Throughout the theme parks, including restaurants and ride queues, there are markers to allow for proper physical distancing. Also, cast members are there to facilitate physical distancing and to remind guests to stay six feet apart. This does mean that sometimes you have to wait in line even to enter the gift shop!
Given the distancing measures in place, some activities were modified and/or omitted. This means there are currently no fireworks displays, character meet and greets, or live performances. Some ride queues were also modified to usher guests through typical pre-show holding rooms.
Further, we made sure to pack plenty of hand sanitizer, which we used often. There were sanitation stations throughout the park, including at most ride exits. Being cruisers, we are used to "washy-washy", so this was second nature to us.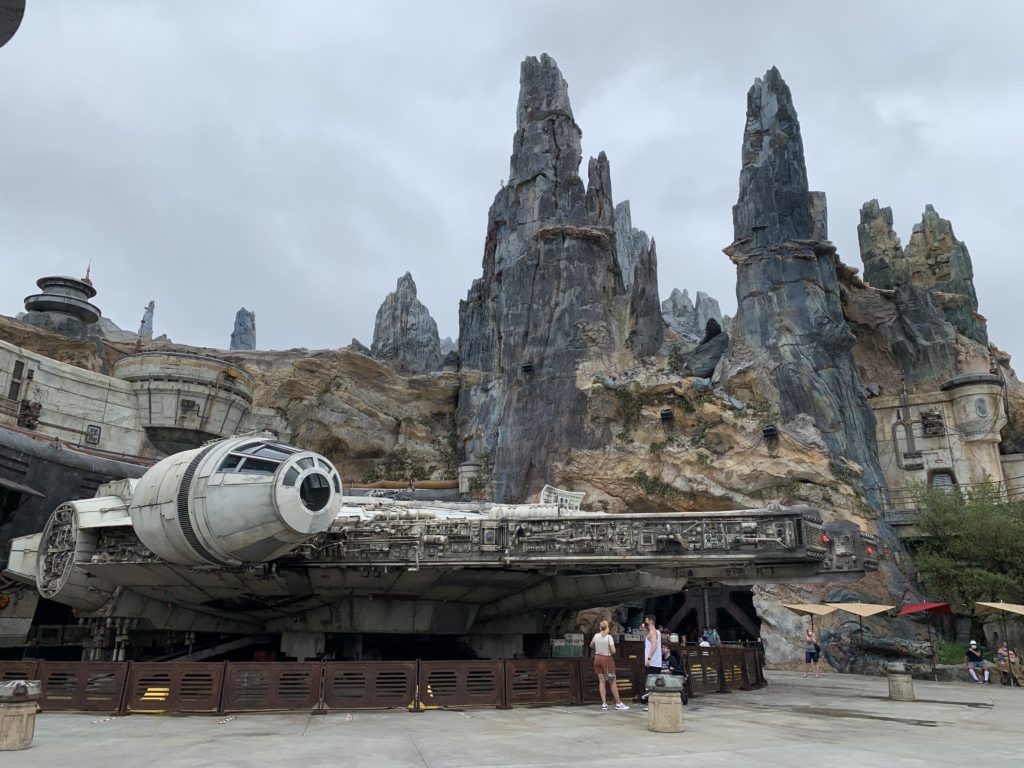 We also had sanitation wipes in our day bag for cleaning tables. Honestly, we inconsistently used these in the parks. We did not feel we had to use the wipes often, as there were cast members regularly cleaning tables between guests at most quick service venues.
Our Final Thoughts on Traveling During COVID-19
Traveling during the pandemic is different but not unmanageable. It is certainly possible to travel right now with some simple changes to your typical routines.
Throughout all aspects of our trip, we felt safe and secure. Of course, some of that responsibility fell on us. We made sure to adhere to the rules, had the proper supplies, and were prepared to handle different situations. Most importantly, we wore our masks and frequently washed our hands.
Do you need to be more cautious when traveling during COVID-19? Yes.
Thus, we recommend following all health and safety regulations issued by the CDC, as well as the policies in place at your destination of choice. From our visit to Disney World, it appears that those who are traveling now are doing their part to follow the rules.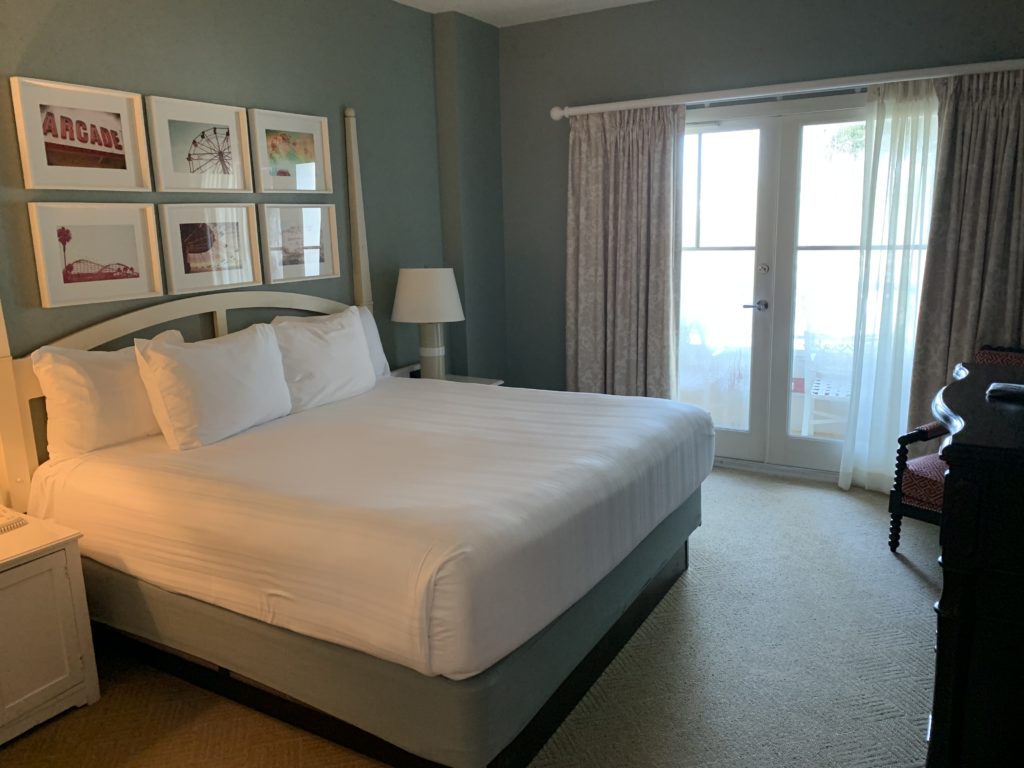 Of course, you have to consider your own health and risk tolerance. Being among crowds or out in public for extended periods of time can increase the likelihood of contracting the virus. For those with comprised immune systems or other health concerns, traveling might still not be worth the risk.
Further, you need to be aware of the travel restrictions in place, which are ever-changing. This includes your home state and the destination that you will be visiting.
In Massachusetts, there are several travel restrictions for those entering the state, visitors and residents alike. While some states are on the "acceptable" list, residents are required to either quarantine for 14 days or obtain a negative COVID test when traveling to high risk states such as Florida.
So, part of our pre-travel planning was locating a COVID-19 test site near Disney. Prior to returning home, we obtained a test at a local urgent care. We are happy to report that we received notification of our negative test the day after we returned home.
Overall, this trip was a very positive travel experience. It gave us hope that cruising could certainly follow a similar path to success. We look forward to hitting the seas at some point in the near future.
Comments
Are you willing to travel during the pandemic? Where would you go if you were to travel right now? Drop us an anchor below with your thoughts on vacationing during COVID-19.