There is so much we love about cruising. Still, each cruise line offers something different and unique. This is especially true with Windstar Cruises. While we typically sail on contemporary cruise lines, we were recently invited onboard Wind Surf to experience a seven-night Caribbean Celebrations cruise. There are definitely some things that make this cruise line standout when compared to the other brands. Find out all the details in our 7 Things to Love About Windstar Cruises.


The 7 Things to Love About Windstar Cruises
All-Inclusive Cruising
One of the best aspects of cruising with Windstar Cruises is the all-inclusive nature of the cruise fare. Unlike many other cruise lines, all food and basic beverages are included, except alcoholic beverages. You will never have to swipe your card for bottled water, coffee, espresso, or soft drinks.
All food, including 24-hour room service, is complimentary. This also includes specialty dining restaurants.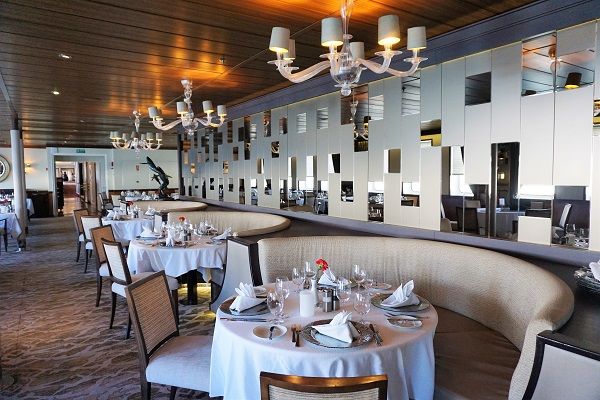 We highly recommend you make reservations at Candles, the line's signature steakhouse. If you want alcoholic beverages, the prices are very reasonable, and there are two beverage packages available for purchase.
Personalized Service
The staff onboard Windstar Cruises are some of the most attentive, friendly, and dedicated employees that we have encountered on any cruise ship. After only a few days, our "Barista" at the Yacht Club knew our coffee orders. The regular bar staff knew our drinks and even our stateroom number for processing our orders. At all venues throughout the ship, the staff was always ready to provide personalized service including dining venues, the spa, or the reception desk. It was a refreshing change from some of the mega-ships that we tend to cruise.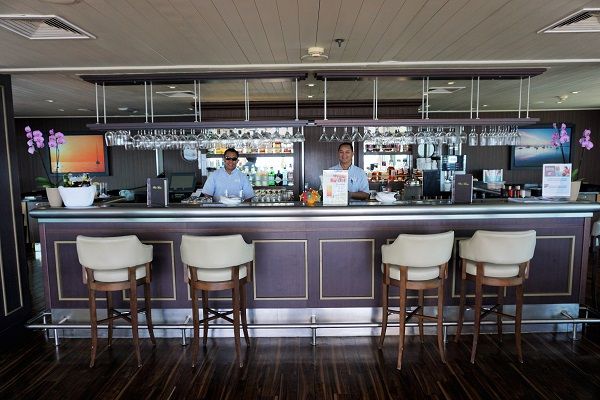 Unique Ports of Call
Cruising on Windstar Cruises is really about the ports of call. Yes, the ships provide you with all the amenities and comforts you would expect on a cruise ship, but many passengers sail with the line because of the distinct itineraries and ports of call. Even in the Caribbean, we were able to visit several of the less traveled islands onboard Windstar Cruises' Wind Surf.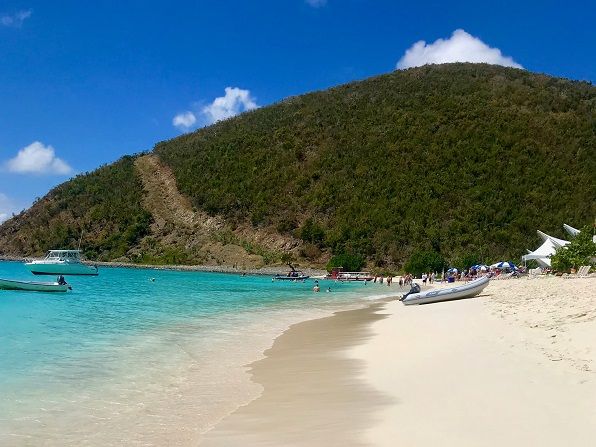 We discovered one of the best beaches in the region at White Bay on Jost Van Dyke. We were even able to hobnob with the rich and famous on St. Barts. With wonderful destinations all over the globe, there is bound to be a Windstar Cruises' ship sailing to any intimate location at which you want to vacation.
Celebratory Sailaways
Another thing we loved about Windstar Cruises is the line's signature sailaway. On Windstar's sailing vessels, the sailaway includes the hoisting of the sails to the tune of 1492 Conquest of Paradise. Experiencing this will make you feel like a true adventurer.
Even if you are on one of the lines' other yachts, sailaway is still special as there is often a champagne toast or a rum punch send off. It is certainly a more sophisticated party than the often bombastic affairs you will experience on larger ships. While we don't mind the louder celebrations, the Windstar Cruises' approach is a great throwback to the silver era of cruising.


Signature Experiences
Along with the sailaway, every Windstar Cruises' voyage has additional signature experiences that you will not find with other brands. Unlike cruise lines that have their own private islands, every Windstar cruise includes a private party on shore. This means that you will enjoy a private function while still getting to experience your destinations. Our beach party on Virgin Gorda included live music, a barbecue, and all of the marina equipment so we could enjoy the crystal clear waters. We even had an evening party at Foxy's while tendered in Jost Van Dyke.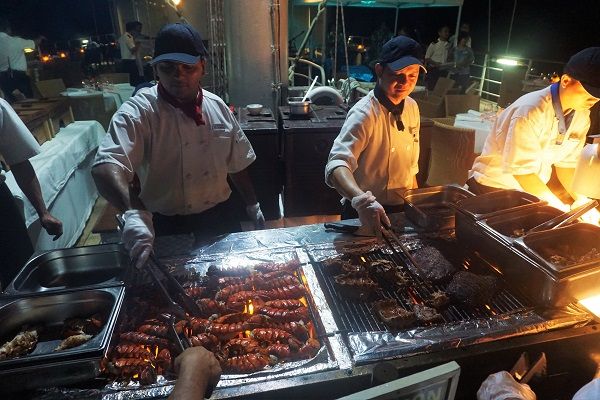 Also, one evening of the cruise, the line hosts its signature deck party. This is not your typical under the stars event. Along with drinks and live music, you can indulge in one of the best meals all cruise. A freshly roasted pig, grilled lobster tails, and some of the best seafood paella we have ever tasted are just some of the options at this event. This is one event not to be missed.
The Exclusive Marina
All 6 Windstar Cruises' ships offer cruisers the opportunity to get closer to the water with the Marina. This additional "deck" opens up at the back of the ship and offers a variety of water-based fun. Use of all the sports equipment is included in the cruise fare, including kayaks, snorkeling equipment, a water trampoline, and even a zodiac boat.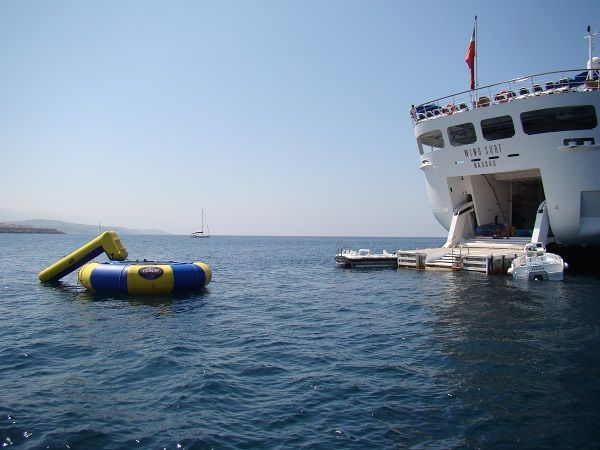 Of course, you can also bring your own equipment and use this platform to dive right into the water off the back of the ship. How cool is that? Let us see you do that on a mega-ship!
An Open Bridge
For a luxury cruise line, Windstar Cruises is anything but stuffy. In fact, there is a very casual and relaxed feeling between the guests and the crew. This is even true with the senior officers, who are very visible throughout the ship. You can even get up close and personal with the team in the bridge. All Windstar Cruises' ships have an open bridge policy while at sea. That's right, you can walk in, ask questions, and review navigational courses. This is just another small detail that separates the cruise line from the rest.

Comments
Have you sailed with Windstar Cruises? What do you love about this boutique cruise line? Drop us an anchor below to share your experiences with Windstar Cruises.