With Summer in full swing, there is no better time than the present to book a Fall getaway. With favorable weather conditions, the Fall is a great time of year to explore many locations across the globe. If you need some inspiration, we give you our picks for the 9 Best Fall Cruises to Take in 2019.
The 9 Best Fall Cruises to Take in 2019
Set Sail on Carnival Sunrise to Canada and New England
The former Carnival Triumph has been completely re-imagined, and re-named, and has recently set sail as Carnival Sunrise.
This "new" ship is now home to all your favorite Carnival Cruise Line dining and bar options like Guy's Burger Joint, Guy's Pig & Anchor Smokehouse, the Seafood Shack, the RedFrog Pub, and more. It also features all the entertainment that you know and love about the brand including Hasbro Game Show, Playlist Productions, the Punchliner Comedy Club, Suess at Sea for the kids, a ropes course and the Waterworks waterpark, and many other Fun Ship 2.0 concepts.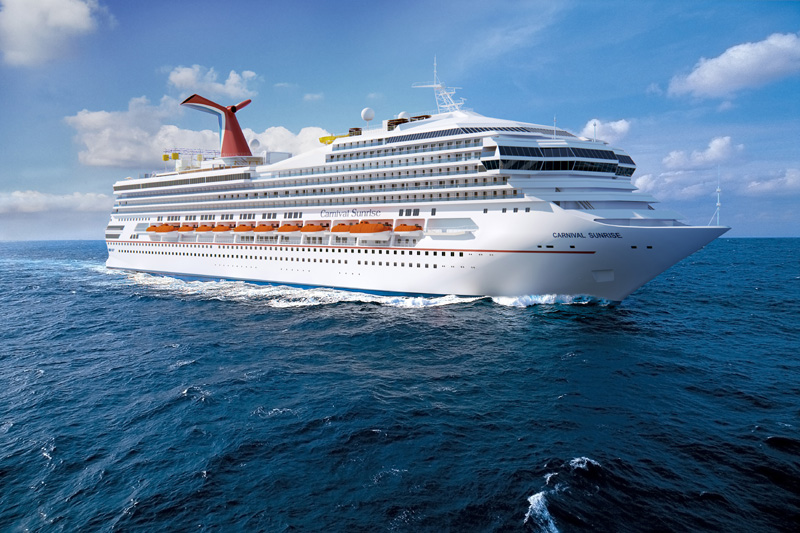 Carnival Sunrise will be offering 7-day cruises to Canada/New England from New York on select dates in September and October of this year. With stops in popular ports of call like Boston, MA; Portland, ME; St. John, New Brunswick; and Halifax, Nova Scotia, there is no better time to explore this area than the fall season.
Depart from Boston on Royal Caribbean's Serenade of the Seas
If you are going to visit New England this Fall, why not depart from our homeport of Boston, MA. With so much history and sightseeing to offer, this city is the perfect place to spend a few pre-cruise days before hopping on the cruise ship to head north for the fall foliage.
Possibly the most iconic tour is the Boston Freedom Trail where you can re-trace history along this 2.5 mile walk visiting the Boston Common, Paul Revere's House, the Bunker Hill Monument, and more. You could also tour the Harpoon Brewery, Fenway Park, the North End for some fantastic Italian food, or the Boston Children's Museum.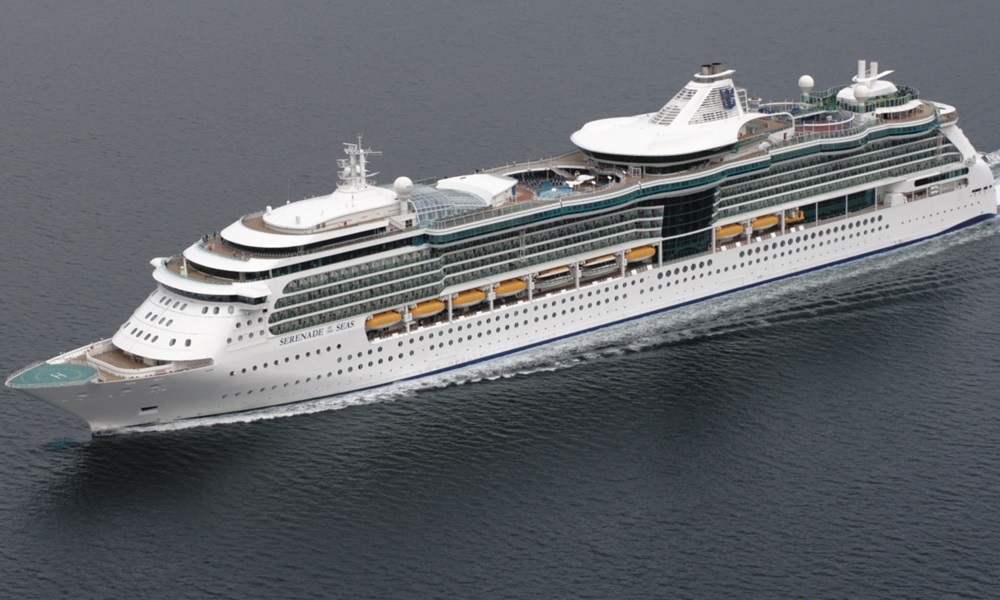 Serenade of the Seas offers 7-night Canada/New England cruises as well. This itinerary offers stops in Portland and Bar Harbor, Maine; St. John, New Brunswick and the Bay of Fundy; and Halifax, Nova Scotia.
While you might be cruising mostly for the ports of call, Serenade of the Seas still offers a high quality Royal Caribbean experience. With cruiser favorites like Chops Grill, Izumi, Park Cafe, and the Schooner Bar, as well as nightly main theater entertainment, there will be plenty to keep you busy day and night.

Christen Norwegian Encore
Be among the first guests onboard Norwegian Cruise Line's newest ship, Norwegian Encore, debuting this Fall. This final ship in the Breakaway-Plus class will be ushering in some of the most innovative attractions at sea.
Featuring the longest race track at sea, a virtually-enhanced laser tag course, immersive virtual reality rides in the Galaxy Pavilion, the Tony Award-winning musical Kinky Boots with original music from Cyndi Lauper, and the new Italian restaurant Onda by Scarpetta, what's not to love about Norwegian Encore? Of course, this ship will also have familiar favorites like the Waterfront, Cagney's Steakhouse, the Sugarcane Mojito Bar, the Cavern Club, and the Haven.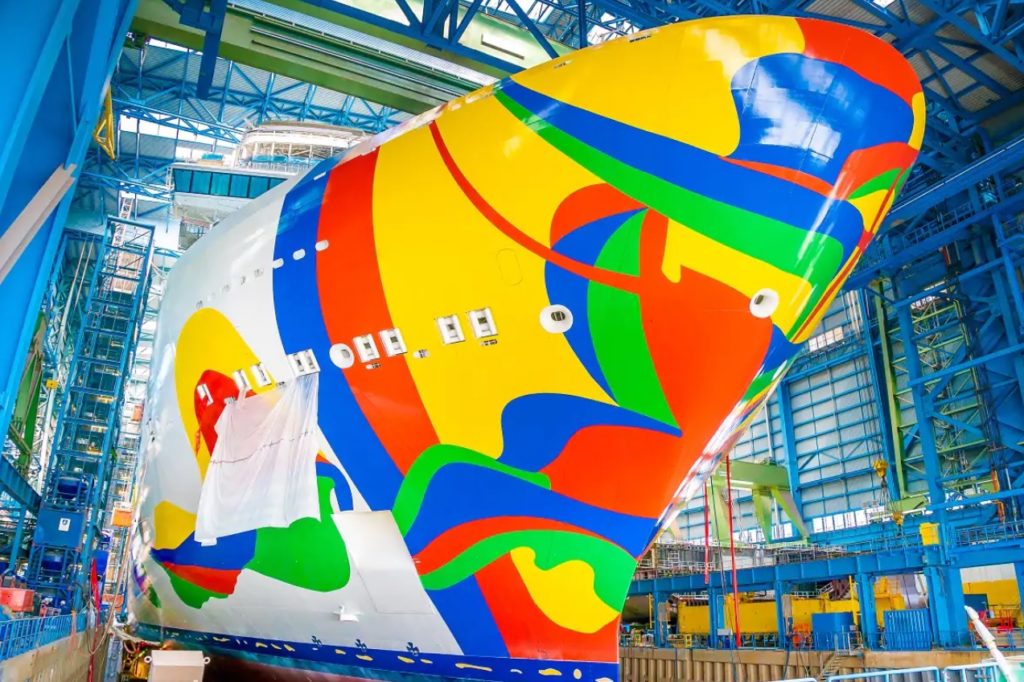 When she debuts in November, Norwegian Encore will sail 7-day cruises to the Eastern Caribbean visiting San Juan, Puerto Rico; Tortola, BVI; and St. Thomas. This itinerary offers cruisers the opportunity to explore historic forts, beautiful beaches, and natural wonders all on the same trip. Norwegian Encore will sail from NCL's brand new terminal in Miami, Florida.
Be the First to Sail the Mediterranean on Sky Princess
The newest ship in the Princess Cruises' fleet, Sky Princess, will set sail this Fall. Sky Princess will offer a few select Mediterranean voyages in October and November before making her journey to Fort Lauderdale. These itineraries include a 7-day trip from Rome to Barcelona, a 7-day roundtrip Rome, a 7-day Athens to Barecelona, as well as various 14-day combinations. These sailings will visit iconic ports of call like Florence/Pisa, Sicily, and Naples, Italy; Kotor, Montenegro; Corfu, Greece; and more.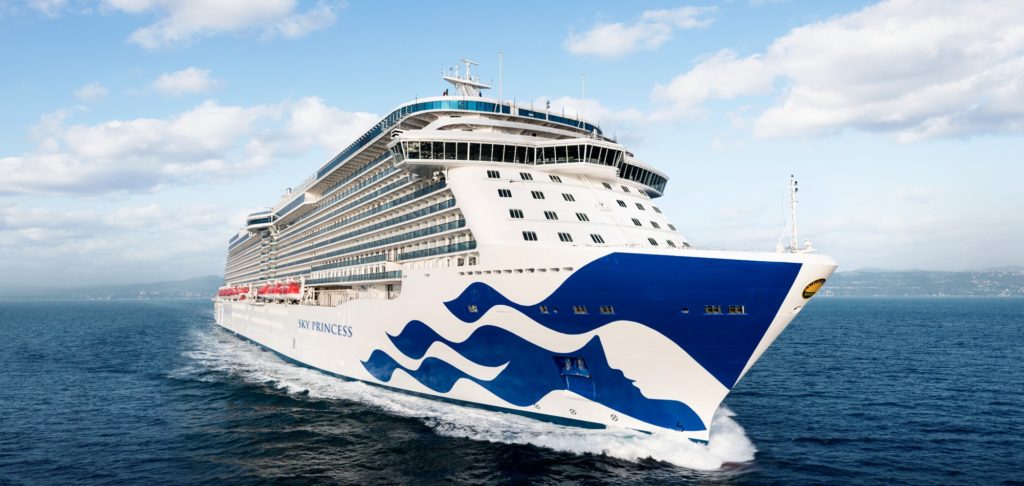 The Sky Princess is set to deliver all the amenities and signature experiences of the other Royal-class ships including the Princess MedallionClass experience, luxurious staterooms with some of the largest balconies at sea, exclusive restaurants by Michelin-star chefs, and quality entertainment. From dining options like the Salty Dog Grill, Sabatini's Italian Trattoria, and the Crown Grill steakhouse, to shows like Princess Live!, The Voice of the Ocean, and the new Take Five jazz bar, this ship will satisfy all your senses.
Take a Weekend Getaway to Perfect Day at CocoCay
If you are looking for a long weekend getaway this Fall, look no further than Perfect Day at CocoCay. Hop onboard the newly amplified Mariner of the Seas sailing from Port Canaveral or the newly amplified Navigator of the Seas sailing from Miami to enjoy the hottest new private island destination in the Bahamas. With Labor Day and Columbus Day right around the corner, you might not even need to use any vacation time for these 3 and 4-day cruises.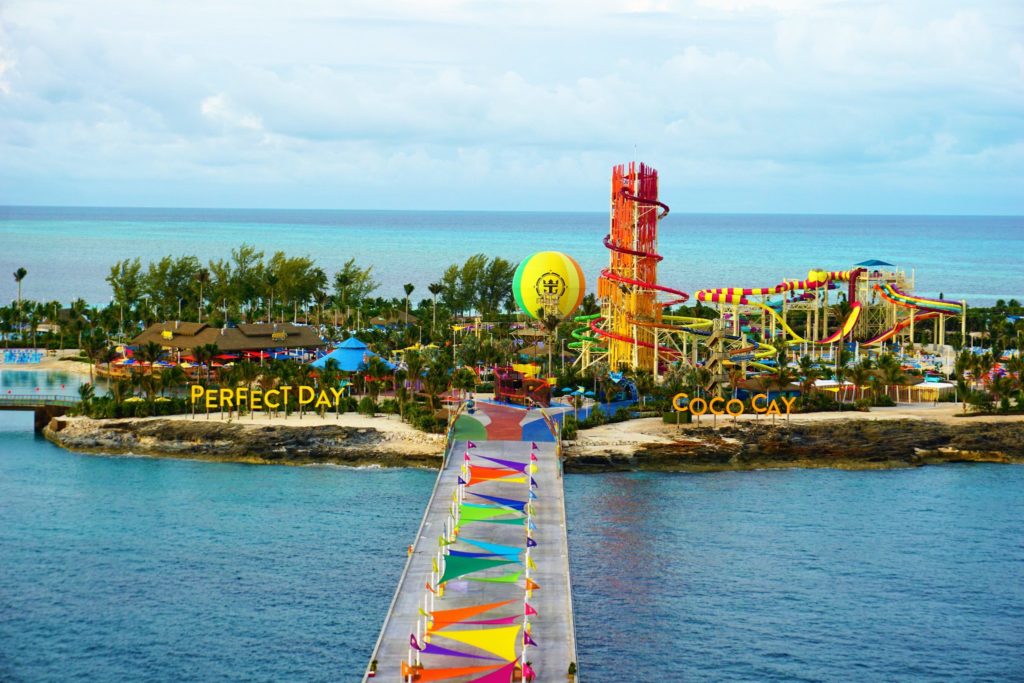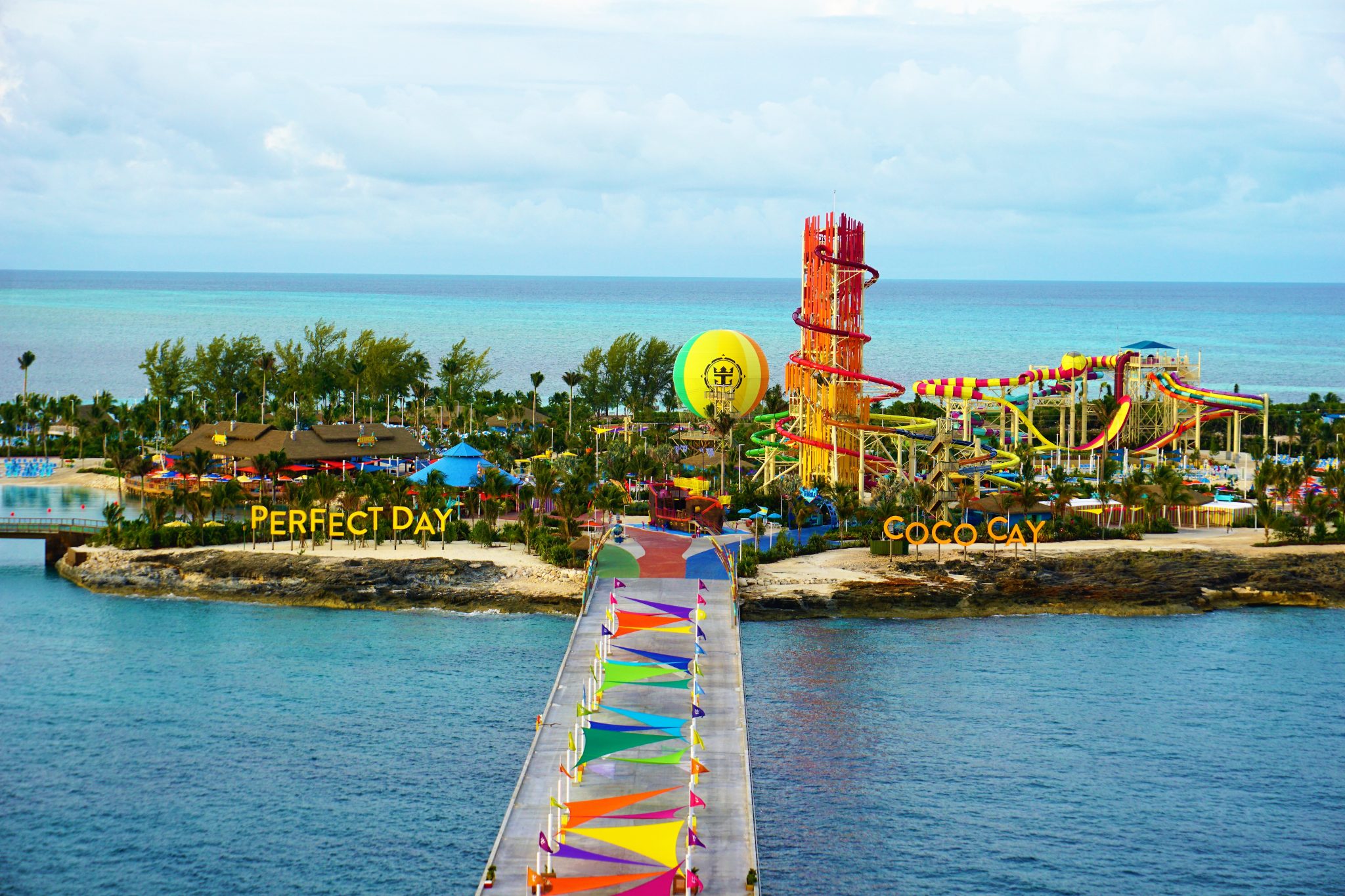 Perfect Day at CocoCay is Royal Caribbean's newly transformed private island in the Bahamas. With the largest freshwater pool in the Caribbean, expansive beachfront with plenty of complimentary loungers and umbrellas, upgraded dining options, and new shore excursions, you can certainly weekend like you mean it.
Though an additional charge, CocoCay also offers a helium balloon ride, a zipline course, and the one of a kind Thrill Waterpark. This waterpark is home to 13 waterslides, including the tallest slide in North America. Are you ready to earn your bragging rights?

Discover MSC Cruises' Ocean Cay
The newest cruise line private island destination is set to open this Fall. The long anticipated Ocean Cay Marine Reserve from MSC Cruises will offer eco-friendly shore excursions like snorkeling, kayak tours, and even a sunset champagne sail. The island will also feature 8 beaches surrounded by soft sand and crystal clear waters. Not to mention, there will be plenty of food and drink options as well including Springer's Bar, the Lighthouse Bar, a coffee bar and soft serve ice cream shop, and the Seakers Food Court.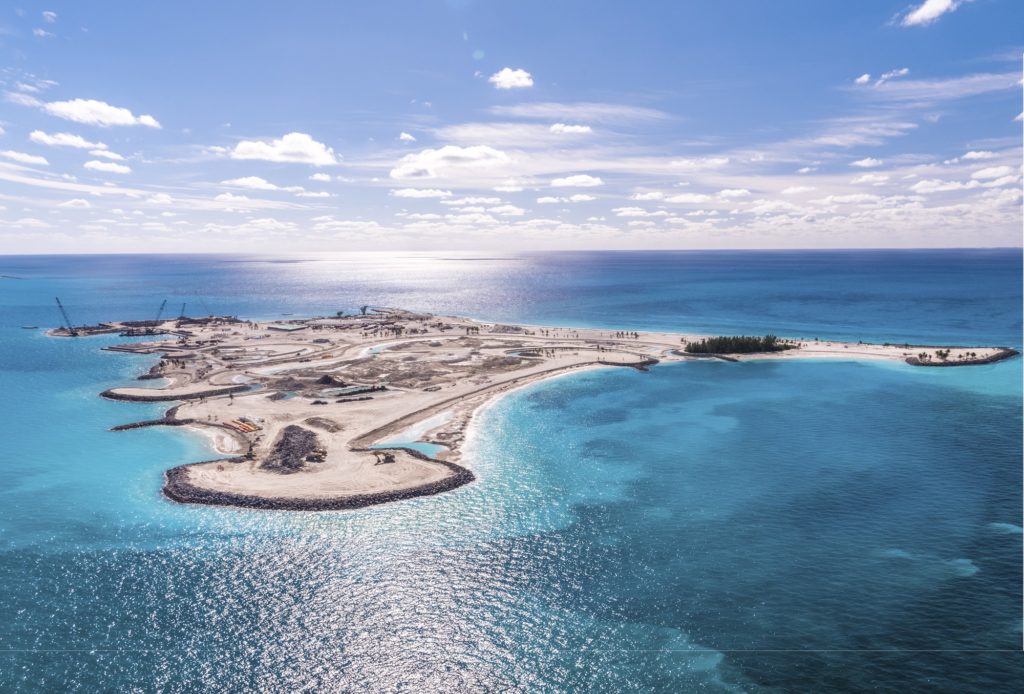 MSC Seaside, the newest ship sailing in the Caribbean year-round, will begin offering cruises to this exclusive destination in November. MSC Meraviglia will also make her way over to the states this Fall and will be the first ship to call in Ocean Cay.
These ships will offer various Eastern and Western Caribbean itineraries visiting other popular stops like Cozumel, Jamaica, Puerto Rico, and St. Thomas, in addition to Ocean Cay. When you are not enjoying the ports of call, MSC Seaside and Meraviglia offer plenty of dining and entertainment options too.
Celebrate Halloween on the High Seas with Disney
This Fall, why not celebrate Halloween (and my birthday!) onboard a Disney cruise? Disney Cruise Line's signature Halloween on the High Seas is celebrated fleet wide and is full of treats for the whole family. Available on most itineraries from late September through October, you can be part of all the Halloween-themed entertainment including Mickey's Mouse-querade Party, Tim Burton's The Nightmare Before Christmas Sing and Scream, and even an adults-only costume party.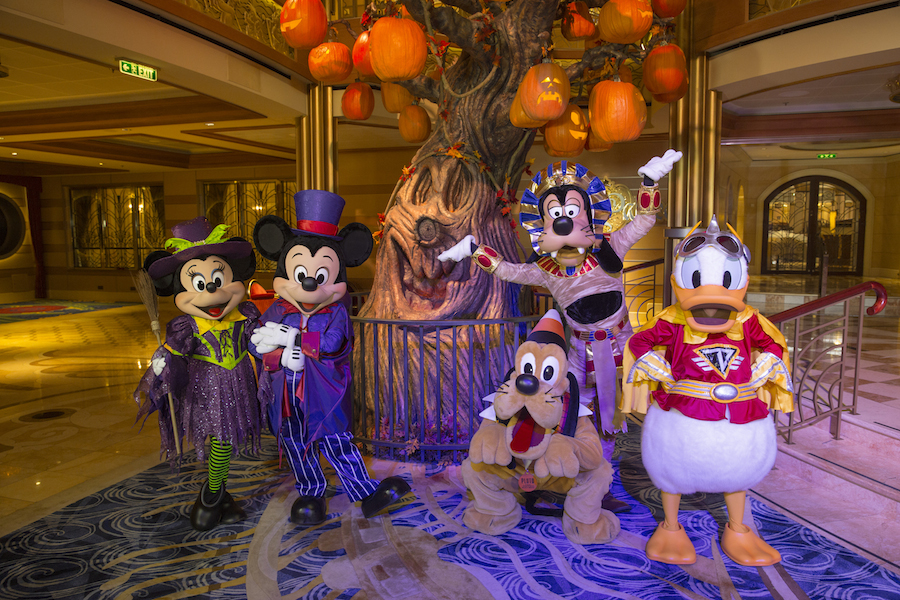 There are multiple itineraries available sailing from various departure points. Disney Dream is offering 3 and 4-day cruises from Port Canaveral with a stop at Disney's private island in the Bahamas, Castaway Cay. Disney Fantasy is sailing week long cruises from Port Canaveral on various Eastern and Western Caribbean routes.
Disney Wonder is offering a variety of cruises from San Diego to Mexico ranging from 2 days to 7 days in length. Finally, Disney Magic will celebrate Halloween during various departures from New York. These sailing will visit either Bermuda, Canada/New England, or the Bahamas. No matter which ship you choose, you are sure to have a spook-tacular time.
Explore the Baltic with Viking Ocean Cruises
We will set sail on our first Viking Ocean cruise this Fall and so should you! With 6 ocean cruise ships now in the fleet, Viking Cruises offers a variety of itineraries exploring various corners of the globe. Whether you want to explore the Baltic, the Mediterranean, the British Isles, or beyond, you can do so in style and luxury onboard Viking Ocean.
Our pick is the Viking Homelands cruise which journeys from Stockholm, Sweden to Bergen, Norway to explore the Northern European capitals, including an overnight stay in St. Petersburg, Russia, as well as the Norwegian fjords. We will be cruising on the newest ship in the fleet, Viking Jupiter, and can't wait to bring our experience to you!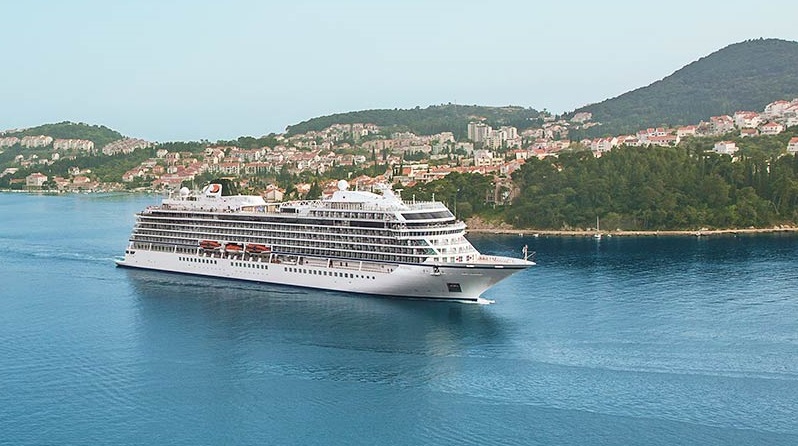 These destination-focused itineraries compliment the unparalleled service and inclusive nature of the cruise line. These small 930-passenger vessels boast state of the art technology and all veranda staterooms. On a Viking Ocean cruise, you will enjoy a free tour in each port of call, WiFi, no up-charges for specialty dining, complimentary room service, included beer, wine, and soft drinks at meals, specialty coffees and bottled water, access to the thermal suite, and more without any nickel and diming.
Travel Back in Time to the Galapagos on Celebrity Flora
Trace the footsteps of Darwin as you sail the Galapagos on the first luxury vessel that was purpose built with destination in mind. Celebrity Flora is the newest ship in the Celebrity Cruises' fleet.
This 100 passenger ship features all suite accommodations, an outward facing concept to bring you closer to your ports of call, state of the art technology that allows you to control settings in your room with the touch of a button (similar to Celebrity Edge), and menus created by Michelin star chefs. Not to mention, all cruises to the Galapagos are all inclusive, meaning that all meals, drinks, daily guided excursions, WiFi, and gratuities are included in the price of your cruise fare.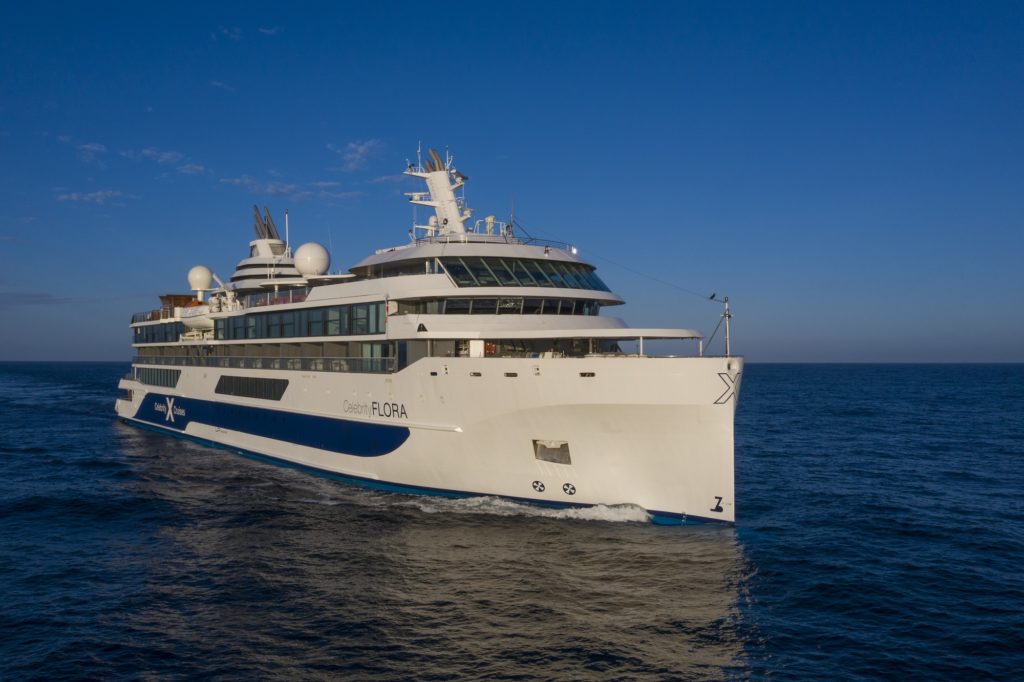 This Fall, Celebrity Flora is offering 10-night Inner Loop and Outer Loop intineraries as well as 16-night voyages that include Machu Picchu departing from Quito, Ecuador (at discounted prices!). This once in a lifetime trip will visit multiple islands, each with its own unique landscapes and wildlife for you to discover during various tours from hiking, to swimming/snorkeling, and zodiac expeditions. While we might not get to it this year, the Galapagos is definitely on our bucket list.
Comments
Do you have a cruise booked on any of these ships? Where are your Fall 2019 travel plans taking you? Drop us an anchor below to share your experiences visiting any of these wonderful destinations.