As the world's largest cruise ship, Symphony of the Seas delivers plenty of onboard activities for cruisers of all ages. In fact, there is so much Symphony of the Seas entertainment that trying to fit everything in during your cruise could be a challenge. That is why we have put together this Symphony of the Seas Entertainment Guide.


Symphony of the Seas Entertainment Guide
Included in the Symphony of the Seas Entertainment line-up are 5 shows that are available for pre-booking:
Hairspray! The Broadway Musical
Flight: Dare to Dream
Hiro
Stand-Up Comedy
1977
It is highly recommended that you reserve these shows as they fill up quickly. Reservations can be made prior to boarding using the online cruise planner (approximately 90 days prior to sailing though this time frame can vary) or immediately upon boarding the ship.
Only those with reservations will be scanned into the shows approximately 30-45 minutes prior to showtime. If you do not have a reservation, you will need to wait in a standby line which is allowed into the venue 10 minutes before the show begins.
Main Theater Entertainment
Hairspray! The Broadway Musical
Big hair and plenty of fun are in store when you gather around the tube to watch the Corny Collins show in this award-winning musical. This 90-minute production will certainly put a smile on your face and perhaps even have you dancing in the aisles.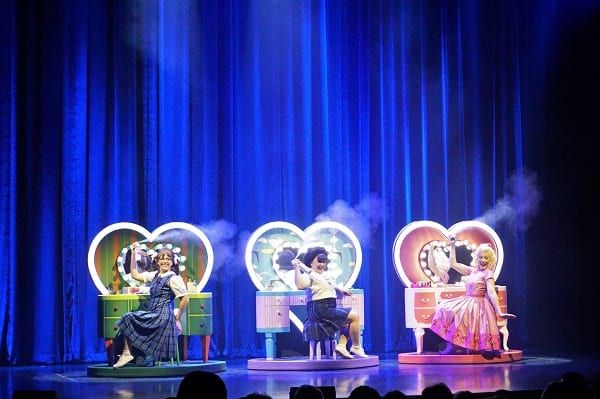 On our Western Caribbean cruise, Hairspray! played on two evenings, Nights 2 and 3, with two showings on night 2 (3:30 pm and 9:30 pm) and 1 showing on night 3 (10:30 pm).
Flight: Dare to Dream
This 50-minute Royal Caribbean original production is perhaps one of our favorite shows at sea.
Detailing man's desire to leave the ground and soar, this production includes several state of the art stage props including an airplane that takes flight over the audience. A great mix of modern music and storytelling will have you engrossed in this "interactive" trip through time and space.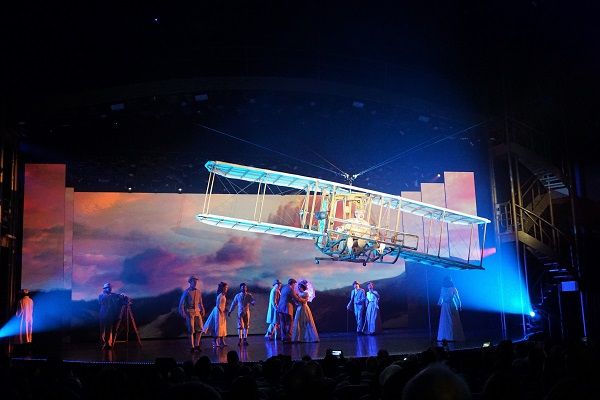 On our cruise, the show was performed on two nights. On Night 4, there was one 9 pm show, and on Night 5 8:30 pm and 10:45 pm showings were available.
Headliner Entertainment
Royal Caribbean often offers at least one headliner act on a 7-night cruise. Normally, this show needs to be pre-booked on an Oasis-class ship. On our specific cruise however, the headliner act was on night 1, and no reservations were required.
For this sailing, the acapella group Mo5aic offered an 8:30 pm and 10:30 pm show. Lasting 50 minutes, these talented singers offered unique takes on well-known songs.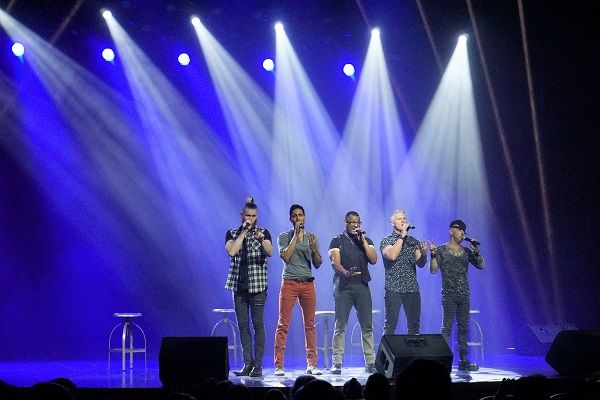 Also in the main theater, there were two comedy shows on the final evening. Featuring the same two comedians who performed in The Attic, this show was first come, first serve. The later performance is an Adult Comedy show and not recommended for children.
The Aqua Theater
Hiro
A mix of martial arts, Olympic trained acrobats, high-diving feats, and aerial stunts combine in this immersive show occurring three nights of your cruise. On nights 2 and 4, there was a 7:30 pm and 9:30 pm production. On night 5, there was an 8:45 pm and 10:15 pm production.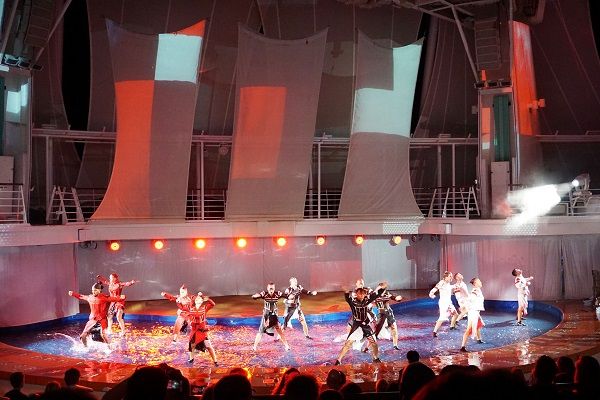 As the war between rival clans emerges, Hiro challenges your notion of what is right and wrong. It also pushes the limits of at sea entertainment. This technologically enhanced show is a 50-minute production full of daring feats. Don't forget to look up! Due to the nature of the performance, Aqua Theater shows are very weather dependent.
Aqua Nation
One surprisingly fun show that you can not book pre-cruise is Aqua Nation. This 35-minute high energy, non-stop spectacle occurred on Night 6 and 7 of our cruise. With showtimes at 7:30 pm and 9:30 pm on night 6 of the cruise and a 5 pm matinee on night 7, you will want to find time to check out this show. Of note, if any Hiro shows get rescheduled, some Aqua Nation shows may be eliminated.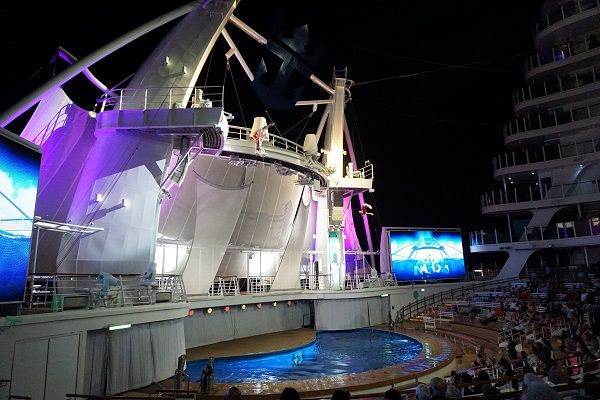 The cast of divers, acrobats, and dancers leave nothing behind in this non-stop, stunt-filled show that will have you holding your breath as you marvel at the skilled athletes who are performing on a moving cruise ship!


Studio B
A journey through time, this ice show ushers in the return of Tempus, who debuted in the ice show 1877 on Harmony of the Seas. This performance was shown on three nights of the cruise. On Night 1 and Night 3, there were both 8:30 pm and 10:30 pm shows. On Night 6, cruisers could watch a 5 pm matinee.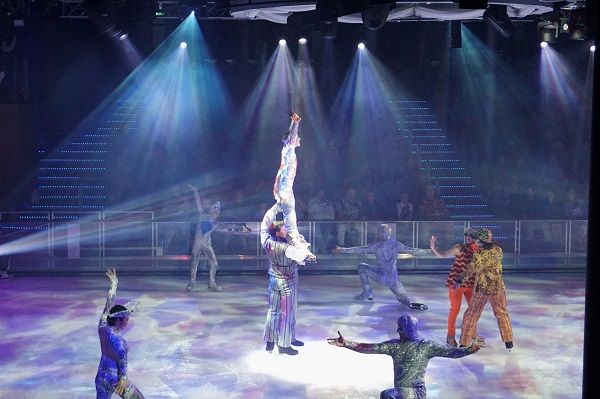 In this 45-minute "sequel" to the show on Symphony's sister ship, Tempus has arrived in London, England just in time to catch a thief who has stolen the Queen's Crown Jewels. A chase through time and cultures ensues in a digitally enhanced production, complete with a drone light show, that you can only find on Royal Caribbean ships.
iSkate 2.0
Get ready to rock in this high-energy skating show. Occurring on Night 4 at 8:30 pm and 10:30 pm and Night 7 at 5:00 pm, this 35-minute show features the skate team performing routines that they choreographed themselves. Set to some classic tunes, the rink comes alive as all of the performers are given the chance to shine. Watch in awe as they gracefully skate to songs from rock bands like Queen and AC/DC.
The Attic
Adult Comedy
You can laugh out loud almost every night of the cruise with this 45-minute show. Featuring two comedians, the Attic offers Adult comedy at 9:00 pm and 10:45 pm on Nights 1, 2, 3, 4, and 6.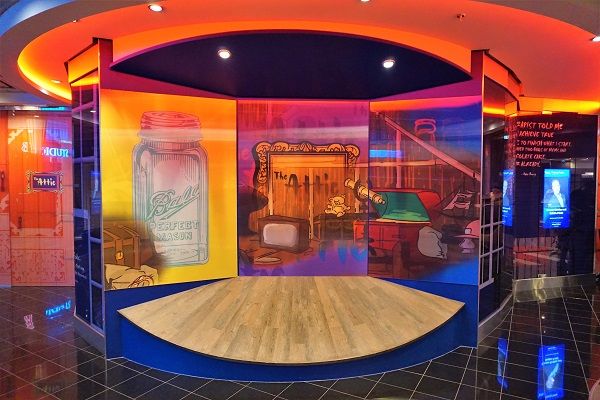 For this trip, we were fortunate to have the hilarious Simeon Kirkiles as the opener. This is our third cruise now with him as the comedy host, and he is always a riot. The headliner was Robbie Printz, who was also funny, even if we had already seen him on a previous RCI cruise. If you love comedy, then you should definitely make a reservation for one of these shows as the venue is small and fills up quickly. Of note, you are only allowed to pre-reserve one comedy show.
More Symphony of the Seas Entertainment
On Symphony of the Seas, there are additional themed parties and events that you will not want to miss! These family-friendly parties include:
Big Welcome Balloon Drop Night 1 (12 am)
Captain's Welcome Reception Night 2 (8:15 pm)
The Caribbean Party Night 3 (7:30 pm)
Greatest 80's Party Night 4 (11:15 pm)
Latin Dance Party Night 5 (7:30 pm)
Anchors Aweigh Street Spectacular Night 7 (7:30 pm)
There were also themed late night parties, including the Silent Disco on Night 2 and 6 at 11:30 pm in the Attic. There was also a Red Nightclub Experience in Studio B on Night 5 at 11:30 pm. These were for adults only.
In the main theater, there was a movie night on Night 4, and one of our favorite events, the Love and Marriage show, took place in the main theater on Night 5 at 10:30 pm.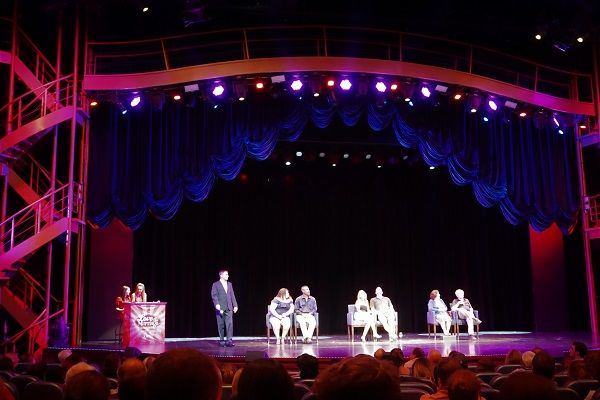 Not to mention, there is also live music in several venues around the ship most nights from around 9:30 pm to midnight. On our sailing, Billy Pando played in the Schooner Bar, Stephen Burke played in the Copper and Kettle Pub, Son del Mar in Boleros, light music in Central Park, the house band in Dazzles, and the resident DJ Ruby Yoo spinning your top hits late night in the Attic.
Disclaimer
Showtimes listed in this post were accurate for our November 17, 2018 Western Caribbean cruise but are subject to change at any time. Showtimes may also vary for different itineraries or may be altered due to weather conditions. Do check your online cruise planner and cruise compass once onboard for availability on your specific cruise.

Comments
Have you sailed on Symphony of the Seas? What is your favorite show onboard this new ship? Drop us an anchor below with any questions you have about all the great entertainment options on this record-breaking vessel.