93% of Travelers Overwhelmingly Ready to Cruise Finds Cruiseline.com & Shipmate Survey
One Year Following Suspension of Cruise Operations, Travelers Confident in Sailing Again
WILMINGTON, Mass., Mar. 23, 2021 /PRNewswire-PRWeb/ — Cruiseline.com and Shipmate today announced the results of a Return to Cruising Survey to coincide with the nearly one-year mark of the suspension of cruising in the United States. These survey questions were designed to cover frequent topics of interest within the Cruiseline.com and Shipmate communities, as well as gather consumer insights on new protocols being incorporated around the cruise industry to ensure passenger health and safety.

Survey results included 11,000 traveler respondents. 26% of participants reported being over Age 65, 54% between Ages 46 – 65, and 20% are 45 and under. Overwhelmingly 72% reported that they do not travel with children under the age of 18. 11% reported that they do travel with children under 18, and 17% say it depends on the cruise.
The main focus of this survey was to gauge travelers' confidence in cruising once suspensions are lifted. As a whole, 93% of participants responded that they would consider cruising in 2021 or 2022 when operations resume. Of this number, 66% specifically reported they would cruise again as soon as 2021 and 27% reported that they would cruise in 2022. 1% reported that they would not cruise in 2021 or 2022, and 6% reported that they were unsure if they planned on cruising during this time period.
"By a large majority, our survey participants said that they are ready to get back on a cruise ship as soon as possible this year. This shows that there is a tremendous demand out there to cruise again after one year of not sailing, and travelers are feeling confident in the new health measures being implemented by the cruise lines," said Jamie Cash, General Manager of Cruiseline.com and Shipmate.
As of now, no formal statements have been made from the CDC or other official organizations regarding vaccine requirements by cruise lines. This topic has been highly speculated and discussed within the Cruiseline.com and Shipmate communities. Of those that responded they would cruise in 2021 or 2022, 72% reported they would cruise if a vaccine is required, 17% would not cruise if a vaccine is required, and 11% reported they are unsure. Many new health and safety guidelines introduced from cruise lines have indicated that masks will be mandatory on cruise ships, specifically when social distancing is not doable. On February 2, 2021, the CDC issued an order which will require the wearing of face masks by all travelers into, within, or out of the United States which includes wearing face coverings on ships and traveling through cruise ports. In the Return to Cruising Survey of respondents who reported they would cruise in 2021 or 2022, 56% reported they would travel if masks are required, 22% reported they would not cruise if masks will be required, 22% reported they were unsure. From these questions regarding new health protocols, we can conclude from our community response that cruisers are slightly more willing to cruise if a vaccine is required whereas they are a bit less likely to consider cruising if a mask will be required to be worn while onboard.
The next part of the Cruiseline.com survey concerned specifics from those who will cruise in 2021 or 2022 regarding their travel preferences. The top three lines that respondents reported they would consider sailing first of all cruise lines were: Carnival Cruise Line, Royal Caribbean, and Norwegian Cruise Line. Respondents were also asked which regions around the world they would consider cruising to once that particular region is open. 87.9% of individuals reported they would cruise the Caribbean, with Alaska and the Canada/New England regions coming in second and third.
The conclusion of the Return to Sailing Survey questioned respondent's booking preferences. Of those that would cruise in 2021 or 2022, 61% reported ship size nor passenger capacity would be a deciding factor when booking their next cruise, 28% reported ship size and/or passenger capacity will be a determining factor in selecting a cruise, and 11% reported they are unsure at this time.
About Cruiseline.com
Finding the right cruise is not an easy task so Cruiseline.com is here to simplify the process. Everyone from first-time cruisers to seasoned sailors can find their dream vacation using Cruiseline.com's reviews, cruise advice articles, advanced deal search features, user-submitted photos, and an authentic community ready to talk about all things cruising.
What sets Cruiseline.com apart are the 202,000+ verified reviews from community members – that means real reviews by real people. These reviews cover every aspect of their cruise experience from the onboard dining, to service, entertainment, and ports. Through a partnership with major cruise agencies, Cruiseline.com is able to gather real reviews from actual cruisers who have sailed on the ships they are reviewing.
For more information visit: Cruiseline.com.
About Shipmate
Powered by Cruiseline.com, Shipmate is the #1 Cruise App with over 2 million downloads. Shipmate is the only cruise app that can be used by travelers before, during, and after a voyage. Features of the app include the ability to meet fellow cruisers with roll calls for specific sailings, a cruise countdown clock, deck plans and photos, port tips, deck cams, ship tracking, cruise price alerts, and port excursion booking. The forums of Shipmate are packed with fellow cruisers eager to share reviews, tips, and photos of recent voyages to help other travelers plan their future sailings.
For more information visit: Cruiseline.com/shipmate.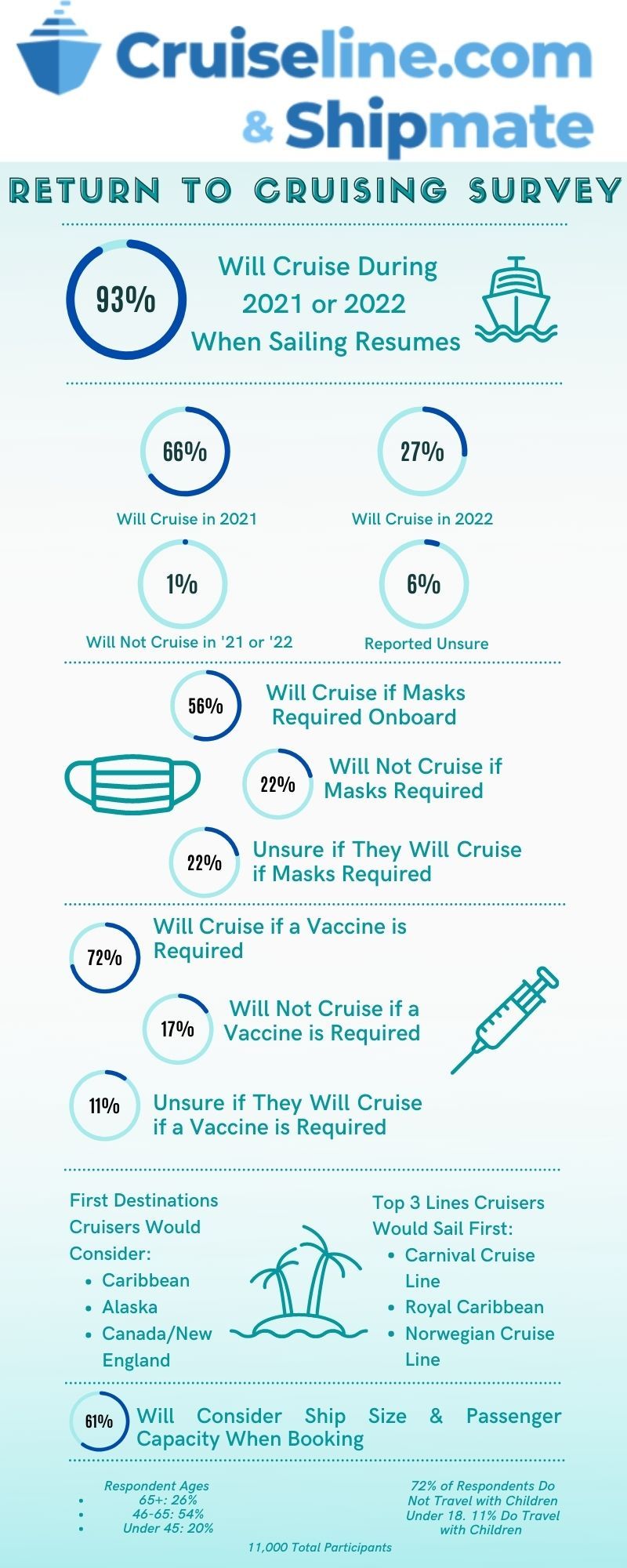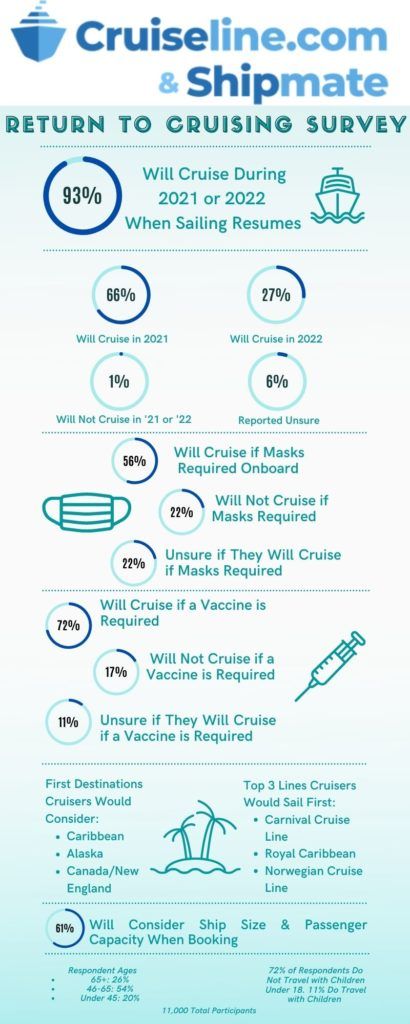 SOURCE Cruiseline.com and Shipmate
Comments
Do you agree with the survey results? Do you think travelers are ready to cruise again? Drop us an anchor below to share your willingness to cruise in 2021.