Have you ever wanted to go sky diving? Well, now is your chance! Royal Caribbean has partnered with iFLY to produce Ripcord by iFLY on Anthem of the Seas, the first sky diving simulator at sea. You now have the opportunity to feel what it is like to fly during your cruise, at no additional cost. Included in your cruise fare is a complimentary 1 minute flight session in this wind tunnel with an experienced flight guide.
Ripcord by iFLY on Anthem of the Seas is a must try activity!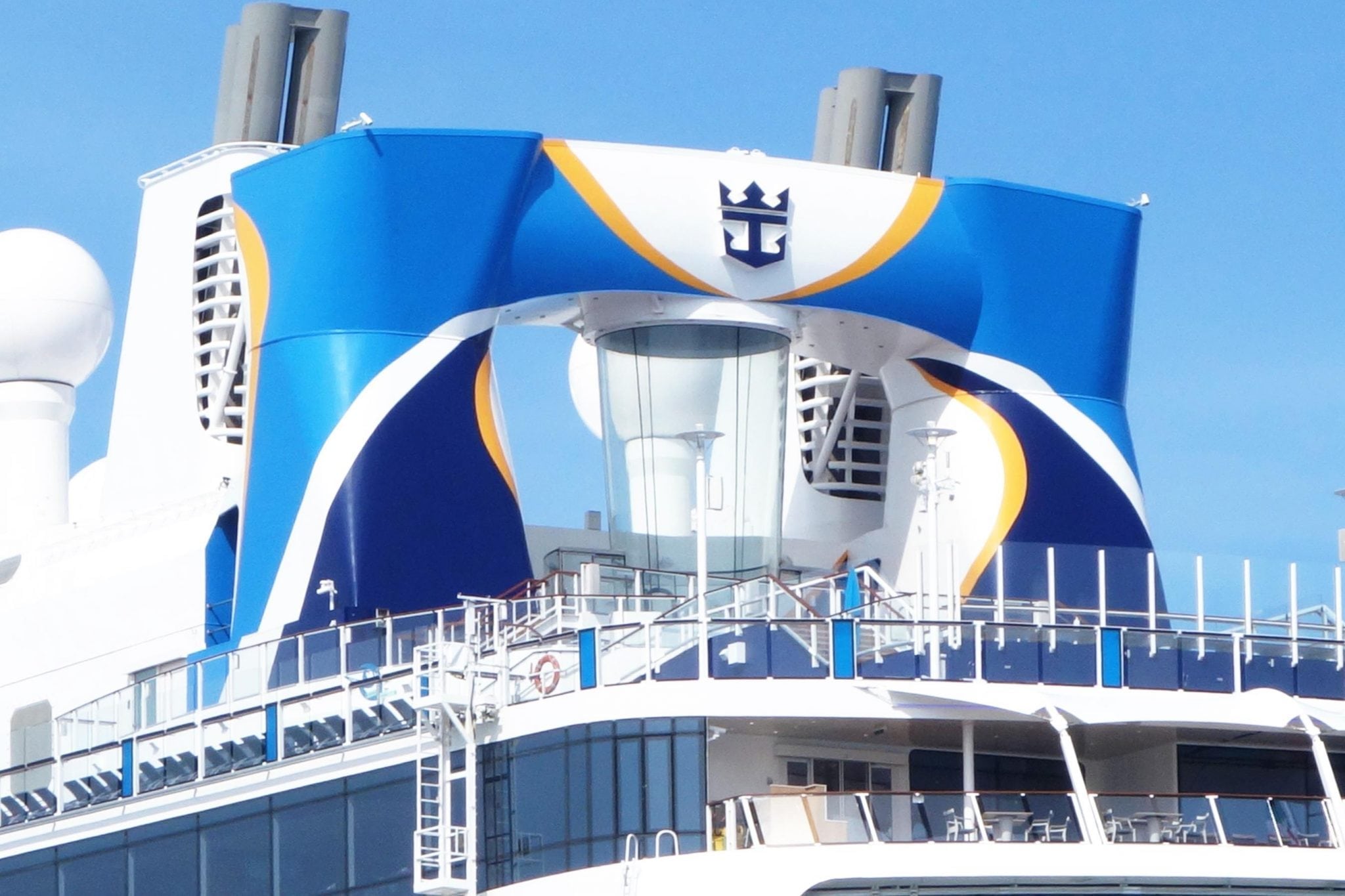 What You Need to Know about Ripcord by iFLY on Anthem of the Seas
This activity is available for pre-booking in your Cruise Planner or once onboard the ship
Reservations are required and spots fill up quickly
If you do not get a reservation, you can wait in a stand-by line
You must be at least 3 years old to participate
This activity is operational weather permitting
No loose articles are allowed including cameras of all kinds
Sneakers must be worn
You will be given a jumpsuit to wear for iFLY so make sure to wear clothing that will be comfortable underneath
Weight limit for iFLY is 230 lbs. for those under 6 feet tall and 250 lbs. for those over 6 feet tall
You will be provided with a helmet, goggles, and earplugs prior to your flight
You can sign your waivers ahead of time on the TV in your stateroom
How Does Ripcord by iFLY on Anthem of the Seas Work?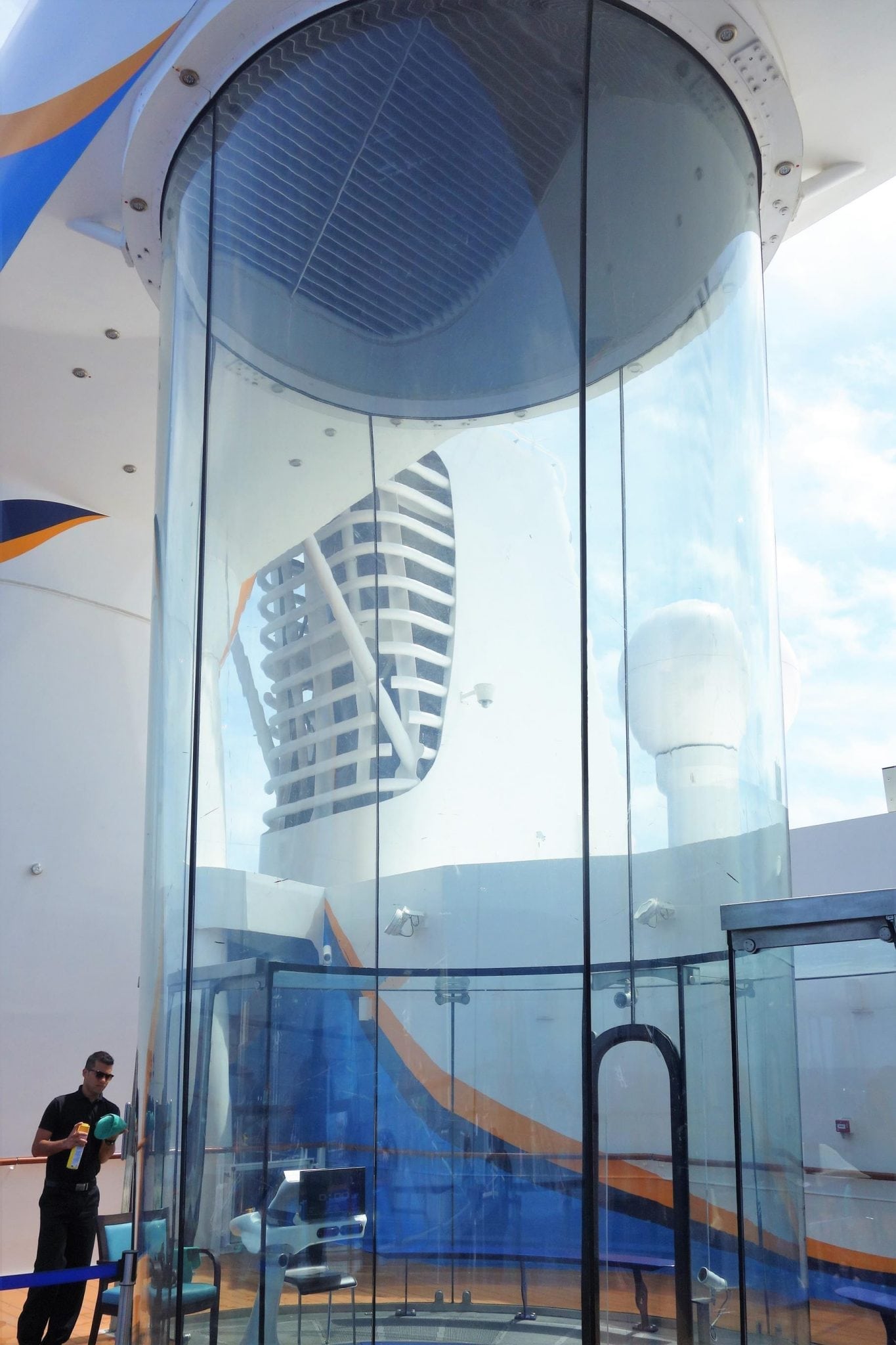 The flight chamber, the enclosed capsule in which you fly, is powered by a vertical wind tunnel that creates a cushion of air allowing you to float. Once you enter the chamber with the trained guide, the tunnel operator adjusts wind speed based on your weight and skill level. Then, get ready for the time of your life as you experience what it is like to fly with no parachute!
Experience is not necessary as you will be given a briefing prior to your flight with all the safety instructions. Aside from some physical restrictions, essentially anyone can fly. But, it does take training and expert skill level to be able to perform flips and tricks however. So, even though you will be able to watch your instructor perform these tricks, you yourself will not be able to release your Spidy skills during your time in the flight chamber.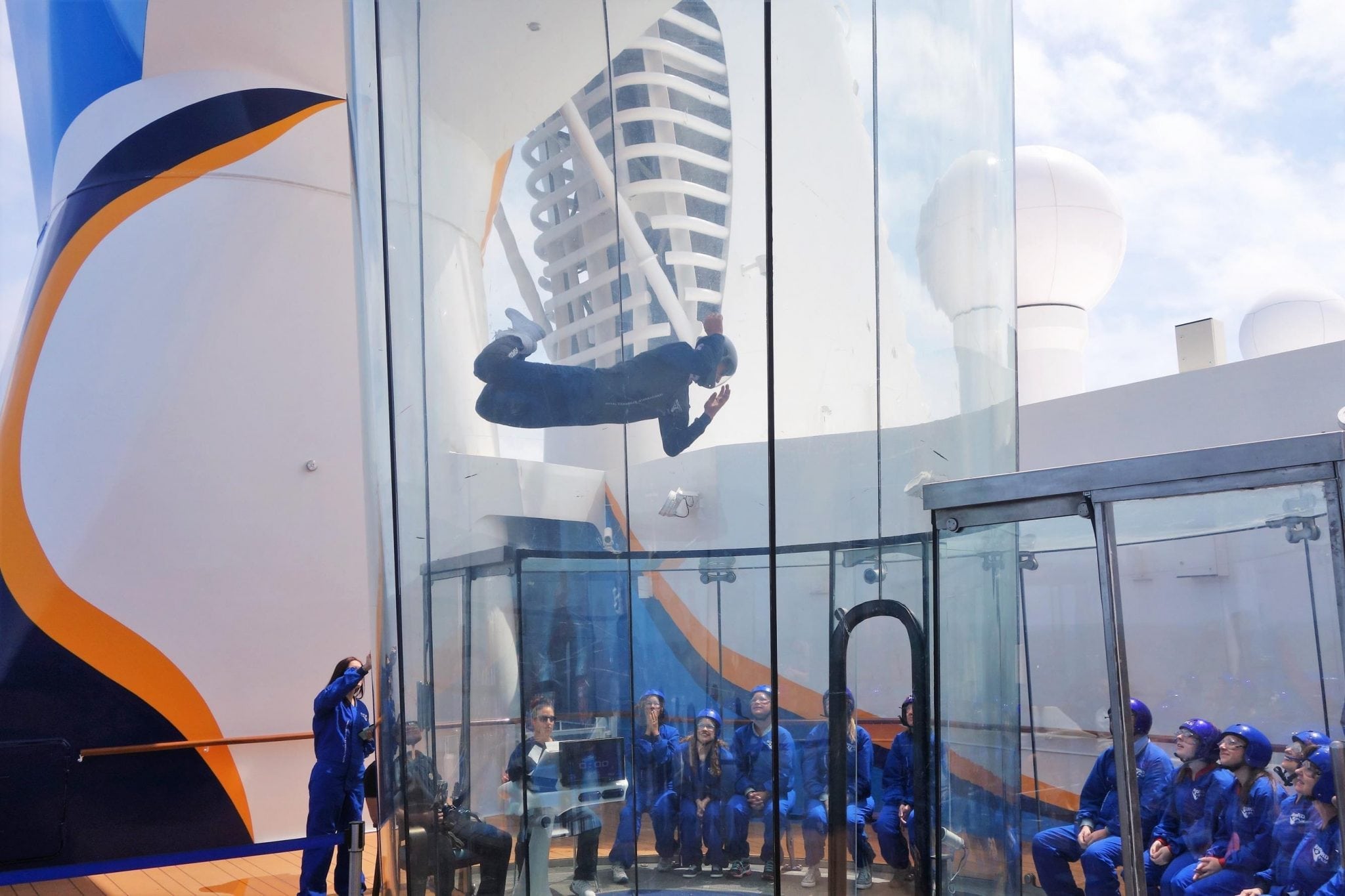 Be Prepared
In preparation for your Ripcord flight, you should remove all jewelry and valuables. You should also plan on wearing comfortable clothing as you will need to wear a flight jump suit over your street clothing. The flight also requires sneakers, or at least socks to wear with shoes that can be provided for you.
You are not allowed to take anything with you as you head up to the flight chamber, this includes cameras. Our recommendation would be to have a friend or family member fly at a different time than you so they can capture all your pictures. This also means you will want to leave any valuables in your room. There are storage cubes available for you to place your belongings but they are NOT lockers.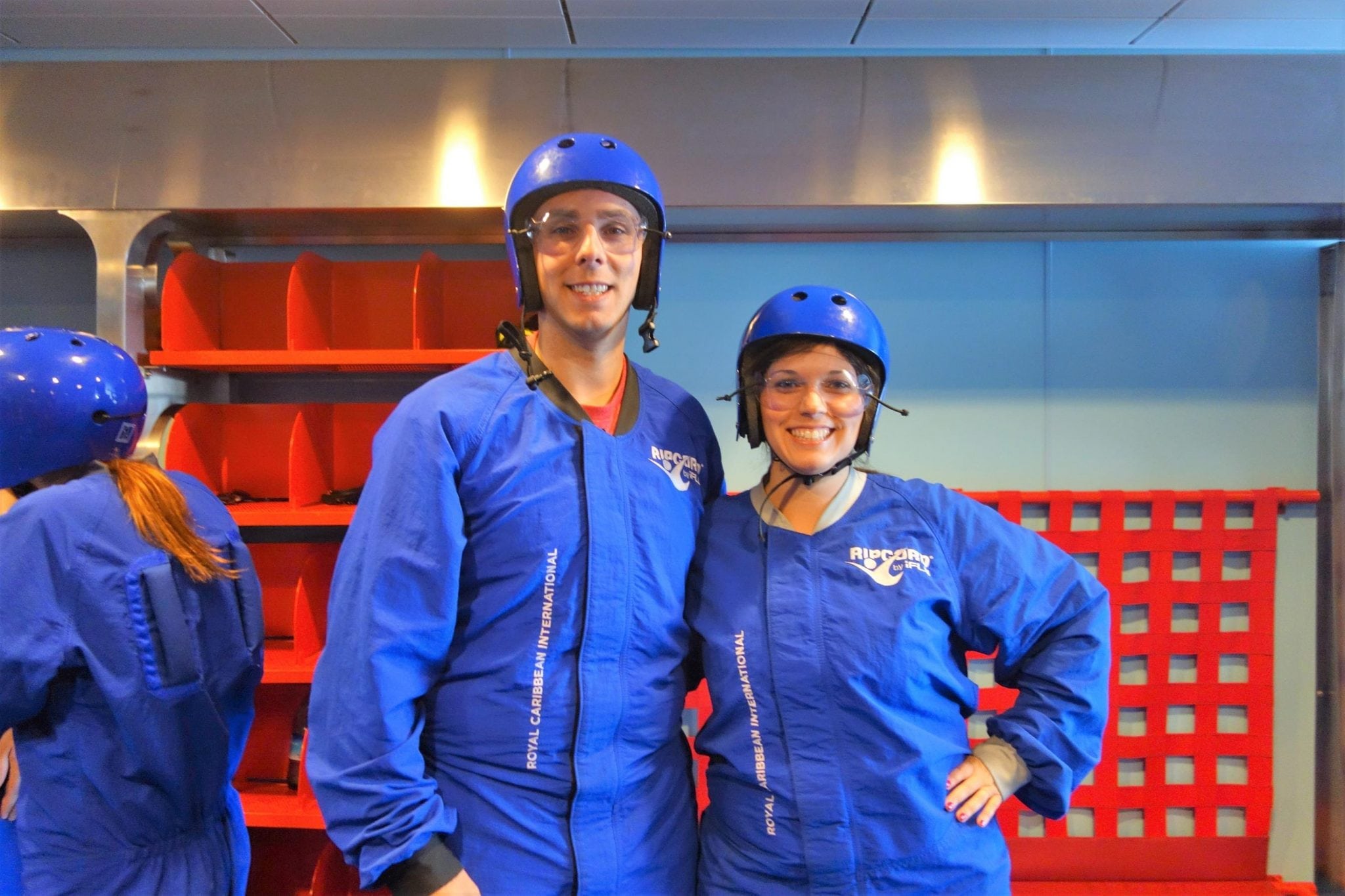 The Adrenaline Rush of Ripcord by iFLY on Anthem of the Seas
Our Ripcord by iFLY on Anthem of the Seas flight was scheduled for 9:20 am on day 2 of our cruise. You are told to arrive 10 minutes prior to your flight time to allow all members of the group to check-in and sign waivers if they have not already done so. FYI, you can sign all your waivers ahead of time on your TV in your stateroom.
The group, which can be a maximum of 12 people, is then led into a small room where you are introduced to your guide, watch a brief instructional video, and then review hand signals with the instructor. Since you are not able to hear in the wind tunnel, hand signals are very important. There are 4 main hand signals that you need to be aware of for your flight, which include "chin up", "straighten knees", "bend knees", and "relax".
Body position is extremely important as slight movements will greatly alter your positioning in the tunnel.
Following this briefing, you are suited up with jumpsuits, goggles, earplugs, and helmets. Of course, there are some professional photo-ops with you in your gear even before you head out to the flight chamber. Once the group is ready, you are lead up a flight of stairs to the flight chamber area, which is outside above the Flowrider area. Here, there are benches for the group to sit and await their turn. Each member of the group is called one by one to experience their 1 minute of flight time.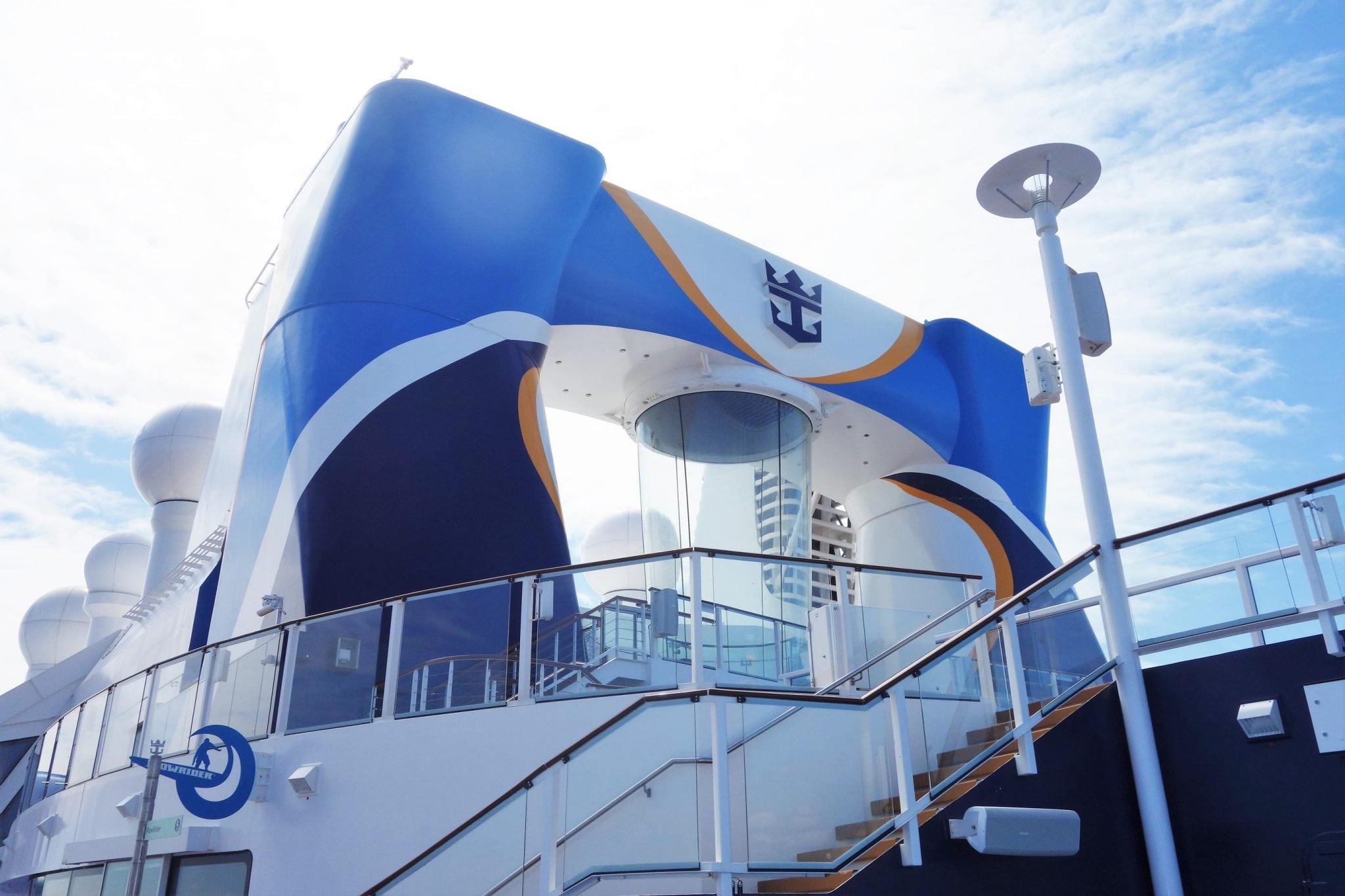 Upon entering the wind tunnel, the instructor guides you into proper prone positioning using the handles on your jumpsuit. It will take a few seconds to get a feel for it and achieve proper positioning, but once you have your wings, you are ready to fly. The instructors are there to provide as much or as little assistance as you need during your flight time, so no need to worry. Safety first.
We were about halfway through the pack, so we got to watch some decent flights and some not so good flights. One of the little girls in our group actually panicked and left the area, while her sister stuck it out and did great. We had experienced Ripcord by iFLY once before on Quantum of the Seas, but that previous experience was lost the second we step into the tunnel!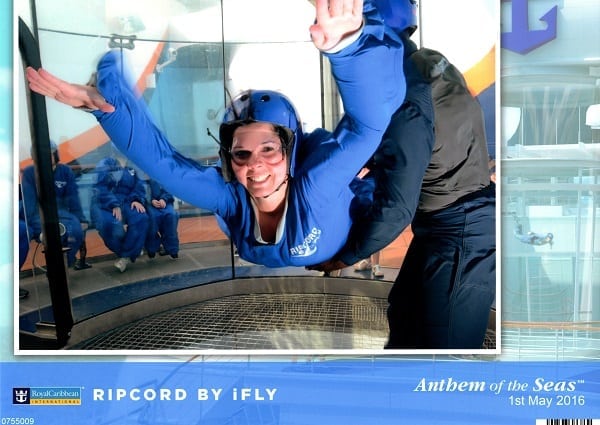 I was the first to fly on Ripcord by iFLY on Anthem of the Seas! I was ready to make my flying debut once again. Upon entering the tunnel, I was directed into proper positioning pretty quickly and managed to keep myself from flipping over this time with the intermittent assistance and corrections from the guide. Of course, I made sure to smile for the camera while bouncing off the walls. A Princess always needs to be ready for her moment in the spotlight!  But, the 60 seconds seems to go by in the blink of an eye.
Next up was DB. As a spectator, his time in the flight chamber seemed pretty similar to the experience on Quantum of the Seas though he felt he did a little better this time around. Not the best flight, but certainly not the worst, he maintained a serious and focused demeanor. The guide may have provided a bit less help to DB than he did for me, but at least my picture was better than this…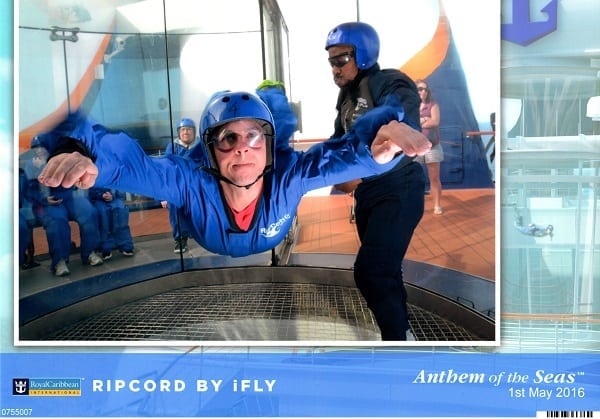 Summary
Ripcord by iFLY on Anthem of the Seas was definitely a great experience and a must try for all the adrenaline junkies out there. But, just as you are starting to get the hang of it, your 60 seconds are up. If you are worried that iFLY is not for you, don't be. We saw people of all ages, body proportions, and skill levels trying out Ripcord by iFLY on Anthem of the Seas. After all, you are on vacation to have a good time, so who cares if you make a fool of yourself.
If you would like more information about iFLY, how to advance your skill levels, or to find a land location near you, visit www.iflyworld.com
Comments
Have you tried Ripcord by iFLY on land or at sea? We would love to hear about your experience with this amazing sky diving simulator on Anthem of the Seas, so drop us an anchor below.