Royal Caribbean's Anthem of the Seas, ushers in a brand new era of cruising. With many of the same innovations as her sister ship, Quantum of the Seas, Anthem of the Seas includes many technological enhancements and firsts at sea, including an indoor sky diving simulator, robot bartenders, and a new dining program: Dynamic Dining.
Even if you have cruised in the past, the new innovations and features found on this ship mean it will take a little bit of extra work to plan an Anthem of the Seas cruise.

With all of the possibilities, you might feel overwhelmed, but don't fret because we here at Eatsleepcruise.com have all the insider tips for you. After a half-year planing our 2016 cruise on Anthem of the Seas,  we have developed a step-by-step guide to plan an Anthem of the Seas cruise based on our experiences.
Plan an Anthem of the Seas Cruise
The Initial Booking
1. Consider a Travel Agent – We recommend using a travel agent if you are new to cruising as they can assist you with the reservation processes of this innovative vessel. Even if you have cruised before, using a trusted travel agent may help you with the planning stages as this ship has many new amenities unlike any others at sea.  Not to mention, using a travel agent can often save you money and offer you some great incentives!
2. Book Early –  Royal Caribbean gives travelers the opportunity to reserve many of the special cruise experiences found on Anthem of the Seas before you step foot on the ship. This means the earlier you book, the better chances you will have of getting what you want when you want it.

Picking the Right Cruise Options
3. Set a Budget – While many of the new elements are part of the cruise fare, like your first ride on Ripcord by iFLY, not all of them are complimentary.  With a firm budget in place, you will know how much you can spend on cruise staples like a cabin, specialty dining, shore excursions, and other vacation must haves, like cocktails.
4. Compare Itineraries – Anthem of the Seas offers a variety of itineraries ranging from a few days to almost two weeks.  Given that the ship has so much to offer, the ports of call may not be important to you, but you should at least review your options. Or, determine how many sea days you will have to ride the Flowrider surf simulator or skate around the SeaPlex, the largest indoor sports deck at sea!
5. Review Cabins – Along with innovative features and dining, Anthem of the Seas offers some new cabin options including virtual balconies, loft suites, and interconnected staterooms for large groups traveling together. Solo travelers can also find studio rooms that don't require a supplement.
An inside cabin with a virtual balcony
6. Decide on your Dining Preferences  – The brand new dining program, Dynamic Dining, means that on your Anthem of the Seas cruise there will be no main dining room. For guests seeking a more traditional experience, you should elect the Dynamic Dining Classic option in which you rotate nightly through four complimentary restaurants (American Icon Grill, Chic, Silk, The Grande) at a set dining time and with a set table arrangement.  With this option, your waitstaff will also rotate with you to each of these restaurants. There are two dining times from which to choose, an early seating and a late seating. However, if you are looking for something different or a more free-style approach, you can choose Dynamic Dining Choice. With this option,  you can eat at any one of the 18 restaurants on any day, at any time, and with any group configuration.  These dining experiences can be booked prior to sailing; although, you can decide to simply walk up to a restaurant while you are on the ship if you choose.  For more on Dynamic Dining and what the program entails, see our Dynamic Dining Review.
The Royal Caribbean Cruise Planner
Once You Are Booked
7. Register On Royal Caribbean's Website – Once you have your reservation number, you should immediately go to Royal Caribbean's website to set up an account. Here, you can view your cruise and utilize the Cruise Planner feature. If you are a current member of RCI's Crown and Anchor Society, then you probably already have a login account. If you are new to cruising, or to RCI, then you can setup an account here. Once you have registered for an account, the real vacation planning begins as you start to customize your Anthem of the Seas cruise experience.
8. Begin Using the Cruise Planner – With your RCI account, you can now use the online Cruise Planner tool to reserve many of the entertainment and dining experiences for your Anthem of the Seas cruise. We suggest that you check your Cruise Planner regularly as RCI does not immediately notify you when items become available for booking.  Also, be aware that RCI may add items to the Cruise Planner as your cruise approaches and that showtimes may change and/or additional dining times may become available for Dynamic Dining Choice.
9. Book Restaurants First –  If you have chosen Dynamic Dining Classic, then you will already have a set dining time; however, you may still be interested in dining at some specialty restaurants during your cruise. If you decide on Dynamic Dining Choice, we highly recommend making reservations at both the complimentary and specialty restaurants ahead of time. We pre-booked 7 out of 8 nights for our Quantum sailing, and we are very glad we did. Don't worry, you can always cancel or modify these reservations if your plans change. You will get a full refund from RCI for any specialty dining reservations as long as you cancel 24 hours in advance. So reserve now and be guaranteed a table at your restaurant of choice at a time you want. F
Inside Jamie's Italian Restaurant found on Quantum Class Ships
10. Book Your Entertainment – Once your dining times are in place, you will want to examine your entertainment options. All of the shows on your Anthem of the Seas Cruise are complimentary, so we highly recommend you pre-book when they become available. Each entertainment offering will have at least a few different day/time options for you to coordinate around your other plans.
It is still unclear exactly early entertainment reservations open for booking as guests seem to still be reporting different time frames. For us, reservations for shows opened up around 100 days out from our sailing. Stay on top of the Cruise Planner and get those seats reserved as soon as they become available.
The Broadway show, We Will Rock You, will run in the main theater at least two nights and one matinee depending on the length of your cruise.

Also playing in the main theater is the show "The Gift", billed as a musical journey of illusion and fantasy it tells the story of overcoming lost and love.

Running throughout most of the cruise in the Two70 Theater, the signature show Spectra's Cabaret is a mix of color, dance, and modern music. This show also features the technological enhancements of the RoboScreens and Vistaramas.

11. Book Your Onboard Activities – For your Anthem of the Seas Cruise, you can also use the Cruise Planner to book certain "Onboard Activities". Some of these offerings are complimentary like a one minute ride on the sky diving simulator, Ripcord by iFLY. Other activities can be booked for a fee including the DreamWorks Character Breakfast ($10) and the All Access Tour of the Ship ($150). If you have your heart set on doing any of the listed activities in this section, we suggest booking it ahead of time.
Reserve Your Complimentary Ripcord Flight Before The Cruise Departs
12. Call Royal Caribbean – While the Cruise Planner has been improved since our January 2015 Quantum of the Seas cruise, there are still a few kinks in the system. When trying to secure your reservations for your Anthem of the Seas Cruise, if you encounter any errors or shopping cart issues, do not get frustrated. Instead, pick up the phone and call RCI. At the first sign of some inconsistencies with our reservations, we called RCI and got everything squared away.
Completing the Cruise Planning Process
13. Purchase Shore Excursions – Once you have your dinner and entertainment reservations secured, the last thing you need to do is plan what you will do when at port. A shore excursion is the chance to get off the ship and explore a new port of call or perhaps try a new and adventurous activity.  You can certainly book through RCI, or possibly get a better deal through third party vendors like Shore Excursions Group. Whichever you choose, there are plenty of options so book early to secure your spot.
14.Consider Purchasing a Drink Package- Royal Caribbean offers many alcoholic and non-alcoholic drink packages that can be purchased ahead of time to make your onboard experience truly all-inclusive. If you are considering whether a drink package is right for you, read our detailed analysis on drink packages. Now, Royal has been giving select sailings a 20% discount on these packages if they are bought prior to the cruise. Keep an eye out in the cruise planner for this special promotion! .
15. Book a Pre-Cruise or Post-Cruise Hotel Stay– Whether you are traveling to New Jersey by plane, train, or automobile, a pre-cruise hotel stay is the best way to provide you with some wiggle room in case there are any travel delays.  Or, you may want to extend your vacation a few additional days post-cruise to explore nearby New York City.  Either way, staying at a hotel near the port will get you access to the city, as well as prepare you for your cruise out of Cape Liberty. Find the perfect hotel near Cape Liberty Cruise Port with our helpful guide.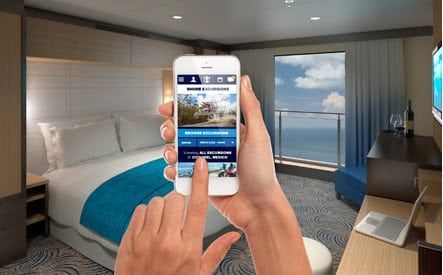 Royal Caribbean International ®
16. Pack Your Smart Phone and Tablet –  Anthem of the Seas offers some of the most technologically advanced features of any ship including the fastest WiFi at sea with speeds that are boasted to be quicker than all other cruise ship internet speeds COMBINED! While on board, you can use the Royal IQ app to track your luggage or to make changes to your vacation or book new restaurants and shows.
Comments
Do you have an Anthem of the Seas cruise planned in the near future? Drop us an anchor below to let us know how you prepared for your sailing. The more tips the better! Even if you tried something and it did not work, it is great to know the do's and dont's when traveling on this brand new ship!