There are a few new additions found on Norwegian Cruise Line's newest ship, Norwegian Encore. Among the latest attractions and entertainment, there is also a brand new restaurant. A joint collaboration with the restaurant brand Scarpetta, the new Onda Italian restaurant is a delicious addition to the Waterfront of Norwegian Encore. On our 3-day inaugural cruise, we were able to sample this new venue while dining with some bona fide foodies. Continue reading our Onda by Scarpetta restaurant review for all the mouthwatering details.

Onda by Scarpetta Restaurant Review from Norwegian Encore
Like all of the specialty restaurants on Norwegian Cruise Line, cruisers can make reservations at Onda by Scarpetta pre-cruise starting at 120 days before sailing. You can also make reservations once onboard the ship, but spaces will be limited. We strongly suggest booking ahead of time for this popular venue.
On Norwegian Encore, the Onda by Scarpetta restaurant replaces La Cucina and is located forward on the port-side of the ship. If you are not paying attention, you might miss the entrance, as it is tucked away behind the Cellars wine bar.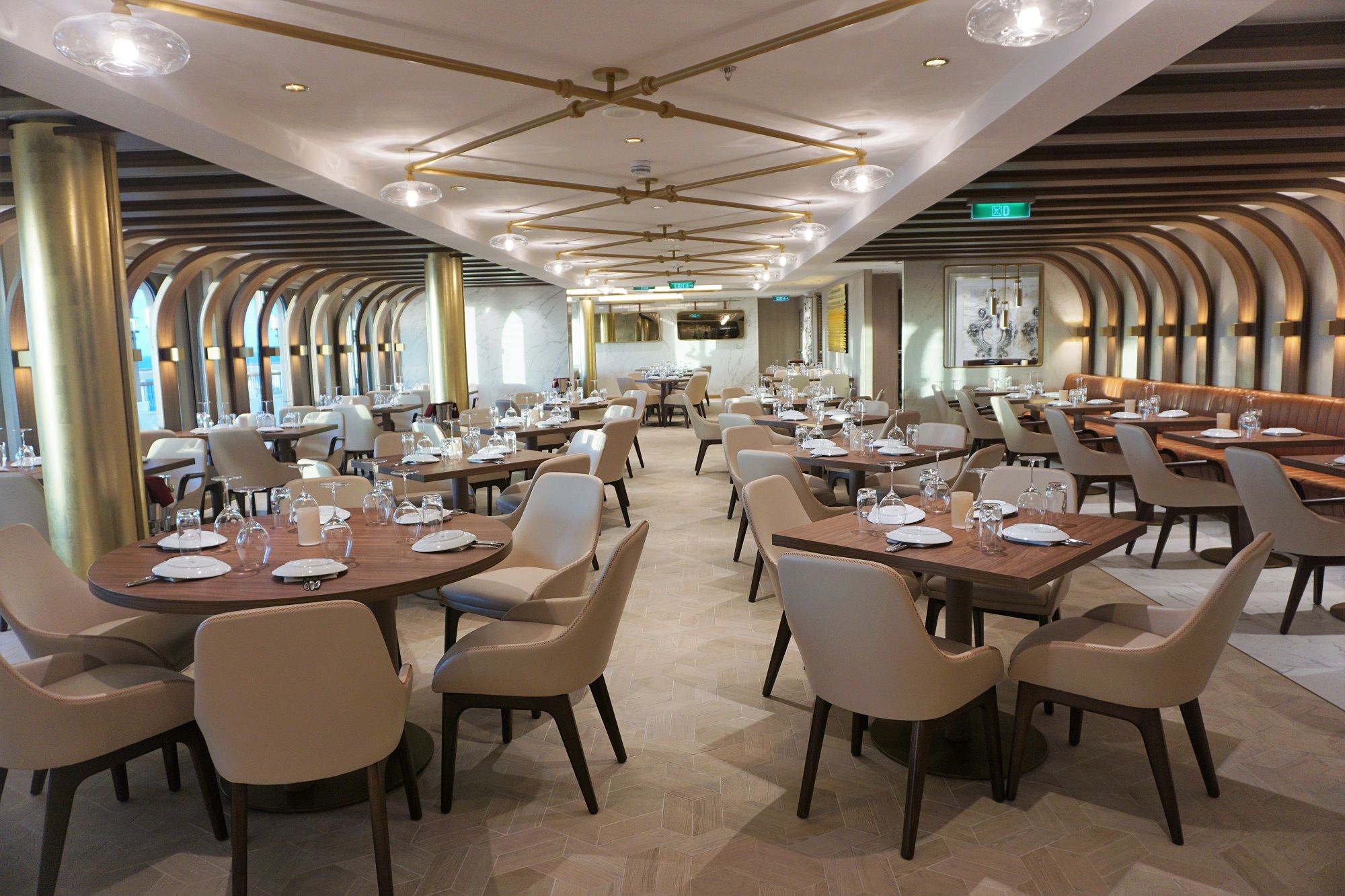 Inside the restaurant, you will find modern and sophisticated, yet subtle decor. With metallic-inspired elements and a muted color palette, the restaurant has a warm and cozy feeling. This lets dinner-goers focus on the true centerpiece of the restaurant, the food. It is certainly more elegant than some of the other dining venues on the ship.
The ambiance for this multi-course meal is something you might expect at a high-end eatery in a major city. Being from the Boston area, we know a thing or two about dining in upscale Italian restaurants.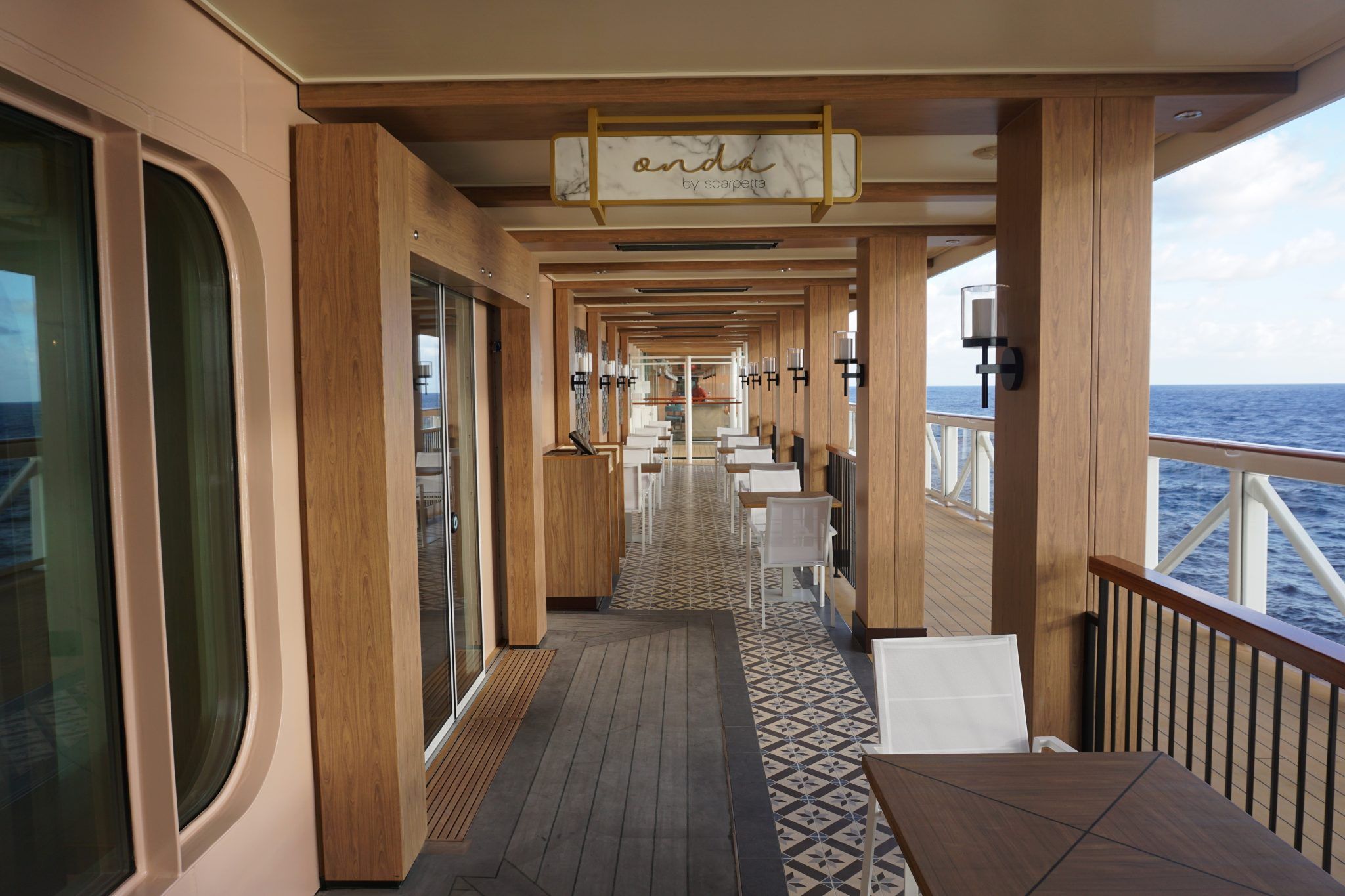 For diners who prefer to eat al fresco, there is also a small section of tables on the Waterfront. Depending on the weather outside, this could make for a romantic "date night" during your cruise.
Related Post: Norwegian Encore Restaurant Guide With Menus
Getting Started at Onda by Scarpetta on Norwegian Encore
Given that we were dining with some fellow influencers who were food bloggers, we opted to order several different dishes for the table to sample a variety of menu items. While our Onda by Scarpetta restaurant review is our opinion, we were not far off in our evaluation from our tablemates.
For us, the first sign of a good Italian restaurant is the bread. Onda did not disappoint, serving up a traditional crusty Italian bread along with other variations like the garlic dusted rolls, completed with traditional dipping sides.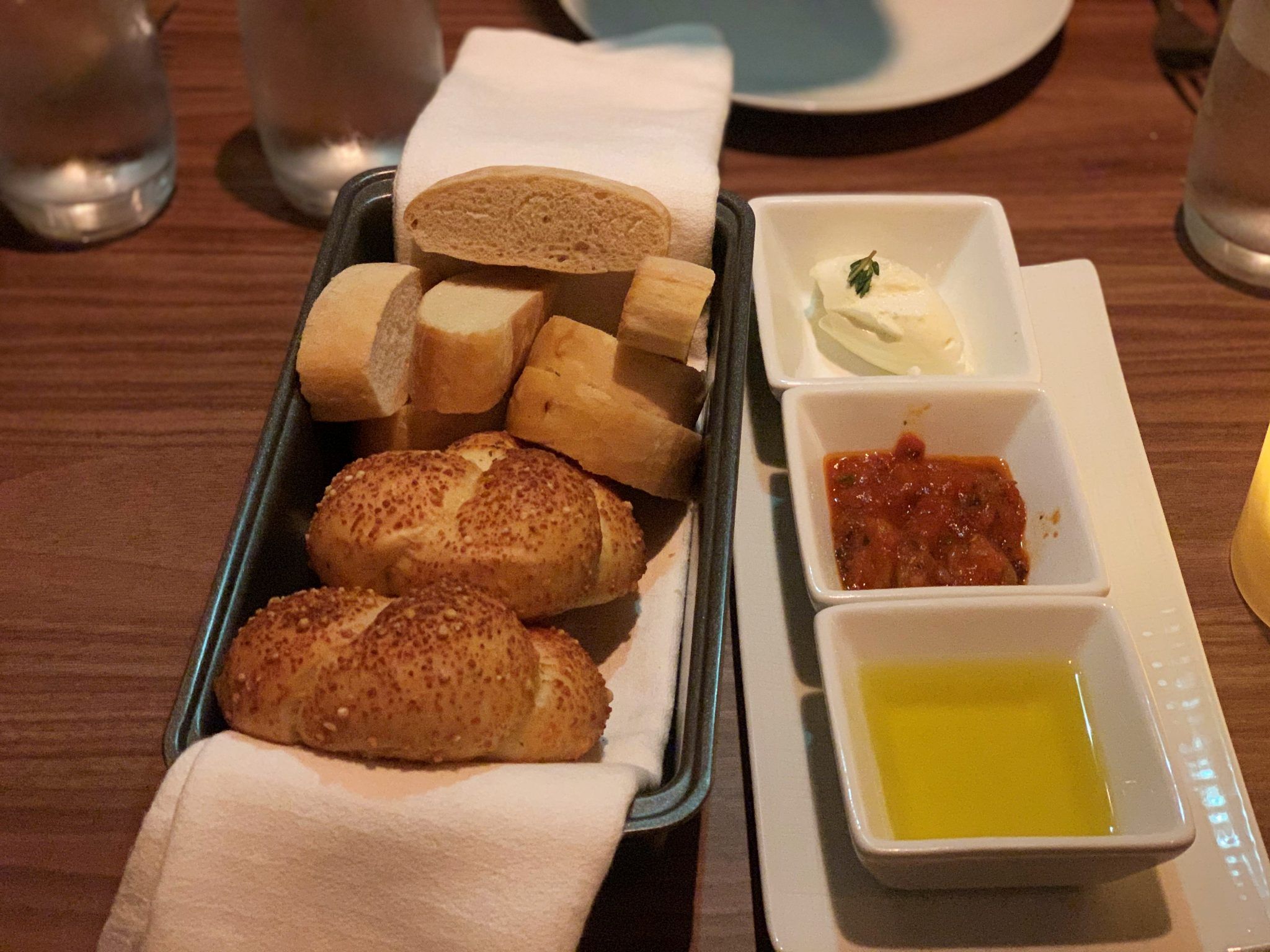 So far, so good.
For starters, we ordered four selections to share. The hands-down favorites of the table were the burrata and the braised octopus. The burrata was creamy and smooth, and paired with prosciutto. While the octopus was just the right texture. It was not deep-fried and allowed the flavor to shine through. This was my favorite of all the starters.
Our other selections were the vegetable pizza which got two thumbs up from the Princess and the fritto misto which was a collection of fried seafood. The seafood lovers at the table agreed that the crab cake was the standout of this plate, with just right composition of crab and breading with no filler.


Diving into Dinner at Onda by Scarpetta on Norwegian Encore
With our starter plates empty, it was time to bring out the main courses. Our friends split the branzino about which they raved.
I went with the massive veal chop milanese. It was thinner than I expected, but it was a well prepared and satisfying meal. Even if we had not ordered so many starters, there was no way I was going to eat the entire portion.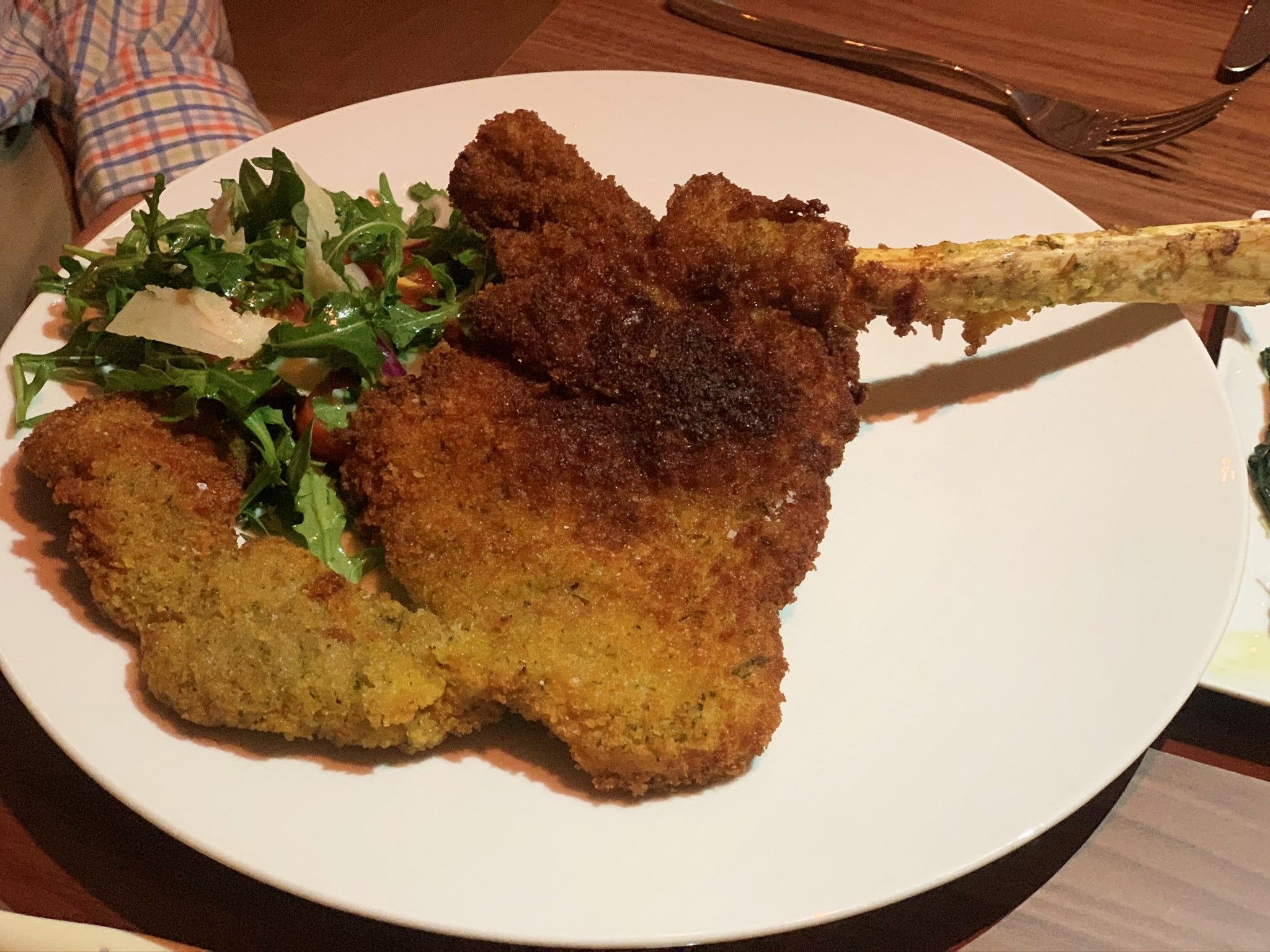 All of the pasta is made fresh daily with simple ingredients. If I had known this ahead of time, I might have ordered an additional dish to sample. Our friends split the tagliatelle which came with a pink creamy sauce and a hearty portion of lobster.
The Princess did the mezzelune pasta dish as her meal. These raviolis were filled with a spinach and ricotta stuffing and topped with a light, butter truffle sauce. They were rich and delectable.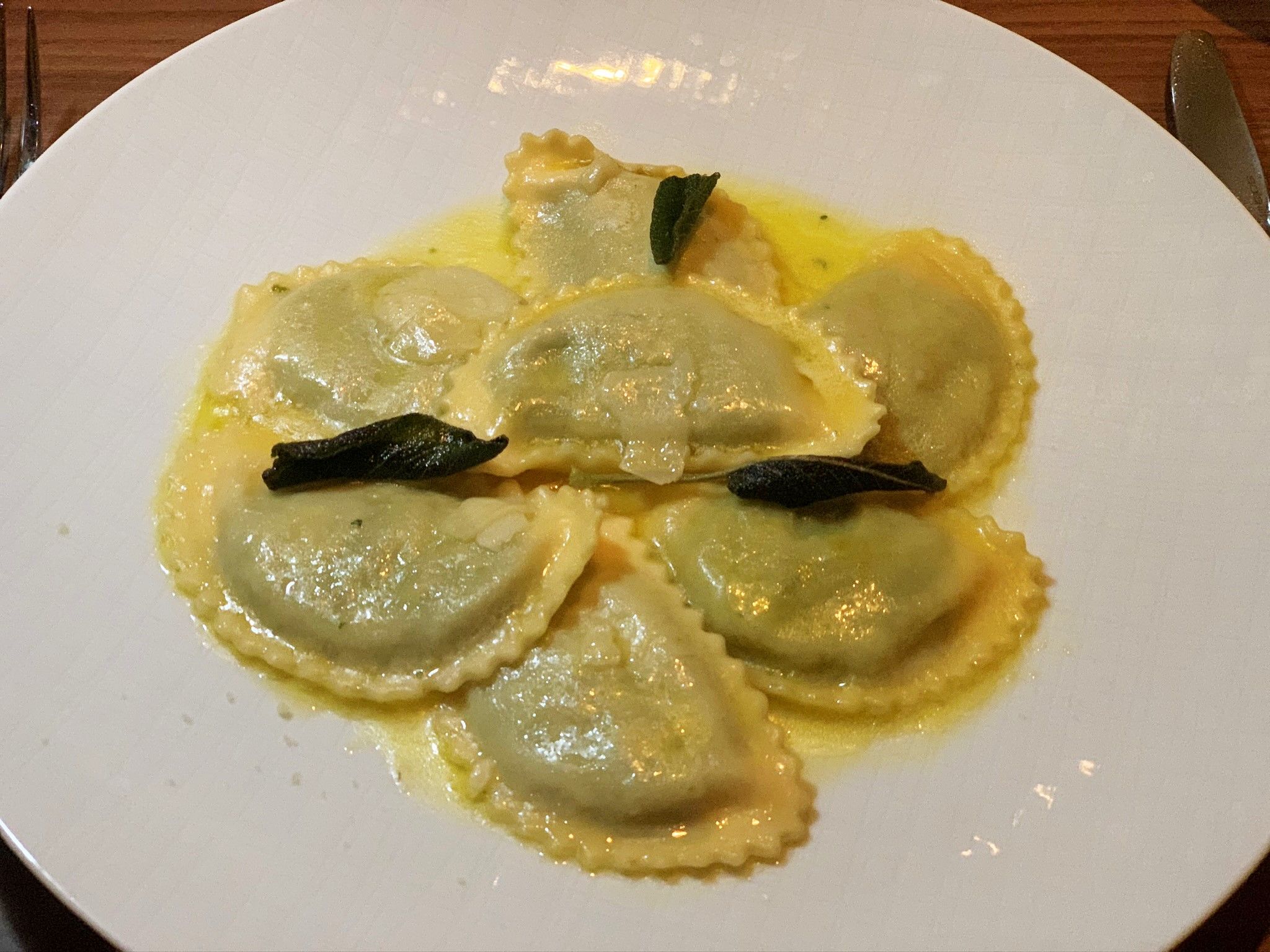 To make sure our table was sufficiently over-flowing with food, we ordered 4 of the 5 side dishes as well. Honestly, we sampled only a few bites of each. My favorite was the mushrooms.
After all, we still had to test out the dessert. With five options on the menu, we again ordered four of the five selections. If I had to pick a favorite, the cheesecake was the champion. We have been let down on many cruises with this classic dessert. So, it was a pleasant surprise to find the cheesecake was flavorful by itself, never mind with the light sorbet served on the side.
The tiramisu was a close second for me. Going with a classic rendition of this dish, Onda's version had a rich, coffee flavor with a smooth texture and finish. Still, the Princess really enjoyed the butterscoth bundino, while none of us were fans of the chocolate cake.
Related Post: Top Things to Do on Norwegian Encore
Recap of Onda by Scarpetta on Norwegian Encore
Onad by Scarpetta on Norwegian Encore shines as a marvelous addition to this ship. The starters were fresh and flavorful. Further, the entrees were hearty and paired perfectly with the desserts. We both feel the restaurant is well worth the up-charge and is a welcomed replacement for La Cucina.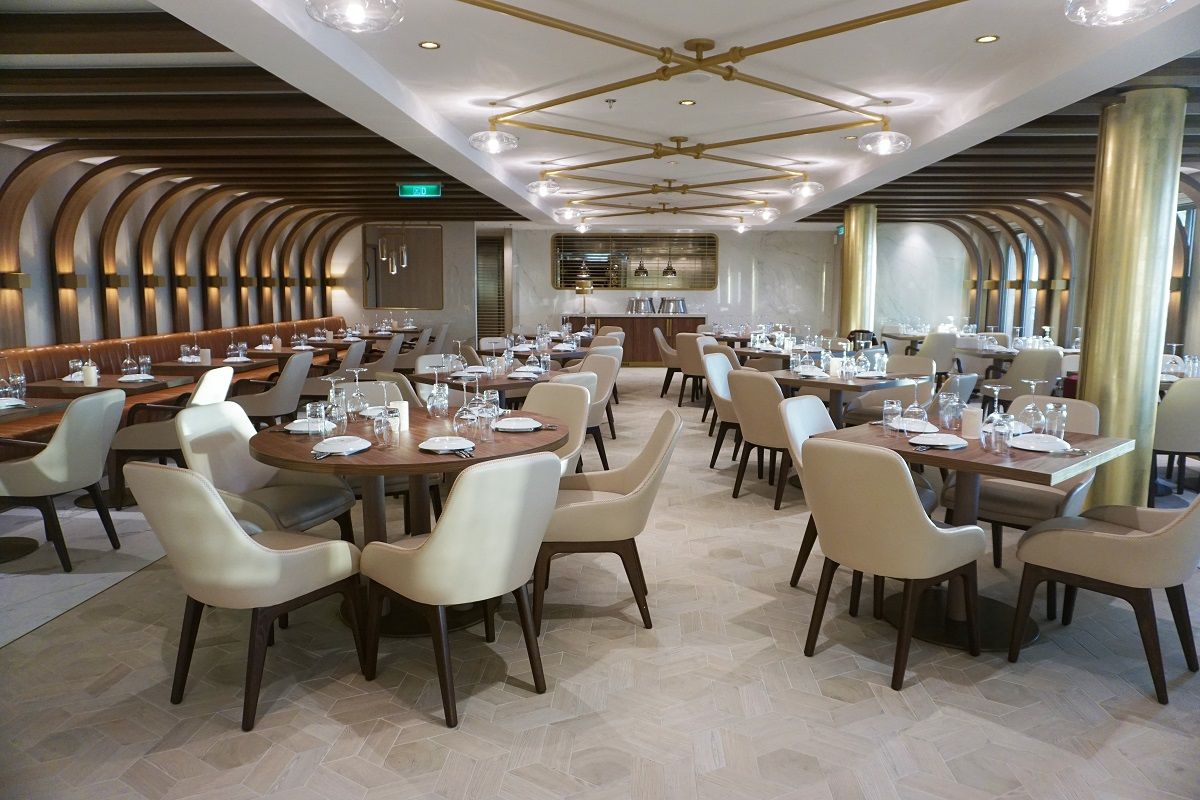 Like most specialty restaurants on the ship, the menu is priced a la carte. If you have the Norwegian Cruise Line Specialty Dining Plan, you can order one starter, a pasta/entree, one side, and a dessert. This makes the plan a great value as prices for some entrees alone are more than the daily charge for the plan.
We would certainly return to this restaurant again to try more menu items.
Dinner Menu 1 | Dinner Menu 2 | Dessert Menu


Comments
Do you have a restaurant review of Onda by Scarpetta on Norwegian Encore? What was your favorite dish on the menu? Drop us an anchor below with your feedback on this new specialty restaurant from Norwegian Cruise Line.