Prior to our Hawaiian cruise on Celebrity Solstice, we spent several days in Honolulu. This gave us the opportunity to see several of Oahu's highlights and explore the nearby attractions. Wanting to get an overall perspective, we booked the Oahu Grand Circle Tour for our first day on the island. After reading the reviews, we reserved the tour with Roberts Hawaii, and we are so glad we did. If you are considering exploring the island pre-cruise or post cruise, we have put together this Oahu Grand Circle Tour Review.


Oahu Grand Circle Tour Review in Hawaii
As over-planners, we began examining tours and excursions as soon as we booked our cruise about 9 months before the sail date. Given the 10-day itinerary, this gave us four days to spend in Honolulu prior to our embarkation.
Researching the different tours and providers, we read plenty of positive reviews on Roberts Hawaii. The company's Oahu Grand Circle Tour books up quickly, so we made reservations for the first full day we were on the island months in advance of our arrival.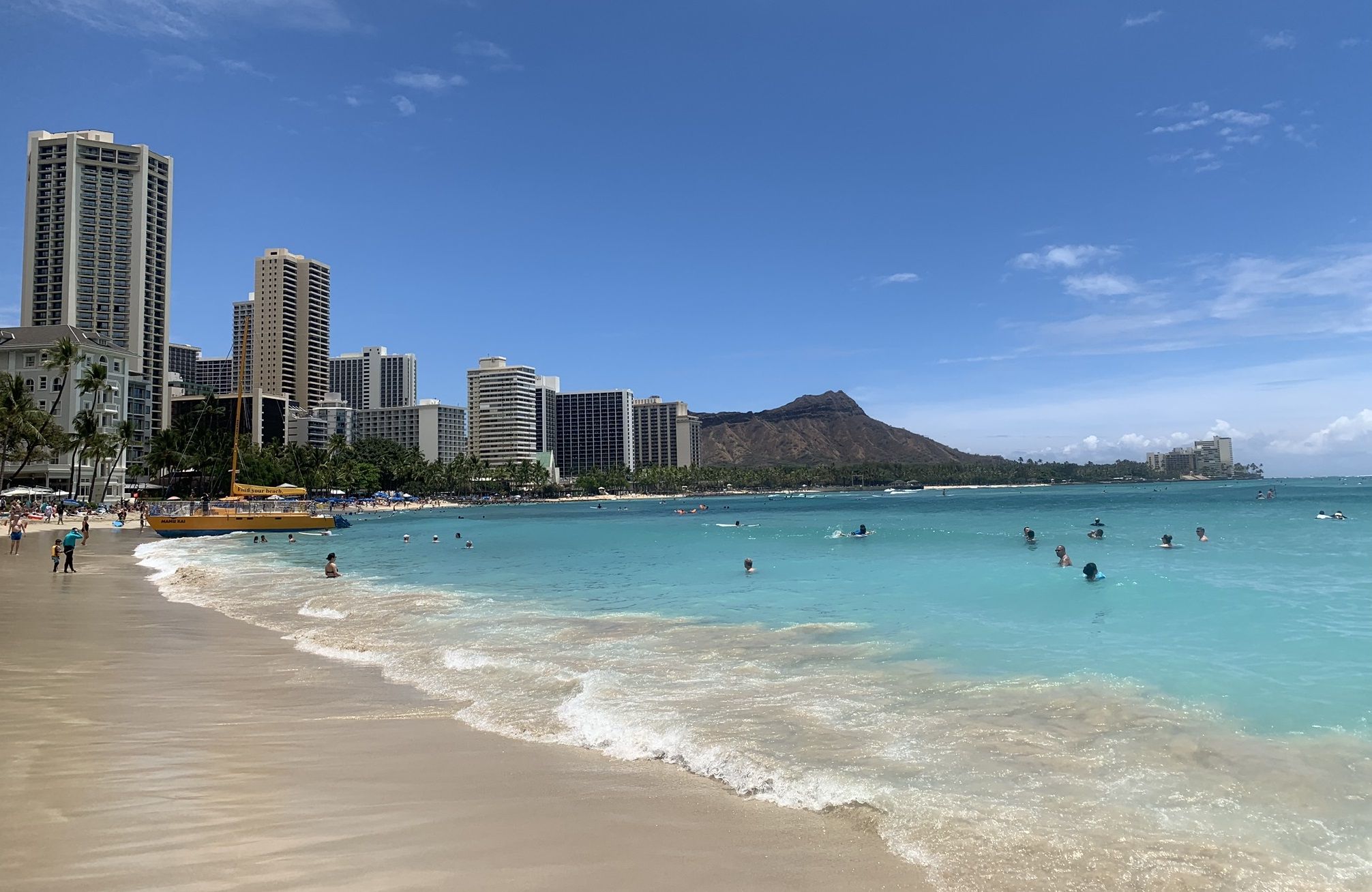 The company offers two options. Given the main difference was an included lunch, we decided against the Deluxe Tour.
A few days later, we received our email confirmation stating our meeting location. Luckily, the meeting spot was directly across the street from our hotel, the Alohilani Resort Waikiki Beach.
A Bright and Early Start
Our instructions indicated our pick-up time was 7:40 am. Not wanting to miss the bus, we arrived a little after 7:30 am. Good thing, as a series of different buses were already lining up at our meeting spot. Apparently, there are a variety of locations throughout Waikiki Beach that are used as meeting spots for multiple tour providers.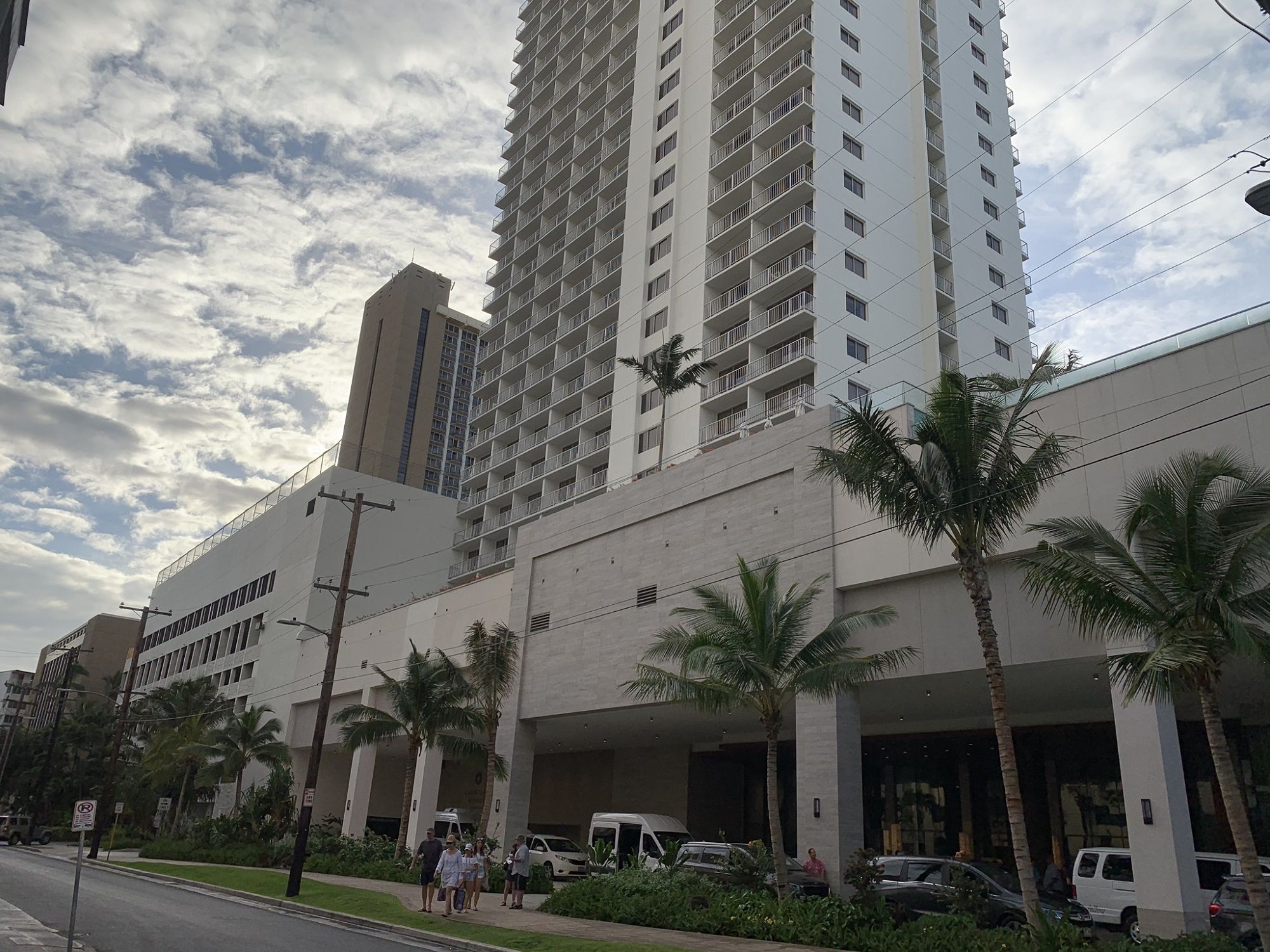 Our bus arrived a few minutes earlier than the stated time. The tour guide greeted us and gave us a sticker, and we were loaded on an already rather full bus. After a couple more stops, we began our journey circling the island counter-clockwise.
James was our driver and tour guide for this excursion. He was a native Hawaiian, and as such, he loved to talk about food. As we drove through towns, he would recommend restaurants or suggest food items. He also had some familiar tour guide jokes, and was happy to answer questions.
The tour started by passing the very end of the beach heading east. This included a drive by of Diamond Head Crater. We had plans to hike up to the crater, but we just couldn't fit it into our schedule. Oh well, it looks like we will need to book another trip to the island!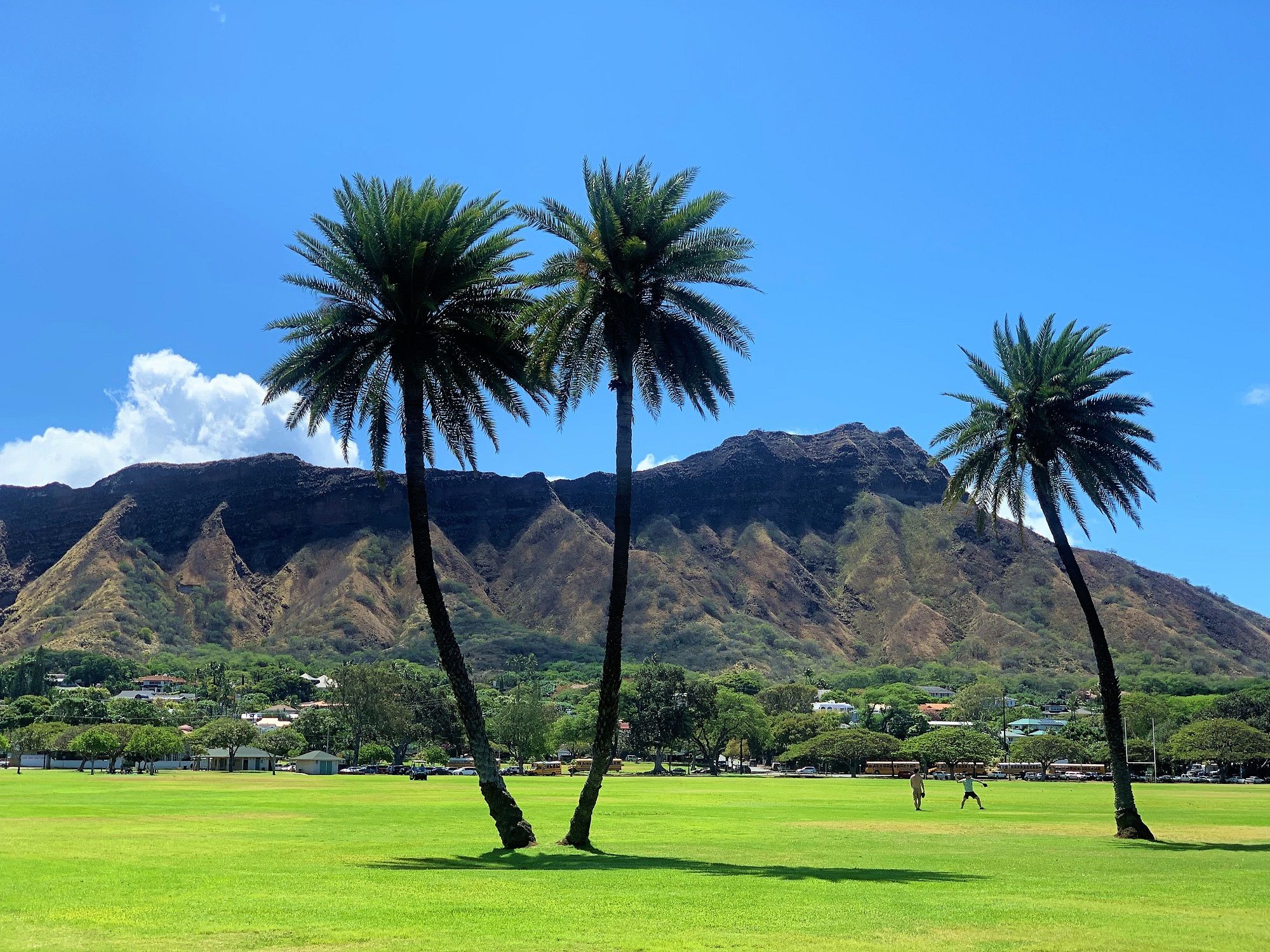 Continuing our drive, we passed some impressive homes and estates in the Kahala region. We drove for about 30 minutes until we reached our first stop of the day.
Bring on the Sites
The first few stops on the tour were quick photo ops.
At the Hanauma Bay Lookout, the parking and timing is strictly regulated. During our brief stop, we focused our attention on the beautiful views. While James pointed out that parts of the movie Blue Hawaii were taped at the beach, neither of us had seen the film.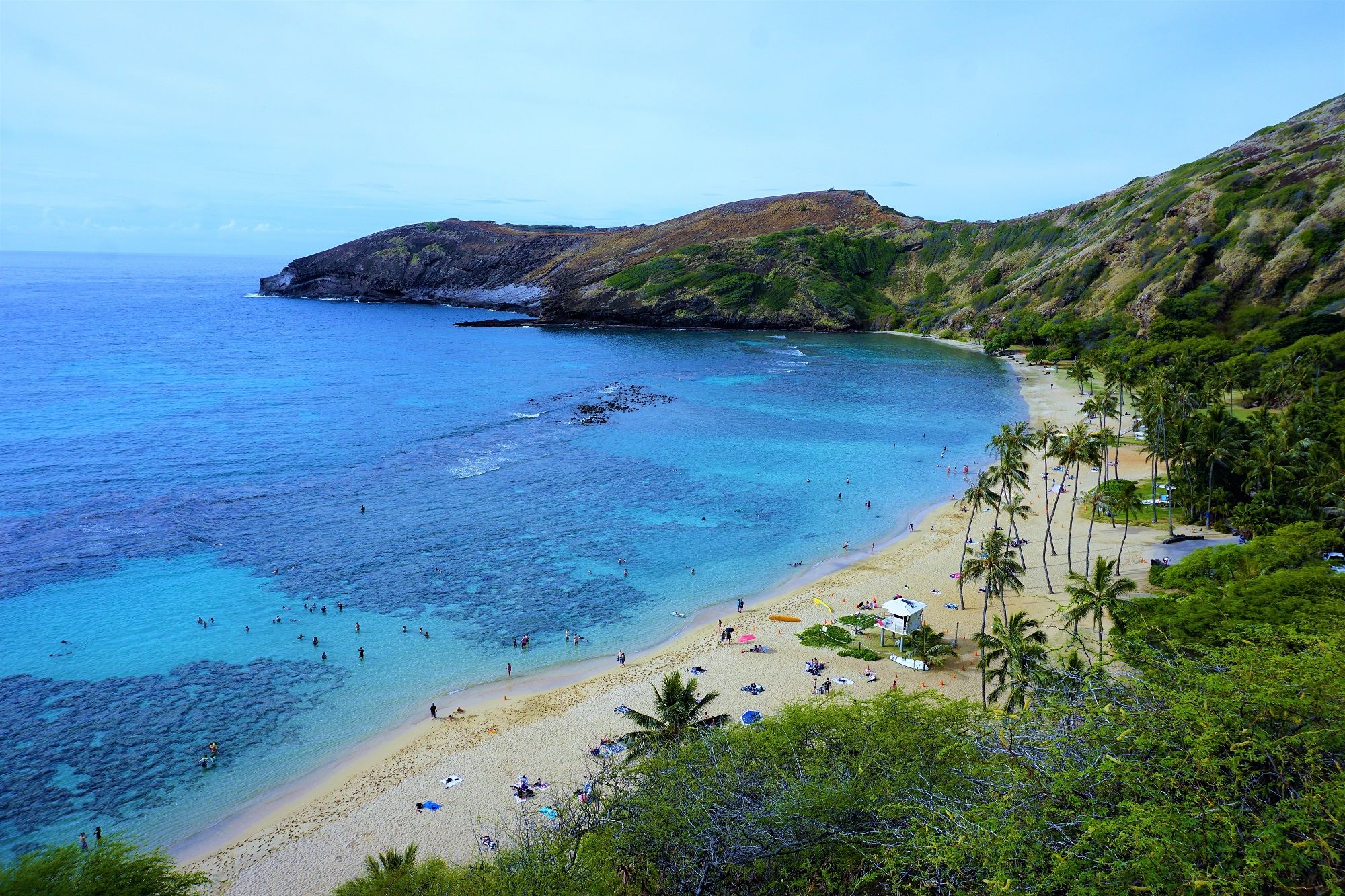 We had even less time to spend at our second stop, the Halona "Blow Hole" Lookout. In fact, the Princess and I were among the last back to the bus at this stop as we were trying our best to time the motion of the ocean for our photos and videos.
This spot's other claim to fame is being the location for the beach scene from the movie From Here to Eternity. Again, neither of us had seen the film.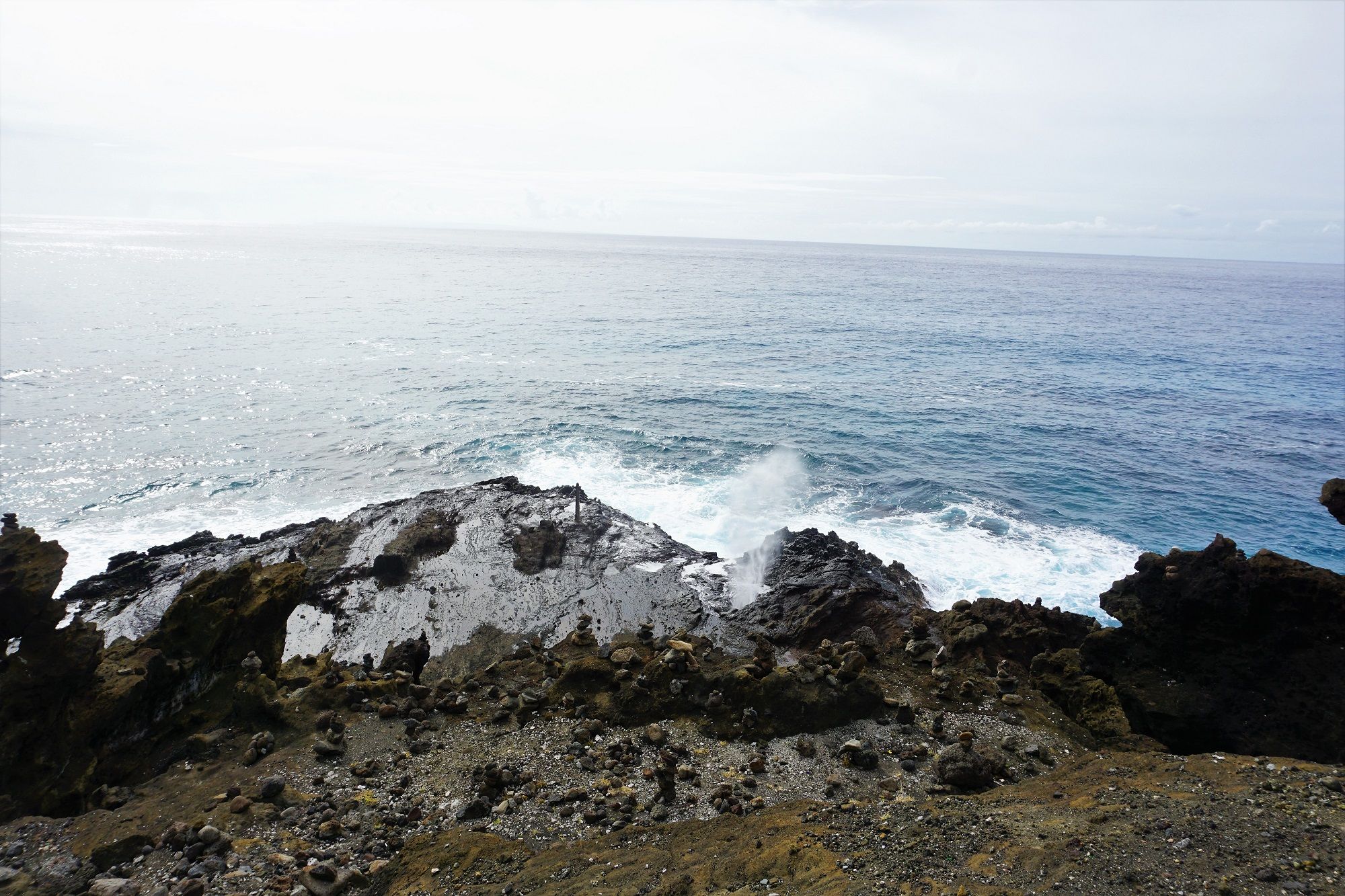 Due to road closures and construction, our next stop at Nuuanu Pali Lookout was not possible. So, we headed straight to the Byodo-In Temple.
Historic Stops on the Oahu Grand Circle Tour
It took about an hour to get to this next stop, the Valley of the Temples memorial park.
Here, the Byodo-In Temple memorial building commemorates the fist Japanese immigrants that came to Hawaii. It is quite an impressive structure, and the 25 minutes we had to tour the grounds and snap a few pictures was just enough time.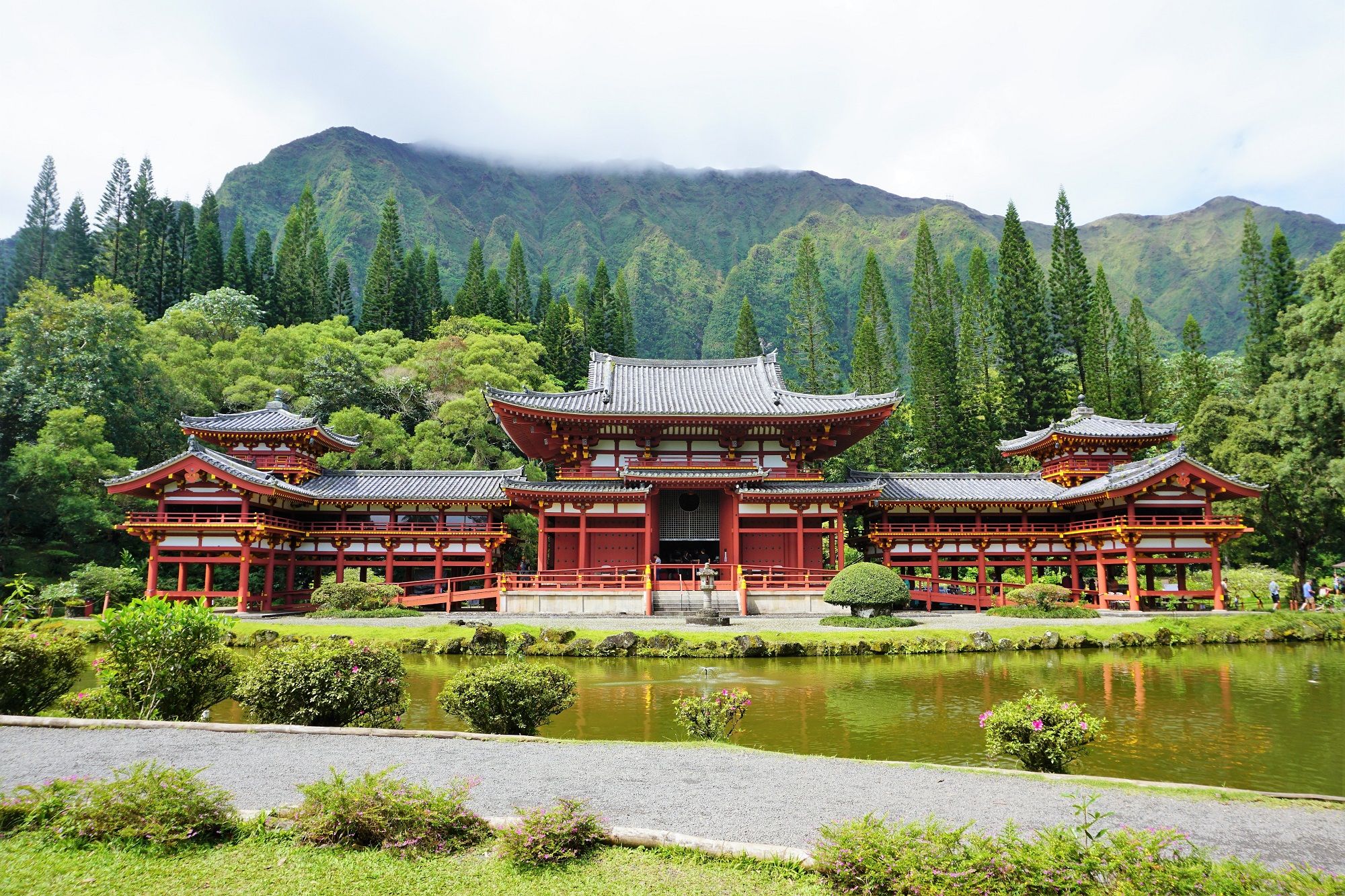 Not far from this stop was an unexpected detour to a nearby macadamia nut farm. With some free samples of coffee and nuts, you know we walked out with a few snacks for the remainder of our trip!
Leaving the temple, we arrived at the longest stop of the day, the Kualoa Ranch, just before 11:15 am. This is also the lunch stop for the tour.
This massive property offers several different tours. Among the options are horseback riding, zip lines, and a movie tour to see sites where popular movies like Jurassic Park were filmed. Part of our Oahu Grand Circle Tour included a twenty minute tram ride that circled a very small section of the ranch and provided some history and folklore.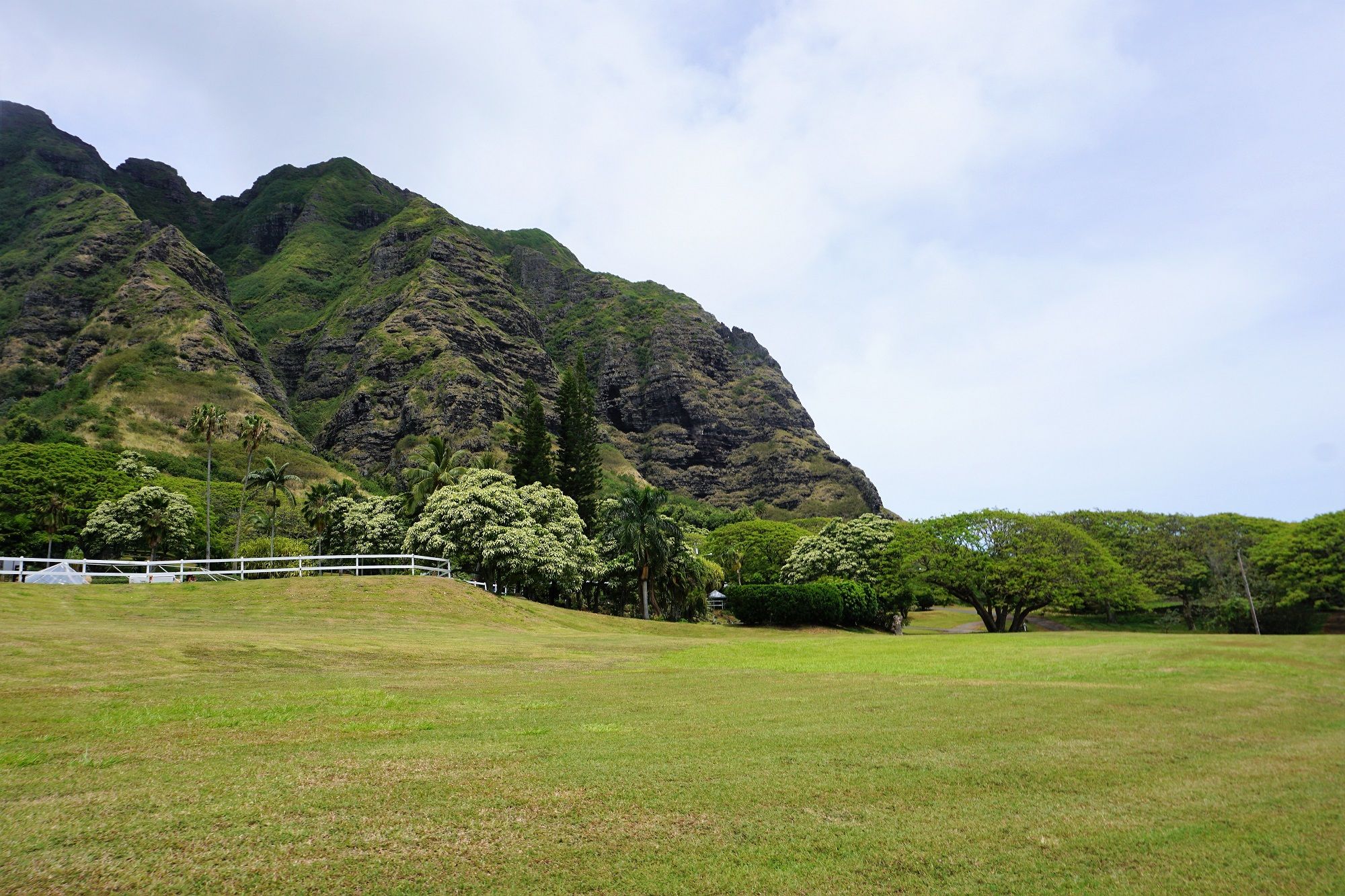 We then had about an hour on our own for lunch and souvenir shopping. Unfortunately, it was not enough time to do any of the additional tours. Just another reason for us to return to the island for a few more days!
If you purchased the Deluxe tour, you were entitled to a buffet for lunch. Otherwise, there was a quick service cafeteria to purchase sandwiches and other items.
A Long Ride to the North Shore
From Kualoa Ranch, it was up the east coast for a tour of the North Shore. The bus weaved in and out of the seacoast towns and tourist areas in this part of the island. The 90 minute drive was the longest stretch that we had in the bus with no stops. It did feel like we could have used a break at one of the locations, even if just 20 or 30 minutes.
We drove through the popular towns of Waimea and Haleiwa, while James commented on various landmarks and of course the best restaurants.
While we did not stop, we were able to see some massive sea turtles at the aptly named Turtle Beach, some of the beaches frequented by surfers, and some of the famous food trucks. We would certainly plan a day trip to spend some time walking around these towns and exploring the beaches on a return visit to the island.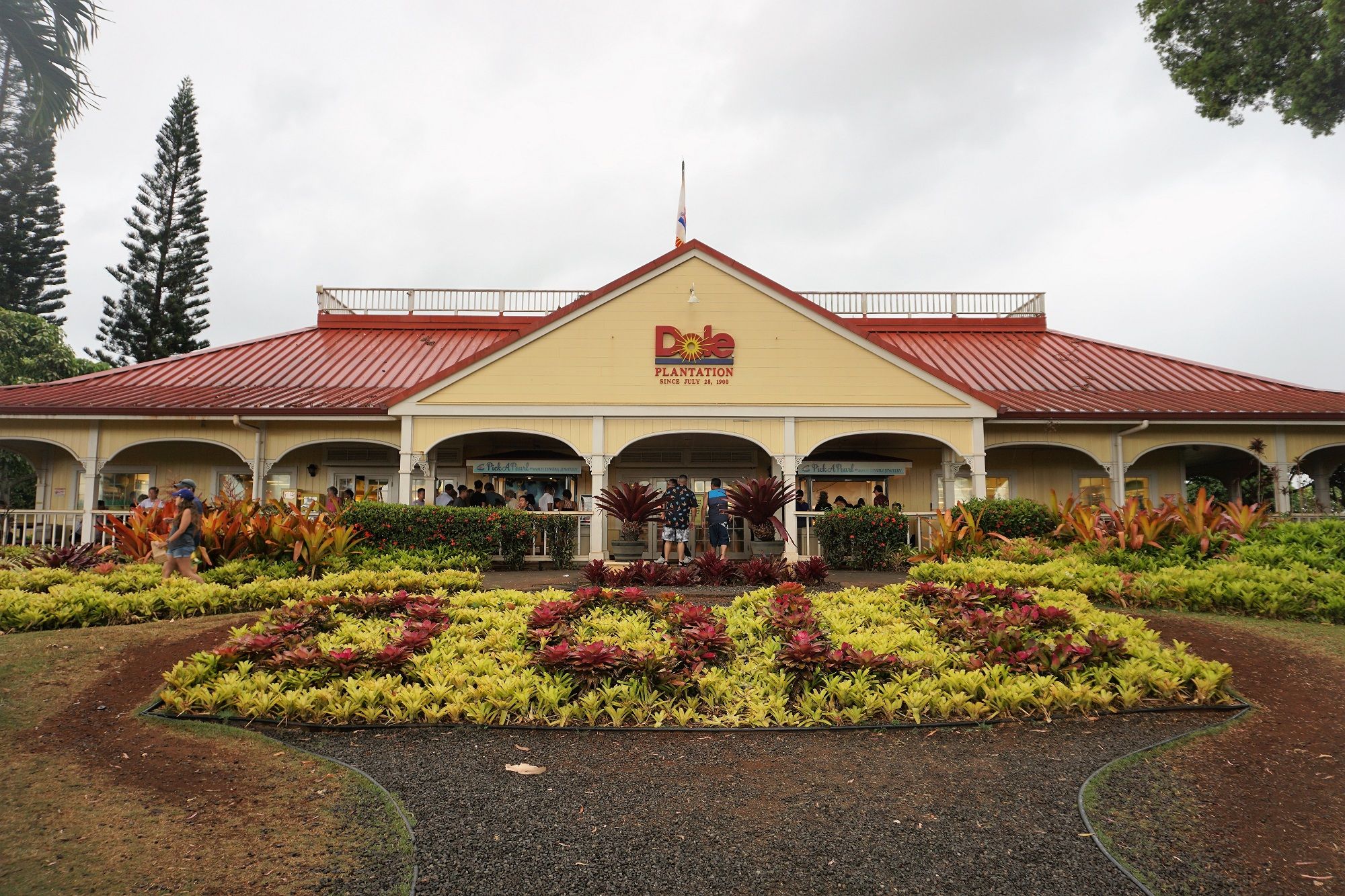 With dark clouds ahead, we pulled into the Dole Pineapple Plantation right around 2:30 pm.
In the online tour description, it indicates that you have 20 minutes at this stop. Perhaps to compensate for missing stops earlier in the day, James gave us an hour here. This is still not really enough time to take the train tour or get lose in the corn maze (available for an up-charge). Although, there was plenty of time to enjoy some Dole Whip and stroll the grounds.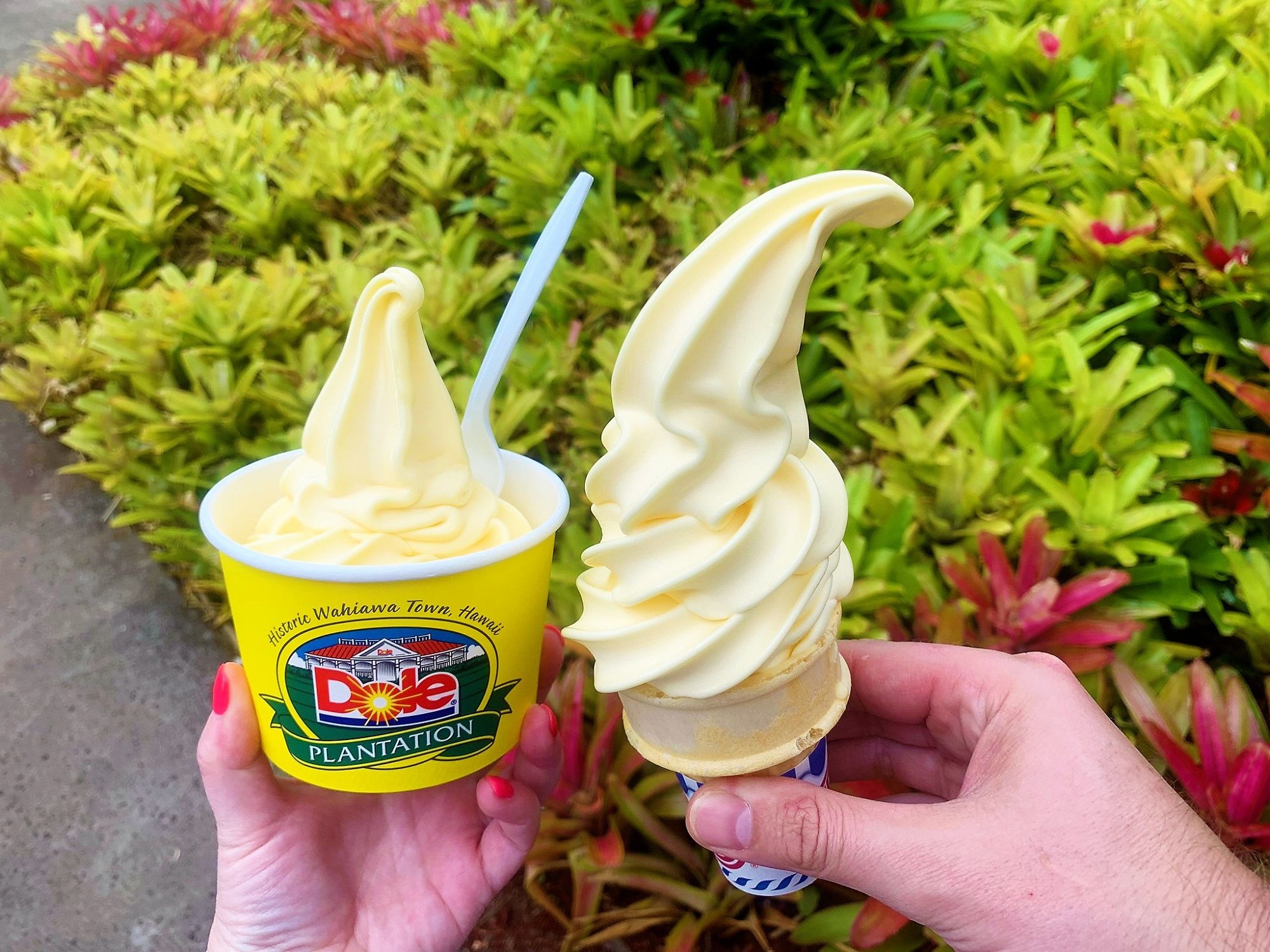 Back on the bus, it was about a 30 minute ride back to Honolulu. After making a few hotel stops, we finally arrived back at our original meeting spot around 4:30 pm. It was a fun-filled, and exhausting, day!
Recap of Grand Circle Island Tour Review in Oahu, Hawaii
Taking a Grand Circle Island Tour gave us a fantastic overview of Oahu, Hawaii. We would highly recommend Roberts Hawaii as a tour company. Our guide James was personable, funny, and kept our tour organized and efficient.
The tour company has several different pick-up locations all over Honolulu, so it is very easy to find a spot next to your hotel. Do be on time though, as the bus will not wait for you if you are late.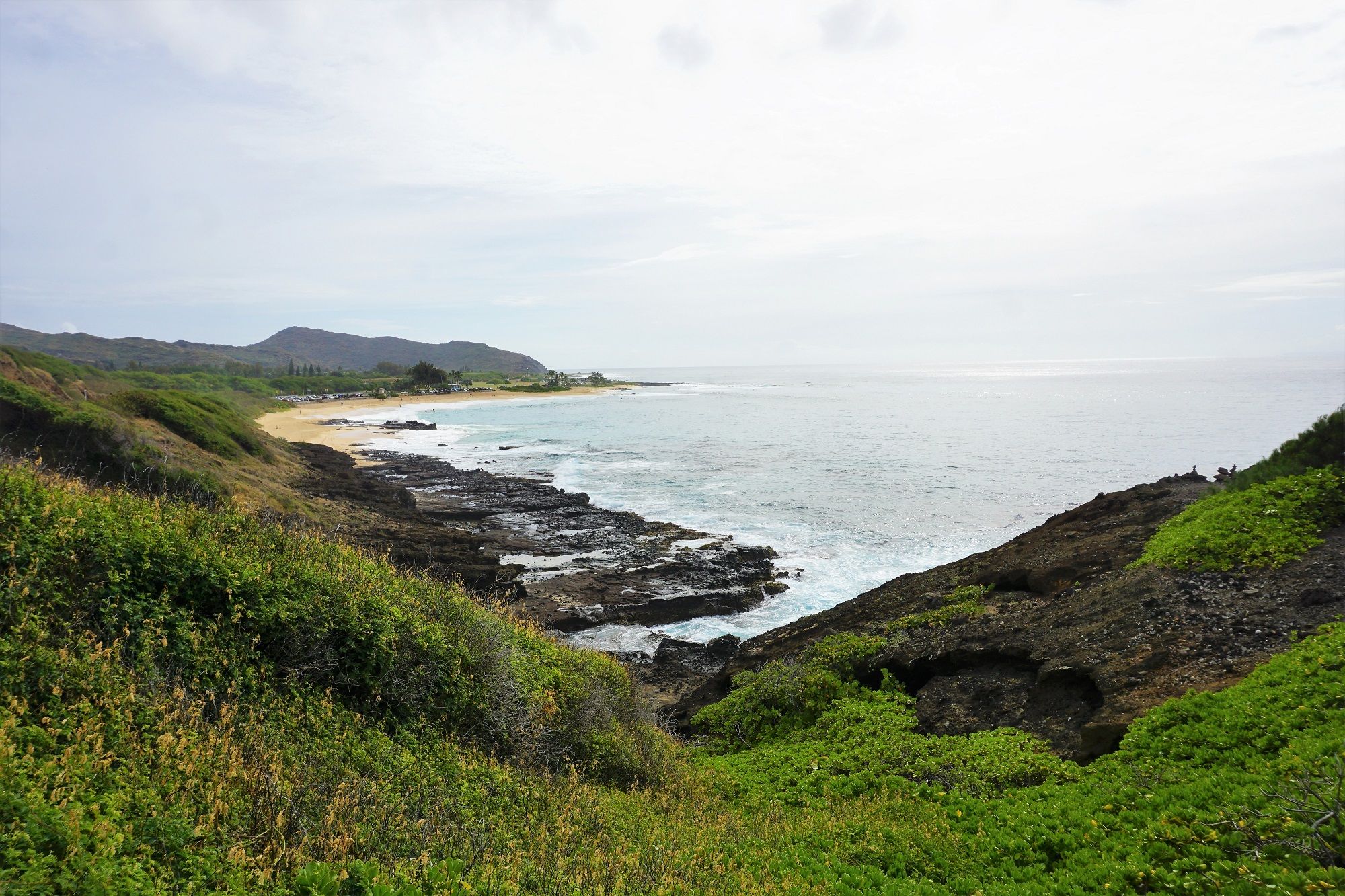 For travelers who have never been to the island, we think an island tour is a great first step. Now that we have seen several of the locations, we know exactly where we want to return on our next visit to Hawaii.
This excursion is perfect if you are spending some days on the island pre-cruise or post cruise. However, it is a bit long to be completed before boarding your ship on embarkation day.
Comments
Have you visited Hawaii on a cruise? Do you have a review of the Grand Circle Island Tour? Drop us an anchor below to share your experiences on this popular tour in Honolulu, Oahu.