MSC CRUISES OFFICIALLY RESUMES U.S. CRUISING FROM PORTMIAMI WITH MSC MERAVIGLIA
Fort Lauderdale, Fla. (Aug. 2, 2021) — MSC Cruises — the world's third largest and fastest-growing major cruise brand — is back, marking its return to cruising from the U.S. as MSC Meraviglia prepares to depart from PortMiami. This evening, the glamorous cruise ship will embark on a four-night cruise to The Bahamas, featuring a stop at MSC Cruises' private island destination, Ocean Cay MSC Marine Reserve.
MSC Cruises' first guest cruise in the U.S. in nearly 18 months is a landmark moment in the Company's global plan to have more than half of its fleet back at sea by the end of the summer. Its U.S. return also kicks off a countdown to brand new itineraries and ships for North American guests to look forward to this fall.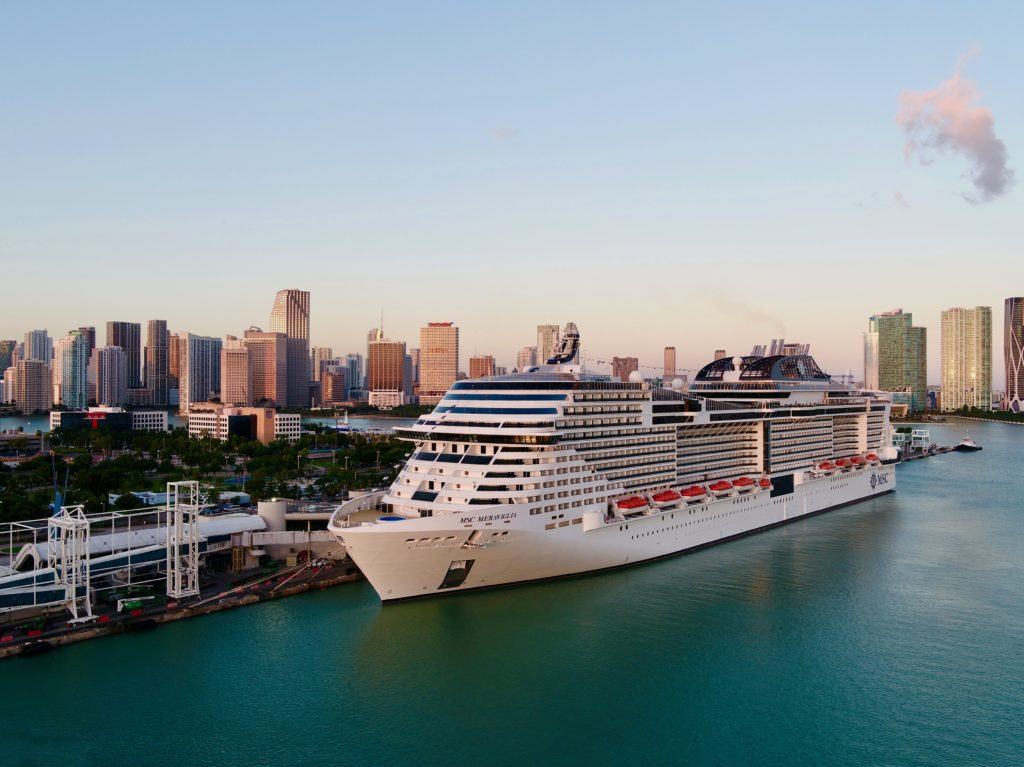 "As of today, we once again have the pleasure of showcasing our word-class experiences to U.S. guests, offering them the cruise experience they know and love with upscale dining, dynamic entertainment and immersive activities, including our new private natural paradise, Ocean Cay," said Rubén Rodríguez, President of MSC Cruises USA. "It has been a long road, and we are delighted to see demand continue to increase as cruisers grow eager to get back to sea. We are confident that they will find the rich onboard experience that we're known for, while feeling reassured that their health and safety is our highest priority."
MSC Meraviglia's Return to the U.S.
MSC Meraviglia is one of the hottest vacation destinations at sea, packed with innovative features for an unforgettable experience. Guests will be reintroduced to dazzling features, including a two-story, Mediterranean-style promenade lined with shops, restaurants, bars and entertainment; a luxurious Balinese spa; MSC Yacht Club; our thrilling Polar Aquapark with a Himalayan Bridge ropes course; and multiple pools and sundecks. Cruisers will be captivated by world-class entertainment in the Broadway-style theater each evening, Formula 1 simulators, a bowling alley and many other entertainment options. Diverse, internationally-inspired cuisine ranges from prime cuts at Butcher's Cut, fresh sushi, sashimi and teppanyaki at Kaito and Mediterranean-style seafood at Ocean Cay, to name a few.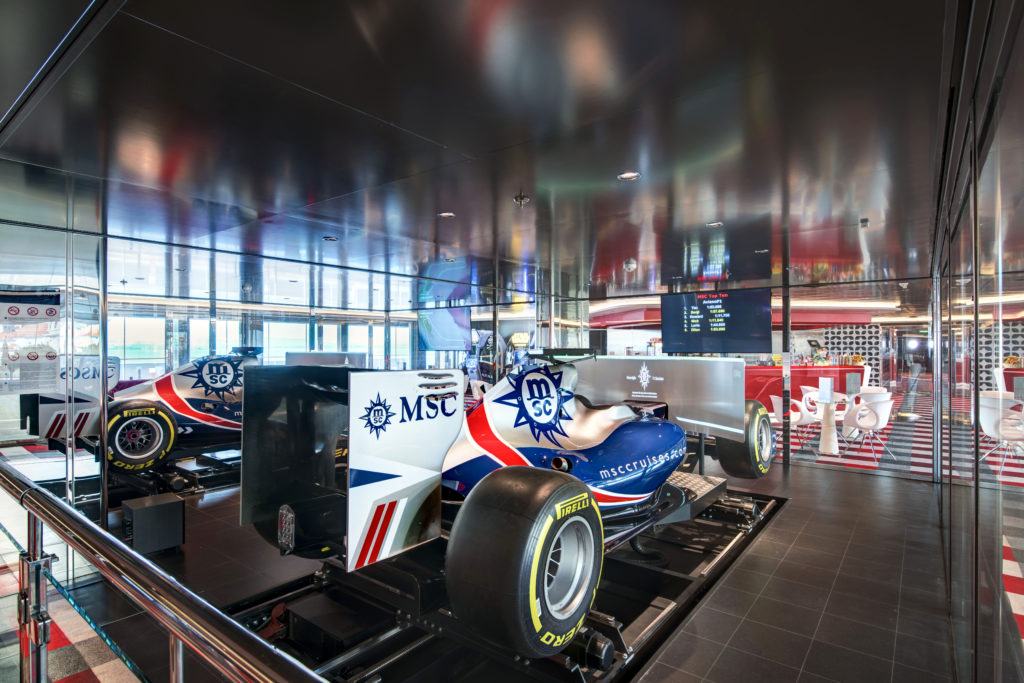 MSC Meraviglia will sail 3- and 4-night cruises beginning today and add 7-night eastern and western Caribbean cruises starting September 18, 2021. Highlight itineraries include:
August and September 2021: Four-night cruises embarking from Miami and visiting Nassau, Bahamas and Ocean Cay MSC Marine Reserve for an overnight stay. Prices currently start at $269 per person for a balcony stateroom.
September 2021 and beyond: Seven-night cruise embarking from Miami and visiting Ocean Cay MSC Marine Reserve, Nassau, Bahamas, Ocho Rios, Jamaica; and a second stop at Ocean Cay before returning to Miami. Prices currently start at $409 per person for a balcony stateroom.
MSC Divina will then be MSC Cruises' second ship to return to cruising from the U.S., with three-, four- and seven-night itineraries beginning Sept. 16 from Orlando (Port Canaveral) – a new homeport for the Company. Itinerary highlights include:
Sept 2021 and beyond: Three-night cruise from Port Canaveral visiting Nassau, Bahamas and Ocean Cay MSC Marine Reserve. Prices start at $129 per person for a balcony stateroom.
September 2021 and beyond: Seven-night cruise from Port Canaveral visiting Ocean Cay MSC Marine Reserve; Cozumel, Mexico; and Costa Maya, Mexico. Prices start at $329 per person for a balcony stateroom.
Ocean Cay MSC Marine Reserve, is a highlight of MSC Cruises' itineraries cruising from Florida to The Bahamas & Caribbean. Ocean Cay is MSC Cruises' private island paradise and the island was named Best New Cruise Destination. It offers guests more than two miles of white sand beaches in an eco-friendly 64 square mile marine reserve. Guests will enjoy the island's natural beauty, discover local marine life and soak up the spirit of The Bahamas with ships docking at the island from early morning into the evening and in many instances overnight. Guests can spend a full day enjoying activities for all ages, including stand-up paddle boarding, kayaking, snorkeling, thrilling wave runner rides and more.
What's Ahead for MSC Cruises in the U.S.
Delivered just last week as the largest cruise ship ever built in Italy, MSC Seashore – MSC Cruises' newest flagship – will arrive to her new homeport in Miami on November 18, 2021. As an evolution of the Seaside class, the ship will bring guests closer to the sea than ever before with 140,000 sq. ft of outdoor space, the most of any MSC Cruises ship in the U.S., numerous outdoor bars and dining, pools and deck area for relaxing and sunbathing, as well as a variety of brand new spaces for guests.
Health & Safety Measures
The health and safety of guests, crew and the communities we visit is MSC Cruises' top priority. In line with this commitment, MSC Cruises implemented an industry leading health and safety protocol onboard each ship, which includes universal COVID-19 testing at embarkation; vaccination and periodic testing of crew; social distancing; mask-wearing; enhanced sanitation measures and more. MSC Cruises will welcome both vaccinated and not fully vaccinated guests onboard with additional requirements and restrictions for guests who are not fully vaccinated.
This comprehensive protocol has been key to MSC Cruises' successful global restart, in practice since MSC Cruises was the first major cruise line to restart cruising in August 2020 with MSC Grandiosa resuming operations in the Mediterranean. Over the last year, the Company has successfully provided safe and enjoyable cruise vacations to tens of thousands of guests.
For more information on MSC Cruises' first cruises from the U.S. and to book, guests should contact their preferred travel advisor, or visit here.
To learn more about MSC Cruises' comprehensive health and safety protocol, visit here.
SOURCE MSC Cruises
Comments
What do you think of the news that MSC Meraviglia resumes cruising from the U.S.? Do you have plans to sail with MSC Cruises this summer? Drop us an anchor below to share what you love about this cruise line.
Stay up to date with the latest cruise news and travel updates!