One reason we love cruising to Alaska is getting to experience all the region offers for shore excursions. On our latest Alaskan cruise, we opted to get a bird's eye view of one of the region's most impressive natural wonders, Misty Fjords National Monument. With the help of Taquan Air, we took a DeHavilland Beaver on a tour to see this amazing area from the air. We are back from the clouds and have our review of the Misty Fjords Flightseeing Tour in Ketchikan, Alaska.


Misty Fjords Flightseeing Tour Review in Ketchikan, Alaska
Preparing to Soar
As one of the most anticipated excursions of this trip, we were all looking forward to this floatplane tour of the Misty Fjords. Traveling with two groups of friends, one of the couples joined us for this aerial adventure.
Meeting at the Norwegian Bliss theater at the designated time, our tour was called in about ten minutes. We were escorted off the ship to a bus for an approximately ten-minute ride to the airfield.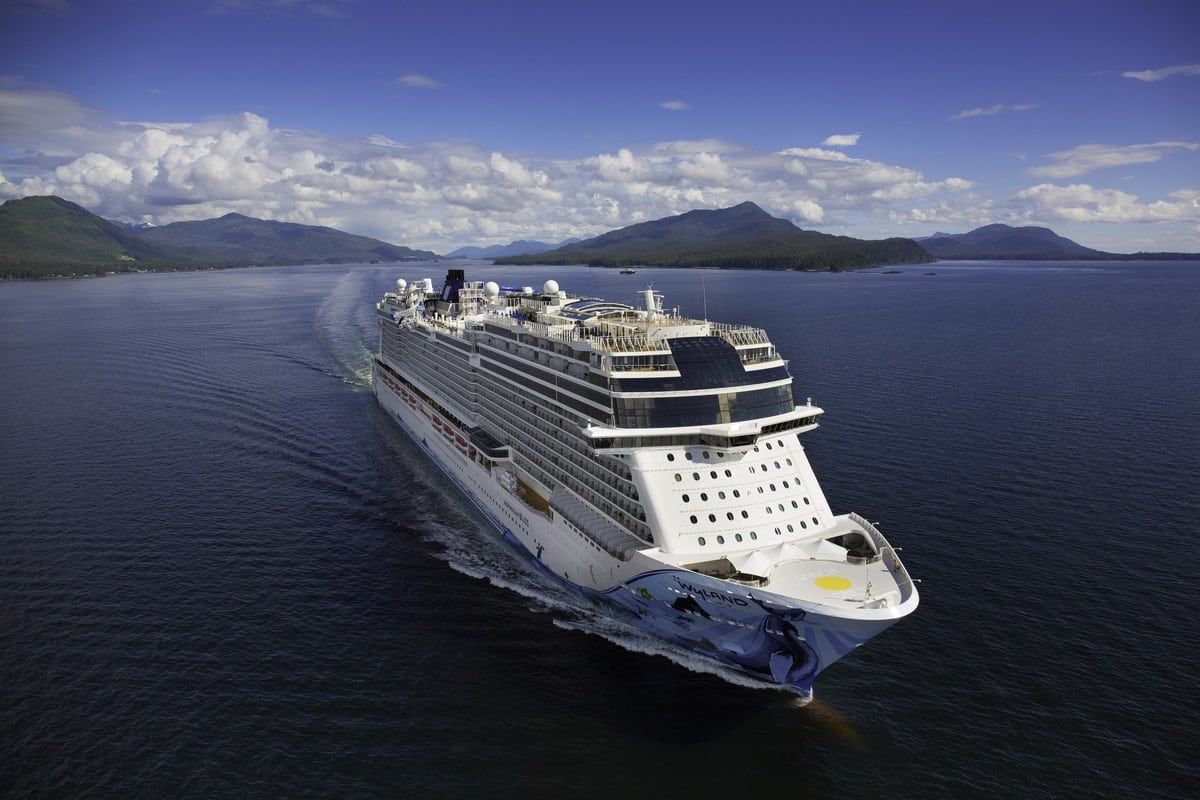 Related Post: Norwegian Bliss Alaskan Cruise Review
Arriving at Taquan Air, our bus pulled in just as another group of travelers was finishing their safety briefing video. The company worked like a well-oiled machine, processing passengers in a routine and precise fashion. As they were led to their floatplanes, it was our turn for the orientation.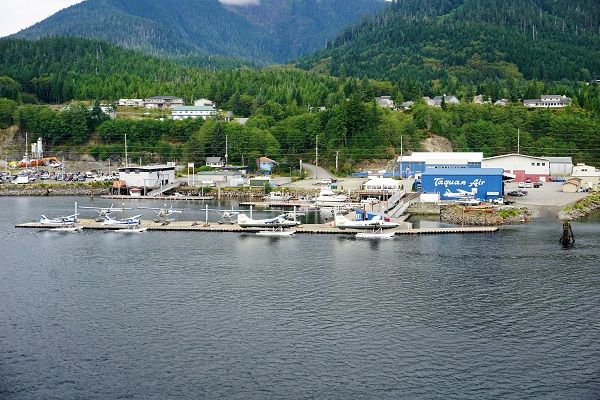 The video was about 10 minutes long, providing the necessary information for a safe flight. After watching the video, we were given a few minutes for a bathroom break and to stow our gear. Given the tight quarters on the planes, you can not take any bags with you, so you are asked to store additional items in totes left on the docks (or is it the tarmac?).
We Have Been Cleared for Departure
Travelers are divided into small groups, based on weight and travel party, then given a seat position to balance out the plane. Good thing this was early in the cruise!
The four of us were placed with one other couple who was on their honeymoon. We were led to our vehicle on the dock, a 1955 beaver. According to the information sheet in the plane, the vehicle had been commissioned by the military. After serving an undisclosed amount of time in the service, the plane was formally registered in Alaska in 1973.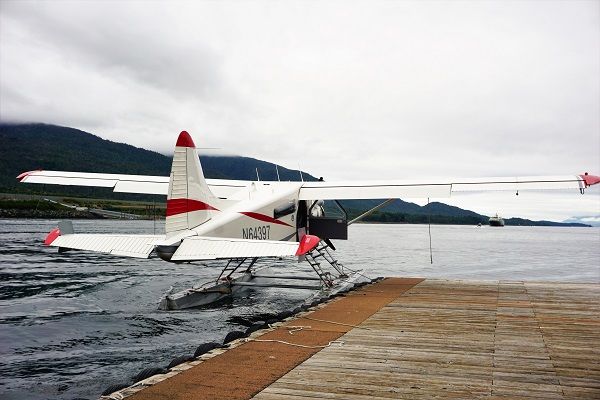 Seating was tight, but we all secured into our designated spots with our cameras ready to go. It was almost time for take-off! Luckily, we all had a clear window view, even though the windows themselves could have used some cleaning. Similar to our experience in the helicopter in Juneau, we all had to wear headphones to mask the noise from the engines.
Related Post: Mendenhall Glacier Helicopter Tour
After a quick onboard safety briefing mandated by the FAA, we were ready for our 75-minute tour. The plane headed for the "runaway" behind the six or so other planes that were part of this convoy. With the engines revved-up, we were ready for take-off.
Honestly, it was a much smoother experience than we expected. In fact, we did not really feel that the plane had parted ways with the water below as we began to ascend for our journey.
Leaving the airfield, we headed southeast towards the Misty Fjords National Monument. In doing so, we passed the cruise ships that were in port for the day. This would only be the beginning of our epic adventure.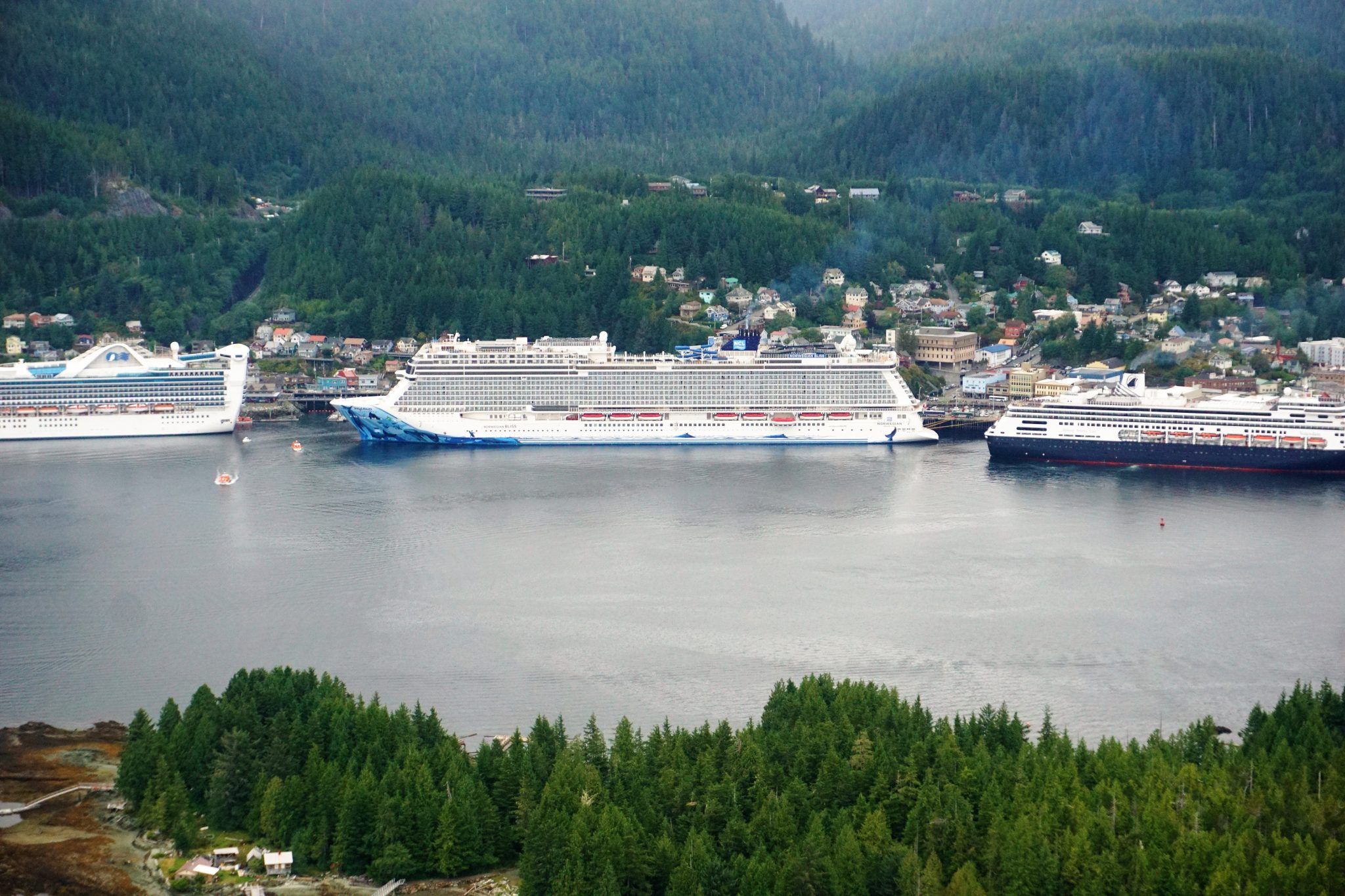 An Uninhibited View of the Misty Fjords
The Misty Fjords National Monument is approximately 2.4 million square acres of forest, lakes, and passageways. However, it is just a small part of the massive 16.7 million square acres Tongass National Forest. The impressive 3,000-foot tall granite walls of this protected area have been carved out by melting glacial ice over tens of millions of years.
The result is awe-inspiring ledges and deep "canals" of fresh sea water. While some small boats are permitted passage through the fjords, the best way to see this area is by air.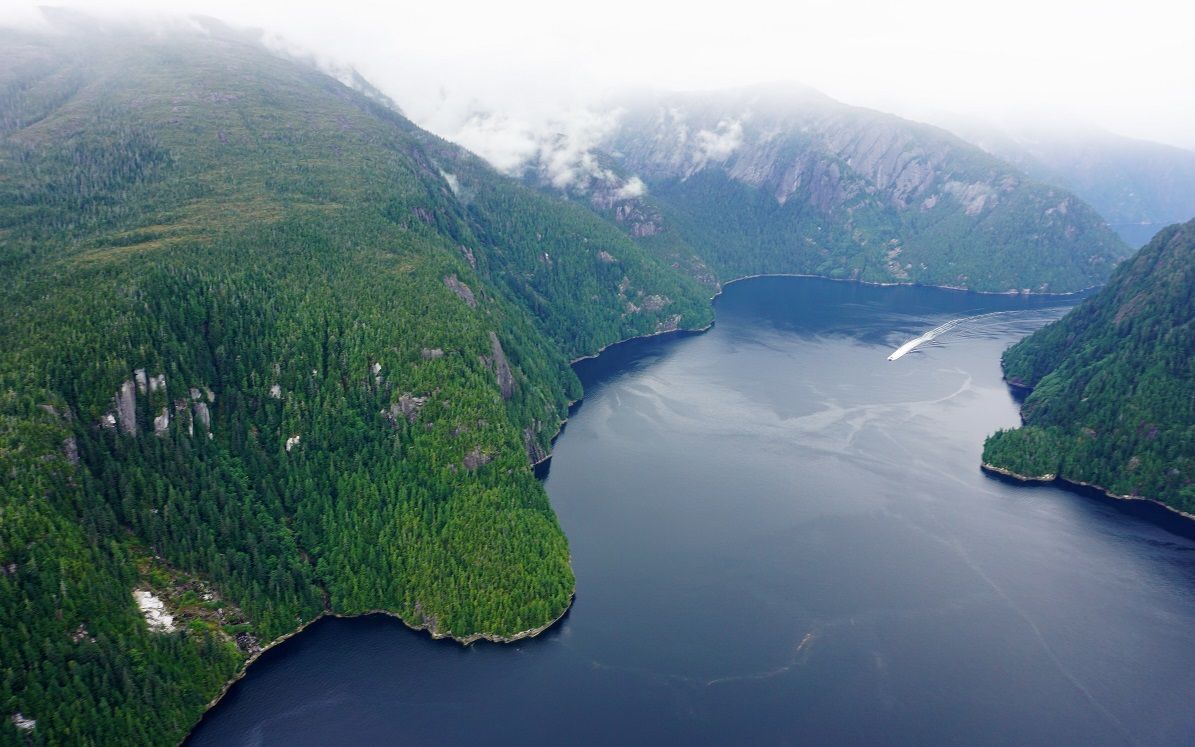 Unfortunately, we did not have a map of our route, but our pilot would routinely provide some narration about our surroundings during the flight. While we were a bit late in the season, he did mention that we could see some bald eagles, black bears, and goats. Sadly, there were few animal sightings during our trip.
In between these interludes, our pilot played 1950's and 60's rock and roll music. I am not sure what it was about the experience, but it made me feel like I was the star in some war movie as we glided over the magnificent landscapes to the beat of classic rock.
Go figure, it was a grey and overcast day. I guess that is why this region is known as the Misty Fjords. It was not the most ideal setting for taking pictures, but we were still able to marvel at the lush greenery and rugged landscapes.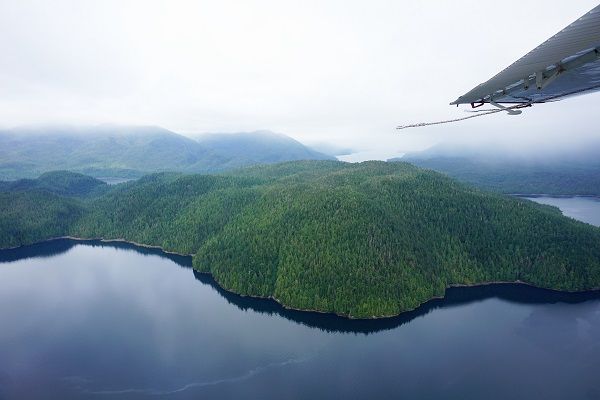 It was awe-inspiring to take in the majestic beauty of this naturally protected area, including the plentiful waterfalls, trees, and lakes. Trying to listen to our pilot's narration while capturing as many photos and videos as possible, the time passed pretty quickly.
A little more than half-way through the flight, we made a water landing. This 10-minute stop allowed us to get out of the plane on the pontoons to take a few moments to engulf our senses in the raw, natural wonder of the region. It was so calm and peaceful.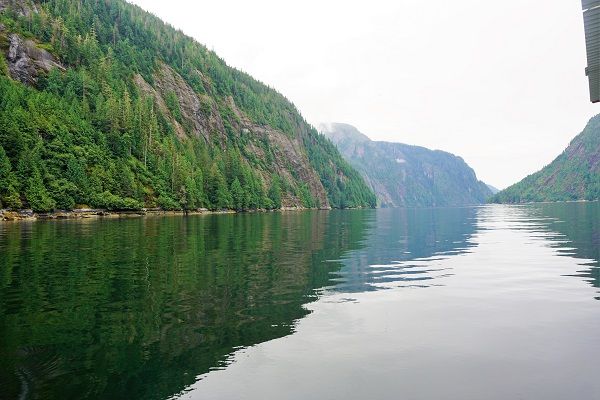 Like all good things, this short adjourn from the air had to come to an end. After taking a few pictures and some deep breaths of the fresh Alaskan air, it was time to continue our return flight.
Heading Back to Civilization
On our way back, we passed New Eddystone Rock. This 200-foot tall basalt pillar formed through a volcanic vent that emitted magma some 5 million years ago. Today, this isolated island in the middle of the fjords is sometimes home to an array of bald eagles. While we all searched diligently, none of us could spot any of these elusive birds, at least with our naked eyes.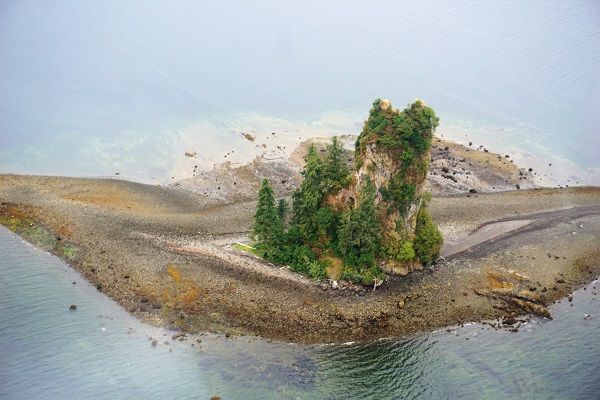 As we were beginning to approach civilization again, we snapped a few remaining pictures. The landing back at the airfield was as graceful and unimposing as the take-off. Of course, once back on the ground, we needed to have a few plane selfies to complete our picture taking for the morning.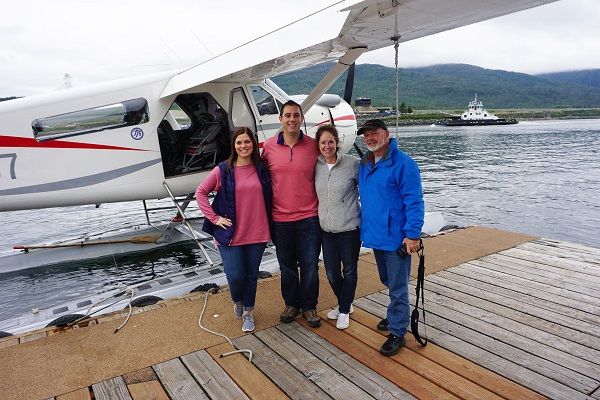 We were one of the last planes to arrive back from the flight. This meant that we missed the first bus back to the ship and town. Not a big deal, as this gave us time to purchase a commemorative floatplane Christmas ornament. While these ornaments were probably not locally made, they were just too cool and relevant for us to pass.
Waiting close to 30 minutes, the next bus arrived with new, eager travelers ready to take flight. Departing around 11:15 am, it was an uneventful ride back to downtown. We would then head over to Creek Street to do a little more sightseeing before heading back to the ship.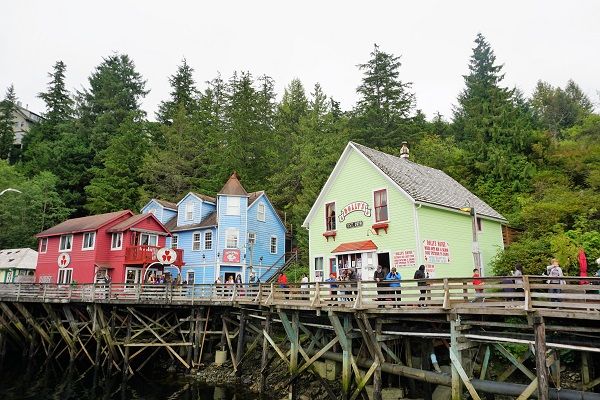 Completing the Misty Fjords Flightseeing tour meant that we could check off another bucket list shore excursion. It was another unforgettable tour that you can only experience when in Alaska.
Comments
Have you visited Alaska on a cruise? Have you experienced a floatplane exploration of the Misty Fjords in Ketchikan, Alaska? Drop us an anchor below to share your flightseeing tour review of this national monument.