There are several hotels located near the Miami Cruise port that offer cruisers a variety of accommodations. For cruisers looking for a five-star experience, we suggest the Mandarin Oriental Hotel. This modern hotel offers an Eastern flair with luxurious amenities and an ideal location. For a short cruise on Royal Caribbean's Navigator of the Seas, we elevated our pre-cruise stay at this hotel. See why this hotel now ranks at the top of our list of hotels in the city in our Mandarin Oriental Miami Hotel Review.
Mandarin Oriental Miami Hotel Review
Located less than four miles away from the Miami Cruise Port, the Mandarin Oriental Miami is located on Brickell Key. In fact, this small island feels like a private oasis just outside the hustle and bustle of the city.
We arrived Thursday evening for our Friday morning cruise departure. With a flight delay, we arrived at the hotel later than expected. This was unfortunate as we were looking forward to taking advantage of some of the hotel's amenities before sunset. Still, we were able to enjoy some of the hotel's indoor features that evening.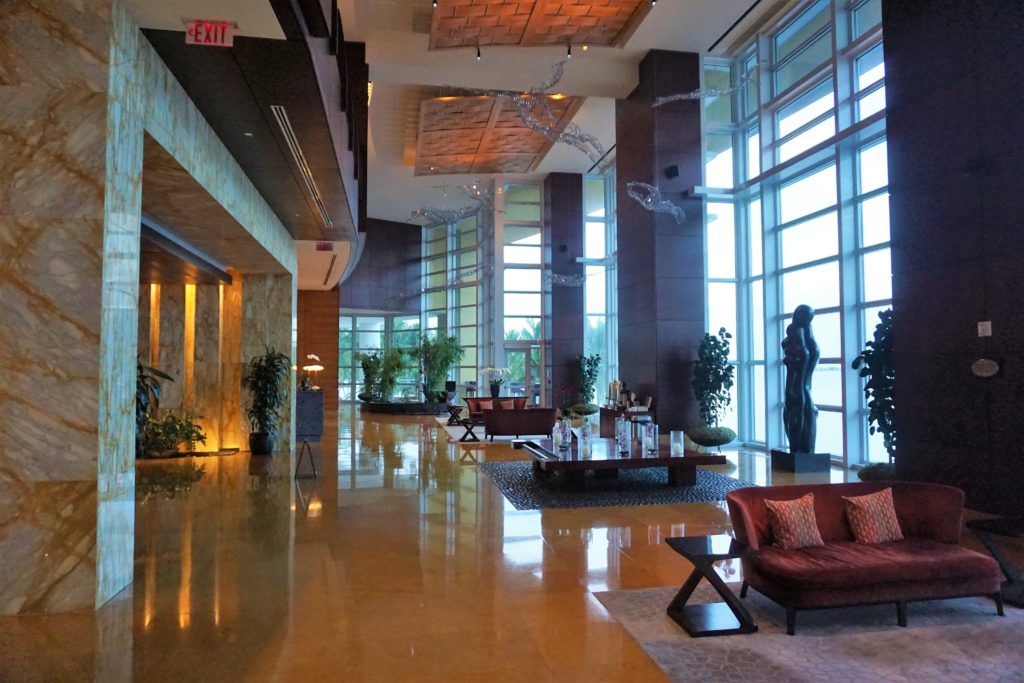 A Private Oasis
Upon arrival, we checked-in with no queue. A warm, welcoming lobby with high-end finishes and the city as its backdrop welcomes guests. There is a large wall of windows shining natural light onto the lobby's earth tones and botanical features and sculptures. This ambiance gives the space a distinctly Eastern feel.
The Guest Services desk is conveniently tucked away around the corner from the entrance, so as not to detract from the elegance.
The blending of the indoors and outdoors is seamless throughout the property. Taking advantage of its location, the Mandarin Oriental Hotel never misses an opportunity to showcase its lovely views of downtown Miami and the waterfront in its public areas.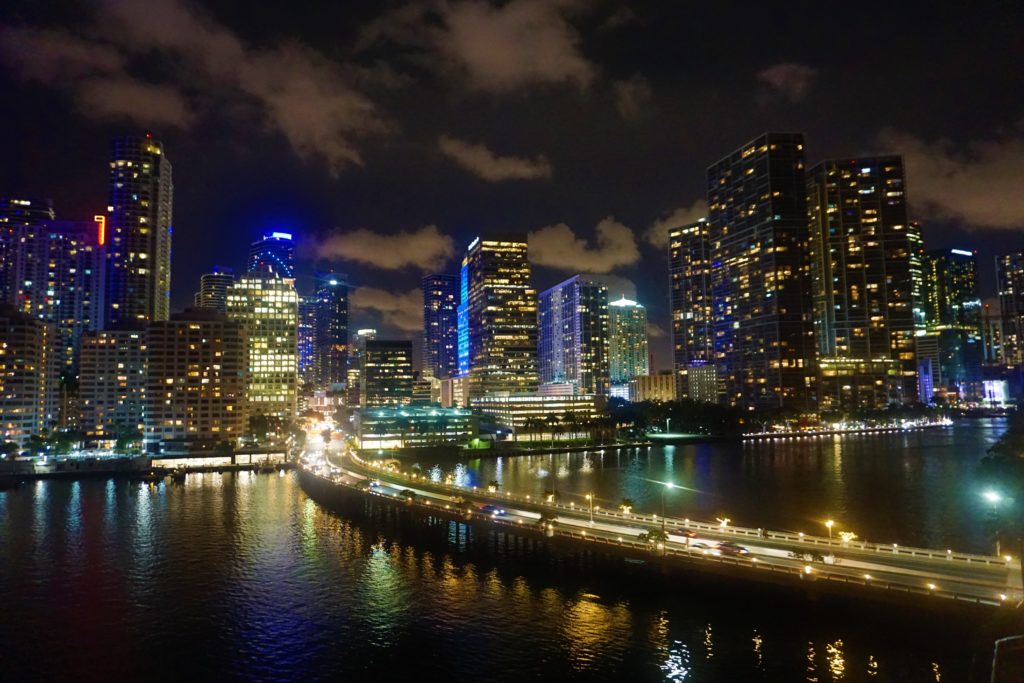 This 326-room waterfront hotel opened in November 2000, and has been well-maintained providing guests with an upscale experience during all aspects of their stay.
After checking in, we headed up to our room on the ninth floor to change up for some drinks and snacks the MO Bar and Lounge. The hotel does feature a full service, fine dining restaurant La Mar By Gaston Acurio, but we decided on something a bit more low key this evening given our longer than expected day of travel.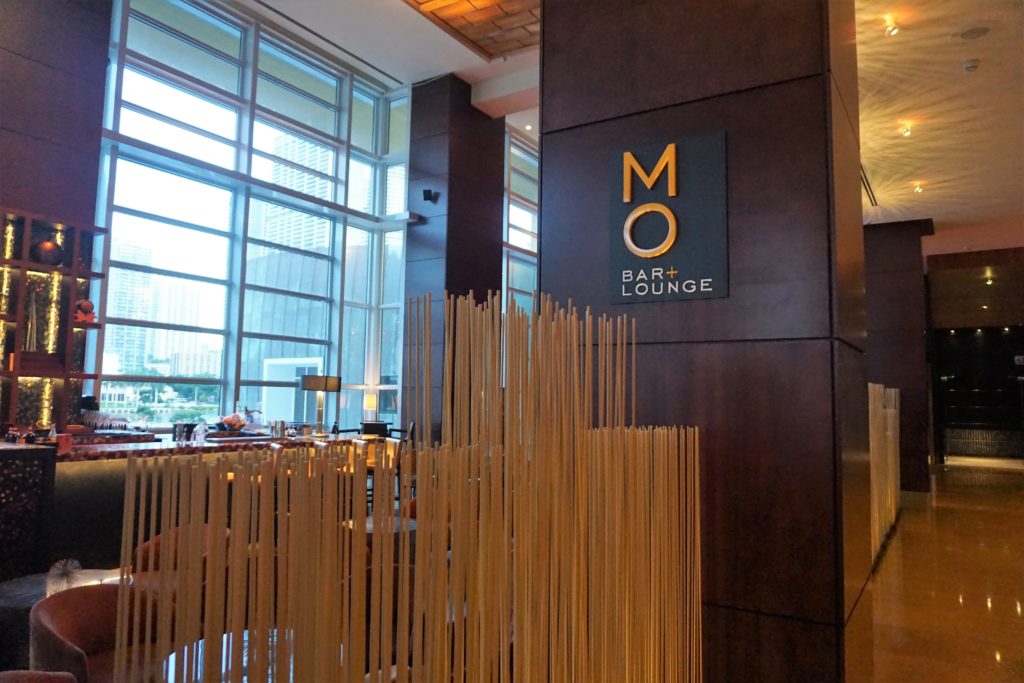 The relaxed and sophisticated atmosphere was just what we needed. In addition, the bar's menu offered a mix of hand-crafted cocktails and small bites. Service was quick and responsive. We sipped a few rounds and nibbled on a few snacks, while planning our attack for our second trip to Perfect Day at CocoCay, Royal Caribbean's new private island destination.
Mandarin Oriental Miami Hotel Deluxe Bay View Room
We booked our Deluxe Bay View Room approximately two months before our cruise. Typically, we book even further in advance for our trips; however, this was a last minute cruise. Given the time of year and that it was a Thursday, we secured a rate of $279 for the night. For a five star resort in Miami, this was a steal.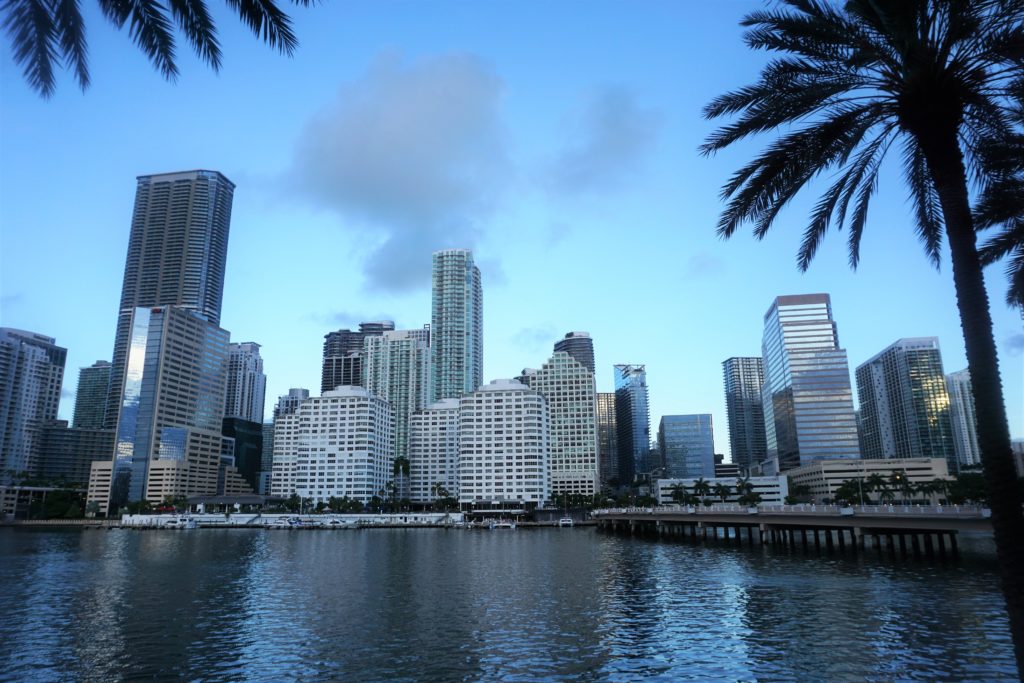 For our one night accommodation, the room did not disappoint.
Inside the 441 square foot room, we enjoyed all the extra space. After all, we would be spending the next three days in balcony cabin room on a cruise ship that was half this size.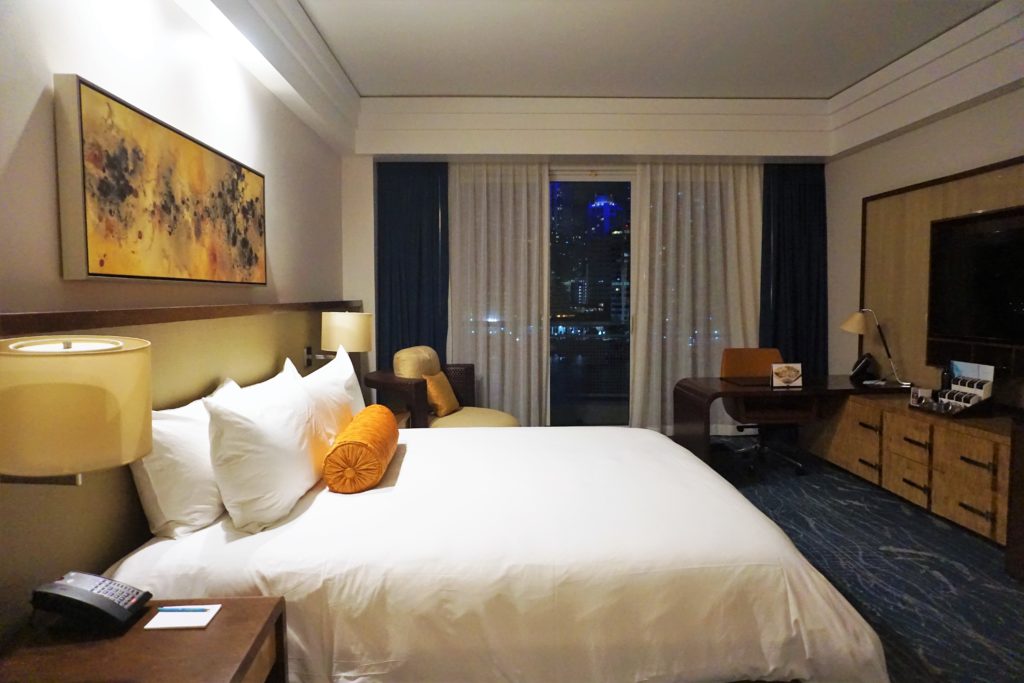 The room had a minimalistic yet sophisticated look and feel. Of course, it has the obligatory work desk, HD television, and other comforts that one would expect to find at a high-end resort. The work station also provided plenty of outlets and USBs to ensure all our devices were well charged.
Not to mention, the large balcony provided spectacular views of Biscayne Bay and the Miami skyline all lit up at night.
After retreating to bed for the evening, we had no problems falling asleep wrapped in the luxuriously soft goose down bedding.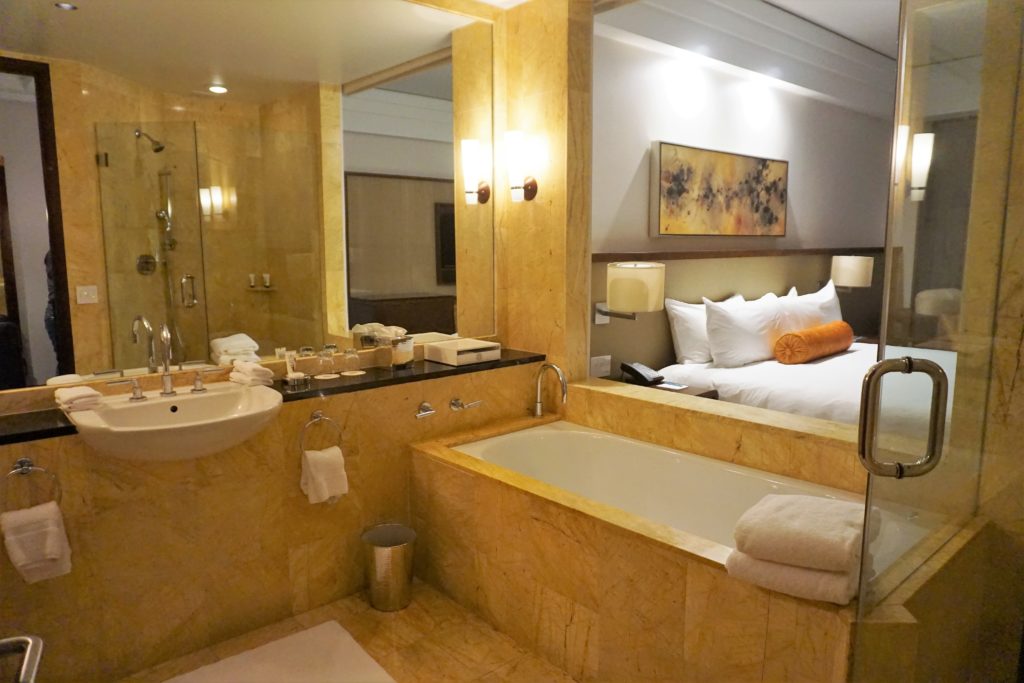 The next morning, the over-sized bathroom came in handy as we prepared for our cruise day embarkation. The rainfall shower and Shanghai Tang bath products provided an invigorating start to the day, along with some coffee from Starbucks of course. (Starbucks is located a few blocks from the key, so a bit of a walk but worth it for us!)
While we did not take advantage of it, there is also a generously sized soaking tub that looks out towards the bedroom.
Recap of the Mandarin Oriental Miami Hotel Review
For our pre-cruise stay, the Mandarin Oriental Miami hotel offered us an elegant escape from the hustle and bustle of downtown Miami. With spacious and chic accommodations, first-class services, and unique amenities, this hotel is certainly worthy of its five star rating. While we had plans to enjoy more of the resort's amenities, our flight delays prohibited us from truly being able to enjoy all that the property had to offer like the infinity pool, spa, or private beach.
Still, with unparalleled views, tasty concoctions, and friendly service, we would certainly return to this hotel for another stay in the future. When compared to other resorts in the area, we felt our Thursday night stay here was an amazing deal.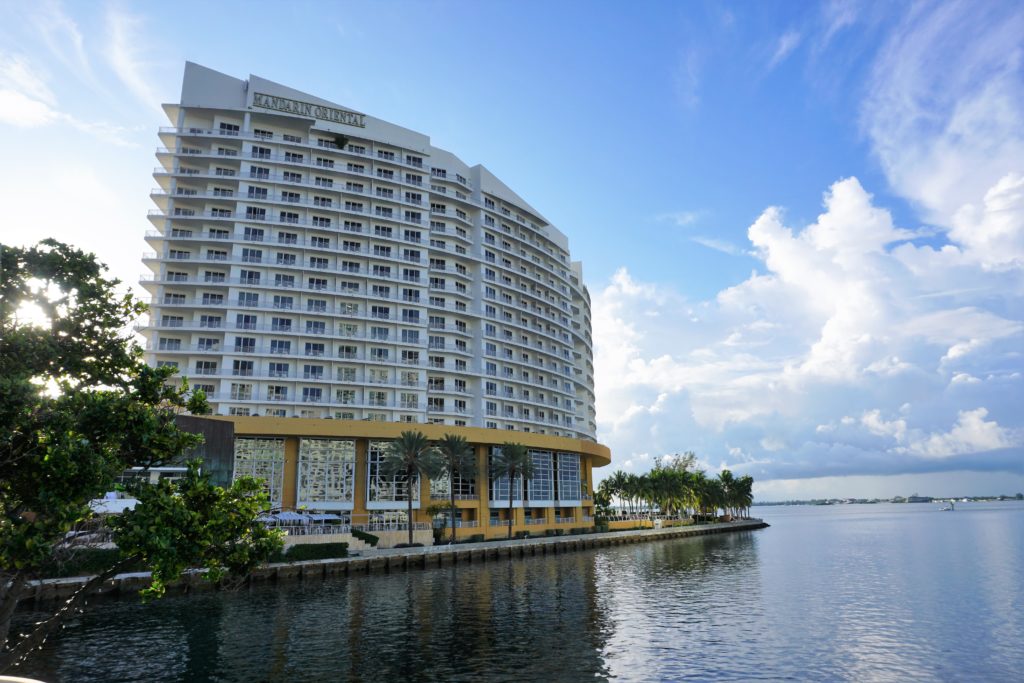 The following morning, our Uber ride to the cruise terminal took less than 15 minutes. So, the Mandarin Oriental Miami is the perfect little hideaway where travelers can get some upscale rest and relaxation pre-cruise or post-cruise. Yet, it is still close enough to all the action if you are looking for a night out in the city.
How you choose to spend your time at the resort is completely up to you! Though, one thing is for sure- you will not be disappointed.
Comments
Do you have a review of the Mandarin Oriental Miami? What is your favorite pre-cruise Miami hotel? Drop us an anchor below to share your favorite hotels near the Miami cruise port.