During its recent update, the newly amplified Navigator of the Seas received several new dining establishments. Among the new additions to the ship was Jamie's Italian. We have dined at Jamie's Italian on a few other occasions and find the food and service to be well worth the added costs. On this recent cruise, we decided to head back to the venue once again and are back to provide you with our review of Jamie's Italian on Navigator of the Seas.


Jamie's Italian on Navigator of the Seas Review
Similar to other ships in this class, two specialty dining venues are located on Deck 11 near the Windjammer. On the portside, you will find the popular steakhouse Chops Grille. On the starboard side is Jamie's Italian.
For this particular sailing, we had purchased the Unlimited Dining Package which means that you can not make reservations pre-cruise. Prior to our cruise, we requested a dining time of 6:30 pm for the first night. Once we boarded the ship, we were informed that our first night's reservation was actually at Jamie's Italian at our requested time. This was a great way to start off our trip!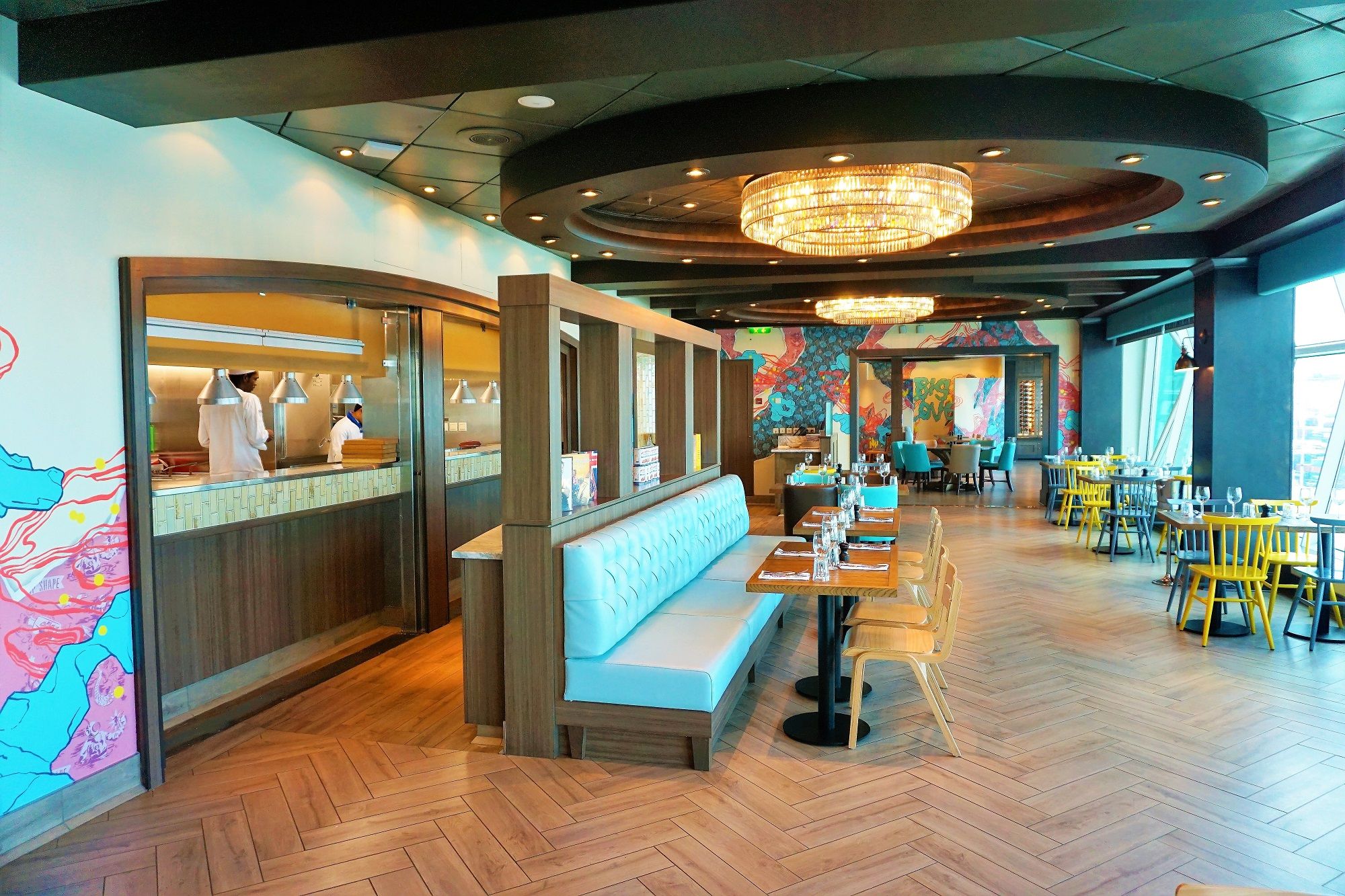 Related Post: Review of Royal Caribbean's Unlimited Dining Plan
On Navigator of the Seas, the design of the venue is very similar to other Jamie's Italian restaurants in the fleet. The decor is casual and trendy with pops of color. The large wall of starboard side windows provides lots of light and great ocean views.
Jamie's Italian has a unique appeal, offering a family friendly dining experience and a menu full of flavorful Northern Italian cuisine.
We arrived for our 6:30 pm reservation a few minutes early. To our surprise, the restaurant was nearly empty. The hostess escorted us to the back of the dining room to a perfect table abutting the window. Our waiter quickly came over to introduce himself. Oddly enough, his name was Jamie.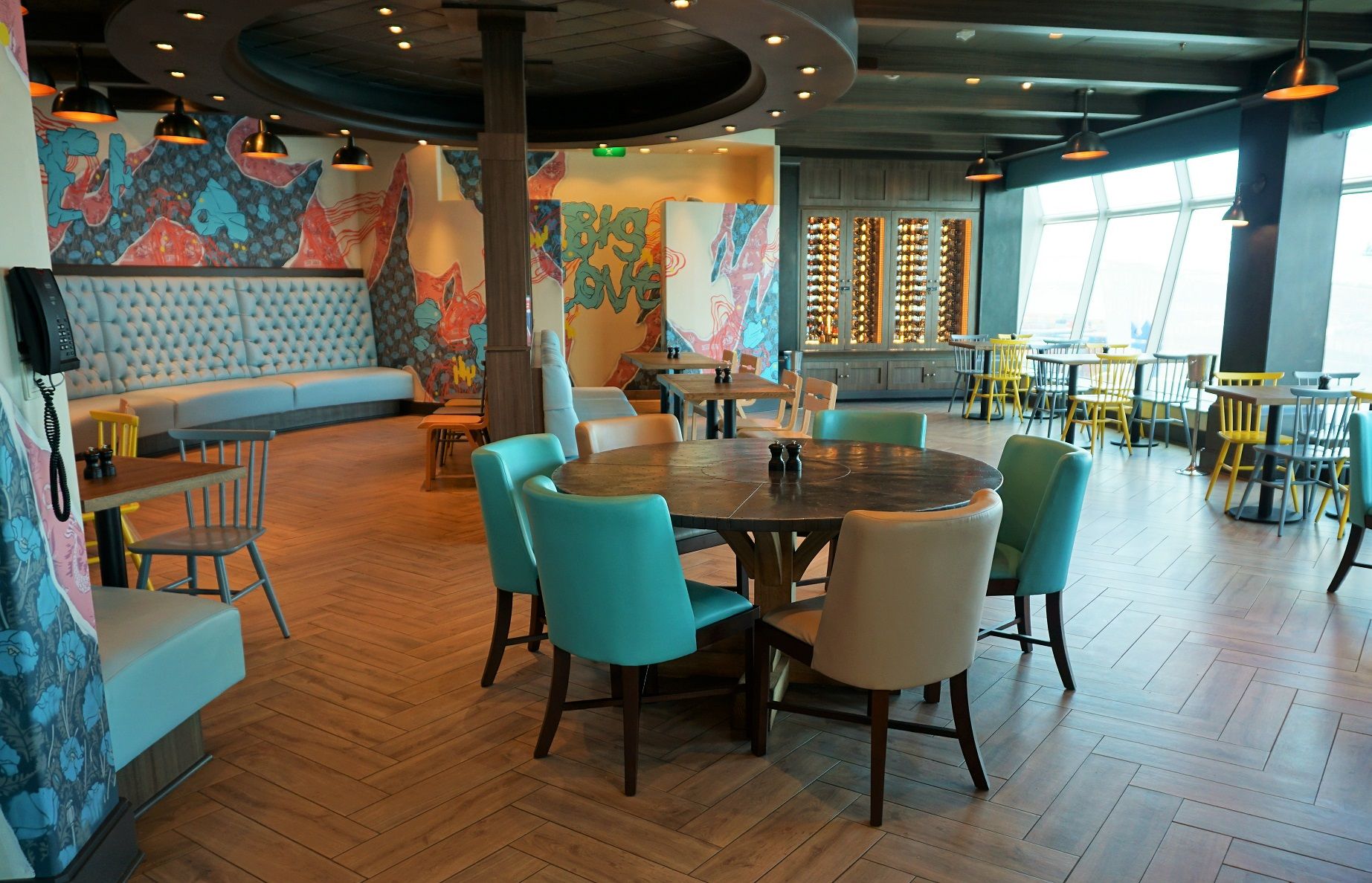 Dinner at Jamie's Italian on Navigator of the Seas
While we both love the food at this restaurant, neither of us are fans of the specialty cocktails. So, I ordered a Peroni, and the Princess did a glass of rose.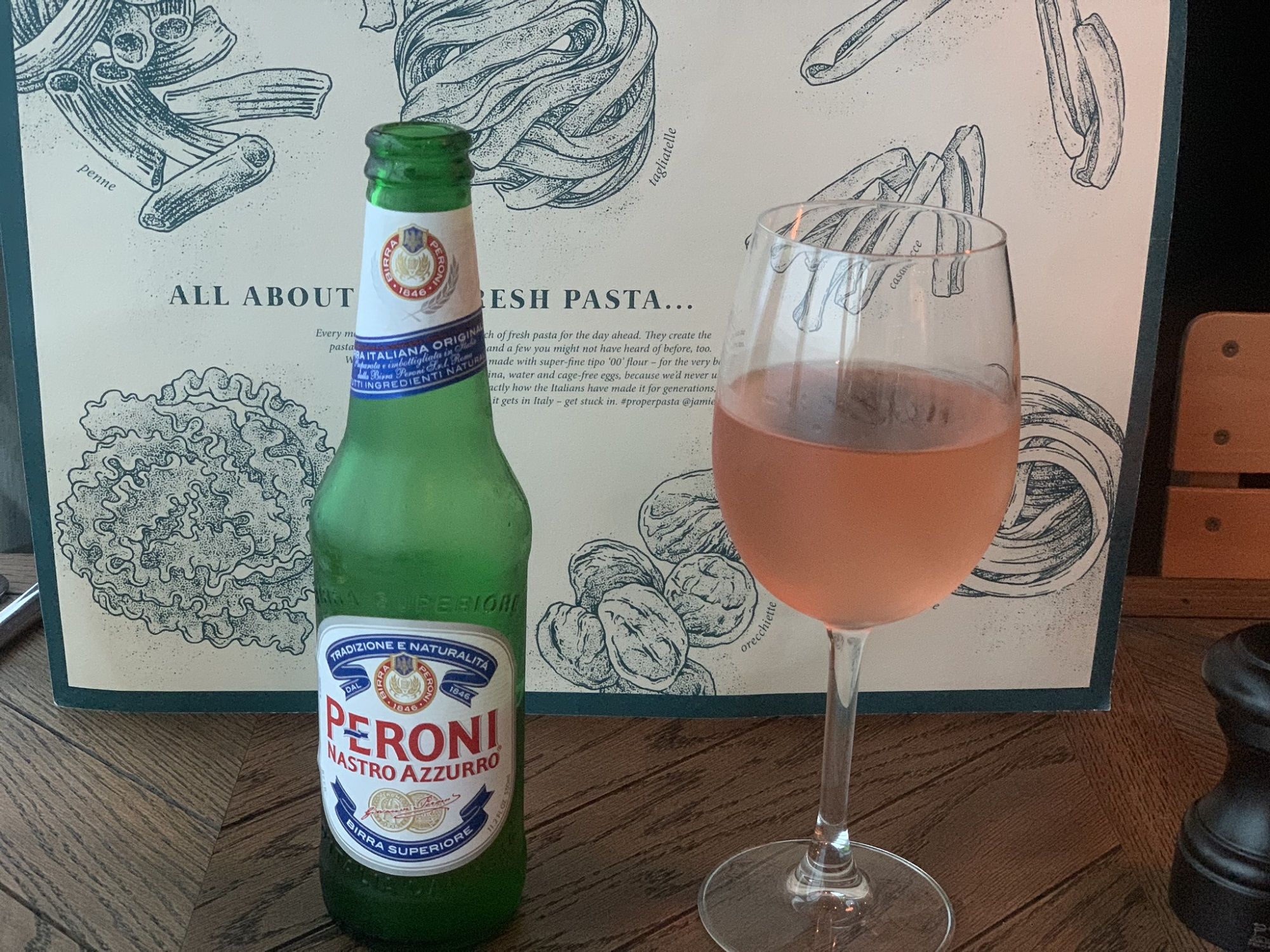 This time around, we decided to skip the Plank, and we each ordered one starter instead. I went with the crispy squid. By far, it is the best version of this popular seafood starter that I have had on a cruise ship. I particularly like the garlic mayo on the side which adds a hint of tang to the dish. While the portion is large enough to share, I devoured the entire dish myself. Opting for something different, the Princess tried the tomato bruschetta. Again, it was a sold rendition of another classic Italian American starter.
We were off to a great start, and we were just getting warmed up. For a pasta course, we each ordered a half portion. I went with the bolognese, while the Princess did the carbonara. Both of the dishes came out hot and finished with just the right amount of sauce and accompaniments. I tried not to eat my entire portion, as I still had an entree and dessert to come.
I wanted to try something different for my entree. Taking Jamie's advice, I did the short rib. It was the largest portion of short rib that I have ever seen at a restaurant, and it was tender and melt-in-your mouth delicious.
It should come as no surprise that the Princess ordered the chicken dish. While she is not usually a fan of this entree at Jamie's, she decided to give it another try. She thought this version was better as it seemed less greasy. We also ordered a side of the polenta chips and posh fries. All we have to say about those is yum!
Even though we didn't need the extra calories, it didn't stop us from getting dessert and a shot of limoncello. I am a big fan of the lemon meringue cheesecake. The few bites that I was able to fit in delivered the sweet and light flavor that I love about this dessert. The Princess also enjoyed her epic brownie selection.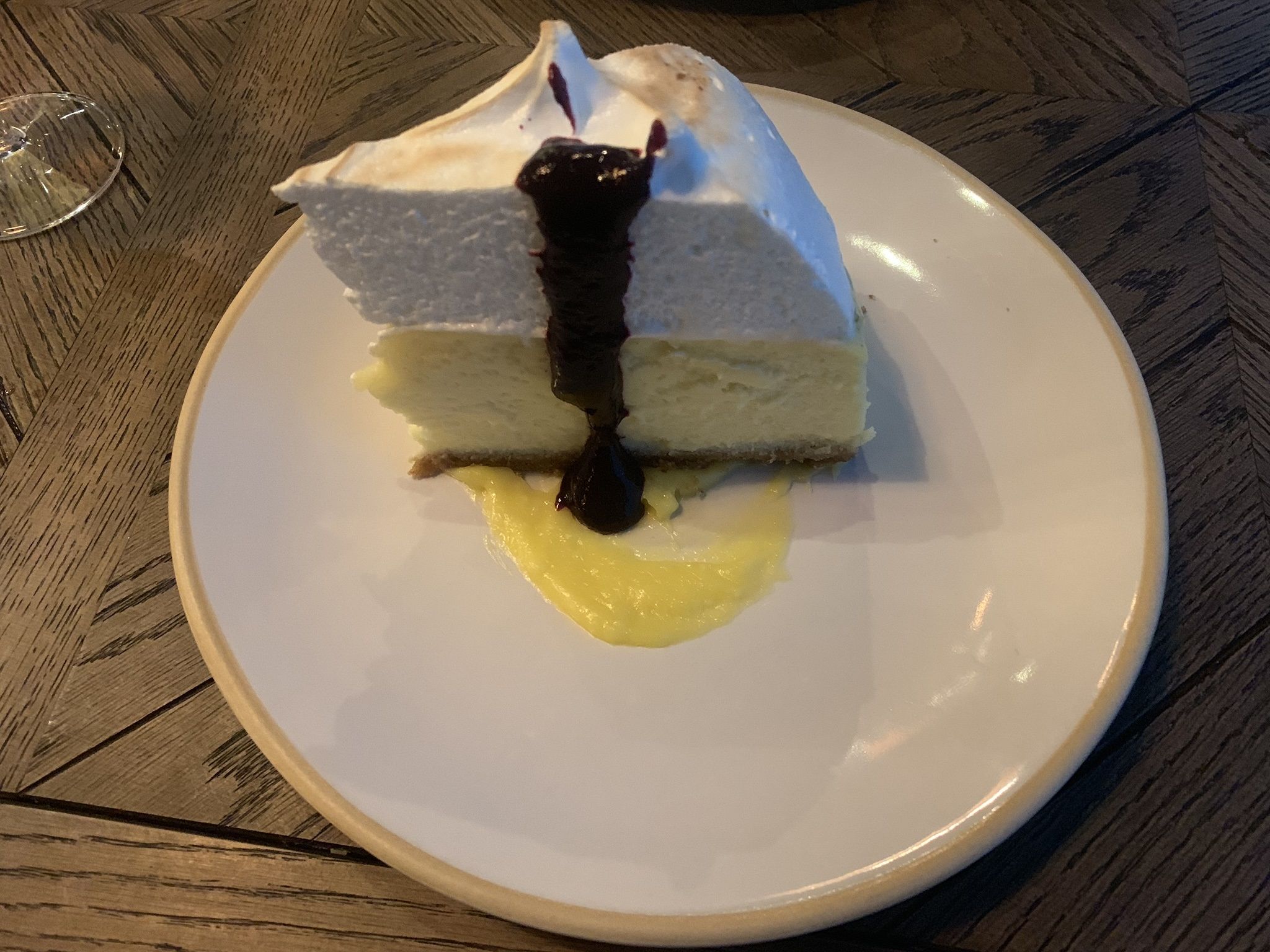 Recap of Jamie's Italian on Navigator of the Seas
We are so glad that Jamie's Italian has been added to Navigator of the Seas. This rich comfort food is made with fresh ingredients and was paired with attentive service during our visit.
Related Post: Navigator of the Seas Bahamas Cruise Review
Of all our dining experiences at this restaurant, our visit on Navigator of the Seas was by far our favorite. We both agreed that the food seemed better than the previous year on Mariner of the Seas, and our server was definitely standout.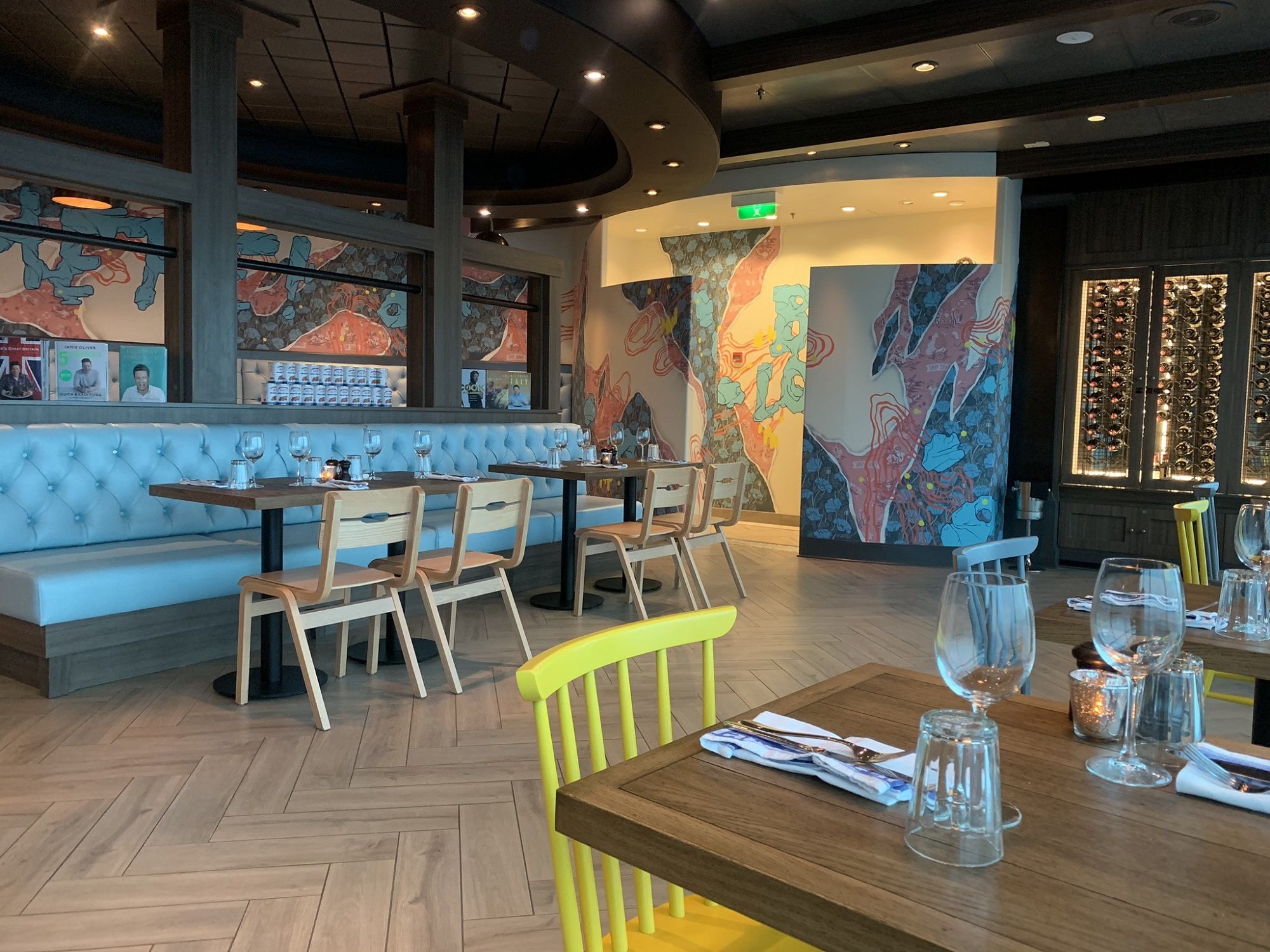 Another benefit of dining at Jamie's Italian is that you pay one flat fee and can order as much as you like. Also, the restaurant is part of the Unlimited Dining Plan. With our pre-cruise savings, we paid only $23 each for our meals (using the Unlimited Dining Plan). Considering all that we devoured, it was a bargain. Still, for the pre-cruise price of $34.99 for dinner, or $19.99 for lunch, we feel Jamie's Italian is one of the best kept dining secrets on Royal Caribbean ships.
Lunch Menu | Dinner Menu | Dessert Menu | Cocktail Menu | Wine Menu
Comments
Do you have a Jamie's Italian on Navigator of the Seas review to share? What is your favorite dish on the menu? Drop us an anchor below with your experiences dining at this Royal Caribbean specialty restaurant.