While the common cold, the flu, and the norovirus have always been around and posed a potential risk on cruise ships, just like on land, travelers now face the risk of contracting COVID-19 as well. While nothing is 100% effective in eliminating your risk of illness, we have some simple tips on how to avoid getting sick on a cruise. By taking these added precautions, along with all the other health and safety measures that cruise lines are implementing, you can still have an enjoyable cruise vacation once cruising resumes.
How Not to Get Sick on a Cruise
Wash Your Hands Frequently
Now more than ever, good hand hygiene is so important to avoid getting sick on a cruise. Handwashing is the most effective way to prevent the spread of disease. You should wash your hands frequently and thoroughly with soap and water. The CDC recommends you lather your hands with soap and warm water for at least 20 seconds. An easy trick is to sing the Happy Birthday song to yourself twice.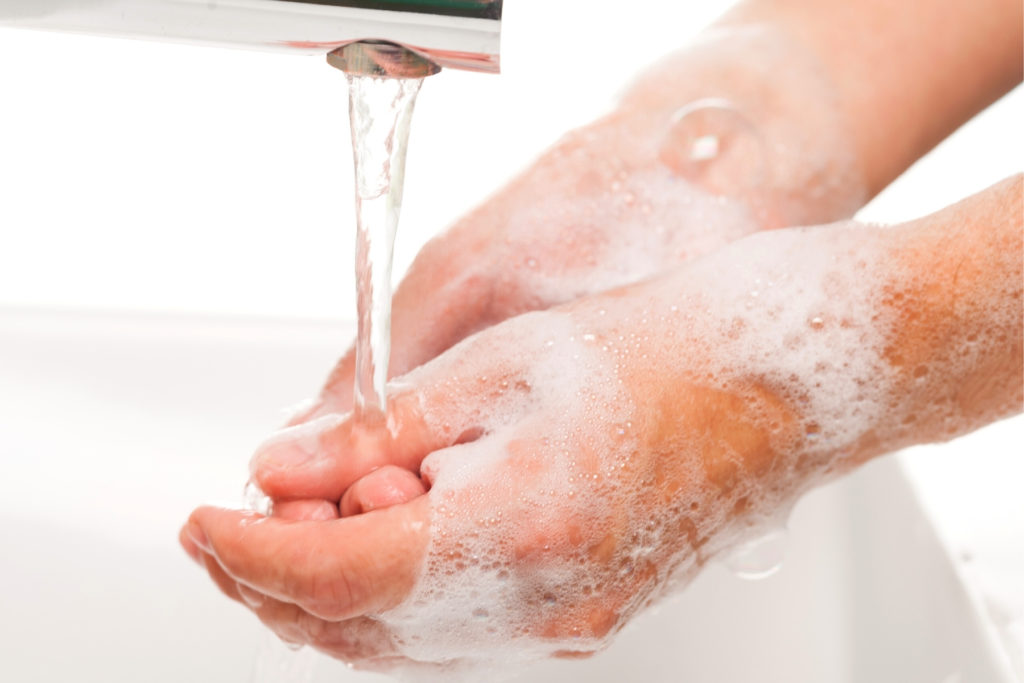 While frequent hand washing throughout the day is important, the most crucial times to sanitize, while they may seem obvious to most people, are after using the restroom, prior to eating, and after coughing or sneezing. Even if you feel like the staff's "washy, washy" requests are a bit over the top, you can never be too cautious.
Pack Plenty of Hand Sanitizer
Even though you will be washing your hands frequently, we also suggest packing plenty of hand sanitizer for your cruise. If your hands are not visibly soiled or soap and water are not readily available, you should use an alcohol-based sanitizer that is at least 60% alcohol.
It never hurts to sanitize when you walk by a station on your cruise ship; however, having hand sanitizer readily accessible is even more important in situations like the airport, cruise terminals, on transportation, and while ashore in ports of call.
Disinfect Your Cabin
While disinfecting our cruise cabin was not an embarkation day protocol for us in the past, it will be now. We suggest packing some disinfectant wipes and/or spray to sanitize your cabin upon arriving to the ship. Similar to what many travelers do on airplanes, we suggest wiping down high traffic touch points in your stateroom. These areas include door handles, light switches, temperature controls, and remote controls.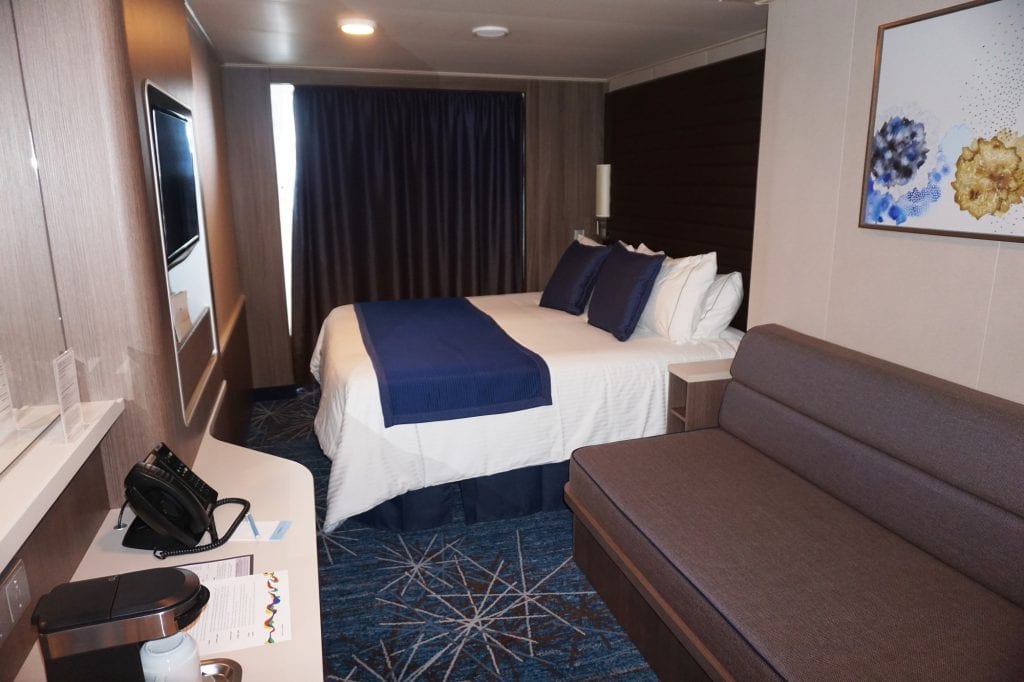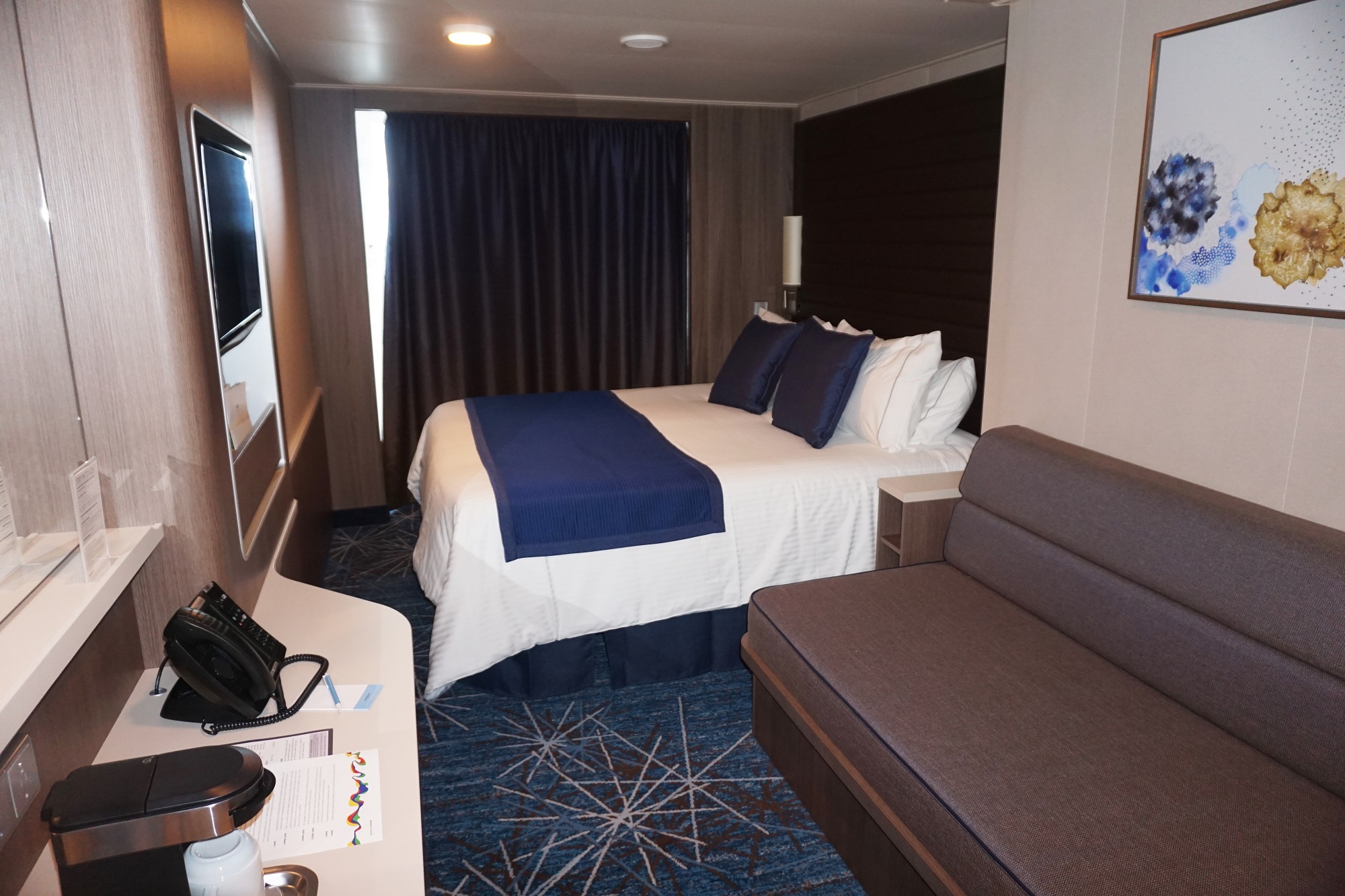 After being ashore at a port of call, you might also want to disinfect items like bags, shoes, phones, and key cards.
You could also pack a pair of flip flops or slippers that you designate as your cabin footwear, so you ensure that you are not spreading germs from other areas around the ship into your stateroom.
Related Post: Our Experiences Traveling During the Pandemic
Wear a Mask
Wearing a mask on a cruise ship will likely be a requirement once cruising resumes, at least temporarily. By covering your mouth and nose with a mask, you can help stop the spread of germs to others, especially while coughing or sneezing. Remember that even though you are asymptomatic, you could still be unknowingly contagious.
Wearing a mask is also a cue to yourself to avoid touching your eyes, nose, and mouth, especially to all the nail-biters out there like myself. Touching these areas with unwashed hands can easily spread bacteria or viruses.
As you probably already know by now, wearing a mask is most important in situations when you are unable to physically distance from others, but it is not a substitute for social distancing.
Exercise
Even though you are on vacation, exercise is still important to maintain your health and overall well-being. As most of us will consume more food and beverages than usual while on a cruise vacation, it is important to also increase activity levels accordingly to burn some extra calories. Regardless of what activity you choose, remember that aerobic exercise is the key.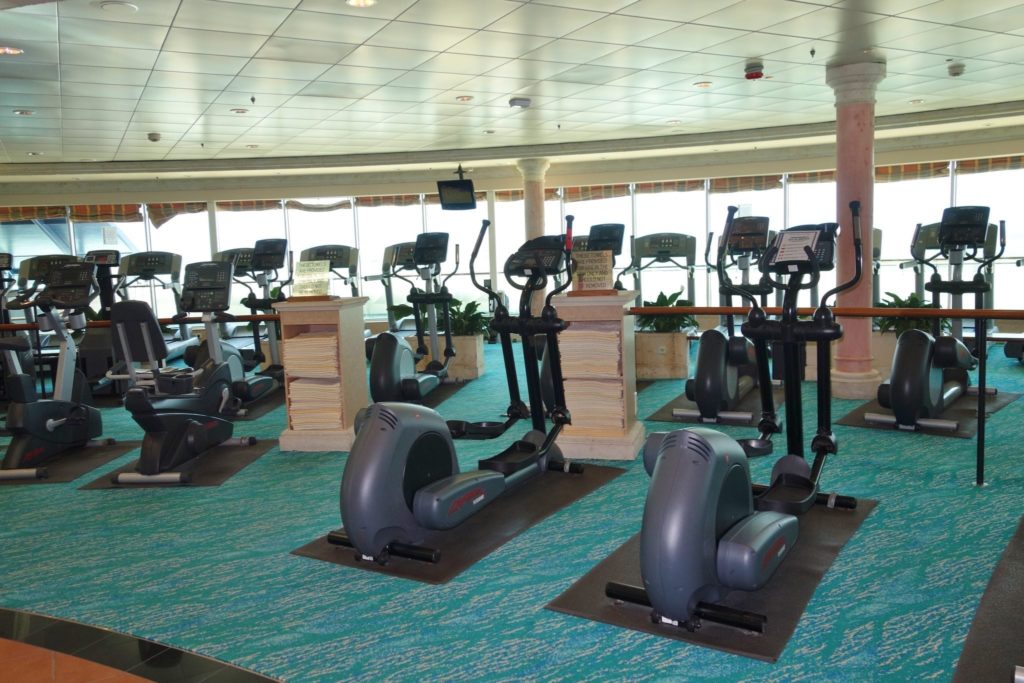 Most modern ships have fully equipped fitness centers with a variety of cardiovascular equipment including treadmills, ellipticals, and stationary bikes. Many cruise lines offer free (and for-fee) classes to help you stay in shape as well. These classes can range from morning yoga and stretching, to pool aerobics, to Zumba on the pool deck, to a spin class in the gym.
You could also go for a walk or jog on the outdoor track. Or perhaps, just take the stairs instead of the elevator.
Related Post: How Not to Gain Weight on a Cruise
Pack Your Medications
Be sure to pack all prescribed medications and other "first aid" over-the- counter items that you may need. Remember that heat and humidity, as well as changes in your eating, sleeping, and activity patterns can affect your body.
Some over-the-counter medication items that you should consider packing for your cruise are tylenol, benadryl, neosporin, airborne, and supplemental vitamins.
All cruise ships do have onboard medical facilities in the event you do get sick. If you are not feeling well, you should contact the cruise ship's medical staff immediately so they can assist you.
Drink Plenty of Water
It is a good idea to keep a refillable water bottle with you at all times. We love our Yeti bottles that keep water cold all day, even in the Caribbean sun.
Whether you are lounging on the pool deck, participating in ship activities, or visiting a port of call, drinking plenty of fluids is essential to avoid the effects of dehydration. A good rule of thumb is to have a glass of water with any alcoholic beverage you consume.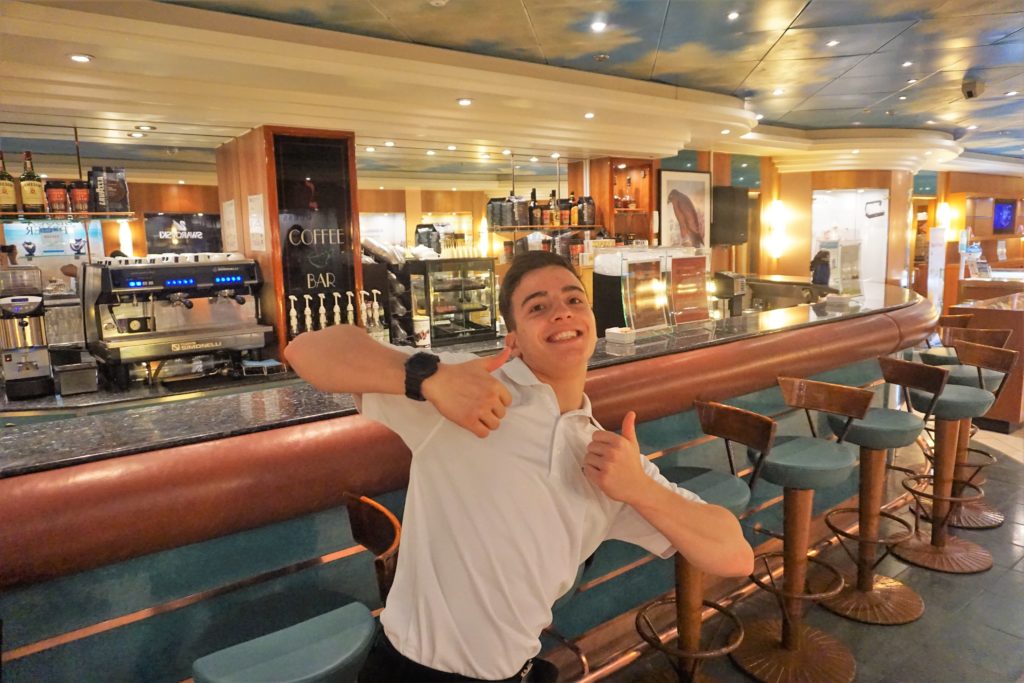 Keep in mind that some drink packages include unlimited bottled water. If that is the case, grab some extra bottles so you can have them in your room or store them in your bag when going ashore. You can never have too much drinkable water. By drinking tap water in places like Mexico, you are just asking to get sick on a cruise.
Don't Over Eat
Just because most of the food is included in your cruise fare, it doesn't mean that you have to eat it all. It's easy to go overboard on a cruise, pun intended, if you are trying to get your money's worth.
We suggest skipping venues that lend to over-eating like the buffet. While the traditional cruise ship buffet will be more hands off once cruising resumes, it's still easy to fill multiple plates in these types of venues as there are so many options.
Instead, be mindful of portion control and try to balance out a dessert with a healthier option like a salad, salmon, or grilled chicken. It also helps to eat earlier in the day, one of the reasons we always opt for the first dinner seating. This allows more time for digestion before retiring for the evening.
Use Contactless Options (Where Applicable)
Recent reports have indicated that once cruising resumes, the brands will be offering more contactless options. While some brands already utilize wearable technologies like Princess Cruises' OceanMedallion and other contactless payment options, many are working on making their apps more robust to offer additional services.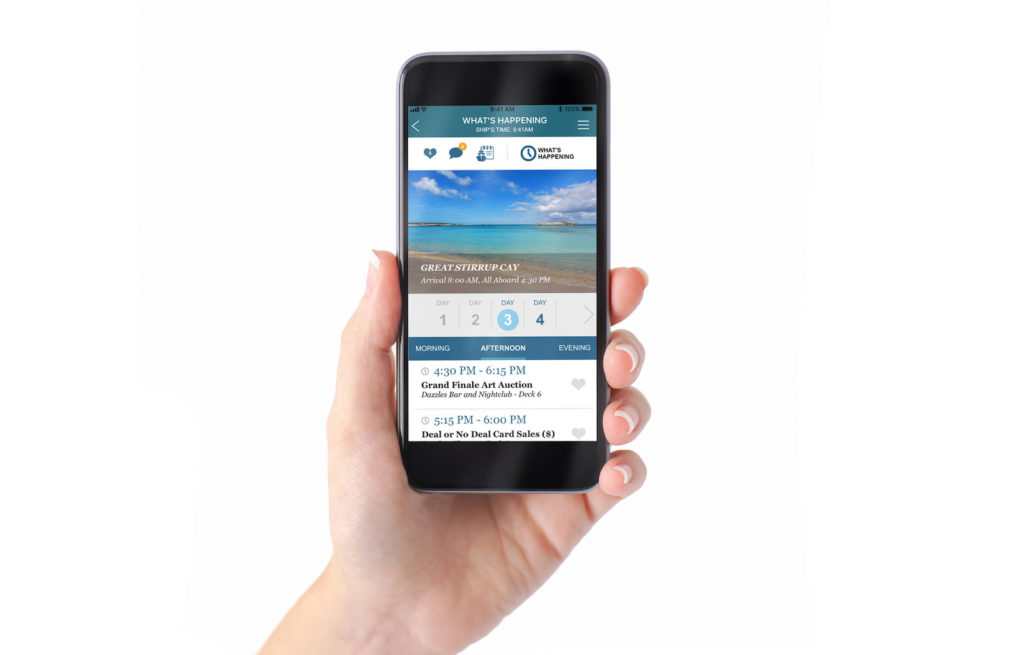 The cruise lines have indicated that their apps will offer many more functionalities. These functionalities may include everything from providing safety information and/or electronic muster drills to mobile order services and QR menus at restaurants and bars.
While some cruise lines already provide the ability to make reservations via an app, guests will also be able to join virtual queues for other activities, entertainment, or guest services to allow for improved social distancing on the ship.
Hence, utilizing these contactless methods will be another way to avoid getting sick on a cruise.
Prevent Seasickness
Seasickness is one of the most common concerns of those considering a cruise vacation.
Luckily there are a number of simple methods to help prevent seasickness if you are prone to motion sensitivities. First and foremost, you should pick the right ship and cabin location. Newer vessels have more sophisticated stabilizers that counteract the motion of the ship.
We also suggest getting an outside room (window or balcony) in a mid-ship location. These mid-ship cabins tend to have the least amount of movement.
Further, there are medications and over-the-counter supplements that can help quell the effects of seasickness. One of the more effective (and less intrusive) remedies for seasickness is Sea Band. These accessories work by providing slight pressure to acupressure points in your wrist which will help reduce the sensation of nausea and vomiting from motion sickness.
Dramamine, Bonine, and Scopolamine patches, as well as ginger, can also help.
Avoid Excessive Alcohol
Inevitably, you will want to enjoy some pina coladas or mango meltdowns on the pool deck. You might also enjoy a few drinks at dinner and during the nightly entertainment. However, you should probably avoid drinking in excess. Not only will you avoid the dreaded hangover, but there are other benefits as well.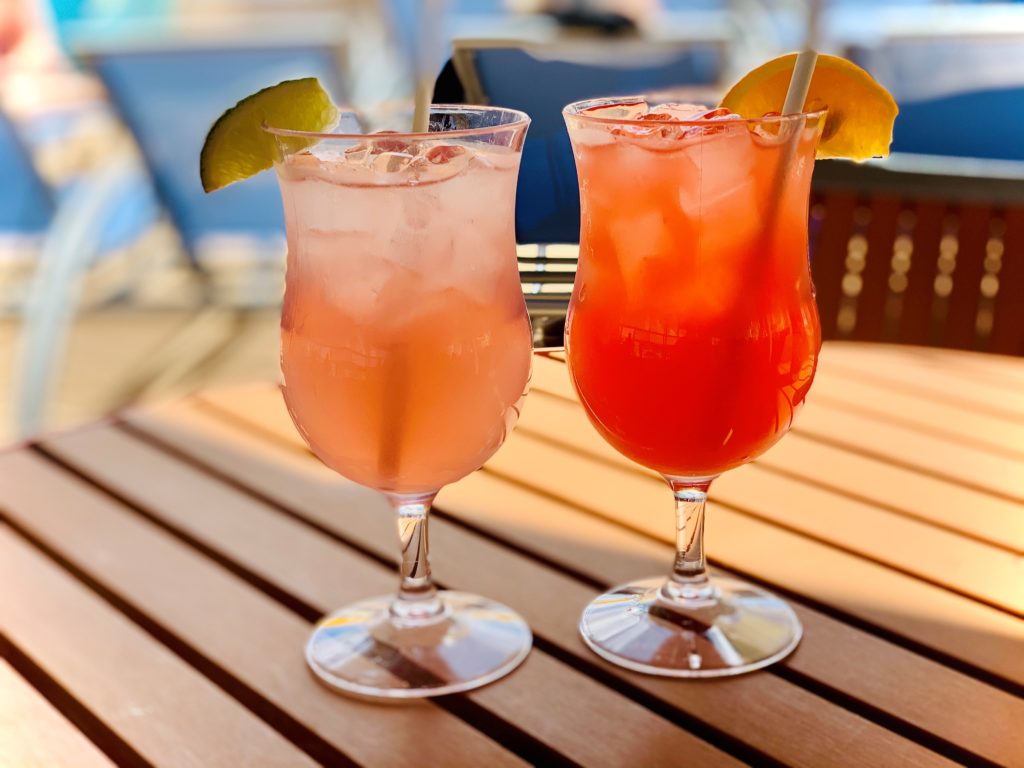 Health experts suggest that binge drinking can weaken your immune system and compromise the body's ability to fight off infection. By drinking alcohol in excess, you can also become dehydrated, which can also impair the immune system response.
So, just like over-eating, you shouldn't feel compelled to get your money's worth from the drink package. Moderation is key to staying healthy on a cruise.
Get Enough Sleep
Yes, there is so much to see and do during a cruise that you will likely try to fit in as much as possible.
We don't blame you, as we do the same thing!
There will be a plethora of onboard activities and entertainment on the ship and long days in ports of call. Depending on your cruise destination, you might have early morning stops or even over-night stays. Just be sure to schedule in adequate sleep so you don't get sick on your cruise.
We also recommend flying to your cruise embarkation port at least a day early. This will help fight off any jet lag or travel fatigue. It will also ensure that you are well rested and ready to get your vacation started.
Avoid Crowded Spaces
By now, we are all tired of hearing the term "social distancing"; however, avoiding crowded spaces is another way not to get sick on a cruise. This could mean skipping those crowded atrium parties or taking the stairs instead of a crowded elevator.
It could also mean visiting venues like restaurants or Guest Services during off-peak times.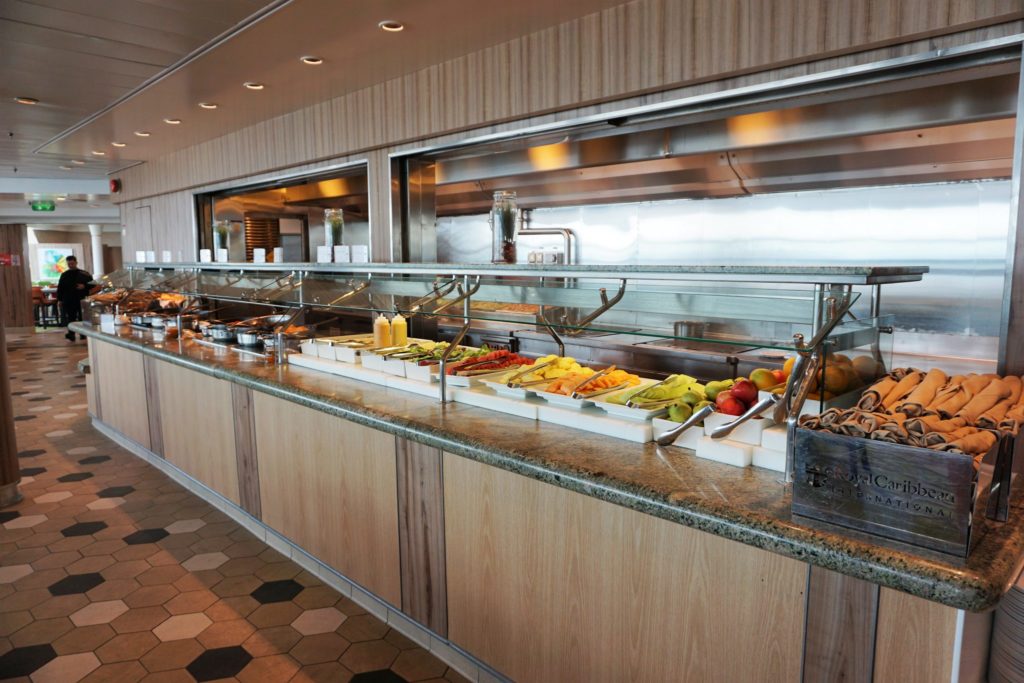 By avoiding high-traffic touch points like railings or elevator buttons, you are also helping to reduce your risk of contacting unwanted germs.
It is likely that cruise lines will implement more reservations and virtual queues for popular activities, so we suggest taking advantage of these options to limit close contact with others not in your travel party.
Avoid Public Restrooms (If Possible)
Along these same lines, we recommend that you use the restroom in your stateroom if possible. While the staff on cruise ships do an amazing job cleaning, restrooms tend to be very high traffic areas. Even if you are adhering to proper hygiene, you can't speak for the other passengers. Touching door handles, faucets, etc. can all increase your risk of getting sick.
As modern day cruise ships are quite large, it might not always be possible to go back to your stateroom. However, if you have the ability, we suggest you do so. Here, you can control the environment by ensuring that the hard surfaces are sanitized.
If it's not possible, use paper towels when opening the door and turning off the faucet in public restrooms.
Moderate Your Time in the Sun
Like many other things, too much time in the sun might also weaken the immune system. Of course, one of the primary reasons that most of us cruise is to enjoy some Caribbean sun. Whether it's a relaxing sea day poolside or a luxurious beach break, make sure to lather up with sunscreen, take breaks in the shade, and drink plenty of water.
You can still have an enjoyable day by just moderating your sun exposure.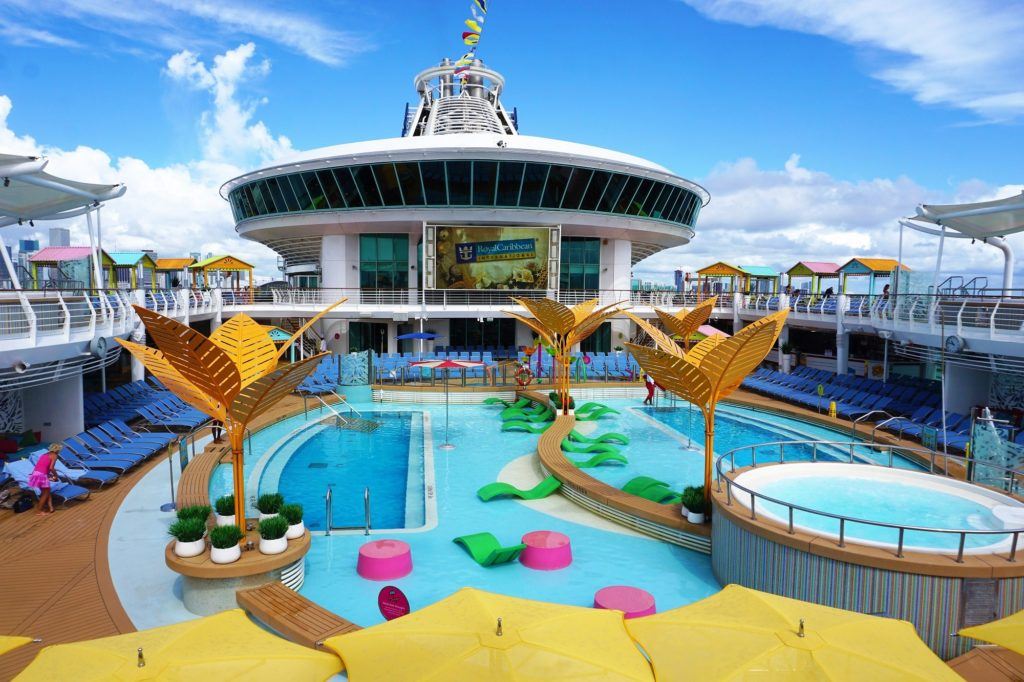 Even if it's not your typical beach day, you will still want to protect yourself from the sun's harmful rays to avoid getting sick on a cruise. Plus, you don't want to risk a painful sunburn either. Burns can actually reduce the skin's protective barrier from infection as well.
Comments
What precautions do you take to avoid getting sick on a cruise? Do you have any other helpful suggestions to share with fellow cruisers? Drop us an anchor below to share your tips on preventing illness when you travel.