This week, we offer you a great guest post by Dev Shukla, a scholar, world traveler, and first class cruiser, on how to Stay Sane the Next Time You Travel with Friends. Enjoy!
Everyone knows cruises are great vacations for you and the family. So cruising with friends should be even better, right? Well, it definitely can be if you keep a few things in mind when you decide to travel with friends.
My wife and I took a cruise to Bermuda last year with another couple, and we learned a few valuable lessons. Here are some tips on how to maximize your fun when traveling with friends but also remain sane in the process!
Three Tips To Follow When You Travel with Friends
1. When you travel with friends, do a dry run first. 
Get it? Dry because it's not on the ocean… never mind.
Sometimes even the closest of friends make poor travel buddies. It's one thing to spend hours hanging out and another to see someone every day for 4-7 straight days. In our case, we'd taken a 2-day trip with our friends the year before so we had a pretty good sense for what a longer trip might be like.
Compatibility is obviously subjective; we like a laid back, somewhat planned, somewhat spontaneous approach, and our idea of a good time is more "drink with friends and talk" than "party at a club." Whatever your speed, make sure your cruise companions operate on a similar wavelength. You would hate to travel with friends to spend very little time with them because your vacation styles differ.

 2. When you travel with friends, do some essential pre-planning.
We do a fair amount of planning before we go on a cruise with just the two of us. When traveling with other family and friends, it is imperative that you check out onboard activities and shore excursions beforehand.
Sitting down with our friends to look at the full list of onboard events and shore excursions was great for two reasons.
First, doing this well in advance got us amped up for the upcoming cruise, and you can never be too excited for a vacation! Traveling with friends or by yourself, any opportunity to review the trip is a happy departure from the regular day-to-day and gets you one step closer to your vacation.
Secondly, and more importantly, cruising with more people can really expand the scope of what you can do. Things you might ordinarily skip because your partner/spouse doesn't like them (and vice versa) are open to you if the friends you are traveling with share similar interests.
Maybe your wife wants to check out the Blue Man group but you're more interested in hitting the driving range. Instead of splitting up solo or having one person give in (and mope the whole time), you can partner up with friends and do what you want without compromising. Some people don't mind doing activities alone but having a pal can be great for specific activities and others are simply more fun with company.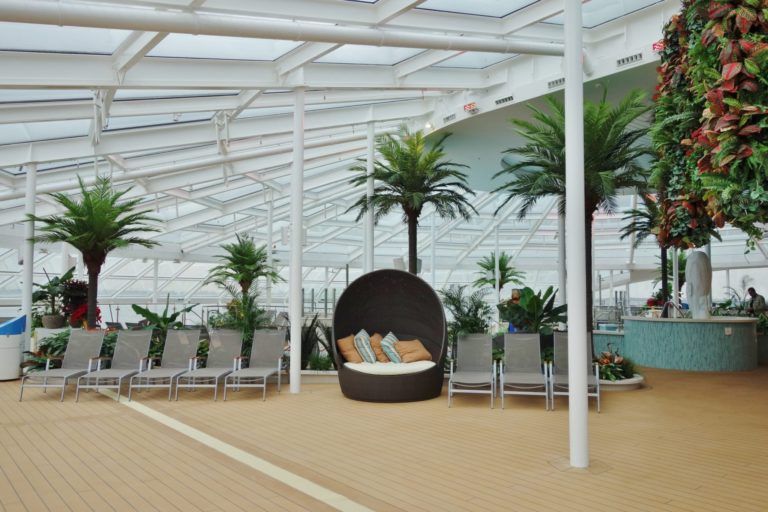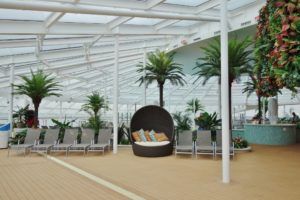 3. Even when you travel with friends, be sure to get some "me" time.
Compatible travel partners know when to spend time together and when to take a break. Just because you're on the same boat doesn't mean you have to spend every waking moment together.
While it's great to have some overlap (after all you're cruising with friends so you obviously want to hang out!), find a good balance between sharing activities and doing your own thing. You'll be less likely to get sick of each other and you'll have more to talk about when you meet up for drinks, dinner, or that next big show/excursion.
Even if you have plans to just relax in the sun or to do something low key on the ship, being upfront about when you want to spend some time only with your significant other can help ease any tensions that might arise from spending the entire vacation tied at the hip.
Most cruise lines have a daily list of activities that is left in your room by your stateroom attendant or can be easily acquired at guest service. Check it out before you retire for the evening or over breakfast and plan out what you'd like to do together as a group and when/where to meet up. Then get out there and have a blast – both with and without your friends! Hey, you are on vacation to spend time with your significant other too!

Have a Great Time!
Cruises are a great vacation that can truly be enhanced when you decide to take a vacation with other friends and family.  All you need to do is make sure you take a few simple precautions before and during the trip to make sure everyone is having a great time.  If you keep the above in mind, "the more the merrier" will hold true.
And if all else fails? Maybe have a backup plan that involves lots of alcohol. Happy vacationing!
Comments
Have you taken a cruise vacation with friends and family or been part of a large group going on vacation? Drop us an anchor below to tell us how you managed to travel with friends. Share some of your tips and experiences to help other cruisers who will be traveling with others have a relaxing, and sane, vacation!