Food Republic Restaurant Review
A recent trend in specialty dining onboard cruise ships is to partner with famous chefs to create signature dining venues and menus. While we love to eat, we are not really foodies. So, when we heard that Food Republic on Norwegian Escape was featuring a menu "curated" by the red hot food trio of the Pubbelly Boys, we did not think much of this new forged partnership.
Pubbelly Boys are the trio of Jose Mendin, Sergio Navarro, and Andreas Schreiner. Recently, they have taken the South Beach Miami food scene by storm with the creation of a series of upscale restaurants. Winning multiple awards and accolades for their unique combinations, it is no surprise that they were tapped to create the Food Republic on Norwegian Escape.
Entrance to Food Republic on Norwegian Escape
After experiencing an avalanche of robust tapas and small plates during our recent cruise, we are very glad that Norwegian Cruise Line partnered with this distinguished culinary team. One of the most unique dining experiences onboard a contemporary cruise ship, Food Republic on Norwegian Escape blends flavors and cooking traditions from Asian and South American kitchens.
In fact, we argue that this might be the best restaurant on the ship! Keep reading to find out why this restaurant has won our hearts, and stomachs.
Food Republic on Norwegian Escape Restaurant Review
The Food Republic on Norwegian Escape is open nightly for dinner 5:30pm-10pm and select days for lunch, serving up some great tapas and sushi. Items at the Food Republic are a la carte with prices ranging from $3.50 to $11 per small plate. Unfortunately, The Food Republic is not included in the specialty dining package at this time.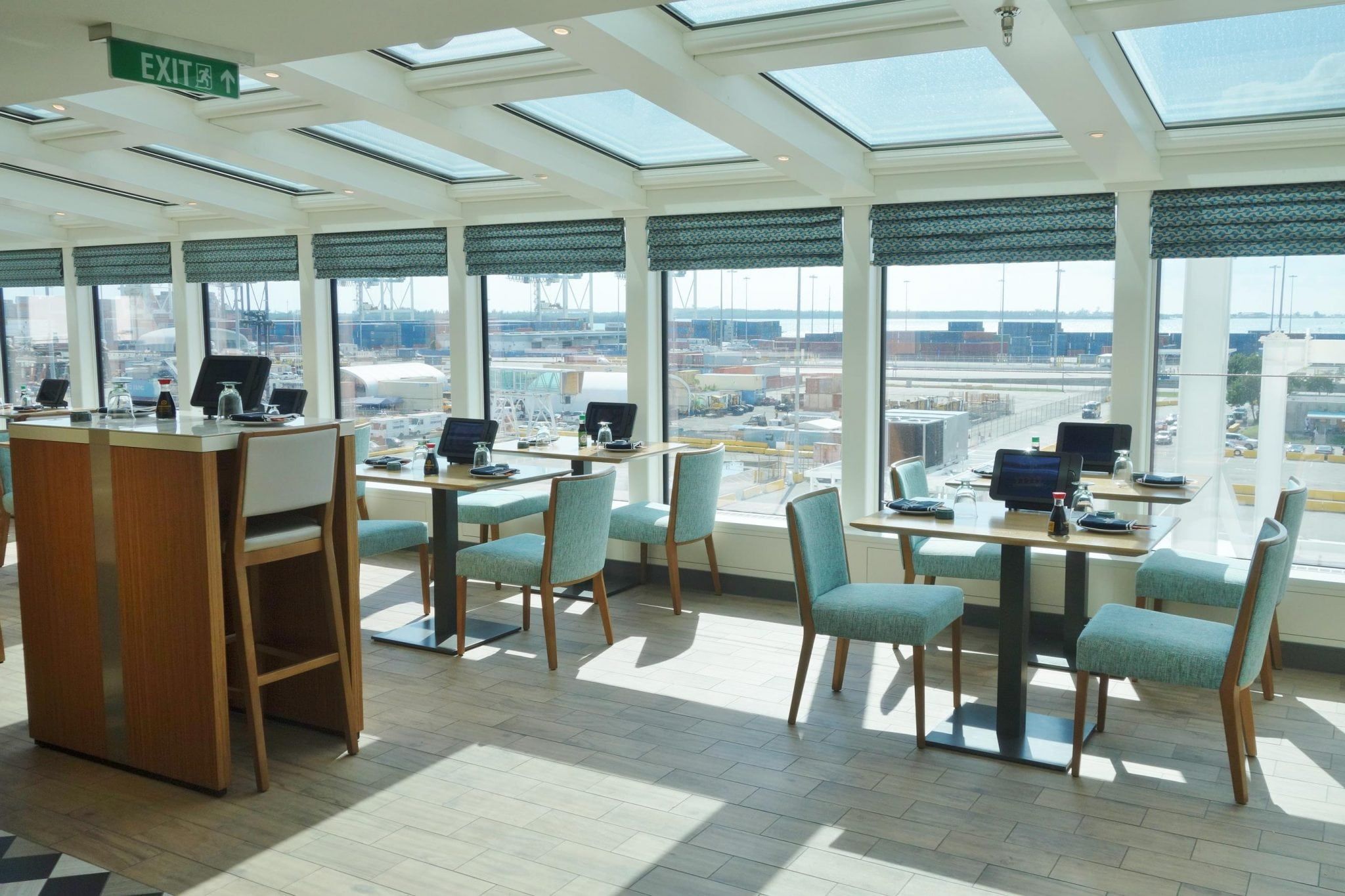 We dined at the Food Republic on day 7 of our cruise to indulge in some appetizers before our show in the Supper Club. Located on Deck 8, midship, Food Republic on Norwegian Escape does not offer outdoor Waterfront seating, but there are some great window seats. The menus are available on iPads, or you can request a paper menu.
Getting to the restaurant around 5:30pm, we were surprised that it was practically empty. Actually, throughout our meal, we saw a few crew members dining at the restaurant, but only one other group of cruisers entered the venue during our hour eating bonanza. We were not sure if this was because it was the last day of the cruise, or that it was still early, or possibly because of the a la carte pricing?
Getting a window seat, our server came right over to offer us some water and describe the menu. Norwegian Cruise Line was gracious enough to offer us a complimentary dinner at this venue. We provided that card to our waiter, who then recommended several items on the menu. While deciding on our order, we did start with one of the signature cocktails.
Revolutionary Cure and Ciao Venezia
Compared to the other restaurants, Food Republic on Norwegian Escape offered a greater selection of specialty cocktails. The Princess ordered the Ciao Venezia, and I decided to get the Revolutionary Cure. Both were refreshing and holding to the restaurant theme, blending different liquors and specialty ingredients.
Upon receiving our drinks, we placed our order for 8 dishes!  Yes, maybe a bit gluttonous, but we wanted to sample as much of the menu as possible. Speaking to other cruisers onboard, we heard that the food comes out from the kitchen quickly. We were not worried about that as we had a show to catch. But if you do dine here, we suggest staggering your order to give yourself time, and space in your stomach, to enjoy them all because indeed our plates did get delivered pretty much continuously one after the other.
Kimchee Fried Rice with Chicken
The first few dishes were delivered at the same time. These included the Kimchee Fried Rice, the Ahi Tuna, and the Salt and Pepper Calamari. Of these three dishes, only the fried rice appealed to the Princess. Both the seafood dishes were all mine to enjoy. Not to say that I did not sample some of the fried rice as well; after all, it was a generous serving. The rice was coated with a little sauce and had a good balance of chicken and vegetables, making it our best side dish of the cruise.
Ahi Tuna Tataki
The two seafood dishes I ordered were under the "Sharing is Caring" section, though I would not be sharing them. You didn't have to twist my arm to finish the tuna, given the perfect combinations of sweet and light flavors with the tomato and olive oil spread that laid at the bed of the raw tuna.
The Salt and Pepper Calamari was as advertised, seasoned well with a crunchy tempura crust. Not to mention a touch of spice from the hot peppers and kicked up soy sauce. But, there was only so much one man could eat in isolation so some of the squid was left behind. It was definitely a great plate to share if you have others at the table who enjoy squid.
Salt and Pepper Calamari
As we were working on the first round of plates, more food just kept coming. At this point, we were running out of table space, so the waiter actually slid the empty table next to us over! Our waiter was very attentive during our entire dining experience.
Being a fan of dumplings, we also ordered the Short Rib and Corn dumplings. Again, it was all up to me to finish the plate, and I failed. The dumplings themselves were cooked in a traditional way, with the bottoms nice and crispy. The filling, while tender, was a little dry. Of all of the appetizers at Food Republic on Norwegian Escape, this was the least impressive.
Food Republic on Norwegian Escape – Short Rib and Corn Dumplings
Our remaining four items were all from the "Grill" section of the menu. First to arrive was grilled corn on the cob (or Elote Mexicano). While it was a bit messy, it was worth the extra work. The wife ate two of the three, given that she did not even try any of the seafood or meat starters. The glaze on the corn included a mix of cheeses and seasonings- not your typical corn on the cob. Another great side dish and just enough for two people to sample.

I ordered two different meats. Of the two, my favorite was the Beef Anticuchos, our waiter's recommendation. This dish had a unique Latin Flavor and was fall off the stick delicious. A tender flank steak, with loads of spice and slight acid zest, these were unlike any beef skewers I have ever tried. Trying to eat all of them was a challenge, but one I accepted. Definitely order these if you like beef. You will not be disappointed.
Food Republic on Norwegian Escape – Beef Anticuchos
The lamb chops were the most basic of the plates we ordered. Perhaps it is the already strong lamb taste, or the smoky grill flavor, but these lamb chops did not taste much different than the ones in Moderno Churrascaria. If we did not order so many other great options, I would have eaten more of the lamb, but I was already quite stuffed at this point.
Lamb Chops
The Princess ordered the Chicken Teriyaki, the only grilled meat she liked on the menu.  The lightly coated chicken had good flavor and was more like a sesame chicken or orange chicken glaze you would get at a restaurant back home. We both give this dish two thumbs up as well.
Chicken Teriyaki
If we hadn't already eaten enough, we had to order dessert at Food Republic on Norwegian Escape. Splitting the Banana Bun, it was just the right portion and the perfect sweetness. This was a great ending to a wonderful meal. Now, we had to be rolled out the door and over to the Supper Club.
Banana Bun
Food Republic on Norwegian Escape Restaurant Review Recap
Somehow we managed to cram all 9 plates into one solid hour of non-stop eating. Thanks to Norwegian Cruise Line for offering us the opportunity to try out this new dining venue. It was a delicious experience and one we look forward to in the future if the restaurant appears on other ships in the fleet. Plates were as advertised with rather generous portions, so we probably would have been more than satisfied with 4 or 5 of the selections.
The only negative about the Food Republic on Norwegian Escape is that the restaurant does not participate in the Specialty Dining Plan. This means all meals are always a la carte. Our little feast would have costed us over $63 (with service charge), or $31.50 per person. By far that would have been the most expensive meal of our cruise as we purchased the dining plan for 6 nights at a price of $20.45 each meal. Either way, we believe this restaurant serves up phenomenal food, and we look forward to testing out more of the menu in the future.
Comments
Have you dined at the Food Republic on Norwegian Escape? Would you pay the a la carte prices to sample these tasty tapas? Drop us an anchor below to give us your thoughts on the food choices and specialty dining available on this newest ship in Norwegian Cruise Line's fleet.