Last week, a brand new travel and vacation platform, cruiseable.com, launched to the public at the Cruise Shipping Miami conference.
Herald as a new way of finding and booking the perfect cruise vacation, this new website and mobile app harness the power of social media to help you locate and book the ideal vacation. Not to mention, the site offers some great articles and advice, as well as a means for fellow travelers to connect and with like minded cruisers. According to co-founder JD Laiscia, the new website's mission is to "make it much easier to discover and book great cruise vacations — and to have a little fun in the process."
Cruiseable Founders JD Lasica and Giacomo Balli aboard Queen Elizabeth
The company was kind enough to give the Princess and I a sneak peek of this new technology! So, of course I have been playing around with it during its debut week to give you all the essential information you need to make the most of Cruiseable.
First Impressions of Cruiseable
When you first log on to the site, you are greeted with some beautiful graphics and a simple query, "Where would you like to cruise?".
What a great question!


Depending on your mood, or appetite for adventure, you can put in almost any destination, and cruiseable.com will shoot out some recommended ships and itineraries, travel articles, or other member reviews.
If you are not that free spirited, there are plenty of menu options that enable you to select and refine your search to help pinpoint the best matching cruise and ship for your vacation.
On the main page of course there are featured articles and photos that can help you begin your journey. Articles range from cruise terms, shore excursion reviews, and planning advice to tips for first time cruisers and families, along with a host of other topics and features. These posts are authored by a variety of well-known travel experts and cruise bloggers, with such popular writers as Danielle Fear of CruiseMiss.com and Mike Faust of CruiseCurrents.com, among others.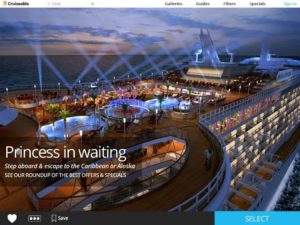 Unlike some other communities, cruiseable.com is unique in that these travel experts and writers regular contribute to the site and as a member of the site (we will get to that in a minute) you have a chance to engage with these cruise aficionados! Yes, your reviews and photos will live side-by-side professional traveler writers.
Not sure if we are considered "professional", but the Princess and I will be regularly posting to this new site!
Finding the Perfect Cruise with Cruiseable
Looking to get some information for an upcoming cruise? Cruiseable.com gives you plenty of filters that help you narrow down the search.
For first time cruisers or novice cruise travelers, the search feature might be the best bet to provide you with some initial options as you begin to hunt for that vacation. If you are a bit more savvy, or less patient like the Princess and I, we recommend the "bliss features".
Here, you can quickly input some travel preferences for a more targeted search. With about 12 elements like ship size, dining, entertainment, nature and adventure, and other "levers" you can indicate the type of atmosphere and vacation environment you want to experience during your trip.
The Cruiseable.com suggestion engine is remarkably accurate.


We ran a test trial to see what ship Cruiseable.com would recommend if we changed all of 12 categories. For instance, we selected the Mega Ship category, indicated we wanted a ship with better dining and entertainment, and indicated we were less concerned about a trip that include cultural immersion, along with our other preferences.
The top two suggestions were both 7 night Caribbean itineraries on Oasis of the Seas! Our favorite cruise to date has been on her sister ship, Allure of the Seas, so it was amazing to see Cruiseable suggest these itineraries.
Royal Caribbean's Oasis of the Seas
Becoming Part of the Cruiseable.com Community
Along with enhanced search functions, there are plenty of great travel articles and guides to help you plan the trip once you have a reservation. Cruiseable's travel writers and editors have put together dozens of smart travel guides, port guides, and ship overviews.  "In creating these, we've drawn inspiration from Trip Advisor, Fodor's, Lonely Planet, and Pinterest," Lasica said. You can see an example of some of their guides on Cozumel, the Galapagos, Puerto Rico, or Bermuda.
The site is not only about providing information to potential travelers. This is actually a two-way street. You can sign-up for an account and begin to contribute writing reviews about ships and locations. You can customize your profile with an easy to use interface, so you can let other travelers know a bit more about you, like your blog url, favorite beach (Maho Beach here), and your dream cruise destination (Galapagos Islands), among other tidbits.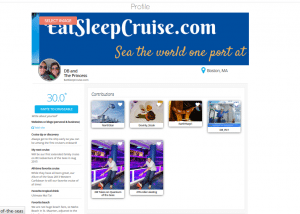 When writing for the site, it is easy to upload your own pictures right from your device. But, you can also make use of the sites graphics. Actually, the Cruiseable team downloaded, organized, and optimized more than 10,000 photos from the cruise lines and tourism organizations — and made them available to travelers to use or share through the Cruiseable Galleria. These can also be used to create your own Visual Lists.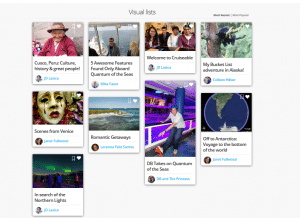 The Visual Lists are one of the most addictive features of Cruiseable. Again, using your own photos, or others provided by the site, you can build your own slide shows-documenting a cruise, a port of call, or telling virtually any travel story you want, via pictures. The Princess had to drag me away from my laptop as I was having too much fun creating my first Visual List.
Final Thoughts
Our test run of Cruiseable was very informative and a lot of fun. It is definitely going to be a go-to resource that we use when planning our future cruises. While it is brand new, we can see this site and community catching on, especially among cruisers who use a lot of social media.
For such a new site, there is a ton of useful information and a great team of people who love to cruise and who want to help travelers plan a cruise vacation.
Bonus!
As a special offer to readers of EatSleepCruise.com, you can use this discount code — XH784 — for a $50 per stateroom onboard credit (the equivalent of shipboard spending money) for any cruise or land vacation booked on Cruiseable between now and May 1, 2015.
Head to Cruiseable, read, discover, learn, plan, dream, create a wish list — and if you want to cruise, just click Book now.
Comments
Have you tried out Cruiseable.com? Did you find the site useful and informative? Drop us an anchor below to let us know what resources and pages you visit when planning a cruise. We would love to know what other sites (besides ours, of course) you frequent when trying to book and prepare for your next cruise vacation.