New Disney Cruise Line Island Destination at Lighthouse Point in The Bahamas to Welcome Guests in Summer 2024
One-of-a-kind island experience combines breathtaking natural beauty with the magic of Bahamian hospitality, storytelling and artistry
In summer 2024, Disney Cruise Line will welcome guests to a one-of-a-kind island destination at Lighthouse Point, located on the island of Eleuthera in The Bahamas, for the first time. In close collaboration with local artists and advisors, the vibrant island retreat will be a unique celebration of Bahamian culture with the quality and service of a Disney vacation.
"At Disney Cruise Line, we have a deep appreciation for the Bahamian community," said Sharon Siskie, senior vice president and general manager, Disney Cruise Line. "We are connected in many ways, including our shared values of storytelling and hospitality. With the opening of Lighthouse Point, visitors from around the world will experience the magic of The Bahamas in a new way, one that truly celebrates its natural and cultural beauty."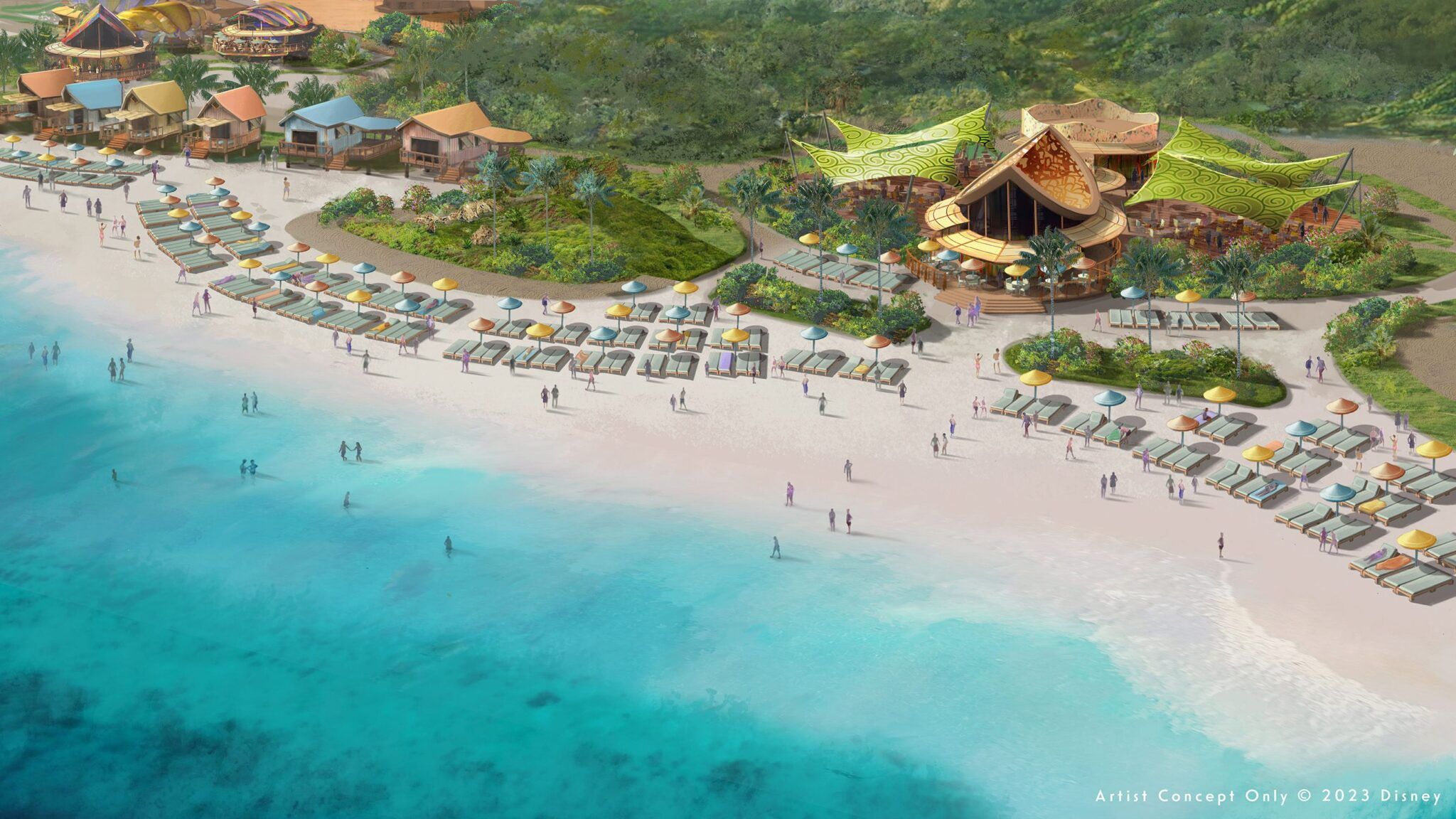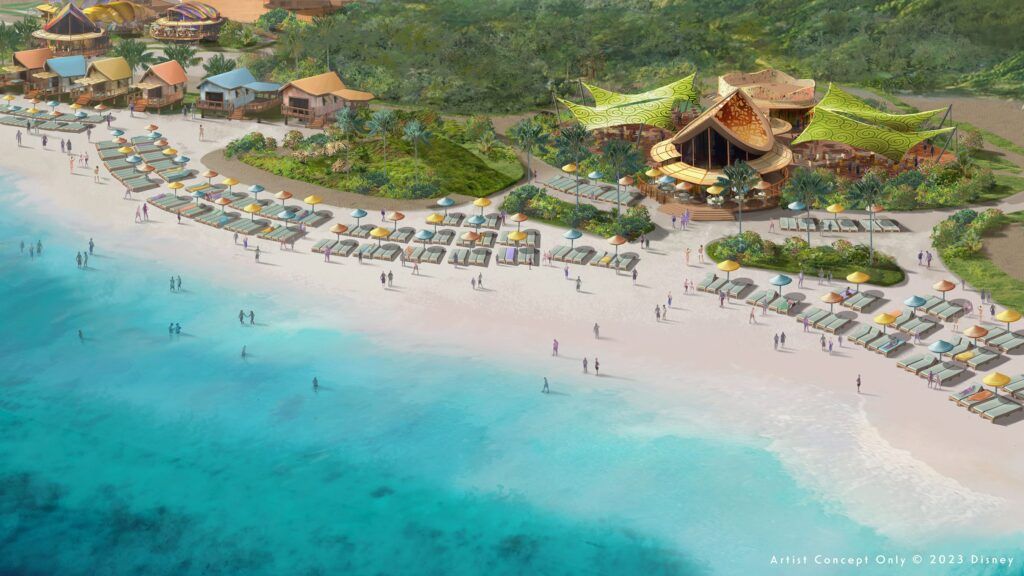 New details about Lighthouse Point reveal a relaxing beach escape designed with families in mind. The retreat will feature the color and energy of Bahamian artistry. Further, it will be developed with a commitment to conservation at its core.
Uniquely Designed, Sustainably Developed
When guests arrive to Lighthouse Point, distinctive, sweeping architecture in bright, saturated hues will greet them. This bold style is inspired by nature and created in partnership with local artists.
The curvilinear buildings will at first appear as Bahamian shells scattered along the shoreline. Upon closer inspection, guests will discover artistic expressions of the native flora and fauna of The Bahamas and the pageantry and history of Junkanoo parades. Throughout the destination, references to playful folklore characters will evoke the warmth and charm of the local culture.
Respect for the environment is at the heart of the design. An onsite solar array will meet at least 90 percent of the destination's electricity needs. Further, the pier design avoids the need for dredging. Additionally, elevated walkways will help limit impact on the landscape.
"Lighthouse Point is a place of extraordinary natural beauty, so our goal has always been to create designs that accentuate its qualities in an organic way," said Kevin Thomas, creative director, Walt Disney Imagineering. "We're focused on low-density, sustainable development that protects and preserves the environment, allowing the site's biodiversity to shine."
Fun and Relaxation for Everyone at Disney Cruise Line's Lighthouse Point
At Lighthouse Point, families will enjoy a day of fun in the sun. They can relax on pristine beaches, embark on active adventures, and discover the magic of Bahamian storytelling alongside favorite Disney characters. Much like Disney's cruise ships and Castaway Cay, Lighthouse Point will offer activities and areas for every age group.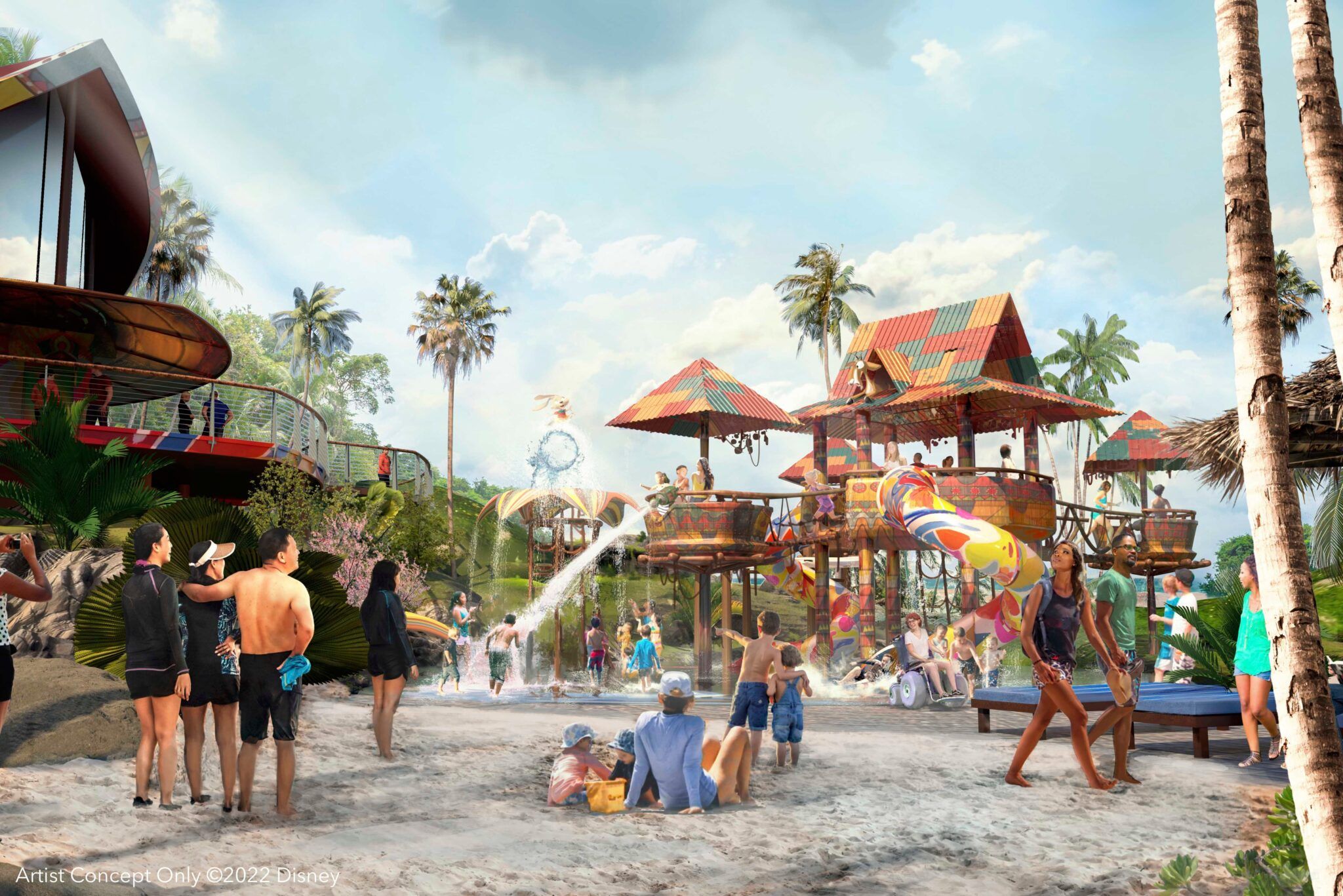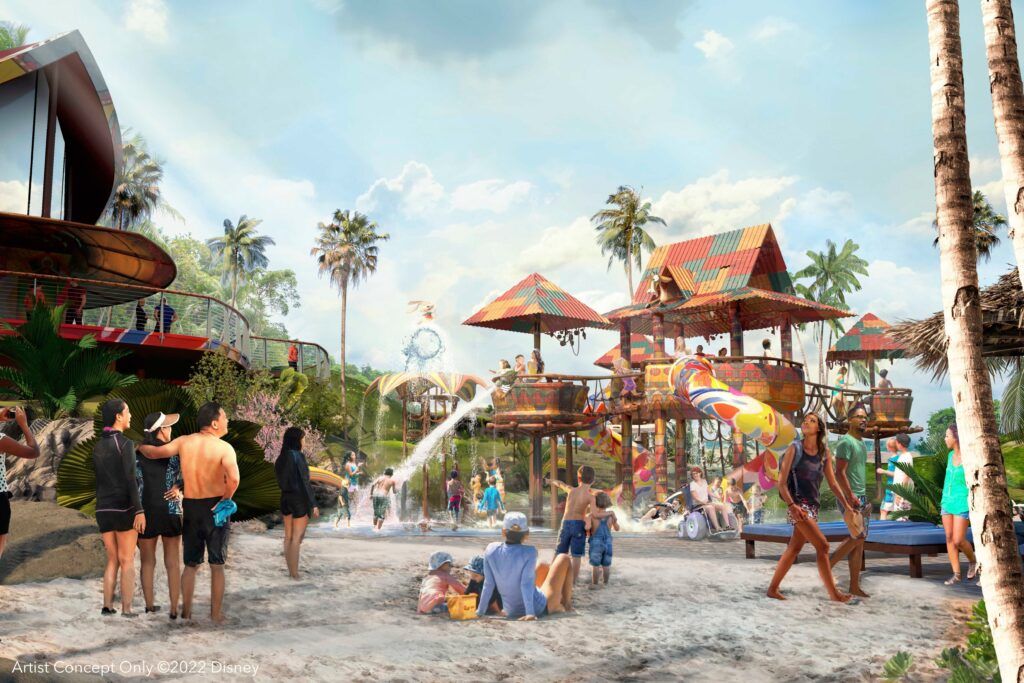 Disney Cruise Line's Lighthouse Point features:
Families can relax and play along sandy beaches and turquoise waters at the expansive family beach on the east side of the island. This beach will be centrally located near market-style dining, recreation, and other amenities.
A Bahamian pavilion features special programs and local artists. It will provide visitors opportunities to learn and celebrate the traditions and natural beauty of The Bahamas.
A brightly-colored, interactive family water play area will include two slides, water drums, fountains and more, along with a dedicated space for toddlers.
Additional recreational activities will be available for kids and kids-at-heart. These include a covered gaming pavilion; a volleyball court and gaga ball pit; watercraft and bicycle rentals; nature trails for hiking and biking; and more.
North of the family area will be an adult-exclusive beach. This area comes complete with a dedicated dining area for convenient access to food and drinks throughout the day. Plus, it features six private cabanas available by reservation.
Children ages 3 to 12 can play at a themed kids' club under the care of DCL counselors. It will include a splash pad inspired by favorite undersea creatures from Walt Disney Animation Studios' "The Little Mermaid". There's also plenty of shade and a dedicated dining area.
Set away from the activity of the main family area, a peaceful beach along the south-western shore will feature 20 premium family cabanas available to rent. This includes four double cabanas that accommodate larger groups and offer massage services.
More on Disney's Lighthouse Point
Visitors to Lighthouse Point will be surrounded by the wonders of nature. Additionally, they can get a glimpse into the efforts taking place to conserve wildlife and their unique island habitats.
A collection of new Port Adventures developed in partnership with local tour operators will take guests beyond Lighthouse Point to explore the culture and beauty of Eleuthera.
Disney's new island destination will provide a hassle-free experience for families. This includes complimentary beach essentials (towels, chairs and umbrellas, and lunch) and convenient tram transportation.
Lighthouse Point will open for guests on select sailings in summer 2024. Details on inaugural itineraries and additional information about signature entertainment, dining, retail, and excursions will be announced at a later date.
SOURCE Disney Cruise Line
Comments
Are you excited to hear that Disney Cruise Line's Lighthouse Point will welcome its first guests in Summer 2024? Do you enjoy visiting cruise line private islands? Drop us an anchor below to share your thoughts on DCL's new Bahamian retreat.
Stay up to date with the latest cruise news and travel updates!