Cunard's Summer at Sea luxury UK voyages drive busiest booking day for a decade
SOUTHAMPTON, England
The launch of Cunard's Summer at Sea luxury UK voyages has driven the busiest booking day in the UK for a decade.
Cunard's Summer at Sea voyages on board Queen Elizabeth, sailing between July and October 2021, comprise of scenic cruises along the UK coastline, voyages that include ports of call around Britain or those that simply sail to wherever the sun shines brightest. All are round-trip from Southampton.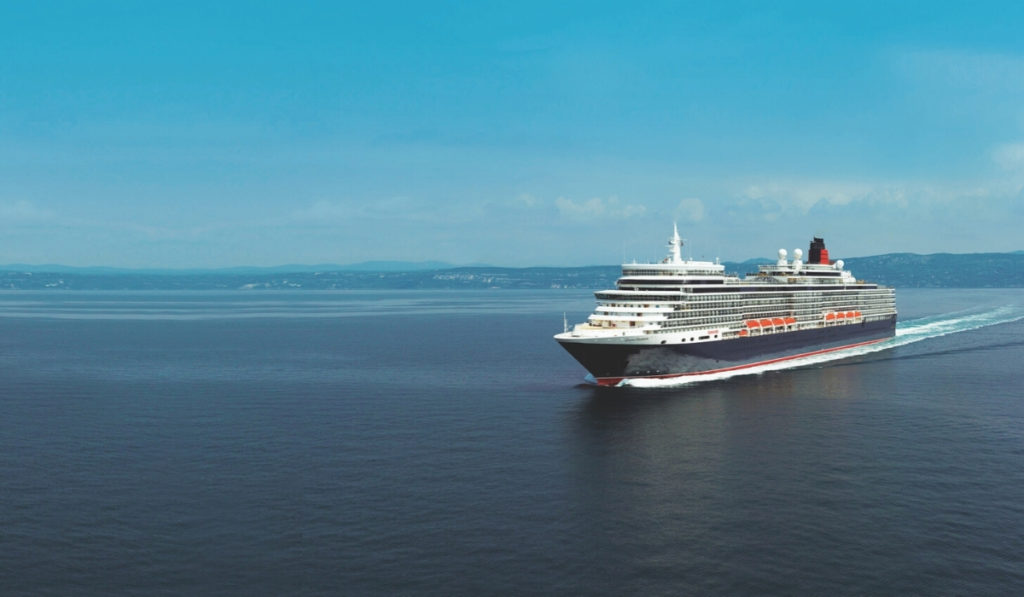 Cunard president Simon Palethorpe said:
"Guests are showing that their desire to travel with Cunard is stronger than ever as they seek a slice of luxury and exemplary service."
"This record-breaking day follows a phenomenal response to our Centenary World Voyages, on board Queen Mary 2 and Queen Victoria in 2023, which went on sale a few weeks ago. In perhaps an indication that guests are upgrading having not travelled for a while, suites on board these voyages pretty well sold-out at the end of the first day of sales, with only one top suite remaining."
"We are delighted by this response from guests and particular thanks to all of our agent partners for their continued work supporting guest bookings. We're really looking forward to welcoming guests back on board this summer."
Cunard's Summer at Sea voyages comprise of ten British Isles Voyages and three Sun Voyages lasting between three and twelve nights. Guests will be able to experience the most luxurious summer at sea enjoying exquisite fine dining, the on-board spa and spectacular entertainment while having the opportunity to see the UK's coastline from a unique vantage point.
British Isles Voyages include scenic sailings along Britain's coastline including The Jurassic Coast, England's only natural UNESCO world heritage site, Cornwall including Land's End and Scotland including the Isle of Arran, Mull of Kintyre and Sound of Mull. Four voyages will make various port calls, including Liverpool, Greenock, Invergordon, Belfast, Newcastle as well as a maiden call for Cunard's fleet to the Welsh port of Holyhead.
Four night scenic British Isles Voyages are priced from £599 per person for a Balcony Stateroom, while a ten night British Isles Voyage will start at £1,299 per person for a Balcony Stateroom. Seven night Sun Voyages are priced from £899 per person for a Balcony Stateroom.
To book visit www.cunard.com  or telephone 0344 338 8641 or contact a travel agent.
Cunard's busiest booking day for a decade has been calculated by comparing booking days in the last ten years for UK resident guests.
About Cunard
Cunard is a luxury British cruise line, renowned for creating unforgettable experiences around the world. Cunard has been a leading operator of passenger ships on the North Atlantic, since 1840, celebrating an incredible 180 years of operation. A pioneer in transatlantic journeys for generations, Cunard is world class. The Cunard experience is built on fine dining, hand-selected entertainment and outstanding service. From five-star restaurants and in-suite dining to inspiring guest speakers, the library and film screenings, every detail has been meticulously crafted to make the experience unforgettable. There are currently three Cunard ships, Queen Mary 2, Queen Elizabeth and Queen Victoria with destinations including Europe, the Caribbean, the Far East and Australia. In 2017, Cunard announced plans to add a fourth ship to its fleet to be launched in 2022.  This investment is part of the company's ambitious plans for the future of Cunard globally and will be the first time since 1998 that Cunard will have four ships in simultaneous service. Cunard is based at Carnival House in Southampton and has been owned since 1998 by Carnival Corporation & plc (NYSE/LSE: CCL; NYSE:CUK).   
SOURCE Cunard
Comments
What do you think of the news that Cunard had its busiest booking day in a decade? Is this a good sign that cruising will rebound to pre-pandemic levels quickly? Drop us an anchor below to share if you've booked any cruises recently.