Cruisers are getting some first looks at 2018's newest cruise ships. These debut voyages are among the top headlines in this weekly look at all of the major travel news and announcements. We have all of these updates and more in this edition of Cruise News April 22, 2018.

Cruise News April 22, 2018
Norwegian Bliss Sets Sail
Rounding out the big three releases of the year is Norwegian Cruise Line's Norwegian Bliss. The largest cruise ship ever for the cruise line, Norwegian Bliss is one impressive vessel, boasting a two-story go-kart race track, outdoor laser tag, and several bars and restaurants. The cruise line took official ownership of the ship this week. A few preview events are scheduled before the inaugural cruise on May 29th. We have our eyes glued to social media for the latest updates leading up to this event. Make sure to follow along as we will be sailing on the May 29th cruise and will be sharing as much as possible with fellow cruisers.
Courtesy of Norwegian Cruise Line
American Constitution Sets Sail
American Cruise Line's newest ship is seaworthy. The American Constitution completed sea trials this previous week. Members of the crew were accompanied by the U.S. Coastguard as the ship completed some basic maneuvers in the Chesapeake Bay. The ship received passing grades and then embarked on its first cruise, leaving the next day for a ten day East Coast cruise from Baltimore, MD.
Will Ships Be Able to Dock in Roatan, Honduras?
Island officials in Roatan, Honduras are hopeful that cruise traffic will not be affected by a recent accident. Back on April 10th, an MSC Cruises' ship collided with the dock while attempting to port. While the ship sustained some minor damage, it was able to depart later that day. Luckily, no crew or passengers were injured, but the extent of the damage to the pier has left the potential for a disruption in service to the port. Ships have still visited the port; although, it is unclear if larger ships will be able to dock or will need to tender. The Allure of the Seas is scheduled for it first stop at the island this year, which is now uncertain.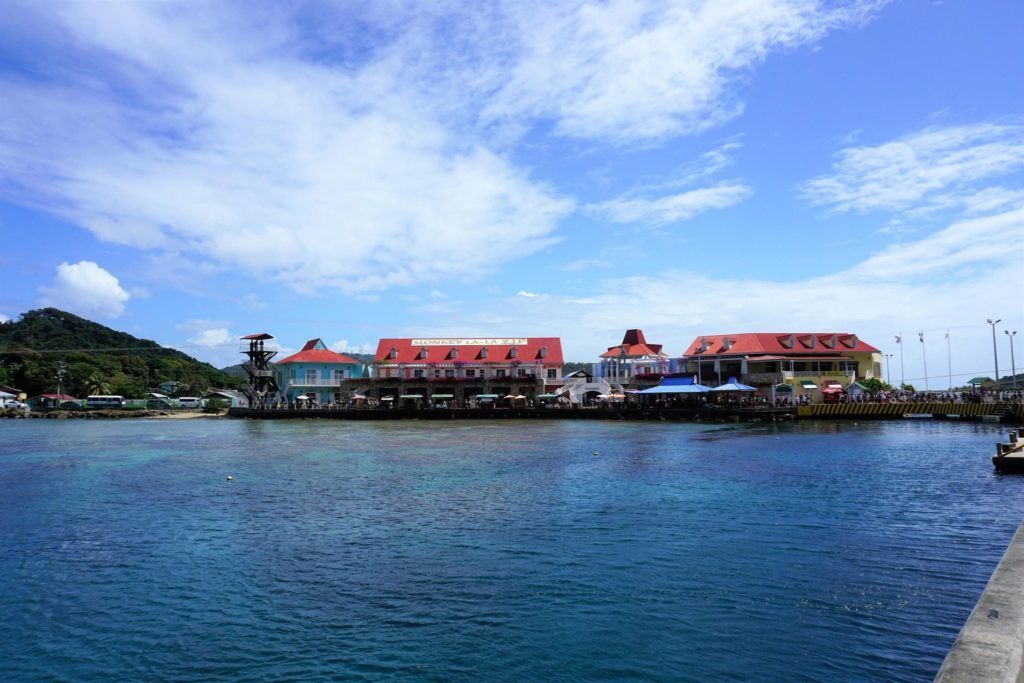 Norwegian Cruise Line Provides Details of Next Class of Ship
Norwegian Cruise Line also provided some additional details on its next class of ship. During a Q&A with the website Cruise Critic, company president Andy Stuart discussed the line's Leonardo-class. This smaller, 3,000 passenger vessel will enable the ship to visit different ports than the current mega-ships like the Breakaway and Breakaway-plus class. These more modest vessels will give cruisers more options to visit various ports throughout the world. Ship design will also enable more outdoor spaces, with a larger Waterfront, especially in the aft of the ship. These new vessels are set to debut in 2022 with up to three Leonardo-class ships planned through 2025.

More Cruise Passengers Heading to Jamaica
In more port news, Jamaica saw a record 1.9 million cruise passengers last year. Officials are looking to eclipse that number in 2018 through a variety of island improvements. In Falmouth, work is underway to drudge the pier to allow two Oasis-class ships to dock at the same time. Improvements are also being made in the port shops and craft market. Upgrades are also planned for later this year to allow large ships to dock in Ocho Rios, located east of Falmouth. The local area is being transformed to offer a waterside boardwalk with shops and restaurants. The construction is expected to be complete by the end of the year.
Comments
Did we miss any major headlines in our latest edition of Cruise News April 22, 2018? Drop us an anchor below with your breaking cruise updates.