[et_pb_section admin_label="section" fullwidth="off" specialty="off"][et_pb_row admin_label="row"][et_pb_column type="4_4″][et_pb_text admin_label="Text" background_layout="light" text_orientation="left" text_font_size="14″ use_border_color="off" border_color="#ffffff" border_style="solid" custom_margin="|||-85px"]
Celebrity Cruises Solstice Alaska Review
09/05/2014 – 09/12/2014
Summary:
The Ship
The Celebrity Cruises Solstice is the largest ship that sails to Alaska. Being the largest ship, it houses some nice amenities, including the innovative Molecular Bar where liquid chefs construct unique cocktails and Crush Martini Bar, the popular nightly hangout. There is also a large two story main dining room, 4 specialty restaurants, 3 pools, including an adult's only indoor Solarium pool. Other venues exclusive to Solstice include an outdoor lawn, which houses a regular hot glass show and the Sunset Bar, an outdoor bar at aft of the ship. With staples like a night club, main theater, and other entertainment spaces, there are many activities and events to fill your days and nights at sea. During our end of season cruise, the crowds were very light making it easy to find a seat for shows, but leaving the entertainment options that are based on crowd participation (e.g., karaoke) to be less than stellar. Celebrity Cruises Solstice Alaska cruise is beautiful vacation on a top notch ship.
Itinerary
Our Inside Passage trip was a roundtrip from Seattle. We choose this sailing, over a one-way sailing, as this was our first non-Caribbean cruise and the flight selection was much greater to and from Seattle. This route included the popular Alaskan stops of Ketchikan, Juneau, Skagway, a sail through the Tracy Arm Fjords, and then an odd late day stop in Victoria, British Colombia. We found the stops in Alaska to be the perfect amount of time to enjoy an excursion and still explore the port and downtown areas. You will see plenty of beautiful landscapes and wildlife, as well as get to experience attractions like the White Rail Pass and glacier viewings. The stop in Victoria is mostly a waste as it gets dark there rather early, and there is not much you can see and do without day light. Also, the ships shops and most bars are closed while in Victoria, so there is little to do on the ship.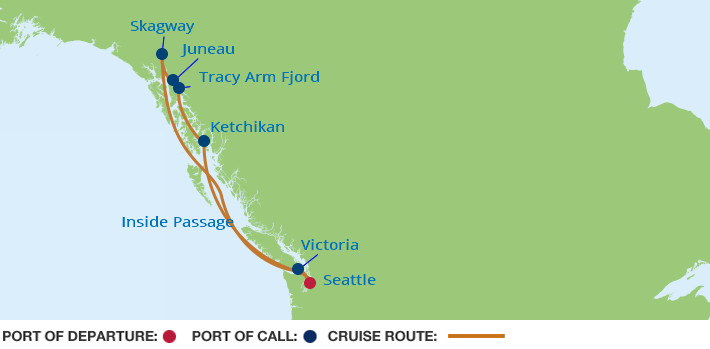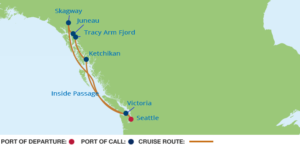 [/et_pb_text][et_pb_text admin_label="Text" background_layout="light" text_orientation="left" text_font_size="14″ use_border_color="off" border_color="#ffffff" border_style="solid" custom_margin="|||-85px"]
Highlight
Look around you. You are in Alaska. It was the landscape and the scenery in the Pacific Northwest that got us first interested in an Alaskan cruise. From our first day in Seattle, to the sailing through the fjords, we were constantly surrounded by postcard-worthy backdrops. Even though the Celebrity Cruises Solstice is large, the weather dictates what you can see. The weather gods were shining on us, literally, as we encountered unseasonably great weather all cruise. Mild temperatures and very little rain! This meant we were able to get closer to Sawyer Glacier than the ship had been all season! We also had great visibility when sailing up and down the coasts of southeastern Alaskan. Get a pair of packable binoculars to make sure you can see all that Alaska has to offer and prepare to be wowed. Also, attend Brent Nixon's and Miss Amanda's Beyond the Podium series for informative and entertaining talks on the history and nature of Alaska—you'll be glad you did!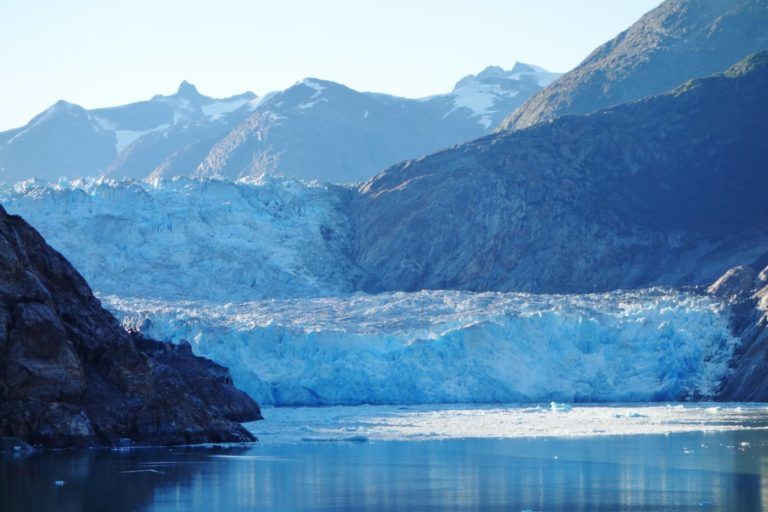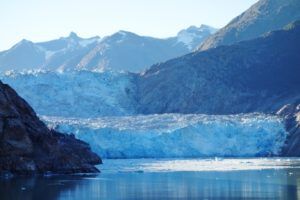 Biggest Disappointment
Celebrity Cruises Solstice is a great size ship, perhaps, the perfect size. While it had a variety of different events and activities, we were not overly impressed with the entertainment. The Celebrity production shows were mostly below average, with the one shining caveat being the cirque-style show called, Solstice the Show. Too many of the production shows and interactive activities were geared toward older folks, and I think even they found the shows to be subpar. We also found the Sin City comedy show to be a bit out of place and simply not that funny. Entertainment that included guest participation was also rather dull, as the venues were mostly empty. The guest illusionist, Jason Bishop, was excellent and his witty banter and cultural references were often lost on parts of the crowd, but we found his illusions and comedy to be highly entertaining. He was the bright shining light in an otherwise mediocre nightly entertainment lineup.
Main Takeaways
Celebrity Cruises Solstice Alaska delivered the ship experience we were looking for on our first non-Caribbean cruise. Our luck with the weather gave us the opportunity to see the sights and sounds of the region while the ship gave us enough food, drinks, and good times that one would expect while on any cruise.
The overall food was solid, with the Oceanview Café offering the best buffet food we have experienced on a cruise. The excellent service in all venues is what really separates Celebrity from the rest of the pack. From the coffee shop, Café al Bacio, to the multiple bars and lounges, to the main dining room, the service was prompt and courtesy everywhere you turned.
The cruise director, Patti Honacki, though not as comical as some of our previous cruise directors, was always very personable and visible throughout the ship. She could always be found outside the Theater after shows to greet guests. We would definitely sail on a Solstice class ship again, and we highly recommend Celebrity and the Solstice for an amazing Alaskan cruise experience!
[/et_pb_text][et_pb_text admin_label="Text" background_layout="light" text_orientation="left" text_font_size="14″ use_border_color="off" border_color="#ffffff" border_style="solid" custom_margin="|||-85px"]
Related Links:
[/et_pb_text][et_pb_text admin_label="Text" background_layout="light" text_orientation="left" text_font_size="14″ use_border_color="off" border_color="#ffffff" border_style="solid" custom_margin="|||-85px"]
Read our detailed Day by Day Celebrity Cruises Solstice Alaska Review below…
[/et_pb_text][et_pb_tabs admin_label="Tabs" use_border_color="off" border_color="#ffffff" border_style="solid" tab_font_size="14″ body_font_size="14″ custom_css_main_element="margin-left: -85px"] [et_pb_tab title="Day 0″]
Day 0, Pre-Cruise Day in Seattle
 Pre-Cruise Hiccups
Since the cruise was a Friday to Friday cruise, we had decided to spend a day before and day after in Seattle to do a bit of sightseeing. We scheduled an early Thursday AM flight and a Saturday morning flight to accommodate such. We booked our flights in March and by April, we received an email from JetBlue stating that our flight had been changed from 10AM to 10PM—yikes!
A red-eye flight that would get us in Sunday morning, in addition to the time changes, was not going to bode well for getting back into the work routine Monday morning. We called JetBlue and without too much issue, we were able to switch to a 10PM flight on Friday instead, which still gave us most of the day to explore the city but saved us a hotel fare.
The bigger issue arose 3 weeks prior to our cruise when we received an email from Celebrity stating that our excursion in Juneau had been cancelled. We had been looking forward to the helicopter ride to Mendenhall Glacier and the dogsled ride since we booked it 5 months ago, and now it is cancelled?
We first decided to look online to see if we could book a similar excursion but all were sold out. We then called Temesco, the helicopter company, directly who stated that the dogs had to be removed from the glacier early due to weather and that all their tours were booked. Our last effort was to call Celebrity to see if there was anything they could do for us. Now, we understand that the dog portion of our tour could not happen but there had to be some way they could at least get us on a helicopter excursion.
The best solution customer service could provide was to book the one spot they had available and hope that a second spot would become available. Well who was going to be going on the helicopter, me or the Princess? I made it known that I thought this was ridiculous and that there had to be something that could be done to accommodate another person on this excursion. Sure enough, I received a call the next morning stating that another spot became available. Phew, crisis averted. We would be able to take our helicopter ride after all!
Starting the Day at 2:30am!
After a long night of tying up loose ends at work and last minute packing, our early morning alarm seemed to come way too soon, but we had a 4:30am transport to the airport as the Boston traffic is always unpredictable. Just the day earlier, there was a major traffic back up on the highway—a route that normal takes me about 20 minutes took 90 minutes! Better to be safe than sorry; after all this anticipation, we were NOT going to miss our flight to Seattle.
After a relatively uneventful transfer, we lugged our 4 suitcases totaling 170+lbs through the airport to check them, passed through security, and had our Starbucks in hand at the gate with about an hour before boarding. The flight was smooth, just long, close to six hours–we are used to quick flights down to FL.
When we landed in Seattle, we grabbed a taxi and headed to Hotel Five. After reading many reviews on TripAdvisor, this hotel seemed like a good fit. We usually prefer Kimpton brand hotels, but their prices in Seattle were over $500 for the night, hardly worth it for the amount of time we would be spending in the room.
Checking Out Downtown Seattle
Hotel Five, a Pineapple brand hotel, was definitely city chic. The room was a good size and comfortable. The hotel has a complimentary shuttle to downtown attractions, or you can opt to utilize one of their free bikes for your urban adventure.
Although we were in early, by like 11:30am local time, we were able to check in and drop our bags off in the room. Now we were ready for some sightseeing. Neither myself nor the Princess had ever been to Seattle so we were excited.
The downtown area was going to be packed as the Seattle Seahawks season opener was scheduled at 5:30pm, and there was a free concert by Pharrell and Soundgarden at 2:00pm. The traffic was just starting to back up when we arrived.
Doing a bit of pre-planning, we had decided that we would visit Seattle Center on our first day in town and head over to Pike Place Market and surrounding area upon our return from the cruise.
Space Needled and Seattle Center
Seattle center is about a half mile walk from Hotel Five. The weather was perfect, slightly under 70 degrees and sunny. We headed to the Space Needle first and decided to buy a combo ticket with the Chihuly Gardens. We debated purchasing the City Pass, which include admission to 5 of the 7 listed attractions including the Space Needle, the Seattle Aquarium, Argosy Harbor Tour, EMP Museum or Woodland Park Zoo, and The Pacific Science Center or the Museum of Flight. Since the only additional attraction we considered if time allowed was the EMP Museum, the costs would have basically been the same so we passed.
There was a little crowd at the Space Needle but from the time tickets were purchased until the time we were back on land was only about 45 minutes. The experience consisted of the 520 foot elevator ride up lasting 41 seconds during which time the guide provided some interesting facts like the Space needle was built in 1962 for the World's fair which showcased the first microwave as well as the first prototype for a mobile phone (which was the size of a shoe box, with an antenna), and the height is something like 1,400 Milk Way bars tall.
Once on top, there were some free digital photo-ops that you could email to yourself and great views with amazing landscapes to be captured on camera, including Mt. Rainier in the background. Some say the Space Needle is a tourist trap, and they might be right.
An Art Museum…Even if you are NOT Artistic
After doing a full 360 around the Space Needle, we headed over to the Chihuly Garden and Glass. This exhibit is a showcase of art by Dale Chihuly, who among many things, was a professor at Rhode Island School of Design, right in our backyard. As soon as we entered, the Princess was in heaven as the visual displays and glass sculptures were right up her ally.
Neither one of us is creative or artistic, but we found the displays to be breathtaking—all with vibrant colors and up-lighting, giving a glowing appearance. Chihuly is apparently known for a variety of different phases of work, some of our favorites being the Sea Life main sculpture and the impressive chandeliers.
We spent a good amount of time taking pictures and reading about the different collections. Once you exit the main building, there is a showcase of his work in gardens that are also quite exquisite. I overheard a gallery worker tell another visitor that the garden sculptures are lit up at night and that she should come back to see them again at night.
What Time is It?
After touring the Glass and Gardens, we both agreed we need some food as by now our bodies felt like it was 5pm even though it was only 2pm local time. The Armory, a food court of sorts, was close and appeared to have some options. We were looking around at the different restaurants when a man, who claimed to be a local, said the food at the Skillet Counter was the best.
Apparently, the Skillet company started out first as a food truck and now has several locations throughout Seattle. The local highly recommended "The Burger" and the "Fried Chicken Sammy". I ended up getting The Burger, and the Wife got the Grilled Cheese. Both were excellent—especially the fries—and exactly what we needed to replenish after the already long day. After eating , we grabbed our second Starbucks of the day and headed off.
We did note that we wanted to see the EMP Museum but opted to save it for when we got back from our cruise as an option in case the weather was not as nice as today.
A Walk to the Water…Down a Gigantic Hill
So our next stop was the Olympic Sculpture Park. We went straight down Broad Street to Pier 70 where the park is located. It is a giant hill, and the last few blocks are very steep. The wife was starting to say there was no way she was walking back up the hill after going through the park and demanded a taxi. Needless to say, after we viewed the sculptures, I was able to convince her to walk back to the hotel.
The Olympic Sculpture Park consists of 19 different sculptures, some more impressive than others. Again, we are not art experts, but, either way, on a beautiful day, spending some time admiring the sculptures, mountain views, and the Puget Sound, is definitely something you should consider when in Seattle. We took a bunch of pictures and a free guide book that gives you more information about each of the pieces. Oh yeah, the entire attraction is free to the public.
There are nice walking trails near here and plenty of locals were doing their afternoon workouts. If nothing more, if you want to get a jog in while on vacation, going by this attraction would make for nice scenery.
We thought about doing some more sightseeing, but our map gave us nothing that really peaked our interest within walking distance so we decided to head back to the hotel to rest up a bit. After all, we had made dinner plans with some friends who had just moved to Seattle for 6pm.
Checking Out Other Parts of Town with some "New Locals"
Back at the hotel, we rested a bit then changed up for dinner.
Our friends picked us up and drove to their new neighborhood, about 20 minutes northwest of where we were staying, near Ballard Avenue. We checked out their new apartment which had stunning views. This neighborhood is very walkable, so we set out on foot to check out the restaurants and lounges that dotted the area.
We stopped to grab a drink at one of their favorite gathering places, Percy's, which had a really eclectic drink menu. After talking about their new home and our new blog we head up the street to the Sexton, another pub-like restaurant for some tapas and more drinks.
We had plans to stay out a bit longer but the jet lag was beginning to set in, so after spending about 3 hours with them, we had to call it an early night. After getting dropped off back at our hotel, we basically crashed, and it was only 10:00pm (though 1am our time)! We knew that we wanted to reserve as much energy as possible for Day 1 of our cruise, so sweet dreams.
[/et_pb_tab][et_pb_tab title="Day 1″]
Day 1, Embarkation and Sail Away
Off to the Pier
Retiring early the night before, we were rested up and ready to tackle the first day with a new cruise company and new ship.
Today was officially our five year wedding anniversary. One of the deciding factors in picking this cruise was the fact that we would be on the ship the night of our anniversary, so we wanted to make the most of it!
The Princess started getting ready while I took the short walk to grab us two iced caramel macchiatos from Starbucks. We are in Seattle, of course, so we needed our Starbucks coffee now more than ever. Surprisingly, the line at the coffee shop was not as long as expected, so I was back at the hotel rather quickly.
The weather was sunny and in the upper sixties, perfect for our first day on our Alaskan cruise!
Returning from Starbucks, I stopped in at the valet to request a car from the hotel to Pier 91. After a few housekeeping items, we were downstairs by 10:15am to check out and wait for our car. The car arrived a few minutes early, the driver packed in our four bags of luggage, and we were off by 1030am.
Traffic was not too bad given that it was not peak season, so we made it to the ship in about 20 minutes. As we pulled up to the Solstice, the cab drove us right in front of the ship, which seemed much closer than the typically drop offs in other ports in Florida. The proximity allowed us to get a few up close pictures of our new home, the Celebrity Solstice, for the next 7 days.
Lined Up and Onboard in No Time
This was definitely one of the easiest and smoothest embarkations we have experienced. After squaring things away with our car service, we walked over to the luggage drop sign, left our bags there with some gentleman, and continued toward the terminal building.
Again, we breezed through the check-in process and were in the waiting area for no more than 10 minutes before the doors opened and the mass of fellow cruisers were heading toward the ship to begin the Alaskan Journey. Even though we did get to go through a separate line as Celebrity Select cruisers, the other lines for non-preferred guest appeared to move quickly as well.
The entire time from arriving at the pier to stepping on the ship was less than 45 minutes. Of course, this included stopping at both Welcome Aboard photo ops (with the same backdrop).
Smile! It's Picture Taking Time
Once onboard, we were greeted by a small mass of fellow cruisers on deck 5 and some wait staff offering glasses of champagne and mimosas. Even though we had the drink package, we both grabbed a free drink and got out of the way of other travelers who were making their way onto the ship.
We moved forward and first encountered the area on the starboard side that included Café Al Bacio, which would be a frequent stop the next 7 days for lattes and caffeine fixes.
First on our agenda was a stop at guest relations to inquire about our dining room assignment and our drink package, as we are used to them being printed on RCI's SeaPass cards. We were informed that some initials on our Seapass card indicated we had the premium drink package and that our table for dinner was indeed a table for two, #140, but that the information could not be printed on our cards for safety concerns.
Now that everything was squared away, it was time for our picturing taking routine. To grab our famous pictures of the ship with as few fellow passengers as possible, we opted to head to deck 15, the Sun Deck, and work our way down deck by deck capturing the best shots. We purposely avoided the Ocean View Café as we were not hungry and figured that it's usually the first place that fellow cruisers visit.
On Deck 15, we headed aft, to The Lawn and Sunset Bar. We then headed forwarded and grabbed photos of the Solstice Deck as well as other sections of the front of the ship. The weather was nice that day and a few people were out tanning and using the hot tubs.
I wanted to jump in one of the pools, but with no bathing suit or support from the Princess, we continued on our journey all the way down to deck 4 taking pictures of all the major venues. Inadvertently, we missed the Ensemble Lounge and Specialty restaurant area, so we ended up grabbing photos of that section later in the cruise.
Within an hour we were done our photo journey, so we foolishly decided to try to get some food at the Oceanview Café–we should have known better. The place was still a madhouse. We walked through the place, could not find any seats, so quickly exited and headed over to the Mast Grill instead.
Of Course the Buffet Would Be Empty at Lunch Time
The Princess only eats chicken, and unfortunately, this venue only offers burgers, hot dogs, and fries. So I got a burger and she got a plate of fries. I have to say, the burgers at the Mast Grill were the best I have had on a cruise ship, with fresh condiments including sautéed mushrooms and bacon. Subsequent dining experiences at the Mast Grill and the Ocean View Café would confirm that the buffet food overall on the Solstice was far better than other cruise lines. This was true for both the breakfast and lunch offerings. We cannot speak to dinner food as we never ate at there for dinner.
By this time it was about 1:15pm and the announcement was made that staterooms were ready so we headed down to check out our room. This was the first time we splurged for a balcony! We dropped off a few items and decided it was time for some liquid refreshment.
Ring. Ring. "It's For You".
We went to the Crush Martini Bar, a venue we would frequent throughout the cruise, and tried a few cocktails.   At Crush, we met some very interesting cruisers who were determined to learn everyone's name at the bar. After numerous introductions, a few rounds of the telephone game, and two cocktails later, we decided to head back to our room for a bit before the muster drill.
Using the drink package on Celebrity was seamless in comparison to our previous experiences on Royal Caribbean. We never had an issue ordering a drink. Our service was always excellent and timely. We never got charged for things that were covered in the package, and best yet–you do not have to sign any slips. On Celebrity, it is order, swipe, and you are moving on with your drink in hand.
In fact, one of the main reasons we would sail with Celebrity again has to do with the consistency and level of service ship-wide. The Ultimate Drink package includes virtually every drink under the sun, including full 1 Liter bottles of Evian water, and you were not treated any differently with or without a drink package!
When we arrived back at our room, 3 out of 4 pieces of luggage were sitting in front of our door allowing us to unpack before the muster drill. While in our room, flowers I had ordered for my wife as an anniversary present were delivered, early. They were not supposed to arrive until we were at dinner. The arrangement was actually a good size and stayed alive the entire week.
By this time, we were summoned to our muster station where the drill lasted about 20 minutes. Afterwards, we were free for more cruise explorations. The Princess was feeling a bit tired, so she grabbed a latte at Café Al Bacio, and then we decided to check out the Molecular Bar. There, we bumped into some folks we had met a few hours earlier at the Martini Bar, and I was roped into trying a drink called the Dragon Fly. Swapping cruise stories for a bit with others at the bar, we had to depart to change up for our 6:00pm dinner.
The Epernay Dining Room
We do love our traditional dining, and this early seating gives us the chance to see the shows and experience all of the night time activities. A quick costume change and it was down to Grand Epernay.
The Princess LOVES her photos while at sea. For this first night, we noticed only one casual portrait studio so of course, we made it a point to take pictures when the opportunity presented to us! This would be the first, of many, portrait stations visited on the Celebrity Solstice.
At dinner we met our wait staff Nimrod ("Rod"), our waiter and Li Yan, our assistant waiter. They provided great service all week and were very responsive and attentive to our needs. Our sommelier, Andrea, was great as well, timely with cocktails and anticipated our needs. Coming off the best service we have EVER had on Independence of the Seas, this wait staff came in a close second.
For appetizers, I tried the Shrimp Luis, which was not exactly what I expected, and The Princess had the arugula salad. For dinner, I ordered two entrees-you know I like to eat. The Beef and Veal Spaghetti Bolognese and Prime Rib. The Bolognese lacked the rich creamy sauce consistency I was expecting but was still quite tasty. The prime rib was a bit over cooked and an extremely thin cut, almost like a strip steak. The wife had the spinach and ricotta ravioli, which were good, even if they were drenched in a mixture of marina and cheese sauces.
After the week of eating at the MDR for 6 of the 7 nights, I would say that the food was no better or no worse than our experiences in other dining rooms on the big ships from other cruise lines.
Music through the Decades
Finishing up dinner, we walked through the casino on our way to the Solstice Theater for the Music through the Decades show, the first production show of the cruise.
Here, we were introduced to our cruise director, Patti Honacki. She might not have had the sense of humor of some of our previous cruise directors but she was always visible and approachable. She sang a Carole King song the first night and had an amazing voice.
This first show, Music through the Decades, showcased popular music from the 1940s to today, with a heavy emphasis on music from the 1940s and 1950s. During the show, Patti, the cruise director, would change into period specific outfits and talk a bit about the decade.
Some of the other performers, that would be in venues around the ship during the course of the week, were also showcased during the show as the journey continued through the 1980's. I guess it shouldn't have come as a big surprise to us given the average age of passengers, but there were no songs from the 1990s and 2000s (which upset the Princess as she was hoping for some *NSYNC). The last song of the night was 'Let it Go' from Frozen. I suppose you can call that updating the show–we big kids here at Eatsleepcruise.com enjoyed the movie too!
More Exploration and Of Course More Drinks!
After the show, we walked around for a bit and "discovered" a section of the ship that we missed when first coming aboard. On deck 5 aft, there is a section of the ship on the starboard side that includes The Ensemble Lounge, as well as the private Michael's Club, and the specialty restaurants. We scoped out this area then went down a floor to the Passport Bar. We make it a habit now to do a "Drink around the Ship" making sure to grab a cocktail from all bars onboard our ship. We got some seats and drinks at the Passport Bar on Deck 3 and awaited the "Groove" Interactive Theme Party which featured the Solstice singers and dancers.
This event and many others took place in the Grand Foyer, leaving the area very crowded—nothing like the Promenades we are used to on Royal. I can only imagine how jammed this area gets when the ship is sailing closer to capacity. The show lasted maybe thirty minutes and was about the same caliber as the main theater show we watched about an hour earlier.
After the show dispersed, we walked through the casino and found that they had the wife's favorite slot machine, so we put some money in and eventually lost. This would be a repeating theme of our casino experience during the cruise.
After a long day, we retired to our room to find that the romance package, including rose petals, bathrobes, and slippers, had been setup as I requested. What a great way to end our five year anniversary!
[/et_pb_tab][et_pb_tab title="Day 2″ tab_font_select="default" body_font_select="default"]
Day 2, At Sea
 What to Wear?
The one concern we had with doing an Alaskan cruise was what to pack. For embarkation, we were able to wear some summer-type clothing. When we woke up around 7:30am this morning, I went out to our balcony to check the weather. Normally, we have to check the daily for weather updates, but not so when you can simply open the sliding door and experience the weather for yourself.
There was a bit of a breeze, but it looked like a great sea day taking shape. It was sunny and predicted to have a high of 60 degrees, so we opted for jeans and short sleeve shirts. We actually could not ask for much better weather this time of year.
After getting ready, we went down to Deck 5 to grab lattes–love that drink package–and then caught an elevator up to Deck 14 around 9am for breakfast at the Oceanview Cafe.
Breakfast by the Mountains
The restaurant was very busy, but given the nice weather, we decided to sit outside. Breakfast was delicious, much better than the buffet breakfasts we have seen on other ships. They use real eggs, and you can see them crack the eggs for omelets right in front of you. No bucket of egg-like substance sitting on the griddle. They have standard options like waffles and pancakes, as well as a large selection of breakfast meats including some awesome English Bangers.
While eating breakfast, there was a report of some whales spouting on the Starboard side, but we did not see anything.
Wi-Fi is a No-Go
After breakfast, we started to make our way to the main theater stopping off at the internet café to purchase a package. Being Select status on the Captain's Club, we got a 25% discount on the internet. Good thing, as the internet on Celebrity was awful. They do advise you that the speeds are slow and unlike speeds you are accustomed to on land, but this was truly the worst internet service we have had at sea, not allowing us to check email or other common apps regularly.
We highly recommend that you do not waste money on the internet on Celebrity until it is improved. It didn't dawn on us until later but since we were mostly in the U.S, while docked in Ketchikan, Juneau, and Skagway we were in 3G and able to use the internet without difficulty or charges. Please do check with your cell phone carrier first.
Must Sees- Brent Nixon and Miss Amanda
After purchasing the internet package, we finally were made our way to the theater for the first naturalist talk of the cruise given by Brent Nixon. The talk was thoroughly entertaining and a must see, by no means a boring lecture. Brent, with all his passion and flair, gave an animated description of the history of Alaska and of the ship's navigational course that we would be taking on the cruise. The talk lasted about 50 minutes.
We walked the ship a bit more deciding to head up to the Sunset Bar to enjoy the nice weather. While it was sunny earlier, it was starting to get foggy and cooler now. So after 10 minutes of the wind howling around us, we decided to check out the lower decks, like the pool deck and Solarium. In all honesty, I never made it into either of the swimming pools or whirlpools over the week.
We thought we might be able to get better views of the ocean and watch for whale sightings from the Sky Lounge, the bar at the front of the ship on deck 14 which was surrounded by glass. To our dismay, the place was empty and the bar was closed. This would be routine throughout the cruise. So, we were moving on!
We decided to take some pictures of the remaining indoor spaces that we had missed the first day, the specialty restaurants and the Ensemble Lounge. We did not eat at any of the specialty restaurants, but heard good reviews about Murano. Perhaps if we did another Solstice class cruise, we would try one of these venues.
Our plan was to attend the Ketchikan talk by Miss Amanda at 2:00pm, so with some time to kill we stopped at the casino and made a few deposits in the wife's preferred slot machine. Losing a few bucks, we grabbed some lattes to warm up and then headed to the main theater a bit early to get seats for the talk.
Miss Amanda, like her husband Brent Nixon, was very informative and entertaining. The presentation was about the town's history and the importance of Creek Street, the red light district of Ketchikan. Miss Amanda also provided suggestions for places to visit and sites to see while in port, including Dolly's House on Creek Street and the Totem Pole Heritage Center, which was not on our original list of attractions to see, but was something we added because of the talk.
The show ended around 3:00pm. Day 2 is formal night. So the Princess wanted to head back to the room to relax a bit then start getting ready. I grabbed a drink and headed to our balcony to relax and look for wildlife.
I also tried to get the internet up and running to provide some updates on social media. Unfortunately, the internet did not want to cooperate. After about 10 minutes of grueling efforts, I was able to successful send one tweet. WOW! Did I say the internet on the ship was painfully slow?!?
Hello, Is Anywhere Here?
By 5:15pm we were ready to go downstairs for pictures. The night before we were told that there was going to be about 7 stations for picture taking. Assuming some lines, we were not sure if we could get them all done in the time allotted before dinner. To our surprise, we zipped through all the studios in virtually no time, and we were into dinner just after 6:00pm.
For the first formal night, the menu contained staples normally found on other ships. For appetizers, I got the salmon tartare and the crispy frog legs, and the Princess got the baby spinach trevisio salad. This was my first time eating frog legs. To me, they had the consistency of fish, and being breaded and fried, they tasted like any other breaded and fried appetizer I have ever tried. I would probably not order them again.
For entrees, I got the seared duck and the roasted Colorado rack of lamb, and the Princess got the chicken off the favorites menu. I found the duck much better than the lamb, in fact, the lamb on Royal Caribbean was much better than this plate.
Tonight's show included a toast by the Captain and an introduction of the senior staff with a complimentary glass of champagne or wine.
To The Main Theater and Beyond
After the Captain's Reception, the Celebrity singers and dancers presented a show called Ghost Light. This was a Broadway review including songs from shows such as Chicago, CATS, Rent, Wicked, and other popular musicals. Every cruise contains a similar review show. Overall, it was not the best show we have seen on a cruise ship, but certainly not the worst.
The show got out a bit later than usual, around 9:45pm, due to the Captain's speech, so we jetted over to grab seats at Quasar for the 930pm karaoke session—to find the club dead!
There were under 20 people in the entire place and only a few signing karaoke. We stayed there about a half hour, ordering a drink so we could check off Quasar as a venue on our "Drink Around the Ship".   There were some decent female singers, along with one hilarious rendition by a gentleman signing Rhianna's "Umbrella". For a small crowd, they were still enthusiastic, but we decided to exit and head over to Crush.
Tonight at Crush, there was an ice martini slide. One of the bartenders was performing some tricks with the drink bottles and shakers to add to the entertainment. Drinks were only $6.00 and were all covered by the drink package. The Princess ordered one up, and we watched the making of the cocktail along with some fancy bartending skills. Of course, I grabbed a quick video of the action.
To continue our "Drink Around the Ship", we decided to check out the guitar player Rob Ondras at the Ensemble Lounge. This was a large venue on deck 5, and the few times we visited to listen to Jazz or just relax, it was relatively empty.
We listened for about 45 minutes to his renditions of Johnny Cash, the Beatles, Neil Diamond, and Elvis. Someone requested a song, I could not hear the request, but the singer said he did not know that song, so on that note, we left and headed back to the room. We had a shore excursion meeting at the dock for 8:15am at our first port of call, Ketchikan, so we needed a little sleep before this first Alaskan adventure.
[/et_pb_tab][et_pb_tab title="Day 3″ tab_font_select="default" body_font_select="default"]
Day 3, Wet and Wild in Ketchikan
Up and At 'em, You're in Alaska
Into our first port of call, Ketchikan, we had to meet our shore excursion at 8:30am on the pier. We booked a combo tour for the Lumber Jack show and Potlatch Park. Even though I had read favorable reviews on Saxman Village Park, the wife wanted to do Potlatch Park because it was dubbed as the largest totem pole park in the area.
We were up at 6:00am and room service was delivered by 6:30. This breakfast was much better than what we typically get on other cruise lines. They were real scrambled eggs and generous portions of bacon and sausage, although they did forget the hash browns. After breakfast, I grabbed us two lattes so we could sip on them while we were getting ready.
We were down to the gangway around 8:00am and were ready to take some pictures. In Seattle, I was able to break in our new camera, the Sony RX-100. The photos on that camera looked much sharper than our previous Cybershot, but that was under clear conditions. It was raining in Ketchikan, which it almost always does, so it was time to see the camera's performance in less than optimal conditions. I think it definitely passed the test!
No Chance of Staying Dry Today
We got off the ship and took a few shots around the immediate pier. We were surprised that there were no Celebrity photographers taking pictures near the gangway. We learned the next day that they have stations upstairs near the buffet instead–this meant no Welcome to Ketchikan pictures.
After a look around the immediate dock, we found our tour guide that informed us we would have to walk to the Lumberjack show. On our walk to the show, we stopped for a few more photo-ops including in front of the Welcome to Ketchikan sign. The giant "Thundering Wings" at Eagle Park had recently been take down for renovations, so we were only able to snag a picture of the empty perch reserved for when the eagle returns.
Following the lumbarjack show, we were given a few minutes to browse the gift shop then were directed to a bus that would take us to Potlach Park. Read our full review of the excursion here.
Some Spawning on Creek Street
After our excursion, the bus driver dropped us off near the lumberjack show around 12:15pm. During Miss Amanda's talk the day before, she mentioned checking out the Totem Heritage Center, which houses remains of hundreds of year old totem poles. The location, according to our tour guide, was about a 15 minute walk from downtown. It was just passed Creek Street, which we planned on visiting anyway, so we started out on the trek. For those who are not inclined to walk, in the rain, there is a free shuttle that runs between downtown and the center.
We made our way to Creek Street to check out this former red light district, that was part of the main industry in Ketchikan, according to our shipboard historian. Along the way, we stopped to take pictures of the Chief Johnson Totem Pole. This is a replica, as are all of the totem poles found throughout the downtown area, but its massiveness and interesting design can be appreciated. Some of the remains of the original Chief Johnson totem pole can be found in the heritage center
Once at Creek Street, we took pictures in front of Dolly's House, a museum and original home of one of the more famous and powerful madams of Ketchikan. It was crowded, and while they do offer tours of the museum, a photo-op was good enough for us. We also got some decent photos of the salmon running upstream and spawning. This is the time of year that salmon lay their eggs and then die. So, while you will see some salmon swimming in the creek, you will also see some not so active ones floating in the water.
Now for Some Old Totem Poles
After checking out the shops and other historical stops near Creek Street, I convinced the Princess to walk to the Totem Heritage Center. We had basic directions, and there were street signs guiding the way. The walk is not too far, but you do need to climb a sizeable hill to get to the center. During the walk, the misty rain was tolerable, but I'm sure if it were raining harder the Princess would not have agreed to such a trek.
I think the trip was well worth it. While the center is small, you get to see some massive and quite old, original totem poles (since all of the ones at the totem parks are replicas). There is a five dollar entrance fee for a self-guided tour. We stayed here for about 30 minutes or so, reading the information about the poles and grabbing plenty of pictures too.
No Trip Would be Complete without Smoked Salmon
After our walk back, we strolled around the downtown shops for a bit. I wanted to get some authentic Alaskan salmon. On the advice of our cruise director, Patti, we (I mean the Princess) found the hole-in-the-wall store, Salmon etc. After multiple samples, I purchased some smoked sock-eye salmon for the family back home. I was going to get some reindeer sausage for me, but the wife had to pull out her veto card on that one.
Time to Warmup Back Onboard
After our short shopping trip, we were back to the ship for 2:30pm and onto our second latte of the day– to warm up AND wake up. We made it to the Oceanview Café just in time as they were beginning to close down the lunch stations. It was a race against time and the wait staff, who were literally pulling off trays as guests were trying to fill their plates. I was able to get some fajita steak and vegetables, which were great.
After our snack, we grabbed some waters, and then adult beverages, and made our way back to the room to watch sail away. I was able to grab some great photos and a video of some float planes taking off right alongside our ship. I also chatted with our balcony neighbors a bit as we passed the Ketchikan airport on Gravina Island and made our way north into the larger passage that would take us to Tracy Arm Fjord and Sawyer Glacier the next morning.
Excuse Me, But My Wife is Calling Me for Dinner
The wife had to pull me away from the conversation to get ready for dinner. Of course, we were down a little before 6:00pm to grab some casual portraits, 4 studios open with no lines, and we were into dinner.
Tonight was Top Chief night. Earlier in the year, Solstice actually sponsored an entire Top Chief cruise. You can see a full review of that sailing on Popular Cruising. To me, the most impressive items on this menu were the appetizers. I decided to get both the Tuna Tartare, and the Short Ribs as starters. Short ribs were excellent, a bit small, but melt in your mouth delicious. I then moved on to the minestrone soup, which was rather dull. For main course, I had the veal chop. To date, best entrée of the cruise.
The wife is a much picker eater to than I. The barbecue chicken sounded good, but it was a bone-in cut, and she only likes boneless chicken. So, she did her staple Caesar salad and grilled chicken from the Favorites Menu. Boring!
Finally, Entertainment with Energy!
Tonight's show, David Meyers, was at 9:00pm, so after dinner, we continued to test out the different bars and venues around the ship journeying to Cellar Masters this evening. We are not wine aficionados, but after trying one of the pinot noirs that were offered on the drink package, I switched to wine at dinner instead of cocktails. It was early in the evening, but again the venue seemed empty.
After relaxing and sipping our wine, we strolled down to the theater to get seats. The entertainer, David Meyer, played a unique instrument called the xylosynth , a mix between a xylophone and a synthesizer. He opened the show with the Who's Teenage Wasteland, so I had some hope for the night. Then, he proceeded to play different songs from various genres to demonstrate the different sounds and capabilities of this unique instrument. The show was high energy, and he was a talented musician, but we thought the show dragged a bit. Maybe it was just us as others in the theater seemed to really like it.
After the unique performance of David Meyer, we headed up to the Sky Lounge for the Interactive Party: Live@Sky, a big band tribute to the 40s. As this venue was not open much, we did take this opportunity to continue our "Drink around the Ship" with two rum- based cocktails. Of all the different drinks we tried on the cruise, these were the drinks we liked the least.
It was a short show, which actually was quite entertaining as the singers and dancers came into the audience and the costumes were very well done. The band and singers seemed more lively during this show too, maybe it was the intimate setting of the lounge. After the show, the "house band" Top Notch took the stage. We were a bit tired from the long day, and knew we had to wake up around 5:30am for our trip into Tracy Arm Fjord and Sawyer Glacier, so I grabbed two bottles of water from the bar and we retired for the evening.
[/et_pb_tab][et_pb_tab title="Day 4″]
Day 4, Tracy Arm Fjord, Sawyer Glacier, and Juneau
Is that the Moon or the Sun in the Distance?
That 5:30am alarm seemed to go off too soon. The wife likes to hit the snooze button when at home of which I am not a fan, but this morning I didn't mind a few extra minutes of sleep. We were up to grab a picture before sunrise, and the skies were looking pretty clear. We were going to have some great weather for the cruise into Tracy Arm.
Brent Nixon's narration was scheduled to begin at 6:00am, though it actually did not start until closer to 6:30am. We again ordered room service, and the food arrived hot and fresh by 6:15am. How could we possibly be hungry? I don't know either, but we got the same order as the morning before and this time, they remembered the hash browns.
Sailing into Tracy Arm Fjord
Around 6:30am, Brent Nixon began his narration from the bridge, giving his enthusiastic commentary as we sailed into Tracy Arm Fjord. The narration is played on the open decks, on the television, and for the most part can be heard from the balconies as well. Of note, the ship does have to go silent at times to not disturb the surrounding wildlife.
All I can say about sailing into this area is…breathtaking. This is Alaska! Now while the weather was sunny, it was actually rather cold. It would warm up later in the day, but it was this morning we were glad we packed our three-in-one Columbia jackets, as well as our hats and gloves.
Let's Take about 100 Pictures of Sawyer Glacier
The ship navigated the Big Bend and the S Turn towards Sawyer Glacier, and by 7:15am, there it was in the distance. Up until this point, we had been sitting on our balcony but decided to head up to the Solstice Deck to capture the full experience. Given the perfect weather conditions, Brent announced that the ship's captain was making the move to get closer to the glacier.
In fact, we ended up getting closer to the glacier than the ship had been all season! A few of the crew members said that the last few weeks had been so foggy that you could barely see the glacier. Again, the weather gods were blessing us during this late season cruise. As we inched closer to the Glacier, we kept admiring the beauty…and taking pictures .
By about 8:30am, the captain began to turn the boat around to exit the fjord. The ship stopped briefly to let off passengers for the excursion on a smaller boat. We had considered doing this excursion, but it was pricey, and we had already spent a good amount of money on the Mendenhall Glacier Helicopter Tour and Walkabout scheduled for this afternoon.
It was spectacular. This is when you are glad you got a balcony on an Alaskan cruise. When we would get home later, we counted over a 100 pictures taken during that 3 hour span. We are a bit crazy!
More Coffee and More Miss Amanda
We could no longer see the glacier from our vantage point by 9:15am, so we headed down to grab our second latte of the day. Armed with caffeine, we entered the theater for Miss Amanda's Beyond the Podium talk on Skagway.
She spent the first few minutes talking about Juneau and some wildlife highlights, but suggested that the reason there is not a talk specifically about Juneau is because we need to experience the wildlife firsthand.
The remainder of the talk focused on Skagway, the gold rush of '98, and of course, women of negotiable affection. Not really sure what is with Alaska and all its brothels, but perhaps I should look into getting a vacation home up here? We would hear these stories multiple times on our excursion in Skagway, but Miss Amanda's presentation style and slideshow made the history come to life. She is quite the performer, as is her husband Brent Nixon.
We Need a Break
Following the presentation, we headed back to our room for a nap, as we didn't have to meet for our excursion until 2:30pm in the Solstice Theater. After a bit of shut-eye, we showered, got ready, and packed a bag with additional cold weather clothing for our excursion. Then, we grabbed our 3rd latte of the day, and  made our way to the Oceanview Café for a late lunch. It was already past 1:30pm by this point, so most people were trying to get off the boat, leaving the buffet lines less crowded today. Since the weather had warmed up considerably, we grabbed some outdoor seats. Again, the weather was perfect as it had warmed up close to 25 degrees since we had been up at 5:30am!
Tendering to Juneau
We arrived in the Theater for our scheduled time and were given tender numbers. We waited no more than 10 minutes before we were called to head to a tender boat for the short ride to shore. Once we were on shore, we checked in with our tour operator and waited for departure. In the meantime, I decided to grab some photos of the Solstice and other ships docked at the port.
Before long, we boarded a bus that took us to Temesco heliport. Here our helicopter ride and journey to Mendenhall Glacier would begin. See here for full review.
 Roaming Around Downtown Juneau
The tour was awesome, but over way too soon! The bus dropped us off back near the pier around 5:30pm. We were now in a no man's land. We could try to race back to the ship, change, and go to our 6:00pm dinner, or we could explore Juneau a bit more. We opted for the latter and began walking around the Franklin Street area right near the pier.
To be honest, there is nothing really here but a bunch of shops. We walked by Tracy's Crab Shack, but neither one of us was hungry at this point. I planned on returning later to try some Alaskan King Crab, but that did not happen. Oh well, looks like we need to plan another Alaskan cruise.
At the end of the season you will see discount signs at all stores. Looking through some shops in Ketchikan and Juneau (later on in Skagway) we noticed a few things: (1) These shops carry basically all of the same merchandise for souvenirs and clothes, (2) the prices are literally identical in all stores, (3) people are buying stuff like it is going out of style.
This store was no exception, and it was packed with people gathering as much merchandise as they could carry. We looked around and had at-shirt in hand, but we were on a mission for locally made ornaments as we try to collect an ornament from every trip for our "vacation" Christmas tree. Yes, we have several trees!
After the mayhem of the Alaskan Shirt Company, we strolled back towards the pier, hoping in and out of a bunch of shops, along the way. We did stop in at the Red Dog Saloon, but it was busy so I just bought a discounted t-shirt! After a solid hour or so investigating the Juneau sights near the pier, we headed back to the ship.
Okay, just this Once I will Pay for Food on a Cruise Ship
Once onboard, we went to our room to unload our stuff, including the bag and extra layers of clothes we did not need for the excursion. While we were not starving, we knew we had to eat something if we were going to continue the evening, which included seeing that night's show Pulse.
I am not a fan of paying for food on a cruise ship, but the Princess had been saying all along that she wanted to try the crepes at Bisto on Five. So, we decided to give it a shot tonight–for a $7 pp charge, I caved. It was actually a pretty good deal. You can get a soup, salad, a dinner crepe/panini, and a dessert crepe for the plate charge. We both really enjoyed the crepes. The Princess got the Mediterranean, and I got the Cowboy for dinner. We then ordered and split the French and the Italian for dessert—definitely try the Italian! The Cowboy and the Italian are the most popular, and now I know why.
Drinks and a Show in a Waffle Shirt
Of course, still wearing our jeans and "glacier clothes"- which for me was a waffle workman's shirt and the wife a casual sweater- we still had time to kill after dinner, so we grabbed a drink at Crush and headed to the show. Given we were there only 15 minutes before the show started, it seemed rather empty. I would soon find out why.
The show that evening, Pulse, is probably one of the worst shows we have seen on a ship. It had no plot. It centered around one performer, a joker/comedian, who kept going through a door ending up in a different time/location which featured a specific type of music and style of dance. In between these scenes, he would do some mime like humor, which was occasionally funny.
When the show got out, we continued to the casino where we continued to lose more money on the wife's preferred slot machine and the roulette table.
A night would not be complete without a stop at the Molecular Bar to visit liquid Chef Adrian. This time around, the bar was packed. It took a while to get a drink, but that is the price you pay for these handcrafted treats. The wife got the Lucky Cat and I got the Tanned Russian.
Tonight was supposedly a category 4 for seeing the northern lights. The best time to view them was reported to be between midnight and 2am. We had gotten up at 5:30, and it was approaching midnight, so we decided to go to the room and sit on our balcony to view the Northern Lights. We were outside for MAYBE 10 minutes, when we made the decision to abandon the night sky for sleep. We would later hear from a fellow passenger that she stayed up both nights we were expected to see the Northern Lights and saw nothing.
[/et_pb_tab][et_pb_tab title="Day 5″]
Day 5, Skagway and White Pass and Yukon Railway
Up Early….Again
The one bad thing about Alaskan cruises on the Solstice is the arrival times at the ports. Today, we were scheduled to come in for 7am. Our tour, a combo town tour by bus and White Rail Pass, was set to depart at 7:45am. I head down around 7:00am to get us lattes and an assortment of breakfast treats from Café Al Bacio. Hands down, the danishes and donuts here are the best we have had on a ship and much better than those found even at the donut shop on Allure. Sorry RCI!
We finished breakfast quickly and headed downstairs to the gangway, which was located on deck five. There is great fluctuations in the tides in Skagway, so depending when you were entering/exiting the ship, the gangway might be different. When we would return from our excursion, we would actually comeback onboard on deck 4.
Exiting the ship, you are about a mile away from the edge of town. Solstice docks the furthest away from all of the other ships, assumingly because of her size. There is a small golfcart-like tram that will drive you to the edge of the pier area if you are unable to walk this distance; however, if you booked an excursion most of the busses were parked on the pier. So, we quickly located our excursion and were directed to a waiting area. Before long, we were boarded on a bus ready to depart…or so we thought.
Now mind you, the description for the tour and the tickets for the excursion clearly state to bring your passports as you will be crossing into Canada. Wouldn't you know, we ended up waiting for a few people to go back to the ship to get their passports before we could leave.
Albeit slightly late, we headed into town to begin our excursion. See our full excursion review here.
A Self-Guided Tour of Skagway
The train dropped us off back in Skagway around 12pm, and by then, we were starting to feel the effects of this lack of sleep. In town, there was a jewelry shop that also happened to contain a café that served Starbucks coffee.
Can anyone say two grande iced caramel macchiatos?
Yes, iced, as the weather was great out, about 60 degrees and sunny. We were not the only ones drawn to this place, so we had to wait in quite a line. Now, our bus driver had already mentioned that the price of milk in Skagway was somewhere around $7, but I guess we didn't think of that when ordering our drinks. Almost 14 dollars later, we had our 2 Starbucks drinks!
After our coffees, we walked around the downtown area. You will hear all about the gold rush and the craziness of this town from the 1897 to about 1900, but now the town is basically run for tourists and nearly closes down at the end of cruise season.
The town contains one main road, Broadway, which has a view that runs down part of the pier. Here, you can take a great picture of a cruise ship, in our case a Holland American Cruise Line ship, at an angle that makes it appear like the ship is driving down the road right at you.
Within the town's boundaries there are some attractions, besides another Alaskan Shirt Company store. You can visit Captain William Moore's home, the forefather of Skagaway, before he was run out by the gold rush. You can also visit the Red Onion Saloon, where ladies of negotiable affection helped drive the economy of Skagway with prospectors' money. They offer tours of the "rooms" upstairs, which still have the red lights hanging in the windows. The story goes when a prospector would walk into the saloon, there were dolls behind the bar, representing each of the women, from which he could choose then be lead upstairs. If the doll was lying down, the woman was "occupied".
With a good map of Skagway, you can see all the major sights yourself.   That is exactly what we did for the next couple of hours. We grabbed photos of major sites including the Artic Brotherhood Lodge which is made of all driftwood sticks, among others. In between taking pictures, we also browsed the various gift shops and other tourist attractions. At one point, we got hungry, so nothing says Alaska, like some fudge.
Relaxing on the Solstice Deck In the Middle of September
After a couple of hours around town, we started our mile walk back to the ship. By about 2:30pm, we were back on board making a quick pit-stop in our room then heading to the Mast Grill followed by the Sunset Bar to continue our "Drink Around the Ship". The weather was unseasonably nice again, so we decided to relax here a bit, with an Alaskan beer in hand.
Around 4:45pm, we returned to our room to get ready for dinner. Again, we would be done slightly before 6:00pm to take more casual pictures with virtually no lines. Then, off to dinner. For appetizers today, I had the beef carpaccio and the crab cake, and the Princes had the Boston lettuce and gorgonzola salad. For entrees, I had the braised short ribs, and the Princess had the stuffed chicken saltimbocca. The crab cake was delicious and definitely a highlight of the MDR.
It's No Illusion…A Highly Entertaining Show
Our show was at 9:00pm, so we stopped into the casino before, and this time the wife actually got lucky on her slot machine, essential erasing all our losses to that point. Unfortunately, that trend would not continue, and we would end the cruise down a few hundred bucks. Actually, our worst casino hit on a cruise ship ever.
We got to the show about 8:45pm to find the theater a bit more crowded than other shows. This evening's show would be one of the best shows of the cruise, Jason Bishop, Illusionist. He did some great magic and had a great sense of humor. In fact, he was funnier than the comedians we watched later in the Sin City Comedy Club. He had a dry, topical, very quick delivery with his jokes. There was an obnoxiously drunk woman heckling him, yes heckling a magician, and he was able to deflect her well. Some of his illusions were more modern—like something you would see on shows like American's Got Talent.
Comedy and Burlesque Sounds Good in Theory
After the show, our plan was to see the Sin City Comedy show at 11:15pm. With time to kill, we grabbed another drink at the Martini Bar and watched part of the 70's interactive party happening in the Grand Foyer on decks 3, 4, and 5. Basically, it was the production singers and dancers performing typical 70's disco songs.
We had been told to get to the Sin City show early as it does fill up quickly, so we ventured to that area around 10:30pm to find that doors were already open for the 11:15pm show. We chose seats in the back, as the Princess does not want to be called out during the comedy show. We were at the venue quite early, but it quickly filled up, and by show time, it was standing room only.
I wish I could say that it was worth waiting all that time, but it wasn't.
Neither the opening act nor the headliner on our cruise was all that funny. In the middle of his short ten minute sets, the opening comedian fades to a burlesque dancer. During her second performance, there were some technical difficulties, and it was a bit awkward. Overall, the show just seemed very disjointed.
The headliner's set was all over the place and just really not that entertaining. At one point, he actually pleaded with a woman in the front row to laugh at his jokes and made references to us being "a tough crowd"—aside from the one drunk woman who was laughing uncontrollably the entire time. Believe it or not, I think it was a different woman than the one at the Jason Bishop show earlier.
The show was over by about 12:30pm. By that time, we were both ready for bed.
[/et_pb_tab][et_pb_tab title="Day 6″]
Day 6, Windy, Misty Day At Sea
By this day, we were exhausted. Compound that with the fact that we changed the clocks ahead as we journeyed back towards Seattle. So, we decided to sleep in and only set the alarm clock to make sure we woke up at a reasonable hour.
Even an 8:30am alarm seemed a bit early, but we had some shows to catch today, so I wrestled out of bed to grab us some lattes. After getting ready for the day, we headed to the Oceanview Café for breakfast. Since it was a bit later, the crowd was less than usual.
A New Appreciate for Hot Glass
We then headed up to deck 15 for the Hot Glass Show on the Lawn which started at 11am. By the time the show started, the small "theater" was standing room only. It was definitely chilly so the Celebrity blankets provided came in handy. It would also begin to rain lightly about a half hour into the show.
There were 3 artists, Helen, Kenton, and Diane, from Corning Museum of Glass. The artists presumably rotate who makes the glass pieces , while the 2nd artist provides a second set of hands, and the 3rd artist narrates. During our presentation, Helen began by making the first piece which would later turn out to be a blue and green swirled vase—though the true colors are only visible after fully cooled the next day.
It was really amazing to watch each piece take form and the colors begin to emerge–all of the steps carefully calculated and precise. After exploring the Chihuly Glass museum a week prior, I have a new appreciate for these glass blowers.
Once Helen was finished with her vase, Kenton began creating a honeycomb vase, with a bee on top. The bee was made earlier, but we were able to watch the intricate steps involved in making the honeycomb appearance. We definitely made a point to go upstairs to the Glass show the next day to see the finished piece of art.
By the time Kenton had finished his piece, it had begun to rain harder, so we decided not to stick around to see Diane work her magic with the glass. Instead, we headed inside to the museum onboard that showcased some other glass art and information about the Corning Museum and training programs and background on each of the glassblowers.
Many of the pieces made during the week are auctioned off the last day of the cruise to raise money for scholarships and breast cancer research.
An Afternoon Full of Entertainment
Next on our agenda was the matinee show of Illusionist Jason Bishop at 1:30pm, followed by Brent Nixon's talk on Orca immediately after in the main theater.
Jason Bishop's show is all new and different than his previous performance. He started with an illusion using a ghostlight which appeared and reappeared on command. He followed with some close-up card trick magic and some other illusions involving his female assistant. Again, Jason is on point, funny, and a great entertainer.
On to Orcas! This time, Brent begins the show by introducing Miss Amanda and revealing that she is his wife. He then goes on a short diatribe about her abilities, like her prowess as a Titantic historian and her musical abilities, trying to sell some CDs they have on the ship. Brent also makes a pitch for some of his DVDs.
The Orca talk is fascinating, as he provides an in-depth look at these animals. His presentation style is what really keeps you engaged. He is so lively, informative, and a true showman on stage. Also, he has some great up-close footage of these animals from his multiple trips through the Alaskan waters in a kayak. Some of the photos and videos are just amazing.
Of note, he explained that Orcas are not "killer whales". In fact, he claims there have been no deaths and only two incidences of aggression towards humans among researchers studying these creatures in the wild, yet several trainer deaths by orcas in captivity.
Are we Really the ONLY Ones Taking Pictures?
His talk goes by rather quickly, and it is now closing in on 4:00pm. I grab a beer, and we head back to the room to get ready for dinner and the final formal night. There are always more folks out and about on the second formal night so we were anticipating some longer wait times for photos this evening.
We get down to the foyer a bit before 5:30pm and yet again, hardly anyone taking pictures! So we breeze through the 7 backdrops in record time and head to Crush for a pre-dinner drink.
Second formal night means one thing at dinner, Lobster Night. I usually am good for three or four lobster tails, but they also had leg of lamb on the menu tonight. So tonight for appetizers, I ordered shrimp cocktail and shaved prosciutto and arugula salad, and the Princess ordered a Caesar salad. For entrees, I ordered 2 lobster tails and a roasted leg of lamb­­­­­­­­­­­­­­­­­­­­­­­­­­­­­­­­­, and the Princess ordered the chicken from the favorites menu AGAIN. While the food is good, the pairings at dinner were a bit odd at times. The second lobster tail is cooked much better than the first one, even though they are both brought out at the same time.
Dinner on day 7 is open seating, and hence we are not guaranteed to have our same table, so we say some temporary goodbyes to our wait staff and tip Andrea, our sommelier, for her service during the week.
More Drinks and More Good Byes
After dinner, we headed to the Molecular Bar as this location would be closed when we are in our last port of call, Victoria, British Colombia. The bar is quite crowded tonight as many others must have had the same plan. I got the Watermelon Felon and the wife got the Indulgence. After quite a wait time, we received our drinks, tipped the liquid chefs for their service during the week, and we were on our way.
We were to the main theater and in our usual seats by 8:15pm. Tonight's show, Solstice, is by far the best production show of the cruise. It is a cirque-style show, including a hand balancer, a juggler, aerial stunts, and a strength act. The singers and dancers play minor supporting roles, and the music is very futuristic sounding. The show was highly entertaining and definitely worth seeing.
Ok, so maybe one more drink at the Molecular Bar-a Mr. B for me and an Indulgence for the wife. We then strolled over to the casino. There were some empty seats at a Blackjack table, so I sat down for a bit. I quickly learned why they were empty, as I go on one of the worst runs ever at a table. It is no more than 20 minutes before I have lost all my money on the table.
It was closing in on midnight, and I certainly did not want to lose any more money tonight, so we retreated back to the room. Some of the formal pictures are already viewable on the television. Of course, the wife claims, "we always take better pictures on the second formal night". I just go to sleep
[/et_pb_tab][et_pb_tab title="Day 7″]
Day 7, At Sea and Late Stop at Victoria, British Columbia
It is the final sea day but in not so typical fashion as we were scheduled for a late day arrival in Victoria, BC. We woke up at a reasonable hour to get some packing done and enjoy our last day on the ship.
Another Full Day at Sea
First on the agenda, the usual stop at Café al Bacio for lattes, then we headed up to Deck 15 to see the finished products from yesterday's Hot Glass show. We then walked around to the other side of the lawn where we discovered a little gift shop. How did we miss this place until now? The shop had basically the same merchandise; although, this store's selection of Jade bears included one of the pieces the wife had seen early in the cruise. Of course, she was upset that we didn't purchase the bear sooner because it was no longer available in the gift shop downstairs. We made sure to snatch it up in a hurry.
Do we Really Need All of These Photos?
Now on to more important business; it was time to review our cruise portraits in their entirety. The photo gallery is busy, as it usually is on the last sea day. Before our cruise, I had pre-priced out the photo packages, so I knew the all-inclusive photo package, including all digital files and prints was $250. Onboard, they run a "special" which is $300, for the first three days and increased to $400 after that. In contrast, on both recent trips with RCI, Allure of the Seas and Independence of the Seas, the discounted rated during the first three days was the same as the pre-cruise rate online.
When I spoke to one of the photographers about the price discrepancies in the beginning of the cruise, he indicated we could not get the lower price as it was reserved for individuals who pre-booked prior to sailing. For all the digital files, and no prints, there was never a special, it was $300.
With our Select status on the Captian's Club, we had a 15% discount coupon. That meant we could essentially get all the digital files for right around $255, close enough to the costs we had seen online. The question became, did we have enough good pictures to warrant the costs.
We ended up with a total of 123 pictures, a rather poor showing as we are usually close to 200. The next package down was ten digital prints, which was going to be almost impossible for the wife to narrow down, so of course we got the complete digital package.
Lunch and a Show
Since the beginning of the cruise, I had wanted to try the sit down lunch. With our Caribbean cruises, it always seem like we do not have time. Lucky for me, we were done with pictures by about 1pm, so we were able to squeeze in lunch on deck 4 of the main dining room.
It was the most disappointing meal of the cruise. I believe the lunch menu changed daily but I am not 100% sure. This day, I got the barbecue chicken off the menu, which was the smallest portion I have ever seen! The chicken had no flavor and was doused in canned barbecue sauce. The wife's turkey panini looked okay, but it came with fries that looked straight out of the buffet. I will give Solstice a pass on this lunch as our other meals throughout the cruise were good.
Skipping dessert, we tried a free scoop of the gelato from the Gelateria on deck five courtesy of another Captain's Club coupon. Though there were a variety of flavors, the ice cream tasted no different than what you could get at dinner—not worth the upcharge.
The art auction for the hot glass pieces made during the cruise was scheduled for 2:30pm, and we wanted to make sure we were back down to see what pieces were going to be auctioned. The wife had this silly notion that we were going to bid on these pieces. I told her they were going to sell for much more than she expected.
Yuuup…An Art Auction
We made a pit-stop at Crush to get two of our favorite martinis and left some shameless self-promotion etched into the ice top of the bar. Then, we grabbed seats at the Passport Bar to watch the art auction. We were able to get an up close view of the pieces being auctioned including the blue and green vase that was made during our hot glass show the day before. There were some other cool pieces too, including a vase with a bear on the lid and a pink and white striped bowl. All of the proceeds for the first four pieces go to the Corning Scholarship Foundation, and the money raised with sale of the last item goes to breast cancer research. Bidding starts at $200, within our price range, and ends at $2,000, way out of our price range. The lowest winning bid was $800, with most pieces going for $1200+. Fun to watch, but we never bid–maybe next time.
With the auction over, we grabbed one more martini from Crush and decided to take our last shot at the casino in attempts to win back some money before it closes at 4:00pm. We played roulette and basically broke even.
Dinner and a Some Final Drinks
Dinner was open seating at 5:00pm tonight, so we went back to our room for a costume change and gather the belongings we needed for our excursion tonight, the Butchart Gardens and Butterfly gardens. We were standing outside of the dining room by 4:45pm in a sea of other fellow cruisers trying to grab dinner before docking at 6:00pm. The doors open a few minutes early, and the Princess makes a mad dash for our table to enjoy one last night with our great wait staff. Success! We needed to be quick tonight as our excursion meeting time was 6:30pm. For appetizers, I ordered prosciutto di parma, the spinach turnover, and the Louisiana gumbo, and the Princess ordered a Caesar salad. For entrees, I ordered the steak and the salmon off the favorites menu, and the Princess ordered the roasted turkey dinner. The salmon was much better than the steak, but neither one of the entrees were very impressive. The wife is happy to get her traditional last night of the cruise turkey dinner.
We are done with our meals, say good-bye to our amazing wait staff, and make our way to the gangway to exit the ship. The Solstice is the only one at the dock tonight and looks majestic floating in the pier. We would grab this complete photo of her upon our return from the excursion. We followed signs to our excursion, met our bus driver Pete, were quickly ushered on the bus, and we are off to see the gardens in a race against the sunlight. See our full review of the excursion here.
Back by 10:15pm from the excursion, we first stopped at the photo gallery to get our photo DVD. Then, we got some dessert from Café Al Bacio…since we didn't have time for dessert at dinner earlier this evening.
The only bar open while in port this evening was Crush, and it is packed, as you would expect. We were able to get two drinks, but trying to flag down our favorite bartender to tip him proved impossible. We sipped our cocktails as slowly as possible, trying to extend the cruise for just a bit more. Finally, calling it a night, we head back to our room to discover that somehow our room keys have been demagnetized. So, after a trip to guest relations, we are back in the room to tidy up and put three suitcases outside our door.
We normally just walk off the ship with our luggage. It saves so much time and is usually so effortless. Since we had nowhere to be tomorrow, as our flight home was 10:50pm, we decided we could delay our disembarkation a bit.
Last item on the list was printing boarding passes. We still have plenty of time on the internet package, so this should be fine. Well, it becomes a 20+ minute ordeal, trying multiple times to get beyond the landing page for Jet Blue with no success. At least we are Jet Blue and not our usual airline of choice Southwest as we would be sitting on the wings of the plane at this point. I return to the room to find the Princess asleep so, I climb into bed and basically pass out. Hopefully, she has set the alarm for tomorrow morning.
[/et_pb_tab][et_pb_tab title="Day 8″]
Day 8, Disembarkation—And More Seattle Sights
Up, Ready, and Off the Ship in Record Time
The alarm sounds at 6:30am. It is the signal that our cruise is now over. The wife jumps in the shower, and I get us lattes from Café Al Baccio. We are going to need lots of coffee today if we are going to see the sights in Seattle and stay up for our 10:50pm flight back to Boston. I order two double lattes today!
Since our scheduled departure time was 830am, we had some time to kill so I suggested getting breakfast. Usually at this point we are already off the ship, in a taxi, heading to the airport.
The Oceanview Café was not empty, but not overly busy either. So with a little searching, we were able to find a free table towards the back. On our way out, a member of the wait staff was signing farewell songs as guests entered and exited the dining room–very fitting.
By now it was rounding 830am, so we made one last review of the room to ensure we did not leave anything behind. On a business trip or two, I may have left a belt and a cell phone charger in a hotel room, so now my wife is just overly cautious about it. Final surveillance of the room indicates no items left behind. Operation Seattle day 2 was ready to commence.
We exited the room, squeezed on the elevator with our remaining bags, made it to the gangway, and were waiting for our luggage in what seemed like 5 minutes. The barriers separating passengers from their luggage was removed about 10 minutes later. I wrestled up our bags, got through customs, and we were waiting for a taxi all before 9am. It would take a while to get a taxi and we were off to Hotel 5.
Back in Seattle
Durinng our pre-cruise stay here, I asked the staff at the hotel if upon our return we could store our bags for the day as we wanted to do some further sightseeing in Seattle and dragging around all that luggage was not going to make that feasible! They said yes, without any hesitation.
We arrived at the hotel by 9:30am, to drop everything off and print our boarding passes at the computer in the hotel lobby. Yes, real internet.
After all of the eating and drinking we did the past week, I convinced the wife to walk to Pike Place and the waterfront area, the opposite direction from which we walked on our first day in Seattle. Again, the weather was prefect.
When we arrived, the market was just opening. We took a few photos and walked around the market, though we did not buy anything. I did not want to hold flowers all day, and even the thought of sending   any seafood home made the wife nauseous. Since we had just had a double latte on the ship, we opted to hold off a bit on the first Starbucks stop.
Waterfront Pictures
Instead, we walked down to the waterfront and Pier 57. It was at this point I had wished we bought the Seattle City Pass. The cost included admission to the Aquarium, where I'm sure we could kill some time, as well as admission to the other museum we planned on visiting later, the EMP Museum.
Being typical tourists, we took a ride on the Seattle Great Wheel–really, not all that great. During the ride on the wheel, I took a bunch of pictures of the landscape that were very similar to photos I was able to capture on the top of the Space Needle the previous week.
While near the waterfront, we debated a harbor cruise to Puget Sound, but perhaps it was the 7 days we just spent at sea that did not make it all that appealing to us.
So we decided to walk back to Starbucks at Pike Place to get our second coffee of the day and take the customary photos. There was a good size line at the Starbucks, but it moved quickly. Now with iced caramel macchiatos in hand, we started our walk back to the EMP Museum.
A Trek Back to Seattle Center and EMP Museum
The EMP Museum is a museum of music and pop culture. No matter what your interest, there is an exhibit here for you. My favorite had to be the exhibit of icons of Science Fiction, showcasing memorabilia from books and movies, like Star Wars, Independence Day, as well as classic Sci-Fi films. I was reliving my childhood all over again!
The next exhibit, Can't Look Away, was about fear and horror movies. This was right up the Princess' ally, must be the Halloween birthday. There were many props from various films and a huge wall display depicting the 100 horror movies to see before you die. They also have a "scream box", which tapes you trying to give your best fear scream. My photo looks more like I am laughing than screaming, but oh well.
The Princess also enjoyed the Fantasy exhibit which contains costumes and props from movies like Harry Potter, The Princess Bride, The Lord of the Rings, and The Wizard of Oz. Did someone just raid my Blue Ray collection?
The remaining exhibits all centered around music, from Nirvana to Jimmy Hendrix to the history of guitars. There was also a Music Video section and a Sound Lab where you could try out some instruments. It was interactive, teaching you the chord progressions for popular songs. I could've stayed here and played the guitar and drums all day, but the Princess was getting bored. So, we decided to exit after about 3 hours of exploration.
After 7 days of eating and drinking nonstop, we were starting to feel hungry. Not having much success on Yelp, I made the executive decision to eat at a place we had walked by earlier called Sport Restaurant and Bar. We ordered some nachos and sandwiches and just relaxed for a bit since we had been on our feet all day.
By the time we are done eating, it is still pretty early, and we have plenty of time to kill before we need to go to the airport, but we are crashing and just make the decision to head to the airport. So, we went back to the hotel to grab our bags and request a car to the airport.
At the Airport a Bit too Early
We were at the airport, bags checked, through security, and at our gate by 7:30—a full three hours before we are set to load the plane. I began this review while the wife checked her social media and called family. A couple sitting nearby must have overheard her conservation, so started talking with me as they had just gotten off a Carnival ship in Alaska. We talked for a good hour or so, basically up until their plane to New York was called for boarding. By now, it is after 9:00pm, and we just wanted to get on that plane to sleep.
Finally boarded, we did the best we could to catch some shut-eye over the course of 5 hours. Once back in Logan, we waited, what seemed like forever, to get our bags. We met our car to take us back home.
Once home, we said we were going to take a small nap, which ended up being 4 hours. By the time we woke up and showered, we were ready to start our day at 2pm. First item of business–two lattes. For some reason, my Sea Pass card didn't work this time!
Oh well, it was back to reality. Let the unpacking and other mundane tasks begin. It would soon be Monday morning again, but at least we have our Eat, Sleep, Cruise memories…and an upcoming trip on Quantum of the Seas in January!
[/et_pb_tab] [/et_pb_tabs][/et_pb_column][/et_pb_row][et_pb_row admin_label="row"][et_pb_column type="1_4″][/et_pb_column][et_pb_column type="1_2″][/et_pb_column][et_pb_column type="1_4″][/et_pb_column][/et_pb_row][et_pb_row admin_label="row"][et_pb_column type="4_4″][/et_pb_column][/et_pb_row][et_pb_row admin_label="row"][et_pb_column type="1_3″][/et_pb_column][et_pb_column type="1_3″][/et_pb_column][et_pb_column type="1_3″][/et_pb_column][/et_pb_row][/et_pb_section]