Carnival's President visits the first ship since the pause in operations. Yesterday, for the first time since March 2020, Christine Duffy went onboard one of the company's ships, Carnival Sunshine.
Carnival's President Visits First Ship Since the Pause in Operations
While docked at PortMiami's Terminal E, the team of Carnival Sunshine gave Ms. Duffy a warm welcome. While onboard, she met with senior officers and toured the ship with Captain Leonardo Contarino, Chief Engineer Dinko Biskupovic, and Hotel Director Steve Scandale.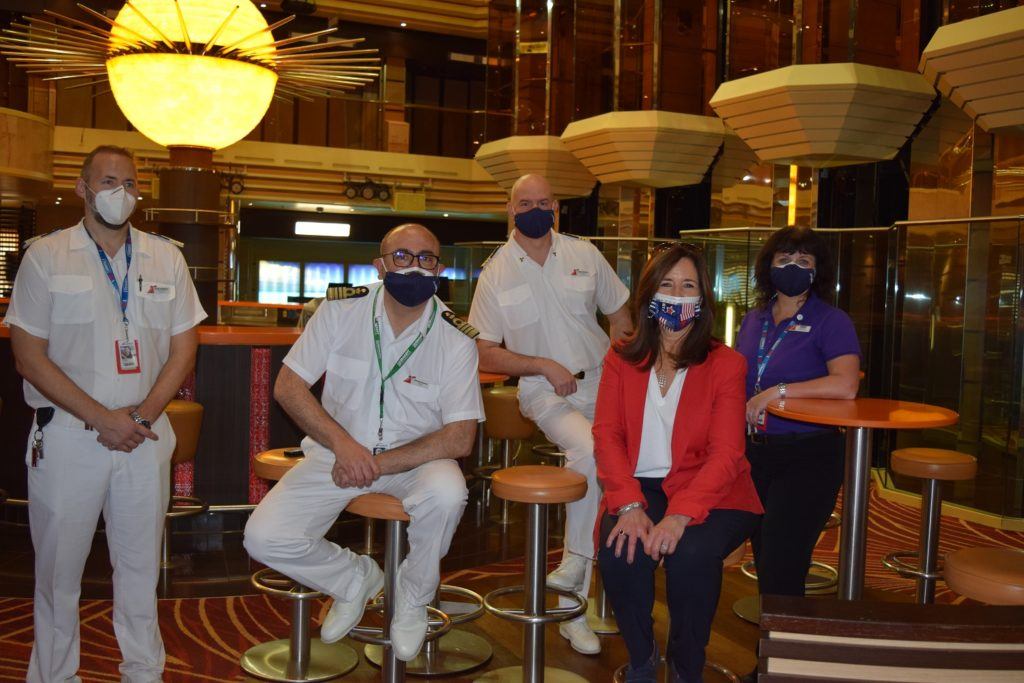 She also engaged with the crew members who are on board providing essential services to maintain the vessel and prepare for the company's eventual return to service.
"Ship visits are one of the favorite parts of my job and it was really wonderful seeing and interacting with the Carnival Sunshine team who were excellent hosts. Hopefully this is the first of many ship visits and a clear indication that we're on the road back to restarting operations," said Duffy.
"The crew truly enjoyed seeing Christine in person – it was a most welcome moment for all.  More than anything, we can't wait to begin service again to provide our guests with wonderful vacation memories," said Captain Contarino.
In more Carnival cruise ship headlines, Carnival Breeze and Carnival Vista will dock in Galveston, Texas for the first time in over a year this weekend. The cruise ships are expected to arrive on Sunday and will stay in port until May 7th.
Port officials hope the return of the ships to Galveston will help spur the CDC to expedite the resumption of cruising in the United States. The port is also planning a rally for Monday.
There is no word if Carnival's President, Christine Duffy, will be there to welcome the ships. Though, we imagine there will be many eager cruisers there to cheer on the ships as they enter the port.
Comments
Do you think the news that Carnival's President visits the first ship since the pause in operations is a sign of more good news to come? Do you think Carnival Sunshine will be one of the first ships back in operation? Drop us an anchor below to share your thoughts on the resumption of cruising from the United States this summer.
Stay up to date with the latest cruise news and travel updates!