Bobsled Jamaica and Dunn's River Falls Excursion Review
Highlight: You get to climb a waterfall and race down a mountain. Need I say more? Now, this is not Niagara Falls, but this 185 foot tall and 600 foot long, unrelenting flood of water should be taken seriously. While you will climb the falls in a human chain, it is slippery, wet, and at times a rigorous workout. But, that is what makes it so much fun! Couple that with an alpine sled, and the Bobsled Jamaica and Dunn's River Falls excursion is one grand Jamaican adventure.
What's Missing: No one likes being in a bus for extended periods of time especially while on vacation, but when docked in Falmouth, you need to take an hour long bus ride east to Ocho Rios to experience both Mystic Mountain and Dunn's River Falls. Luckily, once in Ocho Rios, both attractions are right next to each other.
Main Takeaway: If you like adventure, unique experiences, and the water, then the Bobsled Jamaica and Dunn's River Falls excursion is a must. Even the Princess, who cannot swim, admits that once she got over her fear of Dunn's River Falls, it was a blast. Also, Mystic Mountain has much to offer in addition to the bobsled, including zip lines, which can add to your already action packed day. People of all ages are welcomed to climb the falls, but I must admit that it does take some cardiovascular endurance, balance, and leg strength. So, if you are not physically fit, you might want to try an excursion that avoids the actual climb.
Welcome Back to Jamaica
While I have been to Jamaica before, this was the Princess' first visit. Jamaica has a lot to offer as there are a variety of different tours and island experiences. We had already conquered the world's largest zip line over water while in Haiti. So, on our Allure of the Seas Western Caribbean cruise back to 2013, we were looking to continue our adventurous trend.
Even though I had climbed Dunn's River Falls during my last visit to Jamaica in 2003, this was still on the top of our list. It had been a while for me, and I thought the Princess needed to experience it as well. While you can do the climb solely, we always love to maximize our time on an island; therefore, we decided on a combo tour.
Dunn's River Falls in Jamaica
There were plenty of tours that included Dunn's River Falls. Going over the options, we decided on the Bobsled Jamaica and Dunn's River Falls excursion. The idea of being able to relive the Jamaican Olympic Bobsled team, made famous by the movie Cool Runnings, was too good to pass up.
Ya Mon, You are now Jamaican
Our ship docked at 10:00am, and our excursion was scheduled to meet as soon as the ship was cleared by the Jamaican authorities. We had never been to Falmouth before (I had previously docked in Ocho Rios), so we lined up as early as possible to be one of the first people off the ship. Luckily, disembarkation on the ship went smoothly despite its size.
Port of Falmouth, Jamaica
The port is virtually brand new, and the shops and restaurants all looked very clean and inviting, but our mission was to find our tour guide and get this 6 hour excursion under way.
We met our tour guide, got our wristbands, and were loaded onto a bus bound for Ocho Rios to begin the Bobsled Jamaica and Dunn's River Falls excursion. Now, there are plenty of other things to do and see in Falmouth, but our excursion was in Ocho Rios which was an hour bus ride away.
During the ride, our guide gave us some basic facts about Jamaica, including the culture, landscape, and history. There is not much to see on this highway trip as you are basically looking at roaming hills and farm land used by the locals in their everyday lives. Along the way, we learned some Jamaican phrases and the island "special" cuisine…goat. I think the Princess and I will stick with the cruise ship food while in Jamaica!
Photo Courtsey of Mystic Mountain Bobsled Jamaica
Don't Let Up on the Brake!
After what did not seem like too long of a journey, we had arrived at Mystic Mountain, the first stop on our Bobsled Jamaica and Dunn's River Falls tour. Mystic Mountain offers various different attractions, including zip lines, but on our trip we had only paid for two of them, a ride on the aerial explorer (i.e., chair lift) and a trip on the bobsled.
After a brief introduction by staff, we were loaded onto the explorer for the 700 foot ride to the top of the mountain. During the ride, I tried to snap some photos of the surrounding forest, but I really had no idea of what I was taking pictures.
Sky Explorer at Mystic Mountain Jamaica
At the top, we disembarked the lift to find a little resort area. There was Caribbean music being played and some native dancing in a little courtyard area. Here, we were allotted some time to ride the bobsled and explore. Of course, we headed straight to the line for the bobsled ride.
After a short wait, we were loaded into the sled cars. You sit one person per sled, but two sleds can be attached for those travelling together. There is no steering of the sled, only brakes to control the speed. In the front car, there are two levers, pushing down releases the brakes and letting up on them slows down the bobsled.
DB and The Princess on Bobsled Jamaica
The original thrill seeker, the Princess, sat in the front car so she could be in charge of the speed. Needless to say, she did not let up on the levers once during the trip. When the track was cleared, we were released and our race down the mountain was in full throttle.
The total track is over 3,200 feet long and is a great ride. You are definitely moving pretty quickly, and on some of the turns, it feels like the sled is going to fly right off the track. I tried to take some pictures before we really got going, but juggling the camera and enjoying the trip became too much of a task. This is why I tell the Princess we NEED a GoPro.
Riding Bobsled Jamaica
Though exhilarating, the bobsled ride seemed to end too quickly. Once reaching the bottom of a mountain, a lift brought the car back up, similar to a roller coaster. Back on top, you could of course pay an additional fee to ride the bobsled again or just hang out until the next portion of the excursion.

Mystic Mountain Has More to Offer
We explored the Pavilion building for a bit after our bobsled ride. Here, you can see exhibits about the Jamaican Olympic Bobsled team, as well as other notable historical and culturally significant facts about Jamaica. Not a big history fan, the Princess made a quick pass through this area.
In the courtyard, there were merchants selling arts and crafts, including some pretty impressive wood carvings. The Princess was drawn to one in particular, two kissing giraffes. She was tempted to purchase it but after hearing the prices, we opted to save our money. A rare victory for me!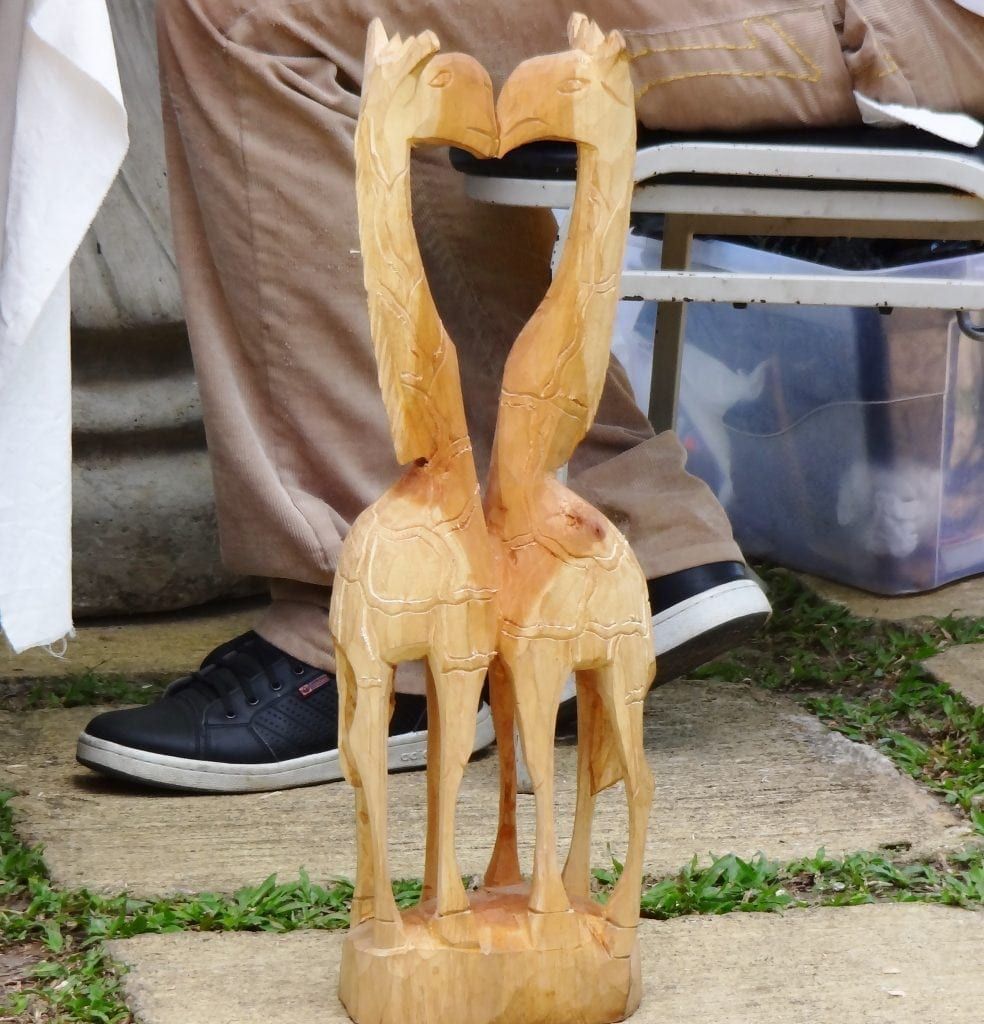 To get some additional photos, we climbed the few flights of stairs to the Lookout Tower. From here, we could see the port of Ocho Rios in the distance with a Carnival cruise ship docked. We could also see the infinity pool and waterslide that were additional options to enjoy while on the Mountain, but we had plenty of wet and wild fun awaiting us at Dunn's River Falls.
After roaming the open area a bit and watching the musicians and dancers, we were closing in on the time we were to meet back at the bus. We hopped on the sky explorer for our descent back down the mountain. On our way down, we could see some fellow travelers zip lining.
Back near the bus area, we were probably one of the first ones back, and found our driver taking a nap. Within a few minutes, our guide made her way back along with a bunch of our fellow passengers. The first half of our Bobsled Jamaica and Dunn's Rivers Falls excursion was complete. Now, onto the Falls.
Photo Courtesy of Dunn's River Falls Jamaica
 The Princess Earns Her Nickname
Once at Dunn's River Falls, the bus parked in a rather large and crowded parking lot. Here, we met our waterfall guide, Tammy. Yes, our tour scored the only female guide. She was definitely what we needed to get through this adventure.
Walking towards the waterfall, you encounter a variety of vendors selling supplies, including water shoes which are essential to climb the falls. Of course, we came prepared with our Columbia DrainMaker water shoes. These comfortable walking shoes have a rubber sole and are more sneaker-like, while still giving the airy and quick dry characteristics of other water shoes.
Once everyone in our group was settled and ready for the climb, we lined up at the base of the waterfall and met our personal videographer that would be following us for the duration of the climb. Here, the Princess got her first glimpse of the waterfall–not too intimidating! We were instructed in some basic safety tips including the need to remain hand in hand, forming a human chain. Not even two minutes into the climb, we lost a few members of our group, bowing out of climbing the Falls after only the first few steps into the water. They must have anticipated the events to follow.
Photo Courtesy of Dunn's River Falls Jamaica
The beginning of the climb was not too bad, but it soon intensified. Rushing water, slippery rocks, and steep inclines, helped to get my adrenaline pumping but set the Princess over the edge. The fact that she cannot swim coupled with her not-so-ruggedness was stressing her out. Now, don't get me wrong, you definitely need some lower body strength and leg power to propel yourself up the inclines, but I think she was just letting fear get the best of her. It was not just the Princess, as we continued the climb, our group starting separating a bit with some bowing out, the strong leading the pack, and the stragglers lagging behind. Our guide Tammy was doing her best to keep us together and all moving forward because if you stopped at the wrong time, you could lose momentum and risk injury. After all, you are in the middle of a waterfall with no harnesses or safety features and mobs of people everywhere.
I am not sure exactly how long we had been climbing at this point, but Tammy took us to the far side of the waterfall with a pretty steep climb to avoid some of the other groups. At this point, we were middle of the pack, so I made my way up but the Princess did not follow behind. She was left below, calling for me to help her up. With a look of dread on her face, I now realized that among our remaining group, she was one of the weaker links.
Our Guide Tammy Helping the Princess
Tammy could see this too. She told me to continue ahead and reached down to pull up the wife. With a firm grip, Tammy looked at her and said "Princess, Let's go. You are coming with me". And there, in the Jamaican sun, holding the hand of the only female guide at Dunn's River Falls, the Princess was crowned. With Tammy in front and a little push from group members in the back, she was up this part of the climb.

 We are Going to Finish this Climb…Together
The Princess of EatSleepCruise had her first fan. Though I have to admit, the Princess did not reciprocate the liking for Tammy. It was now that the Princess decided she was bowing out on the rest of the mission, but both Tammy and I were not going to let that happen. My Princess had to finish this climb; she had already come too far to back out now. So Tammy and the Princess, hand in hand, led the pack for the remainder of the climb. Given her thrill-seeking nature with rollercoasters and zip lines, I was a bit surprised that this climb of the falls was really testing the Princess' limits. Despite her doubts, she did survive the approximately 90 minute walk—with MUCH encouragement and "tough love" from Tammy.
Photo Courtesy of Dunn's River Falls Jamaica
In all honesty, if you like the water, the climb is a lot of fun. There are various stopping points where you pose for the videographer under a small waterfall, where the guide drops you backwards into a pool of water, and where you slide down the running water plunging into a deeper pool. Once you are at the top, it is so rewarding to look back at what you have just accomplished. For the Princess, it was just a sigh of relief!
Knowing the Princess had gotten such royal treatment up the falls, with lots of on-camera time, I knew I had to purchase this video. It was of course overpriced, but again, when are you going to have memories like this to share? Though, I had no money on me to purchase the video and not an adequate enough tip to properly thank Tammy for basically escorting my wife up the falls. So, I asked for them to meet me back at our bus, which they agreed to do. A few other members of our group purchased the DVD back at the bus as well.
The only downfall to Dunn's River Falls is that you exit through an open air market which is filled with locals aggressively trying to sell merchandise, of which our bus driver had already warned us to be careful. We walked through with purpose, trying not to make eye contact with anyone. Back at the bus, I grabbed money to purchase the DVD and tip our guide. After thanking them both again for a great experience, we headed to the bathroom to change up, and we were ready for the bus ride back to the ship.
The Drive Back
On the way back, our tour guide was asking everyone if they had a good time and was poking fun that she heard some members of the group needed quite the push to make it to the top. The Princess, in her full princess mode, tried downplaying how much Tammy actually helped her.
The ride back seemed much shorter than the ride out in the morning. Back in Falmouth, we walked around the port for a bit browsing in a few of the shops, but surprisingly did not buy anything. Instead, we got back on the ship, grabbed a bite to eat, and perhaps a drink, and recuperated from our strenuous island experience that will go down as one of our (or at least my) best excursions to date!
Comments
Have you visited Mystic Mountain or Dunn's River Falls?  Have you ever done the combo tour Bobsled Jamaica and Dunn's River Falls? What are your thoughts on these thrilling experiences? What are your favorite shore excursions in Jamaica? Drop us an anchor below.