One of the best parts about cruising is the food! Cruise ships offer a variety of different eateries serving up menu items from around the world. Having sailed on over 25 different cruise ships, we have been fortunate to sample some of the best cuisine at sea. With cruising to resume in 2021, we have put together our list of the best cruise restaurants you need to try this upcoming year.
Best Cruise Restaurants You Need to Try in 2021
Best Specialty Cruise Restaurants
Wonderland on Royal Caribbean
First debuting on Quantum of the Seas, Wonderland has been added to several Oasis-class ships in the Royal Caribbean fleet. This experiential specialty restaurant combines unique theming and a one-of-a-kind menu for one of the most whimsical dinners on a cruise ship. On the larger ships, Wonderland is a two-story restaurant featuring a bar. So, even if you can't score a reservation for dinner, you can enjoy one of the signature cocktails.
Related Post: Symphony of the Seas Restaurant Guide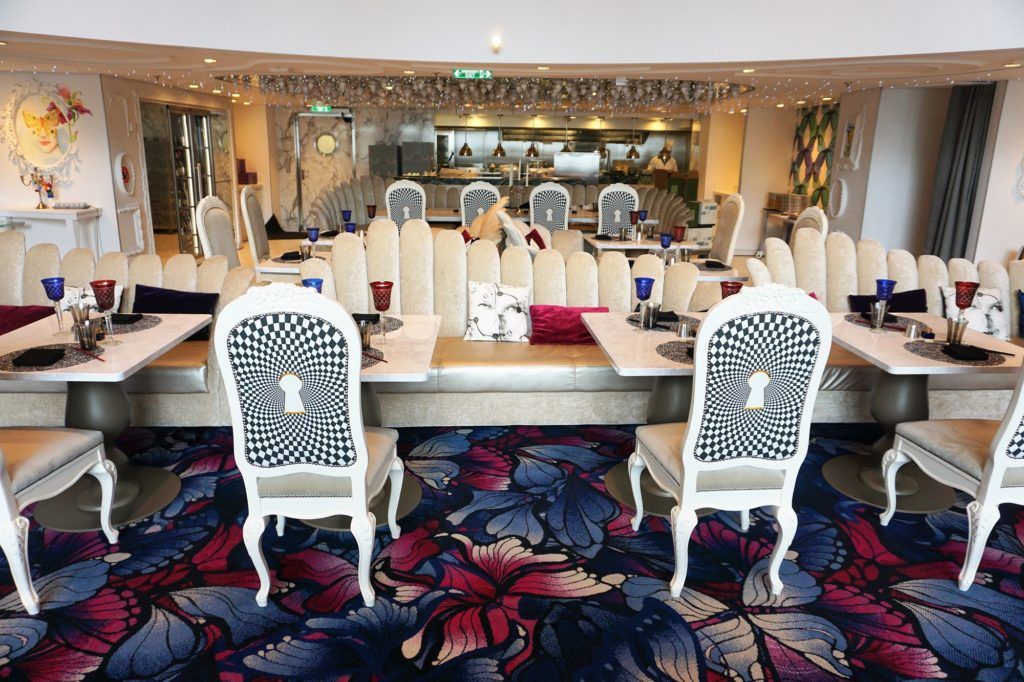 Wonderland features a tasting menu with items categorized by different elements. Most of the items are small plates, with "Earth" featuring entrees. We have dined at this venue a few times now, and the menu has remained largely the same over the years. Some of our favorites include the Bird's Nest, the Liquid Lobster, the Mad Hatter's Purple Potted Shrimp, and the short ribs.
Of course, make sure to save room for the "transformative" dessert, The World, which is a chocolate and peanut butter delight to behold.
Food Republic on Norwegian Cruise Line
Many cruise ships feature Asian, Mexican, and American inspired specialty restaurants. However, Food Republic on Norwegian Cruise Line's Breakaway and Breakaway-Plus class ships combines the best elements of various cooking styles from around the world into one unforgettable experience.
This fusion restaurant is a hidden gem. The best part is that this a la carte menu is now included in the Norwegian Cruise Line Specialty Dining Package. With the package, each individual can order up to 4 items. Depending on what you order, this should be enough for a couple to share the several small plates.
Food Republic pairs a worldly menu with a clean, modern ascetic that is very 21st century. Ordering via tableside iPads, you can place your order at your own pace. Among our favorite menu items are the kimchee fried rice, the firecracker shrimp, salt and pepper calamari, spicy Korean fried chicken, and the elote Mexicano.
Sushi lovers too will enjoy the selection of rolls, and the small sugar pump items are just the right amount of sweetness to complete your meal.
Fine Cut Steakhouse on Celebrity Cruises
A first for Celebrity Cruises, the Fine Cut Steakhouse on Celebrity Edge and Celebrity Apex offers the closest experience to a high-end steakhouse at sea.
It starts with the décor, which is a dark and metallic look that is trendy yet sophisticated. With just the right decorative elements, the restaurant feels a bit classier than the four impressive main dining rooms on the ships.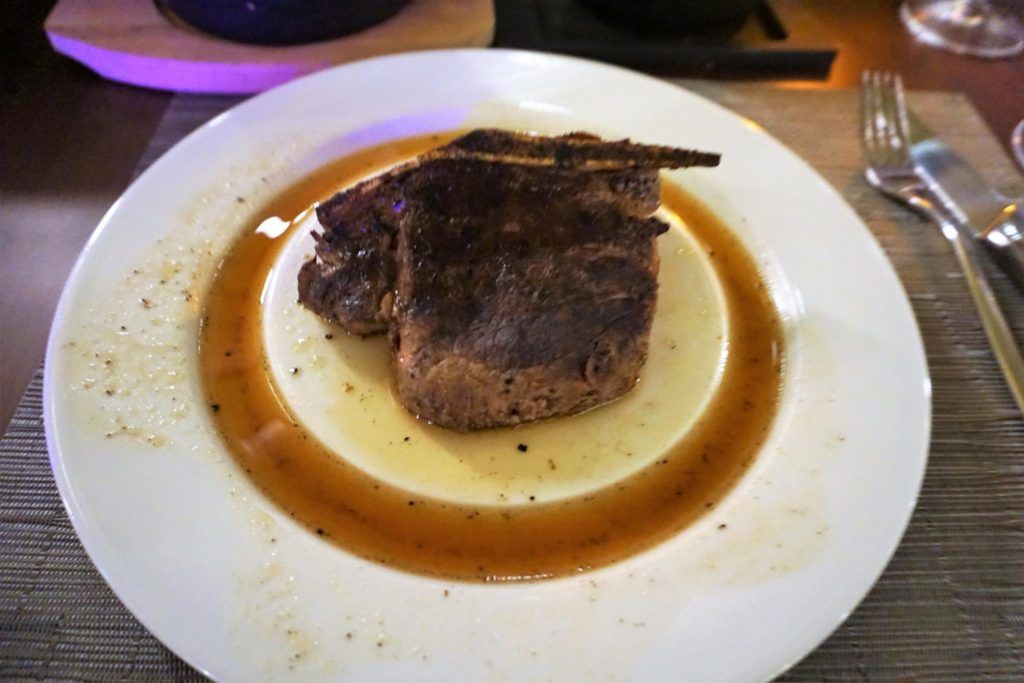 While we have always considered Celebrity Cruises to have some of the best complimentary food at sea, Fine Cut Steakhouse excels by delivering well seasoned and balanced starters, side dishes, and cuts of beef.
Starters like the jumbo shrimp cocktail, the crab cake, and the steakhouse wedge salad provide the perfect starting point. During our visit, the house recommended the 9 oz bone-in filet which was melt in your mouth delicious and seared to a perfect medium temperature. Of course, there are plenty of other carnivorous cuts from which to choose as well. Standout sides include the smoked bacon mac and cheese, truffle fries, and creamed spinach.
Lastly, make sure to save just enough room to share the restaurant's ultimate ice cream sundae.
Manfredi's on Viking Ocean Cruises
One of our favorite aspects of Viking Ocean cruises is the all-inclusive feel. This luxury cruise line includes all specialty restaurants as part of its cruise fare. While all of the dining on Viking is certainly a step above many mainstream cruise lines, our personal favorite is Manfredi's Italian Restaurant. This restaurant is popular, so make sure you book a reservation pre-cruise.
Located on Deck 1 aft, this restaurant is simple yet elegant. The decor is warm and inviting with rich colors and wood tones. Keeping with the cruise line's theme of simple elegance, Manfredi's offers just enough distinction to set itself apart from the main dining room and other restaurants on Viking ships.
Where the restaurant particularly shines is the food. Again, the focus is on simple, yet delicately crafted Italian classics. From the homemade bread basket to the flavorful seafood dishes such as calamari and fruti di mare, you might need more than one visit to sample it all. Each entree features perfectly paired fresh ingredients, with some of our standouts being the chicken parmesan, the rib-eye, the osso buco, as well as the homemade pasta.
Further, there is no better way to complete your dinner than a complimentary glass of limoncello and one of the traditional Italian desserts!
JiJi's Asian Kitchen on Carnival Cruise Line
Carnival Cruise Line has been adding new specialty restaurants to its dining line-up in recent years. One of these newer offerings that we highly recommend is the new JiJi's Asian Kitchen.
Found on 4 of the line's current vessels, and also launching on Carnival Mardi Gras, this casual spot is the perfect place for a flavorful night out, complete with umbrella drinks!
JiJi's Asian Kitchen doesn't skimp when it comes to offering authentic Asian-inspired dishes, with all your favorite "takeout" Chinese items. Of course, the décor and service are leaps and bounds better than a takeout venue. Warm tones and a few pieces of Asian-inspired artwork complete the minimalistic ambiance.
We recommend trying several of the starters, ordering a few of the entrees, as well as noodles and rice to split amongst your dining party. Some of our favorite menu items are the pot stickers, Nanjing duck, kung pao chicken, fried rice, and Hakka style noodles.
Surprisingly, the two desserts we ordered capped off our meal with just the right amount of sweetness. Perhaps the best part of the entire experience was the reasonable cost of JiJi's Asian Kitchen.
Still, if you can't find your way here for dinner, the venue does offer a complimentary noodle bar for lunch on sea days. While not exactly the same as the dinner menu, it is a great way to sample the venue for no added cost.
Teppanyaki on Norwegian Cruise Line
When it comes to a memorable specialty dinner experience, look no further than Teppanyaki on Norwegian Cruise Line ships. Found on many of the brand's vessels, this Japanese-style steakhouse consistently delivers delicious freshly prepared food coupled with an entertaining and interactive cooking experience.
While not the fanciest restaurant on the ship, it is by far the most gregarious and entertaining. Song, laughter, and positive vibes emanate from this restaurant.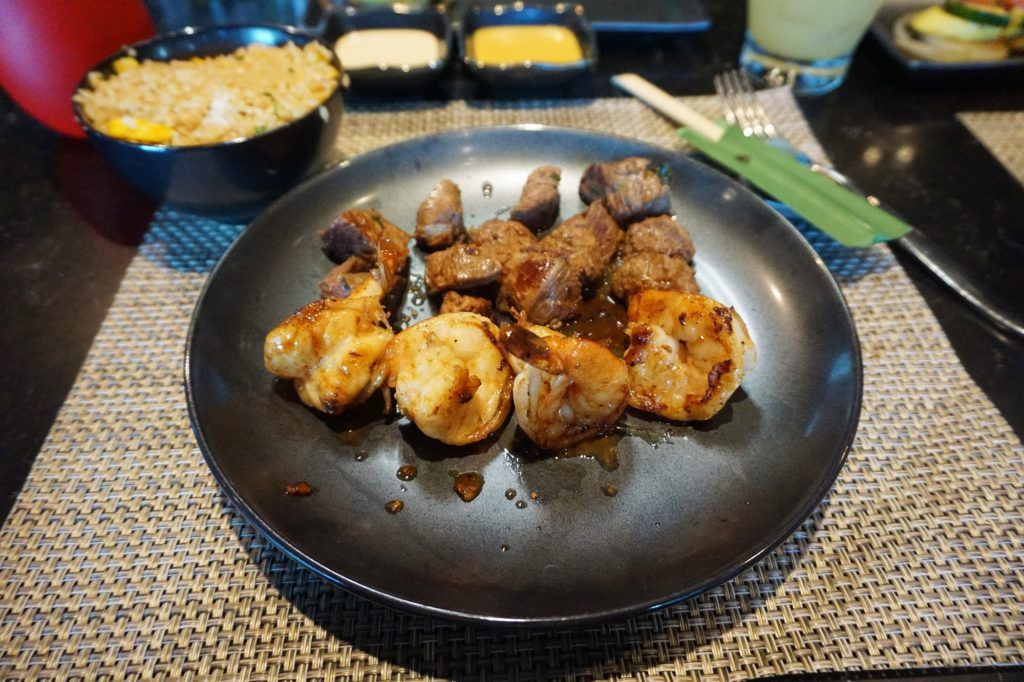 Of course, the food is stellar too. The dinner normally consists of several courses, including a salad, soup, entrée, and dessert. The real focus though is the custom grilled options and the side of fried rice.
Whether you opt for steak, shrimp, calamari, chicken, or some combination of them, the chef prepares the meal right in front of your eyes. With just the right seasoning and sauce, you are served your selections hot and fresh from the hibachi grill. While your chef is cooking, there is sure to be a display of cooking tricks, jokes, fancy knife work, and plenty of fun.
This hibachi restaurant is the perfect place to dine with a large group, or to make some new friends!
Remy on Disney Cruise Line
While Disney Cruise Line caters to families, parents can escape for a night out to enjoy an authentic French dining experience at the exclusive Remy found on Disney Fantasy and Disney Dream.
This elegant specialty restaurant offers ocean views alongside an exquisite menu. With touches of red and gold décor in an art nouveau style, the restaurant boasts a warm and inviting atmosphere as well.
With a focus on high quality ingredients, the seasonal menu offers a variety of selections that highlight flavors that are inspired by French traditional cooking styles. All meals begin with a complimentary champagne cocktail to enhance the senses and prepare diners for a gastronomic experience.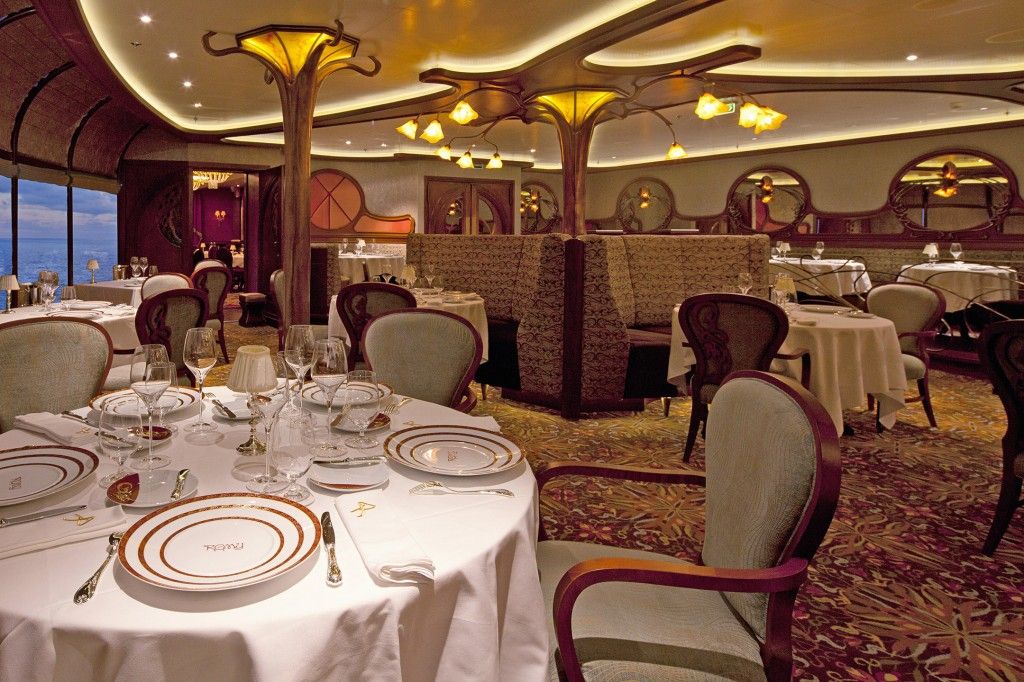 Remy's tasting menu offers plenty of options to satisfy even the pickiest cruisers, including savory items like lobster, duck, caviar, crab and other features that change regularly.
One standard is the cheese cart, serving up a wide selection of cheeses at the end of the meal. Of course, you will want to save room for dessert, whether it be something light and fruity or rich and decadent.
Other upscale events on cruises of more than four days include champagne brunch, a dessert experience, and an exclusive chef's table experience hosted by the restaurant's executive chef.
Chops Grille on Royal Caribbean
A staple on Royal Caribbean ships, Chops Grille is a popular specialty restaurant for those who are loyal to royal. This traditional American-style steakhouse offers a typical menu that features some of the finest cuts of beef you will find at sea.
As regular Royal Caribbean cruisers, we have dined at this restaurant on ships throughout the fleet. What has always impressed us is the attention to detail and excellent service.
While the restaurant location does vary based on the class of ship, Chops Grille always offers incredible views, whether it be the ocean or Central Park on Oasis-class ships. Inside the restaurant, dark woods and classic tones compliment the open kitchen that is a staple of this establishment.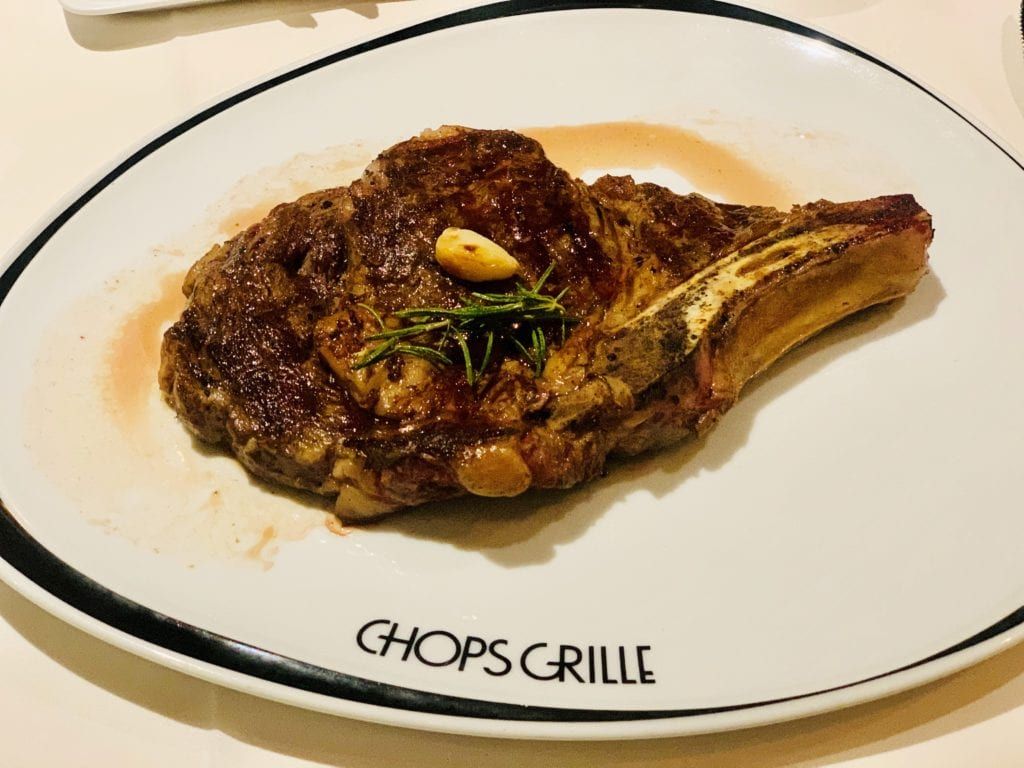 The menu boasts several great items, including a light and airy lump crab cake and the grilled black pepper bacon. Steak lovers will gravitate to the bone-in ribeye or the 9 oz filet mignon. While can't miss accompaniments include sautéed mushrooms, the tater tots, and the jumbo asparagus.
We highly recommend making reservations pre-cruise if you want to dine at Chops Grille on a Royal Caribbean cruise ship. Reservations do fill up very quickly, especially for prime dining hours.
¡HOLA! Tapas Bar on MSC Cruises
If you are looking for the ideal mix of food, drinks, and good company, then ¡HOLA! Tapas Bar on MSC Cruises Meraviglia and Meraviglia-Plus class ships is the perfect venue for you. We dined at this restaurant with a group during a ship tour of MSC Meraviglia, so we were able to sample a variety of menu options.
This a la carte restaurant on the ship's galleria, promenade deck, is an open and bright venue serving up a variety of Mediterranean favorites. Designed to resemble an "eat-in" kitchen, you feel right at home while dining in this casual, yet sophisticated space.
The menu is an eclectic mix of small plates that features such items as potato fritters and egg frittatas. There is also a wide selection of meat and cheese boards and small sandwiches that are perfect for sharing. Of course, other classic tapas such as calamari and shrimp shouldn't be skipped either.
While munching on these treats, be sure to order a few rounds of the custom drinks. ¡HOLA! just happens to serve some of the best sangria that we have ever had on a cruise ship!
Now, don't forget to save some room for dessert when dining at this MSC venue. The menu features classics like creme brulee and profiteroles, and my new favorite el carajillo, a brandy-soaked cake topped with ice cream. How can you say no to that?
Best Casual Cruise Restaurants
Alfredo's Pizzeria on Princess Cruises
How can you go wrong with some of the best pizza at sea? Alfredo's Pizzeria is found on Princess Cruises, including the line's Royal-class ships. This restaurant has been consistently rated as having the best pies at sea. This casual sit down restaurant serves up authentic Neapolitan pizza with freshly made dough. This makes for a thin, crunchy crust that will delight even the most critical pizza lover.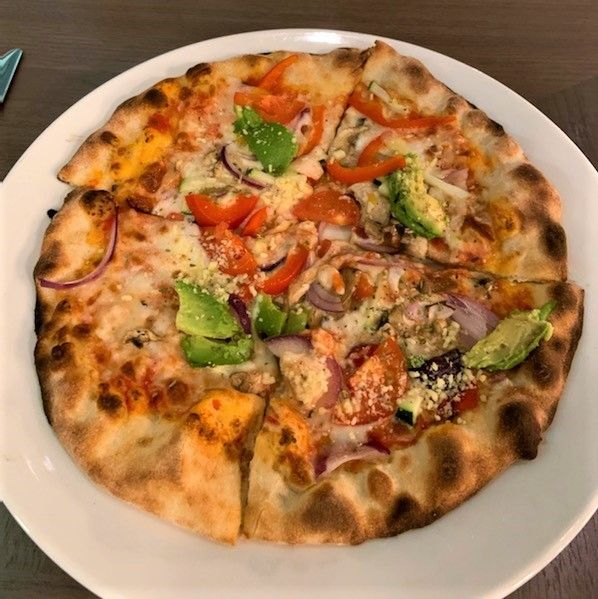 There are over a half-dozen individual-sized pizzas on the menu. In addition, the restaurant features salads, pasta, and even tiramisu for dessert. The best part is that they are all included in your cruise fare!
Park Cafe on Royal Caribbean
Located in the Central Park area on Oasis-class ships, Park Cafe is now found on many Royal Caribbean ships. For breakfast, the venue offers a variety of hot breakfast sandwiches and wraps. Also, it features cereal, yogurt parfaits, and a made-to-order bagel counter.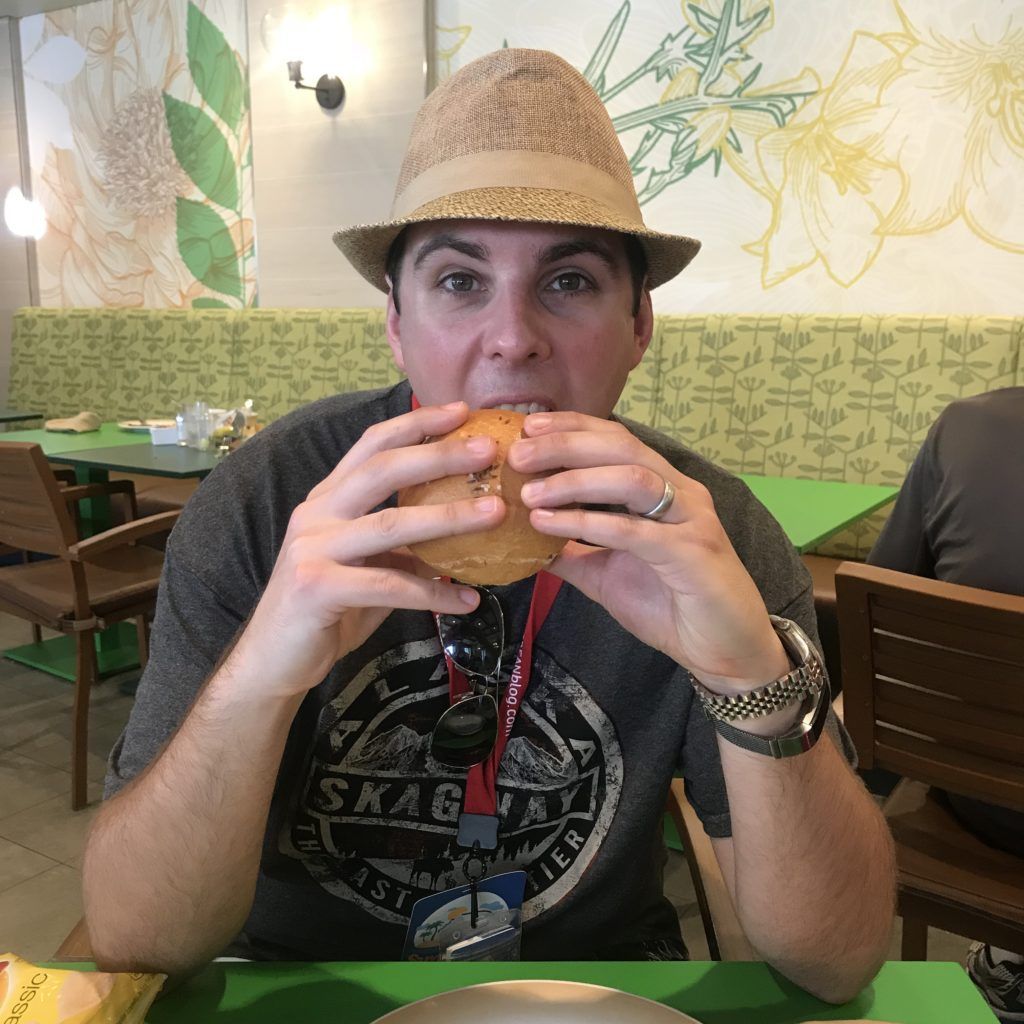 As a great alternative to the buffet, Park Cafe makes our list of top cruise ship restaurants for its lunch and afternoon snacks, including the signature royal kummelweck sandwich. The sandwich features freshly sliced roast beef on a crusty onion roll. Add hot mustard and au jus, and you have the best casual sandwich at sea. Also, you won't want to pass up the impressive custom salad bar and other freshly pressed paninis on the menu.
Guy's Burger Joint on Carnival Cruise Line
Guy's Burger Joint has become a Carnival Cruise Line staple. This casual venue makes our list of best cruise restaurants by serving up perfectly seared hamburgers. With a commitment to quality ingredients, all of the signature burgers on the menu can be customized with the massive condiments bar. Additions include sautéed onions, mushrooms, additional veggies, as well a variety of sauces.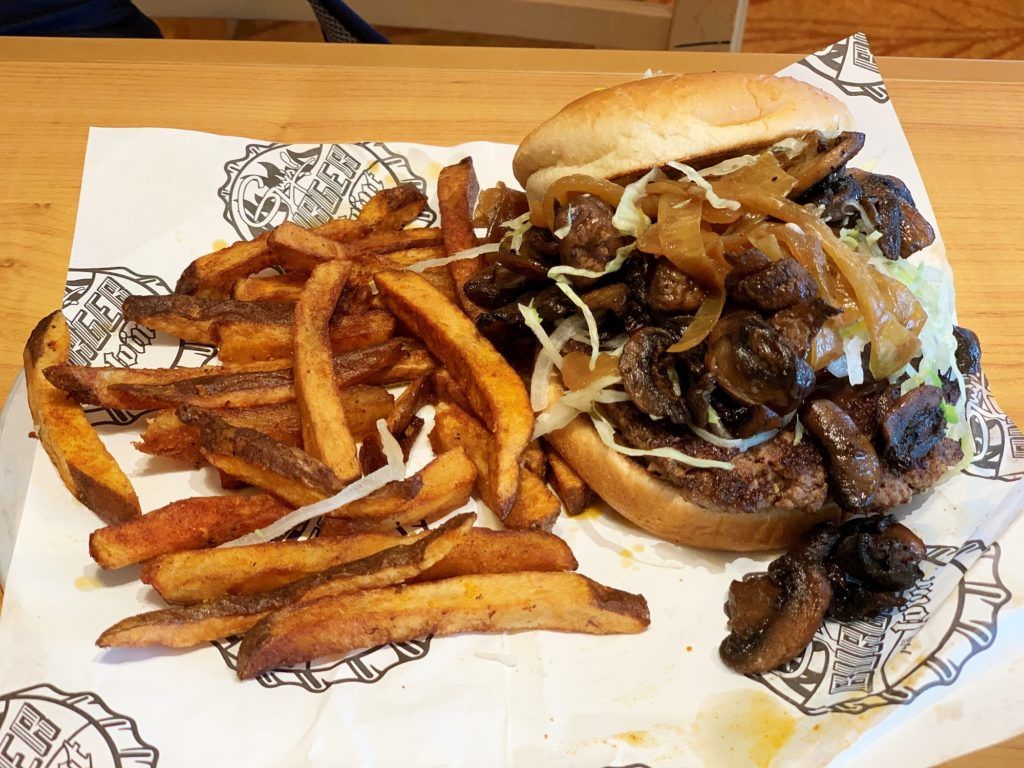 Although, we won't blame you if you order a Plain Jane with S.M.C and L.T.O.P.
Related Post: Carnival Panorama Restaurant Menus
Oh, did we mention the burgers come with a side of hand-cut seasoned fries? Even the Princess agrees that these are the best fries at sea.
Don't worry if there is a small line forming by the pool deck for lunch or an afternoon snack. The queue at this venue moves quickly and both the burgers and the fries are worth the wait!
The Local Bar & Grill on Norwegian Cruise Line
Yes, you can find food almost any hour of the day on most cruise ships. But, if you are on a Norwegian Cruise Line ship, you can't beat the offerings at The Local Bar & Grill. This 24-hour establishment is a new addition to Norwegian Cruise Line. Found on newer Breakaway-Plus ships, this restaurant replaces O'Sheehan's found on many other ships in the fleet. With a similar menu, these venues offer some of the best snacks and pub food at sea, for no additional charge.
Related Post: Norwegian Encore Restaurant Menus and Dining Guide
In the morning, the venue offers a sit-down breakfast featuring omelets and eggs served with traditional side dishes like bacon, sausage, and hash browns.
For lunch and dinner, I am very fond of the chicken wings that come in select sauces- Buffalo is my go-to selection! Nachos, pretzel bites, and other snacks are also available. There are even classic sandwiches like the Reuben and entrees like fish and chips and pot-pie.
Late night, a select number of snacks are available as well. It is the perfect spot to end your evening after a long night of enjoying all NCL ships have to offer.
Cafe al Bacio on Celebrity Cruises
We are big fans of coffee and coffee shops. While cruise lines have been adding more additional premium offerings, Celebrity Cruises offers our favorite java spot at sea. Cafe al Bacio serves up a variety of espresso drinks such as lattes, cappuccinos, and the like. Plus, they offer a wide selection of specialty coffees featuring liqueurs and spirits.
The best part is that with Celebrity Cruises' new "Always Included" pricing, most of these specialty coffees are included with the cruise fare.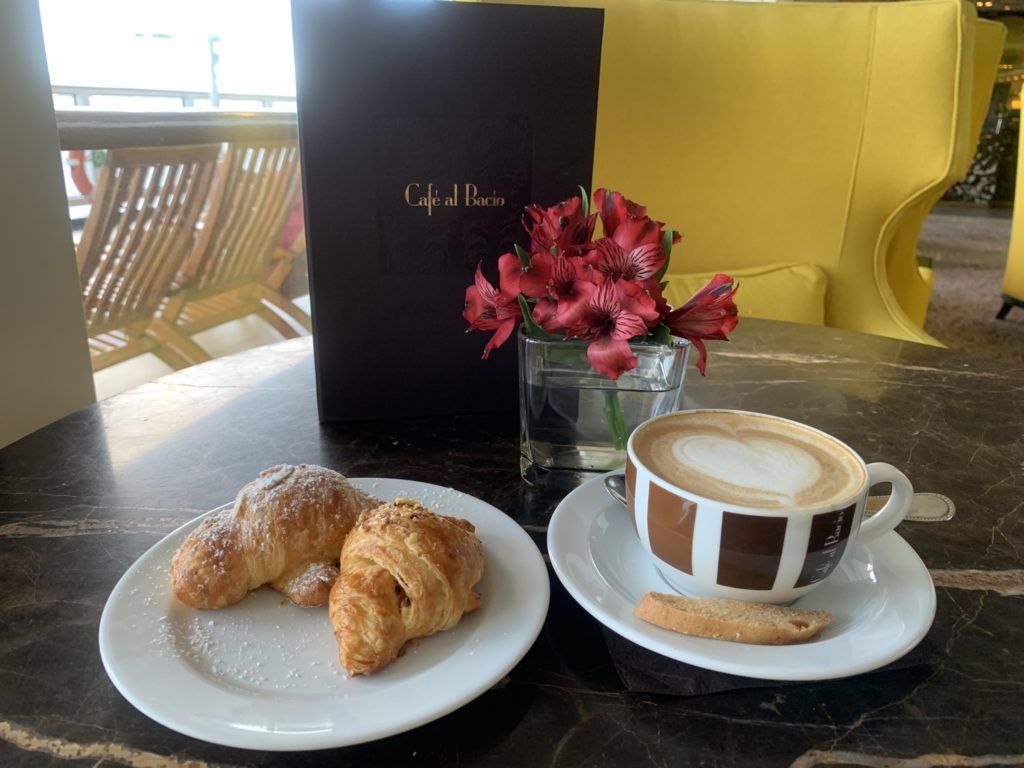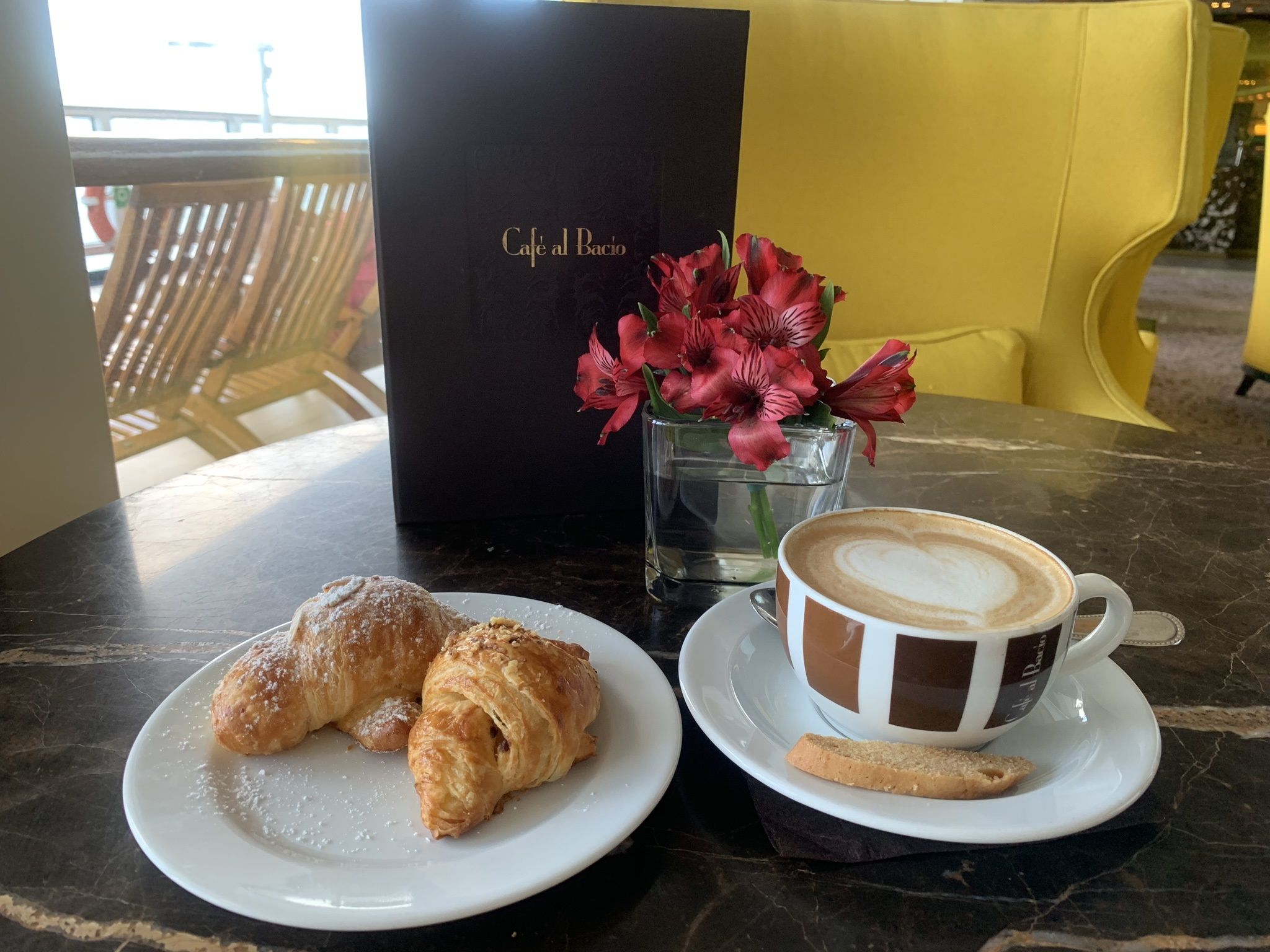 While we visit Cafe al Bacio multiple times a day for coffee, we stay for the sweet treats. From breakfast pastries and cookies, to more elaborate cakes, tortes, and other desserts, they are just too mouthwatering to pass-up. The portions are generous as well, so feel free to share. This helps us justify these rich and decadent options.
Yes, all of the snacks here are also part of the cruise fare!
Sea Day Brunch on Carnival Cruise Line
Most cruisers reserve the main dining room for its elegant multi-course dinner. We are known for eating a majority of our nighttime meals in the MDR with our dedicated waitstaff. Although, we often avoid the main dining room during the day. This was not the case on our Carnival Panorama cruise!
At least one sea day during your voyage on a "fun ship", you need to enjoy a Sea Day Brunch in the main dining room. This inventive combination of foods is available on all Carnival Cruise Line ships. Breakfast lovers will want to savor the signature skillet cake or 12-hour french toast. For those looking for lunch, you can choose from a variety of salads, pastas, and the line's signature tower.
Or, you could opt for the steak and eggs featuring a filet mignon and fried eggs to get the best of both worlds!
Comments
Did your favorite cruise ship dining establishment make our list? What other cruise restaurants would you add? Drop us an anchor below with your suggestions for the best cruise ship restaurants.