The winter is upon us, and for many that means snow and ice. If you have ever slipped and fallen during these weather conditions then you know what could happen—bruising, soreness, and potentially broken bones.
If you tend to take extra precautions to avoid falling during these conditions then why should a cruise be any different? Think about it. You are on a moving ship, sure to jostle anyone's balance and equilibrium!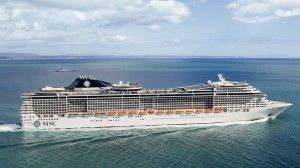 A fall would be a sure damper to your cruise vacation. Even if you do not sustain an injury, the lingering achiness might impact your participation in all the fun activities you had planned for the week. So, why take that chance? You want to stay safe while on a cruise ship. Thus, the Princess is here to help with some physical therapist approved tips that will reduce your risk of falling, so that you can have the relaxing and enjoyable vacation you deserve!
Six Simple Tips to Preventing Falls While Cruising
1. Proper footwear is essential! Not only is footwear important for comfort but you also want a shoe that gives you good ankle support and has good rubber non-skid soles. This will help to prevent spraining your ankle or slipping on slick surfaces. Even though flip flops are a beach trend, you should avoid wearing them if you have any balance or walking difficulties.
2. Use a cane or walker. Even if you don't use one regularly on your familiar home turf, an assistive device might be beneficial to keep you from losing your balance. Remember, you can't predict how much motion you will experience on board the ship or what the terrain will be like in ports of call, so better to be safe than sorry.
3. Try to avoid wet surfaces, especially on the pool deck. Take extra caution when getting in and out of pools and hot tubs. If there is any question of your safety, ask a friendly neighbor for a helpful hand.
4. Be aware of changes in surface. This includes transitioning from carpet to smoother surfaces, thresholds, stairways, gangways, entering and exiting tender boats or transfer vehicles, sandy beaches, and rough terrain in ports of call.
5. Be cautious in dimly lit areas like your stateroom or entering and exiting the theater for nightly entertainment. Vision plays a role in your balance, so reducing visibility will increase your risk of falling, not to mention tripping over an object that you didn't see. Consider bringing a night light for your stateroom to avoid tripping in the tight and unfamiliar quarters during the night.
6. Reduce clutter…I know, easier said than done! The space constraints in staterooms are often challenging but try to leave a clear path to the cabin door, bed, and bathroom. Park any mobility aids as far out of the way as possible or fold them if able. Take advantage of the space under the bed for storing luggage. If finances afford, you may want to opt for a larger stateroom.
Remember, these are just some helpful suggestions. If you have a history of falls, you should contact your doctor prior to sailing. If you have any mobility impairments, you may also want to consider renting a wheelchair or scooter for your cruise vacation. Check out our blog post: What you need to know before renting a scooter at sea.
Comments:
What tips and strategies have you come up with to make sure you are safe while cruising? We would love to hear your experiences.