Three days, two ports of call, and 16 bars and lounges. Who said it couldn't be done? We could not let our readers down, so we set out to explore all the bars on MSC Divina for our Drink Around the Ship tradition. Lucky for you, the ship normally sails 7 night Eastern and Western Caribbean itineraries, allowing you to enjoy each venue at a slower pace than us. If you are considering a cruise on this ship, join us in this whirlwind trip to all the bars on MSC Divina complete with menus, plenty of pictures, and craft cocktails!
Complete Guide to MSC Divina Bars
Deck 5 – Divina Bar
Bars on MSC Divina
Tucked away in a corner adjacent to the central atrium, the Divina Bar is a nice place for some people watching during the day or listening to some classic favorites on the piano in the evening.

The Divina Bar offers a standard but extensive menu, so for drinks we went with some of our classic favorites. We made a pit stop at this bar for a pre-dinner cocktail one evening. I ordered a Long Island Iced Tea, and the Princess got a Cosmo.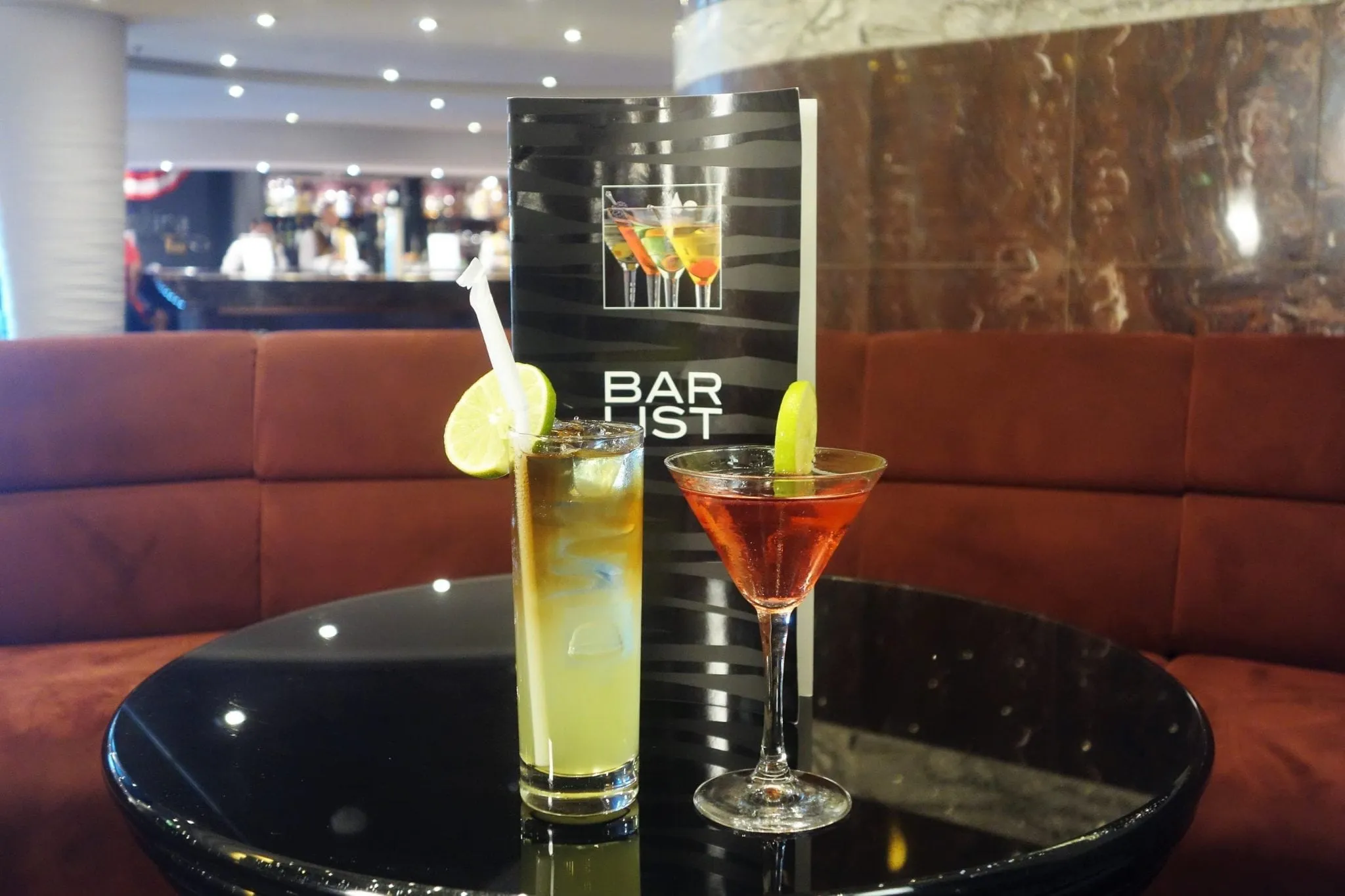 Menu: Page 1, Page 2, Page 3, Page 4, Page 5, Page 6, Page 7, Page 8, Page 9, Page 10, Page 11
Deck 6 – Cigar Lounge
The ONLY indoor venue that allows smoking (not even the Casino allows for smoking), the Cigar Lounge is located on Deck 6.  This musky room appeared to be used as more of a smoking venue than a true cigar lounge. Though there is a bar located inside, we never ventured in aside from a picture as the Princess dislikes the smell of smoke.
Bars on MSC Divina
Deck 6 – Casino Veneziano
The Casino, located on Deck 6, also has a small bar. In fact, the casino itself is quite small for a ship of this size. We only ventured into the casino for about 15 minutes the entire cruise. If you are gambling, you can certainly order any standard bar drink or anything off the standard bar menu.
Bars on MSC Divina
Deck 6 – Piazza Del Doge
Offering cocktails, coffee, pastry, and gelato, the Piazza Del Doge is a great spot to hang out. This Venetian-themed square is the perfect spot to grab an early morning pick me up, a midday snack, or an evening night cap. Live music is also offered at various times throughout the day.
Bars on MSC Divina
We stopped here one evening for some snacks and Limoncello. It would just be wrong to sail on an Italian cruise ship without having some Limoncello! The gelato was also quite tasty.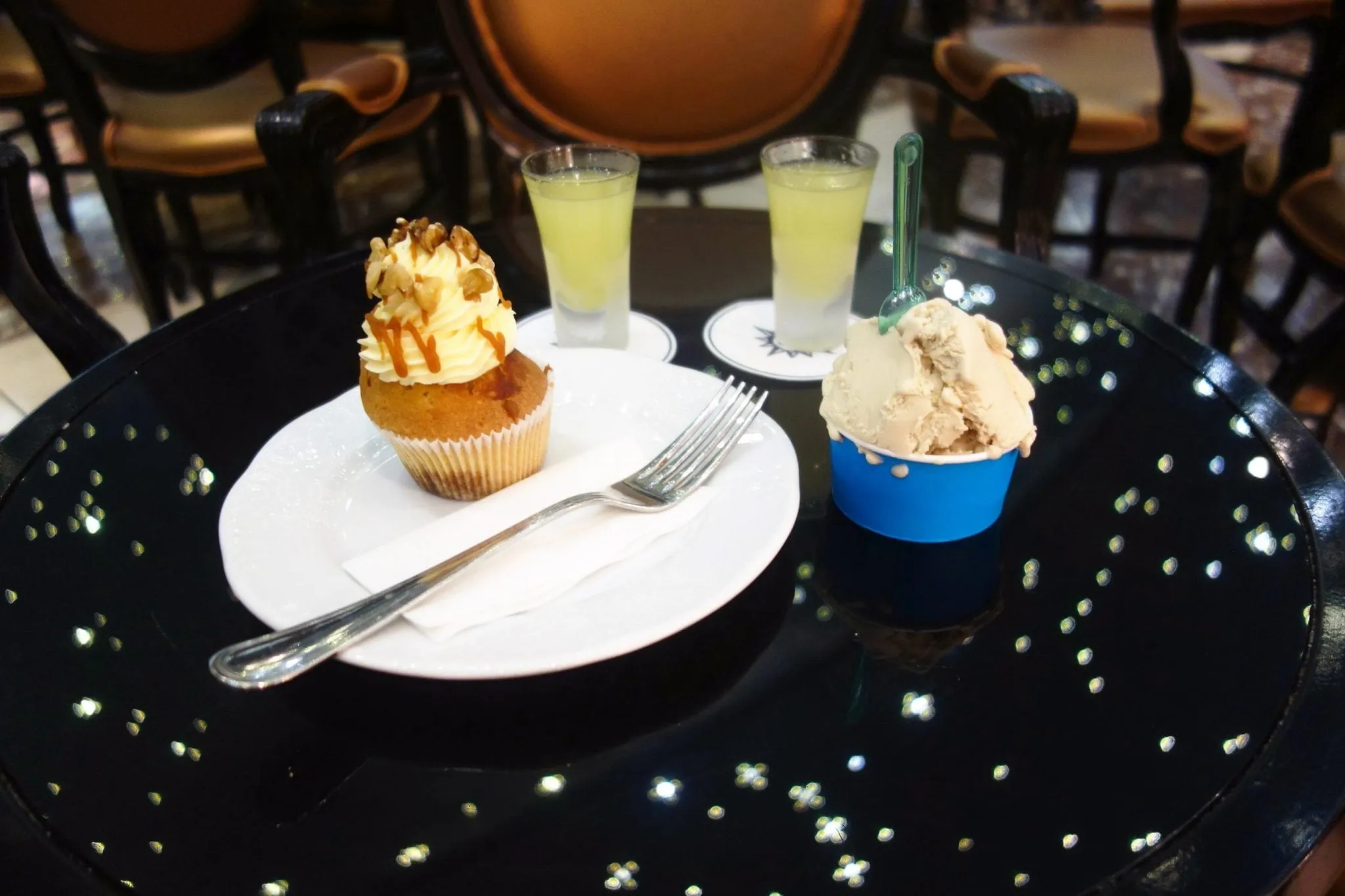 Menu: Page 1, Page 2, Page 3, Page 4, Page 5, Page 6, Page 7, Page 8, Page 9, Page 10
Deck 6 – Silver Lounge
Overlooking the Central Atrium, the Silver Lounge is located midship on Deck 6.  With no music or entertainment, this lounge is actually a great place to sit and chat or just relax and take it all in.
Bars on MSC Divina
This venue also offers the standard bar menu. We stopped here one evening for a post dinner drink before heading to the show. I decided to try out a Mojito, while the Princess went with her go to Cosmo.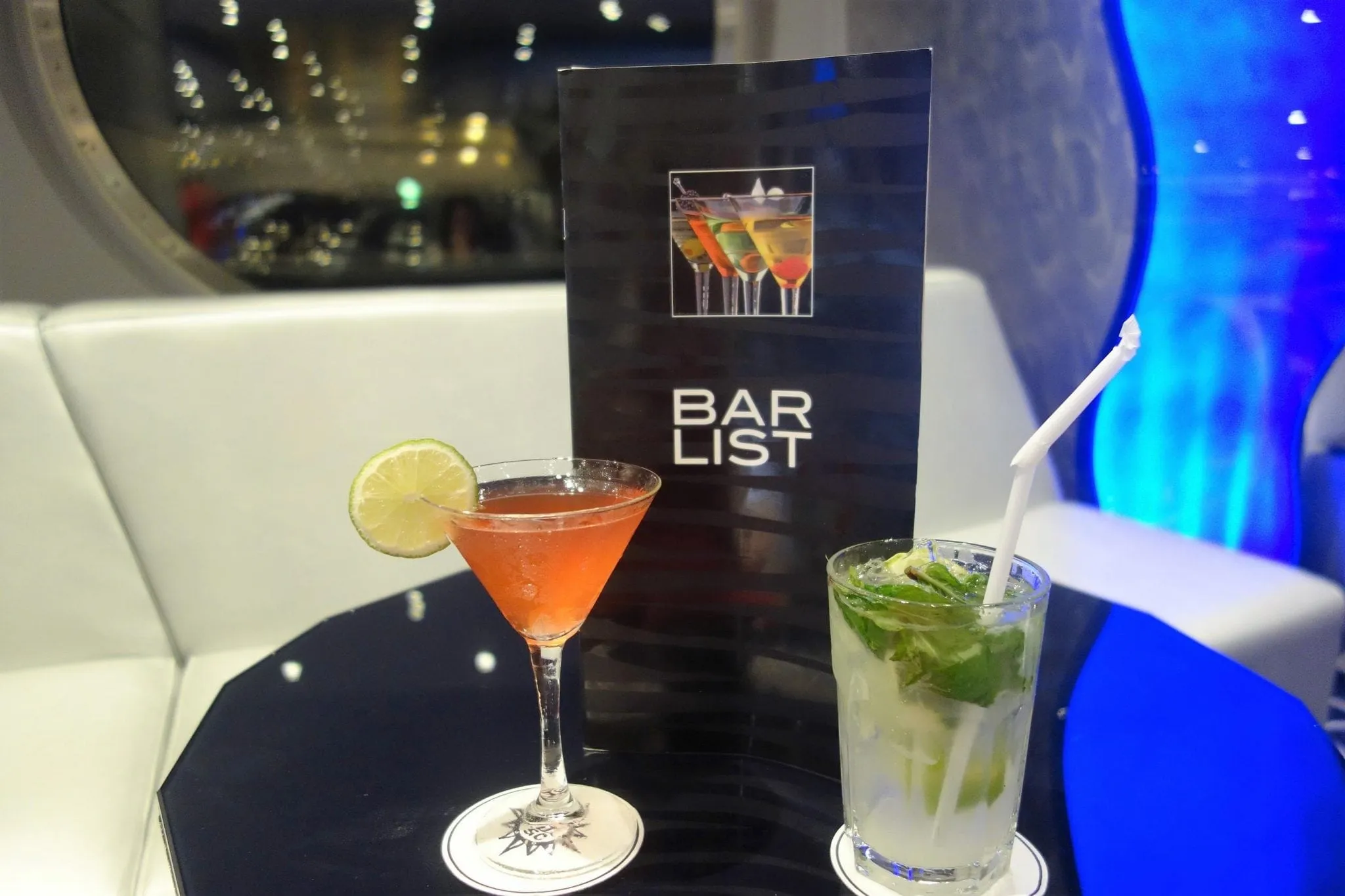 Deck 7 – La Luna Bar
Deck 7 is a hub of activity on MSC Divina offering several charming bars and lounges. Located forward on Deck 7 is the La Luna Bar.  Offering a signature martini menu, a piano, live music, and comfy seats, we enjoyed this venue. With its location right in front of the entrance to the theater balcony seating, the crowd came and went, but finding a seat was never an issue.
Bars on MSC Divina
Excited about the martini menu, the Princess had wanted to sample a few of the drinks but unfortunately, we only made it to the venue once. With 3 days, there were too many bars and not enough time.  During our visit, we listened to some music by Carey and Daniel while we sipped our drinks. A Banana Split Martini for the Princess and a Floridian for me.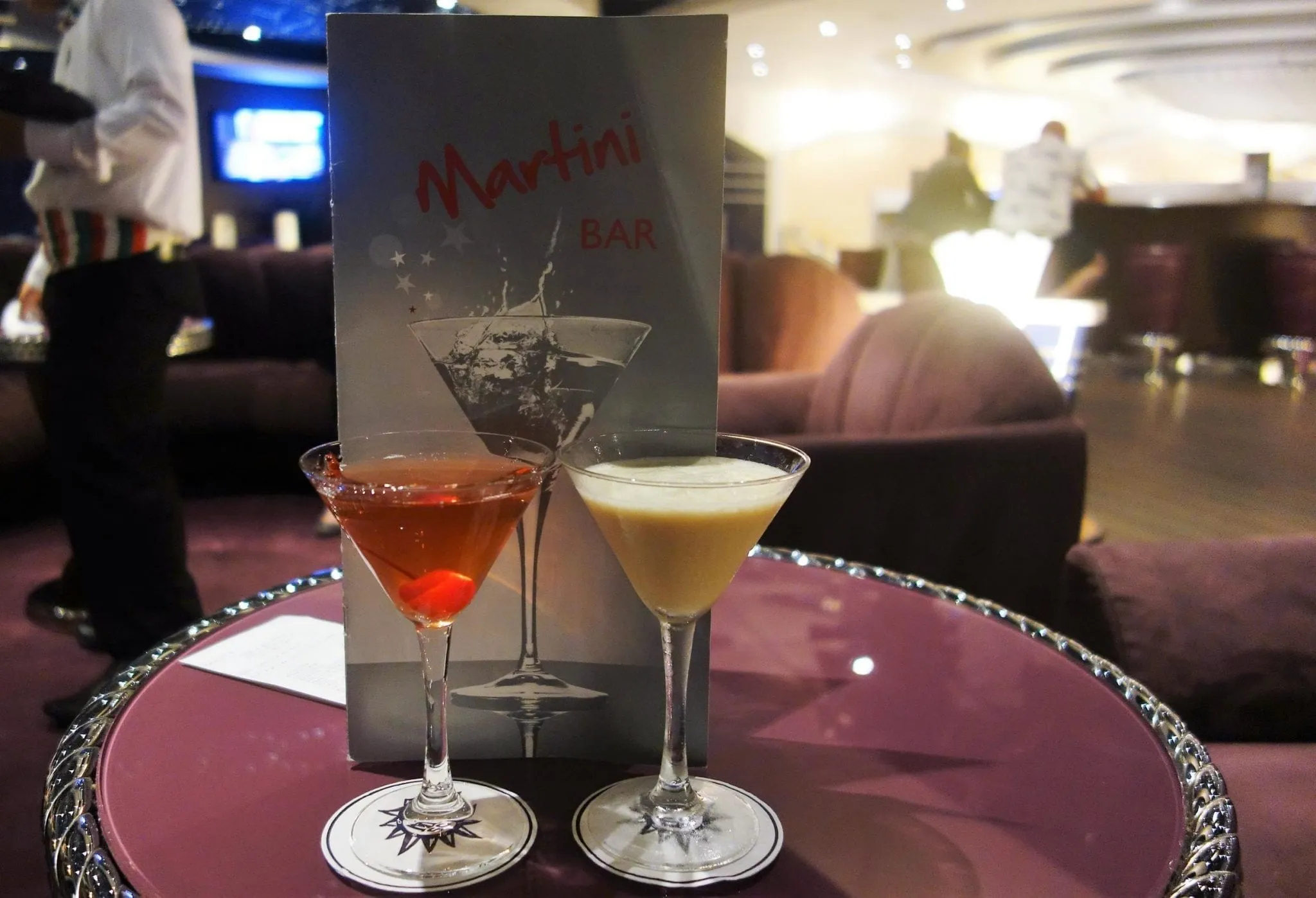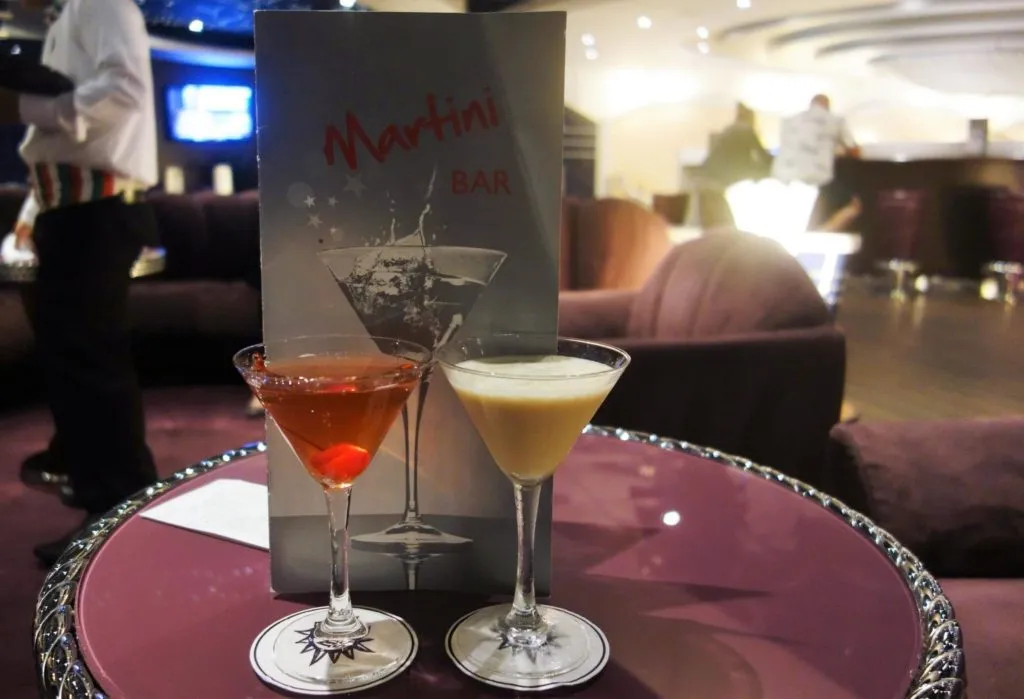 Deck 7 – Golden Jazz Club
On the starboard side of Deck 7, this warm and inviting venue serves up delicious drinks accompanied by some fine live music. The Golden Jazz Club also hosted some events like the 80's music trivia.
Bars on MSC Divina
We were able to grab a spot on one of the comfy couches for the music trivia and enjoy some cocktails. The Princess ordered a Purple Rain, which ended up being one of her favorite cruise drinks. I tried the Jamaican Paradise. A nice touch is that they serve complimentary snacks at most of the bars and lounges too. No matter how busy a venue was, there always seemed to be enough friendly staff to go around. Two thumbs up to bar service on MSC Divina!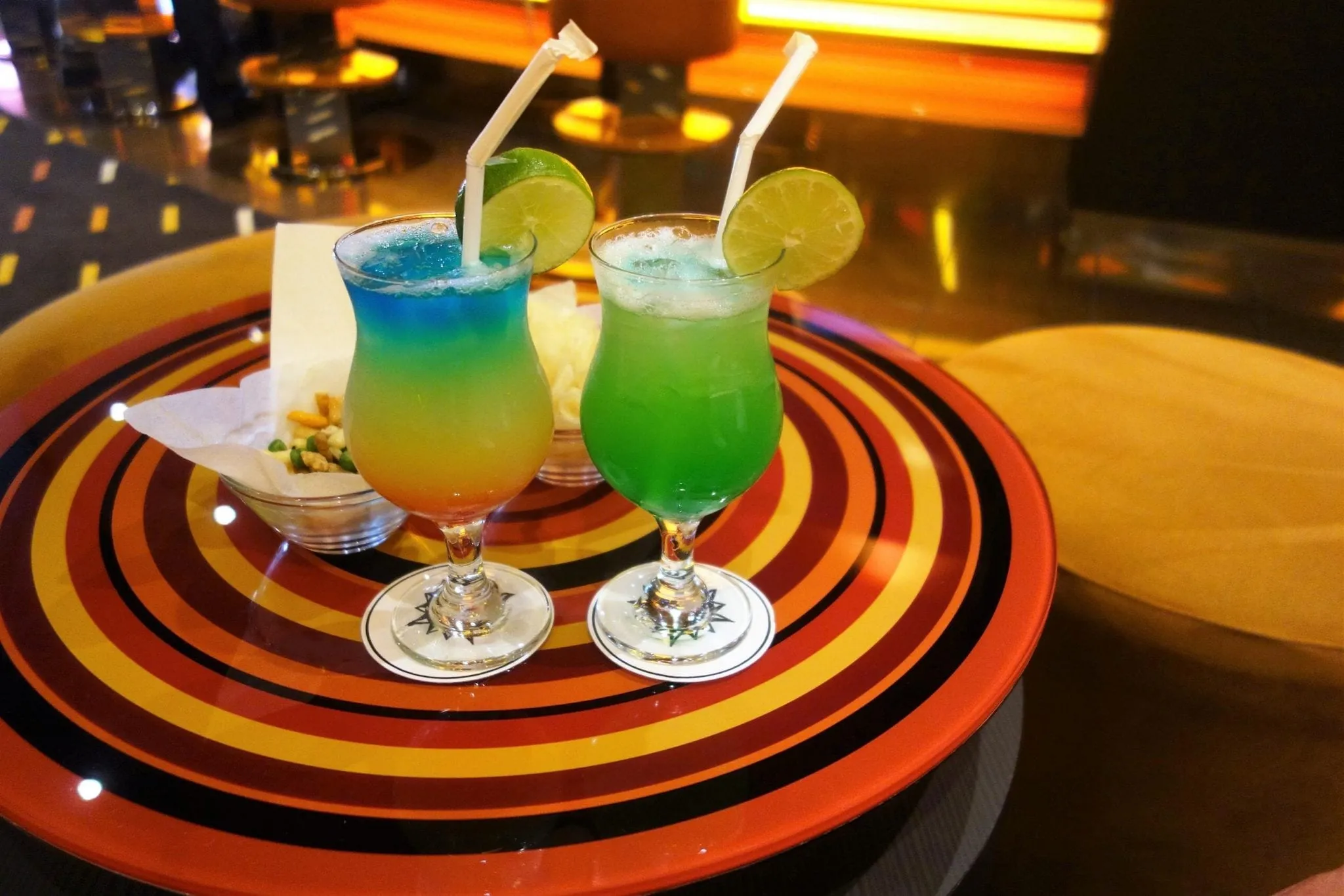 Deck 7- Sports Bar
Directly across from the Jazz Club is the Sports Bar. Featuring American classic food and a variety of beers and lagers, this place is all about celebrating the game. No matter what your favorite sport, you can watch on the television screens or perhaps join in on a friendly game of bowling.
Bars on MSC Divina
We stopped in on the last evening of our cruise to try to play a round of bowling, but it was quite busy with families. Instead, we grabbed a round of drinks and chatted with some fellow cruisers for a bit. I ordered a New Castle beer, and the Princess went with another Cosmo as she is not a fan of beer.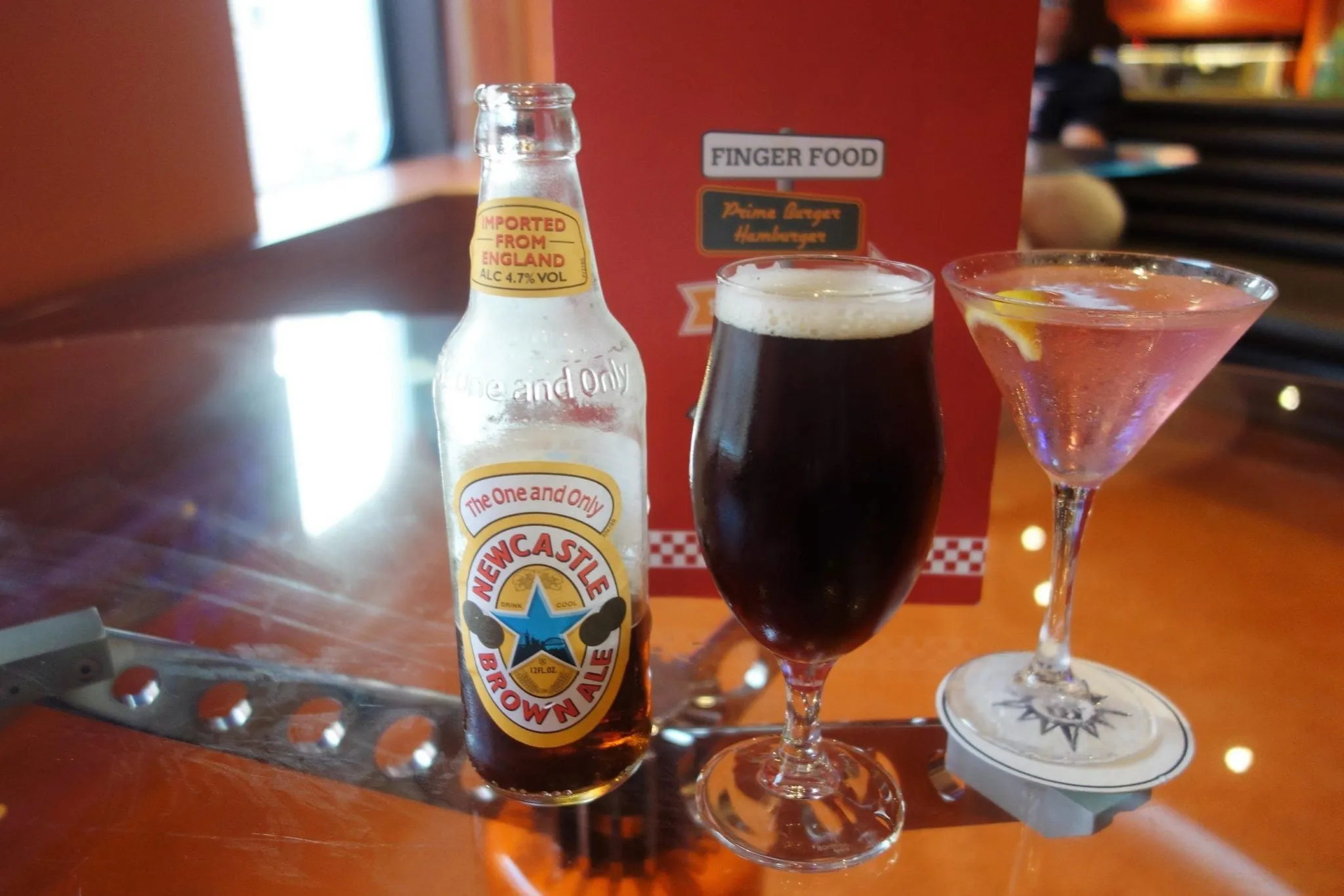 Deck 7 – Caffe Italia
This centrally located cafe offers a wide range of Italian coffee and coffee-based drinks. Whether you need your morning dose of lattes like us, a midday frozen delight, or an evening spirit coffee, be sure to check out this venue.
Bars on MSC Divina
Serving up Italian brand, Segafredo selections, this is some of the best coffee that we have had on a cruise ship. We made multiple stops here each day to get our caffeine fix.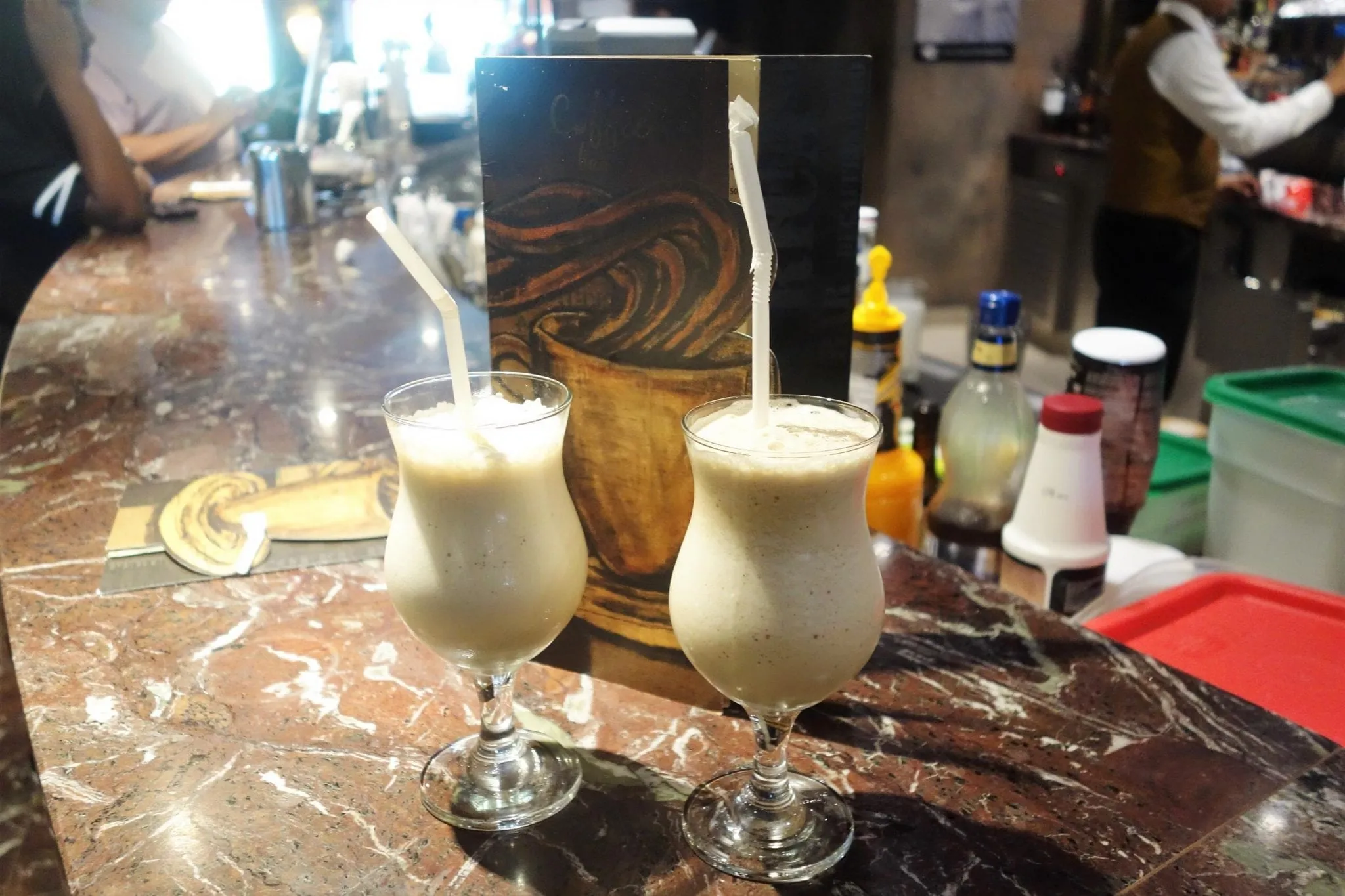 Deck 7 – La Cantina di Bacco
In the middle of the ship, next to the specialty restaurants is the ship's wine bar, La Cantina di Bacco. Serving up an extensive wine list, pizza from Eataly (for an upcharge), and a meter of beer, who wouldn't want to spend some time at this venue?
Bars on MSC Divina
While we did not get a chance to sample the meter pizza or beer, we did stop in at this venue to grab a glass of wine and listen to some live music. There just wasn't enough time to try everything!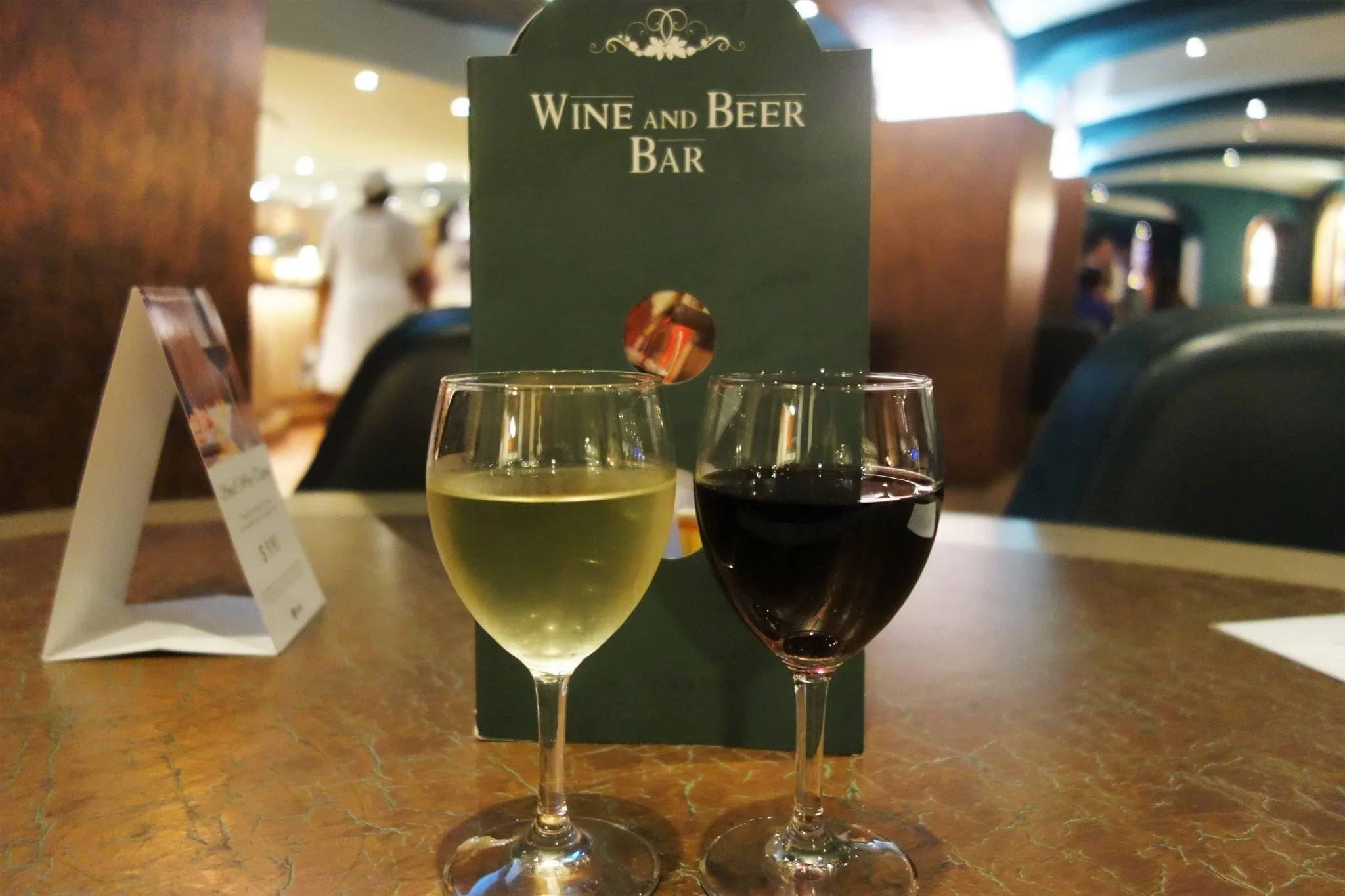 Menu: Page 1, Page 2, Page 3, Page 4, Page 5, Page 6, Page 7, Page 8, Pizza
Deck 7 – Black and White Lounge
Completely aft of the ship on Deck 7, this elegant lounge offers picturesque views, a large bar, and nightly entertainment featuring "International Dance Music", the Quest, and more. Aside from the Galaxy Disco, the Black and White Lounge is the other nighttime hot spot.
Bars on MSC Divina
The Black and White Lounge serves up the standard bar menu, so during our visit, I ordered a Long Island Iced Tea. The Princess ordered the cruise drink special, the Firecracker. This 4th of July inspired drink was a mix of Pina Colada, Strawberry Daiquiri, and Blue Curacao.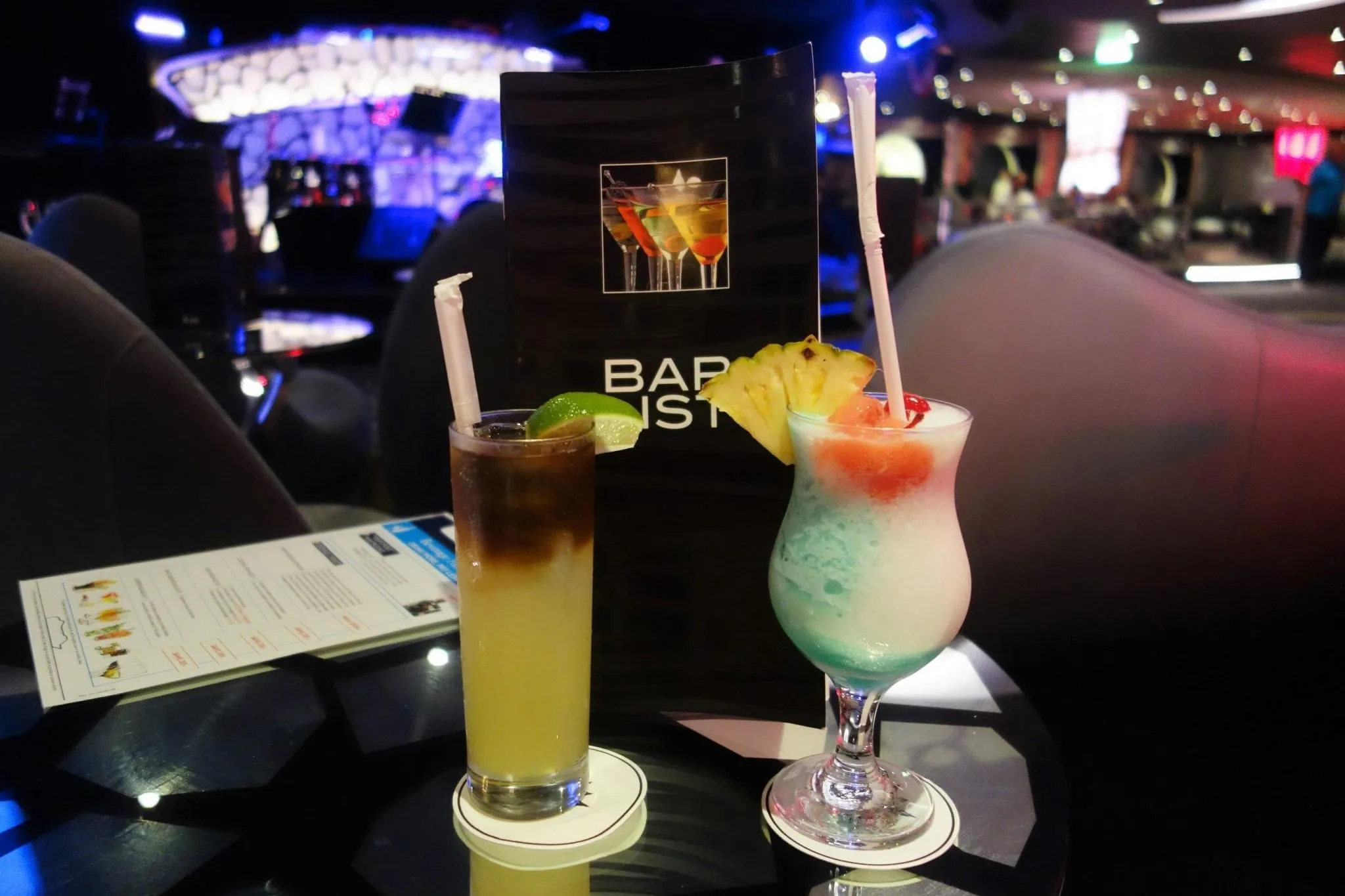 Deck 14 – Le Sirene Bar
Forward on Deck 14, near the covered pool is the Le Sirene Pool Bar. With bar seating and some tables and chairs, this is the perfect spot to grab a poolside drink away from some of the crowds or the hot Caribbean sun.
Bars on MSC Divina
All the outdoor bars offer the same Pool Bar menu featuring classic frozen cocktails and a large selection of other drinks. We sat in this area to escape the heat after a walk around Nassau (and a stop at the Poseidon Bar first). The Princess ordered her favorite drink of the cruise, the Purple Rain, and I tried the Rum on the Run. Ahh, the life!
Deck 14 -Tritone Bar
On the port side of Deck 14 is the Tritone bar. Serving the classic pool menu, this bar is a popular place for all the pool dwellers and sunbathers. It is also the outdoor bar that stays open later in the evening.
Bars on MSC Divina
We completed our drink around the ship here the last evening of our cruise while enjoying the 4th of July celebration. I ordered a Long Island Iced Tea, and the Princess ordered a Butterscotch Mudslide. Happy 4th of July to us!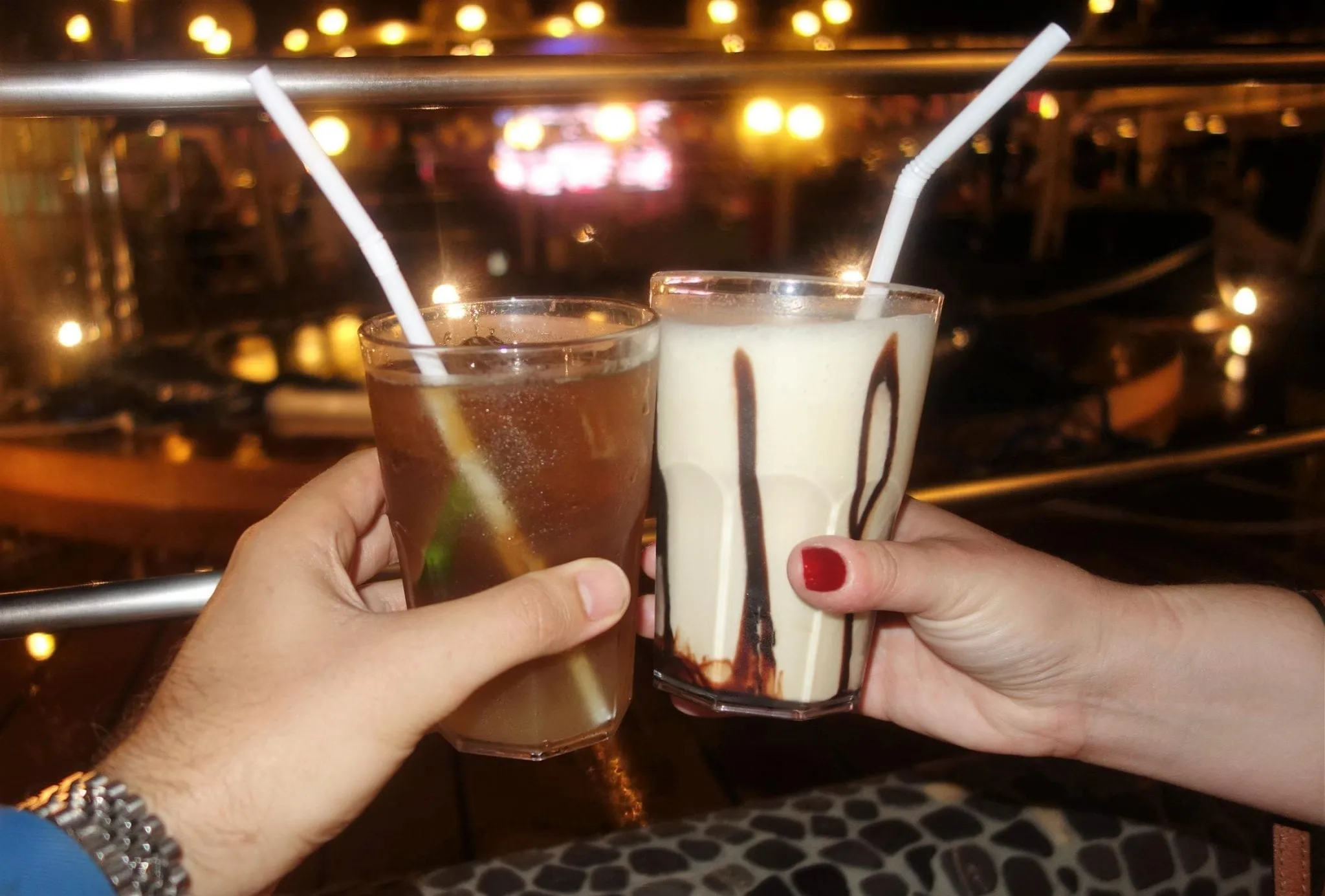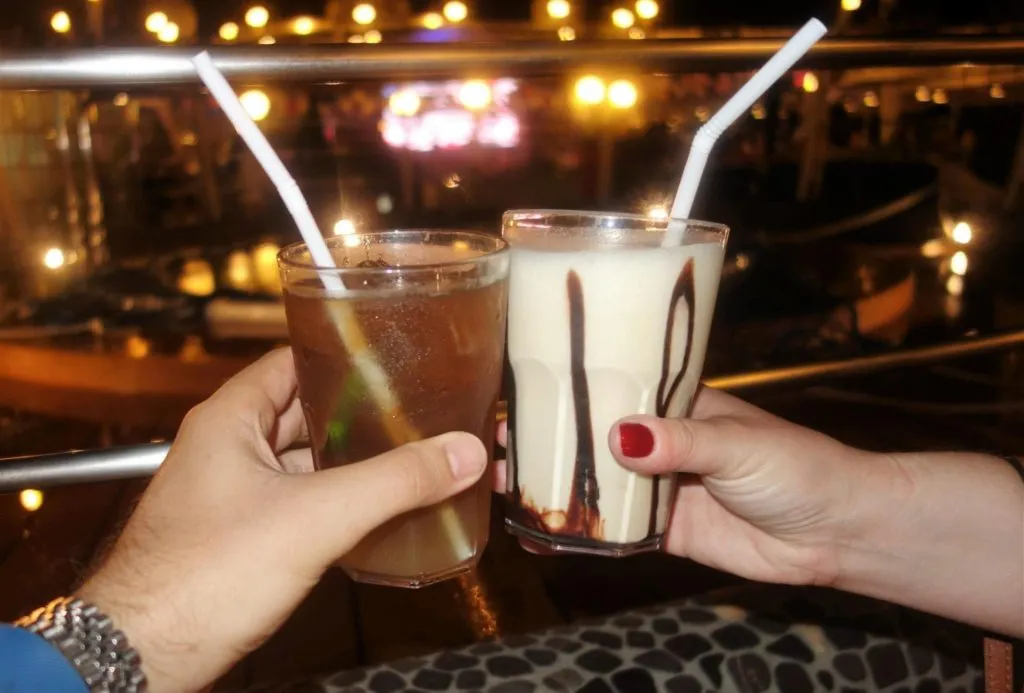 Deck 14 – Poseidon Bar
Across from the Tritone Bar, on the starboard side of Deck 14, is the Poseidon Bar. Helping to disperse the crowds a bit, this bar is identical to the Tritone Bar also serving up frozen cocktails, beer, and mixed drinks to thirsty cruisers.
Bars on MSC Divina
After walking around Nassau for a few hours, a frozen cocktail and lounge chair was in order. We stopped in at the Poseidon Bar for a Banana Daiquiri and a Pina Colada. I have to say that the Princess' Banana Daiquiri was far better than my drink.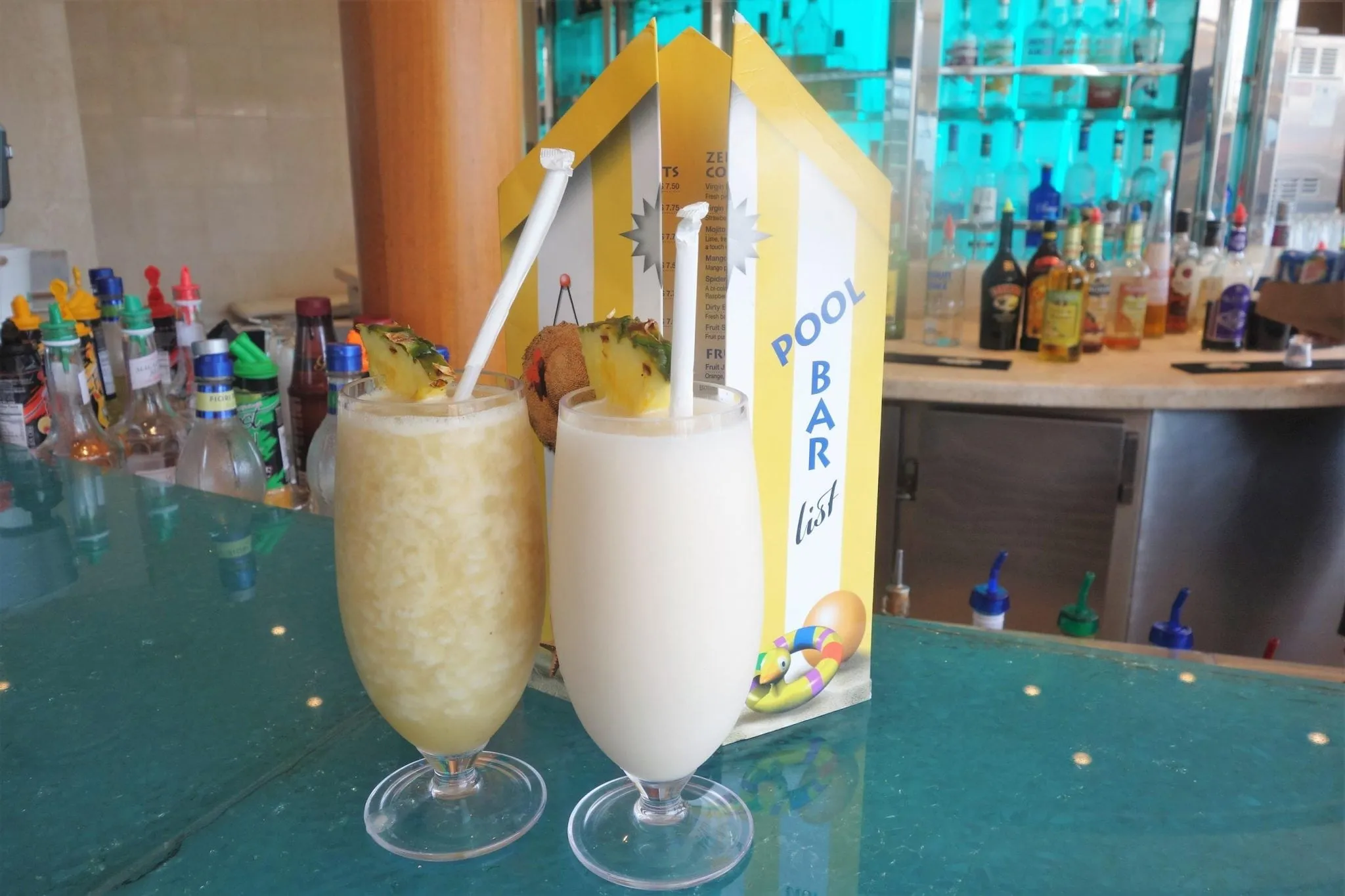 While on Deck 14, don't forget that the Calumet and Manitou Buffets have their own bars as well, so you can enjoy an adult beverage with your meal.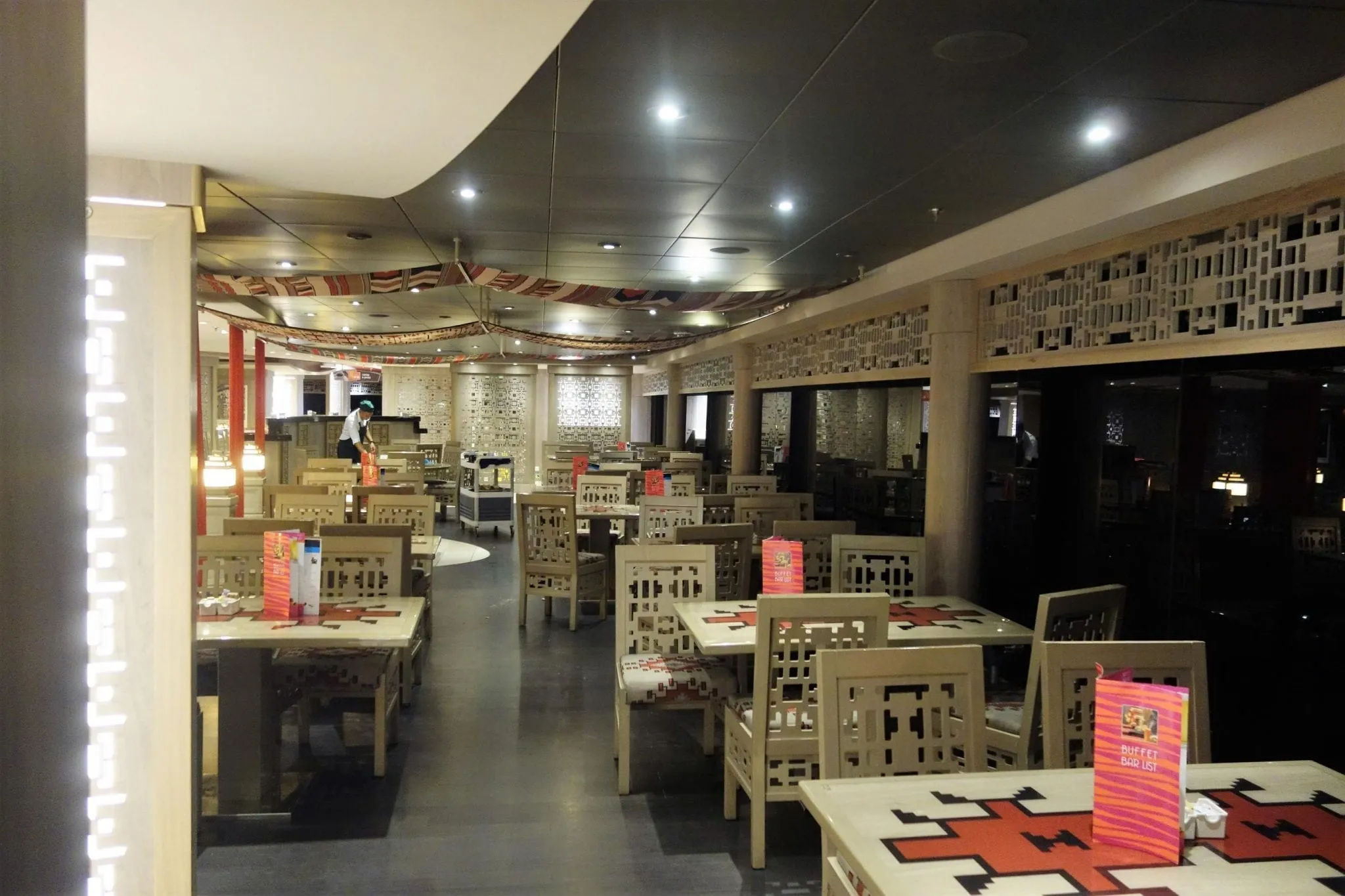 Deck 15 – Garden Bar
Completely aft of the ship, next to the Garden Pool and Zen area is the aptly named Garden Bar. This open bar offers up the same drinks you will find at the other pool bars, along with a small Disaronno specialty menu, but tends to be a little less crowded.
Bars on MSC Divina
We spent several hours lounging and soaking up the sun in this area on Day 2, so we made sure to stop in for a drink. The Princess opted for a frozen cocktail, while I had to sample a drink from the specialty menu. In typical Italian fashion, I went with the Godfather- "the drink that commands respect"!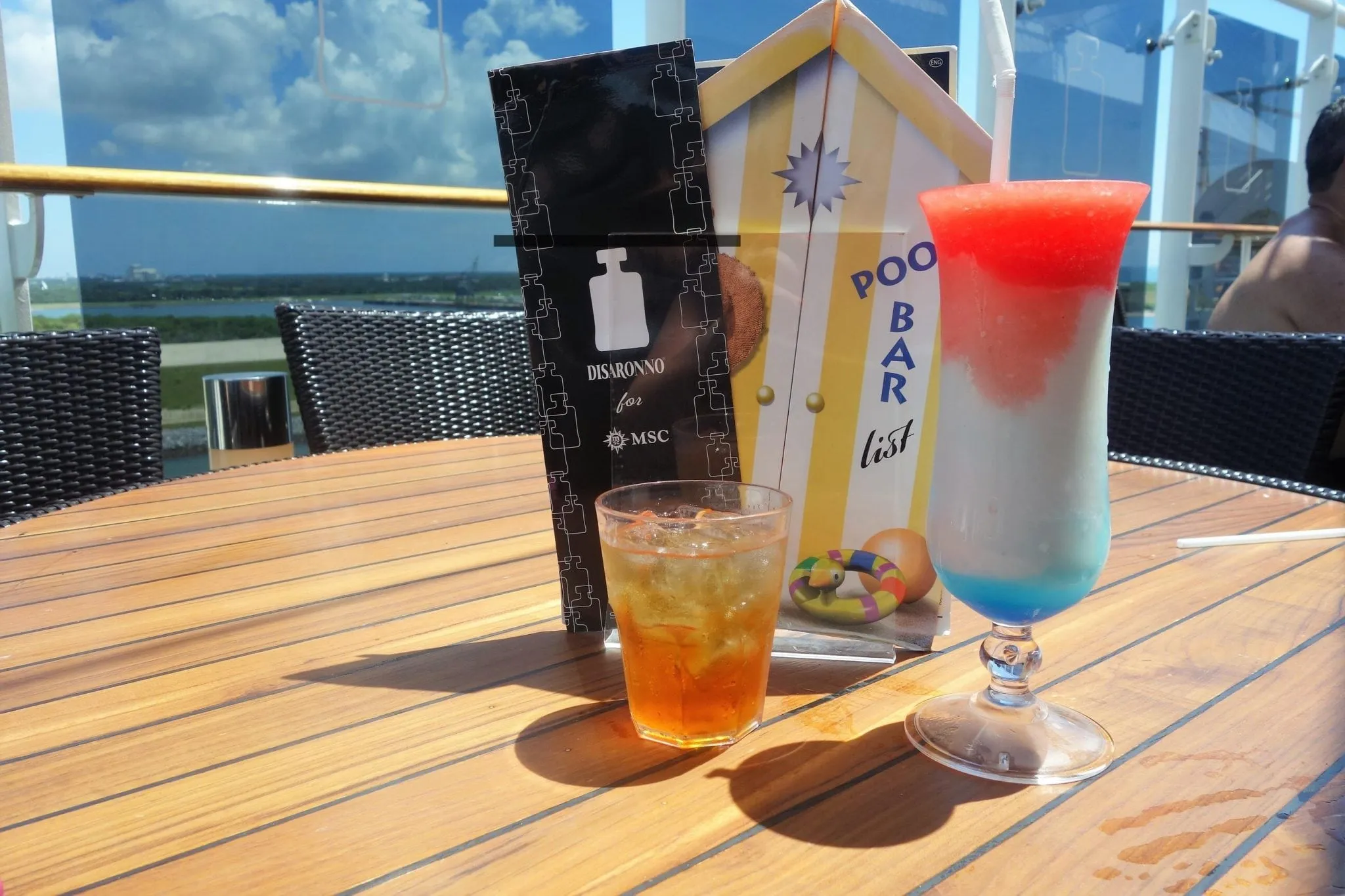 Menu: Page 1
Deck 16 – Galaxy
Last but not least on this tour of the bars on MSC Divina is the Galaxy Disco located on Deck 16. This bar is only open at night to coincide with the late night dance parties. While a nice spot to relax and take in some panoramic vistas during the day, you will not be able to grab a drink here until the evening.
Bars on MSC Divina
While attending the Rock and Roll Party at the Galaxy, we grabbed a comfy couch to enjoy some music and cocktails. I ordered a classic Mai Tai, and the Princess tried a Blue Hawaiian as this bar also offers the same bar list.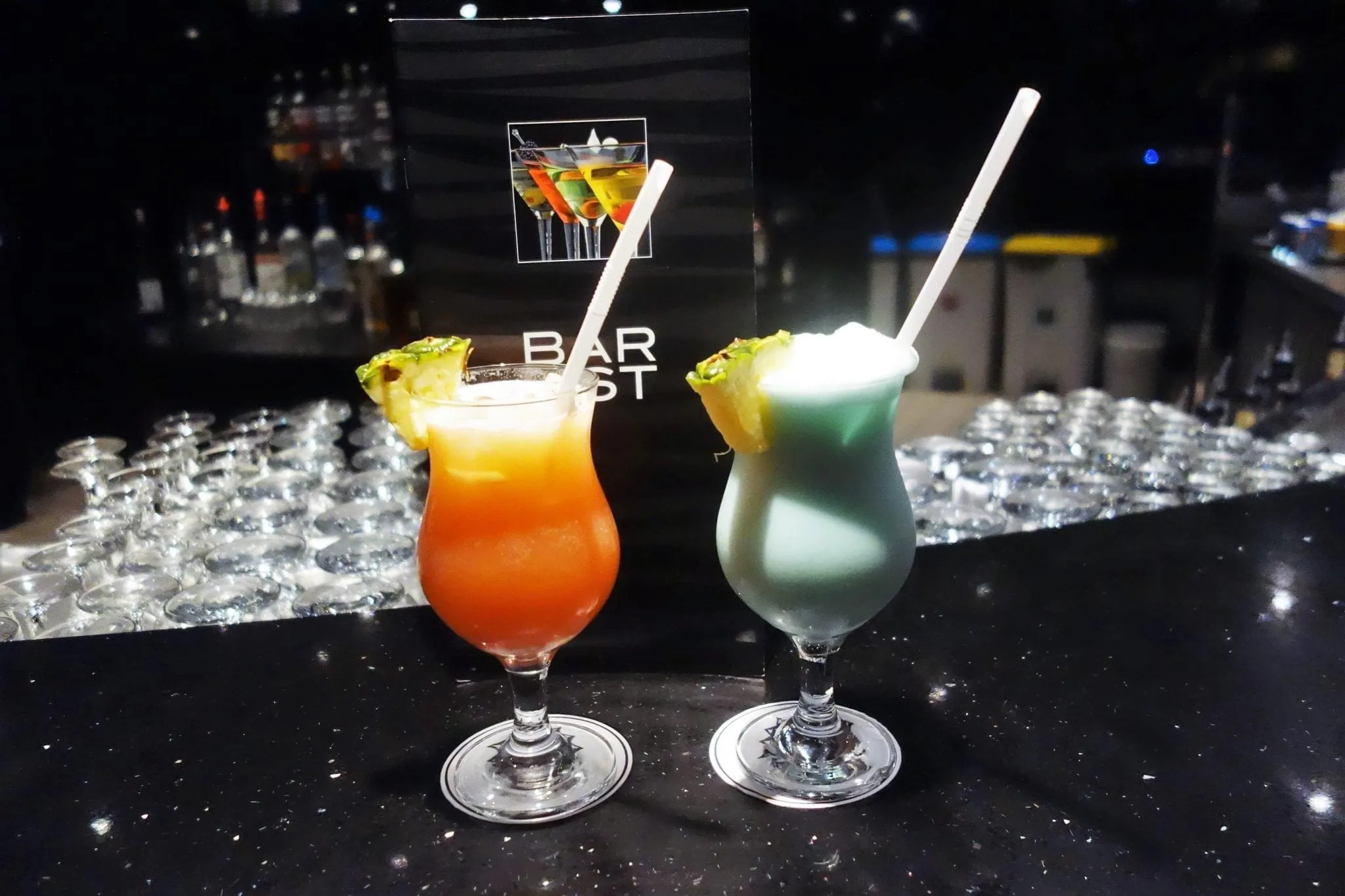 For those who have decided to upgrade their experience and join the Yacht Club, you have two bars all to yourself.  On Deck 15 is the Top Sail Lounge, offering the best views of the ship. This forward lounge has panoramic windows that let you see across the horizon with views only you and the captain can enjoy.  If you do not want to be contained to the indoors, the One Bar on Deck 18 is also a secluded spot for guests staying in the Yacht Club. This open air bar takes the traditional pool bar and refines it, with a country club feel.
Comments
Have you sailed on MSC Divina? What is your favorite bar or lounge on the ship? Drop us an anchor below to let us know your preferred spot for a cocktail or two while cruising the Caribbean.