Determining what to do when heading ashore at a port of call can sometimes seem a bit overwhelming. With so much to do and see, how will you decide how you want to spend your limited time ashore?
You might search the internet for reviews or visit cruise forums and groups to get the recommendations of fellow cruisers, but why not go straight to the source and ask someone who LIVES there! That is what inspired us to start this blog series called A Local's Perspective.
Each Local's Perspective comes from a reputable tour operator from one of the many beautiful ports of call frequented by cruise ships. These individuals will give you an insider's look at the things to do, see, eat, and enjoy when on you are ashore visiting the tropical paradise they call home.
This week, we bring to you a Local's Perspective on St Thomas for Cruisers featuring Sunny Liston, owner of Sunny Liston Tours– who promises "an unforgettable vacation memory"! Check out Sunny's local perspective on St. Thomas including his recommendations on local eats, beaches, and best shore excursions. Also, be sure to visit Sunny Liston Tours for more information on the tour company and shore excursions offered- or find them on Facebook.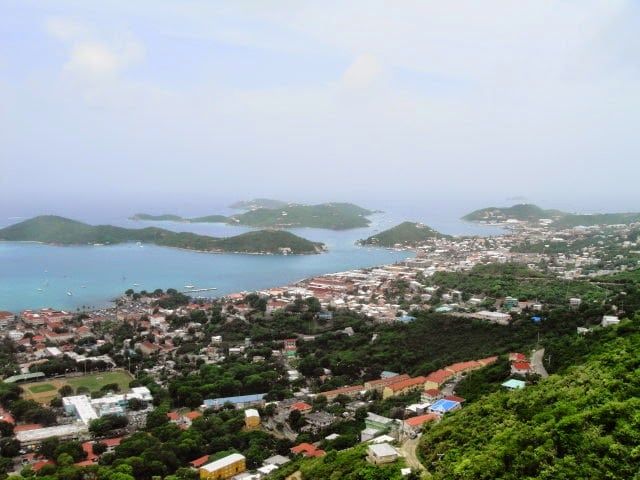 A Local's Perspective on St Thomas for Cruisers
Please give us a brief bio about yourself and your tour company.
"Sunny Liston Tours is a fully certified and authorized Taxi Tour Operator in St. Thomas, in the United States Virgin Islands. At Sunny Liston Tours, we drive open-air cabs, also known as the "safaris", and we have the capacity of holding about 25 people in each of our safaris. We have been providing superior, fun filled tours and transportation services for over 17 years. Sunny Liston Tours is well-known to be the most upbeat, exciting and energetic fun tour on St. Thomas. We are fun-loving and love what we do!!!"
Why should cruisers visit your island?
"Here in the Virgin Islands, we live in a tropical paradise that is just waiting for you to explore! We love nature and can't wait to show you the beautiful sites St. Thomas has to offer. St.Thomas is one of the most beautiful islands in the Caribbean, known best for shopping, sightseeing, and the beaches."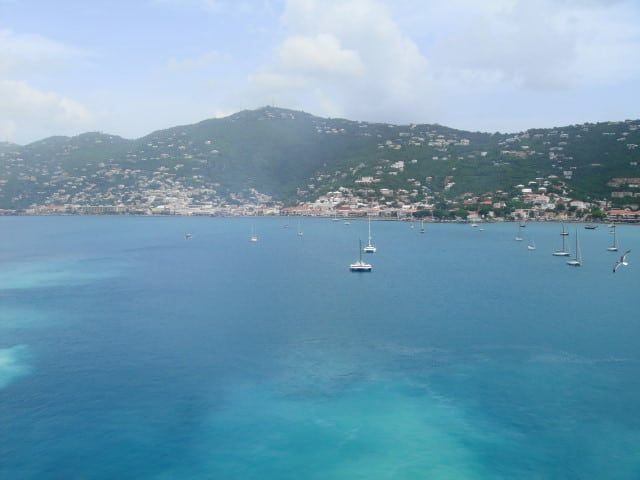 What is something unique or a little known fact about your island?
"Spectacular views, beaches, snorkeling, with beautiful people who will welcome you with open arms"
What is your favorite local restaurant? What meal should cruisers try at this restaurant?
"Brooks Bar and Restaurant"
Brooks Bar and Restaurant located on the road to Magen's Bay is a local's restaurant that Sunny gives two thumbs up. Sunny recommends trying the stew-oxtail, pork, chicken, or beef-served with rice, potato salad, fried plantains, coleslaw, and vegetables.
Where is the best local spot for cruisers to grab a drink?
"The best spot for cruisers to grab a drink is at Duffy's Love shack."
Located in Red Hook, Duffy's has been serving up one of a kind cocktails, like the Shark Tank, for more than 20 years in this "parking lot bar".
©Duffy's Love Shack
What is your favorite beach on the island and why?
A small entrance fee will gain you access to Magen's Bay Beach, one of the world's best beaches, but Sunny prefers Sapphire Beach. Sapphire Beach is located about 25 minutes from the cruise port, offering many of the same amenities with less crowds. Sapphire Beach is known among cruisers as a great snorkeling location in St. Thomas.
Why does Sunny prefer Sapphire Beach? For the activities! Sunny says, "Sapphire Beach offers activities such as snorkeling, jet skiing, parasailing, paddle boats, and more with crystal clear water."
Where will cruisers find the best shopping, deals, and local goods?
"Downtown Charlotte Amalie"- Duty free shopping at its finest! With hundreds of stores lining Main Street and the surrounding downtown area, you are sure to find some great deals and shop till you drop.
"Vendors Plaza"- This outdoor marketplace on the outskirts of downtown Charlotte Amalie is a great place to buy some local goods and souvenirs for those back home.
©Sunny Liston Tours
What are your TOP shore excursions/tours?
 The Shopping, Sightseeing, and Beach Tour
The tour starts out with a pickup time of your choice at 9AM, 10AM, or 11AM from your ship or hotel where we will take you straight to downtown Charlotte Amalie, the heart of St. Thomas, for a morning of shopping in the Caribbean's premier duty-free destination
At 12PM (Time subject to change based on ships' schedules), Sunny Liston Tours will pick you up and this is where the sightseeing begins! We will travel up the mountain to the highest point at Mountain Top which is 1547ft above sea level, making various stops along the way for you to get out and take some spectacular pictures. Once we reach Mountain Top, you get your first view of Magen's Bay Beach, ranked as one of the top ten beaches in the world. After taking in the view, you will get a chance to visit Beacon Point, a free lookout spot and gift shop where you can try the world famous banana, mango, and strawberry rum daiquiris, and other mixed drinks where you pour your own rum!
Between 1:30PM and 2PM, we will be arriving at the beach of your choice! You can choose from Sapphire Beach, Coki Beach, or Magen's Bay Beach. You will have about 2 hours on the beach to relax, swim, snorkel, jet ski, parasail, or do whatever your heart impels you to!
RETURN TO YOUR SHIP OR HOTEL BY 4PM – 4:30PM. (Times are adjusted based on your ship schedules to get you back earlier). On the way back to where we started, we will take you around the East end of St. Thomas to Red Hook ferry dock and see two of our marinas to get a chance to see how the locals live.
Sunny Liston Tours offers other tour options as well with various combinations of shopping, sightseeing, and beach breaks. They also offer free refreshments on all of their tours.
©Sunny Liston Tours
Disclaimer: All tour descriptions listed above were obtained directly from Sunny Liston Tours and are accurate as of this posting date, but be sure to visit the website directly for the most up to date information.
Comments
Have you visited St. Thomas on a cruise? If so, what's your favorite activity while visiting this popular port of call? We hope this Local's Perspective on St Thomas for Cruisers will help you explore the hidden gems of this island during your next visit!