The food options on Harmony of the Seas are as large and diverse as the ship itself. With plenty to tempt your taste buds, there is one venue at which we dine time and time again- Sabor. This Mexican cantina is open for lunch and dinner, with a casual atmosphere located right on the Boardwalk. Offering a delicious mix of appetizers, entrees, and of course drinks, we have been known to visit the restaurant multiple times during a cruise. Our last cruise on Harmony of the Seas was no different, as we stopped in twice for some small bites. Want to know why we love the restaurant so much? Well, here are our top 6 reasons to visit Sabor on Harmony of the Seas.

Top 6 Reasons to Visit Sabor on Harmony of the Seas
Freshly Made Chips and Salsa
Once you are seated by the host, you are moments away from your first mouthwatering experience at Sabor- the freshly made chips and salsa. Handcrafted at the restaurant, these salty and crispy chips will be easily devoured by you and your table mates. The salsa is lightly spiced, with freshly chopped vegetables and a pico de gallo-like consistency. Don't worry, you can always order a second round on the house. While they are addictive, you may want to maintain some restraint as your dining experience at Sabor has just begun.
Sabor on Harmony of the Seas
Handcrafted Margaritas
Hands down, the best drinks you will find on the ship are the margaritas at Sabor. The menu includes a total of 5 premium margaritas, 5 signature cocktails, and a house red and white sangria. Get ready to pull up a bar stool, as you will be here for a while if you want to try them all. Throughout the week, we sampled all 5 margaritas and the decadent Aztec Martini, a chocolatey delight. It is difficult to choose, but our top picks would probably be the Grand Sabor Margarita and the Jalapeno-Cucumber Margarita. The best part is that all these beverages are covered in the Deluxe Drink Package.
Sabor on Harmony of the Seas
Homemade Guacamole
Made to order, you can customize just how you want your guacamole prepared. This is such a popular dish at Sabor that the restaurant actually exhausted the avocado inventory by the last day of our cruise. Once you try it, you will know why! The creamy consistency and ripe ingredients, paired with just the right amount of spice to suit your palette, tastes as yummy as it sounds. You will need some more chips to enjoy the authentic flavor of this popular dish. Though a small upcharge, it is leaps and bounds better than anything you would get in the Windjammer.
Sabor Harmony of the Seas
Build Your Own Tacos
Don't get us wrong, almost everything on the menu is excellent, including the cheesy quesadilla and the calamari fried to perfection, but if you are going to give only one item a try at Sabor, it needs to be the build your own tacos. With choices of beef, chicken, or pork, complete with a variety of accompaniments and served with fresh flour tortillas, this isn't your ordinary Taco Tuesday. If you want to kick things up a notch, order the Tuna Tacos. Served in a crispy shell and topped with homemade guacamole, get ready for a flavor explosion in this dish.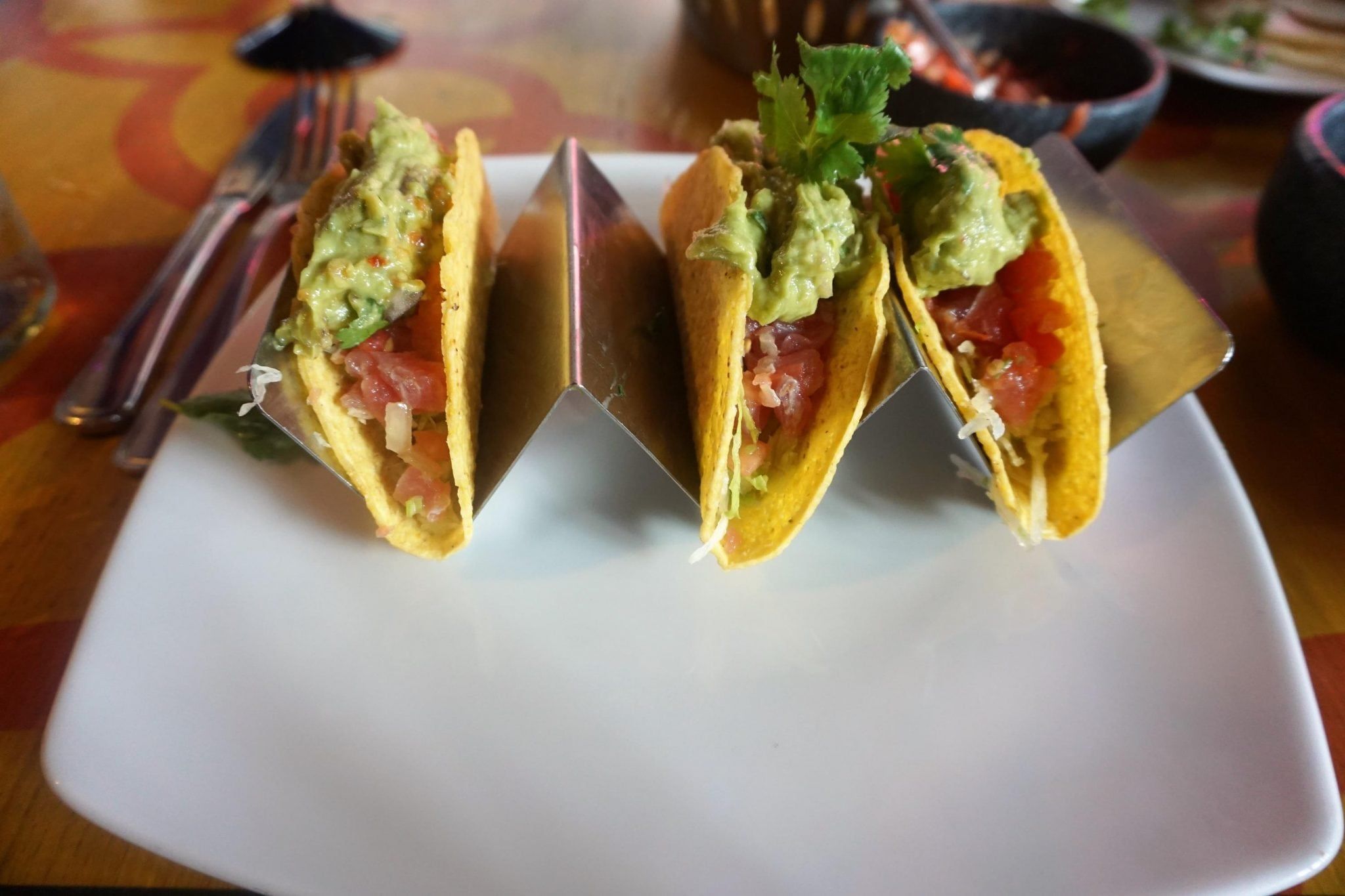 Delectable Desserts
It was a mixed blessing that the shortage of guacamole on our last day of the cruise lead us to discover a new favorite at the restaurant…the desserts. By now, all diet concerns were thrown out the window, so why not try two desserts at lunch? The Mexican Cinnamon Churros were sweet and crunchy with just the right amount of sugar and cinnamon. The Banana and Chocolate Chimichanga was the perfect combination of deep fried dough and sweet chocolate. I can almost taste them as I type this post! If we had to pick a winner, it would be the Churros with a slight edge.
Sabor on Harmony of the Seas
The Prices
Yes, Sabor is a specialty restaurant, so the food is not included in the cruise fare. Still, you can have a feast at the restaurant for much less than you would pay on land, as most menu items range between $5-10. Compared to the costs of the other specialty restaurants onboard the ship, Sabor's a la carte pricing is a steal. For lunch, it is easy to walk away with a tab under $15 for two people. Dinner may cost a bit more, but knowing that your drinks are included in the deluxe beverage package, you can take your time to savor all that Sabor on Harmony of the Seas has to offer.
Sabor Harmony of the Seas
What are you waiting for? Head over to Sabor for lunch or dinner during your next cruise to find out for yourself why it is one of the most popular venues onboard. While there are no reservations accepted for lunch, you can reserve a table for dinner either pre-cruise using the online Cruise Planner or once onboard. Do expect the restaurant to be busy for lunch, especially on sea days. Our total dining time took an hour or more on some occasions.
Sabor Drink Menu: Page 1, Page 2
Comments
Have you dined at Sabor on Harmony of the Seas? What is your favorite specialty restaurant on the ship? Drop us an anchor below to share your dining experiences on this record breaking ship.