We know you like to plan ahead, so before you set sail, know what is happening onboard your ship. To help the like-minded cruise planners among us, we have uploaded the Freedom of the Seas Southern Caribbean Cruise Compass from our March 2020 cruise.
If you are not familiar with Royal Caribbean ships, during each day of your voyage, a list of daily activities and events is provided in a small, magazine-like handout known as the Cruise Compass.
Freedom of the Seas Southern Caribbean Cruise Compass
Our Freedom of the Seas Southern Caribbean Cruise Compass details all of the dining hours for restaurants, entertainment and show times, onboard sales and retail hours, as well as parties and bar hours. The itinerary included embarkation day, two days at sea, and four ports of call. These ports included Aruba, Bonaire, Curacao, and St. Thomas.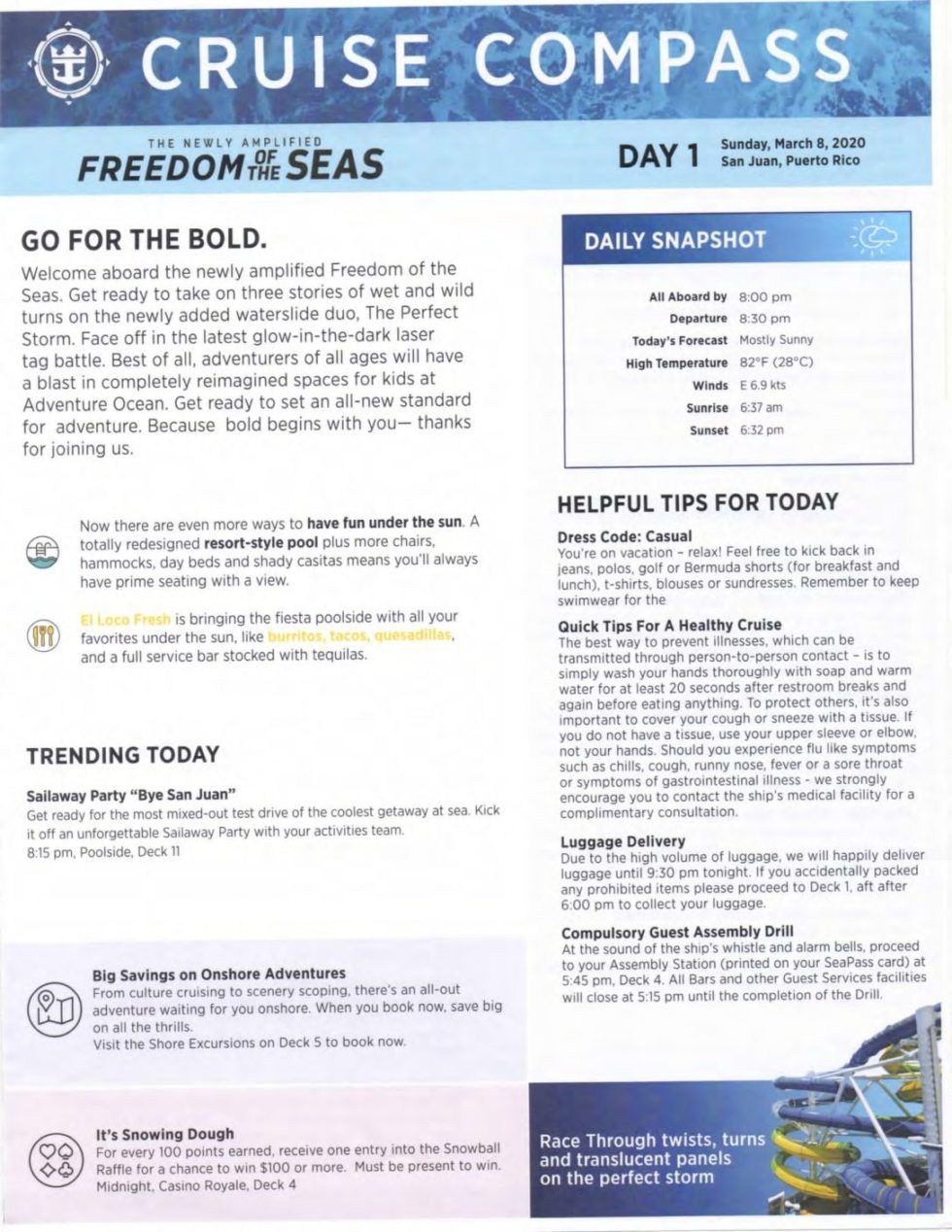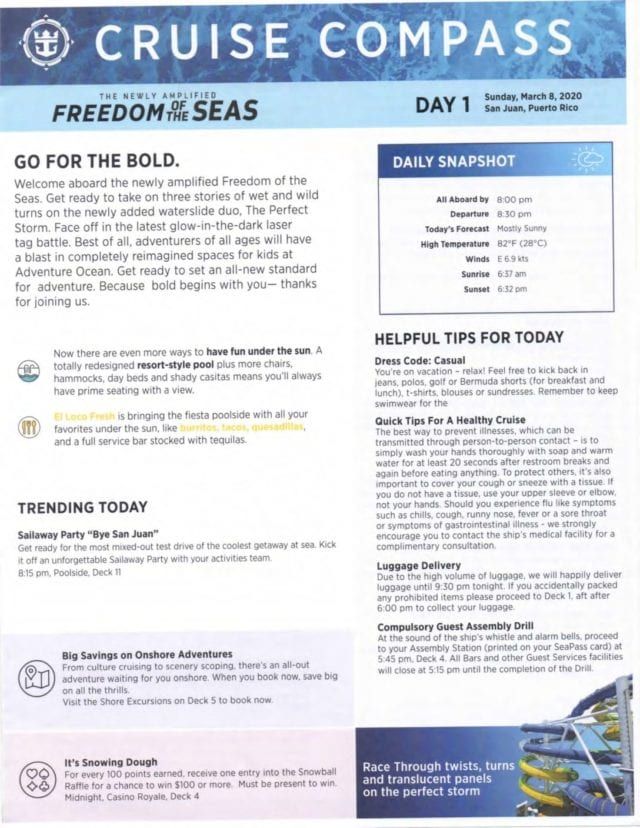 Note: Royal Caribbean can alter the activities and events and/or the days and times at which these various activities occur at any time. Also, headliner acts routinely change as well.
Freedom of the Seas Southern Caribbean Cruise Compass Highlights
The brand new Perfect Storm waterslides added to deck 13 were open most days between 11 AM and 6:30 PM. The nearby Flowrider was also open each day at varying times. Mostly, there were sessions setup for boogie boarding, surfing, and advanced surfing.
Unfortunately, the new laser tag was only open on three days of the cruise. Clash for Crystal City in Studio B was open on Day 2 from 10 AM to 4 PM, Day 5 from 5 PM to 9 PM, and Day 6 from 9:30 AM to 11:30 AM and 2 PM to 6 PM.
The cruise featured a number of signature Royal Caribbean parties and events. These included the Welcome Aboard Balloon Drop on Night 1. In addition, both the 70's and 80's dance parties occurred on the Royal Promenade, on Night 4 and 6 respectively. Other parties included the Hush Silent Party on Night 2 in Olive and Twist, Dancing Under the Stars on Night 4, and the Red Party in Studio B on Night 5.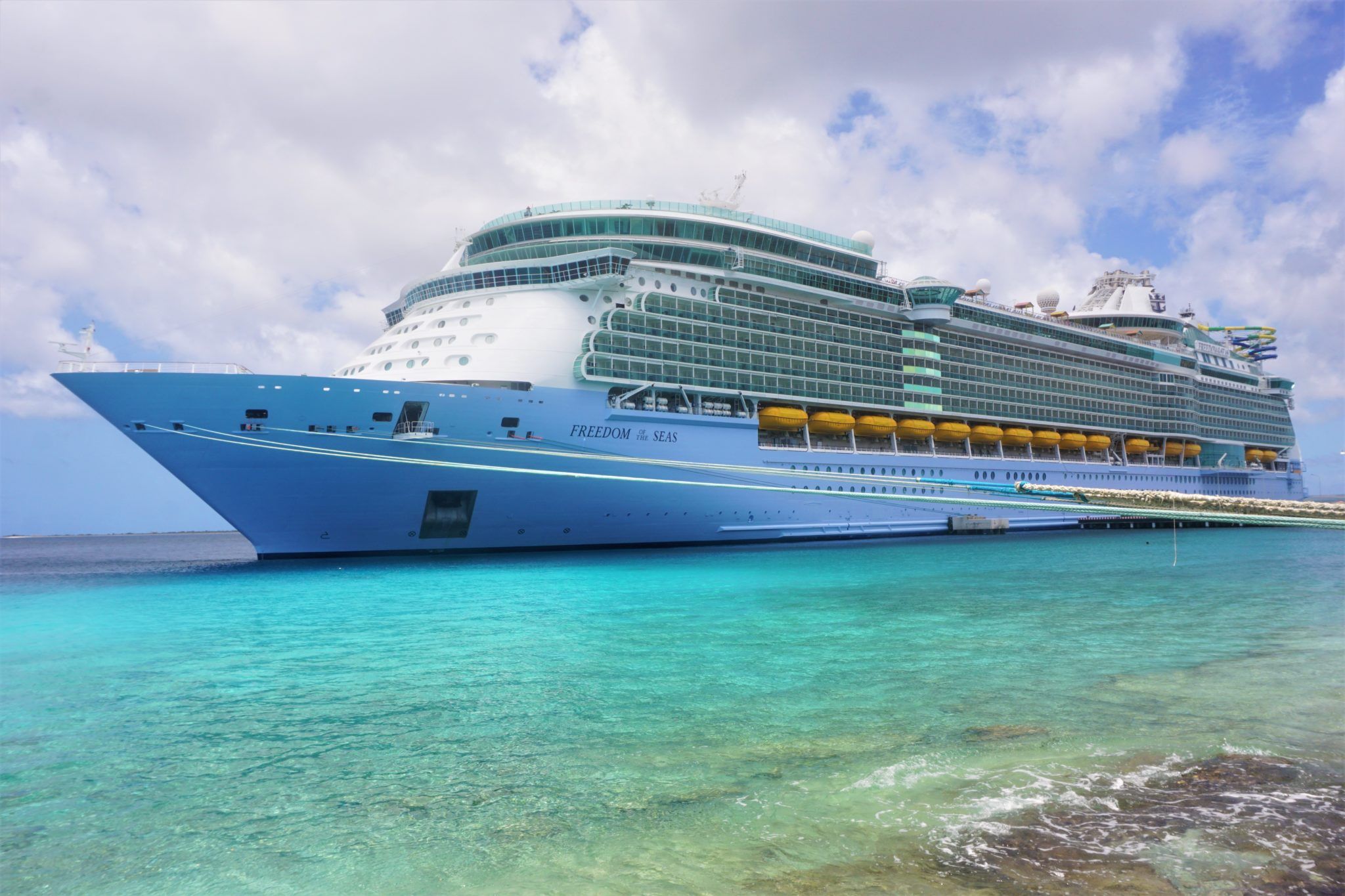 Of course, there was also entertainment each night in the main theater. While Freedom of the Seas did not receive a new signature show or Broadway hit, there are two production shows. On Night 2, there was the Royal Caribbean show Marquee, with an early and late showtime. On Night 6, there was another Royal Caribbean signature show, Once Upon a Time. During the cruise, there were two comedians, each with a family friendly performance and a late night adult comedy set. We also had two headliners. On Night 3 was the French magician Xavier Mortimer, and the band Mo5aic performed on Night 5.
There was also nightly live music in various venues throughout the ship, karaoke, trivia, and all the cruiser favorite poolside competitions and game shows.
If you have questions, reach out to us at editor@eatsleepcruise.com. We would be happy to help!
Comments
Do you have plans to sail on the newly amplified Freedom of the Seas? Do you attend all the activities and entertainment onboard your cruise ship? Drop us an anchor below to share what you are most excited to test out on this Royal Caribbean ship.