Deciding which cabin to select for a cruise can be difficult. For our quick getaway on Navigator of the Seas, we opted for a guaranteed balcony and ended up with a spacious ocean view balcony on Deck 9. For cruisers comparing different options on the ship, we have put together this Navigator of the Seas Spacious Ocean View Balcony Review.

Navigator of the Seas Spacious Ocean View Balcony Cabin Review
Selecting a Cabin
Again, the Princess convinced me to book a "last minute cruise". Seeing all of the updates from Perfect Day at CocoCay, it wasn't difficult to sway me to book a short weekend trip heading to the island. Looking at our options, we decided to redeem our credit card reward points for a "free cruise". This redemption gives you a credit towards the purchase of an oceanview or better stateroom on the ship.
We booked this cruise about 30 days prior to sailing, so the best option for us was a guaranteed balcony room. After redeeming our points, we had to pay the difference of about $175 a person for the higher cabin category. In addition, you always have to pay the taxes and fees when using the reward points.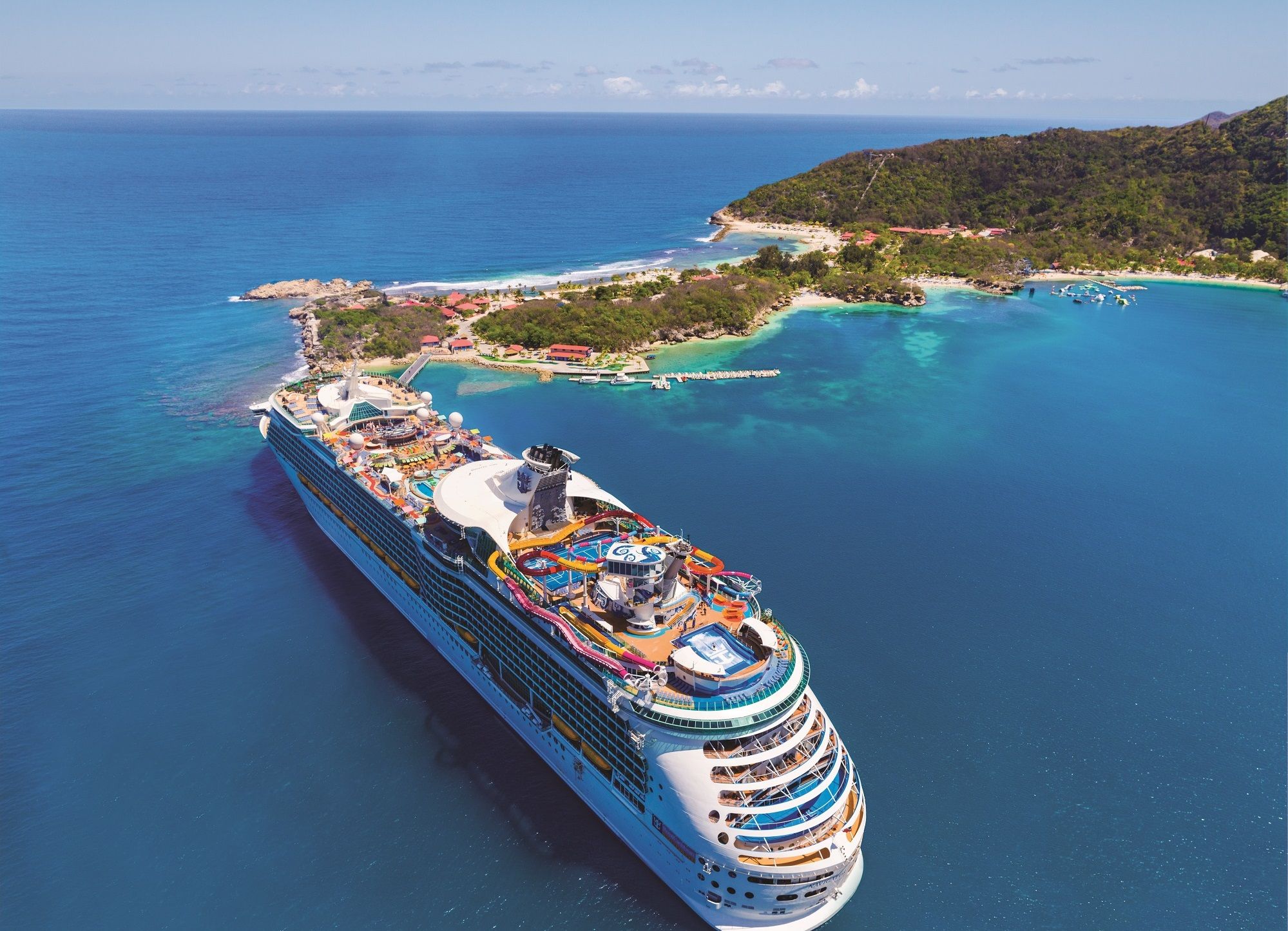 When we received our confirmation a short time later, we were assigned cabin 9372. This category 4B room is labeled as a Spacious Ocean View Balcony. It was located aft on the starboard side of the ship. In fact, it was extremely aft. This did not bother us at all though, as we never felt any additional ship movements in this location.
According to the online deck plans, this room has a total square footage of 202 square feet. The balcony itself is listed has having a total area of 42 square feet.
Related Post: Navigator of the Seas Bahamas Cruise Review
A Typical Layout
This stateroom had a very typical setup for Royal Caribbean to which we have grown accustomed. It was apparent that during the ship's amplification that staterooms received some updated fixtures and accessories. The rugs looked brand new as did the love seat which doubled as a bed.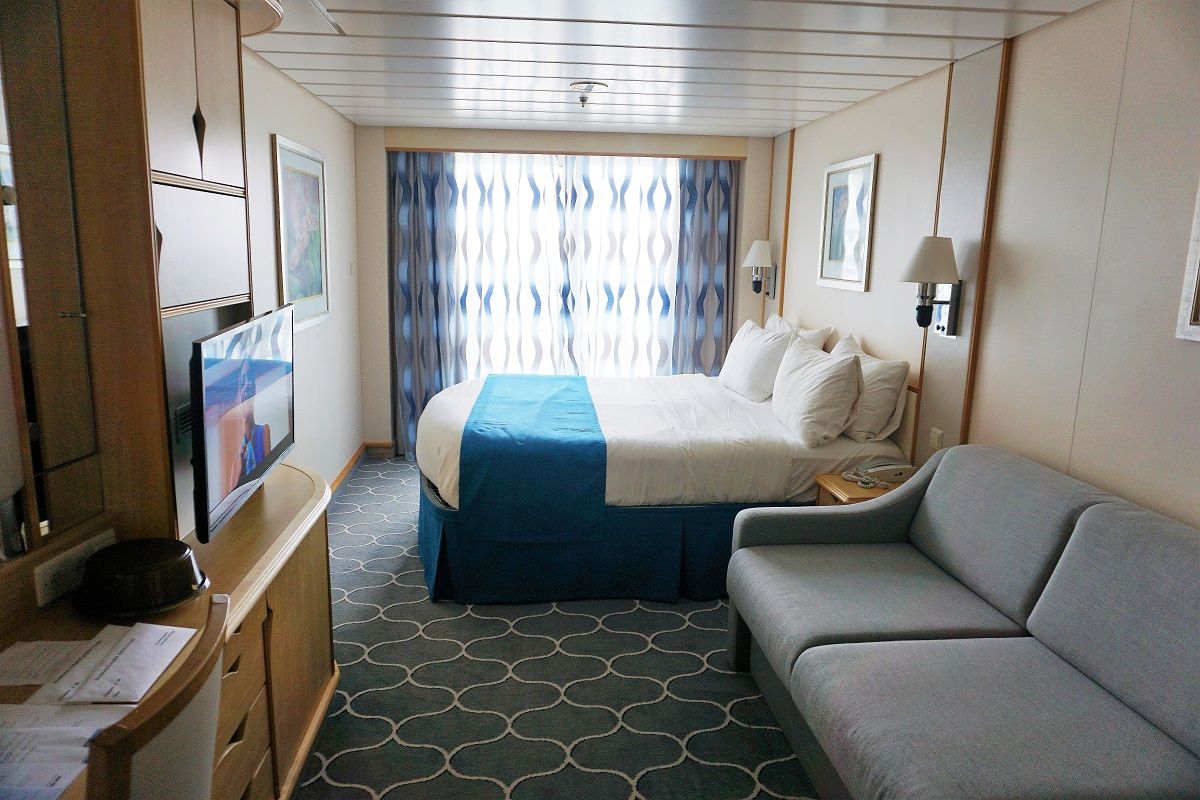 Overall, for a ship that is over 17 years old, the spacious ocean view balcony cabin looked fresh and modestly updated.
Upon entering the room, our bathroom was to the right. As far as cabin bathrooms, this was a standard setup. It did not look like much was changed or updated to this part of the room during the amplification process. There was a cylinder-shaped shower with a sliding door and a strategically designed sink and toilet area.
The closet was located across from the bathroom. For three days, it was large enough to hold all our clothes between the hangers and several shelves off to one side. Again, this was a pretty average closet set-up.
Beyond the bathroom and closet was a sitting area with a love seat. This space often becomes our storage area during the cruise. We did also use magnetic hooks to hang things like beach bags and hats on the wall over the couch for extra storage and convenience.
Plenty of Storage Space
In front of the couch was the usual desk with a large mirror and plenty of cabinet space. The desk is always multi-purpose for us. We use it as a charging area, blogging station, and a spot for the Princess to get ready.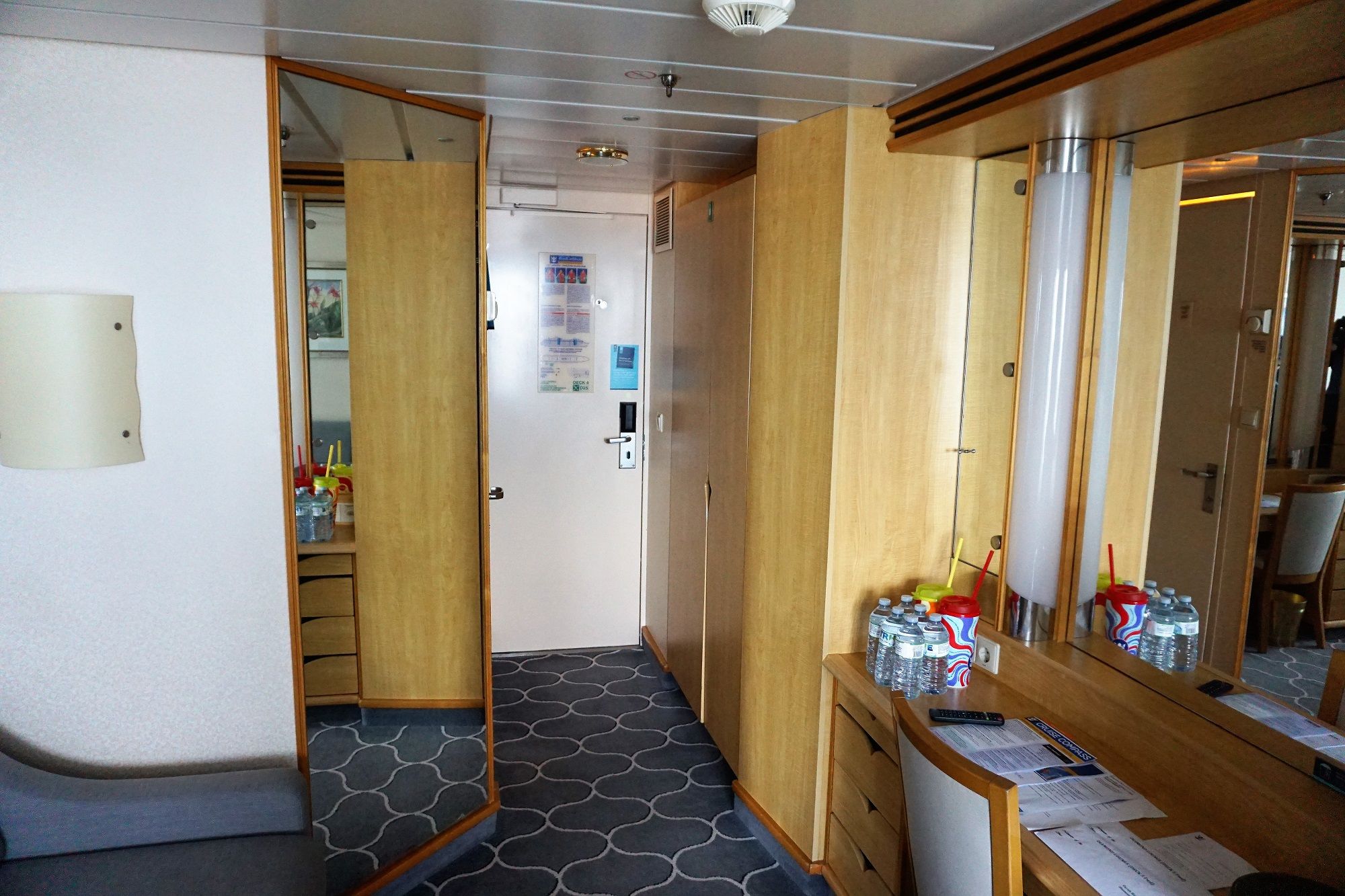 Off to the side of the desk was a small flat screen television. You can position the TV mount so that it is viewable from either the bed or the couch. Below the television, there is also a small refrigerator that we used to keep our bottles of water cold.
The bed in this cabin category was located directly in front of the balcony door. We are not all that picky when it comes to the bedding, but it did provide adequate comfort during the cruise. After the long days and nights on Navigator of the Seas, we had no trouble falling asleep!
As for the balcony, we did not spend much time out there on this short cruise. However, it was a decent size to enjoy some morning air while sipping coffee and taking photos of our arrival into CocoCay.
Related Post: Our Honest Review of Perfect Day at CocoCay
Recap of Navigator of the Seas Spacious Ocean View Balcony Review
While the cabin is considered "spacious", we did not notice any appreciable difference in the size of this cabin when compared to other Royal Caribbean balcony cabins. Though, we felt the room was an adequate size for a couple.
The room layout was manageable with enough storage available. However, it would have been nice to see some new upgrades to the rooms like additional outlets and USB ports, especially by the bed.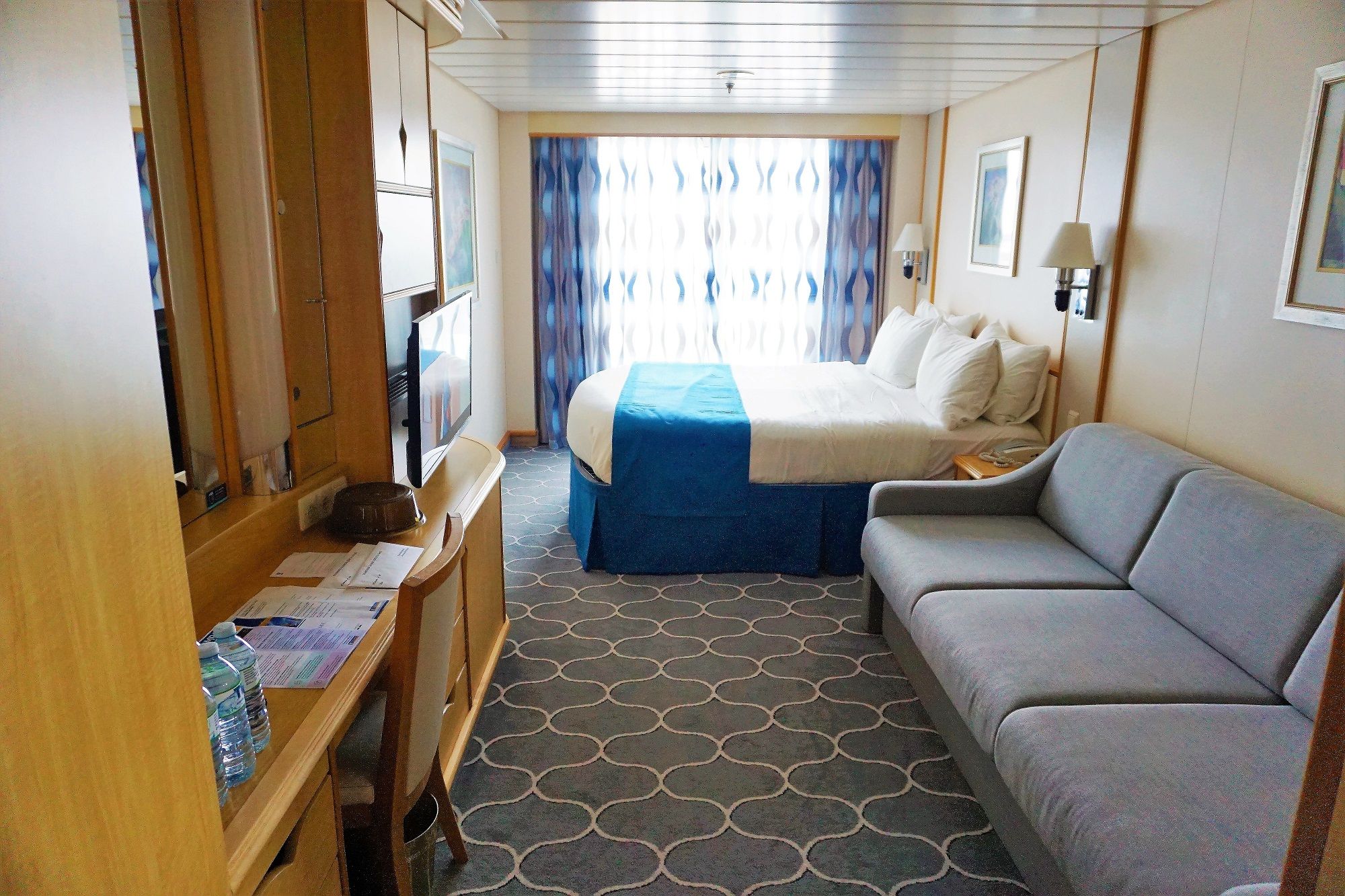 Having sailed in a variety of Royal Caribbean cabin categories from inside rooms to junior suites, we were more than satisfied with this room. Booking the guaranteed rate was a good deal as we ended up with an ideal room and location only 2 decks away from the pool and the Lime and Coconut Bar.
Comments
Have you stayed in a Spacious Ocean View Balcony on Navigator of the Seas? What is your favorite cabin category on a Royal Caribbean ship? Drop us an anchor below with your review of this stateroom category.