Celebrity Cruises' newest and most innovative ship is now sailing its inaugural season in the Caribbean. As the largest ship in the fleet, Celebrity Edge offers cruisers plenty of things to do, see, and eat as well as many firsts at sea. Our list of the Top Things to Do on Celebrity Edge is the perfect place to start planning your vacation. Have you booked your cruise yet?

Top Things to Do on Celebrity Edge
Enjoy the Luxury Resort Feel
Celebrity Edge offers a new take on modern luxury with its revamped pool deck. The Resort Deck offers a luxury 5-star hotel feel with trendy decor, wide open spaces, a large pool, and plenty of lounge chairs to accommodate the sun-worshipers among us. The nearby Prism Bar and plentiful bar servers will keep you hydrated while you enjoy your time outdoors. The resort deck might just be the most photographed pool deck of any cruise ship, so don't forget to take your butterfly selfie! If you'd prefer to lounge poolside away from the sun and crowds, the upscale adults only Solarium offers a bit more tranquil escape with a pool and two hot tubs of its own.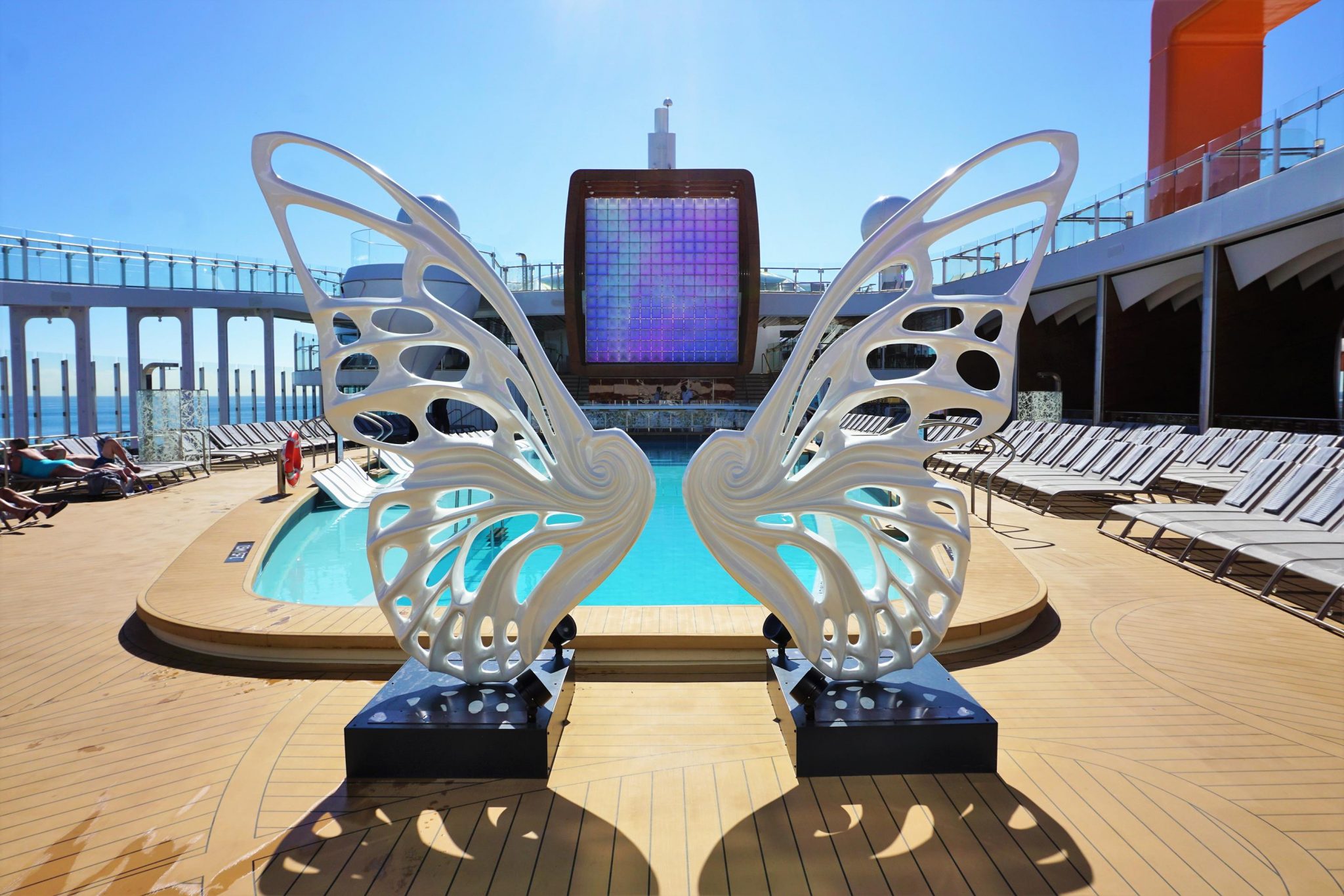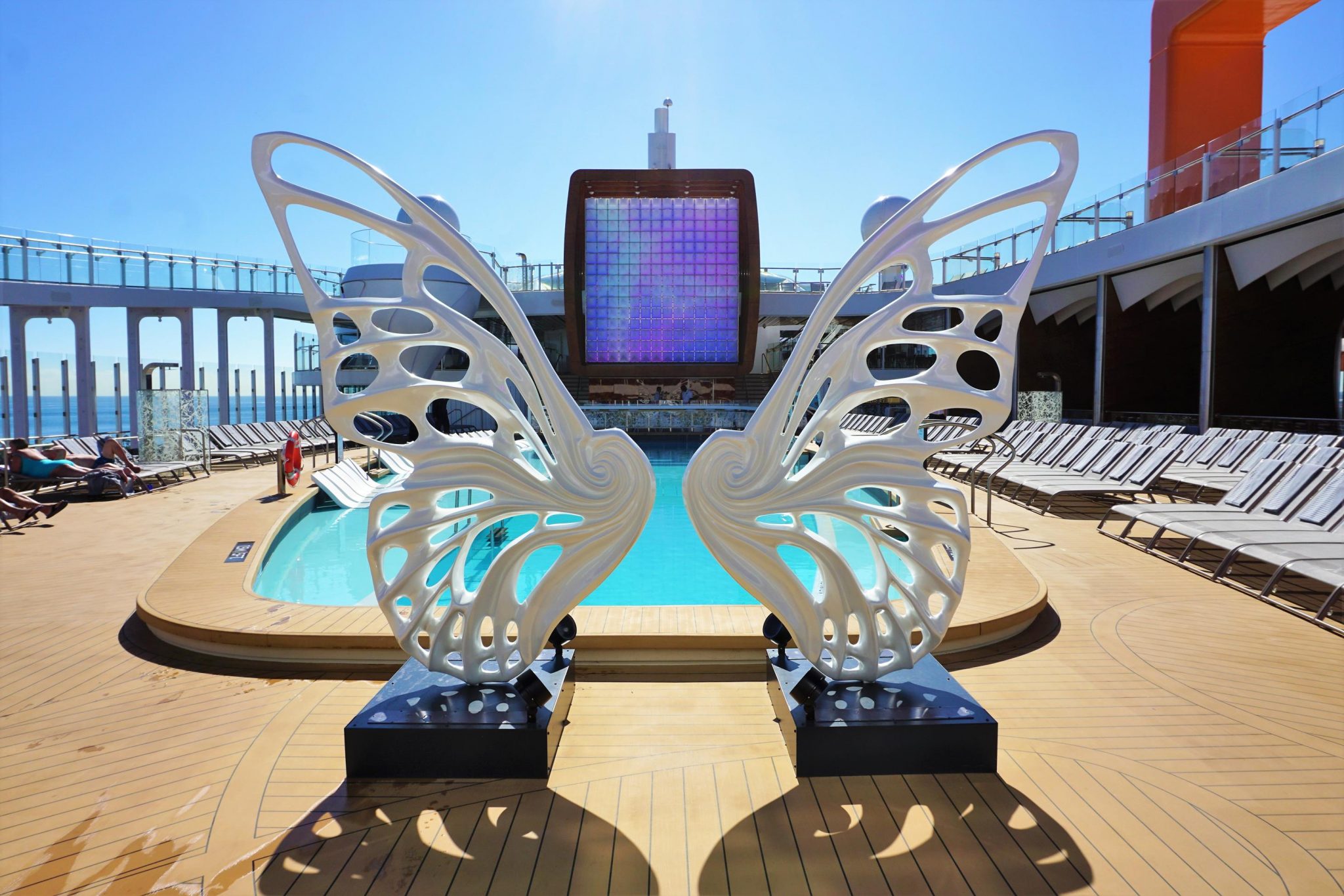 Take Advantage of Celebrity Select Dining Plus
Celebrity Edge ushered in a new era of complimentary dining with the inception of 4 main dining rooms. These unique venues offer your traditional main dining room experience with a bit of a twist. Each restaurant has its own style, decor, and exclusive menu options. While most of the menu is the same among the 4 dining rooms, each has items inspired by its heritage, with Cyrus offering Greek dishes, Tuscan offering Italian fare, Normandie with French influences, and Cosmopolitan serving up American classics.
The Celebrity Select Dining Plus option is a take on My Time Dining or Freestyle Dining allowing you to experience all of these venues on a flexible schedule. You are able to choose which restaurant and at what time you want to dine. Of note, traditional early and late dining is still available, and you will be assigned to one of the dining rooms with this option.
Experience the Many Faces of Eden
New to Celebrity Cruises is Eden, a 3-story multiple purpose venue that transforms throughout the day. In the morning, Eden offers a quiet space and comfy furniture to relax and enjoy the panoramic views. You can grab a bit to eat at the Eden Cafe or challenge your mind with some tabletop wooden puzzles. As the afternoon rolls around, you can grab some lunch from the Eden Cafe, enjoy some live music, or partake in various activities like trivia or adult coloring.
As evening falls, Eden transforms into an enchanting space designed to excite your senses. From the craft cocktails at the Eden Bar, to the experimental tasting menu at the Eden Restaurant (up-charges apply for this specialty restaurant), and the tantalizing performance art, you truly have to experience eve at Eden for yourself.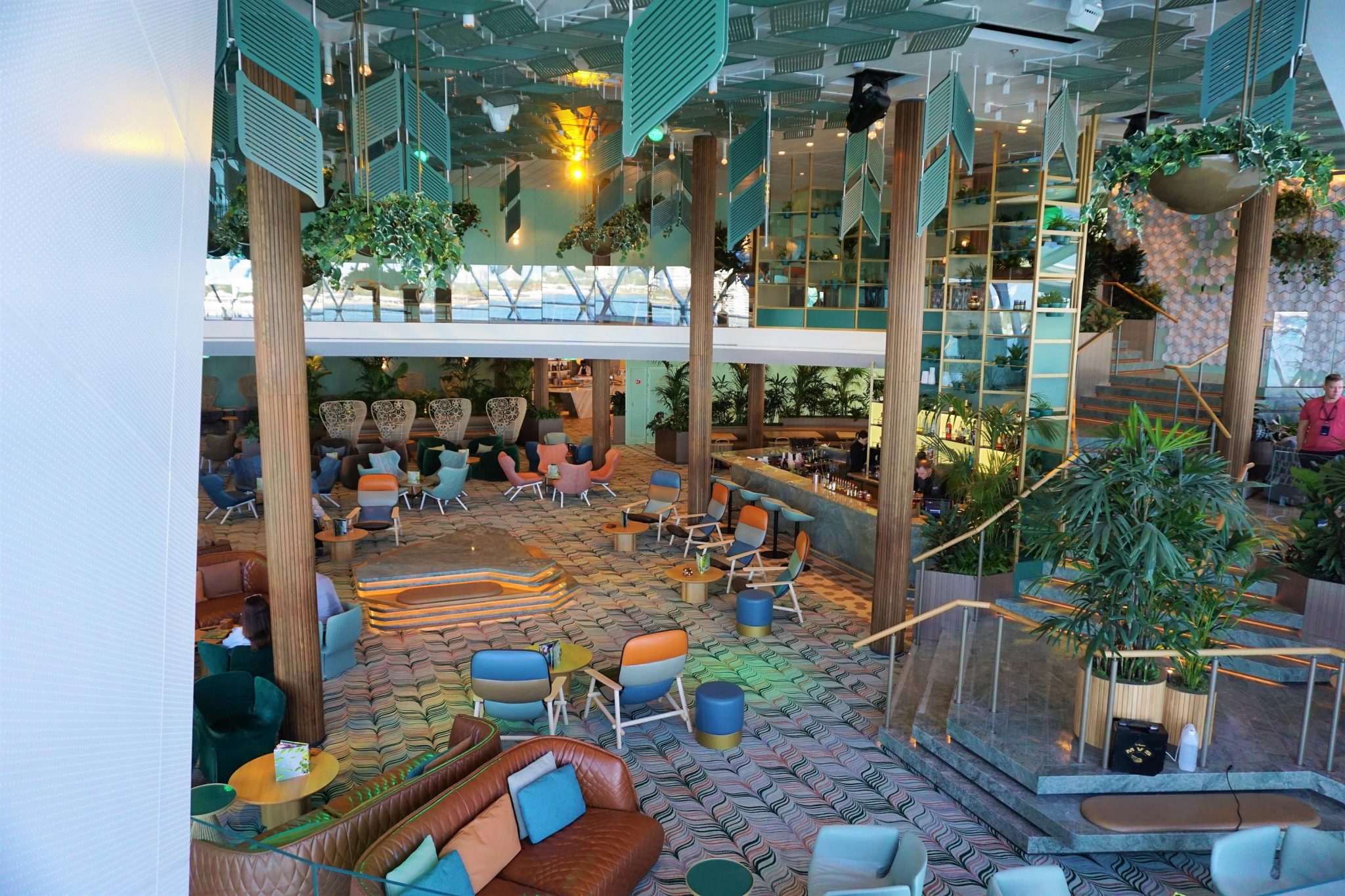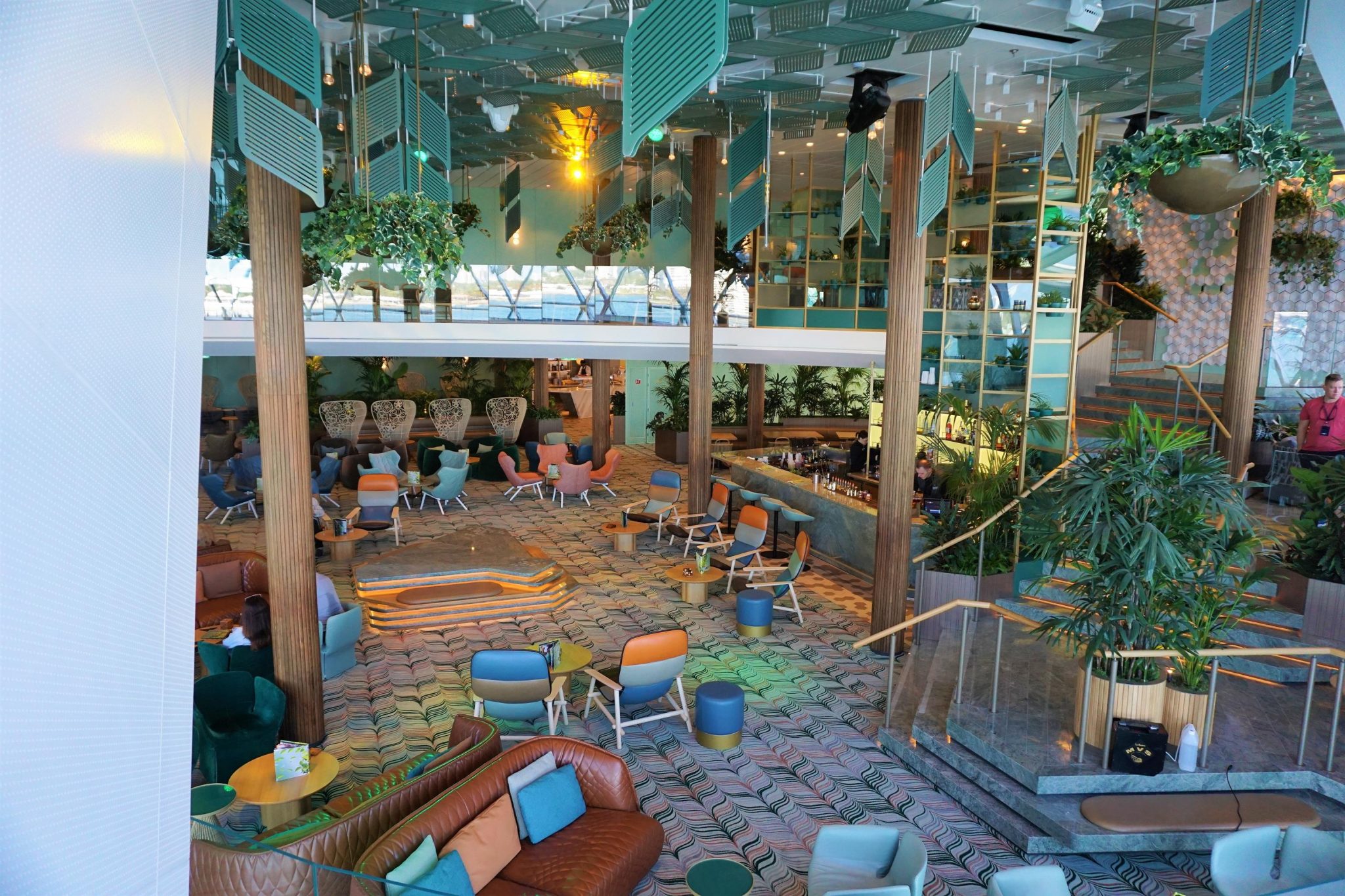 Get Competitive in the Rooftop Garden
Another unique space, and one of our favorites, on Celebrity Edge is the Rooftop Garden. This casual outdoor area offers a retreat from the pool deck complete with tree-like art installations, comfy lounge furniture, live plants, and some over-sized garden games. Fun for "kids" of all ages, these games are a great way to break up the afternoon. From corn hole, Connect Four, Giant Jenga, ladder ball, and more, you are sure to let out your competitive side. Even if you don't want to play, these garden games become a great spectator sport as well. Our epic Jenga challenge turned into a 45-minute nail-biting experience that drew quite the crowd to watch our tipsy tower.
Take in a Sunset View
The aptly named Sunset Bar is a cruiser favorite on Celebrity Cruises. This aft-located venue on deck 15 of Celebrity Edge is a great place to grab a drink, socialize with friends, and of course catch a sunset. The Sunset Bar also offers a signature cocktail menu and great wake views to enjoy all day long.
The nearby Rooftop Garden is another great place to take in a sunset view. Whether you are just relaxing in this outdoor space or perhaps dining at the al fresco specialty restaurant, Rooftop Garden Grill, you are in for a real treat when the sun goes down. You will certainly want to bring your camera and perhaps a light jacket as it can get pretty windy and chilly up here.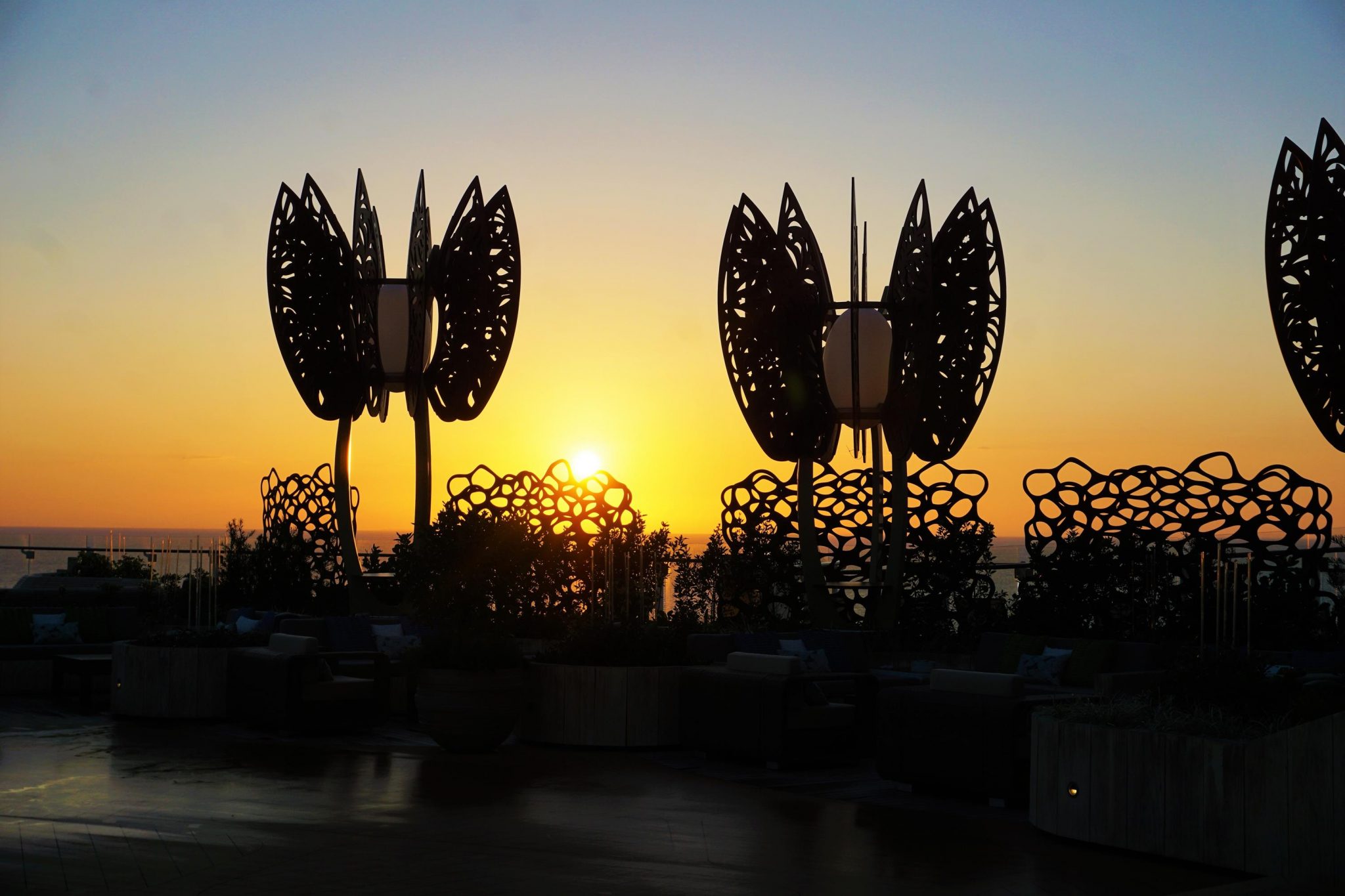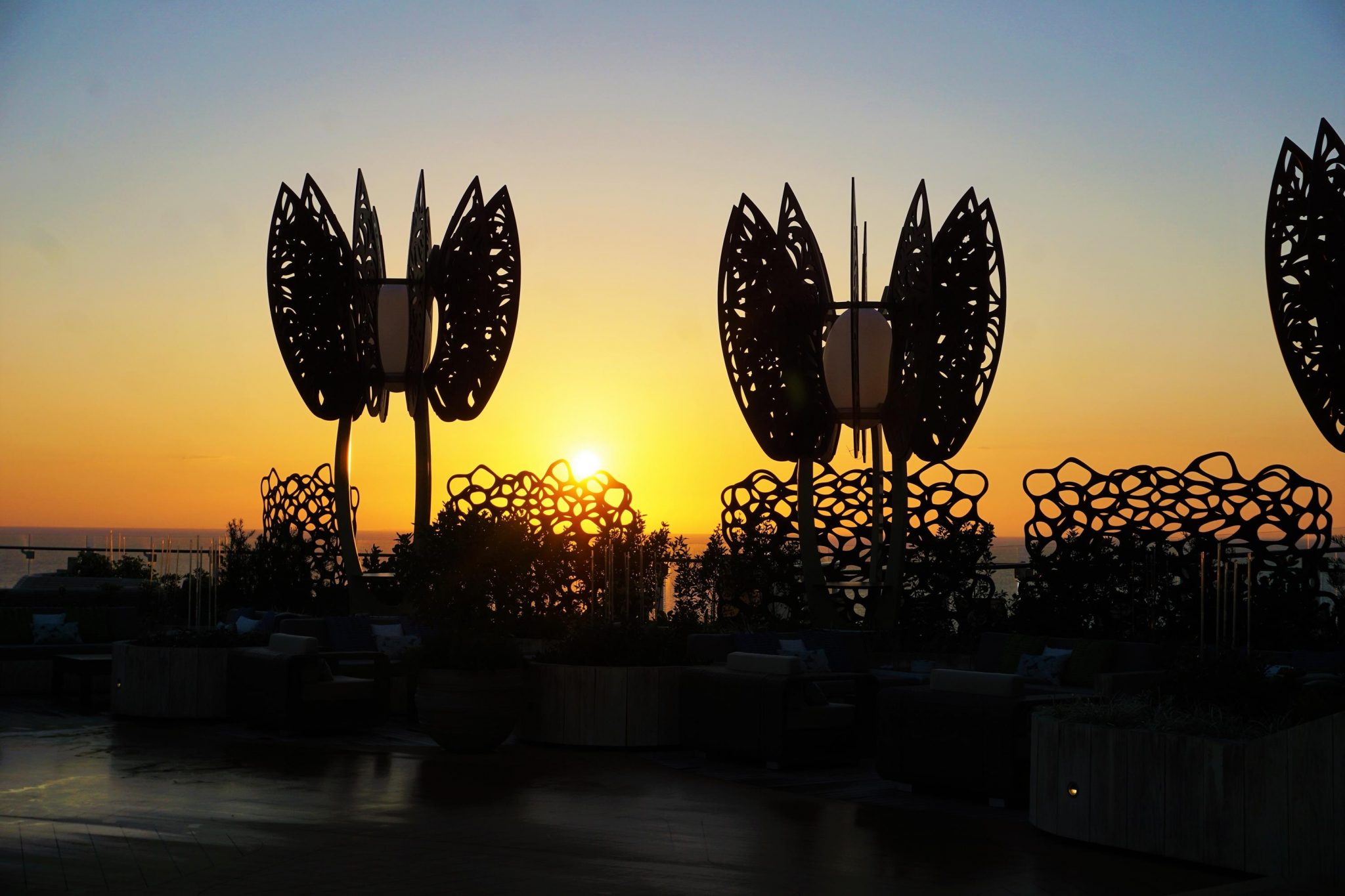 Join in on the Fun at The Club
The Club is another multi-purpose venue that debuted on Celebrity Edge. This 2-story space hosts a variety of activities day and night and also has its own bar with a specialty cocktail menu. During the day, The Club has open play times where you can take advantage of board games and XBox at your leisure. There are also organized activities that are fun for every age group like the Laser Maze and archery. There is even a table top escape room experience, where you and a team can test your wits, solve puzzles, and be the first to unlock the box to claim your prize.
In the evenings, The Club hosts a variety of family-fun game shows like Family Feud, Yes or No, and Caption That to name a few. There is also a talk show experience called Live at The Club that is likened to the Tonight Show. Here, the cruise director will interview "guests" along with some comedic banter and friendly competition. Of course, there is also live music featuring the popular band Impulse, the Silent Disco, and the late night dance club with a DJ spinning top hits occurring in this popular venue.


Spend an Evening at the Martini Bar
If you want to enjoy a few adult beverages but not miss out on any of the action, then the Martini Bar should be your go-to hangout spot. This larger than life bar located on deck 3 is the centerpiece of the Grand Plaza. With more muted tones and an upscale feel, the Martini Bar on Celebrity Edge is unlike those found on the Solstice-class ships. While it does offer a large signature martini menu and nightly live music, it is a bit more subdued. There is also a grand art installation above the bar that is a show itself. We found ourselves spending many evenings at the Martini Bar as the cocktails were quite tasty!
Related Post: Celebrity Edge Bar Guide
Be Entertained
Celebrity Edge breaks the mold for main theater entertainment on Celebrity Cruises. With an innovative and immersive round stage design, there is not a bad seat in the house. This unique stage set-up allows for a more up close and interactive experience with the performers. The main theater also boasts high definition digital screens as the backdrop that enhances the theatrical performances. Celebrity Edge debuts 3 all new production shows including Kaleidoscope, The Jewelry Box, and A Hot Summer Night's Dream. While the shows might still lag behind competitor lines, they are certainly a step above the line's other production shows. Celebrity Edge also hosts 2 resident headliner's in the main theater. The shows, The Purpose and Hype, star a talented musician in a concert-like performance.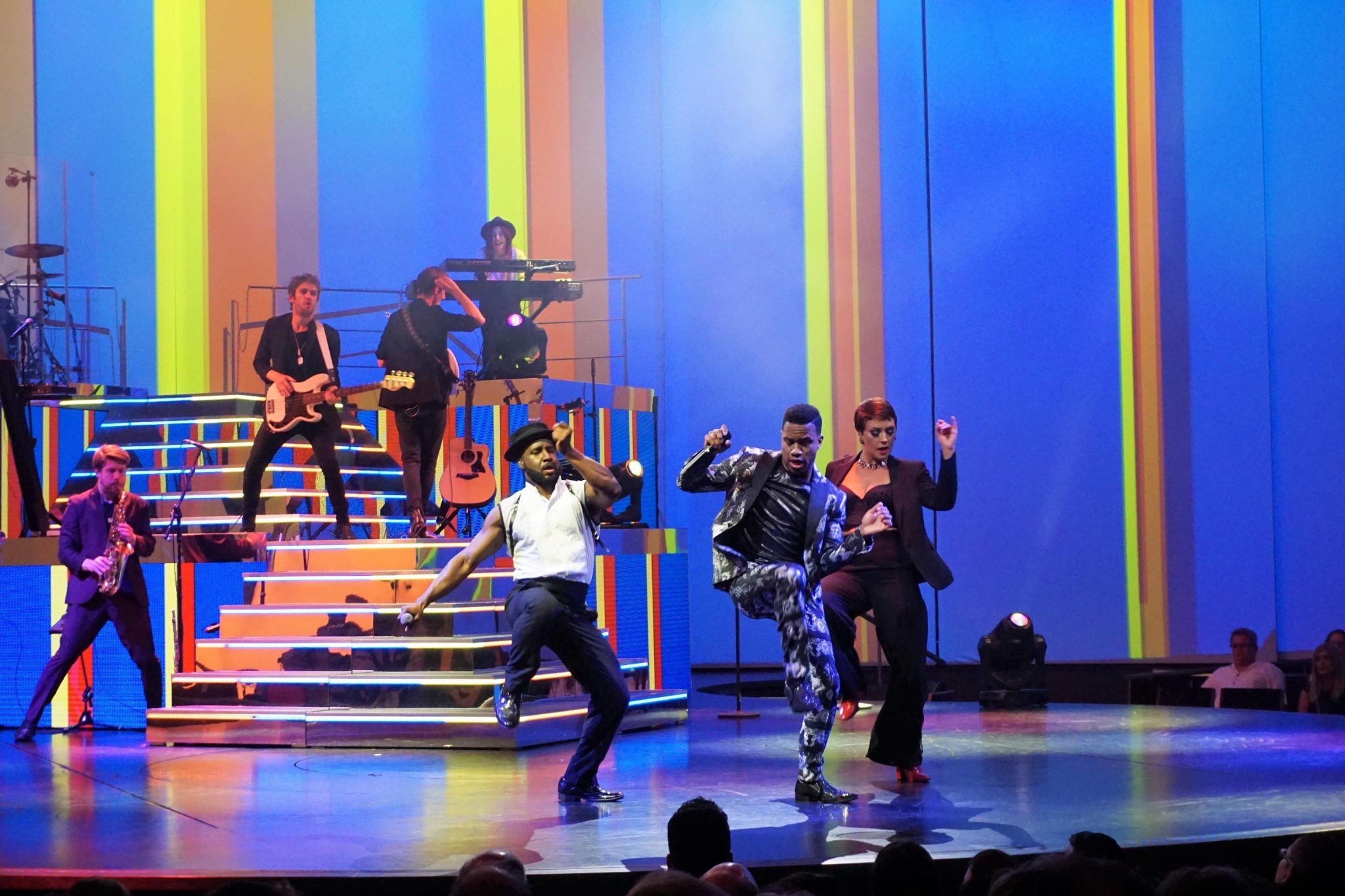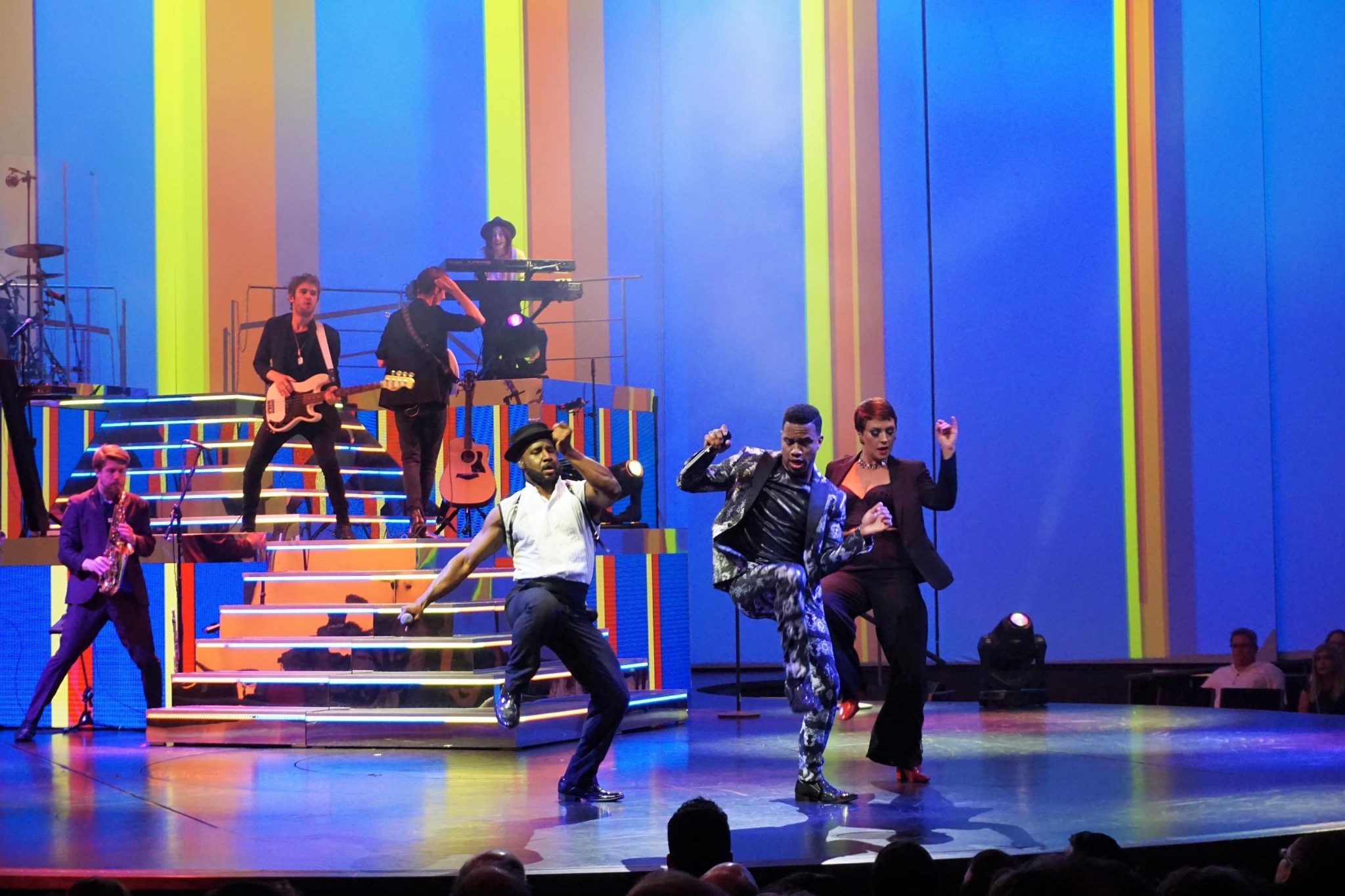 Indulge in an Upscale Dining Experience
Celebrity Cruises is known for having outstanding main dining room food among cruisers, but don't forget about all the new specialty restaurants on Celebrity Edge. This ship offers the upscale Fine Cut Steakhouse, the experimental tasting menu at the Eden Restaurant, the French-inspired Le Grand Bistro, the seafood haven Raw on 5, and BBQ favorites at the Rooftop Garden Grill. Not to mention, there is an interactive dinner experience Le Petit Chef (see below) and an exclusive Dinner on the Edge experience that occurs on only one night the cruise.
The food and service exceeded our expectations at many of these specialty restaurants. Depending on your tastes and your budget, you may want to try one or all of these great menus. Other restaurants include Blu which is reserved for Aqua class guests and Luminae exclusively reserved for suite guests.
Related Post: Celebrity Edge Restaurant Guide with Menus
Get Imaginative
At night, Le Grand Bistro turns into Le Petit Chef and Friends, a digitally enhanced dinner experience which includes a four-course meal and a "show". Technology and story-telling combine as 4 mini-chefs compete in a cooking competition right before your eyes. The table and your plate act as the backdrop for this one of a kind dinner show.
Who will win the competition Maria from Spain with her marinated tomato salad, Luciano from Italy with his truffled five cheese ravioli, the Petit Chef himself with his rendition of Steak Frites or Japan's Green Tea Matcha Cake? The impeccable timing and the delicious food make this a must-try specialty restaurant on Celebrity Edge.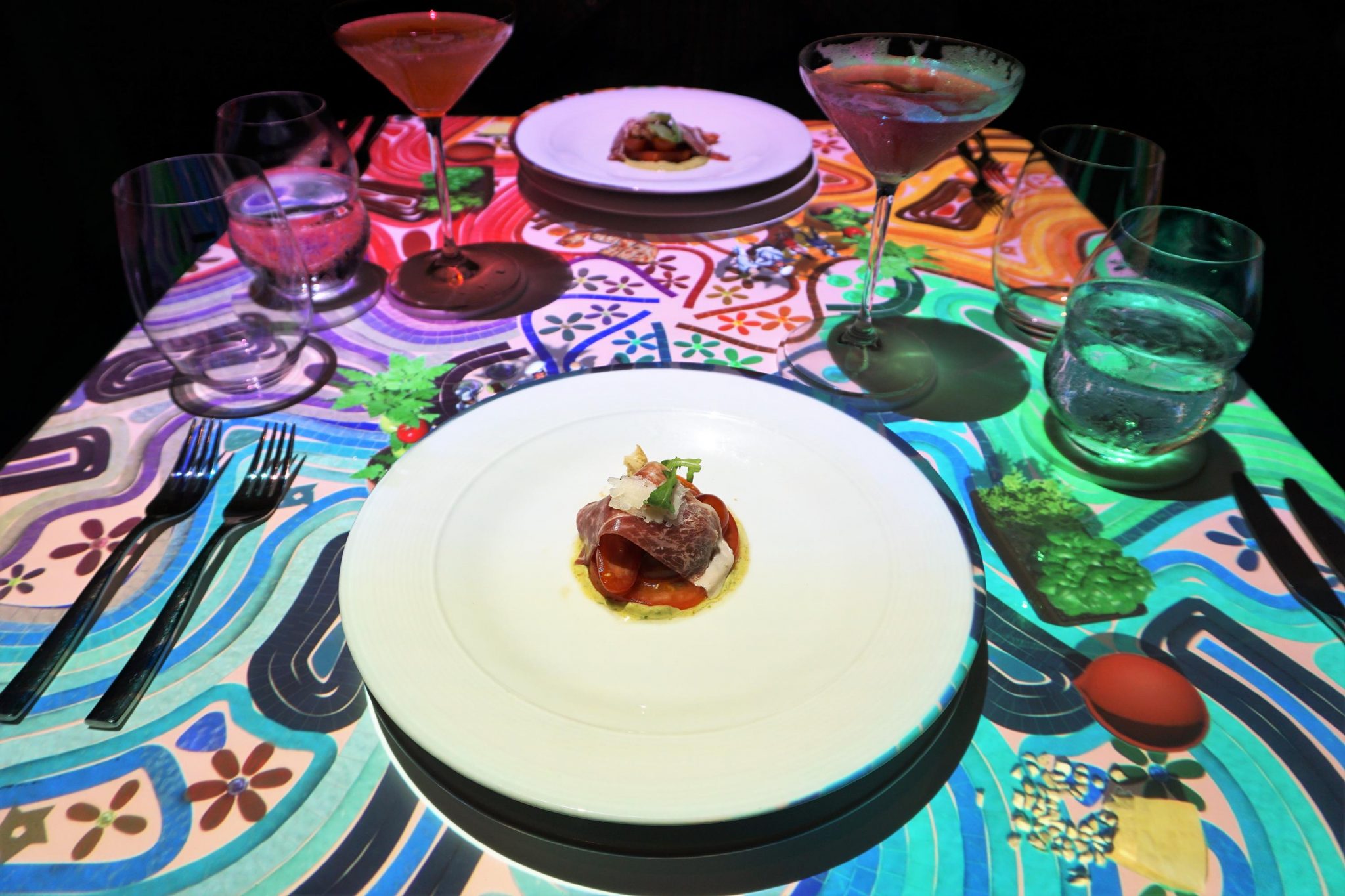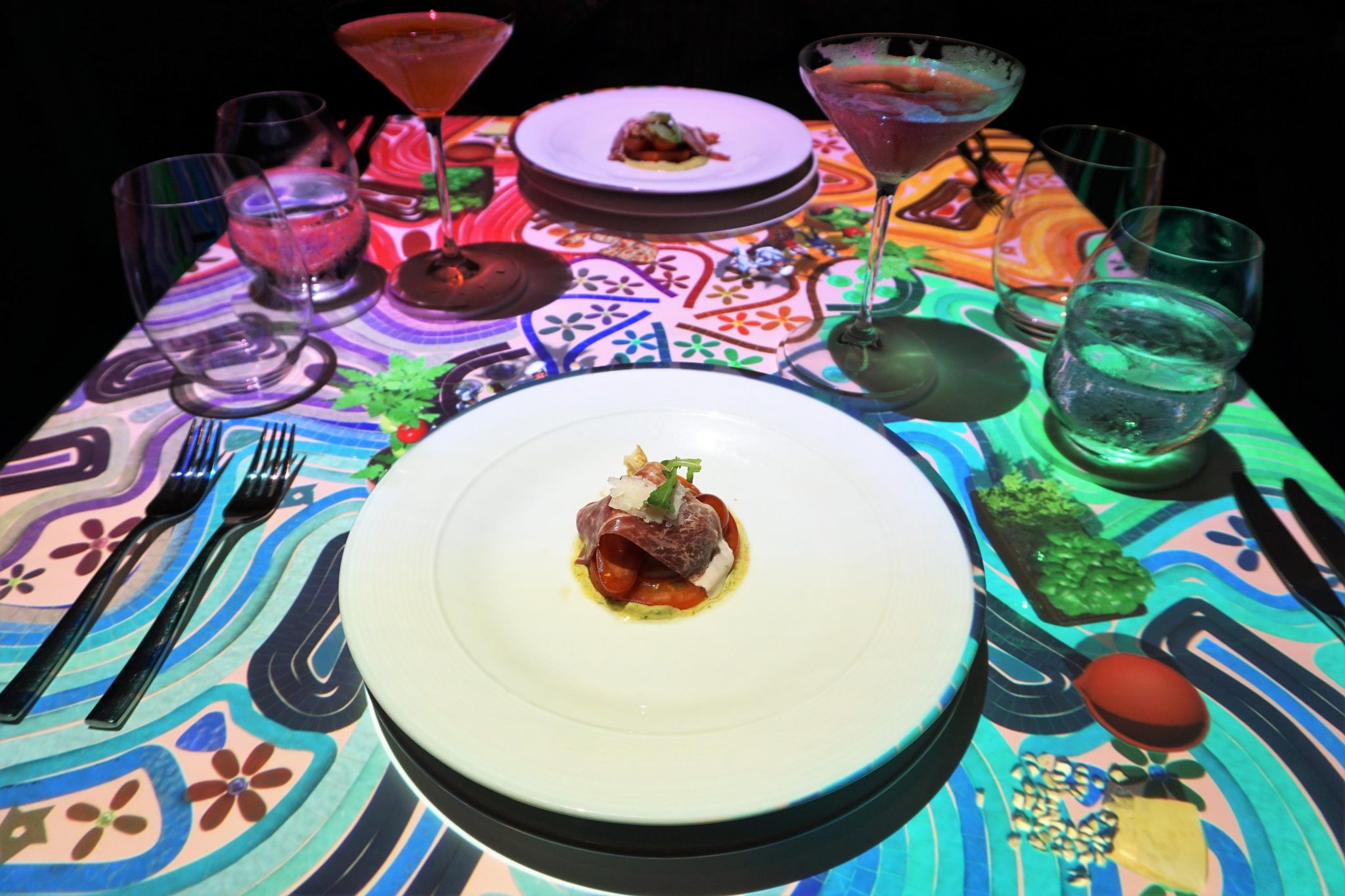 Discover a New Fantastic Point of View
Perhaps one of the most talked about features on Celebrity Edge is the Magic Carpet. This cantilevered floating platform is a first of its kind at sea and certainly can't be missed with its unique design and eye-catching orange color. This transformative space serves as a bar while docked on decks 14 and 16, an extension of Raw on 5 while docked on deck 5, and an extension of the Destination Gateway for an enhanced tender experience while on deck 2.
Offering its own food and drink menu while docked on deck 5 and a luxurious Dinner on the Edge experience (deck 16) on one evening of the cruise, the Magic Carpet is a destination itself. It also offers uninhibited views of the ocean and your ports of call. You will certainly want to visit this one of a kind venue to discover a "new fantastic point of view".
Spend an Evening Outdoors
While you will probably spend much of your days onboard Celebrity Edge outside, you will also want to make a point to spend at least one evening outdoors. This ship might offer one of the prettiest nighttime glows. From the colorful Resort Deck and martini-shaped hot tubs begging you to take an evening dip to the glow of the Rooftop Garden after dark, you will certainly want to explore for yourself. There is no shortage of activities either as there are frequently movies under the stars shown on the big screen in the Rooftop Garden and the Nocturnal Party occurring one evening on the pool deck. Be sure to bring your white attire for this nighttime bash.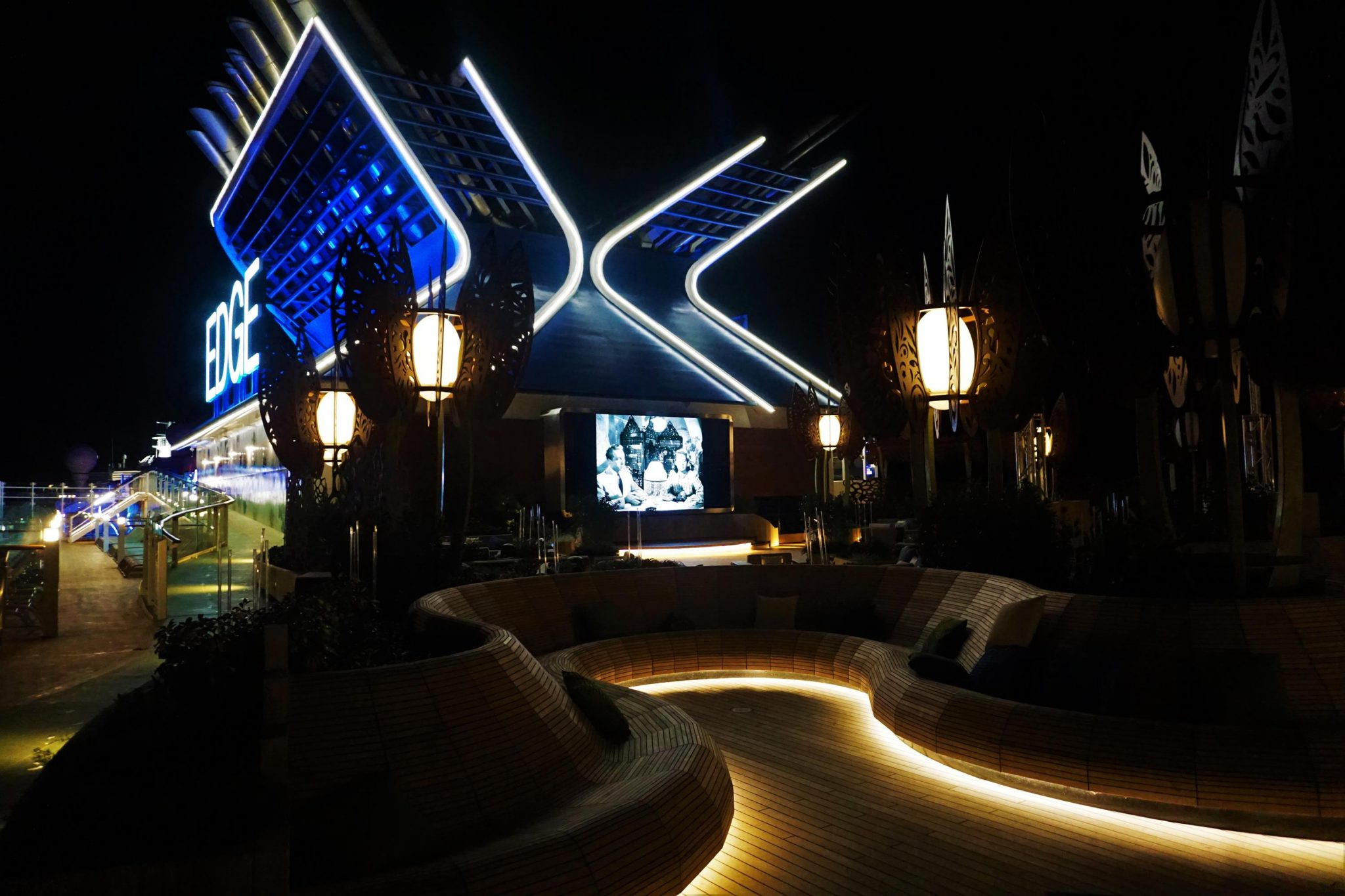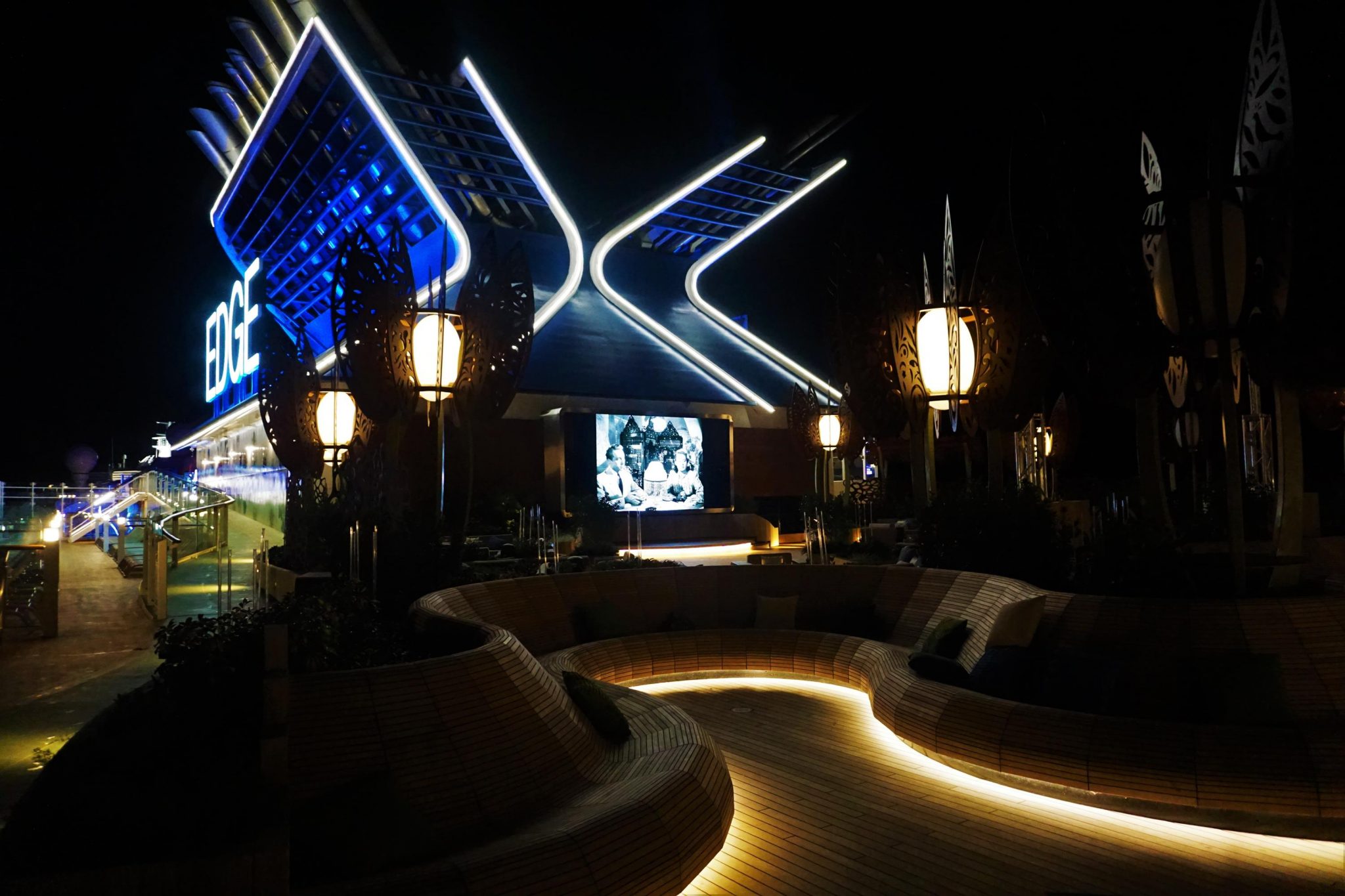 Test Out the New Accommodations
The Celebrity Edge staterooms are some of the most luxurious in the fleet. With technological enhancements that allow you to control the temperature in the room, the television, and the lighting all from the app on your smartphone, you won't ever have to leave the comforts of your bed.
Along with a more stylish and sleek design, Celebrity Edge ushers in some brand new classes of staterooms as well, including the Infinite Veranda cabins offering a seamless transition from the stateroom to the "balcony" space. While we give the cruise line credit for trying something new and different, we do still prefer a traditional balcony. Other new suite classes include the two-story Edge Villas and Iconic Suites all with access to the exclusive outdoor area, the Retreat. Are you ready to test out some new accommodations during your cruise on Celebrity Edge?
Take Some Time to Relax
Oh wait, this is a vacation right? Be sure to take some time to relax while on your Celebrity Edge cruise. Whether you choose to visit the Spa for a massage or salon service or test out the new SEA Thermal Suite, you will certainly leave feeling more rejuvenated.
The SEA Thermal Suite on Celebrity Edge upgrades the line's Persian Garden to offer 8 distinct spaces including a Rainfall Water Therapy Room, a Salt Room, an Infrared Sauna, the Float Room, and heated loungers. Access to the thermal suite is included with Aqua Class staterooms or a limited number of passes can be purchased by guests not staying in this cabin category. We had the chance to experience the SEA Thermal Suite for the day and highly recommend it.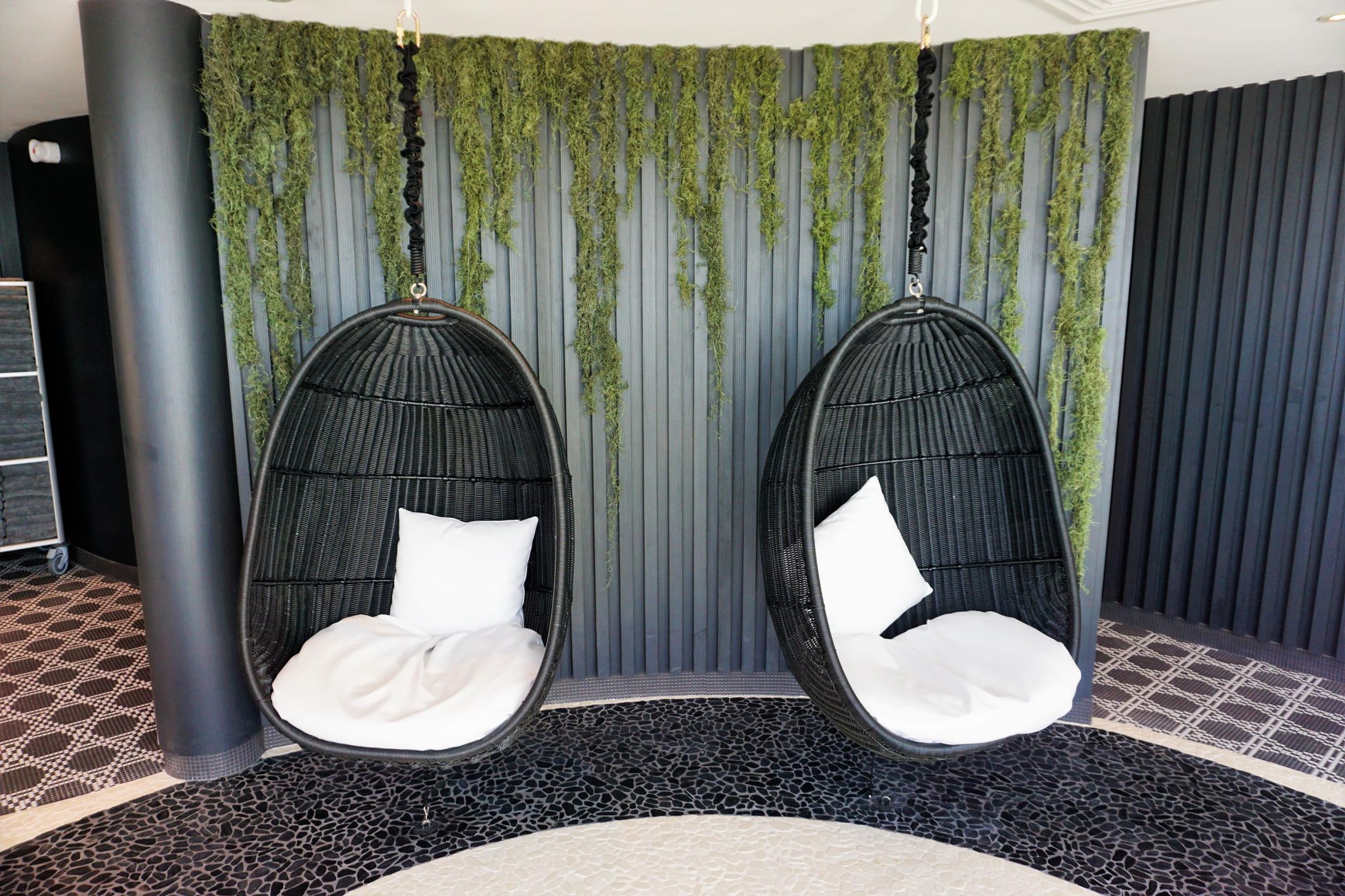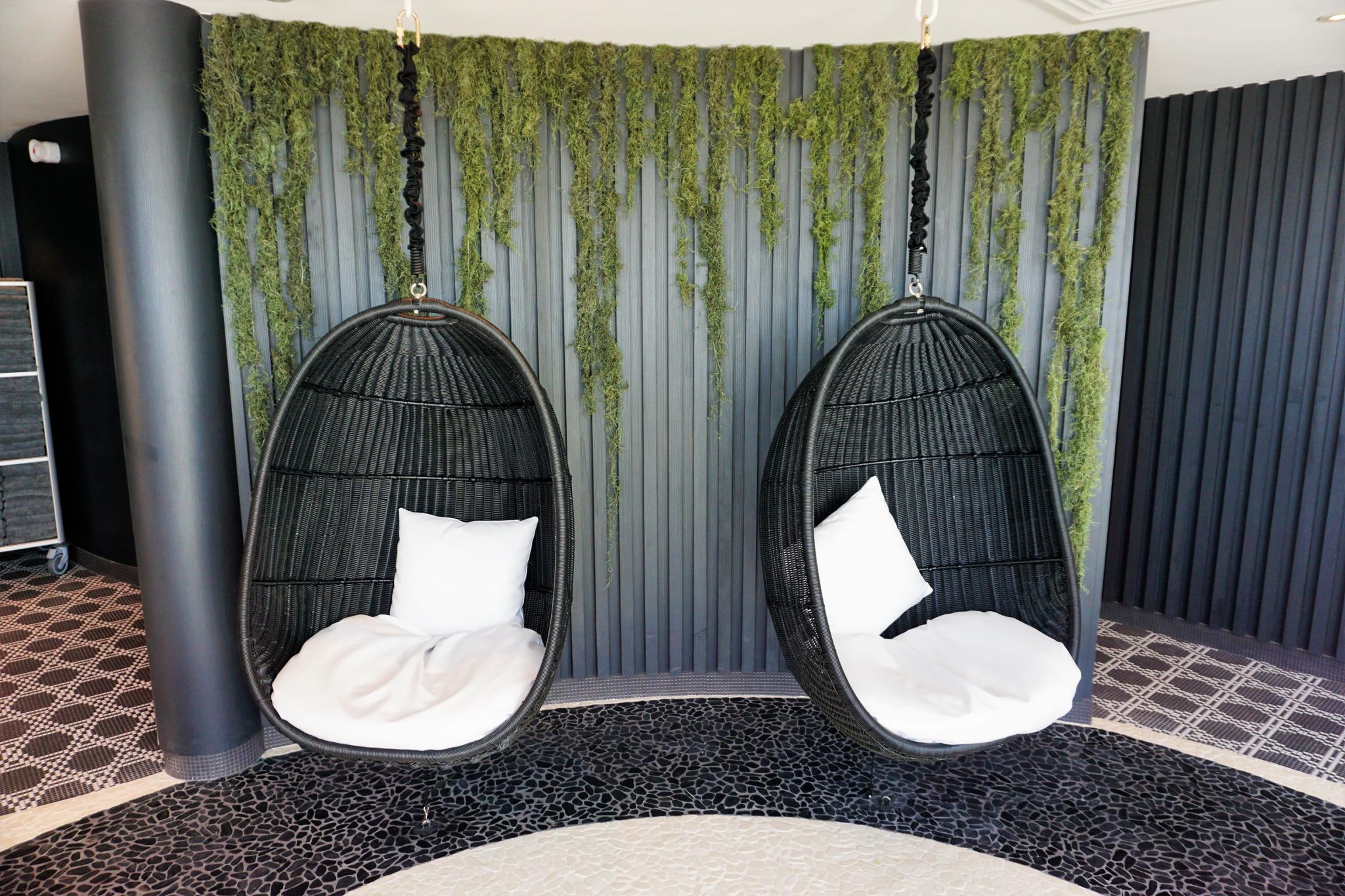 Explore Your Ports of Call
While Celebrity Edge is a destination all of its own, don't forget to get out and explore your ports of call. Celebrity Edge currently offers a Western Caribbean itinerary visiting Grand Cayman, Key West, Cozumel, and Costa Maya, Mexico. It also offers an Eastern Caribbean itinerary visiting Tortola, St. Maarten, and San Juan, Puerto Rico. In April 2019, the ship will begin its transatlantic to spend the summer sailing a variety of itineraries in Europe but will return to sail the winter season in the Caribbean again. With so many great destinations to explore, you will want to find the right balance of ship time and island time.

Comments
Have you sailed on Celebrity Edge yet? Do you agree with our list of the top things to do on this new vessel? Drop us an anchor below to tell us your favorite things to do on this latest ship in the Celebrity Cruises' fleet.