After a year of planning our cruise on Symphony of the Seas, the seven-night Western Caribbean cruise has already come and gone. Exploring the world's largest cruise ship for a full week, we got to know this mega ship rather well. If you have plans to cruise on this record-breaking ship, be one of the most informed passengers with our Top 35 Symphony of the Seas Tips.

Top 35 Symphony of the Seas Tips
Before Boarding the Ship
Do The Pre-Cruise Check In Online – You have up until 3 days before your departure to do the pre-cruise check-in online. It takes less than 10 minutes, and you can do it from the comfort of your home. Trust us, it will save you time once you arrive at the port. Embarkation day will be a breeze.
Prepay Your Gratuities – During the cruise, there is a daily service charge of approx. $14 a day, per person. You have the option to pay that ahead of time. We recommend you budget that into your cruise fare and pay before you board. You can always provide the hard-working staff with additional gratuities once onboard the ship.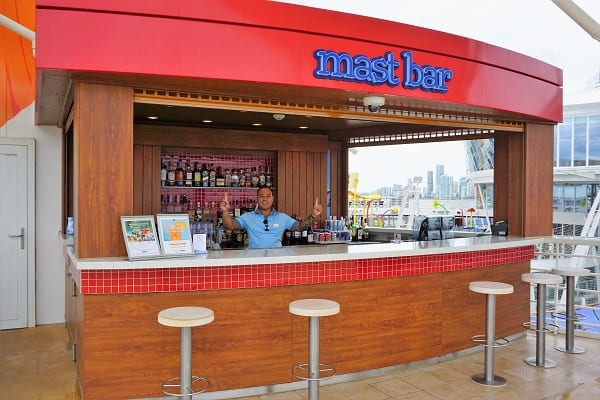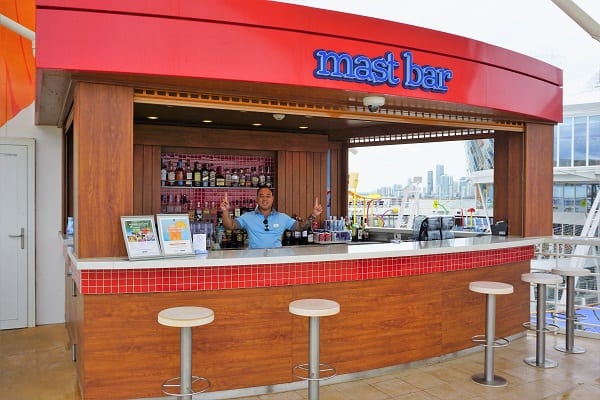 Make Entertainment Reservations – Approximately 90 days prior to your cruise, entertainment will become available to book in the Cruise Planner. All signature entertainment, including the Aqua Theater show, Main Theater shows, ice show, and comedy show, require reservations. You didn't book your shows prior to the cruise (air gasp)? Then, you need to find out availability as soon as you board the ship. At this point, time slots will be limited or you might have to go stand-by.
Pack Accordingly – This is a Caribbean cruise, so of course bathing suits, flip flops, and t-shirts apply. You should also pack resort casual clothing for dinner. We recommend taking an outfit for the Formal Nights if you like to dress up. Don't forget any other outfits that you need for shore excursions or other activities (like closed-toe shoes).
Related Post: Top 6 Reasons You Should Consider Dressing Up for Formal Night
Bring a Full Stocked Carry-On Bag – Before getting to the port, ensure all of your necessary documents and other essentials are packed in a bag that you will be carrying onboard the ship. You will need your passport, cruise contract (or smartphone with the App), medications, as well as other things like sunglasses, suntan lotion, and perhaps your bathing suit.
Give Yourself Adequate Time to Get to the Terminal – The new Royal Caribbean Terminal A in Miami, FL is beautiful. It is also perfectly set up to process guests. Although, it is the furthest away from the highway and cruise port exit. On most days, there will be several ships in port, which means traffic. Account for this extra time when heading to the terminal.
Get to the Terminal Before Your "Assigned Time" – When you check-in before the trip, Royal Caribbean assigns you a time. Ignore it. One of our little Symphony of the Seas tips is to get to the Terminal early. The doors usually open around 10 am to begin processing guests.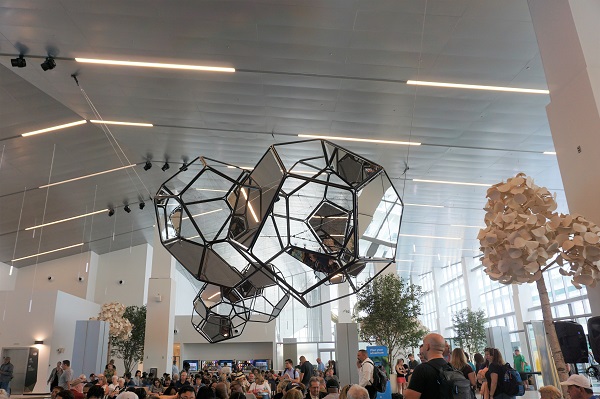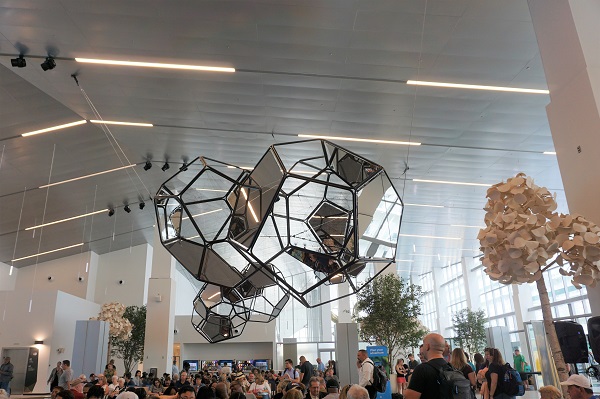 Utilize the Porters for Your Larger Bags – We admit to being over-packers, but we are amazed at how many individuals lug their larger bags onto the ship with them on embarkation day. Leave the larger items with the dockside porters. Yes, your luggage will be fine and will make it to your room before dinner time.
Download the Royal Caribbean App – If you followed our Symphony of the Seas planning advice, you would have completed the pre-cruise check-in. After going through security, you can use the app as your set sail pass. You can also use the app while onboard the ship even if you do not pay for WiFi.


As Soon as You Board the Ship
Your Room Will Not Be Ready Until 1 pm – If you arrive to the terminal early, you will be among some of the first passengers onboard the ship. This means that the rooms will not be ready yet. Please don't clog the hallways or attempt to break through the water-tight doors.
Explore and Enjoy the Ship– Symphony of the Seas is massive. After all, it is the world's largest cruise ship. Take some time on the first day to explore, maybe even get a little lost. An announcement will be made when the rooms are ready. Until then, discover all that the ship has to offer.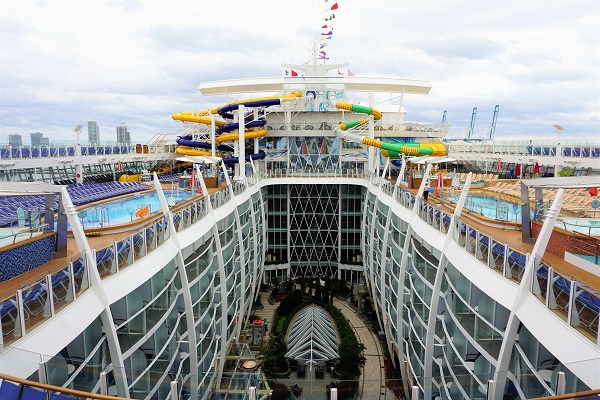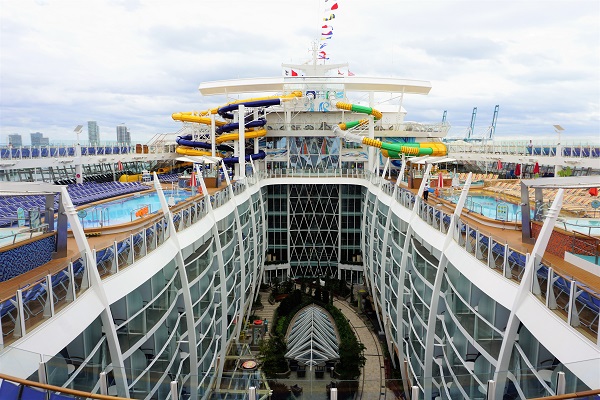 Skip the Buffet – Whether you get to the ship early or stroll in later in the afternoon, we suggest you skip the buffet. Don't worry, you won't go hungry. There are several other casual restaurants open, including the Mexican-inspired El Loco Fresh, pizza at Sorrento's, a variety of hot dogs at the Boardwalk Dog House, or sandwiches, salads, and paninis at Park Café.
Make Specialty Dining Reservations – If you pre-booked a dining package, go about scheduling your remaining dinners for the week. Even if you don't have a dining package, maybe you'll decide that you want to try out one of the amazing venues once you get onboard the ship. The specialty restaurants do book up quickly, and many of the prime times will be gone if you do not make your reservations on Day 1.
Check out Adventure Ocean – Cruising with the little ones? We suggest you head to Deck 14 to register them for the children's program at Adventure Ocean shortly after boarding the ship. It is good for you (and them) to see the area, meet the staff, and receive a wristband that aids the staff in ensuring your children make it to the muster station in the event of an emergency.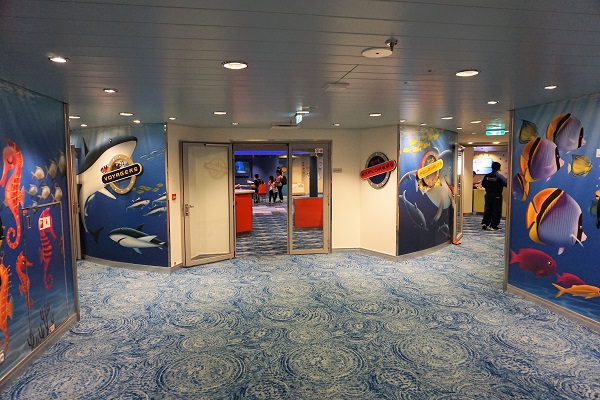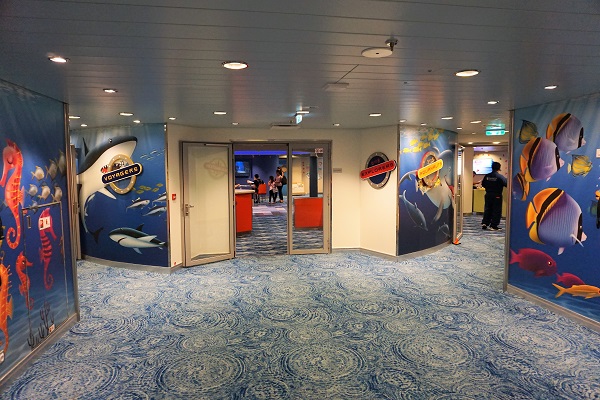 Grab a Wow Band – Starting at 1 pm, staff will be in Boleros for passengers to purchase ($5) or trade-in previous Wow Bands. Wow Bands are wearable bracelets that act as your key card giving you access to your room and letting you order items from the stores and bars with a swipe of your wrist.
Locate Your Table in the Main Dining Room – If you are doing traditional dining, your table assignment will be listed on your SeaPass card. Take a few minutes to go to the main dining room, on Decks 3 and 4, to find your table. If there is a problem with the table assignment, put in a request with the staff immediately. Odds are by Night 2 they will have the situation rectified.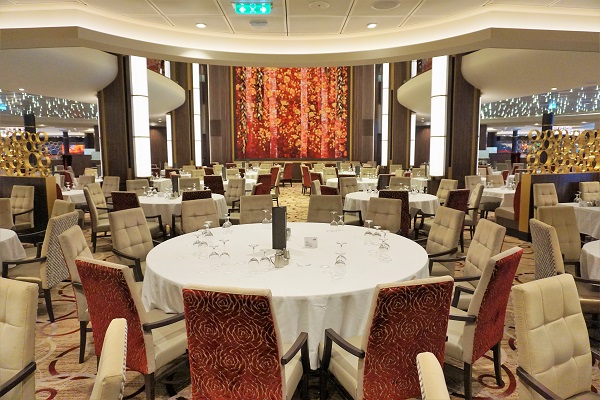 Head to the Portside of the Ship for Sail Away – If you want to experience the best views during the Sail Away party, then you should head to the port side of the ship. On Deck 16, the Mast Bar will be quite busy, so you could also head all the way aft and grab a sail away drink from the Wipe Out Bar.
Put Your Phone in Airplane Mode – Once you leave the Miami port area, your phone will begin to roam. If you do not want a huge phone bill when you get home, make sure to put your phone in airplane mode. If you purchased the internet, now is a good time to login in and start surfing. You can even use WiFi calling and iMessage features.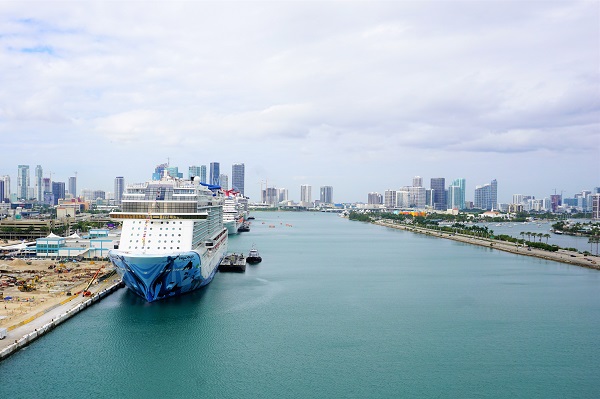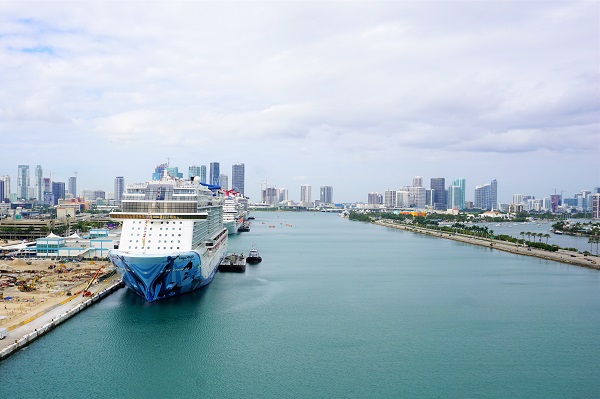 While At Sea
Unpack – For us, this is a no brainer, but we often hear of people who live out of their suitcases for the week. Why? Take the 30 minutes or so to unpack and utilize the storage space in the room to organize your belongings. In the end, it will save you time.
Related Posts: Our Ultimate Caribbean Cruise Packing Guide
Bring Some Accessories – Make the most of the space in your cabin by bringing a few extra items. We always bring some heavy duty magnetic hooks and an over-the-door shoe organizer to help keep everything in one place. The walls in your room are magnetic, so you can use the hooks to hang bags, hats, and other lightweight objects.
Store Your Luggage – You can easily put all of your luggage under the bed so it is not in your way during the week. You have to maximize every square inch of that cabin!
Meet Your Stateroom Attendant – Make it a point to meet your room attendant as soon as possible during the cruise. Introduce yourself and let him or her know about any preferences or special requests. We always let our attendant know the Princess' affinity for towel animals, and we have never been disappointed.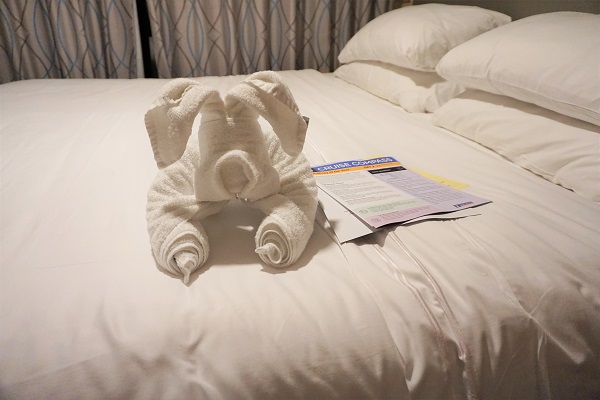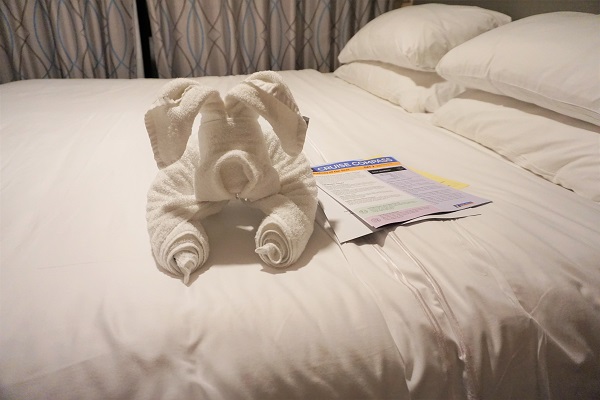 Read the Compass – Each night, you will receive a Cruise Compass in your stateroom. We suggest you read it and highlight things you want to do the next day. There will also be a digital version available on the app if you'd prefer to use your phone.
Test out Things Early – You will be surprised the first couple of days at sea as it will seem like the ship is not as busy as you expected. Don't be fooled, it is probably sailing at or close to capacity. We front-load our cruise by enjoying popular things like the waterslides, FlowRider, zip line, and the Ultimate Abyss early on in the cruise while everyone else is still getting their bearings. These activities will get busier later on in the cruise!
Don't Be a Chair Hog– On our trips, we are always up early taking videos and photos. Inevitably, we see people already "claiming" lounge chairs at dawn, not to return for hours. Don't be that person. If you want to get out there early and stay out there, that is great. If not, head to the open air decks when you are ready and be considerate of your fellow cruisers.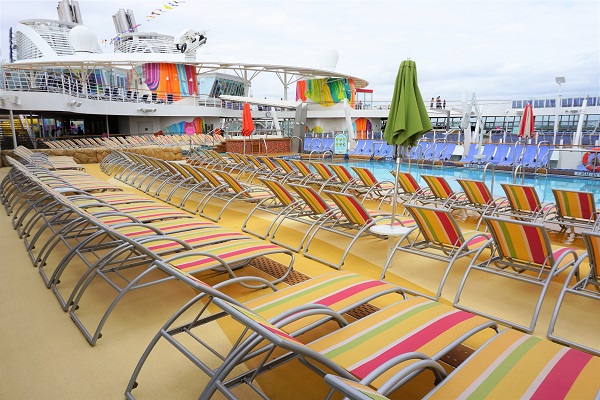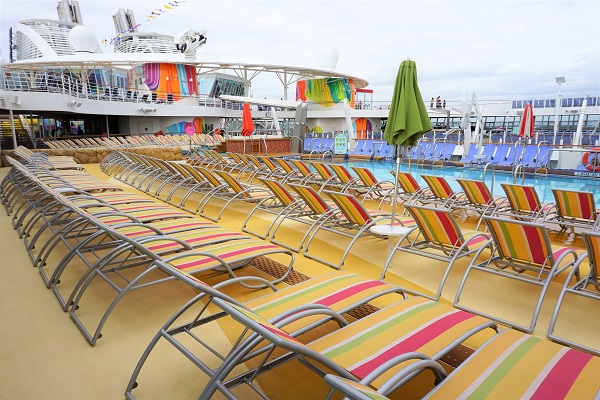 Breakfast at Johnny Rockets – While Johnny Rockets is an up-charge for lunch and dinner, the venue is open for a complimentary, made to order breakfast every day of the cruise. An al fresco morning meal with the great Boardwalk atmosphere is a perfect way to start the day.
Show Up Before the Scheduled Time – For shows, you will want to arrive at the venue at least 20-30 minutes prior to showtime. Don't be surprised if you already see lines forming to enter a venue 45 minutes in advance. Be warned that stand-by passengers are let in 10 minutes prior to showtime, so if you arrive past that time, good luck finding a seat.
Remove All Accessories for the Waterslides – If you want to test out the Perfect Storm slides, you will want to make sure you are wearing no jewelry, including watches, necklaces, or fitbits. You are also not allowed to wear a GoPro, even if it is in a secured, hands-free case. This was a surprise as we had not been told to remove these items on previous cruises.
Have the Correct Clothes – Some of the other activities on Symphony of the Seas require specific clothing. To ride the Ultimate Abyss, you must be wearing dry clothes, footwear, and a shirt WITH sleeves (no tank-tops). For the zip line, you must have all pockets emptied, have your hair tied up, and be wearing close-toed shoes. You also need closed-toe shoes if you want to participate in the Battle for Planet Z laser tag game.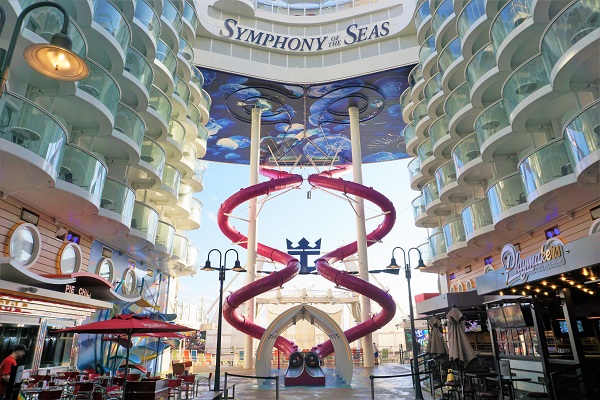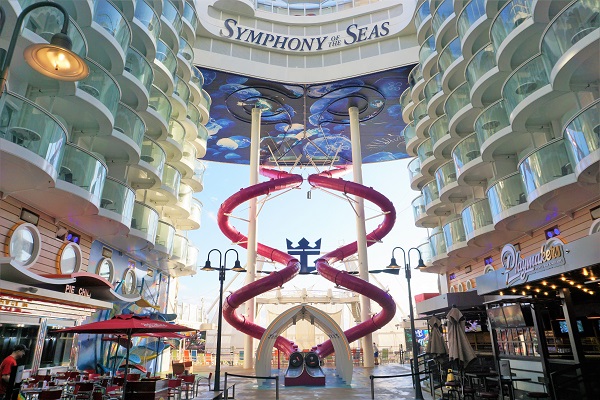 Have Your Sea Pass Card and ID When Getting off the Ship – When you disembark at a port of call, remember to take a photo ID and your Sea Pass card with you. You will need these to get back on the ship. Your WOW band will not be enough to grant you access on and off the ship.
Dine at Off Times – To avoid the crowds as much as possible, we suggest dining during off times. Do an early breakfast (or have a continental breakfast delivered to your room). Consider a late lunch or grabbing some snacks early then enjoying them later on your balcony.
Don't Miss the Musical Staircase – You can become a musician with this unique staircase found on Deck 15, aft. Just be warned, this can be addictive, and video evidence of your musical masterpiece may not exactly go viral! You will need to enter from the pool area and take the staircase up to the Windjammer.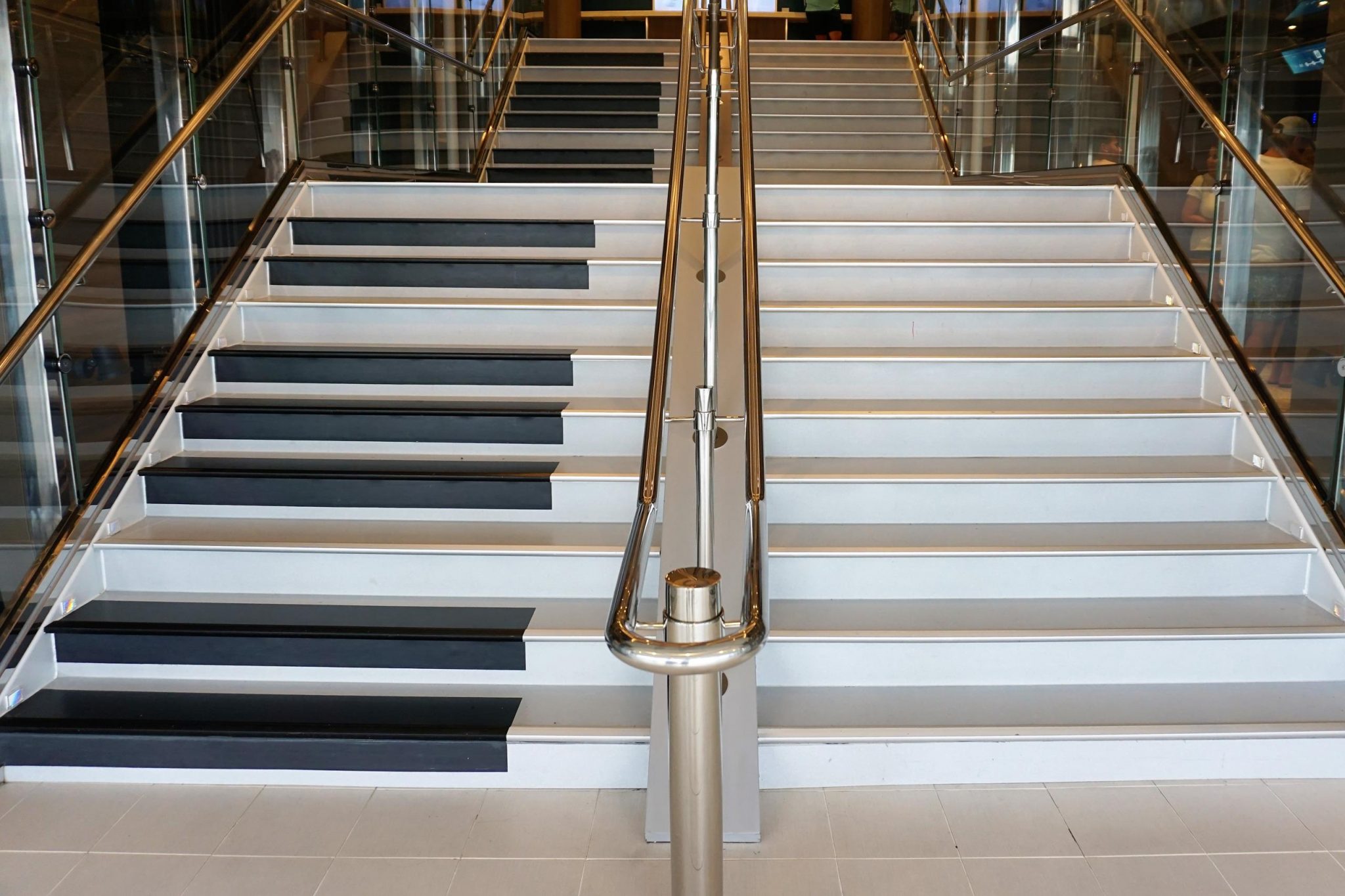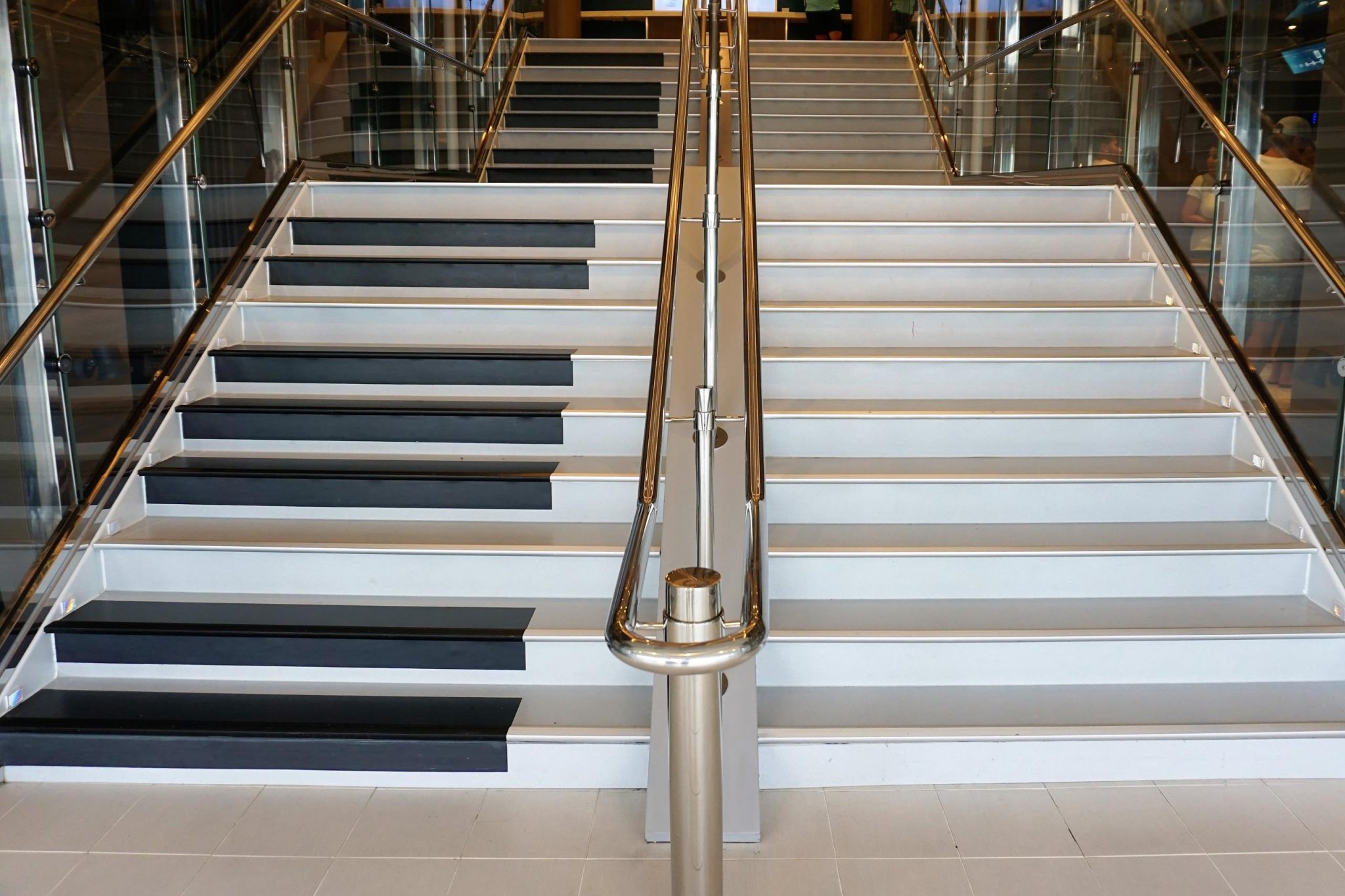 Happy Hour Specials – If you don't want to break the bank, there are a few specials that let you test out some of the more popular spots on the ship. From 5 pm to 7 pm, you can get half-priced specialty cocktails at the Wonderland Bar, located on Deck 12. Also, each night of the cruise, there is a different $10 happy hour deal at the bar in Hooked Seafood (Deck 16) including oysters and a glass of wine (Night 4) and a lobster roll with a pint of beer (Night 5).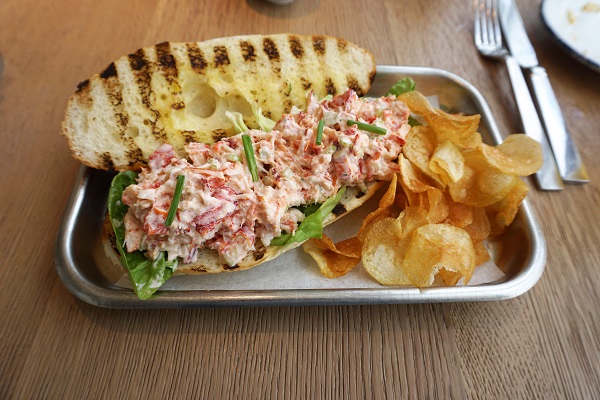 Use the Wave Finders – If you don't have your phone or a Compass handy, these touchscreens located near the elevators are there to help you find your way. You can also see what restaurants are open or the afternoon's entertainment with a few clicks.
Do Self Disembarkation – If you and your travel party can handle your own luggage, we highly recommend you do the self-checkout on disembarkation day. You can get off the ship relatively early, beat the lines, and be among the first passengers to the parking garage or airport. On our trip, we were off the ship and through Customs in less than 15 minutes.

Comments
Have you sailed on Symphony of the Seas yet? Do you have any Symphony of the Seas tips that you want to share? Drop us an anchor below to share your insider advice for sailing on the largest cruise ship in the world.