With the recent upgrades to Mariner of the Seas, the ship is now home to a Japanese steakhouse. For cruisers looking for something unique, Izumi Hibachi on Mariner of the Seas offers an authentic teppanyaki experience.
On our recent cruise, we were very interested to see how this new concept fared in comparison to other cruise lines. Previously, the Hibachi experience was offered on only a select few Royal Caribbean ships. Here is our honest review of Izumi Hibachi on Mariner of the Seas.

Review of Izumi Hibachi on Mariner of the Seas
While we have cruised on over a dozen different Royal Caribbean ships, we have never tried Izumi. Mainly, because neither one of us are big sushi fans.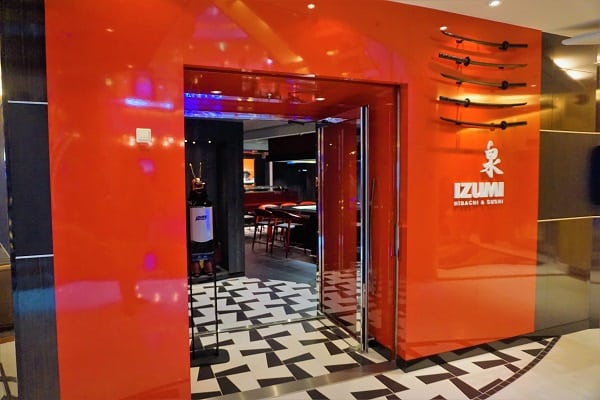 However, we both do like hibachi restaurants. For those who are unfamiliar with this style of cooking, the chef prepares your meal on a large grill right in front of you. Usually interjecting some song and humor into the presentation, teppanyaki restaurants are truly dinner and a show.
Like all of our other reservations, we pre-booked Izumi Hibachi before boarding for 6 pm.
Preparing for the Show at Izumi Hibachi
Part of this experience is interacting with your tablemates and the chef as the show unfolds. We have had some lively and unforgettable teppanyaki experiences on other ships; however, this was not one of those occasions as we could tell right from the start that the other couples seated at our table were not going to be too engaging.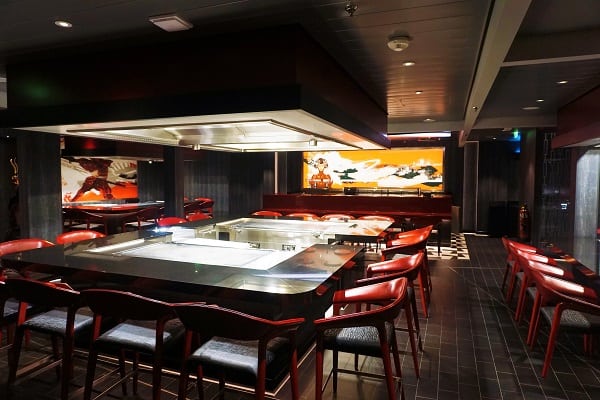 The restaurant on Mariner of the Seas is rather small with about 7 hibachi stations and a small bar at the front that serves sushi.
Upon being seated, our waiter came over to take our drink order and to ask us if we had any questions about the menu. Along with the traditional multi-course dinner, the restaurant also offers sushi and Asian inspired appetizers for an additional cost.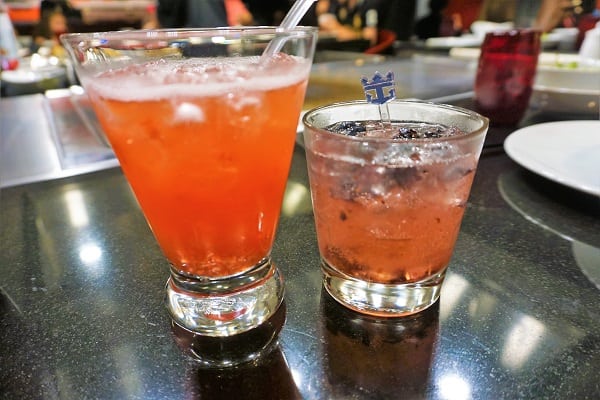 For drinks, we ordered the She's a Geisha and Japanese Strawberry (see the menu below). Both drinks were covered in the Deluxe Beverage Package. With our cocktails in hand, we were ready for the dining and culinary mastery that was about to begin with the arrival of our chef.

An Immersive Dinner Experience
This multi-course dinner comes with two appetizers, Edamame Soybeans and a salad with ginger dressing. The soybeans were already on the table, so I had one or two just to say I tried them.
As our chef was beginning his introductions, which included some singing and clapping, our waiter began to make the rounds with the salads.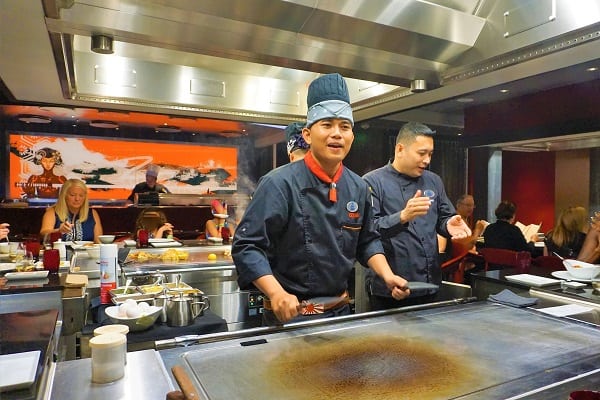 Our chef began by preparing the side dishes, which included fried rice and some stir-fried vegetables. Of course, there were also some tricks and humor along the way.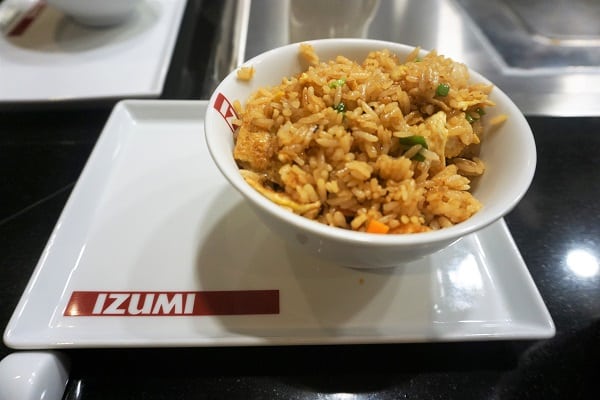 For main selections, the Princess went with the chicken udon. Her meal was actually the first entree the chef completed, and it looked delicious. I can't speak for how it tasted, as the Princess devoured most of it. Needless to say, she must have enjoyed it.
I opted for a combination of lobster and shrimp. Given the different selections, the shrimp was done first and the lobster was one of the last items cooked. He suggested preparing the lobster with just some butter, salt, and lime. Who am I to argue with a chef?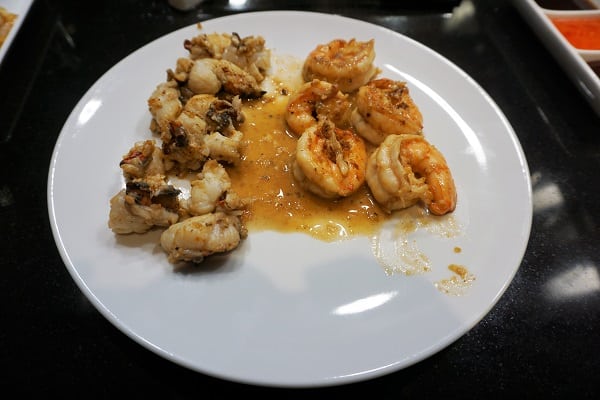 Both of my main selections were excellent. The shrimp had a light soy sauce glaze on top, while the lobster was rich and lightly flavored. Mixing these two seafood options with the fried rice and vegetables, I was in stir-fry heaven.
Some of our equally stuffed tablemates made a quick exit after the main course, while we decided to stick around to sample the dessert.
Perhaps not the greatest options, we both went with the Mochi ice cream. The strawberry flavored variety of this cold treat was the best. Although, we now know that neither one of us are really fans of the gummy texture.
Recap of Izumi Hibachi on Mariner of the Seas
We really enjoyed the food and the entertainment during our nearly two-hour dinner extravaganza. Compared to other Japanese steakhouses, we would rank the food here better than average. I particularly liked that lobster was offered.
Our chef was also pretty entertaining, not the most engaging that we have ever had, but overall the dinner and show were well executed.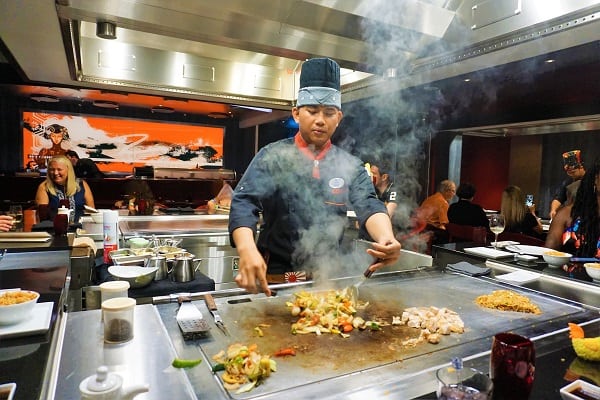 For $39, you get to enjoy one entree option, or you can order a combo with two selections for $45. Note that if you pre-book online, you will get charged $45. So, pay attention to your charges. Unfortunately, you can not use the specialty dining package at Izumi Hibachi either at this time.
On future cruises, we would certainly dine at Izumi Hibachi again. This can be a particularly fun activity if you are cruising with a group of people.
Drink Menu | Dinner and Dessert Menu
Comments
Have you dined at Izumi Hibachi on a Royal Caribbean ship? Are you a fan of these teppanyaki experiences? Drop us an anchor below to share your restaurant review with fellow cruisers.