It is one of the most iconic images of Havana, Cuba- the city back drop with a pristine 1950's classic car. Due to government restrictions, most private automobiles on the island date back to 1959 or earlier. With cruise ships now heading to Cuba, one of the most popular shore excursions is a classic car tour of Havana. While you can book this through the cruise line, we decided to go with a local provider. As part of a package tour, we spent the morning exploring Old Havana on a Walking Tour, and the rest of the day was reserved for our classic car cruise through the modern day city. Join us as we relive the adventure in this shore excursion review.

Classic Car Tour of Havana, Cuba Review
Our Ride is Here
With a fun-filled morning traversing the streets of Old Havana, we had finally trekked up to Parque Central. Here, we would admire the architecture, including the clashing of old and new Havana, while we awaited our car to continue the tour. Within a few minutes our transportation had arrived. A sleek, black 1956 Ford Victoria had pulled up to the curb to escort us around the other neighborhoods of Havana.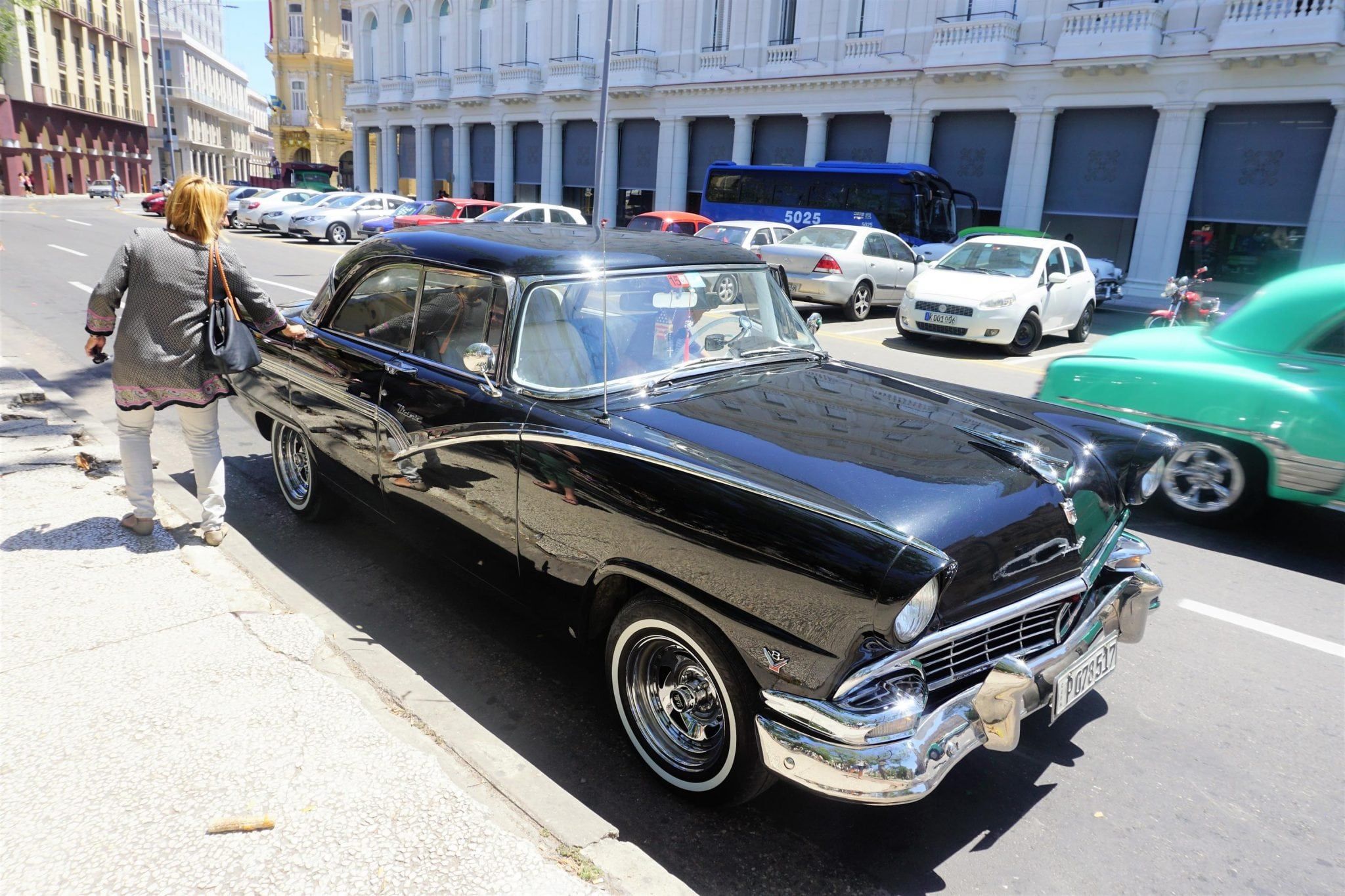 We had a pretty tight schedule, as our morning tour went a bit longer than expected. Still, our tour guide Cathy was going to try to squeeze as much as possible into our abbreviated time together. Picking us up, the car essentially made a loop around the square and El Capitolio getting us up close to this iconic building. Once the location of the Cuban Government, it became the home to the country's Academy of Sciences since the revolution and is now currently undergoing renovations.
While our driver was very nice, he spoke no English, so it's a good thing we had Cathy along with us for the ride. If you do decide to book one of these tours on your own once you get off the ship, you run the risk of getting a "taxi" driver rather than a tour unless you can communicate in Spanish. Cruising down the main boulevard (Paseo de Marti), Cathy pointed out notable buildings, along with the famous lion statues that overlook the oldest road outside of Old Havana. Unfortunately, driving conditions (and traffic) did hinder us from grabbing too many pictures. Later on, we would come back to snap a few photos of the landmarks on our own.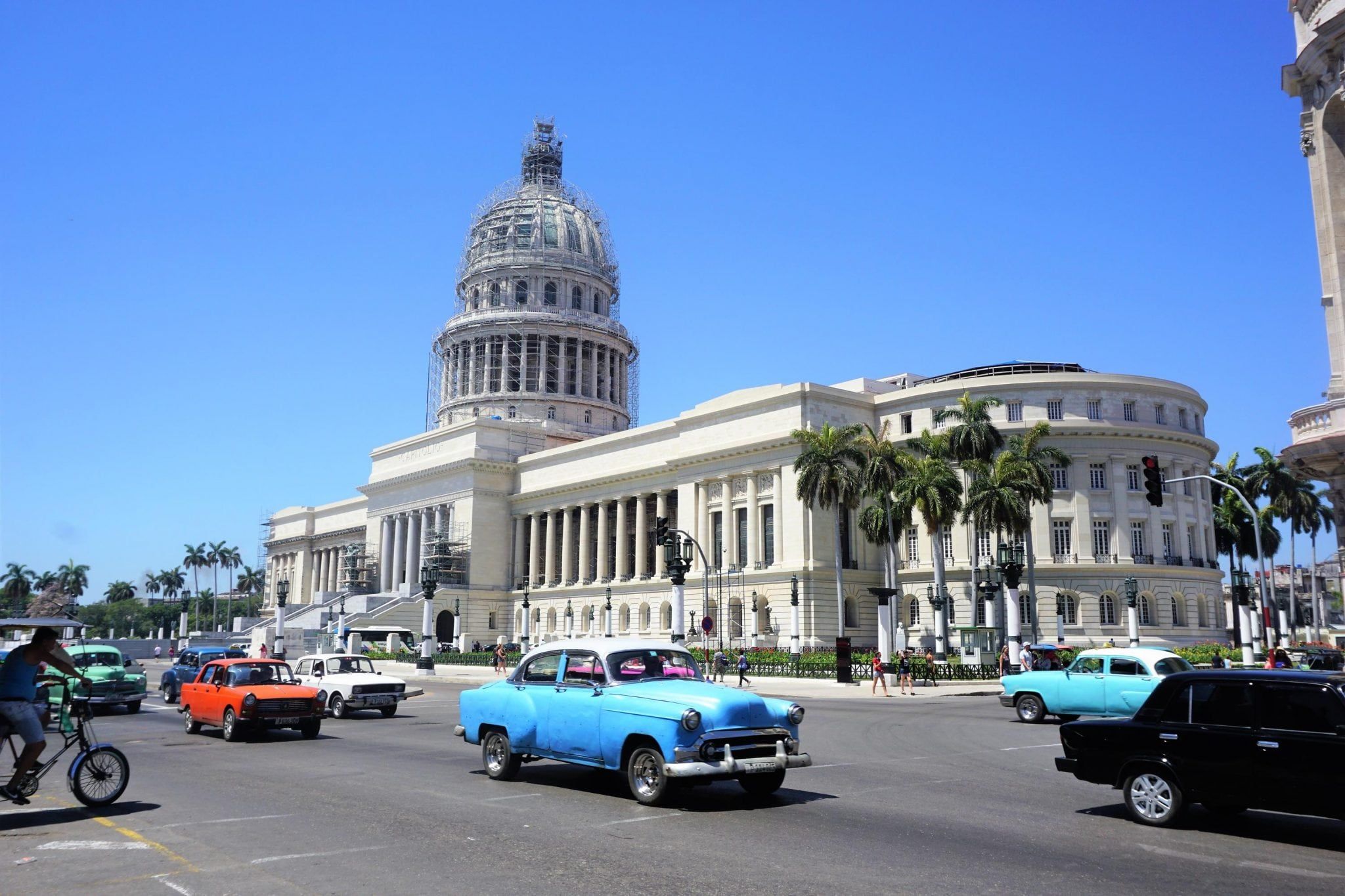 Heading north, we had come to the bay and the Malecon. This seaside road is visible from your cruise ship as you are sailing into the cruise terminal. During the day and night, you can see classic cars lined up, as drivers showcase their vintage vehicles. It is also a nice area to stroll and is easy to get to by foot from the cruise terminal. For us, we were heading west toward the Vedado neighborhood of modern Havana. The Hotel Nacional and Habana Libre Hotel were supposed to be photo stops included in our tour, but pressed for time, we only got to see these residences from the highway.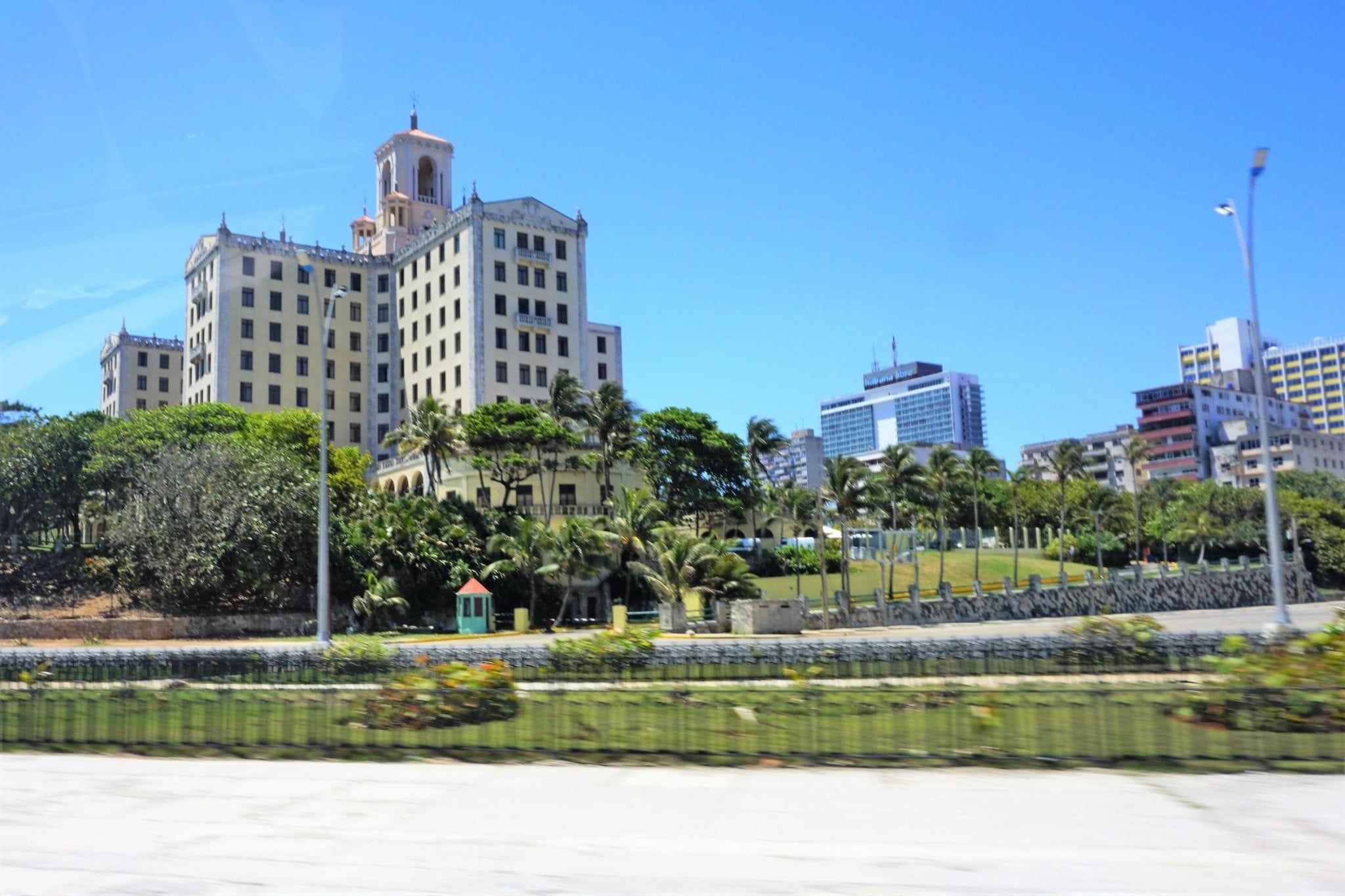 More Neighborhoods of Modern Day Havana
The Miramar neighborhood was home to many of the affluent Cubans before the revolution. Today, the neighborhood is home to foreign embassies, diplomatic residences, and luxury accommodations for foreign travelers. Along with the relics of the upscale homes that many left when they fled the country during the late 1950's and 1960's, this area is unlike anything you'd experience in Central or Old Havana. It has a very suburban, dare I say, Southern Florida residential feel to it.
While technically an optional part of the tour, our guide decided to bring us down to Almendares Natural Park. The tropical, lush backdrop reminds you, possibly for the first time, that Cuba is in the Caribbean. The park is undergoing restorations and clean-up due to lack of maintenance over the years and waste from religious rituals this still occur today. Still, the 10 minute break gave us a greater appreciation for the dynamic nature of the city and its people.
Inside the
Almendares Natural Park
Leaving the park, our next stop was another optional touring point. This time, the Princess had requested to stop at the Colon Cemetery, also known as the Christopher Columbus cemetery. No, Christopher Columbus is not buried here. Instead, the massive 50 acre cemetery, the second largest in the world, is home to many elaborate tombstones, mausoleums, and other crypts. We did have to pay an additional fee to enter.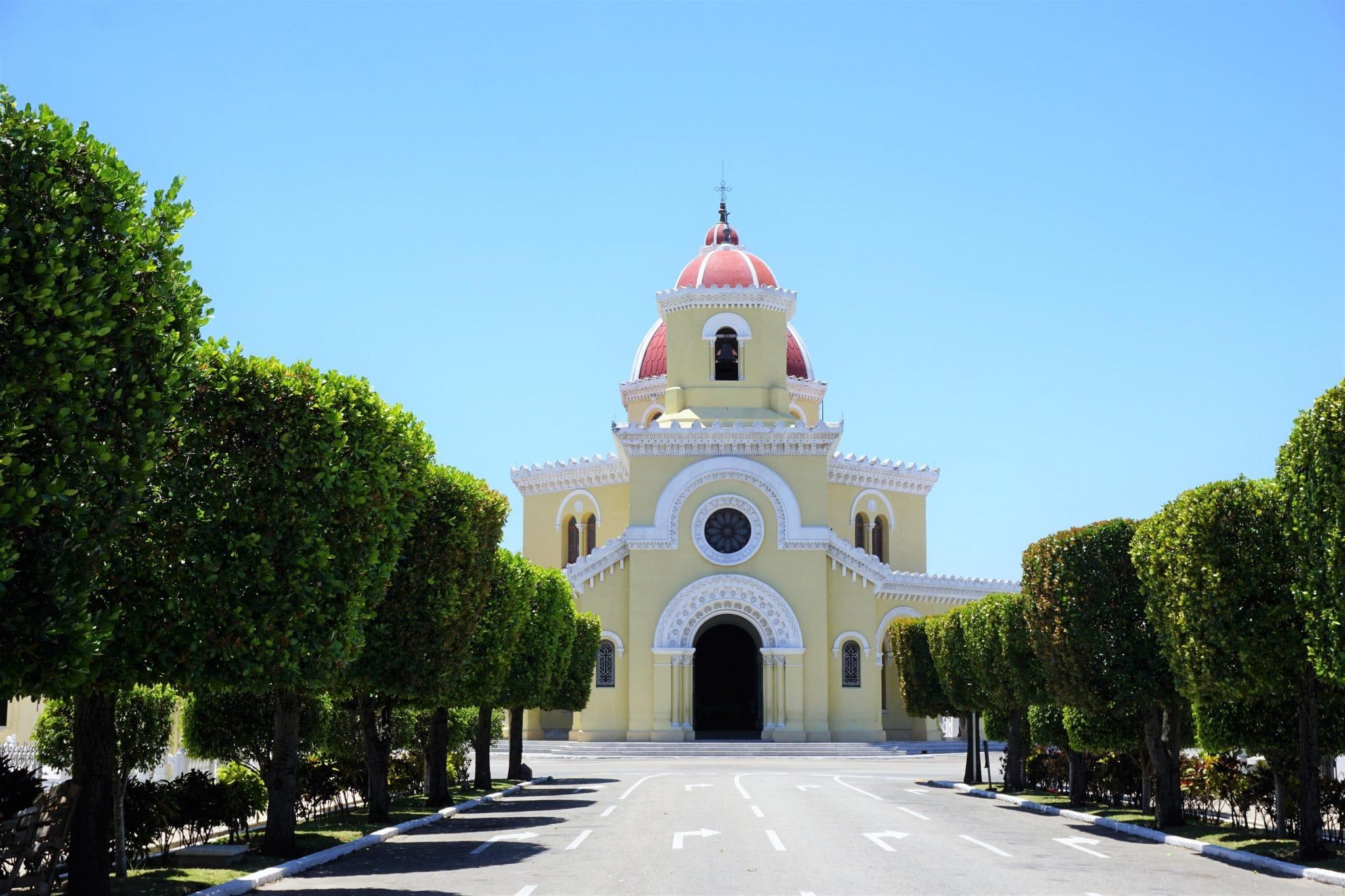 Many of the ornate stones belong to wealthy, but otherwise not well known individuals. Being such a large space, you could spend hours touring the area. In fact, our tour guide even admitted to coming to this calm and beautifully manicured area to study during her collegiate years. With not too much time to spend at this attraction, Cathy made sure to show us a few of the more noteworthy structures. These included the tomb of the firefighters who lost their lives in the great fire of 1890 and the tomb of the Miraculous Lady. Sparked by legend, many still visit this tomb today to perform rituals in request for "miracles".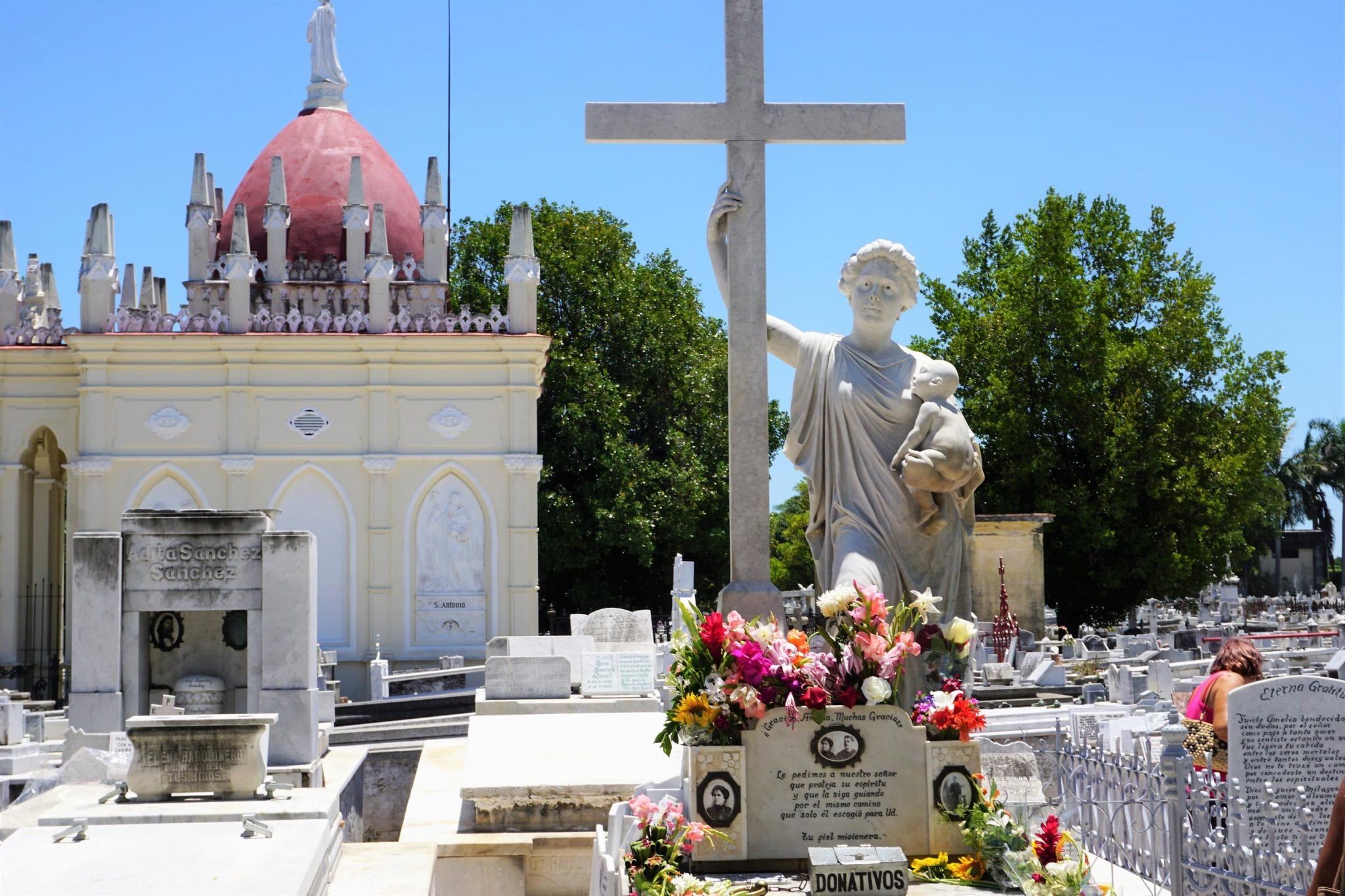 Before Leaving the City
Our guide had plans to end our tour by crossing the bay to give us some amazing views of the city and our cruise ship, but we still had a few more stops before leaving the city.
Weaving in and out of the streets of Vedado, we eventually found our way to the next stop on the tour, Revolution Square. The rather large complex includes several federal buildings and the open courtyard that regularly held political rallies and speeches by the Castro regime. It is also home to the large Jose Marti memorial and statue.
Jose Marti Memorial
Opposing the memorial are two office buildings with matching steel murals of two figures from the Cuban revolution, Che Guevera and Camilo Cienfuegos. The Princess and I took this opportunity to take some photos of the area and a classic car selfie of course.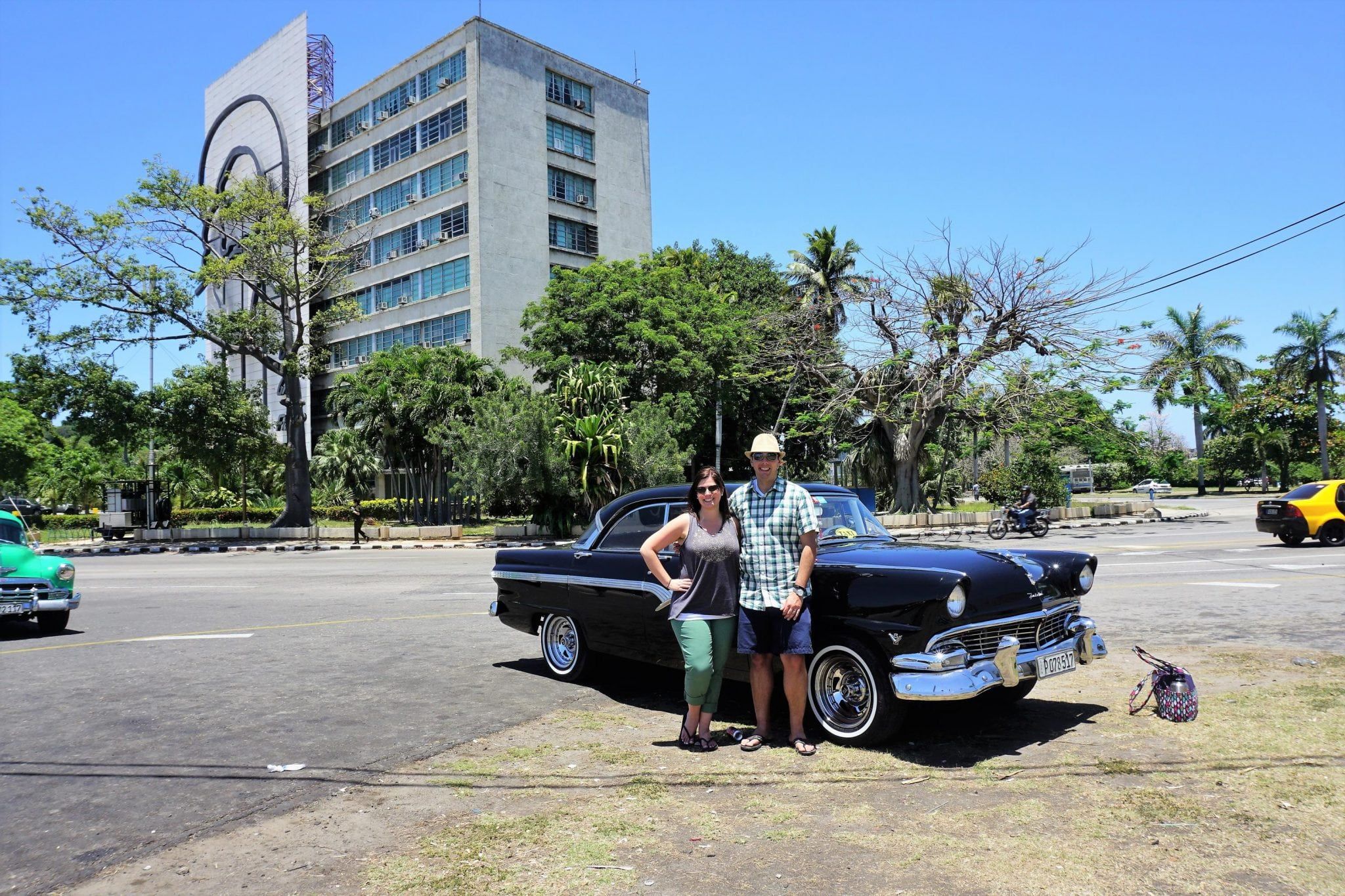 Before long, it was back into the car for my optional stop next. Yes, we were headed to the Romeo and Julieta Cigar Factory, where finding parking was a bit of a challenge. Finally, we were able to secure a spot close to the entrance, so we could head inside to grab a few different cigar samplers and some rum to bring back home. The Partagas Cigar Factory is also another popular stop with optional factory tours available. For those who prefer libations over smokes, the Havana Club Rum Factory is an easy walk from the cruise terminal.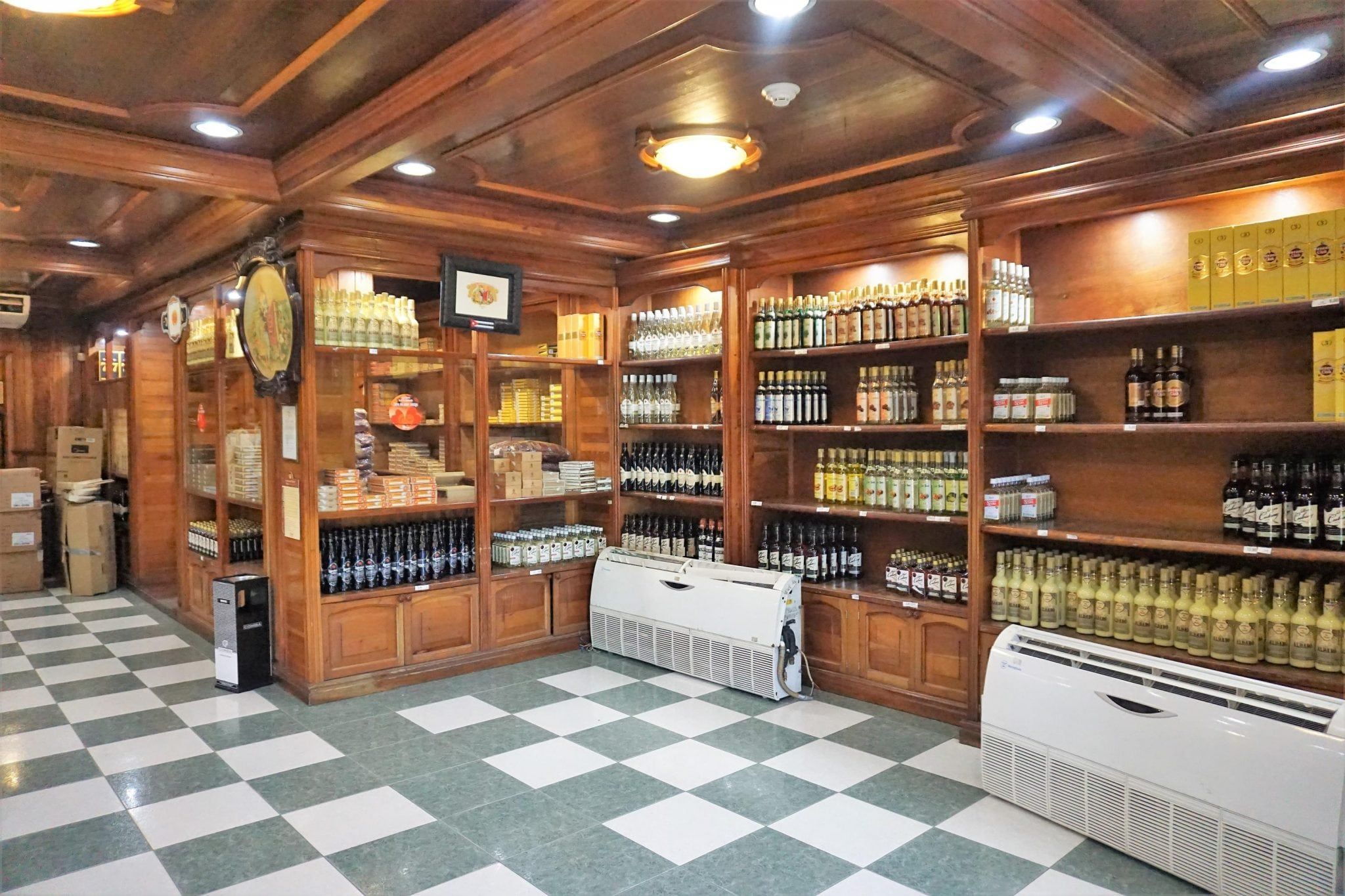 At this point, we opted to skip lunch to allow for a bit more sightseeing. Using the tunnel under the bay, we were brought to the Christ of Havana statue. This is located next to the forts and is visible when you sail in on the cruise ship. This area gives you a perfect perspective of the city, and we were able to snag a variety of photos from this lookout point including some of the ship.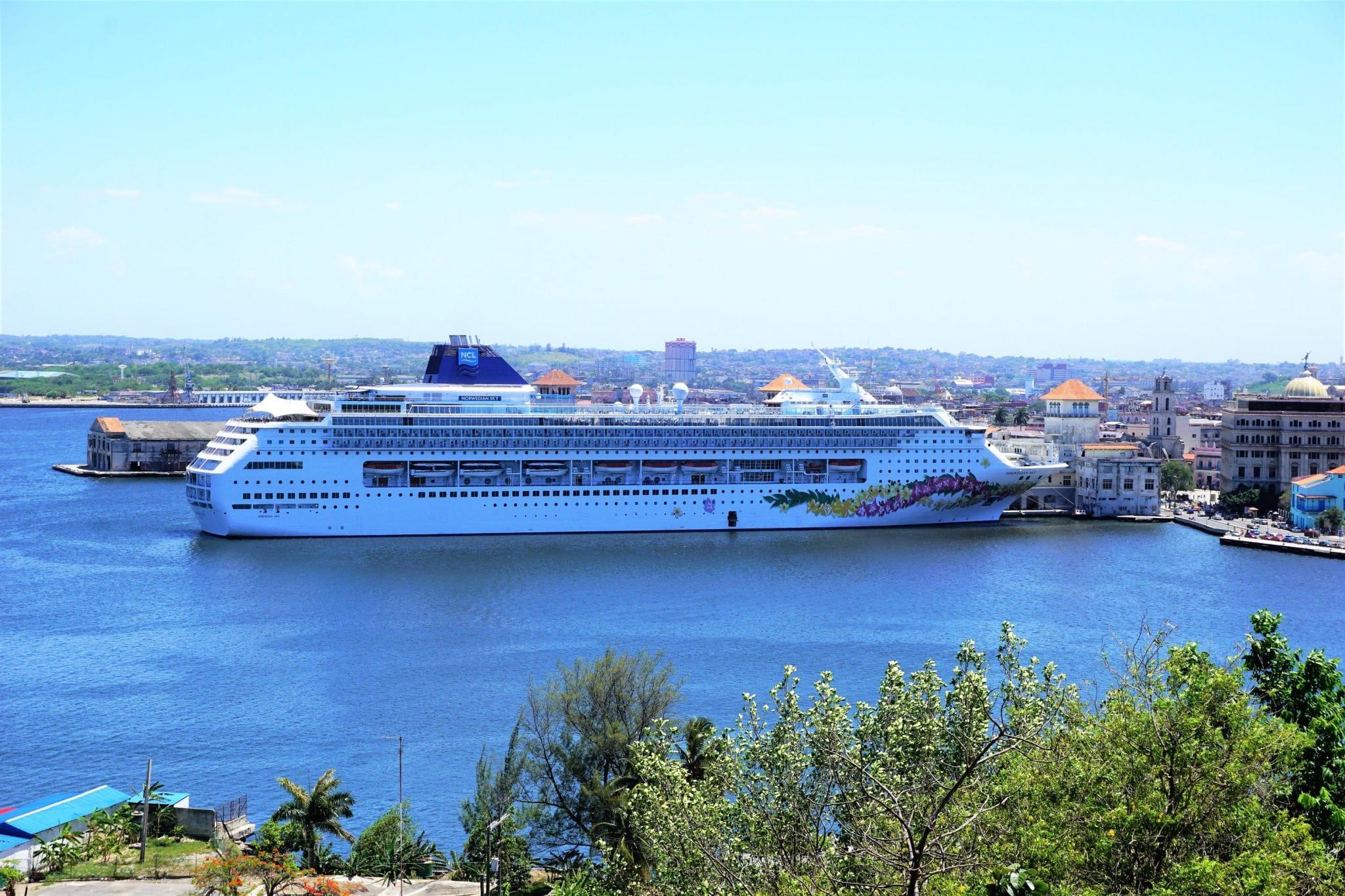 With our classic car tour of Havana now complete, it was a quick drive back to our cruise terminal. We thanked our tour guide Cathy and our driver with a well-deserved tip and departed the classic car a bit more enlightened. With plenty of day light left, we decided to venture back out to see more of this historic city. We were not sure when we could get back, so we wanted to see as much as possible and capture some pictures that we missed earlier in the day.
Classic Car Tour of Havana Recap
Whether you purchase this as a stand alone tour, or as part of a package tour with Old Havana, there is no better way to see modern Havana than in a retro American car. We have nothing but amazing things to say about our time spent with Havana Journeys. It was a comprehensive and customized tour with a very knowledgeable and personable guide. It is one of the best shore excursions we have done to date. We highly recommend it the next time you are in Havana, Cuba. There are several classic cars outside the cruise terminal for hire as well if you are just looking to say you took a ride in one or want transportation to another location, but we suggest booking a tour ahead of time to gain valuable knowledge and insight into the Cuban history and people along the way.
Comments
Have you taken a classic car tour of Havana? What is your favorite shore excursion on the island? Drop us an anchor below to share your tips for things to do ashore in Havana, Cuba.