Want to know the dining options for your next cruise on Norwegian Sky? Whether you are doing a three night weekend cruise or a four night Cuba cruise, we have you covered with this guide to Norwegian Sky restaurants. Yes, we have all the menus and plenty of food porn too!

Guide to Norwegian Sky Restaurants
Garden Cafe
This casual dining spot is open for breakfast, lunch, and dinner. For breakfast, your typical selections of breakfast pastries, made-to-order omelets, breakfast meats, pancakes and waffles, fruit, cereal, and everything in between are available from around 6:30am to 10:30am. The food options are basically the same whether you dine here or at the outdoor area known as the Great Outdoor Cafe. Some mornings, the Great Outdoor Cafe offers an "early riser" breakfast starting at 6am. Il Adagio, the nearby Italian restaurant, also offers omelets and waffles for breakfast.
Guide to Norwegian Sky Restaurants
Lunch is typically served at the Garden Cafe from about noon to 3:00pm. There is a grill section with hamburgers and hot dogs, pizza, a salad bar, a carving station with a rotational selection, a pasta station, a few "international selections", pre-made sandwiches, and cold cuts and bread for making your own creations. Oh, and don't forget the dessert section! Il Adagio is also open for lunch serving pizza and a custom pasta station.
Guide to Norwegian Sky Restaurants
From 5:30pm to 9:30pm, dinner is available at the Garden Cafe, which is similar to the lunch menu with more entree options. In addition, there are some specialty offerings like the carving station that featured a roasted pig during our stop in Havana, Cuba. There is also a fresh made to order crepe station and an ice cream sundae station.
Guide to Norwegian Sky Restaurants
Main Dining Room
If you'd prefer a more formal sit down meal, then you can opt for breakfast and lunch at the Crossings main dining room. Located on Deck 5, the dining room opens around 7am for breakfast. This does depend on your port of call times, so check the Norwegian Freestyle Daily each morning for exact times. On select days, Crossings is also open for lunch from around 11am-1pm.
Guide to Norwegian Sky Restaurants
Both breakfast and lunch have a "set menu". While we did not dine in the main dining room during this cruise, our experience is that the food is a step above the buffet. However, wait times can vary, and with such a packed itinerary, we opted for the flexibility of the buffet instead. On Norwegian Sky, the menu is the same each day of your cruise for breakfast and lunch.
At night, both Crossings and the Palace (also on Deck 5, midship) are open for dinner. Between the two restaurants, they are open from 5:30pm to 10:30pm. You do not need to make a reservation as Norwegian's Freestyle Dining means there are no set dinner times. Although, you can make a reservation if desired either pre-cruise using the online planner or while onboard the ship. The dinner menus rotate nightly with a core selection known as "Classic Entrees" and the nightly specials known as "Today's Features". Each dining room serves the same menu, so where you dine does not impact your meal options, only your surroundings.
Guide to Norwegian Sky Restaurants
Below are the menu selections for each night of our four night Norwegian Sky Cuba Cruise.
While you could certainly go the entire cruise dining at the complimentary restaurants, Norwegian Sky also offers 3 specialty dining restaurants that are open for dinner, as well as sushi at the Plantation Club. The specialty dining venues are open from 5:30pm to 10:30pm (sushi from 6pm to 10pm).The restaurants are priced a la carte; however, you can purchase a Norwegian Specialty Dining package, with which you pay a flat fee to get as many starters, sides, and desserts as you want, along with one entree. It is a great deal in our opinion!
Cagney's Steakhouse
Cagney's is Norwegian Cruise Line's signature steakhouse. This restaurant serves up several select cuts of beef along with a few other options. Don't worry, there was a chicken dish for the Princess. Starters include jumbo cocktail shrimp and an iceberg wedge salad to name a few. The menu was slightly different from the ones we have seen on Norwegian Getaway and Norwegian Escape. I couldn't resist ordering the Tomahawk Rib Chop (again). In addition, the restaurant has one of the best desserts onboard, the Oreo Cheesecake. Make sure to save some room for this sweet treat!
Guide to Norwegian Sky Restaurants
.
Il Adagio
Your stop for Italian, Il Adagio is located on Deck 11. Offering a menu of traditional Italian-American favorites for starters like fried calamari, bruschetta, and pizza, you'll want to make sure you save room for the additional courses. The pasta options make for a great first plate, before you cut into your main entree which includes Chicken Parmesan and Ossobuco veal shank. For regular NCL cruisers, you will notice that the menu is considerably different from La Cucina, the Italian restaurant found on most other ships. We thought the food here was basically on par with that restaurant, with some hits and a few misses.
Guide to Norwegian Sky Restaurants
Le Bistro
For French cuisine, you can head to deck 5 to Le Bistro. Actually, you need to enter on deck 6 and head down the odd staircase to find this hidden restaurant. The menu here was mostly the same as what you find on the other ships. The menu at Le Bistro is a bit more eclectic with the Princess' favorite entree being the French classic, Coq Au Vin. My roasted rack of lamb was good but not sure that I would be willing to pay the a la carte price of $18.99 for the serving size. The desserts made up for it though, as we shared the heavenly fondue for two.
Guide to Norwegian Sky Restaurants
Snacks on Norwegian Sky
If you get hungry outside of meal times, you can have your pick of snacks on the ship. The aforementioned Great Outdoor Cafe provides afternoon snacks from about 3pm to 5:30pm; this is basically a smaller version of the lunch buffet. From 9:30pm to about 1am, this venue opens up again with a similar selection to feed those late night party goers.

Also available for late night snacks is the Longboard Bar (see the tempting menu). Too bad we never had a chance to dine here. With a menu serving chicken wings, fish and chips, and New York style cheesecake, it is almost worth staying up late just to test out this pub style food. With plenty of televisions and a bar, it is the ideal place to hangout for the night.
You can also dine without ever leaving your room. The 24 hour room service is an up-charge of $7.95 per order. Options include some sandwiches, pizza, and other choices.
Suite Guests' Private Dining
Guests staying in select Suites on Norwegian Sky have their own special breakfast and lunch at Cagney's Steakhouse. We were lucky enough to be invited to test out the options. We can honestly say that this was some of the best food on the ship. Perhaps one of the best EVER selections came from the continental breakfast buffet- the almond croissants. The rest of the breakfast options weren't bad either, including my Salmon Frittata (Breakfast Menu).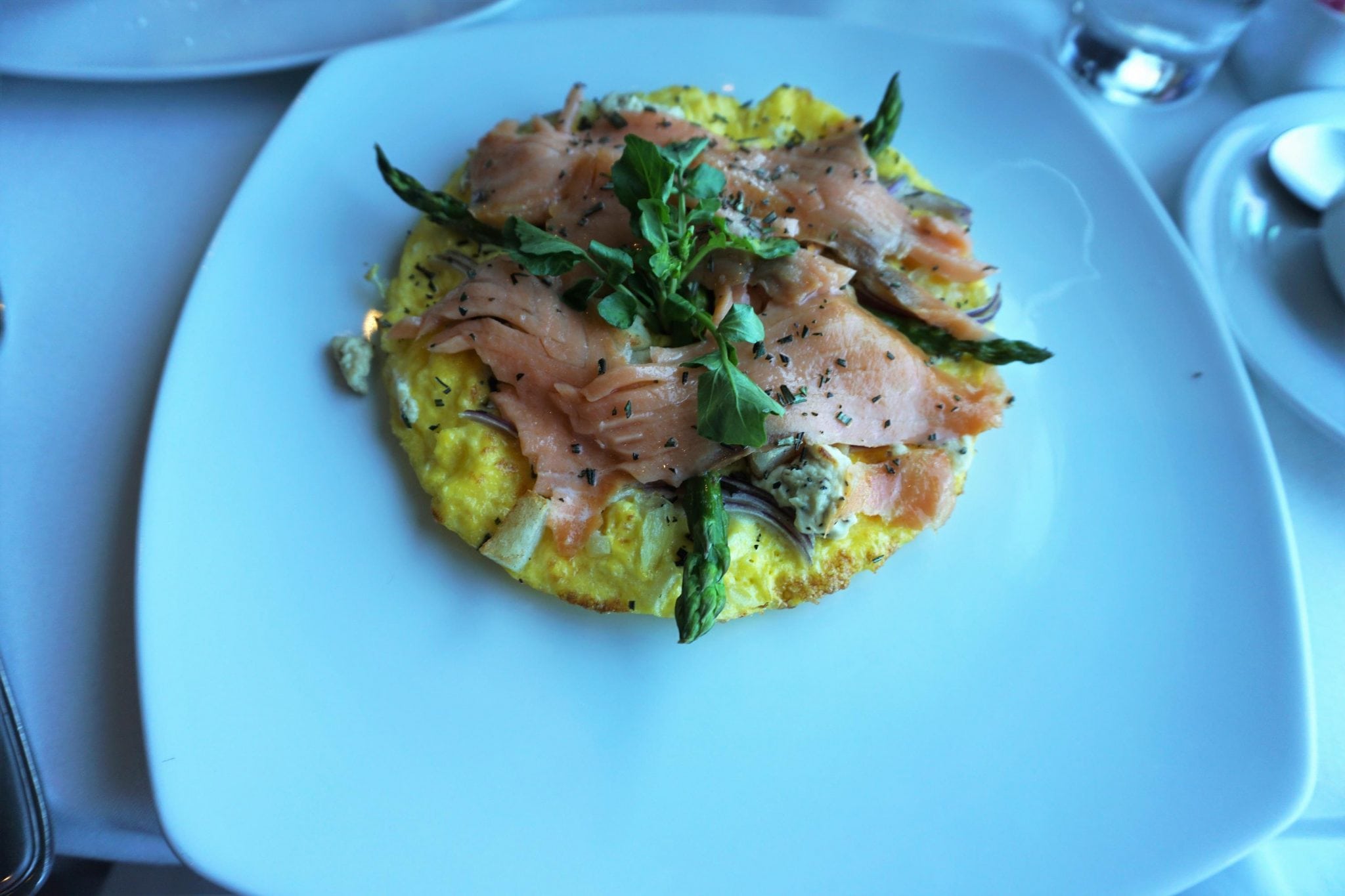 Equally impressive are the lunch options (menu). Prepared to order, my French Dip was better than most sandwiches found onboard any cruise ship. But, I was out done by the Princess who created her own specialty by getting the bruschetta topped with grilled chicken. Of course, we saved room for dessert too. You have to when it includes Warm Espresso Brownie Cake!
Guide to Norwegian Sky Restaurants
Comments
Have you sailed on Norwegian Sky? What is your favorite restaurant on this ship? Drop us an anchor below with your Norwegian Cruise Line dining reviews.