Oasis of the Seas, along with sister ships Allure of the Seas and Harmony of the Seas, are in a class all of their own. Not only are they the largest ships at sea, but they also offer several unique experiences. With so many tempting food and beverage choices, you will need to find ways to burn those extra calories. Lucky for you, there are endless opportunities to help you stay active on Oasis of the Seas.
Top 12 Ways to Stay Active on Oasis of the Seas
Sports Pool
When you think of a cruise vacation, I'm sure you automatically assume you are going to spend some time in the pool. With 4 pools available to help you stay active on Oasis of the Seas, there is no excuse. The Sports Pool is a great place to do some laps or partake in a morning water aerobics class. On select days/times, there is also the opportunity to play some leisurely pool volleyball or perhaps join in on a competition.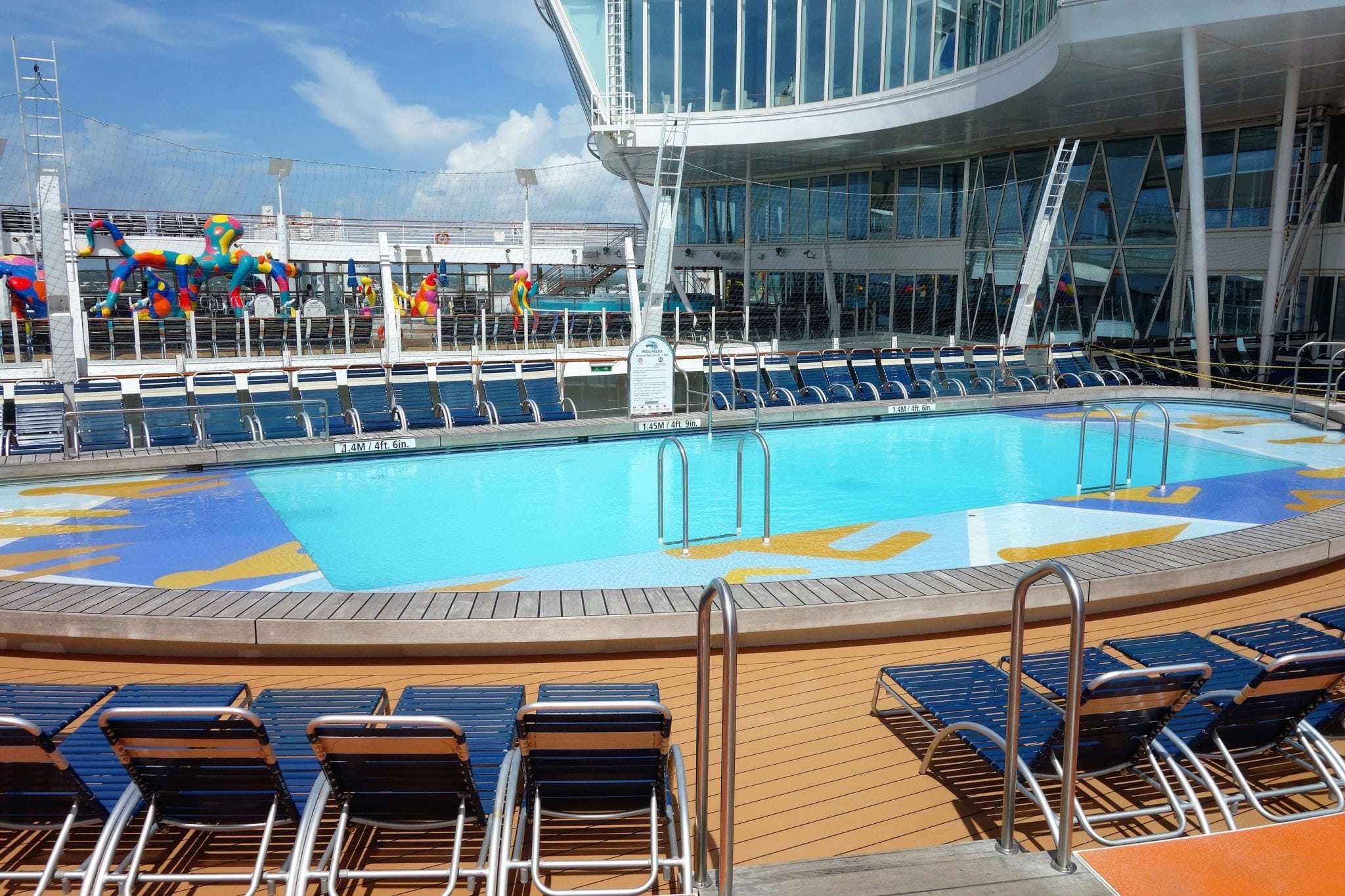 Sports Court
If you prefer to play your sports on dry ground, then head to the Sports Court located on Deck 15. Throughout the cruise, there are organized activities such as basketball competitions, soccer shootouts, and adult dodge ball. If you want a more leisurely pick up game, there are open play times available as well. While a little less of a calorie burn, you can also have some fun playing a game of table tennis or mini golf in this sports zone.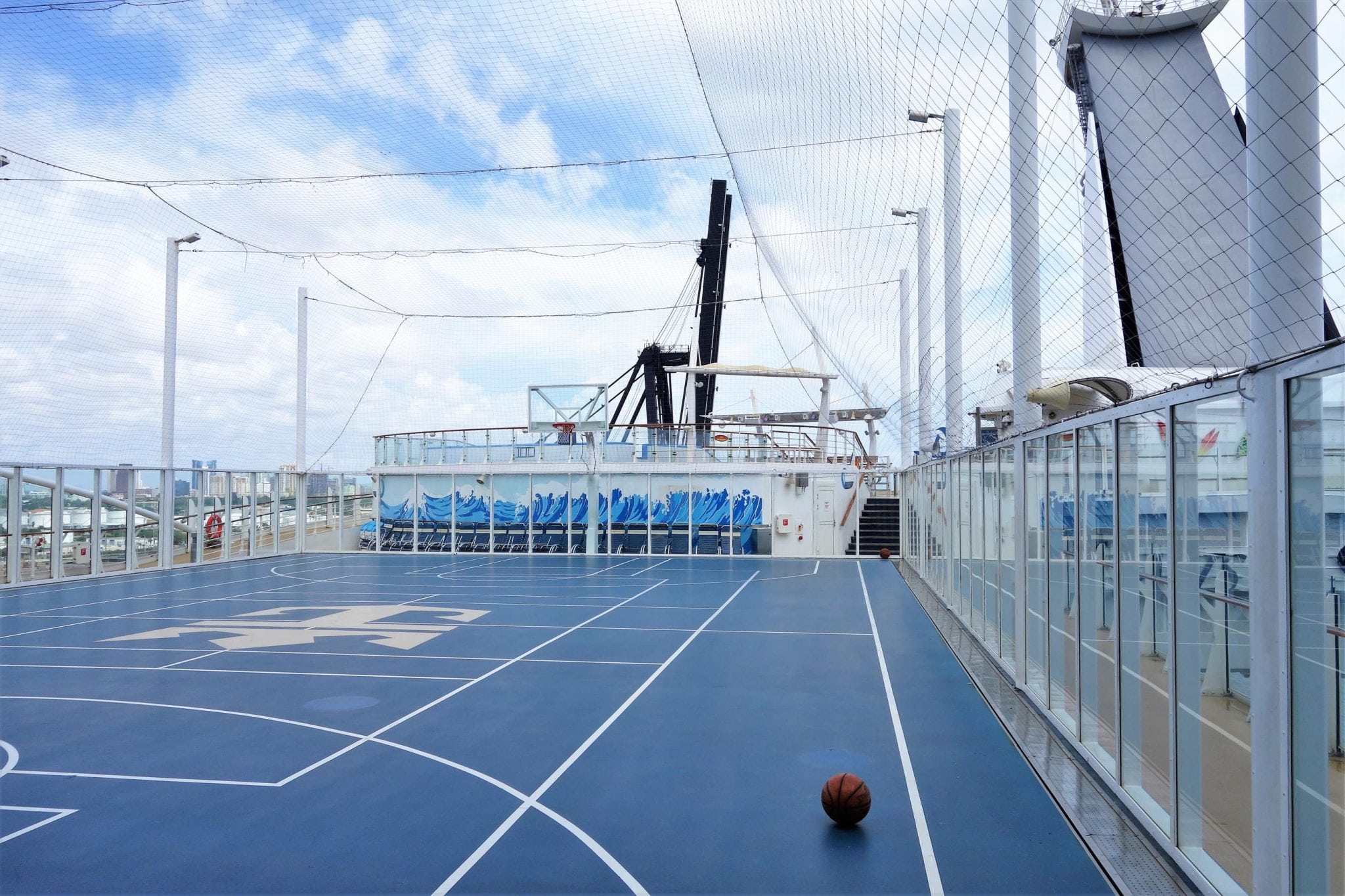 Rock Climbing Wall
For the more adventurous types, there are a few unique activities to help you stay active on Oasis of the Seas. The first of these adventures is the rock climbing wall standing 43 feet tall. As one of the tallest rock climbing walls at sea, there are courses to challenge even the best of speed climbers. Don't worry, there are easier courses for beginners too. The best part is that this activity is included in the price of your cruise fare.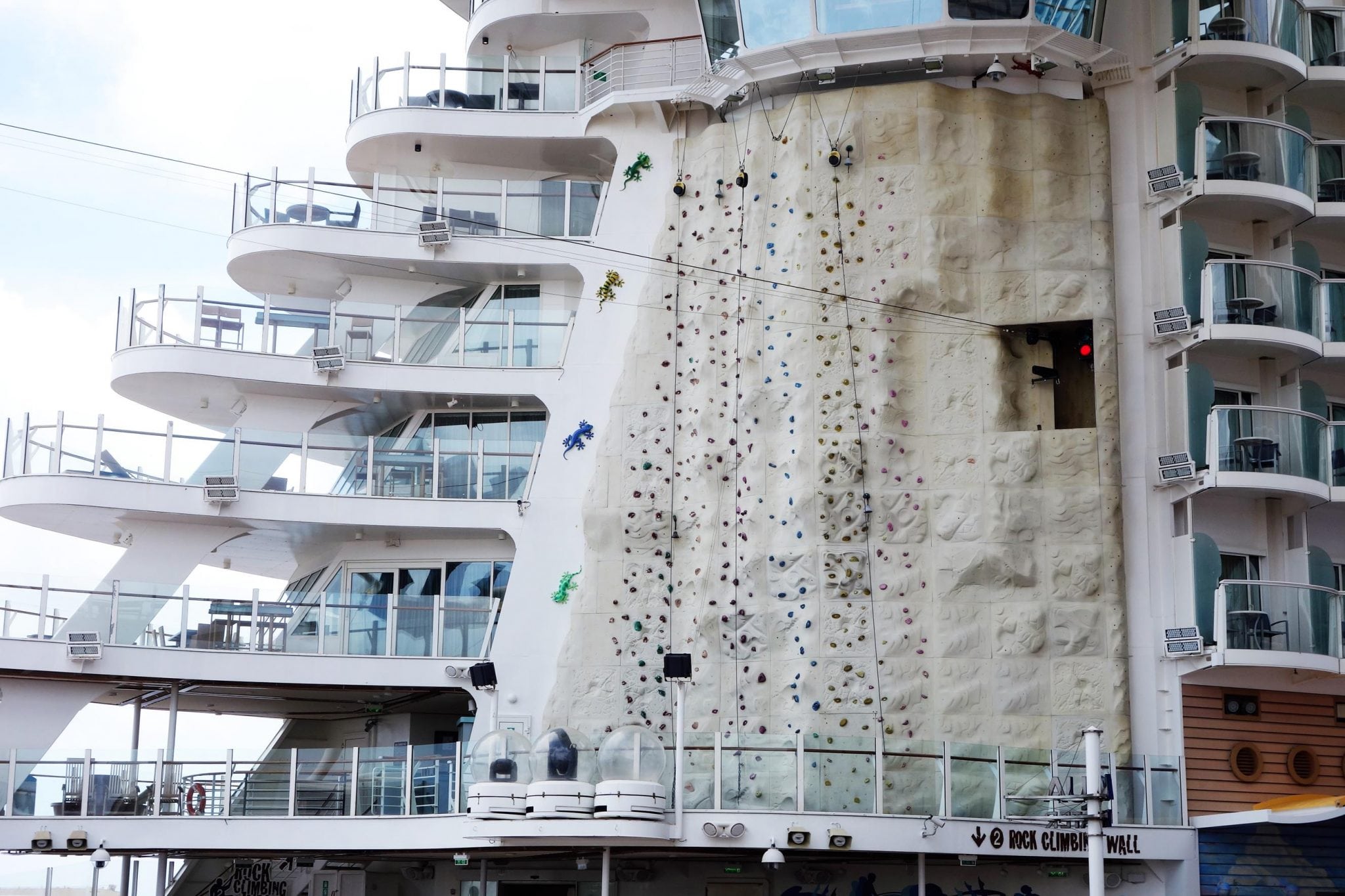 Zip Line
Once you have the adrenaline flowing, head up a few decks to try out the zip line. This first zip line at sea spans 80 feet allowing you to soar 9 stories above the Boardwalk. While it might not burn too many calories, it is definitely a must do activity on Oasis of the Seas. How often do you get to brag that you zip lined on a moving ship?
Flowrider
While you are in the area, don't pass up the opportunity to try out another exclusive to Royal Caribbean activity, the Flowrider. This surf simulator is open various days/times throughout the cruise for you to test your skills at boogie boarding or stand up surfing. This unique opportunity is another great way to stay active on Oasis of the Seas. You are on vacation, so feel free to make a fool of yourself. If you want to really craft your skill, lessons are available for additional costs.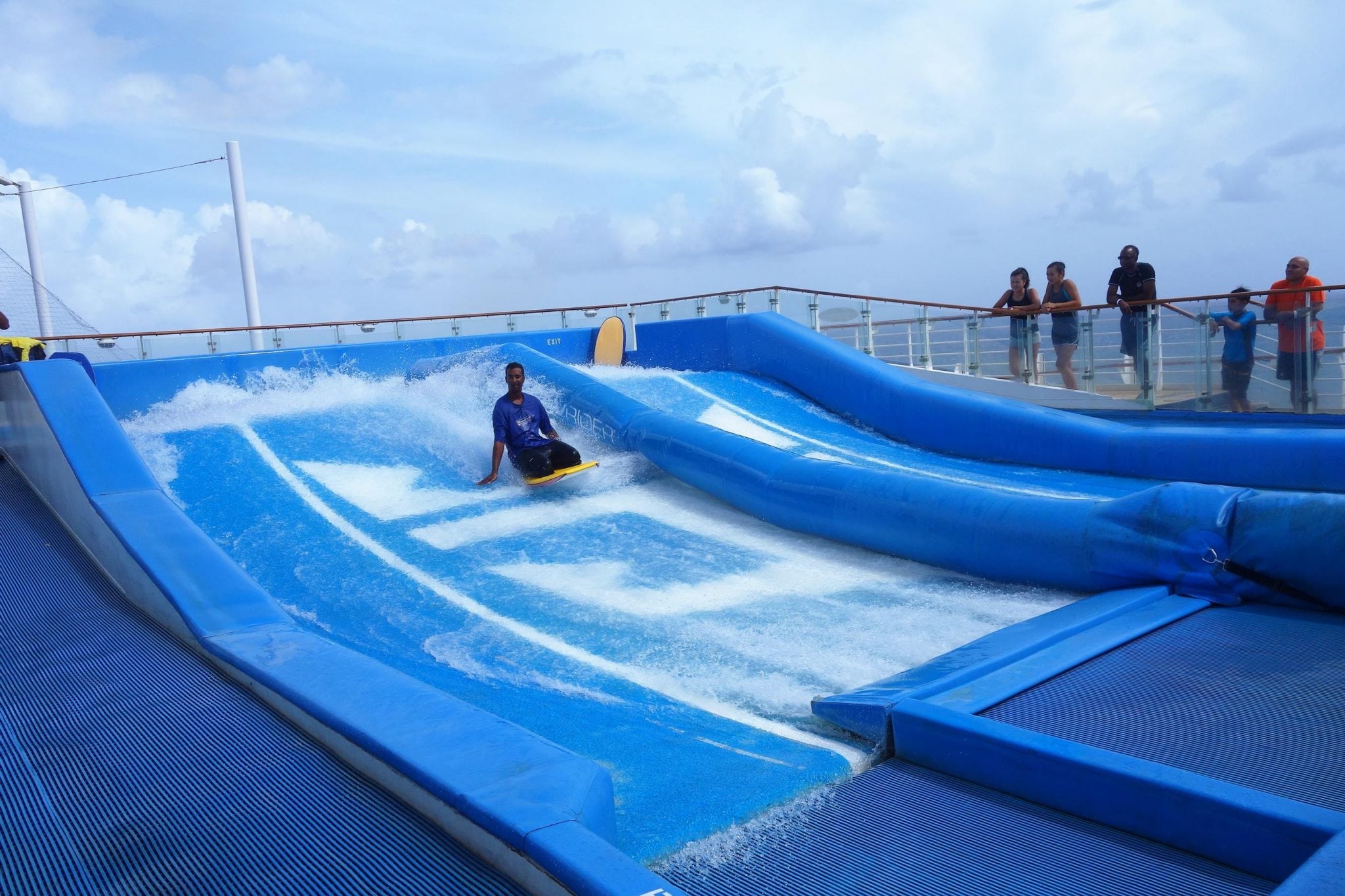 Hit the Gym
This might sound like an obvious one, but spending some time in the gym doing a little cardio or weight training will certainly help you reduce that post cruise weight gain. If you prefer a more structured workout routine, the Vitality Fitness Center offers yoga, body sculpting boot camp, and cycling sessions on select days/times that you can sign up for at an additional cost. Hitting the gym on a cruise is always better than dragging yourself to the gym back home.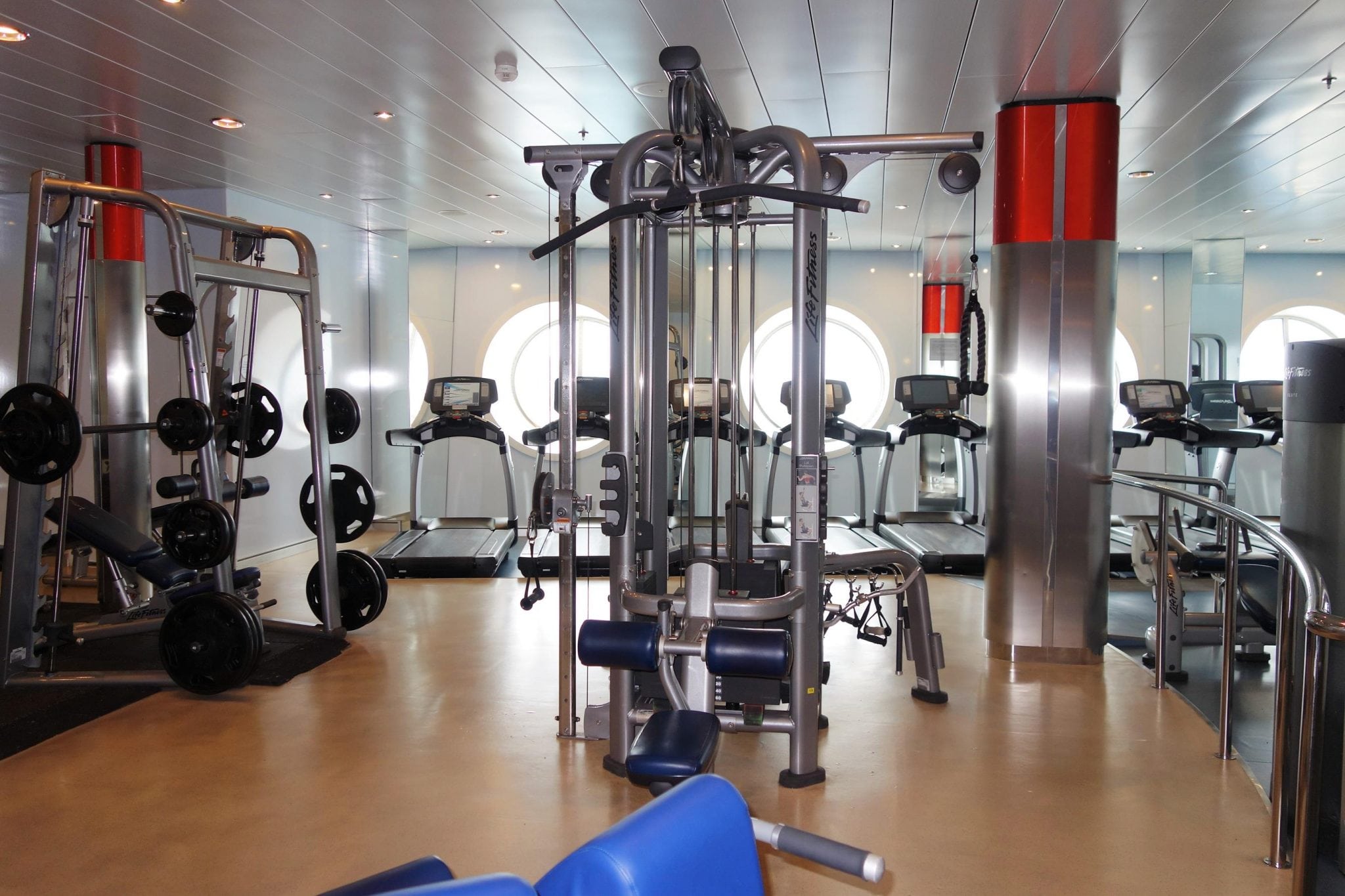 Take a Class
If going to the gym on a cruise just sounds wrong to you, there are plenty of other ways to stay active on Oasis of the Seas including a number of fitness and dance classes offered at multiple times during your cruise. From Zumba Classes on the Sports Court, to dance classes on the pool deck, in the Royal Promenade, or Boleros, you are sure to find a class that is the perfect fit for you. Grab those sneakers and get ready to show off your moves. You will have fun, meet new friends, and burn calories all at the same time.

Jogging Track
If you'd prefer to exercise at your own pace and still enjoy being outdoors, the jogging track on Deck 5 is another great way to stay active on Oasis of the Seas. With nothing but wide open space and spectacular ocean views, you can get a few miles in around the track while avoiding the often crowded pool decks. If you time it right, you might even catch a sunrise or sunset.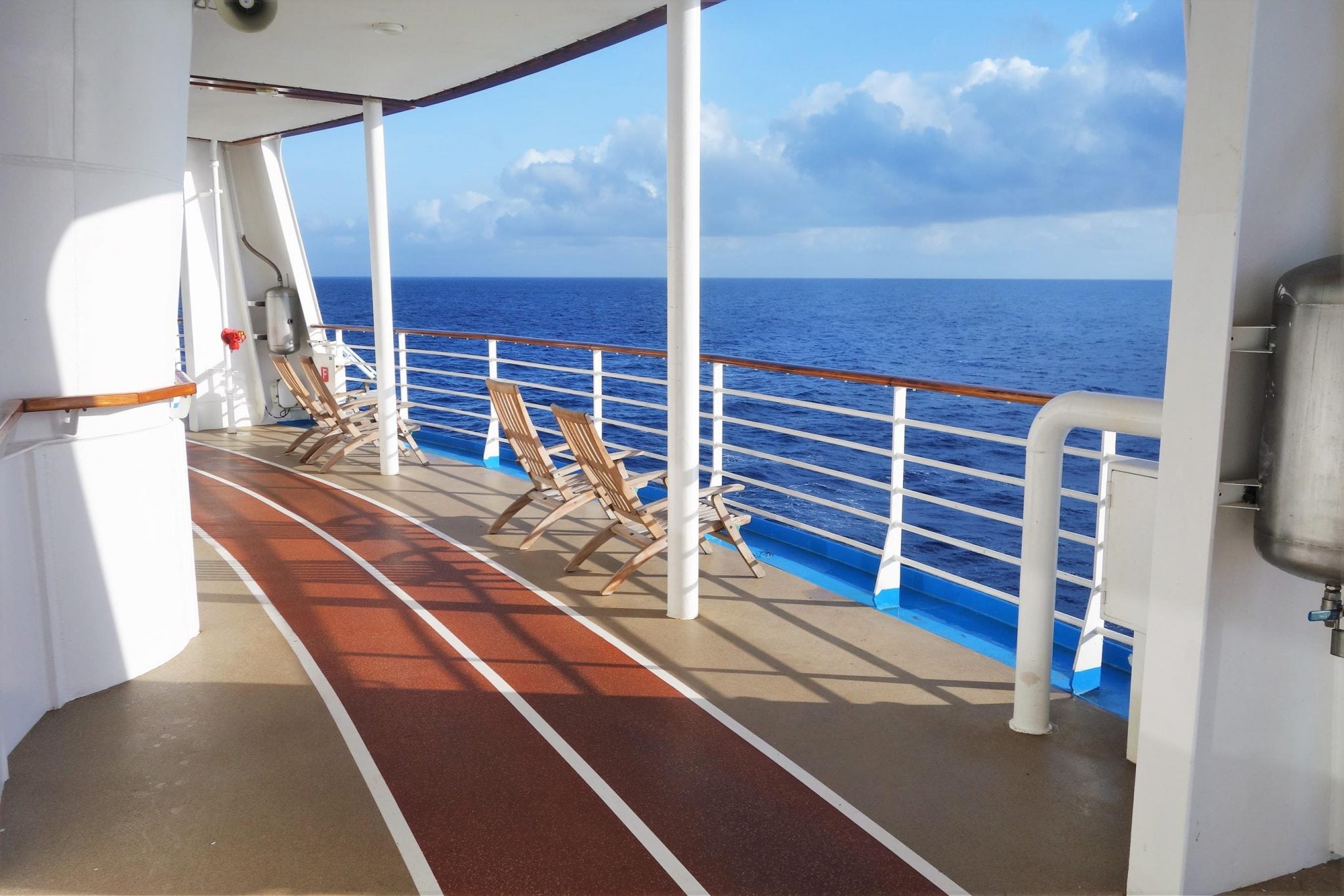 Dance the Night Away
With so many different venues offering nightly live music, it is easy to stay active on Oasis of the Seas. Grab a partner and dance the night away to your favorite music. Whether you choose to spend your evenings in Blaze dancing to today's top hits, in Boleros shaking your hips in tune to the Latin beats, or in Dazzles with your favorite house band, you are sure to work up a sweat.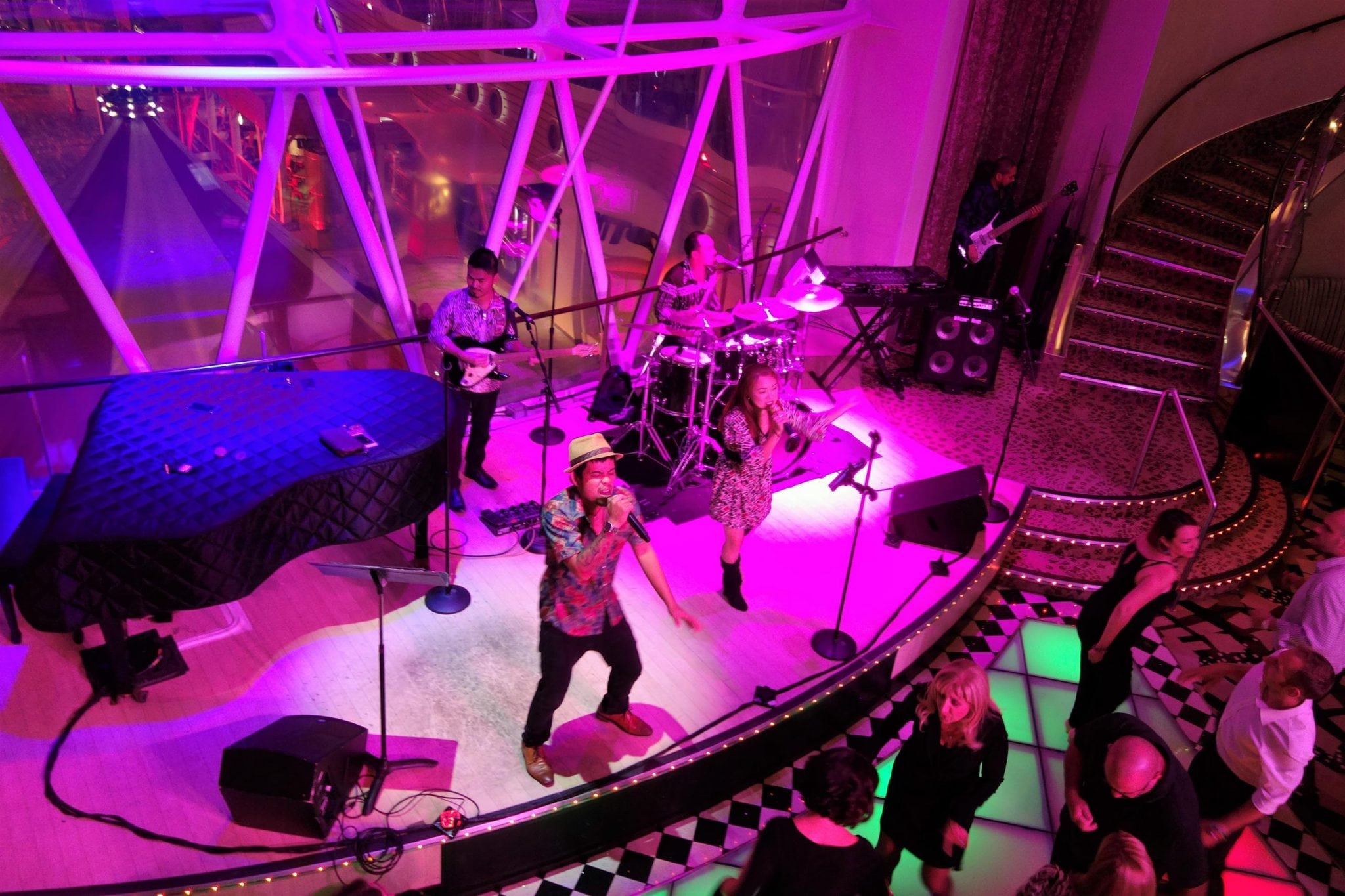 Skip the Elevator
With 17 decks full of fun, you are sure to find yourself riding an elevator multiple times a day. Add some extra steps to your day by taking the stairs instead. Think of all those calories that will just melt away by walking to and from the Windjammer! Even if you can't handle walking all the way up from the Royal Promenade on Deck 5 to the pools on Deck 15, get off the elevator a few decks early. Even just a couple flights of stairs will help combat those extra desserts you've been consuming.
Book a Shore Excursion
With Oasis of the Seas visiting tropical locations like Jamaica, Cozumel, St. Thomas, and St. Maarten, there are plenty of opportunities for shore excursions. If you want to stay active on Oasis of the Seas, why not book an adventurous shore excursion at one or more of these ports of calls. Hiking, biking, and kayaking are just some of the calorie burning activities available, and you can even take in the sights at the same time.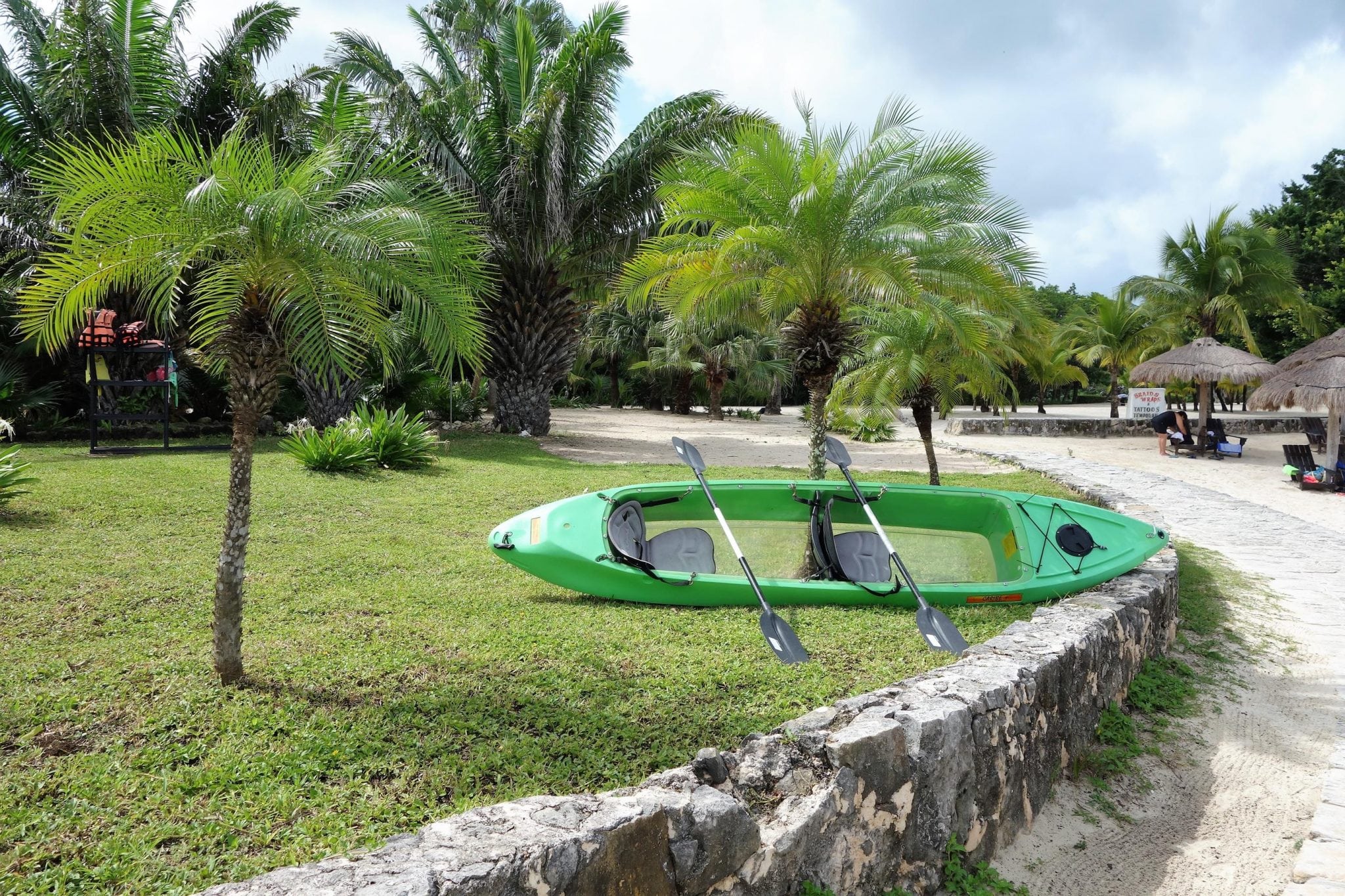 Explore the Ship
If all this talk of exercise does not sound like a vacation to you, just remember that you are on one of the largest cruise ships in the world. With that being said, just walking around this massive vessel to explore all the nooks and crannies can burn off those frozen cocktails from last night. Whether you set out to take some pictures, to find all 42 locations of the Small Wonders art exhibit, or to simply marvel at the expansiveness of the ship, traversing the decks is certainly another way to stay active on Oasis of the Seas.
Comments
Have you sailed on Oasis of the Seas? What are your tips to staying active on the ship? Drop us an anchor below to tell us how you avoid that post cruise weight gain.