Restaurant Review: Jamie's Italian on Anthem of the Seas
On our recent 5-night Bermuda cruise, we decided to book a reservation at Jamie's Italian on Anthem of the Seas for the last night of our vacation. We had dined at Jamie's on Quantum of the Seas and could not wait to get back here on this sailing.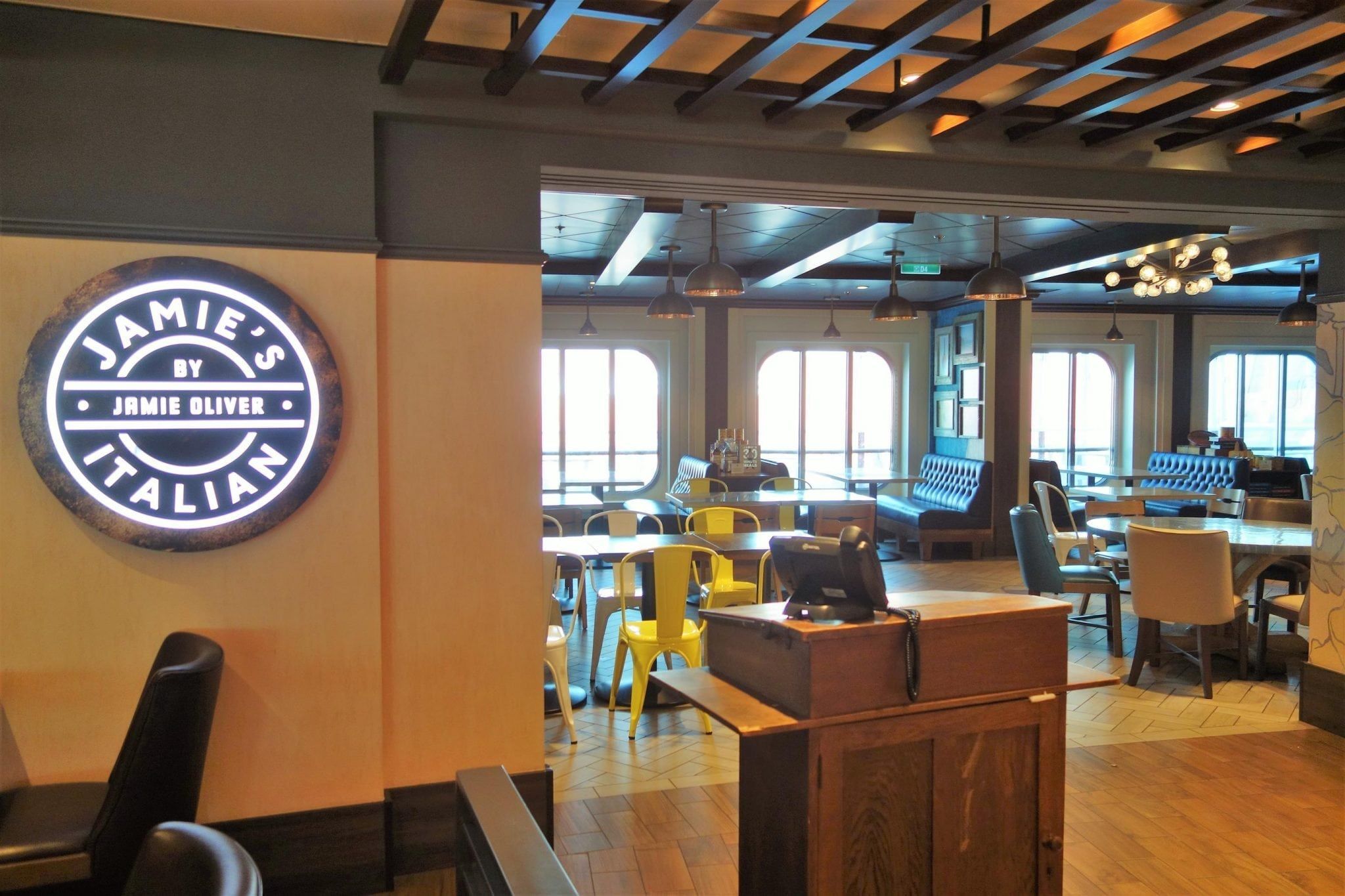 When dining reservations became available (approximately 80 days prior to our sailing), the availability for reservations was already limited. We ended up having to change one of our show times (which were available for booking approximately 105 days in advance) to accommodate a 7:30pm reservation at this restaurant on day 5.
We both love Italian food, and the menu at Jamie's Italian on Anthem of the Seas does not disappoint. The location of the restaurant in the Via made for an elegant yet somewhat casual dining experience and the perfect place to spend the last night on this ship!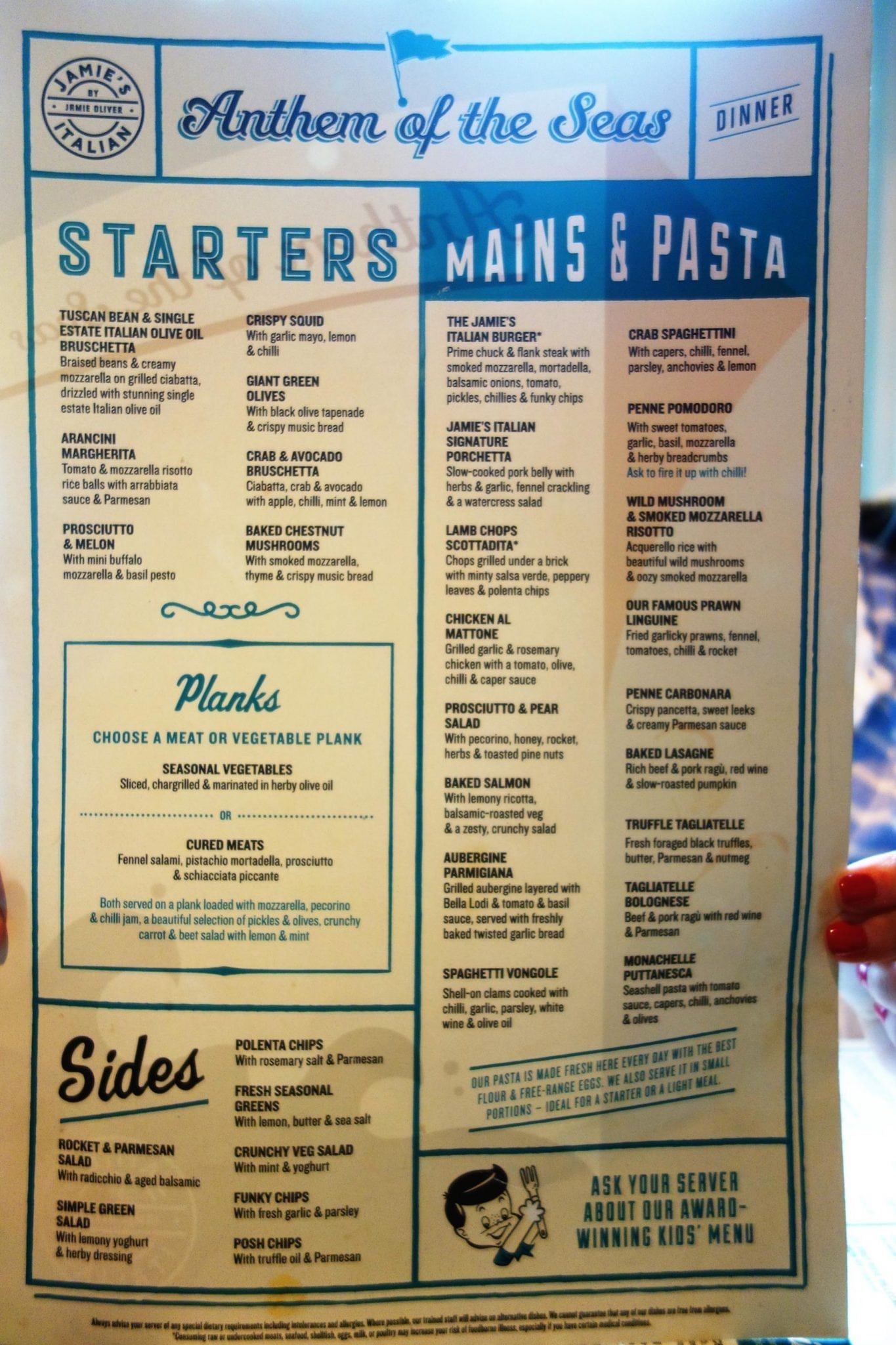 Jamie's Italian, by celebrity chef Jamie Oliver, has an atmosphere similar to a restaurant you would find in a metropolitan area like New York City or Boston. With pops of color, the funky yet casual feel is perfect for a low key dinner.  The restaurant is very open, and you have the option to dine "al fresco" with tables that are essentially in the Via.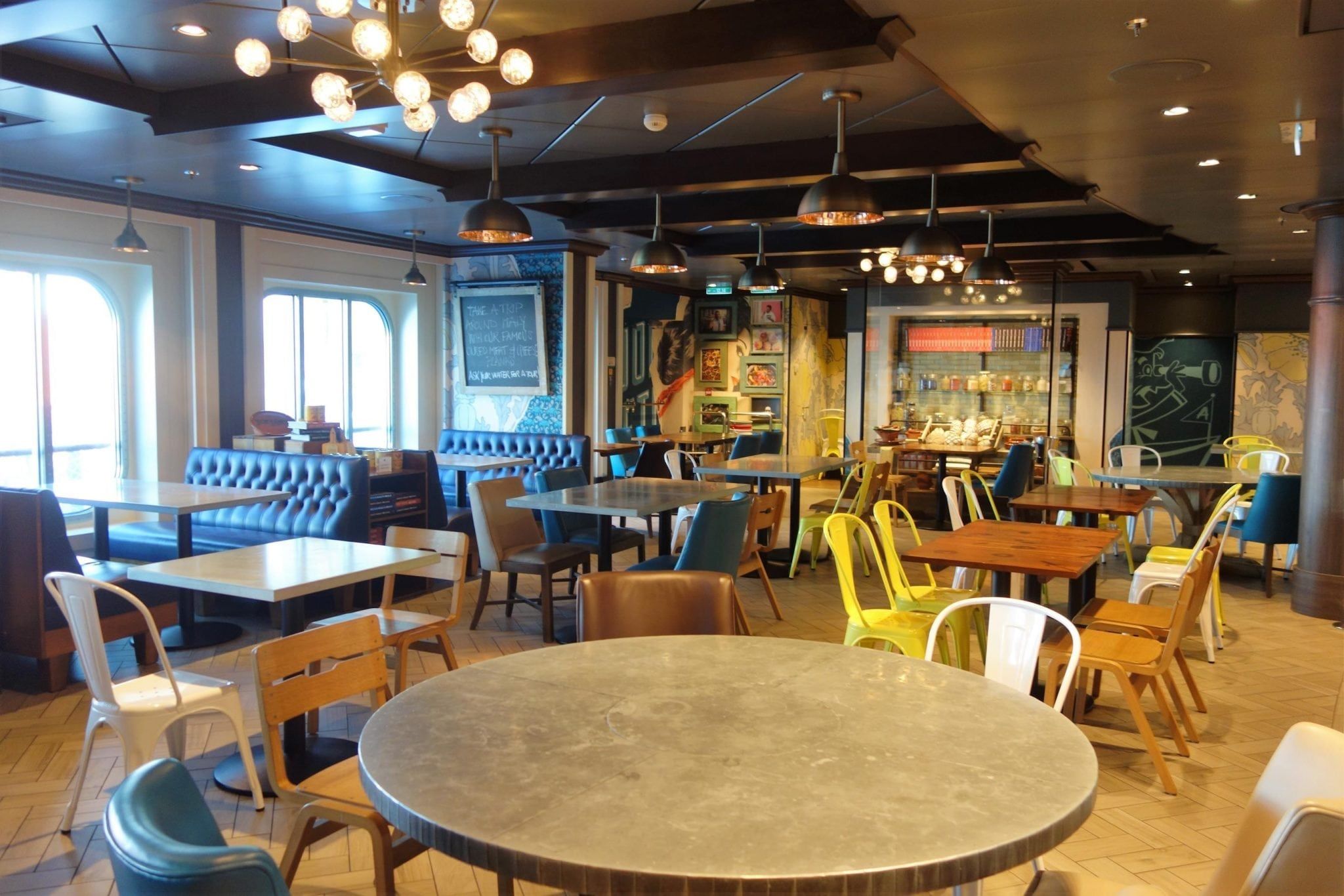 Jamie's Italian on Anthem of the Seas is open nightly for dinner from 5:30pm to 9:30pm and on select sea days for lunch from noon to 1:30pm. The specialty restaurant up-charge for dinner is $30 per person and $25 for lunch. The menus are essentially the same, minus five entrees which do not appear on the lunch menu.  A select offering of appetizers can also be purchased at a la carte pricing in Vintages, which is located adjacent to this restaurant in the Via.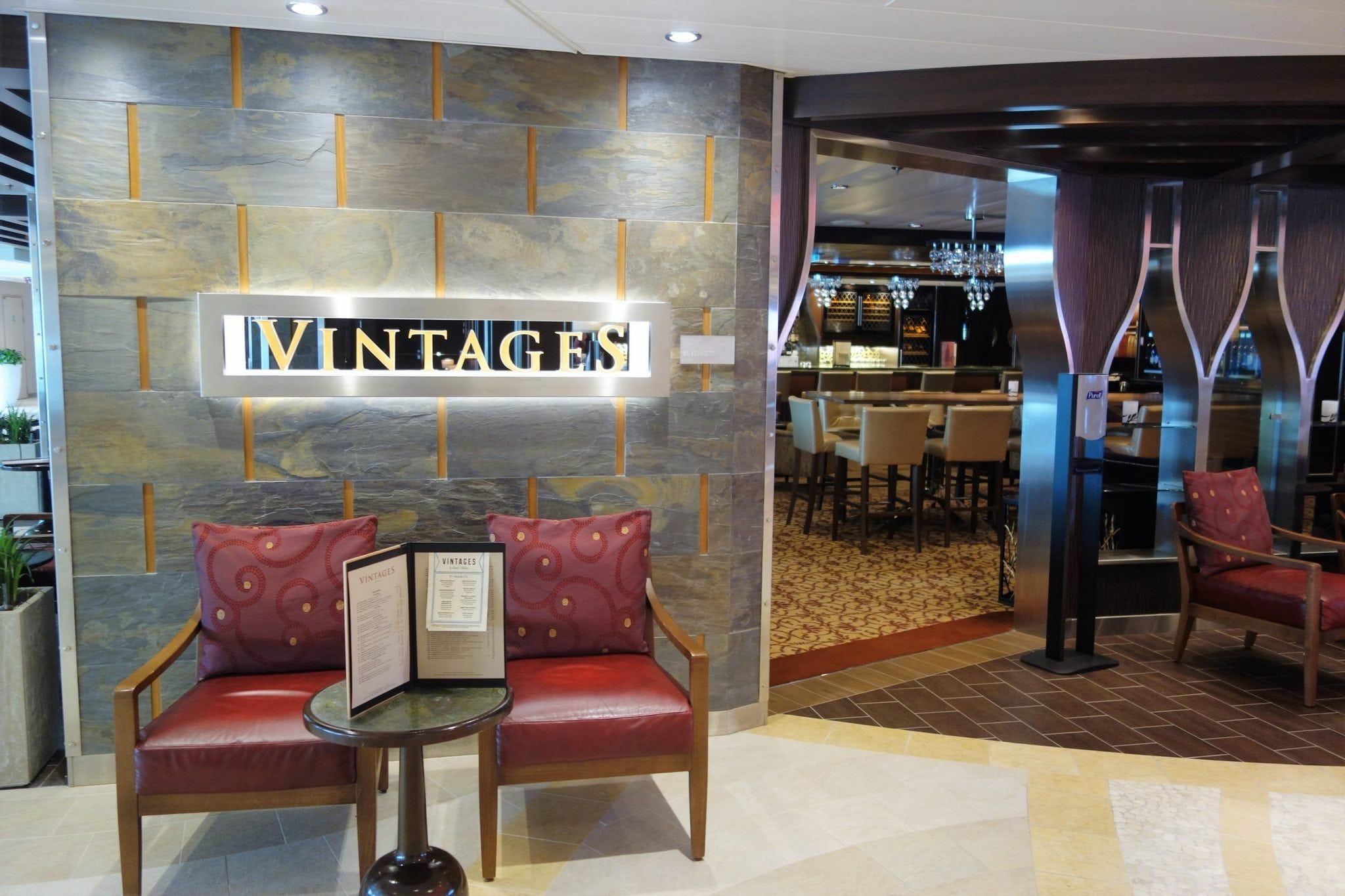 Although it took a few attempts, we finally were able to reschedule our reservation to 6:30pm once onboard. While the new time did not show on our Royal IQ app, we were assured by staff that the time had been changed.
We arrived for our reservation a few minutes early to find that the restaurant was not too busy. We checked in with the hostess and requested to sit inside the restaurant, opposed to a table in the Via.
Once seated, the waitress was quick to greet us and ask our water preferences. Having the Ultimate Drink Package, of course, we started with a few cocktails. The Princess tried the Florence Fizz, and I went with Gennaro's Sidecar.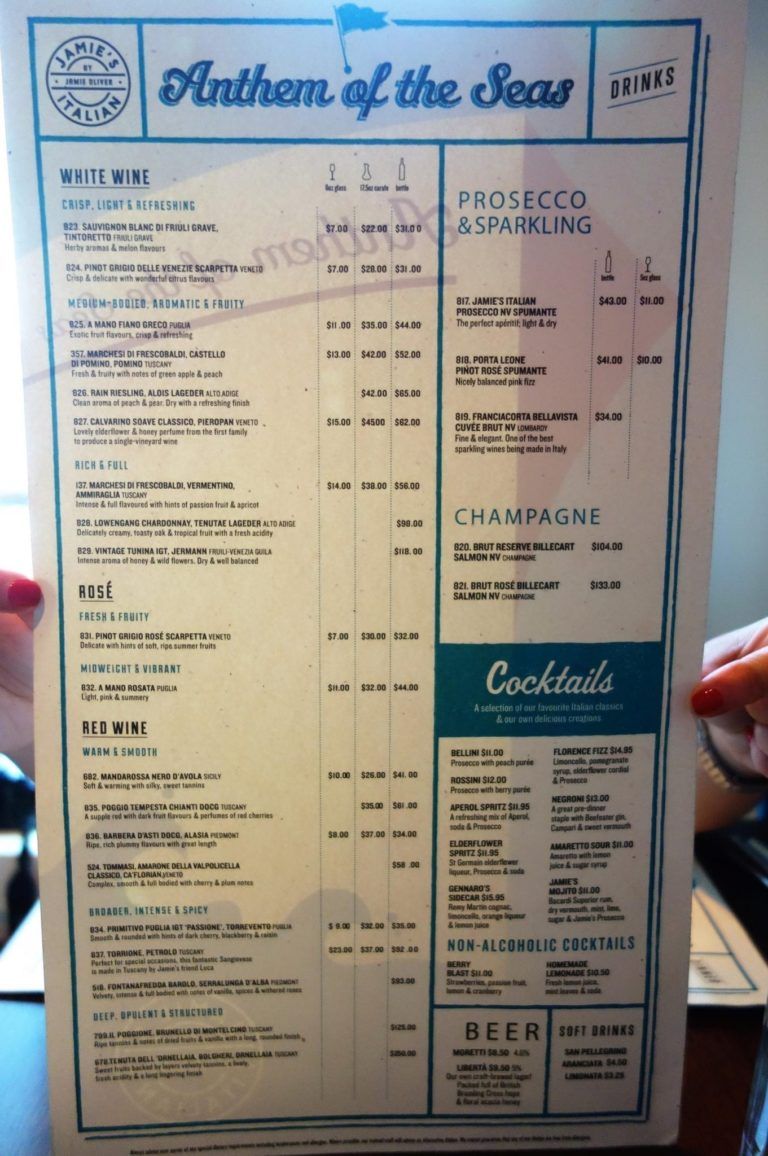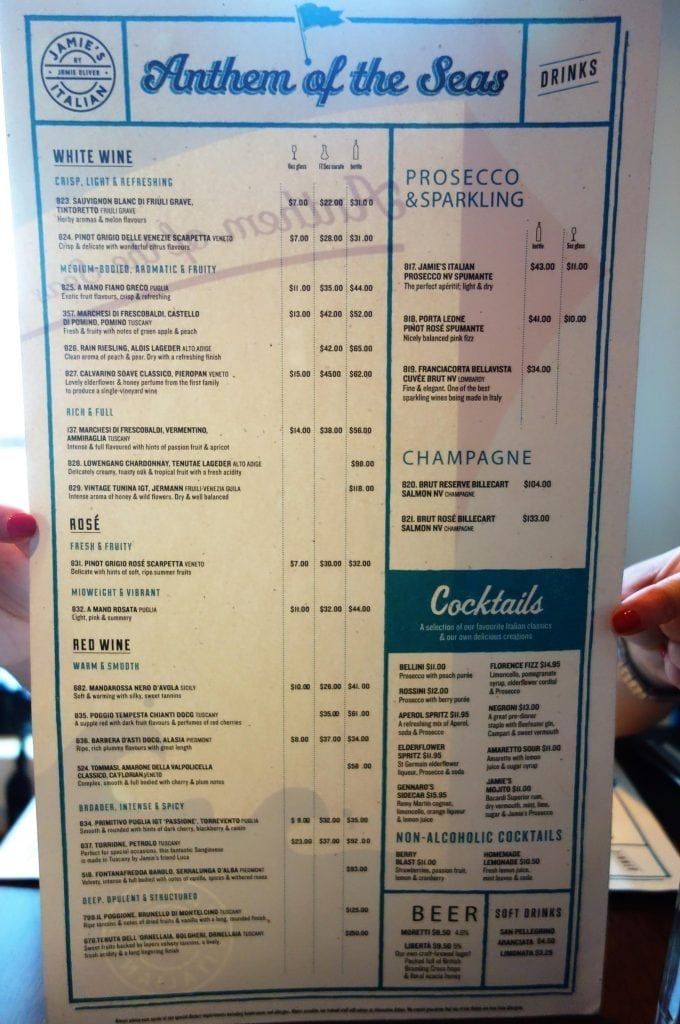 Both drinks are a few dollars above the $13 drink limit from the package, but we did not mind paying the difference. The drinks were delivered in no time which would allow us to get a second round about halfway through dinner.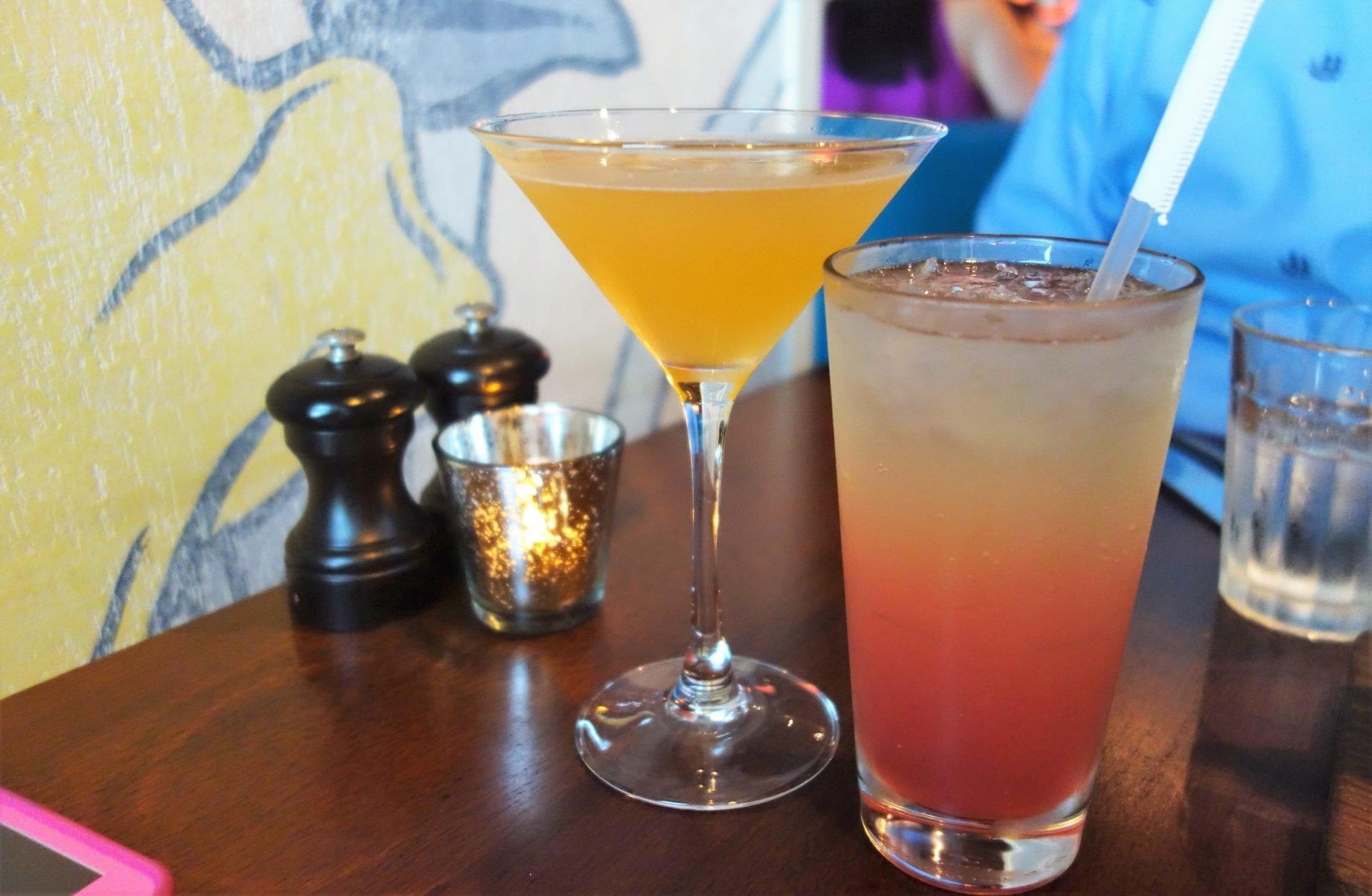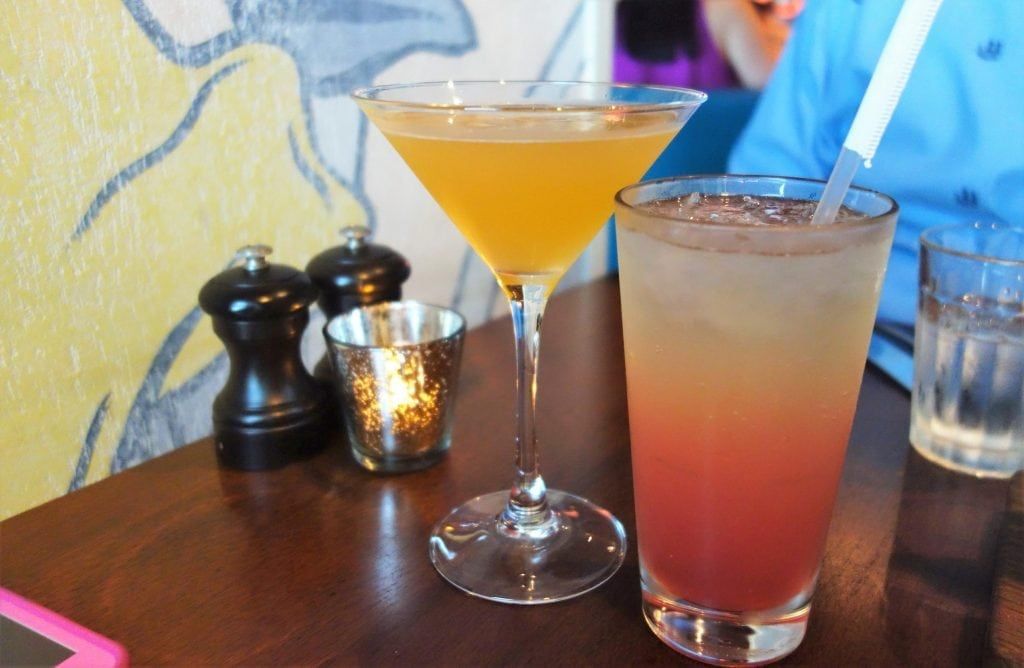 Like most Italian restaurants, our waitress also delivered a bread basket with olive oil dipping sauce. There was a nice selection of different breads, including crusty Italian bread, focaccia, and bread-sticks.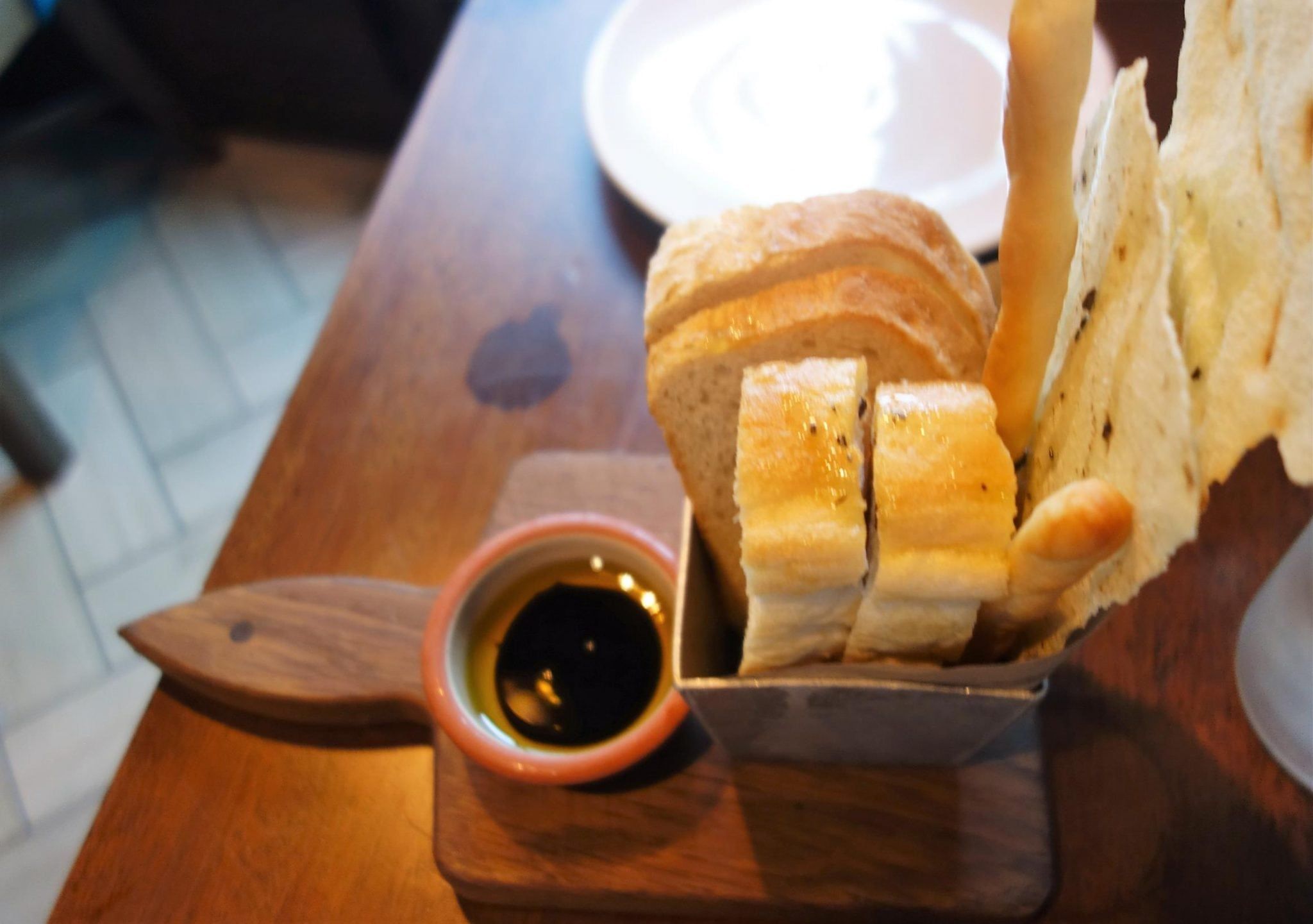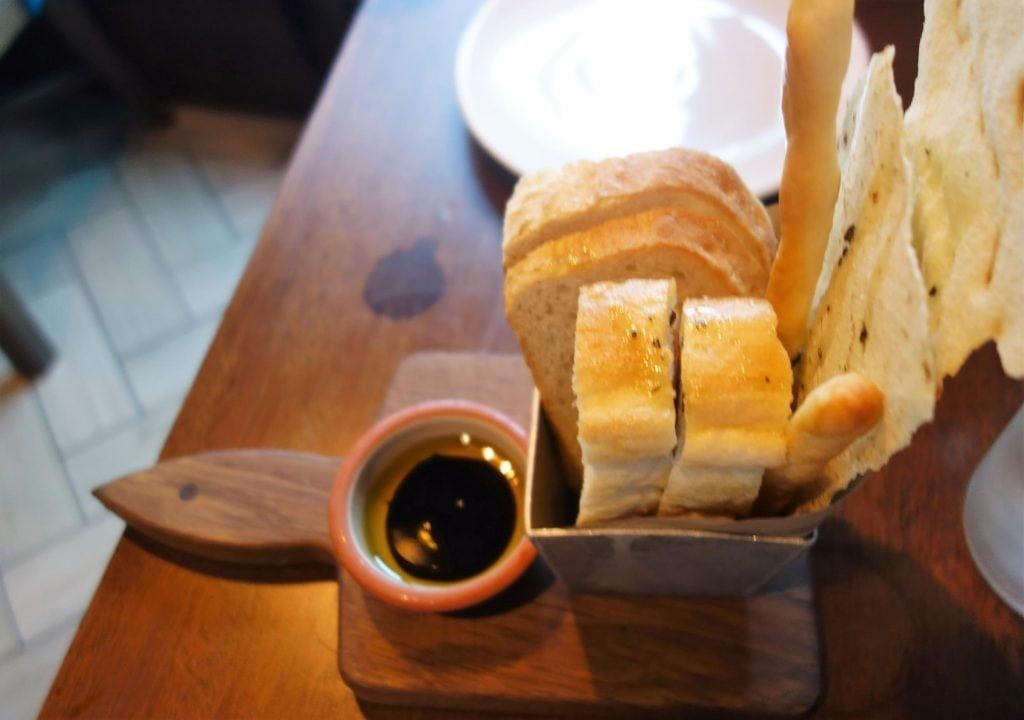 Jamie's is known for their planks that consist of a mix of cured meats and cheeses as well as other accompaniments like olives and pickles, so of course we had to get one. For larger parties, these planks can get quite massive; even for the two of us, there was plenty of food to share, especially since the Princess is a picky eater.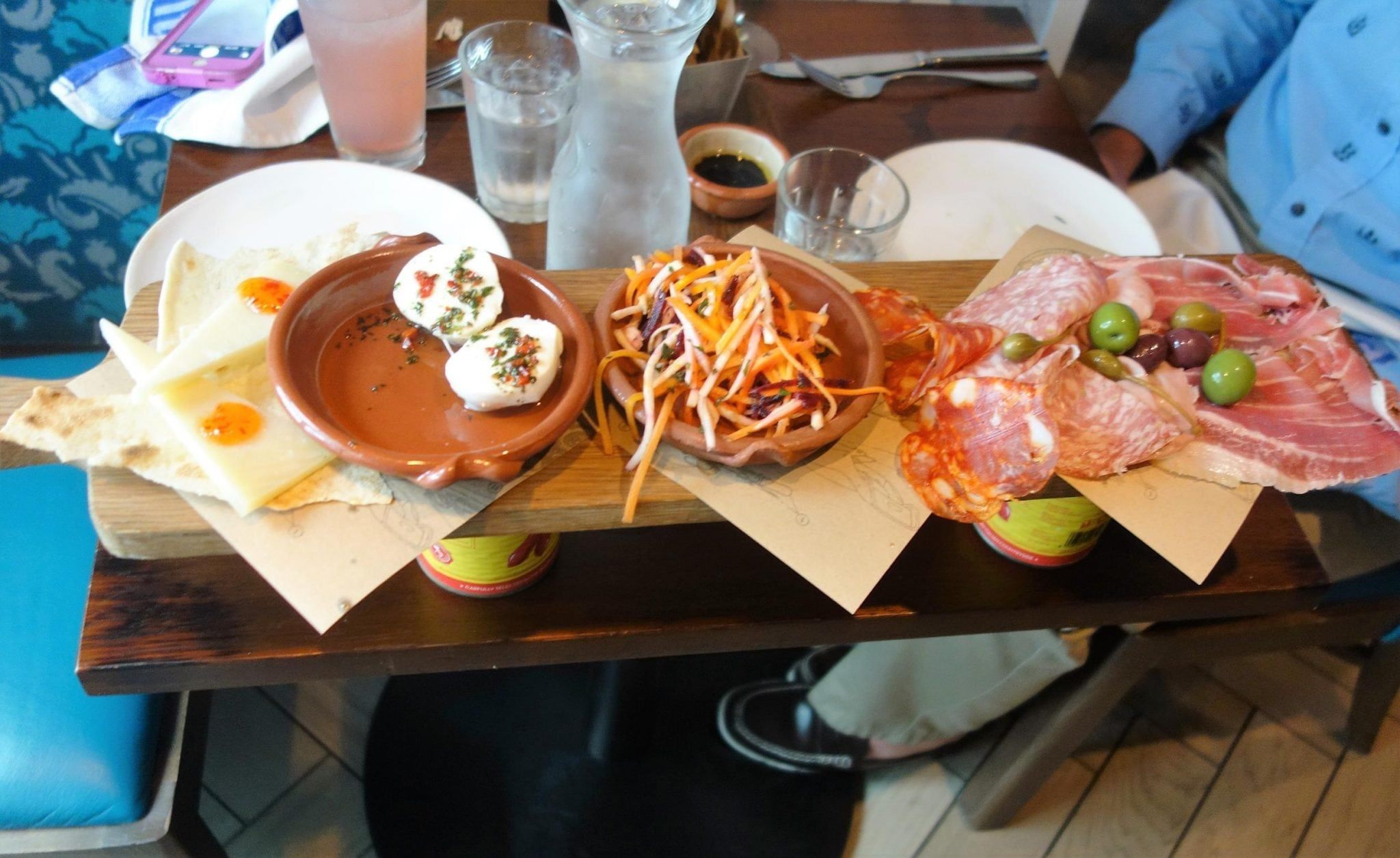 Not wanting to over do it, we ordered only two additional starters. Last time, we got the Arancini, risotto balls covered in sauce, which were good, but we wanted to branch out. So, the Princess ordered the Posh Chips- think fried potatoes with truffle oil and Parmesan cheese. We preferred this side dish to the Polenta Chips that we had tried last time at Jamie's.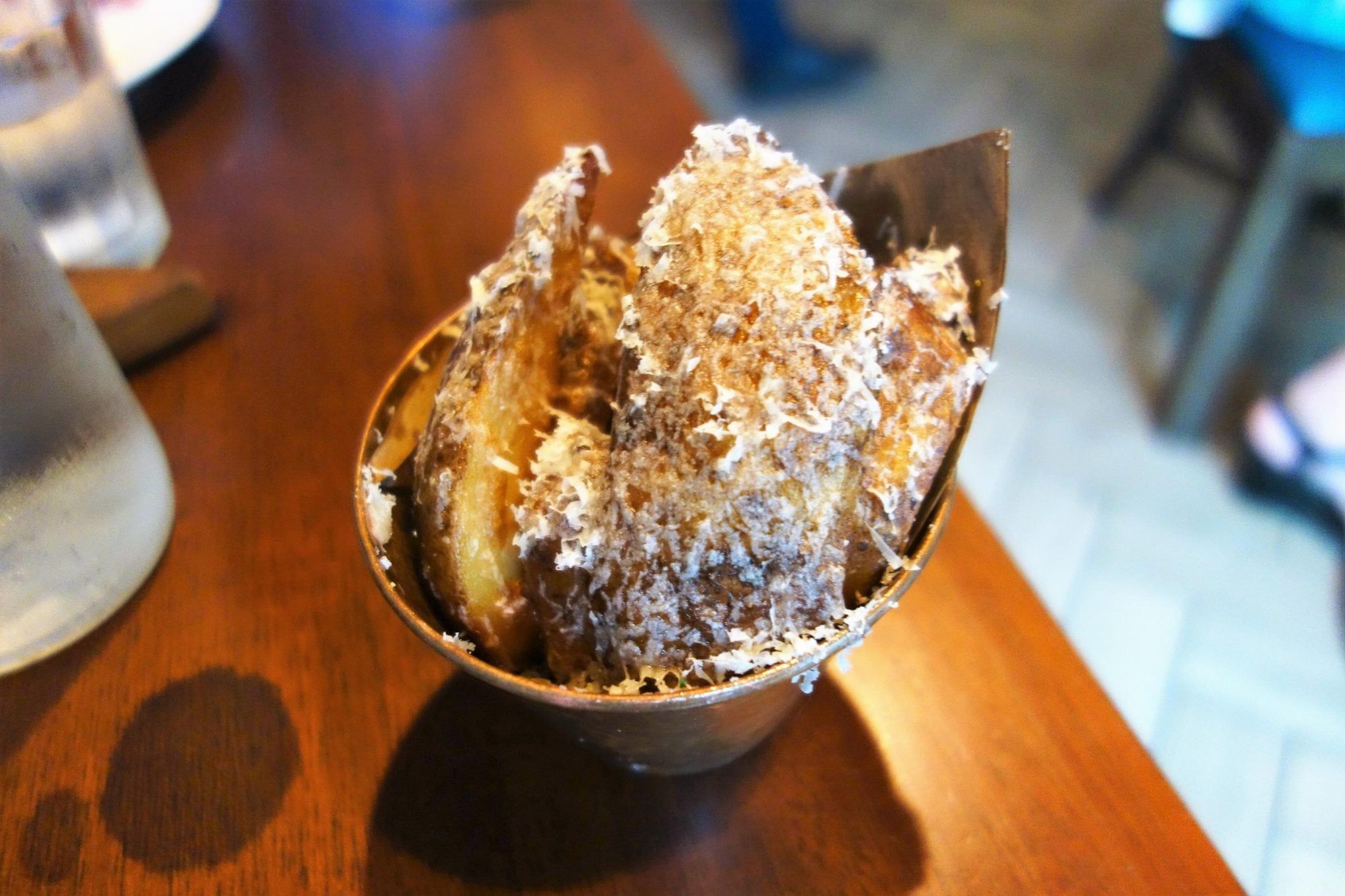 Given that it was so good the last time around, I just could not pass up ordering the Crispy Squid again. This fried calamari came out hot, crunchy, and cooked just right. This is probably one of the better seafood selections you can get on Anthem of the Seas and much better than the calamari served in the complimentary restaurants.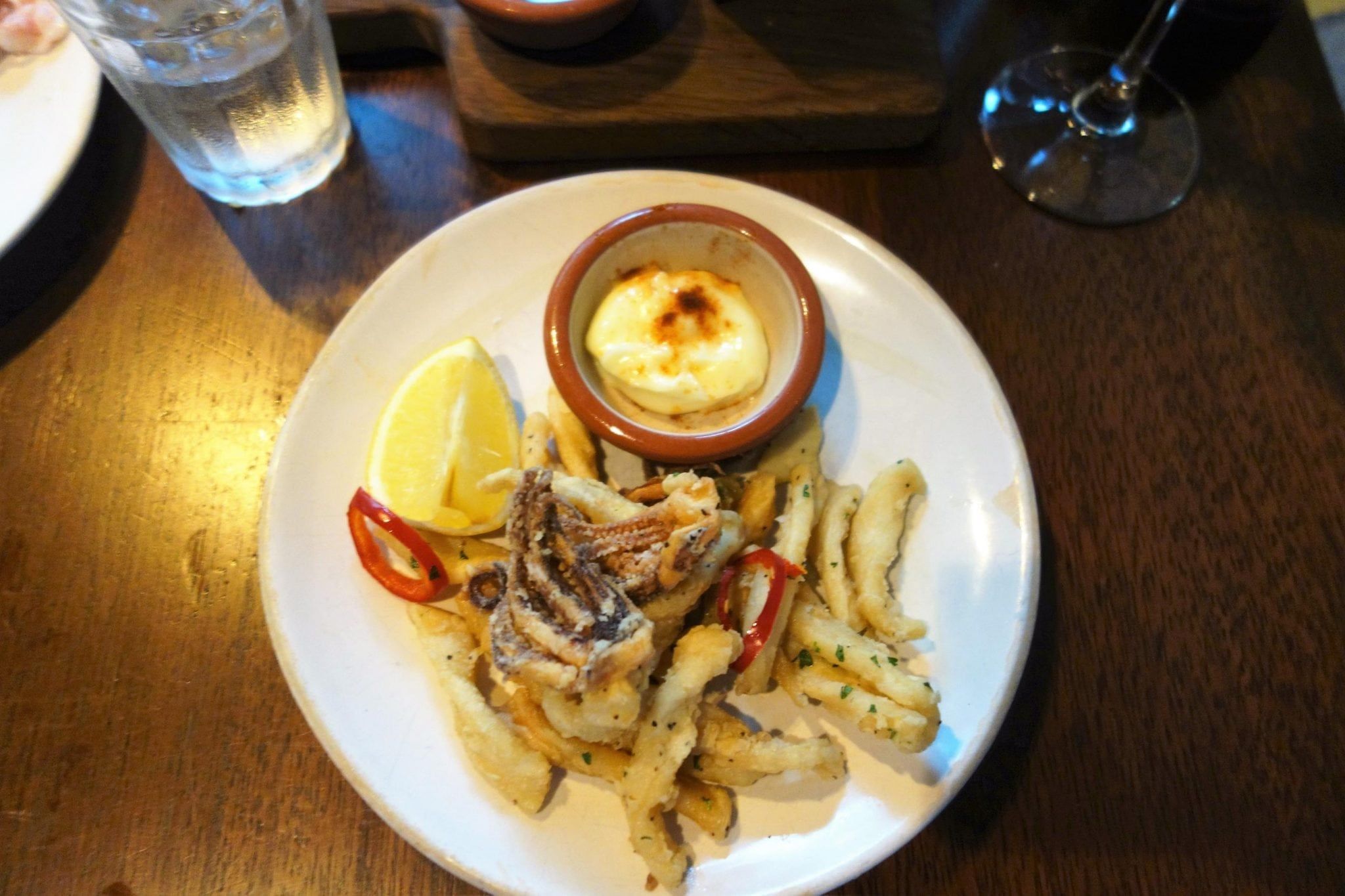 On Quantum of the Seas, we ordered a pasta dish to split in addition to individual entrees.  Knowing that the homemade pasta at Jamie's Italian on Anthem of the Seas was very filling, we opted to only do pasta for dinner. There was no way we were going to fit in a dessert if we tried to replicate our last dinner experience here.
The Princess ordered the Penna Pomodore, topped with grilled chicken. It was a hefty portion, with thick penne style macaroni and plenty of grilled chicken in a light tomato sauce.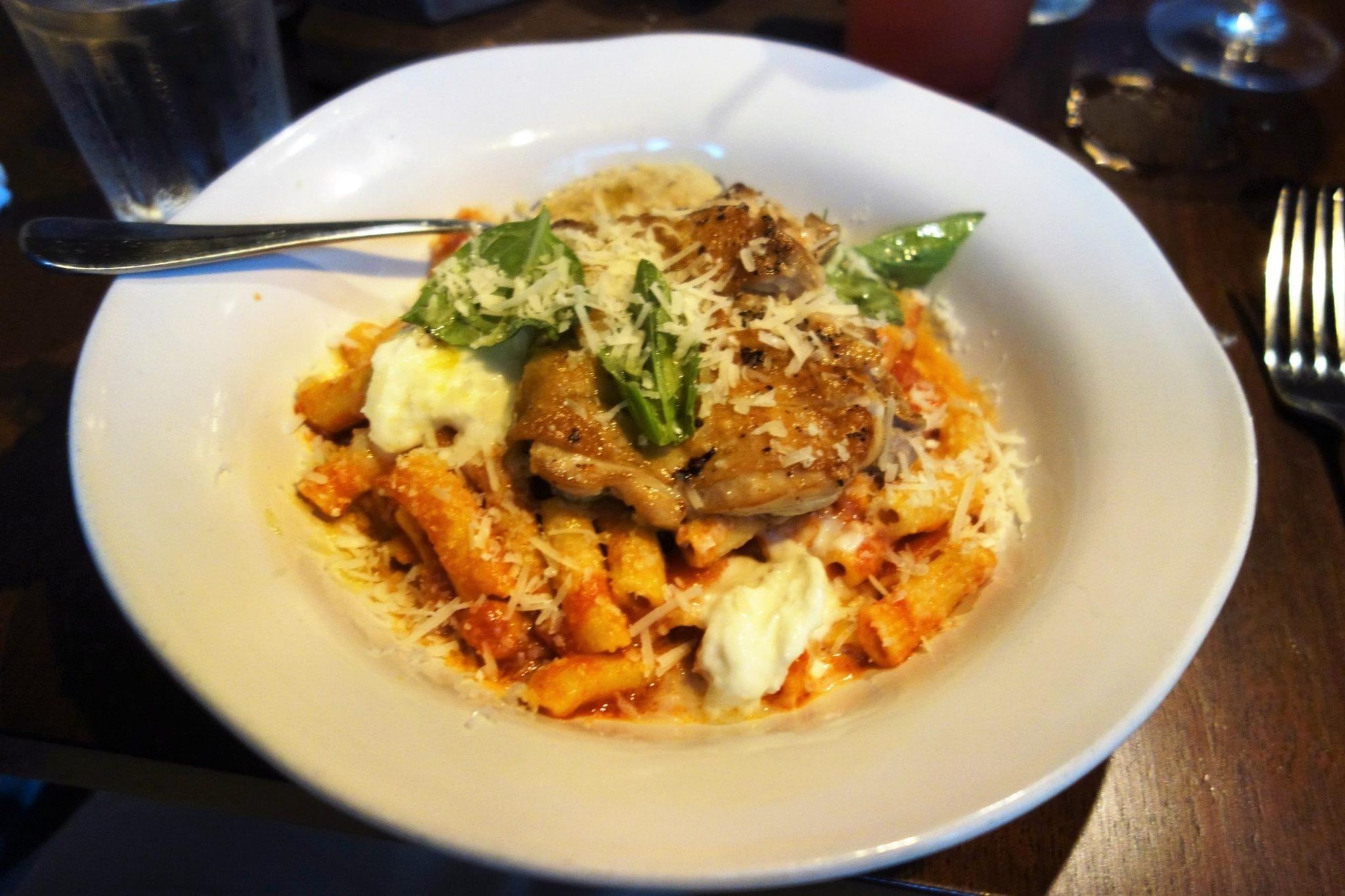 I could not decide between two dishes. Debating which one to get, the waitress advised me to get a half order of each, which were served in smaller plates.
Keeping with a seafood theme, I went with the Spaghetti Vongole, which were clams cooked in a white wine and olive oil sauce. The sauce had a little kick from the chili which gave the dish plenty of flavor. I paired this dish with the Our Famous Prawn Linguine. Not sure if it is really famous, but it had some heat and was loaded with shrimp. Going between the two plates, it was really tough to pick a favorite. Good thing I ordered them both!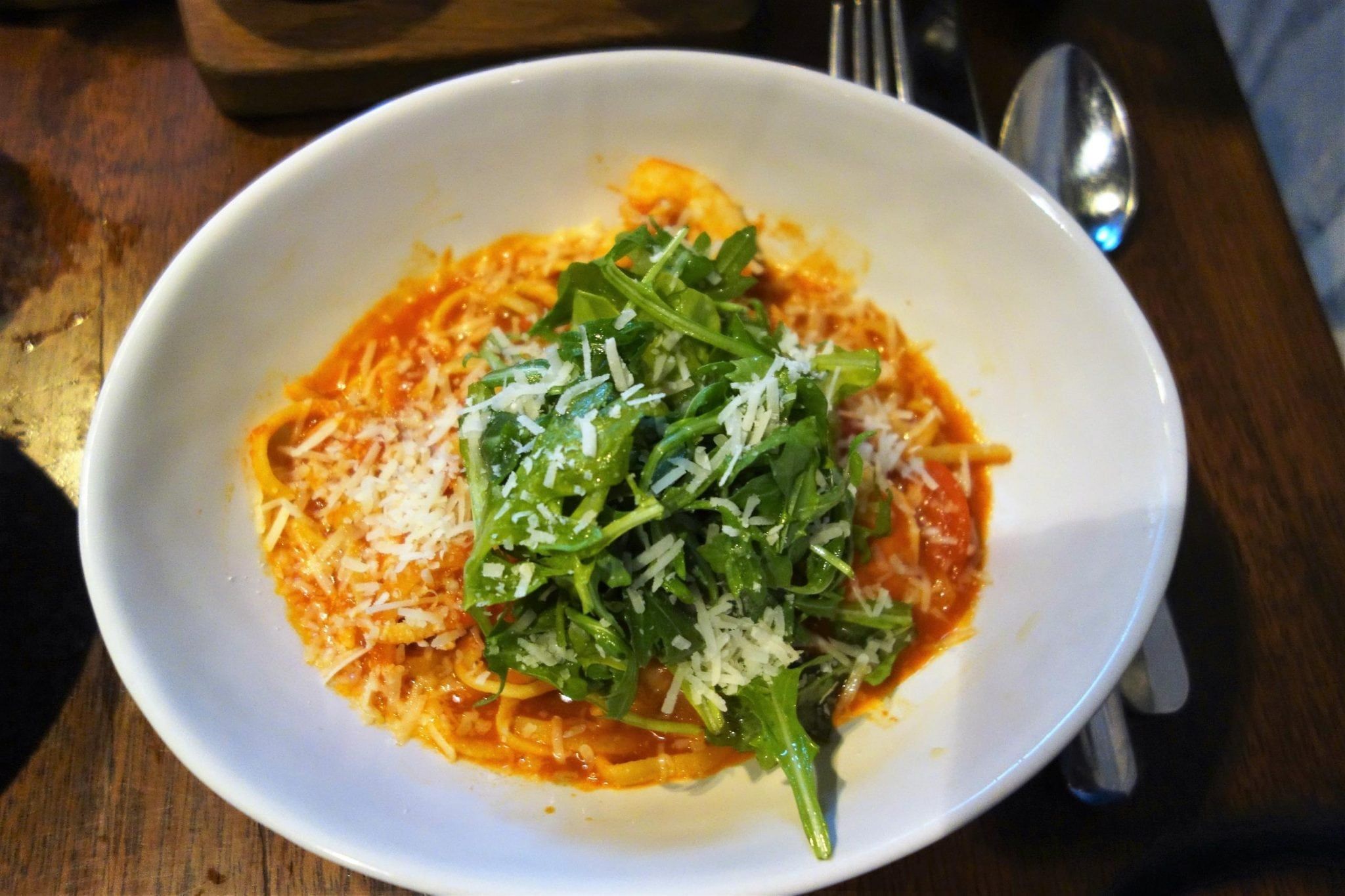 Now, Italians are known for desserts. However, dessert at Jamie's Italian on Anthem of the Seas is the only place where the restaurant falls a bit short.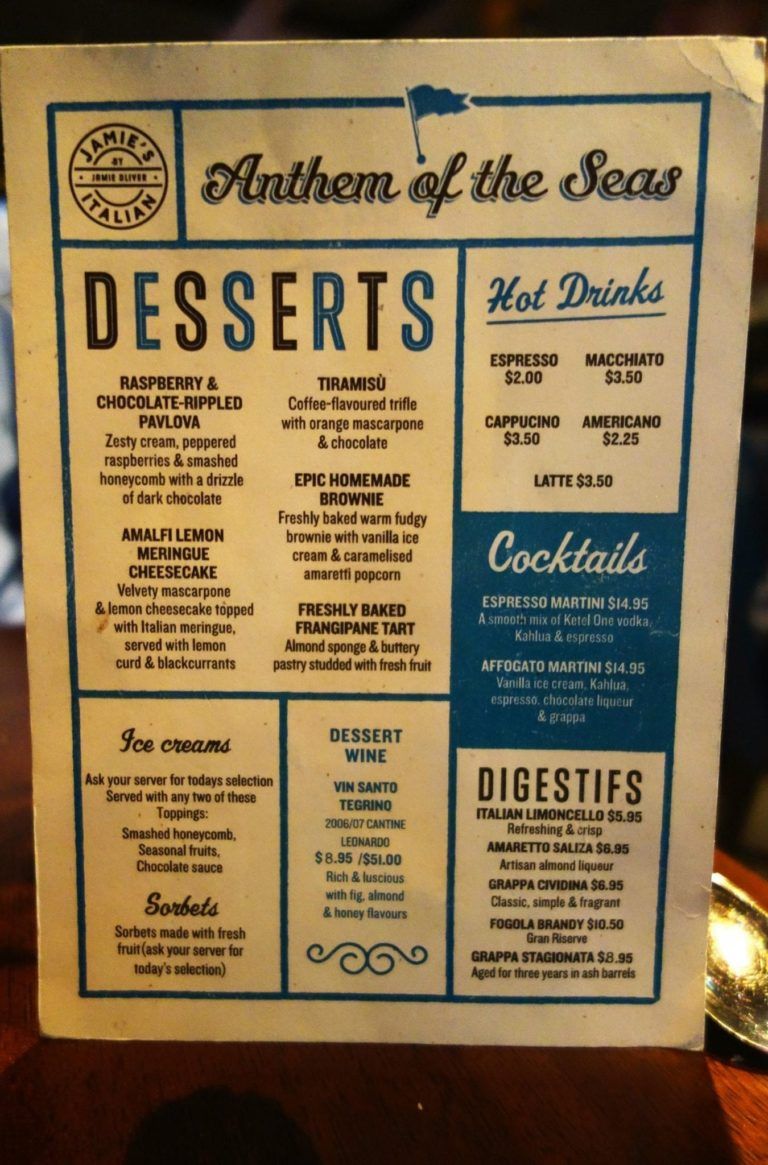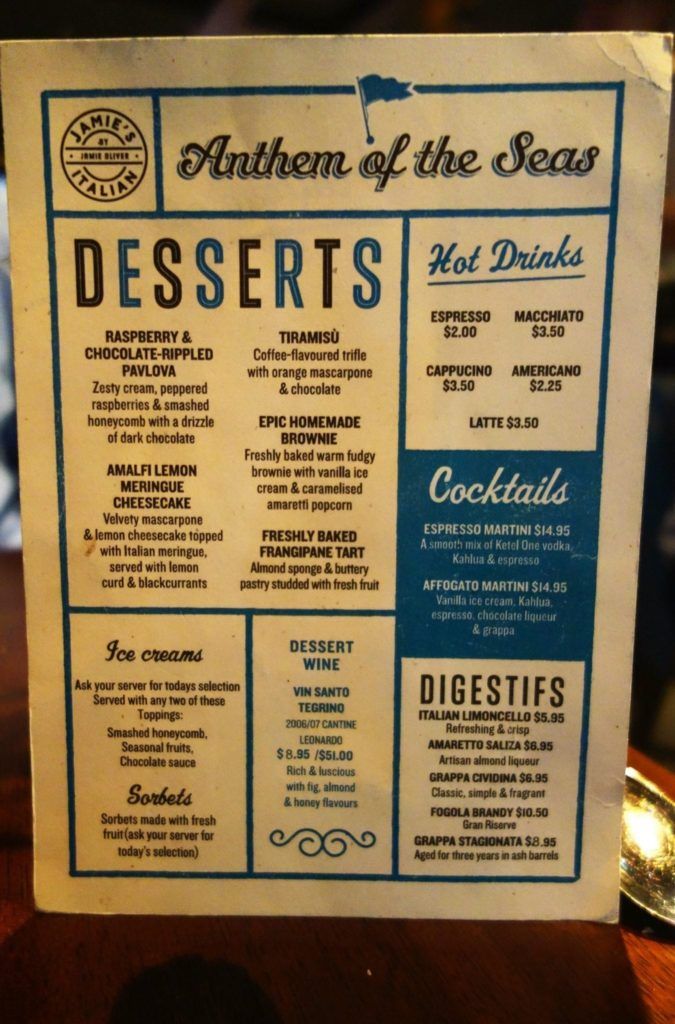 Last time, we ordered the Tiramisu and the Epic Homemade Brownie, both being subpar, so we opted to get two totally different selections this time.  We went with the Raspberry and Chocolate-Rippled Pavlova and the Amalfi Lemon Meringue Cheesecake.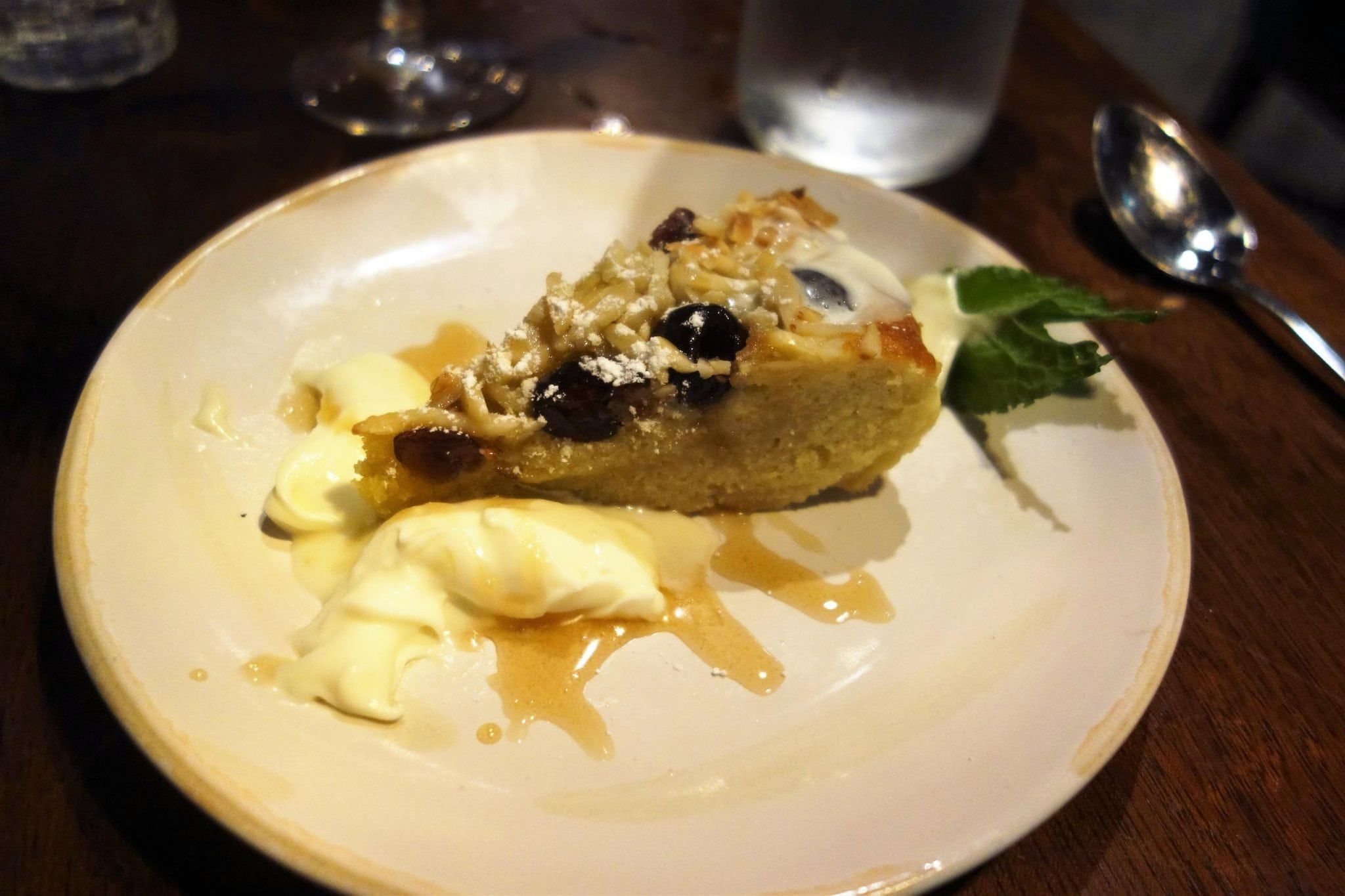 My cheesecake was the clear winner between the two, but neither one of the desserts were stand outs.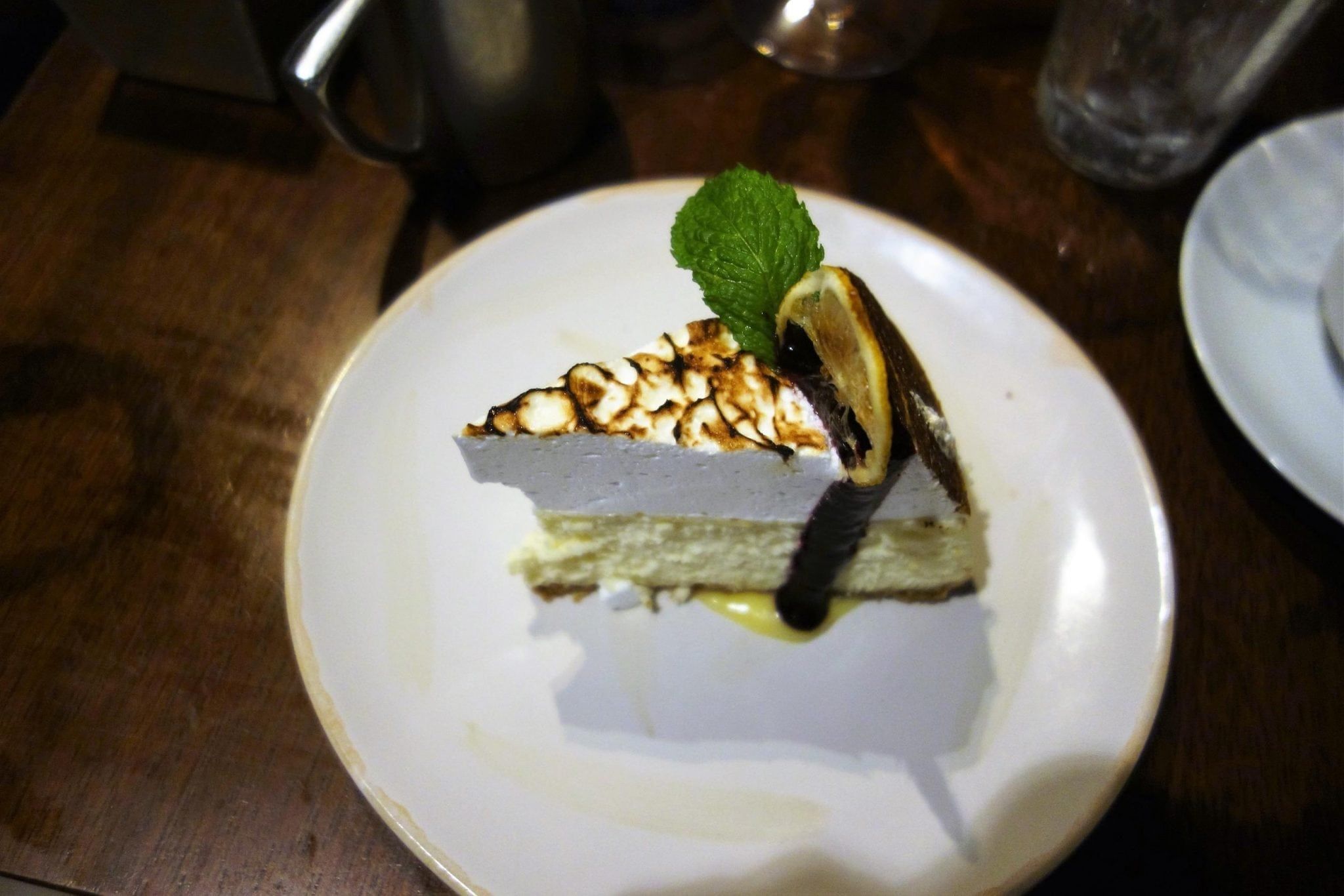 Overall, we think Jamie's Italian on Anthem of the Seas is well worth the up-charge for lunch or dinner.  The menu is quite large and consists of different starter plates, pasta dishes, and main courses. The atmosphere is casual, but cozy and friendly. This is truly a dining experience from start to finish. Service was prompt and responsive, and we would certainly consider eating at Jamie's again on another ship, possibly Harmony of the Seas?
Comments
Have you sailed on Anthem of the Seas or Quantum of the Seas? Did you get to dine at Jamie's Italian during your trip? Drop us an anchor below to let us know your favorite meals. We would love to hear about your dining experiences on Anthem of the Seas.